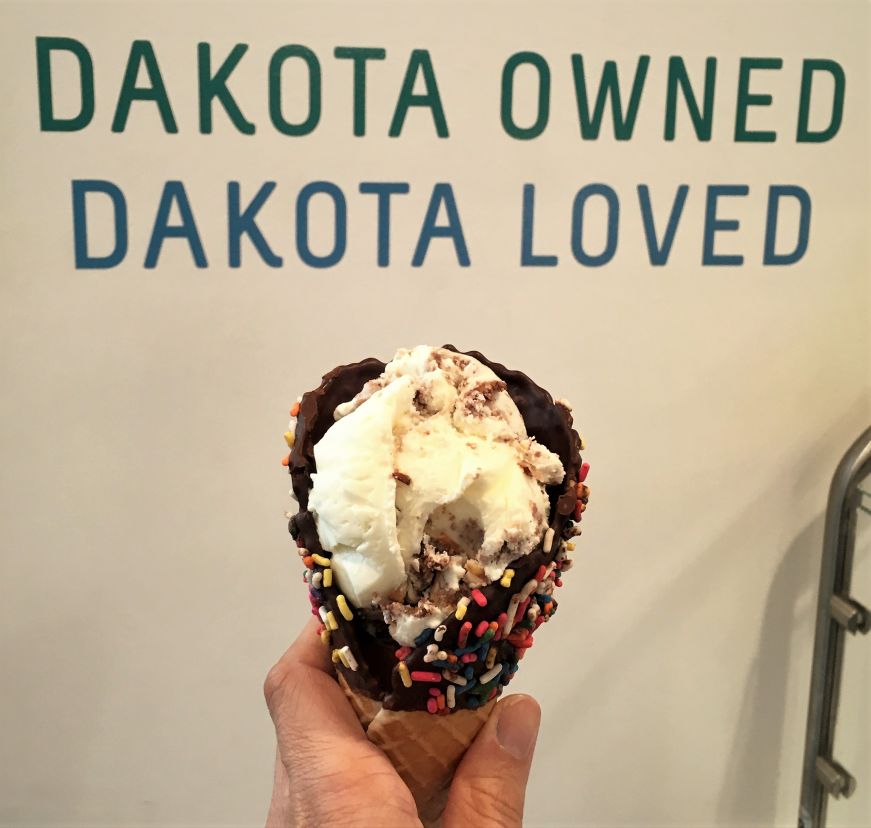 Thank you to North Dakota Tourism, the Fargo-Moorhead Convention and Visitors Bureau, and the Bismarck-Mandan CVB for hosting my stay in North Dakota.  As always, all content and opinions are my own.
As I mentioned in my post about Fargo, many people have preconceived notions about the Midwest.  Since I'm a travel writer who primarily covers the region, my perspective is likely a bit more informed.  But I'm not immune to stereotypes.  When I was planning my trip to Fargo and Bismarck last fall, I wasn't expecting North Dakota to surprise me.  After all, I had taken a few trips there as a kid (and have a photo with the world's largest buffalo to prove it).  I spent a weekend in Fargo in 2010, and Mike and I drove across part of the state on our 2016 trip to Winnipeg. 
That definitely wasn't one of my finer moments, because North Dakota did surprise me.  The food, the cities, the culture, the art—it's not all bison and wide open spaces (although there is a lot of that, too, if that's what you're looking for).  I've already planned a return visit for the Midwest Travel Network Conference 2019 to explore the western portion of the state and dig deeper into the culinary scenes in Bismarck and Fargo. 
Here are five things that surprised and delighted me about North Dakota.  Consider a trip of your own to see what you discover—especially if you think you already know what North Dakota is all about.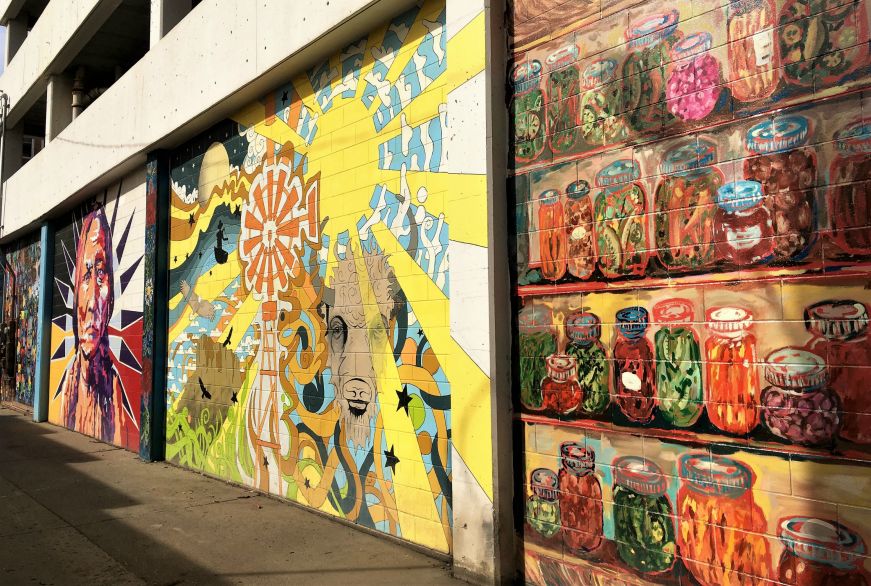 1. Walkable, vibrant downtowns
One of the goals of North Dakota's Main Street Initiative is to create cities with vibrant cores, by renovating historic buildings to create a unique sense of place, promoting mixed use buildings, and making neighborhoods walkable.  In Fargo, my downtown hotel was within easy walking distance of dozens of restaurants, boutiques, entertainment venues like the Fargo Theater, and connections to trails along the Red River.  In Bismarck, the downtown has a great selection of restaurants as well as AlleyArt, a block of murals.
Although I definitely needed my car (particularly in Bismarck, since I left the city to visit Fort Abraham Lincoln State Park), I ended up doing much more walking than I expected—which was a huge plus.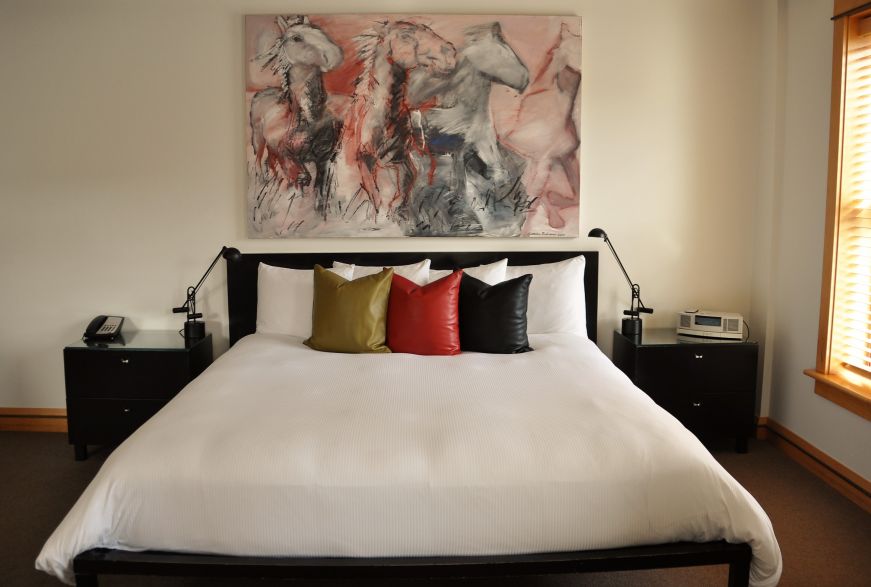 2. A local art-themed boutique hotel
In Fargo, I stayed at the Hotel Donaldson (also known as the "HoDo").  I knew that it was an art-themed boutique hotel, but until I opened the door to my suite I didn't have an appreciation for what that meant.  The walls aren't decorated with cookie-cutter prints or reproductions: each of the 17 rooms showcases works by a North Dakota artist.  It's like sleeping in an art gallery. 
An informational booklet provided background on the artists and their work.  My suite (#2), featured works by Gretchen Bederman.  I loved the warm color palette and the sense of motion in the painting of horses above the bed.
For a budget-friendly option, you can also appreciate regional art at Fargo's Plains Art Museum.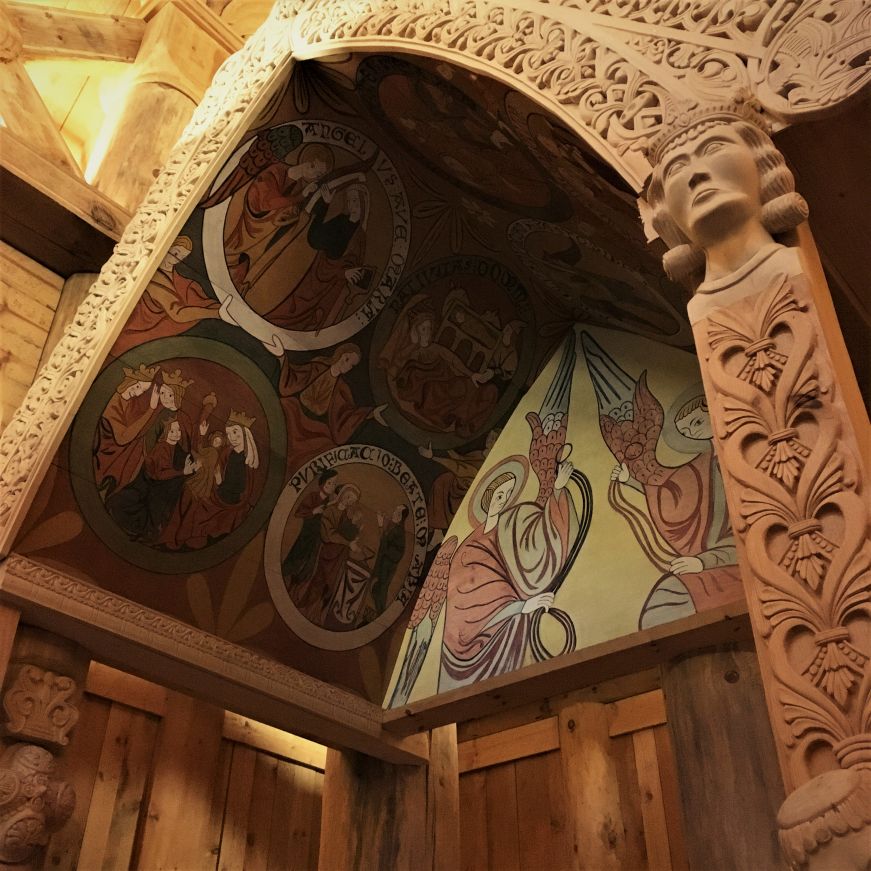 3. The Scandinavian influence
I always assumed my home state of Minnesota was one of the most Scandinavian-tinged places in the United States, but North Dakota is definitely in the running.  The Scandinavian Heritage Park in Minot celebrates the culture of the Scandinavian and Nordic countries of Denmark, Finland, Iceland, Norway, and Sweden.  In Fargo, Stabo Scandinavian Imports has an impressive selection of housewares, gifts, clothing, books, and decor.  The annual Norsk Høstfest at the state fairgrounds in Minot is the largest Nordic festival in North America, with entertainment, food, and shopping.  
Although it's technically across the state line in Moorhead, Minnesota, if you're visiting Fargo you can learn about the region's Scandinavian heritage at the Hjemkomst Center, which features a replica Viking ship and Norwegian stave church.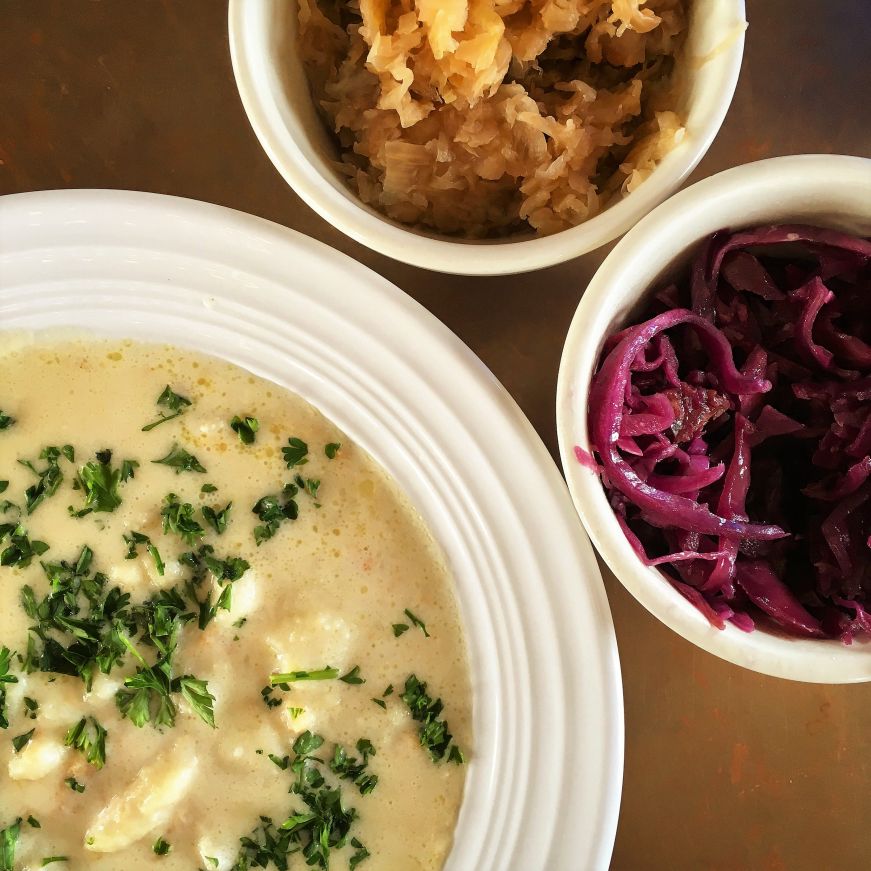 4. So much German food
North Dakota is the nation's most German state, with 43.9 percent of the population claiming German descent.  The state capital is even named after Otto von Bismarck, the first chancellor of Germany (akin to George Washington's role as the United States' first president). 
While you won't hear German in the streets, you will come across an abundance of German fare—and not just pretzels and bratwurst.  The Würst Bier Hall in Fargo serves German potato salad, red cabbage, spätzle, currywurst, and jägerschnitzel.  At Mandan Depot Bier Hall, the menu includes rindfleisch, chicken schnitzel, and flammkuchen (a German-style flatbread).  Bismarck Ale Works has a German-influenced menu with sauerbraten, jaegerschnitzel, and spätzle.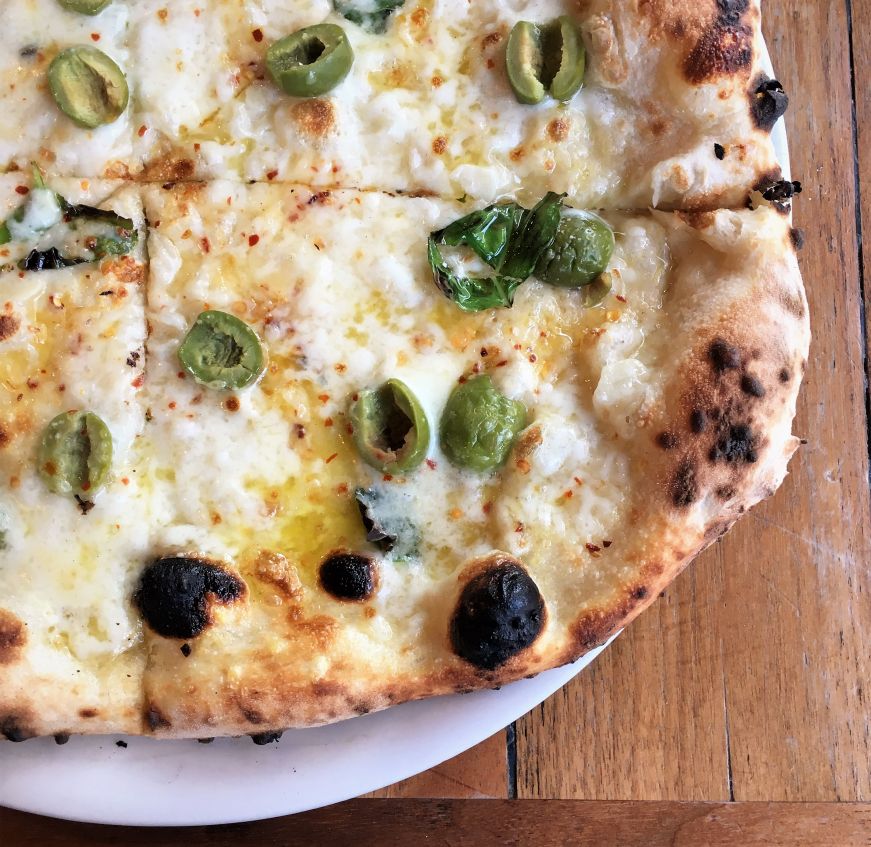 5. Lots of vegetarian and vegan options
While North Dakota might be famous for chicken broth-based knoephla soup and pitchfork steak fondue, I found plenty of vegetarian food and several vegan options.  In Fargo, Bernbaum's has several vegetarian items including the mid-east bagel plate with labne and hummus, latkes, and an egg salad bagel sandwich, plus a vegan lox platter (smoked carrot stands in for salmon) and a vegan vegetable lentil soup.  At Würst Bier Hall, there's a dedicated vegan menu with options like beer battered cauliflower bites and Field Roast sausages and burgers. 
In Bismarck, Terra Nomad's seasonal menu changes weekly but they typically have at least one vegetarian sandwich, salad, and bowl, some of which can be made vegan upon request.  For example, on the day I visited there was a wild rice-stuffed delicata squash, maple balsamic wrap with quinoa and sweet potatoes, a pear salad, and a Caprese melt.
Blackbird Woodfire (Fargo) and FireFlour Pizzeria & Coffee Bar (Bismarck) both offer interesting vegetarian pizza options beyond the standard margherita, like the Bianca pizza pictured above and the wild mushroom pizza I enjoyed at Blackbird Woodfire.
Other places for vegetarian and vegan fare include Oahu Hawaiian BBQ, Sushi Bar, and Thai Cuisine in Bismarck (vegetarian sushi plus Thai rice and noodle dishes).  In Fargo, there's Drunken Noodle (globally-inspired pasta and rice dishes), Rhombus Guys (pizza), and Twist (contemporary American cuisine with globally-influences).
Further reading:
Thank you to North Dakota Tourism, the Fargo-Moorhead Convention and Visitors Bureau, and the Bismarck-Mandan CVB for my accommodations and lunch at Blackbird Woodfire.  I paid for all other expenses out-of-pocket.
If you enjoyed this post, pin it!