As a proud Finnish-American (among the many European nationalities I can claim), Helsinki was the port I was most looking forward to seeing.  Unfortunately, the day started with a heavy drizzle that turned into a downpour by the afternoon.  We put on our raincoats and made the best of it, spending less time on our self-guided walking tour than planned and instead taking a couple hours to see the National Museum of Finland (which was free for the day in honor of Helsinki Day, the city's birthday).  Helsinki was the only place where we were actually mistaken for locals--Mike thinks it's because no other tourists would be crazy enough to spend the day getting soaked, but I like to think it's because I was at home in the land of my people.
The Food:
The market square by the harbor has several food stalls, grilling up a variety of seafood and some meat options for reasonable prices.  Most of the stalls have their own small covered seating areas (great for a rainy day) and have either English or pictorial menus for the non-Finnish speaker.  I got one of the freshest pieces of salmon I've ever eaten, with a delicious mayonnaise-mustard sauce, potatoes, and vegetables.  Mike ordered the reindeer platter, with reindeer meatballs and sausage, ligonberry sauce, potatoes, and vegetables.  The reindeer was lean and tasty (it reminded me of venison, but Mike though it was milder than venison), and the ligonberry sauce had a nice tartness reminiscent of a cranberry sauce.
Other Helsinki Tips: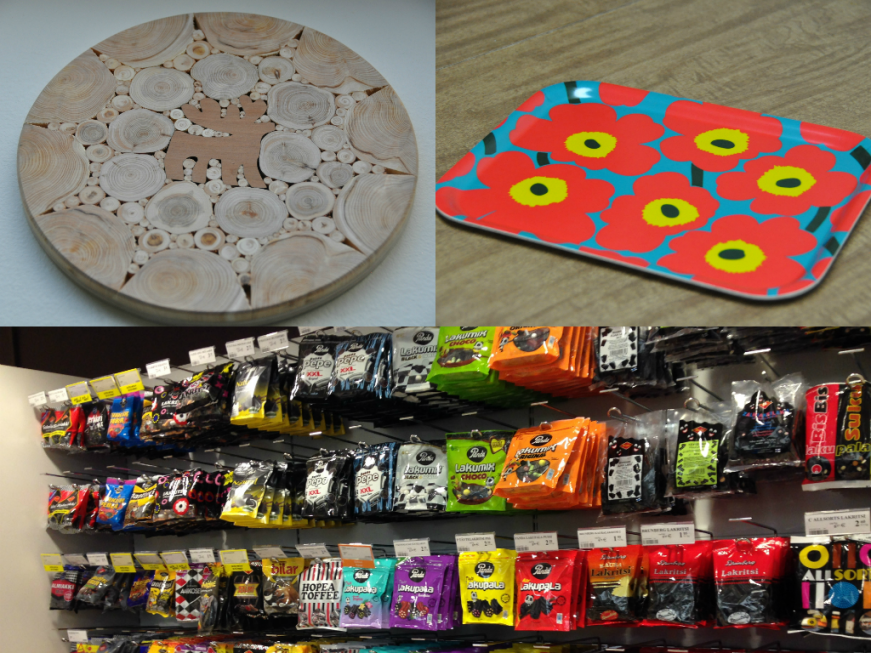 Due to the rain, we spent more time shopping than usual (to my delight and Mike's chagrin).  The market square has both typical tourist trinkets and Finnish-made wood, leather, antler, and ceramic handicrafts.  The Esplanade features a variety of high-end Finnish design stores including iittala and Marimekko.  The basement of Stockmann department store has a large candy section with Finnish chocolates and lots of licorice, as well as a bakery with a tempting array of pastries and breads (sadly, we were still too full from lunch to indulge.)
Another good rainy day activity is the National Museum of Finland, with its well-organized collection and highly informative exhibit text in both Finnish and English.  The highlight is the 20th century exhibit, with artifacts from people's daily lives organized by decade.  The 1910s and 1950s sections feature wonderful compilations of newsreel footage that offer a fascinating glimpses of both major historical events and day-to-day life.
Whatever your religious beliefs, a visit to Temppeliaukio, or the Church in the Rock, is a profound experience.  The church, built in 1969, is blasted out of solid granite and topped with skylights and a dome made of a 13-mile long coil of copper.  We were lucky to visit while a choir was performing and experience the church's incredible acoustics.  Listening the choir and and gazing up at the dome gave me a deep sense of connectedness and serenity, while Mike was moved by the fact that tourists of various nationalities and religions are able to come together and experience such an amazing place.