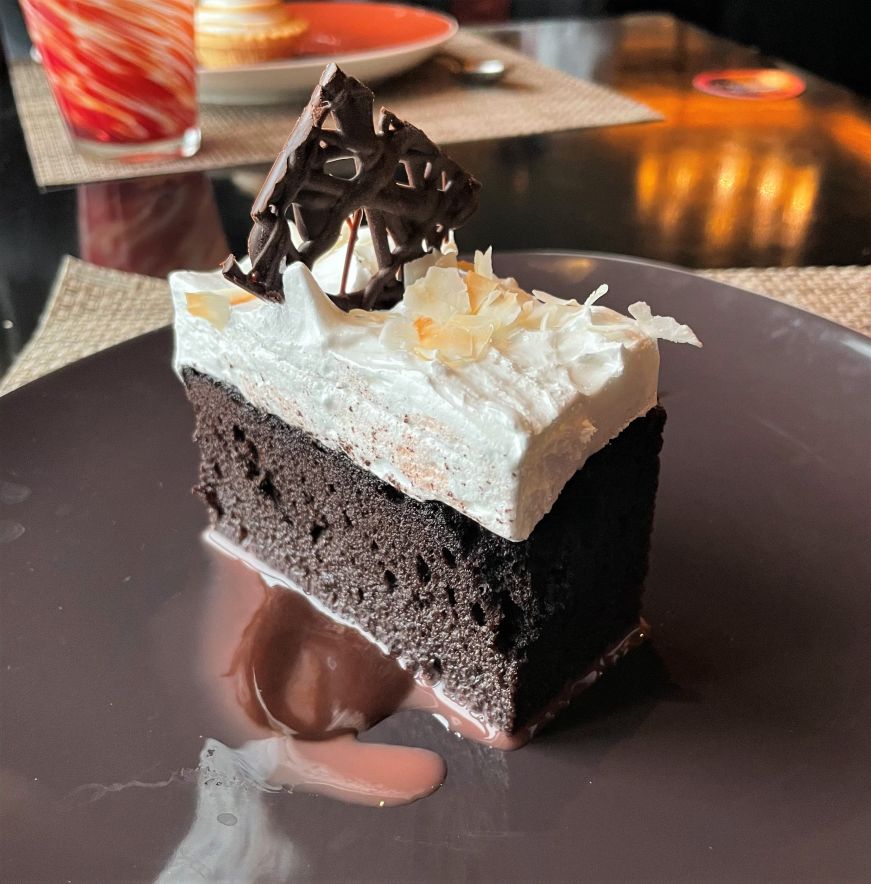 Buffets, main dining rooms, specialty restaurants: the Norwegian Epic has 13 different dining options (plus room service), and on our recent cruise, we checked out eight of them.
The Norwegian Epic offers both complimentary dining included with your cruise fare, and specialty restaurants that require an additional fee (more on that below).  How good are the complimentary options?  Wondering if the specialty restaurants are worth the surcharge?  Here's my non-sponsored take, based on the Mediterranean cruise we took on the Norwegian Epic in May 2023.
Note that Norwegian Cruise Line has the same specialty dining restaurants throughout their fleet, so this information is also applicable to other ships.  For example, our experiences at the specialty restaurants on the Norwegian Jade in 2017 were nearly identical to our experiences on this cruise.  Also, since I eat a primarily vegetarian diet, I've noted which dining options are best for vegetarians.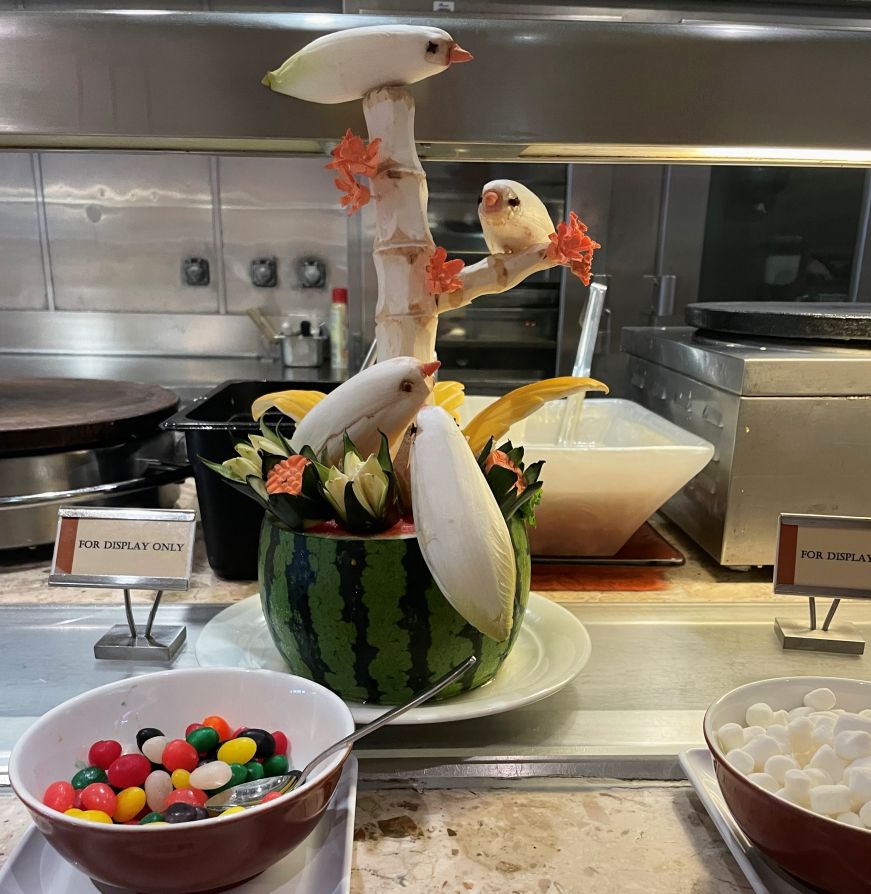 Complimentary Dining Options
Garden Cafe is the ship's main buffet, with a dizzying selection of items for breakfast, lunch, and dinner.  It's relatively straightforward food prepared en masse; I'd compare the quality to the hot bar at an upscale grocery store, like Whole Foods (or for my fellow Twin Cities folks, Kowalski's or Lunds & Byerlys).
There are a lot of things the Garden Cafe gets right: it's easy to find vegetable-centric vegetarian dishes, with a variety ranging from Chinese-inspired stir fries, Indian soups, Caribbean-style savory pastries, and Italian-inspired salads.  You can also request plant-based burgers, gluten-free bread, and milk alternatives from the staff.  Fruits and vegetables are always abundantly featured, and I absolutely love the muesli (if someone from Norwegian Cruise Lines is reading this, email me your recipe!)  There's also a soft-serve machine, ice cream scooped to order, and in the evening, made-to-order crepes. 
The Garden Cafe is reliably busy, whatever the time of day—we ate there daily for breakfast, for lunch on our at sea day, and once for dinner, plus we popped in for crepes a couple of times.  It can be a bit of a sensory overload, and make sure you have a meeting spot arranged with your dining companions; it's easy to get separated and tricky to find each other again.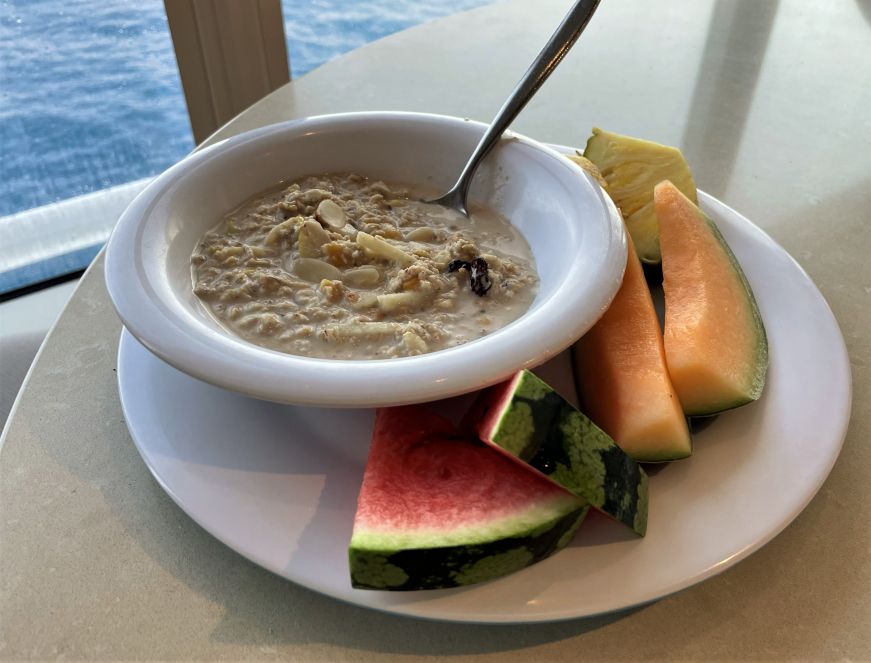 Great Outdoors is a weather-dependent outdoor buffet adjacent to the pool deck.  During our cruise, it was consistently open for breakfast and afternoon snacks, and occasionally for other meals; the food at meal times is a smaller selection of the food available at the Garden Cafe.  The afternoon snack buffet had a British influence, with some tasty finger sandwiches, scones, and cakes, plus American-style build-your-own sandwiches, French fries, and fruit.  A soft serve machine and self-serve non-alcoholic beverages are also available.
The hours at the Great Outdoors are more limited than the Garden Cafe, but you're welcome to get food indoors at the Garden Cafe and then take it outside to the Great Outdoors seating area.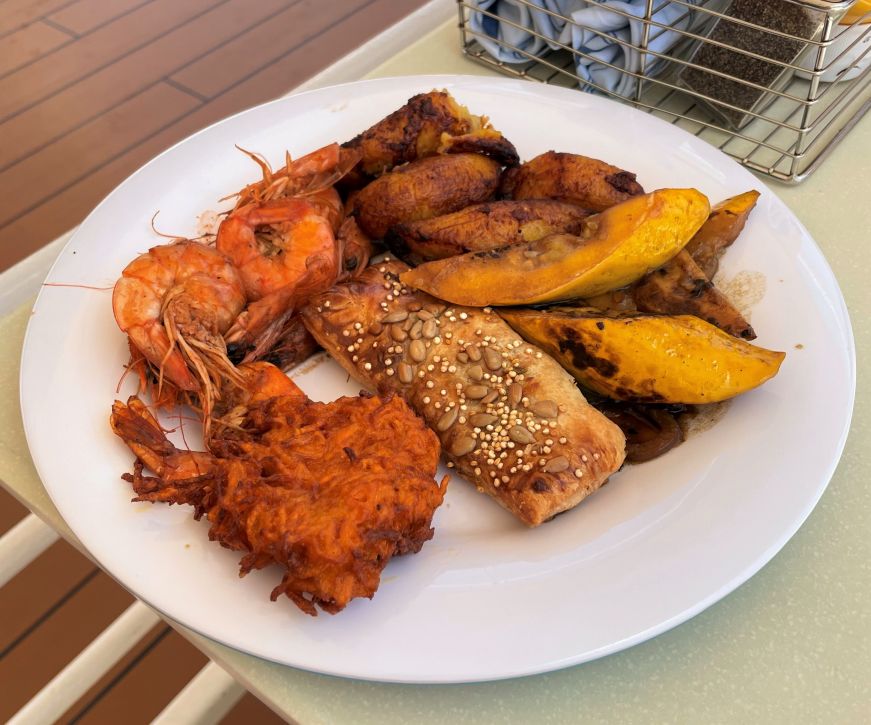 Spice H20 is another outdoor buffet, but in the adults-only pool area.  It's occasionally open for lunch and dinner and serves a small selection of the same food as the Garden Cafe, mostly poolside-friendly options like hamburgers and salads.  There's a bar nearby, and the seating area feels relaxed and tucked away from the rest of the ship.
O'Sheehan's Bar & Grill is the only dining option that's open 24 hours a day.  It's a full-service restaurant that has a similar atmosphere to a family-friendly bar and grill like Applebee's, with a menu of American bar fare.  We dined there once for dinner and tried the wings, spinach dip, Caesar salad, pretzel bites, and raspberry brownie cheesecake.  We were impressed with the quality—everything is flavorful and well-prepared, with some tasty little flourishes like a Parmesan crouton on the salad and a zesty cheese dip for the pretzels.
Unfortunately, O'Sheehan's has limited vegetarian options, and the since the seating area runs along a walkway and is adjacent to the casino it can be quite loud.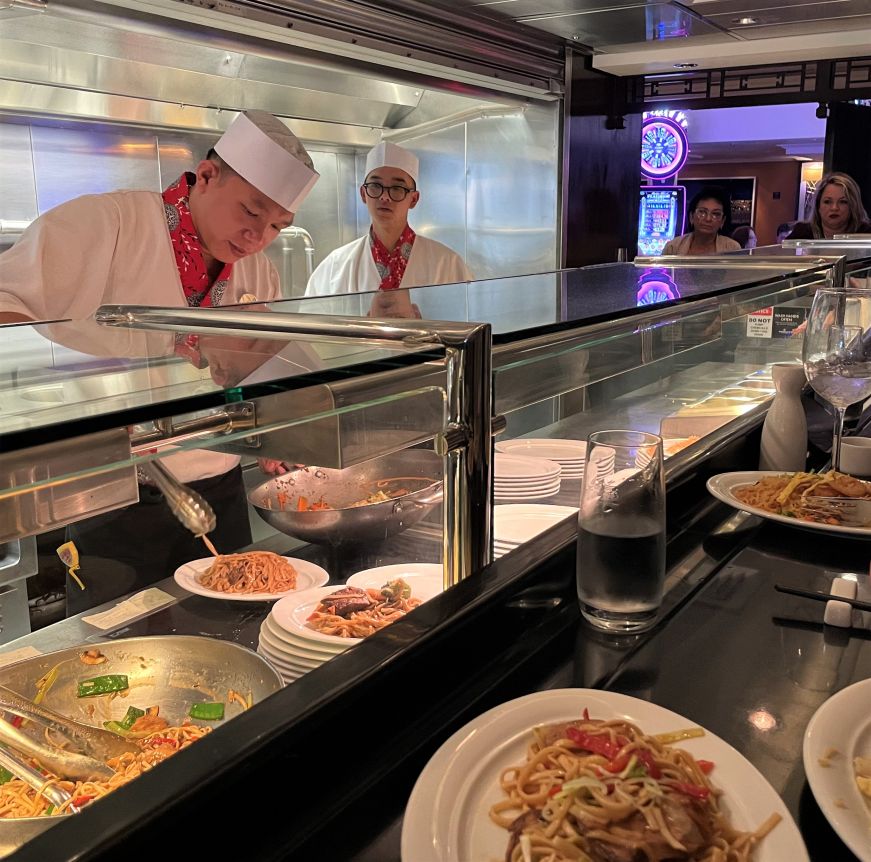 Shanghai's Chinese Restaurant and Shanghai's Noodle Bar was our favorite casual complimentary option.  Both the restaurant and noodle bar are full service, and the menus are slightly different, with the restaurant having more appetizer and dessert options.  We loved sitting at the noodle bar and watching the chefs churn out dish after dish, and we enjoyed the cuisine so much that we returned on another night to dine at the restaurant.
Although the dishes are fairly Americanized takes on Chinese cuisine, everything we tried was fresh and flavorful and the spicy food is genuinely spicy.  I appreciated that there were several vegetarian dishes and an interesting dessert menu; I especially enjoyed the steamed vegetable dumplings, vegetable fried rice, five spice chocolate cake, and chestnut pastry triangles stuffed with red bean paste.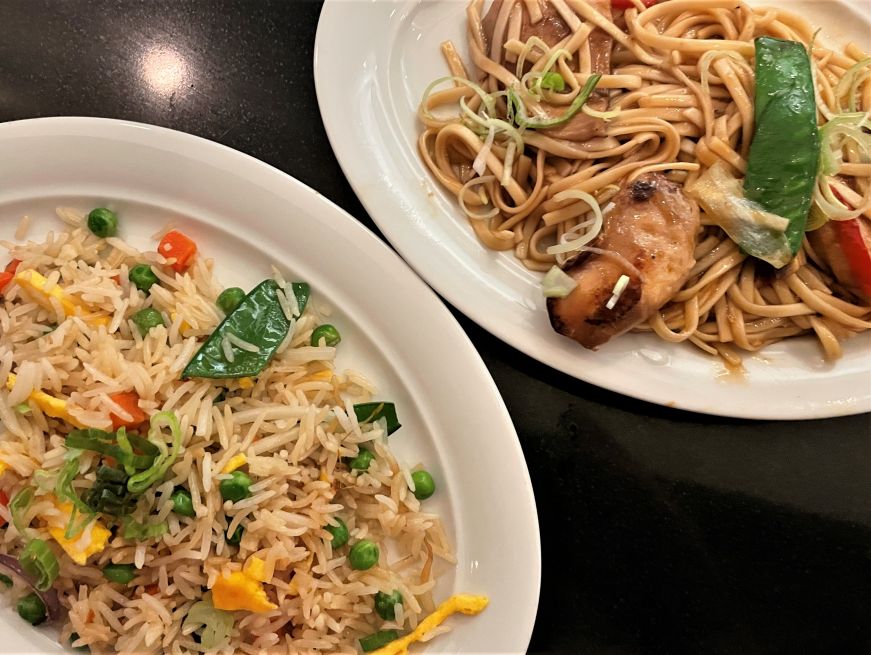 The Manhattan Room is the most formal complimentary dining option, with a smart casual dress code that prohibits t-shirts with writing, flip flops, shorts, tank tops for men, and overly revealing clothing for women.  The tone of the service and the surroundings evoke a high-end steakhouse, with lots of dark wood and a mid-20th century vibe.  There's a stage in the center of the room with live music and dance performances; check the Freestyle Daily for the schedule. 
The menu skews towards traditional, meat-centric American cuisine, although there are always some seafood and vegetarian options.  We dined at the Manhattan Room once for dinner, and although it's a nice space it isn't quite our style.  Note that reservations are accepted, which may save you some waiting time during the dinner rush.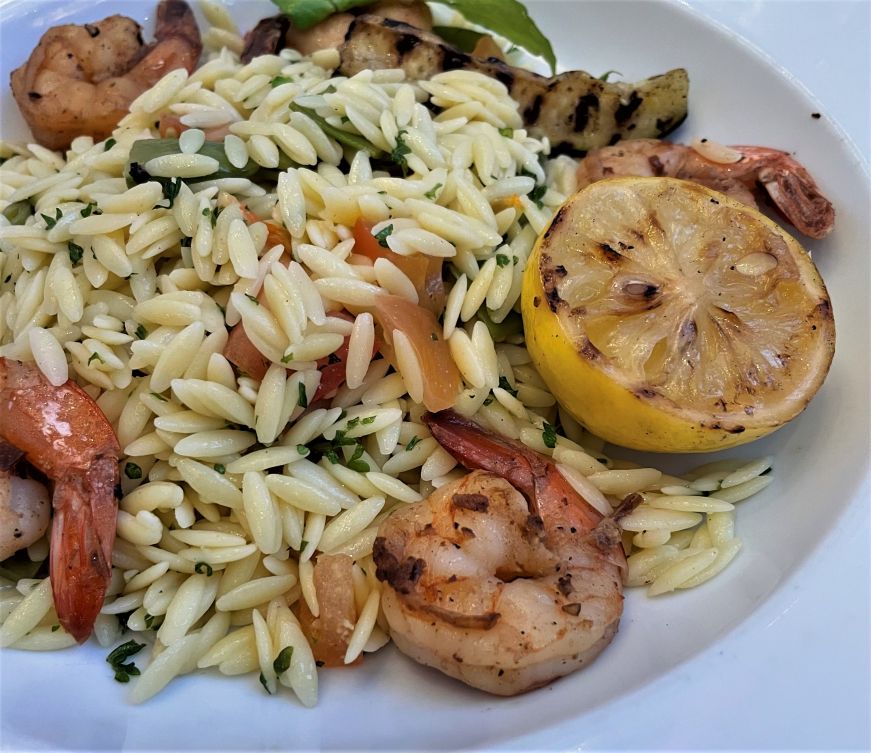 Taste is the other main dining room, with a resort casual dress code but the same attentive, upscale service.  The decor is an odd juxtaposition of brick and brightly colored stained glass, with an open atrium and self-playing piano in the center.  I recommend making a reservation to try and land a prime spot in the atrium—it has a wonderful light, airy feel and was our favorite complimentary dining venue on the ship.
Like the Manhattan Room, the menu is traditional American fare with some seafood and vegetarian options.  Since my vegetarian pasta dish at the Manhattan Room was underwhelming, I went pescatarian for the night and enjoyed a delightfully well-prepared scallop starter and a brightly flavored grilled lemon pepper shrimp with orzo and vegetables.  Dessert was delicious, with a chocolate lava cake for Mike and a Nutella creme brulee for me.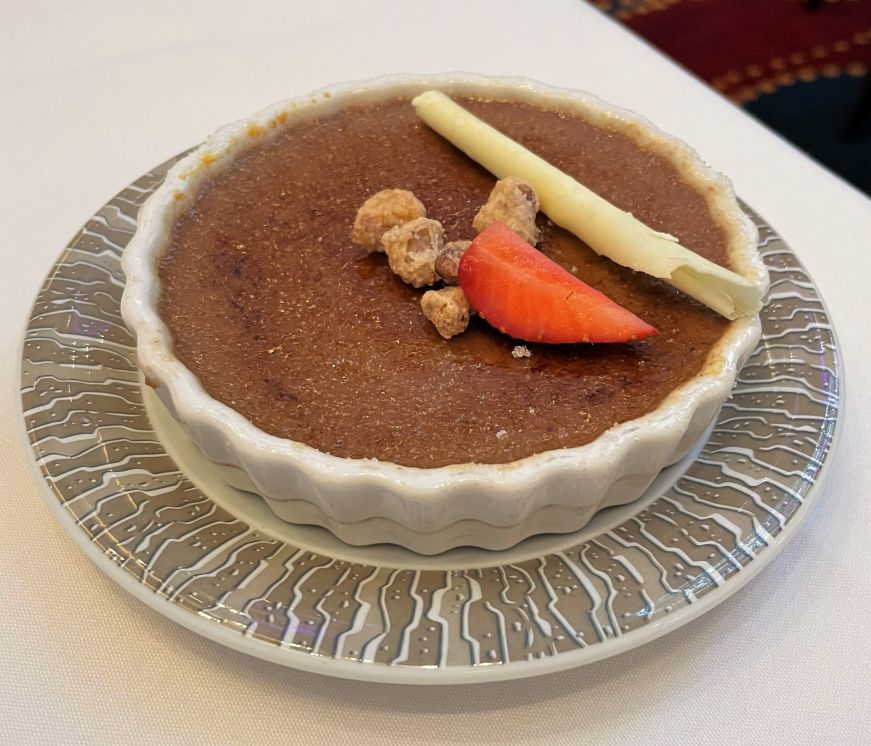 Specialty Dining (additional surcharge applies)
Norwegian Cruise Line frequently runs promotions where you get a free dining plan, which was the case for us: we got two specialty dining meals per person included with our cruise fare.  (On a 2017 cruise on the Norwegian Jade, we got a free specialty dining plan with three meals per person.)  Alternatively, you can purchase dining packages that include anywhere from two to 14 specialty meals per person, or you can pay for an individual meals.  Some restaurants are a la carte, others have a cover charge.
Seating is limited at all of the specialty dining restaurants, so make reservations as soon as possible.  It's hard to predict which restaurants will be the most popular; on this cruise, La Cucina was consistently packed, possibly because it was a Mediterranean itinerary and everyone wanted to eat Italian food.  On a previous cruise on the Norwegian Jade, Moderno Churrascaria and Teppanyaki were the the trickiest reservations to land.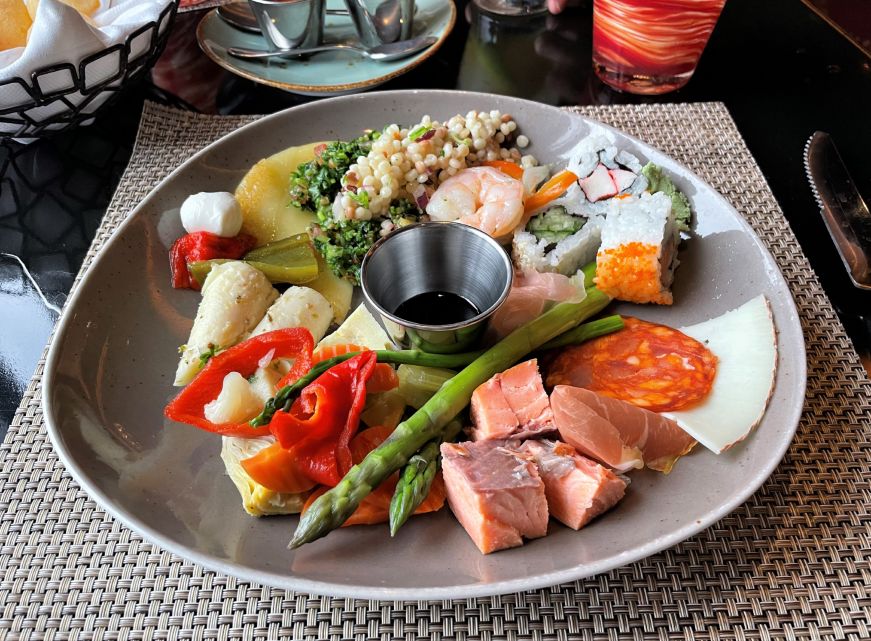 Moderno Churrascaria, a Brazilian steakhouse, is our favorite specialty restaurant.  A vegetarian could dine quite well at the salad bar, which is loaded with 43 items including salads, pickled vegetables, cheeses, soups, and some non-vegetarian items like charcuterie, smoked salmon, and sushi.  Next, you get several side dishes for your table, most of which are vegetarian (I love the fried yucca and pão de queijo, a Brazilian cheese bread).  Servers roam around the dining room with skewers of grilled beef, lamb, pork, chicken, and pineapple, cutting off small pieces so that you can try a little bit of everything.  Save room for dessert—there's an interesting menu with unique specialties like coconut chocolate tres leches cake.
Not only is there a huge variety of delicious food at Moderno Churrascaria, on the Epic the restaurant has wonderful location, with huge windows looking out the stern of the ship.  Without the dining plan, there's a cover charge.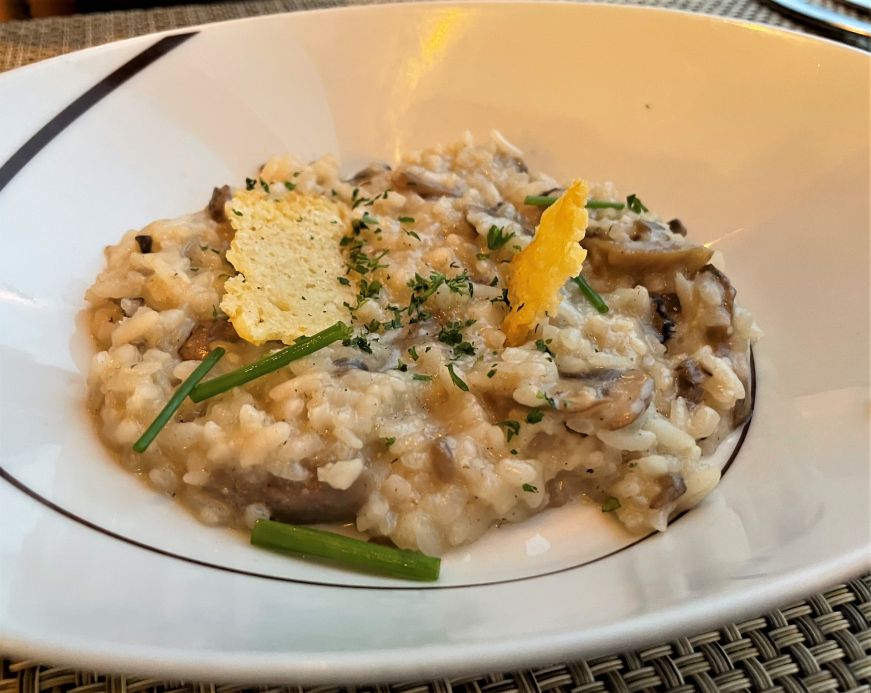 La Cucina is an upscale Italian restaurant, with some nods to American tastes.  The attention to detail is impeccable, and the space has a romantic, intimate feel.  The menu includes appetizers, pasta, risotto, pizzas, and meat and seafood entrees.  Since many of the pastas and pizzas are meatless, this is the most vegetarian-friendly specialty dining restaurant.
We especially enjoyed the wild mushroom risotto, shrimp fra diavolo (the tomato sauce is indeed spicy), margherita pizza, and chocolate tartlet with raspberry and pistachio.  Pricing is a la carte if you're not on a dining plan.
Teppanyaki is a hibachi grill: diners sit around a large table while the chef prepares shrimp, steak, chicken, and fried rice on a grill in the center.  Meals come with miso soup, seaweed salad, and a choice of dessert.  For your entree, you pick your protein (beef, chicken, seafood, tofu, or vegetables), which is served with garlic fried rice and grilled vegetables.  Watching the chef in action is a fun spectacle, and we thoroughly enjoyed our meal at Teppanyaki on the Norwegian Jade.  If you're not using a dining plan, there's a cover charge for your meal.
Wasabi is a sushi and yakitori bar serving Japanese appetizers, sushi rolls, nigiri, sashimi, and grilled skewers of meat and seafood.  If you're not on a dining plan, pricing is a la carte.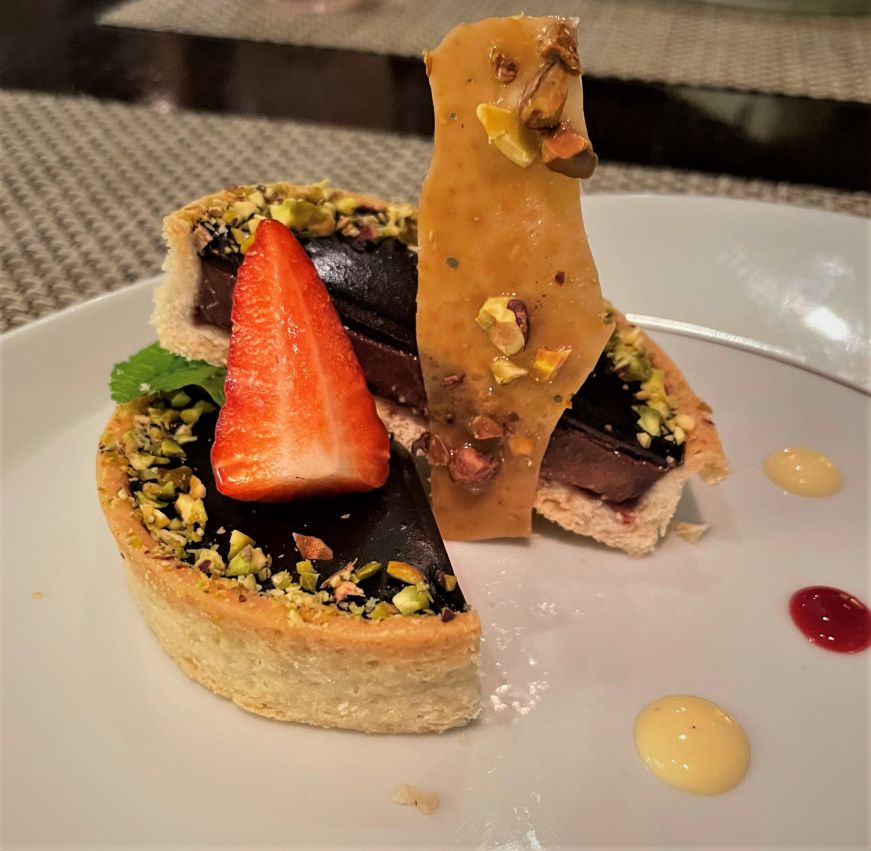 Cagney's Steakhouse serves certified Angus beef, with a variety of cuts available, as well as seafood and classic American steakhouse appetizers, sides, and salads.  If you're not using a dining plan, pricing is a la carte. 
Le Bistro offers traditional French cuisine, and like the Manhattan Room, enforces as smart casual dress code that prohibits t-shirts with writing, flip flops, shorts, tank tops for men, and overly revealing clothing for women.  Without a dining plan, pricing is a la carte. 
This isn't a sponsored post, and it doesn't contain affiliate links—we paid for all of our cruise expenses out-of-pocket. 
Further reading Review: Norwegian Cruise Line The Cinque Terre Shore Excursion
If you enjoyed this post, pin it!