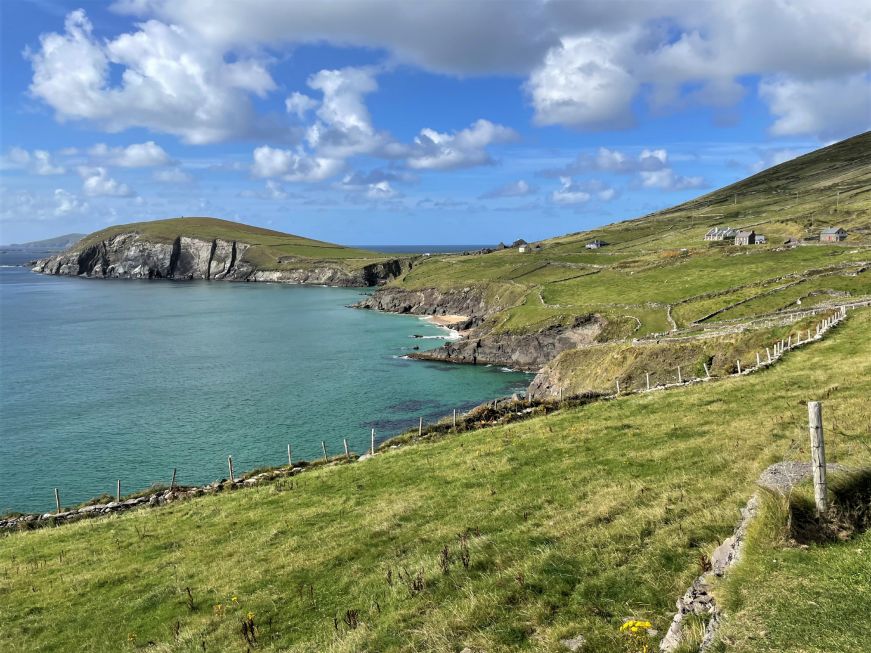 Rolling green hillsides, dramatic coastlines, picturesque villages, historic cities, and cozy pubs: Ireland is a beloved tourist destination for many reasons, and it's one of my all-time favorite places.
This post isn't meant to be a comprehensive travel guide—for that, I recommend Rick Steves' Ireland, the official Tourism Ireland website, and Ireland Family Vacations.  Instead, these are tips based on my own experiences.  This is the advice I would give to a friend taking a trip to Ireland, including planning your itinerary, what to pack, and tips for driving, dining, and other practicalities.  My biggest piece of advice?  Just go there!  Ireland is a truly special place.
Planning
1. Don't try to see it all.
Ireland is a relatively small country (about the size of Indiana), and there's an understandable urge to try to see it all.  Unless your trip is at least month long, this is not a realistic goal—driving in Ireland takes longer than you would expect, and an eight-hour drive on U.S. highways is a completely different proposition than an eight-hour drive in Ireland, in which you're driving on the left side of the road on narrow, curvy roads.  Switching to new accommodations every night can also be taxing,
I think it's best to think about what kind of an experience you want to have, and plan from there.  If you don't want to drive, stick to the cities of Dublin, Galway, and Belfast.  If you love coastal scenery, visit the Dingle Peninsula and Northern Ireland's Antrim Coast.  If you're curious about your ancestral ties to a specific part of Ireland, delve into that region.  As a rule of thumb, I think it's good to spend three days in each region, so if you have a week, focus on two regions.
Our first trip to Ireland in August and September 2010 was eleven nights, with two nights in Dublin, one night in Kenmare, two nights in Dingle, three nights in Galway, one night in Glendalough, one night in Glenealy, and a final night in Dublin.  In highsight, it felt far too harried at the end—it would have been better to spend two nights in Glendalough, or maybe skip Glendalough and Glenealy entirely to spend additional time in Kenmare and Dingle.
Our September 2022 trip to Ireland was nine nights, with two nights in Dublin, three nights in Dingle, two nights in Portrush, one night in Belfast, and a final night in Dublin.  It was more manageable in terms of driving, we still got to see a lot, and it was nice to have multiple days in most locations to hedge for inclement weather. 
2. Rent an automatic, compact car.
When you're booking your rental car, make sure that you reserve a compact car with an automatic transmission.  Even if you are comfortable driving a manual, the stick shift will be located on the opposite side that you're accustomed to in the U.S.—in Ireland, drivers sit on the right hand side of the car and shift with their left hands.  Driving on narrow Irish roads is intense enough, and you don't need an extra thing to worry about.  Just pay the modest upcharge and get an automatic.
Thanks to those narrow roads (both in historic towns and the countryside, where the roads typically don't have shoulders and are often bordered by hedges or stone walls) you'll definitely want to reserve a compact car.  It will also be easier to park, since parking spots can be quite small (especially at bed and breakfasts and Airbnbs).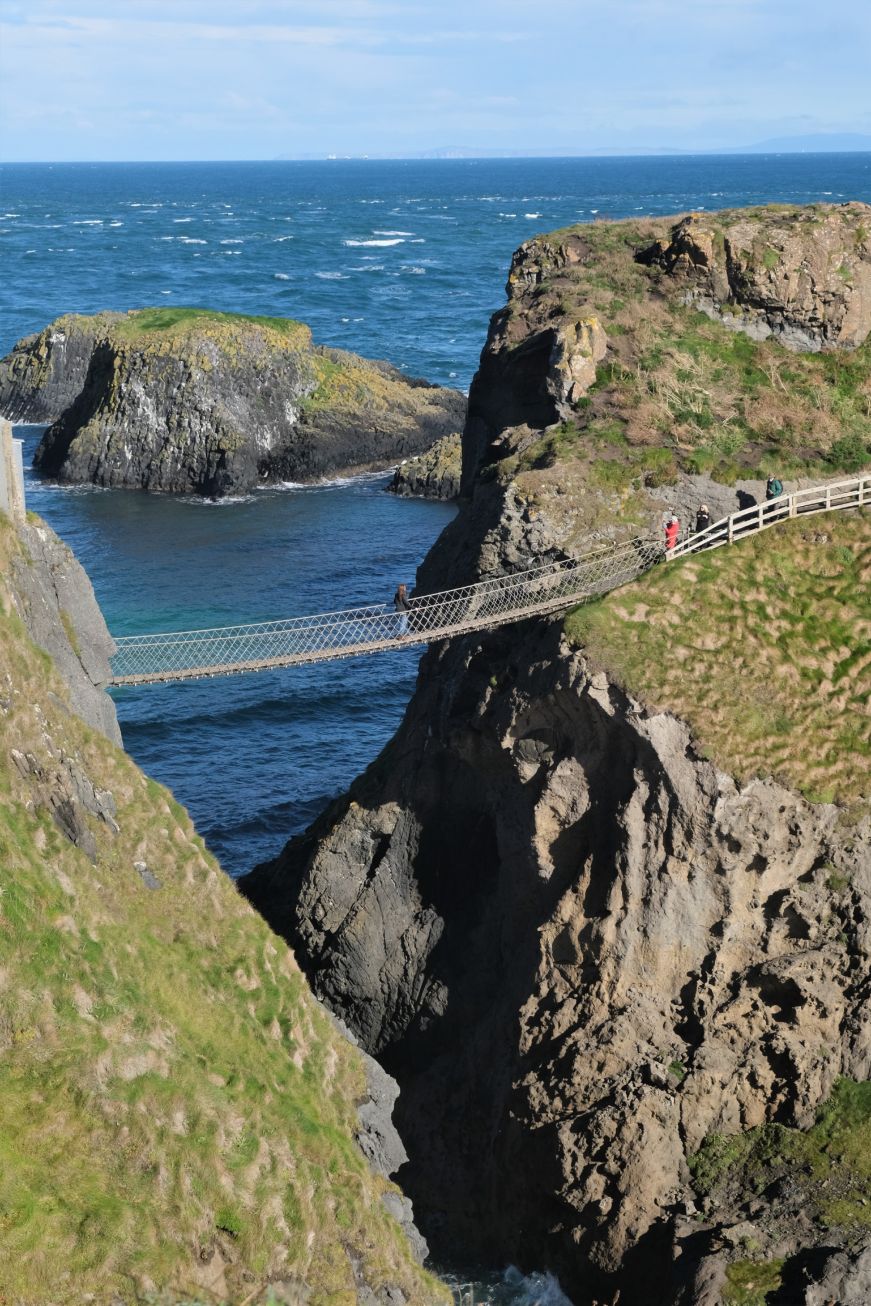 3. Pre-book attractions and tours.
Ireland is a popular tourist destination, and activities and tours sell out—this is especially true during the summer peak tourist season, but some attractions are busy year round.  It's easy to purchase tickets in advance online, and while it is a bit of a hassle to figure out your daily itinerary months in advance, it's worth it if you have your heart set on a particular experience. 
For our trip in September 2022, I pre-purchased online tickets for the Rock of Cashel in County Tipperary; the Giant's Causeway, Bushmills Distillery, and Carrick-a-Rede Rope Bridge on Northern Ireland's Antrim Coast; and a cab tour in Belfast.  We were able to get admission to the Book of Kells the day-of, but during the summer I'd recommend booking in advance. 
Finally, make sure you have reliable access to your online tickets, either by printing out a hard copy or downloading them to your phone.
4. Figure out how you're insuring your rental car and have an electronic or paper copy of your personal policy, if applicable.
If you rely on your personal automobile insurance policy or credit card coverage to insure rental cars, make sure that your policy covers Ireland.  Because Ireland is one of the accident-prone places in the world to drive, many policies don't cover the country.  If that's the case, you'll need to purchase an insurance policy from your rental company.
However, if your policy does include Ireland (for example, my Capital One Venture credit card provides rental car coverage worldwide), make sure you have a copy of that policy to show the rental company.  If you decline their insurance coverage, they typically will not let you drive off the lot until you have provided adequate proof of insurance.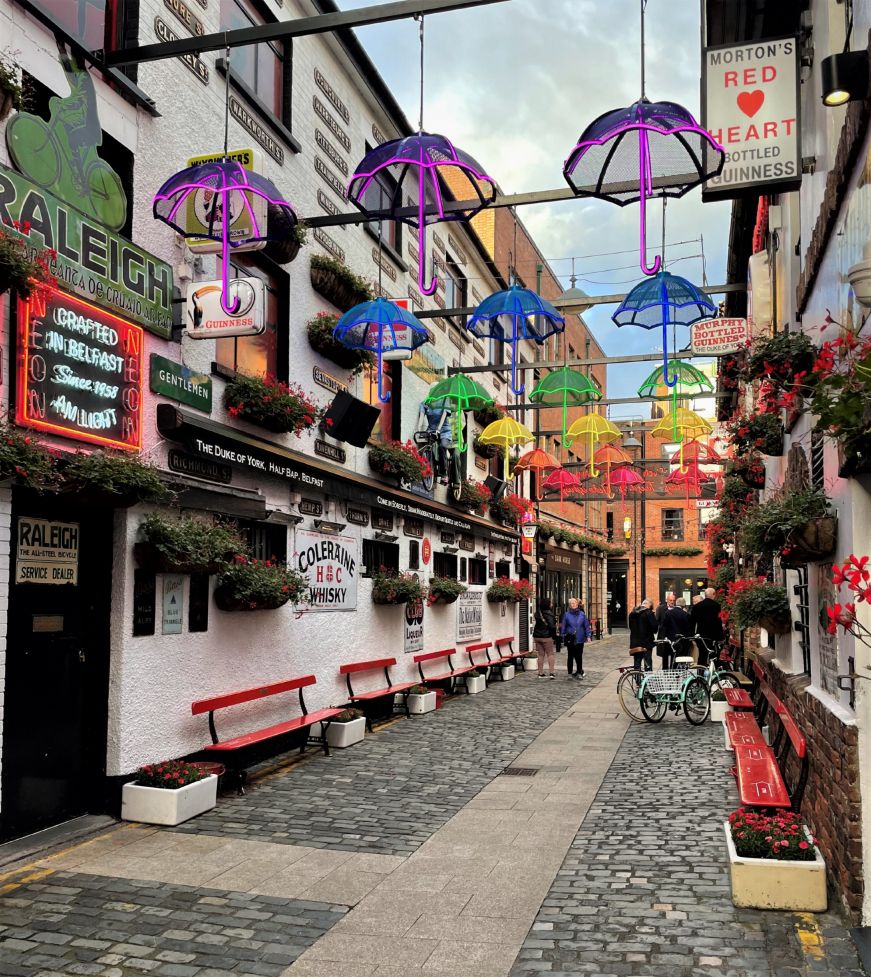 Packing
5. Bring some three-prong adapter plugs.
Both the Republic of Ireland and Northern Ireland use plug type G, which has three rectangular pins in a triangular pattern.  In order to plug in your U.S. electronic devices, you'll need a three-prong adapter plug—typically they're referred to as UK, United Kingdom, or British adapter plugs.
6. Pack umbrellas and rain gear.
Assume that it will rain during your time in Ireland—that's why it's so green!  Your trip will be far more enjoyable if you have a good-quality umbrella and waterproof jacket.  If you're planning to do a lot of hiking or other outdoor pursuits, you should also bring waterproof footwear.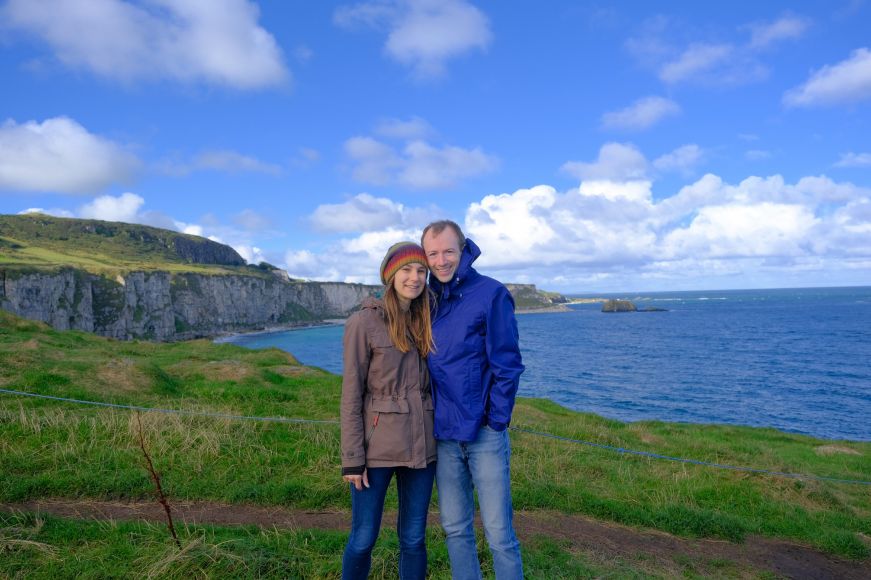 7. Don't forget a hat and gloves.
If you're traveling in the spring, fall, or especially winter, pack a hat and gloves.  There are brisk winds by the ocean, and dampness from the frequent rain makes it feel chillier than you might expect.  I was very grateful to have a hat, gloves, and scarf for our September trip.  They don't take up much room in your luggage and can make a huge difference in how much you enjoy your vacation.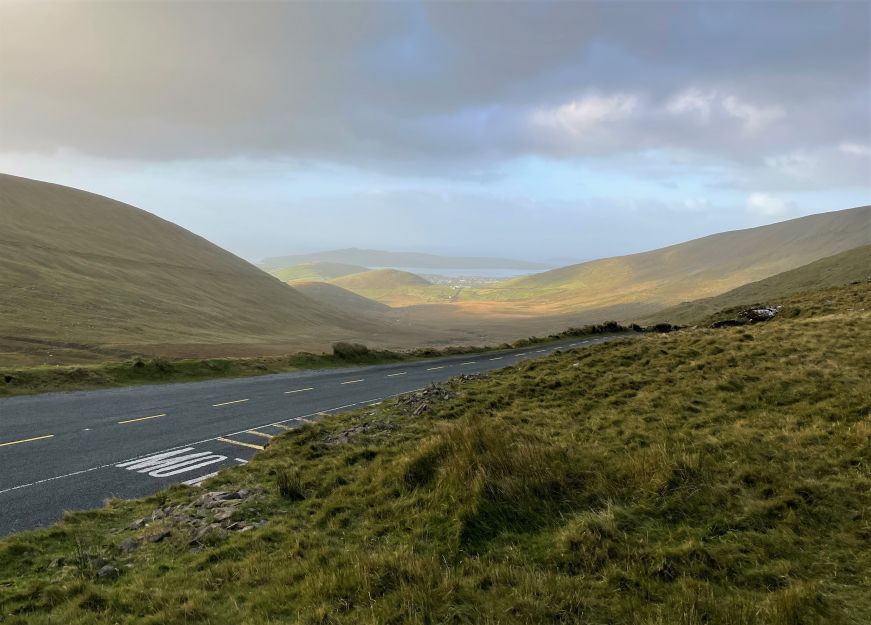 Driving
8. Stick to motorways and national roads if possible.
Ireland's roads range from multi-lane highways similar to what you're used to driving on in the U.S. to very narrow dirt lanes that would not be considered a legal public thoroughfare anywhere in the U.S. (and I say this as someone who grew up driving on rural gravel roads).  For the best driving experience, stick to motorways (designated by M, as in M50) or national roads (designated by N, like N86).  Regional roads (designated by R, such as R560) are typically narrower and curvier that motorways and national roads.  Local roads (designated by L, like L4202) vary greatly in quality and in rural areas are more akin to driveways. 
If you're relying on Google Maps to navigate, it defaults to the "quickest" route, which might involve regional or local roads where you'll likely drive slower than Google Maps thinks you will.  Sticking to national roads can actually be quicker.  Even if it's not, your experience will often be significantly less stressful.
9. Budget in extra time for long drives.
Other than on motorways, you likely will be driving below the speed limit, so it will take you longer to get to your destination than you think it will.  It's also nice to have some extra time to stop for scenic views, picturesque villages, and sightseeing. 
For example, we gave ourselves eight hours to do the five hour drive from Dublin to Dingle, so that we could see the Rock of Cashel along the way (it ended up taking even longer due to a flat tire, which is a whole other story).  We allocated an entire day to drive from Dingle to Portush, with stops at Conor Pass, a short detour to see Mullaghmore Head, a stop in Donegal to have dessert at a charming tearoom, and a quick walk along the Derry town wall.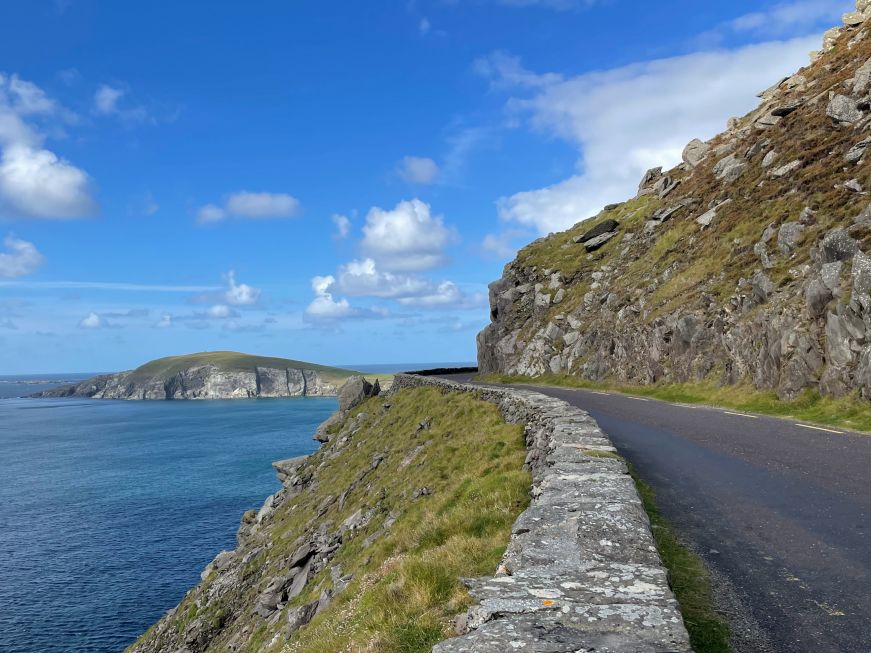 10. If possible, avoid driving at night in rural areas.
As I mentioned above, Irish road quality varies wildly, and in rural areas you will probably be driving on regional and local roads.  These narrow roads can be nerve-wracking by day, with hedges, stone walls, and wandering livestock, and even worse after dark, since you're relying on solely on your headlights.  Unfortunately, drunk driving is a significant problem in Ireland (with a prevalence similar to the U.S.), and you're more likely to encounter a drunk driver in the evening and nighttime hours. 
11. Familiarize yourself with Irish place names—especially in the Gaeltacht. 
The Republic of Ireland has two official languages, English and Irish (Gaeilge).  Although very few people speak Irish as their first language, preserving the language is an important source of national and cultural pride, and government signage (including road signs) usually includes both languages.  However, in Gaeltacht districts, which are mostly located along Ireland's western coast, Irish is considered the predominant vernacular and road signage is often in Irish only. 
For the most part, you'll be able to figure signs out via context clues, but it's helpful to know Irish place names so you know that you're heading in the right direction.  For example, Dingle, a popular tourist town, is called An Daingean in Irish.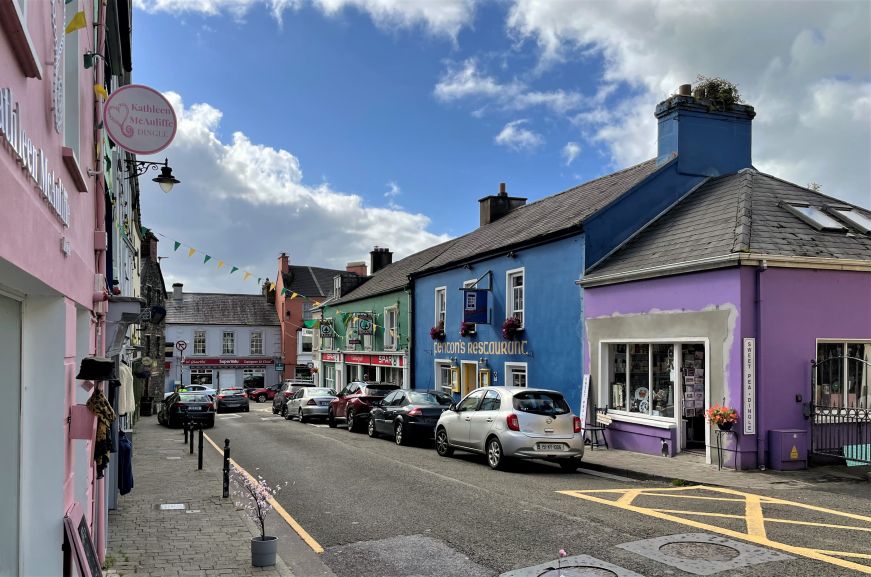 12. You won't notice that you've crossed an international border.
Due to historic tensions, the border between Ireland and Northern Ireland is not only uncontrolled, it's unmarked.  The only way that you'll know that you're in a different country is a notice indicating that speed limits are listed in miles (if you're crossing from Ireland to Northern Ireland) or kilometers (if you're crossing from Northern Ireland to Ireland).  If you have a digital speedometer that only lists one or the other, pull over as soon as possible to change it—it's annoying to have to mentally convert speed limits.
Another subtle sign that you've crossed the border is that the border town is known as Derry in the Republic of Ireland and Londonderry in Northern Ireland, so once you've crossed the border into Northern Ireland the signs will tell you how many miles to Londonderry instead of how many kilometers to Derry.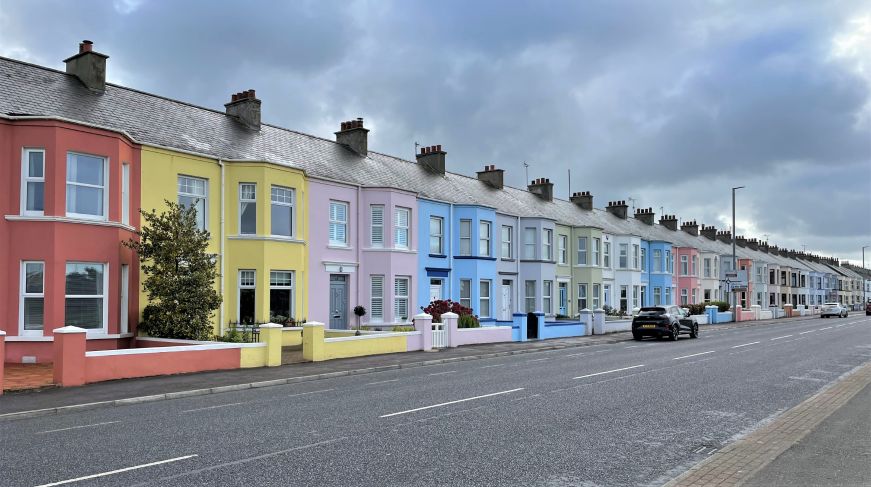 Accommodations
13. You may need to turn on electric outlets.
The Airbnbs we stayed at had power outlets that needed to be turned on—after plugging in our devices, we flipped a switch on the outlet.  This also applied to outlets for some major appliances, like hot water heaters and washing machines.
Dining
14. Pubs serve drinks other than Guinness.
Pints of Guinness figure heavily into U.S. stereotypes about Ireland, and it is quite popular.  However, if stout isn't your thing (although if you've only ever had the canned U.S. version, the Irish draft version is magnitudes better), there are always a few other beers and a hard cider on tap, even in the smallest pubs.  I love Smithwick's Red Ale, and if you like lighter beers, try the pilsner-style Harp Lager. 
Pubs also serve whiskey and gin, and you can purchase small glass bottles of Coke and ginger ale to make your own mixed drink.  Some pubs have cocktail menus, especially in touristy areas.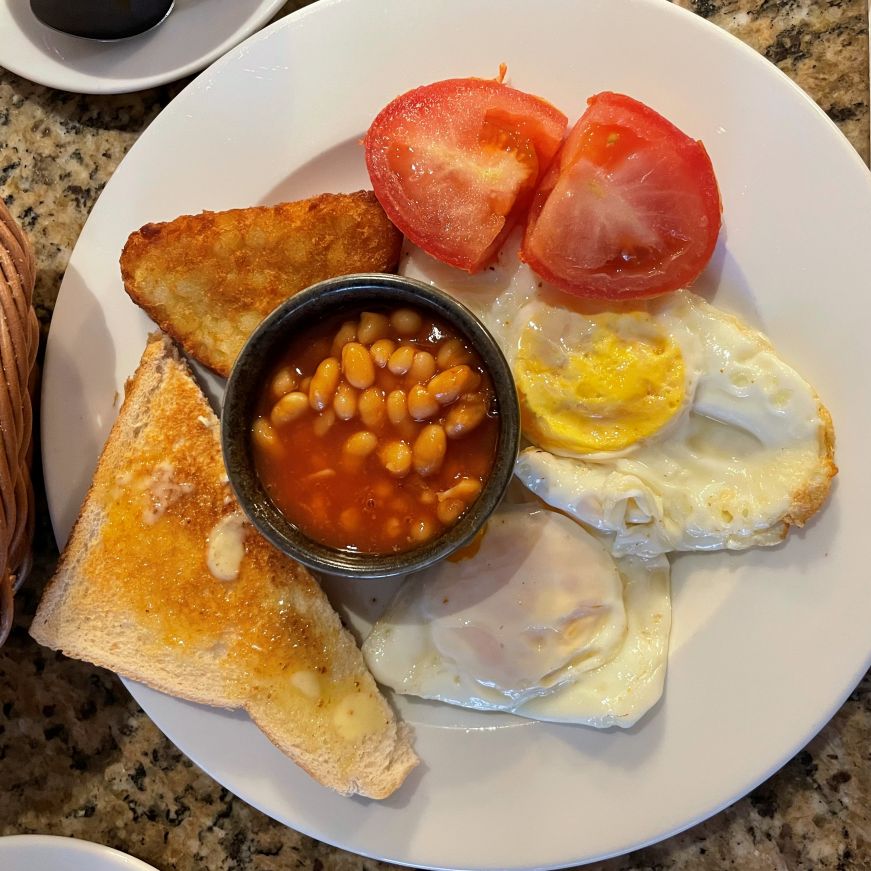 15. You don't need to order a full Irish breakfast (or in Northern Ireland, an Ulster fry).
As someone who doesn't typically eat a large breakfast, the prospect of eating a full Irish breakfast every day is daunting—it's a hearty meal that traditionally includes bacon, sausage, eggs, potatoes, beans, soda bread or toast, tomatoes, mushrooms, and white or black pudding.  (White pudding is a sausage made from fat and a grain like oatmeal, and black pudding is a blood sausage.)  If you request a vegetarian breakfast, you'll likely just get a meal without the sausage, bacon, and pudding, although some spots do offer meatless puddings or other vegan alternatives. 
Whether it's the standard or a vegetarian version, a full Irish breakfast is a lot of food.  Don't feel like you need partake, especially if breakfast isn't included included in your room rate.  Most Irish people don't eat a full breakfast on a regular basis (it's a relic of a time when most people spent their days doing manual labor) and cafes usually serve lighter options, like porridge (oatmeal), toast, pastries, and yogurt with granola.
16. You don't have to give up your coffee habit.
Ireland is a tea-centric culture: accommodations are far more likely to have an electric kettle and tea bags than a coffeemaker.  However, you can easily get good coffee—we liked the Esquires chain in Ireland and the Ground Espresso Bars chain in Northern Ireland, and we also came across plenty of neat locally-owned spots.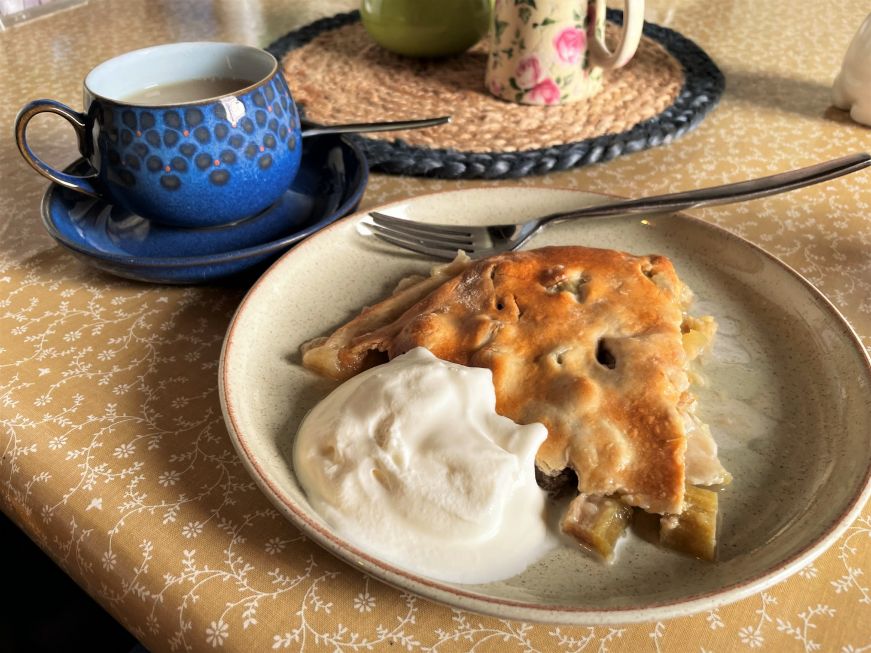 Money
17. Know the currency.
The Republic of Ireland uses the euro, and since Northern Ireland is part of the United Kingdom, they use the British pound. 
18. Carry a small amount of cash.
Credit cards are widely accepted throughout Ireland and Northern Ireland at restaurants, shops, and attractions.  However, some parking meters are coin-only, and a handful of small, rural cafes we visited didn't accept credit cards.  If you're planning a week long trip, withdrawing about 50 euros or 50 pounds should be adequate.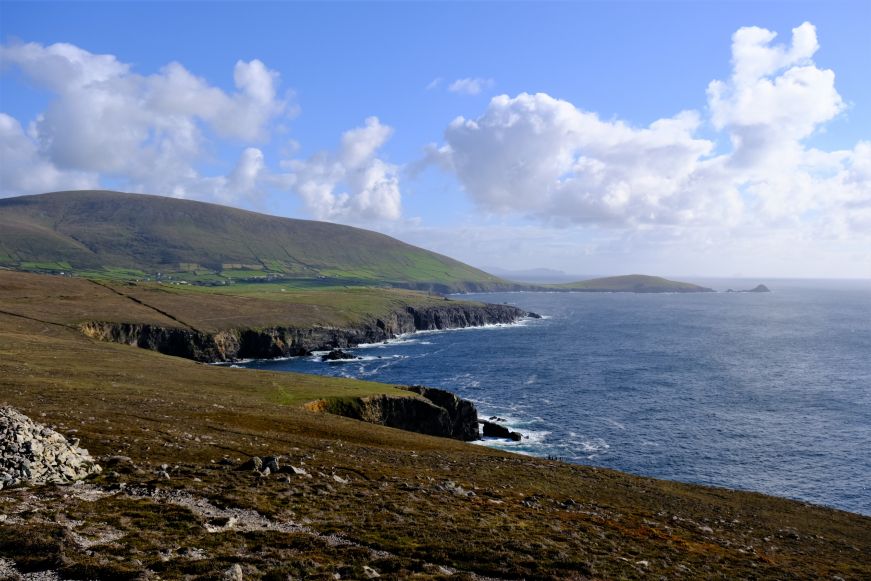 Further reading: 10 delicious things I ate and drank in Ireland
If you enjoyed this post, pin it!