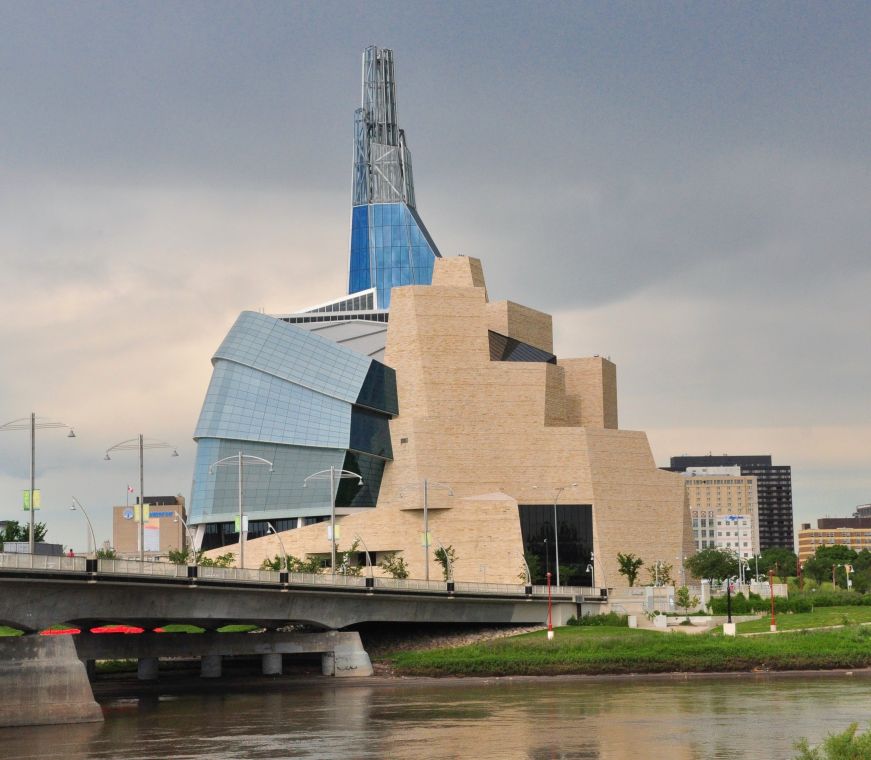 As an American with internationally-minded wanderlust, one thing that bums me out about the United States is that it's so big.  Foreign travel usually involves pricey plane tickets and copious amounts of vacation time.
But as a Minnesotan, I have the luxury of residing within driving distance of our neighbor to the north.  Winnipeg, Manitoba is a seven hour drive from Minneapolis, perfect for a four-day-weekend trip.  Located along the Red and Assiniboine Rivers, this city of over 600,000 has a vibrant downtown, fascinating museums, plenty of green space, and a great food scene. As an added incentive, the current exchange rate is very favorable to Americans (as of August 2016, $1 U.S. is equivalent to $1.30 Canadian), which makes lodging, dining, and attractions quite affordable in comparison to an equivalent U.S. city.
We spent an evening plus two full days in Winnipeg, which gave us enough time to explore The Forks, the Exchange District, downtown, and the French Quarter; visit the Manitoba Museum and the Canadian Museum for Human Rights; and enjoy drinks along the Red River.  With more time (and better weather) I would have liked to visit the St. Boniface Museum, wander Assiniboine Park, and take in a Winnipeg Goldeyes minor league baseball game.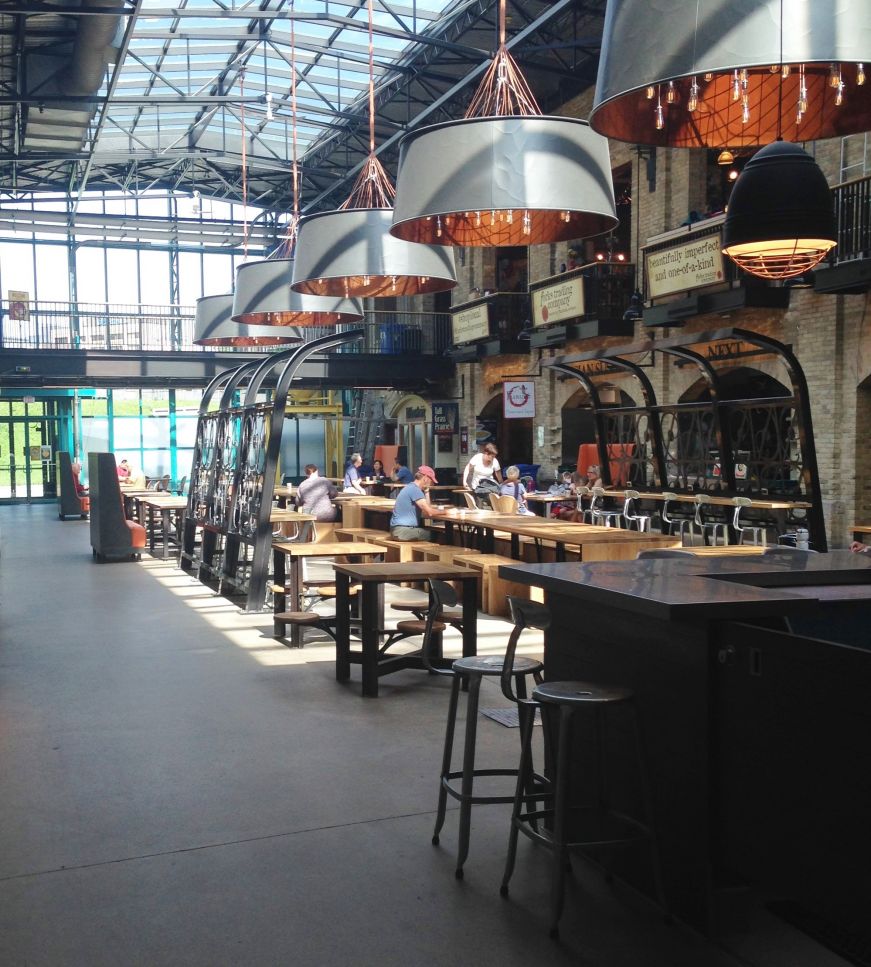 Where to eat:
The Forks Market is a food lover's paradise, with stalls selling a United Nations' worth of global cuisine.  We spotted Sri Lankan, Caribbean, Chilean, and Argentinean fare, as well as Japanese sushi, Eastern European perogies, French crepes, and North American options like hot dogs and mini donuts.  There are lots of options for vegetarians: I enjoyed the vegetable roti from Bindy's Caribbean Delights and the vegetarian perogy plate from Baba's Tall Grass Pantry.    If you want to try poutine (Canada's beloved national dish of French fries topped with cheese curds and gravy), the version at Fergies Fish 'n Chips is delicious, with a thick beefy gravy.  Obviously Fergies' fish and chips are great too, fried to order and available in orders from "snack size" to double.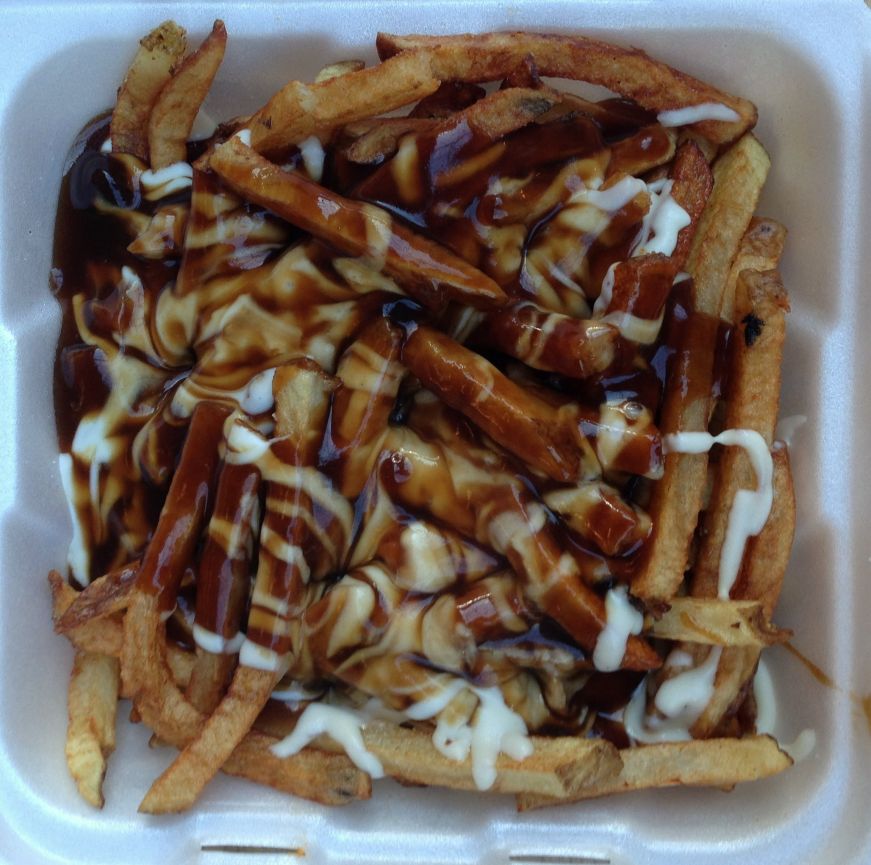 The Baja Beach Bar, adjacent to The Forks Market, has decently priced tropical drinks and draft beers with an unparalleled view of the Red River.  We just stopped by for drinks, but they also have a short menu of bar food favorites like nachos.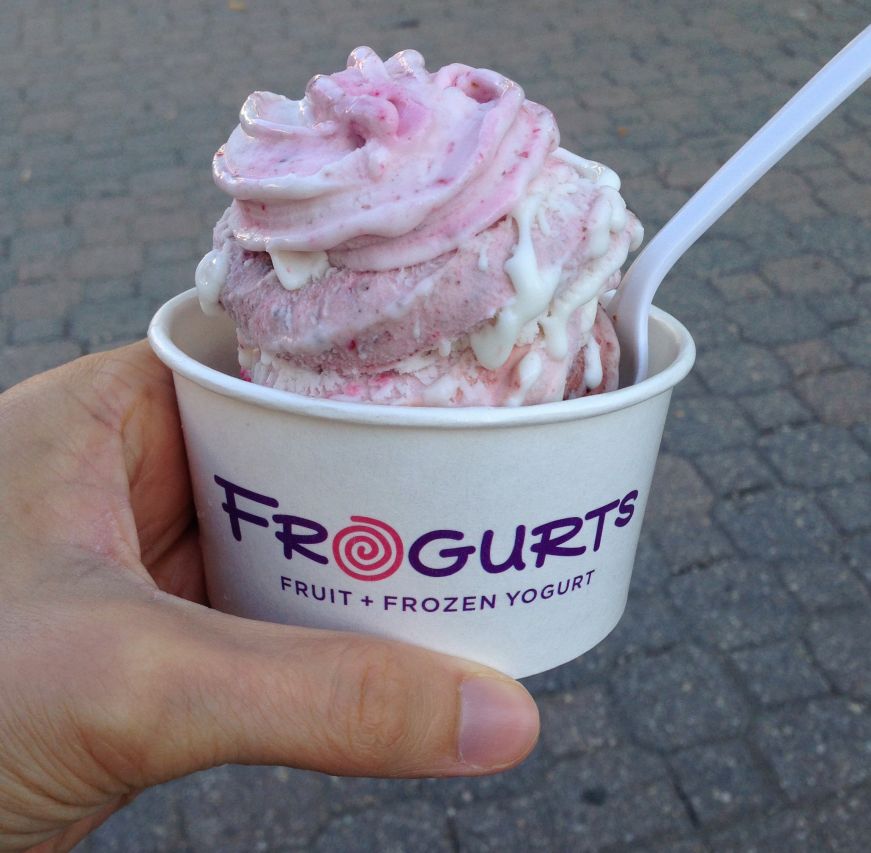 Fro-gurts (located at The Forks Market), makes frozen yogurt to order: you choose your flavors and they use a nifty contraption to meld fruit with a frozen block of yogurt.  Since each cup is made with a generous handful of frozen fruit, it has the freshest, richest flavor I've come across in frozen yogurt.  My favorite combination was raspberry with dark chocolate brownie, but the Hawaiian (a combination of frozen pineapple and shredded coconut) was a close runner-up.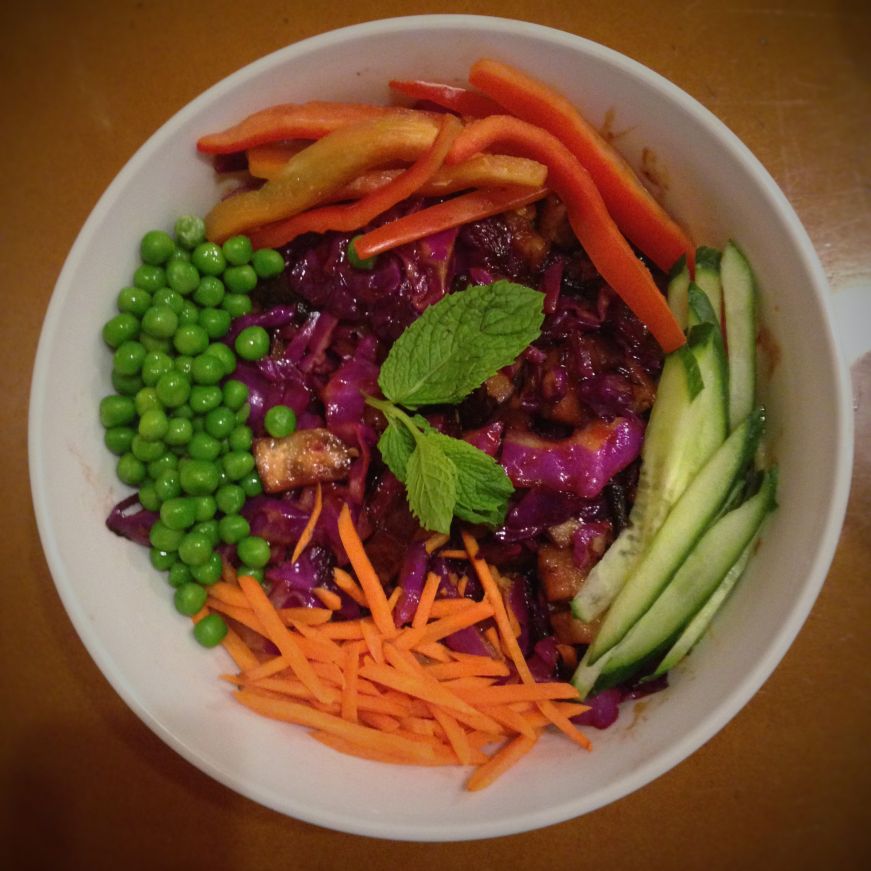 Stella's, a local cafe chain with eight locations across Winnipeg, is the rare place that satisfies both meat lovers and vegans.  I enjoyed our first dinner at the Plug In location so much that we dined at at the Osborne Street cafe the next night (the food is top-notch at both, but we preferred the abundant natural light and sleek styling of the Plug In location).
The expansive menu includes breakfast all day, soups, salads, sandwiches, burgers, curries, and pasta, plus housemade breads and a case full of cakes, pastries, and cookies.  About half of the menu is vegetarian, with many vegan dishes or dishes that can be adapted to be vegan on request. 
On my first visit, I opted for an arugula salad, with a bright lemon dressing tasting of spring and a crisp assortment of peas, radishes, and arugula.  For my second dinner, I ordered the Dragon Bowl: a mixture of crisp raw vegetables and cooked eggplant and mushrooms tossed with a sweet and spicy sriracha-tamarind sauce and served over quinoa and brown rice.  With bold flavors and a satisfying mixture of textures, the Dragon Bowl serves as proof that food can be interesting, nourishing, and vegetarian.
Mike wasn't a fan of his first dinner, a Thai curry with a jarring combination of grapes, coconut curry sauce, and a too-sweet-for-dinner peach chutney.  The dish's redeeming feature was a delicious side of sourdough garlic toast, although it didn't seem to pair with anything else on the plate.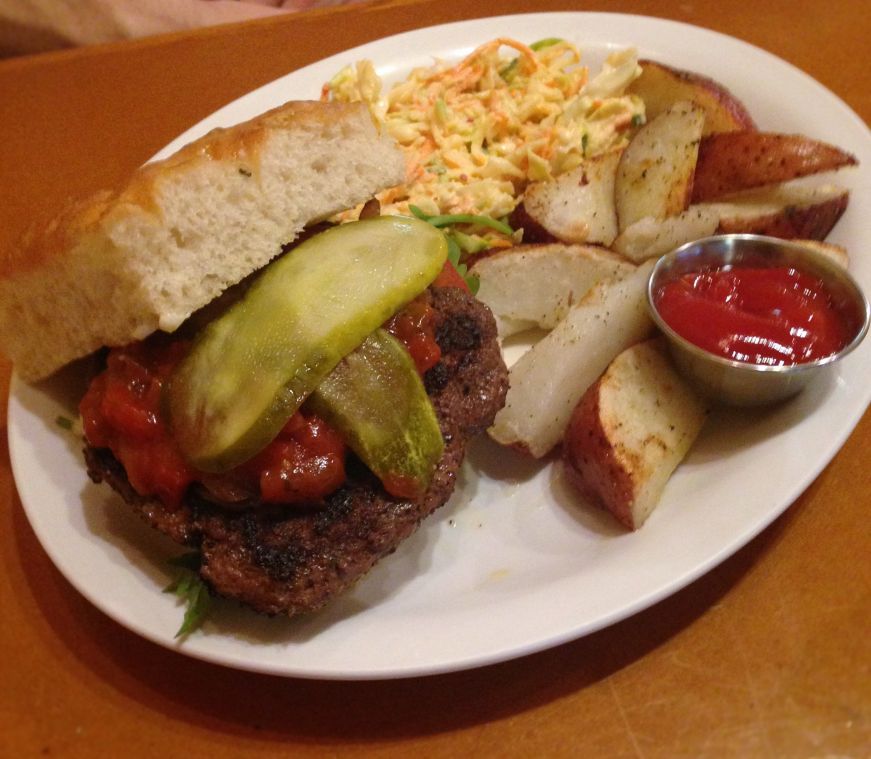 On the second night, Mike had much better luck with a tasty beef burger.  The hefty grass-fed patty is a bargain, served between towering slices of herbed focaccia.  The salsa-like tomato relish is a bit unorthodox, but when accompanied by  thick slabs of pickle it worked.  The burger is rounded out with a serviceable side of coleslaw and generous helping of crispy potato wedges.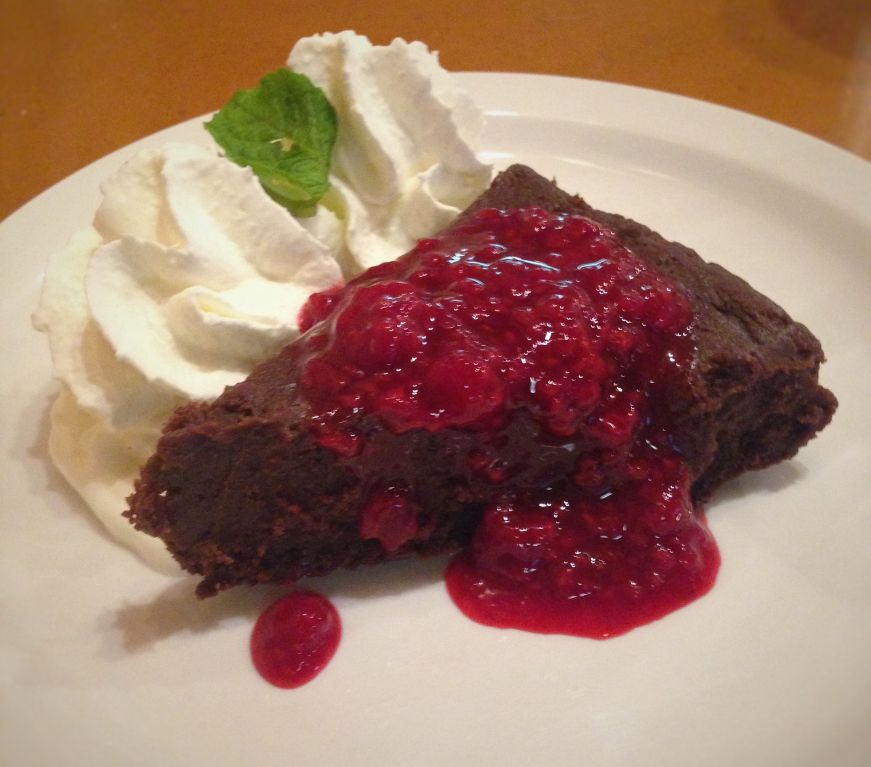 Dessert at Stella's is a must.  On our first visit, we were treated to a vegan chocolate cake with buttercream-style frosting that I never would have guessed was dairy-free.  Our pick the next night was even better: a dense chocolate torte, rich with cocoa, brightened with a vibrant raspberry sauce, and perfectly garnished unsweetened whipped cream.
Stella's also serves espresso drinks, including a highly recommended "adult latte" spiked with Baileys Irish Cream.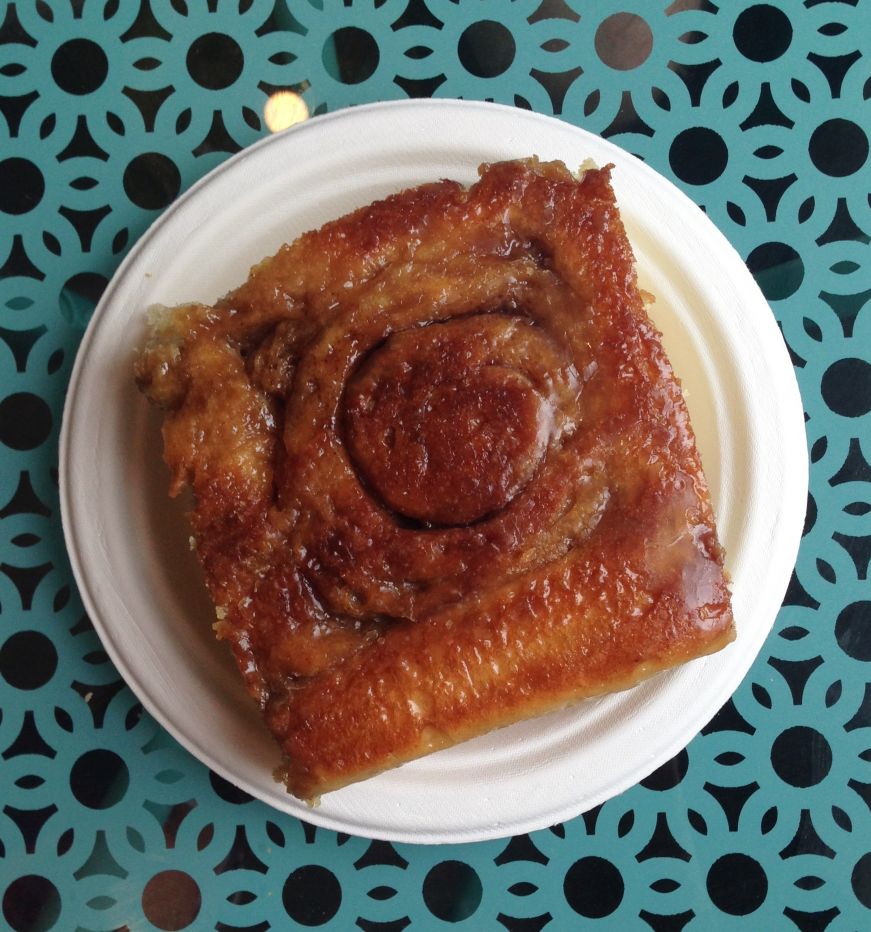 La Belle Baguette is an adorable neighborhood bakery in the French Quarter, with a small patio and a few bistro tables indoors.  There's a tempting selection of fresh bread, personal-sized tarts, croissants, sticky buns, and danishes with seasonal fillings.  I loved the perfectly executed chocolate croissant, ethereally flaky with two ribbons of dark chocolate running throughout.  Another sure bet is the caramel sticky bun, especially if it's still warm from the oven.  Unlike many of the other small businesses we patronized in Winnipeg, La Belle Baguette does accept credit cards.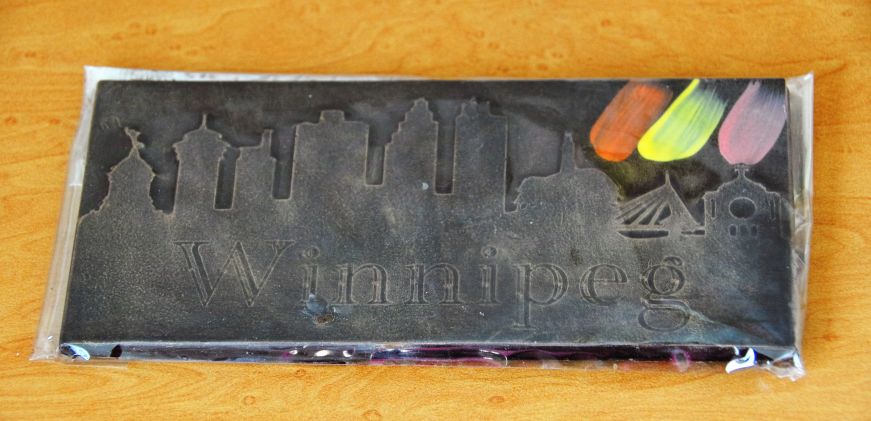 Chocolatier Constance Popp is located in a deceptively modest storefront in Winnipeg's French Quarter.  What awaits within is a chocolate lover's wonderland.  A glass case is stocked with artisan chocolate bon bons and individual cakes, which you can enjoy along with a coffee drink or hot chocolate in the store's small seating area.  If you're looking for souvenirs, there's a selection of chocolate bars emblazoned with the Winnipeg skyline, chocolates shaped like hockey sticks or polar bears, maple fudge, and dark chocolate blueberry bark.  Other offerings include truffles and bars of bean-to-bar chocolate. 
The chocolates are of the highest quality and are priced to be slowly savored.  I enjoyed a bonbon filled with birch syrup, which was reminiscent of the maple variety, but with its own unique, lighter flavor.  Another favorite was a dark chocolate bonbon filled with a nutty pistachio filling and milk chocolate. 
What to do:
The Canadian Museum for Human Rights bills itself as the " first museum solely dedicated to the evolution, celebration and future of human rights", with an abstract architectural design that makes it the most prominent building in Winnipeg.  You work your up to the top of the museum's 23-story glass spire via ramps and eventually a spiral staircase, through galleries that explore all angles of human rights.
I thought the strongest part of the museum was the "Canadian Journeys" gallery, which includes exhibits about various human rights issues in Canada.  Topics covered range from the internment of Japanese-Canadians during WWII; Viola Desmond, a black businesswoman who took a stand against segregation in the 1940s; Jeannette Corbiere Lavell, a First Nations woman who challenged a law that stripped her of her tribal status when she married a white man (First Nations men who married white women not only retained their tribal status, they also passed it along to their wives and children); Canada's role on the Underground Railroad; disability rights; rights for language minorities; and GLBT marriage rights.  There is also a very informative and sobering gallery focused on the five genocides officially recognized by Canada: the Armenian Genocide, the Holodomor, the Holocaust, the Rwandan genocide, and Srebinica. 
One area where I found the museum lacking was in addressing current, ongoing human rights violations.  Admittedly, this is difficult to do in a museum context, and there is an attempt to highlight contemporary issues.  But the museum seems determined to end on an inspirational note that seems a bit out of step with the museum as a whole, as well as current events (unfortunately).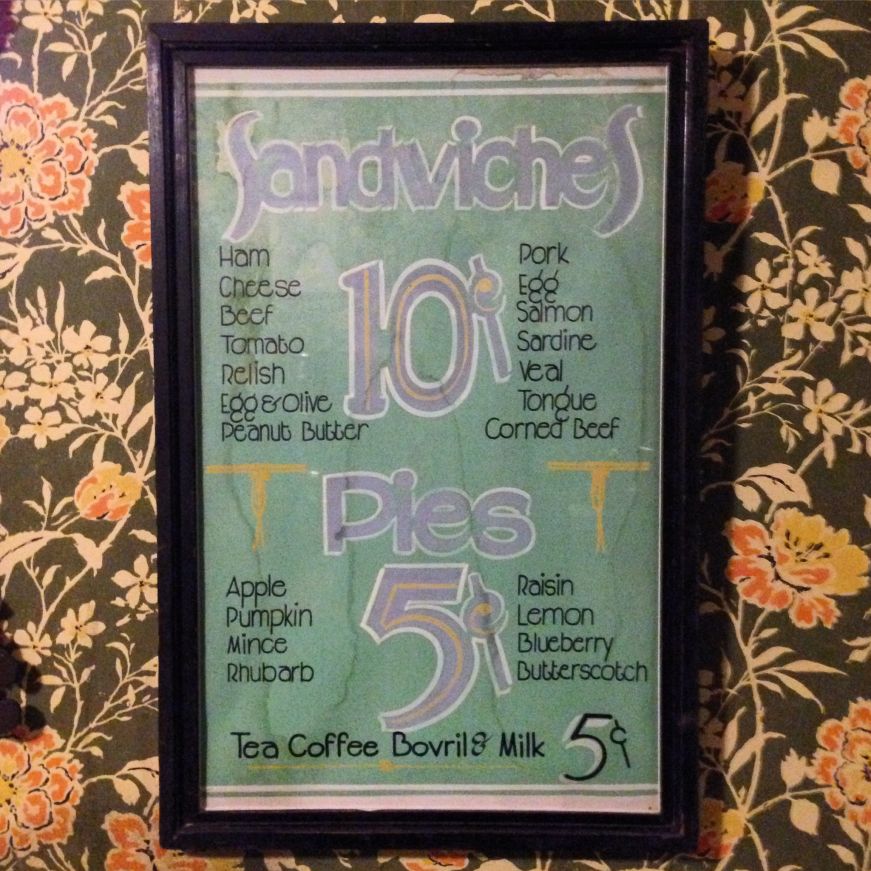 The Manitoba Museum is part classic field museum and part hands-on science museum, with a little local history and a planetarium thrown in for good measure.  I appreciated that you can purchase a la carte admission tickets based on which areas of the museum you're interested in: we got the two area ticket for the museum galleries and planetarium, since we wanted to skip the more kid-geared science gallery.  The museum galleries are a little too taxidermy-intensive for my taste, but I did appreciate the dinosaur fossils, the replica of a 17th century trading ship, and the exhibit about the Hudson Bay Company.  My favorite part of the museum was the Urban Gallery, a recreation of a 1920 Winnipeg cityscape.  There isn't any exhibit text: you just wander around, peeking into the sparse rooms of an immigrant boarding house, browsing the patent medicines on the pharmacy shelves, watching a Charlie Chaplin movie in a tiny theater, and checking out a diner's breakfast menu.
Pay attention to the schedule for the planetarium schedule, since there are both science-themed movies and traditional star presentations.  We opted for a presentation on the Manitoba night sky, led by an enthusiastic and knowledgeable museum staffer--I learned more about astronomy in 40 minutes that I did in years of public school science classes.
Besides the restaurants mentioned above, The Forks Market houses dozens of unique shops selling specialty foods, imports, and locally handcrafted goods.  The Almond Tree sells every candy imaginable, from German Ritter Sport chocolate bars to chicken-and-waffle-flavored saltwater taffy.  I was delighted to find locally made sunflower seed brittle for my nut-allergic sister.  The Forks Trading Company stocks a huge selection of handmade Canadian pottery, home decor, and gorgeous coffee table books.
The market is part of The Forks, a public park with a riverfront footpath and lots of green space.  There's an adorable playground depicting Manitoba's history, gardens, sculptures, and lovely views of the river and the city.  It feels like Winnipeg's back yard, which made it our favorite place to spend a summer evening.
Where to stay:
We got a great rate at the Humphry Inn & Suites by booking directly with the hotel online.  The hotel is located in downtown Winnipeg, about a 10 minute walk from the Forks and a 15 minute walk from the Manitoba Museum.  Rooms are spacious, with an armchair, desk, mini fridge, and microwave.  Parking and WiFi are free; the WiFi connection was decent, although having to log on repeatedly was annoying.  You also get a local paper delivered to your hotel room door on weekdays, and coffee, hot chocolate, and tea are available in lobby all day.
Although a hot breakfast is included, it's an uninspiring assortment of industrial baked goods with lukewarm eggs, pancakes, and oatmeal.  Although convenient if you want something quick and free, I'd recommend venturing out to a bakery in the French Quarter (like La Belle Baguette, mentioned above) or checking out the breakfast options at The Forks Market.
Further reading: