Santa Fe's most popular nickname is "The City Different."  It's a reference to the New Mexico city's distinctive architectural style: starting in 1912, city officials recommended (and later mandated) that buildings be built with adobe in the Pueblo Revival style, which is inspired by the area's indigenous inhabitants. 
But it goes beyond the architecture—Santa Fe is a truly unique destination, with a vibrant art scene, some of the country's oldest European-American buildings, beautiful scenery, and opportunities to learn about indigenous culture.  It's a small city (about 84,000 people), which makes it perfect for a short getaway.  This three-day itinerary will give you a taste of Santa Fe's history and the scenery of the surrounding area, plus plenty of time to relax and rejuvenate.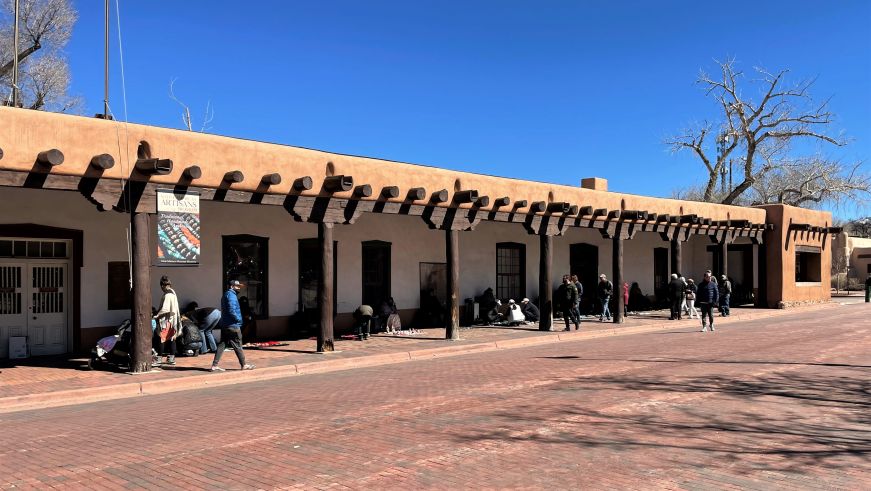 Day 1: Explore Santa Fe's history and culture
Start your time in Santa Fe by delving into the city's history—it's the oldest state capital in the United States.  Pueblo villages were founded in the area between 1050-1150 and were occupied for a few hundred years before being abandoned.  About 200 years later, Spanish colonizers settled Santa Fe in 1609-1610 and constructed European-style structures that are still standing today.
Santa Fe's historic downtown is small and easily explored on foot.  Start at the traditional Spanish-style plaza, which is bordered by the Palace of the Governors.  Built in 1610 as a colonial administration building, today it's home to the New Mexico History Museum.  Its most distinctive feature is a block-long covered portal, where Native American artisans sell handmade jewelry and decorative items (I purchased a small sand painting).  Bring cash, since many vendors don't accept credit cards.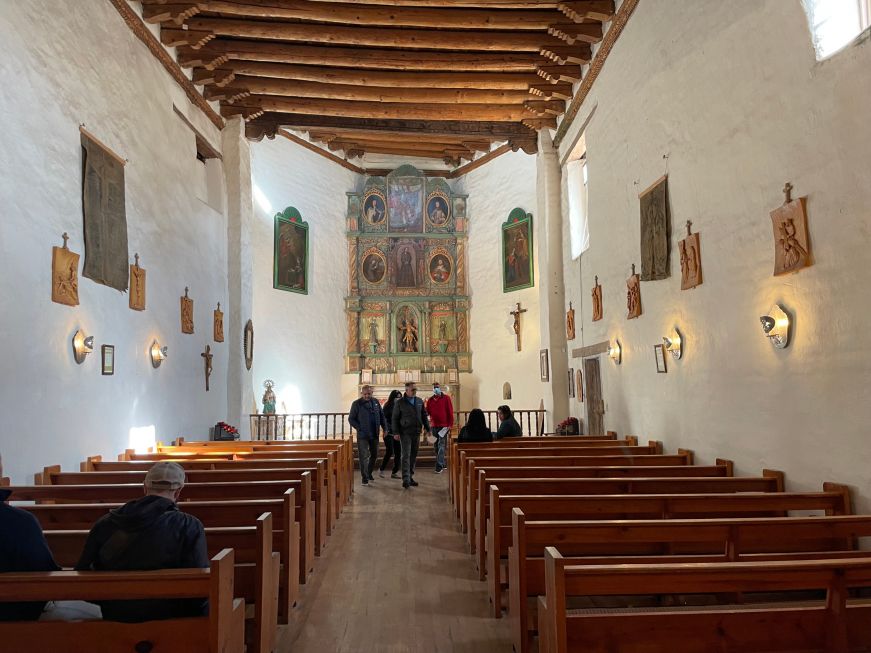 The historic downtown is also home to several notable churches, including San Miguel Chapel, the oldest church in the continental United States.  Construction may have begun around 1610, with the earliest written mention of the chapel in 1628.  Most of the current adobe building dates to 1710, when it was rebuilt after a fire.  When you step in the door it feels like you've traveled back in time, and there's signage throughout the church about the history of the building and the religious artwork. 
The Loretto Chapel is a Gothic-style chapel that was built for a Catholic girls' school in the 19th century.  It's known for its "Miraculous Staircase" which has two 360-degree turns without a center pole for structural support.  Today, it's a wedding venue and tourist attraction with a $5 admission fee—it's worth a visit if you enjoy church architecture.
Other historic religious sites include the Cathedral Basilica of Saint Francis of Assisi, a French-inspired Romanesque church built from 1869-1886, and the Shrine of Our Lady of Guadalupe, which was built in the late eighteenth or early nineteenth century and is a short walk from downtown.
For generations, artists have been drawn to Santa Fe and the surrounding area, most famously Georgia O'Keefe.  Several art museums, including the Georgia O'Keeffe Museum, are located in or near the historic downtown. 
I recommend checking out the New Mexico Museum of Art—it gives you a nice taste of historic and contemporary Southwestern art in a manageable footprint, and it's housed in a beautiful Pueblo Revival-style building.  Spend some time in the courtyards, which feature sculptures and murals in a tranquil setting.
The IAIA Museum of Contemporary Native Arts (MoCNA) is also well worth visiting.  It's the country's only art museum that focuses solely on the work of contemporary Native artists (created 1962-present), including regional, national, and international artists.  I found the descriptions of the works to be very informative and thought-provoking.
After a day of sightseeing, refuel at Kakawa Chocolate House.  Housed in cozy adobe building, the chocolate shop serves chocolate elixirs, chocolate baked goods, ice cream, and truffles. You can get a chocolate elixir based on traditional Mesoamerican beverages (I loved the intensely flavored Mayan elixir). For a sweeter option, try a historic European-inspired or contemporary sipping chocolate.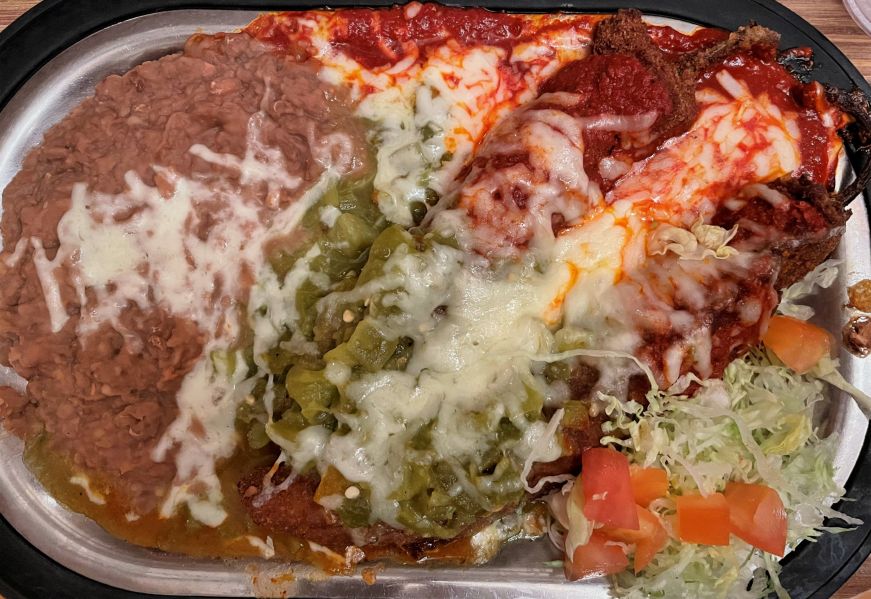 During your time in Santa Fe, be sure to try New Mexican cuisine, which is known for its distinctive combination of indigenous, Spanish, Mexican, and Latin influences.  You'll be asked "red or green" when you order, a reference to what kind of chile you want with your meal.  Red chile tends to be sweeter, and green chile has more herbal notes.  If you can't decide, order your dish Christmas-style and sample both.
Hands-down, my favorite New Mexican restaurant was Rancho de Chimayo, a scenic 30-minute drive north of Santa Fe.  The restaurant was founded in 1965 and has played an important role in bringing New Mexican cuisine to national and international prominence.  I loved the Combinación Vegetariano sampler platter, and save room for the flan, one of Rancho de Chimayo's specialties.
In Santa Fe, I enjoyed Palacio Cafe, a cozy breakfast and lunch spot conveniently located downtown, and Tomasita's, which has a bustling atmosphere, tasty food, and efficient service.
Day 2: Enjoy the great outdoors
You don't have to travel far from Santa Fe for hiking and awe-inspiring scenery—Bandelier National Monument and Valles Caldera National Preserve are about a hour's drive west.  Within the city limits, you can hike the Dale Balls Trails for panoramic views of the city and surrounding mountains.
Perched on a hill within walking distance of downtown, the Cross of the Martyrs is another popular spot to admire the scenery.  However, the site's history is complicated: the cross commemorates the death of twenty-one Franciscan friars during what has been named the Pueblo Revolt of 1680, and many of the interpretive signs present European colonialism in a positive light.  The Historic Santa Fe Foundation, who manages the site, has recognized that the indigenous perspective needs to be included, and they are currently evaluating how best to do that.  One newly added interpretive sign states, "Life was not always peaceful. In order to regain control of their homeland, in 1680, many pueblo people, led by Popé, a San Juan Indian, united to drive the colonists out."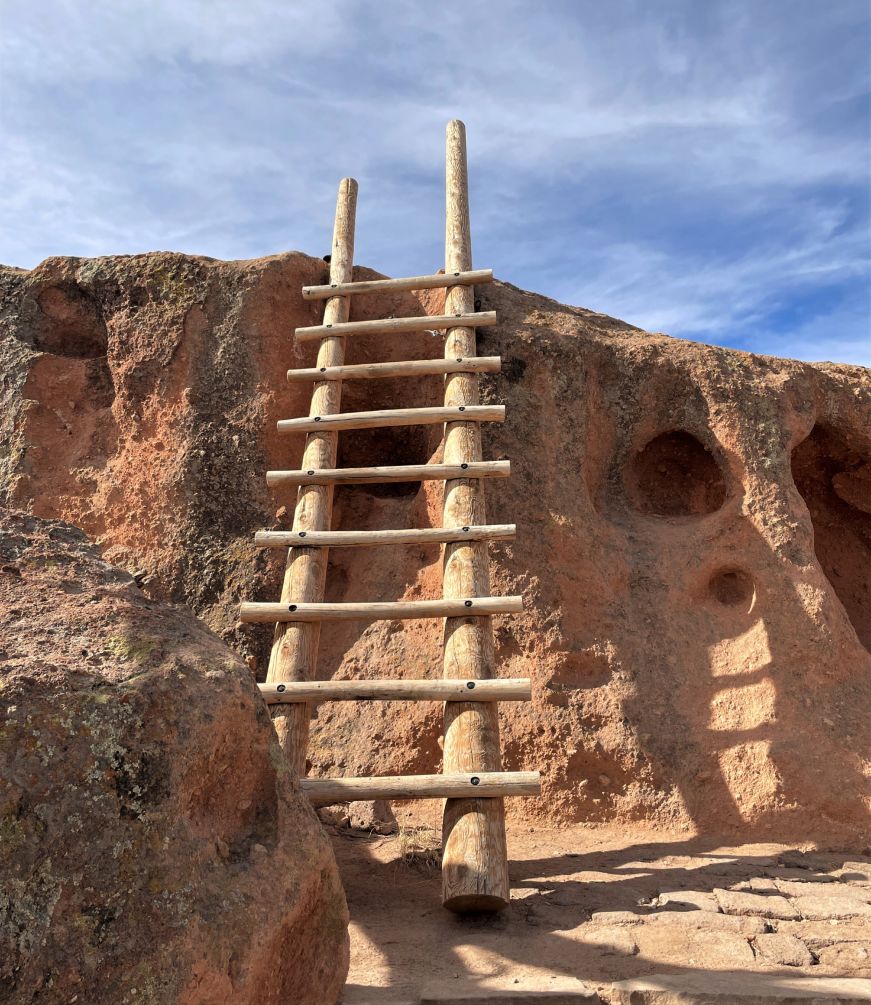 A visit to Bandelier National Monument is a must, especially the Tsankawi section of the park.  Located about 12 miles from the main section of the park, it features the 1.5 mile Loop Trail along a mesa.  You'll see cavates (man-made caves used as as dwellings and storage spaces), petroglyphs, and the Ancestral Pueblo village of Tsankawi, which was constructed in the 15th century and occupied until the late 16th century.
You literally walk in the steps of the Ancestral Pueblo people—the trail follows the paths and stairs they wore into the soft volcanic rock.  You'll also need to climb ladders.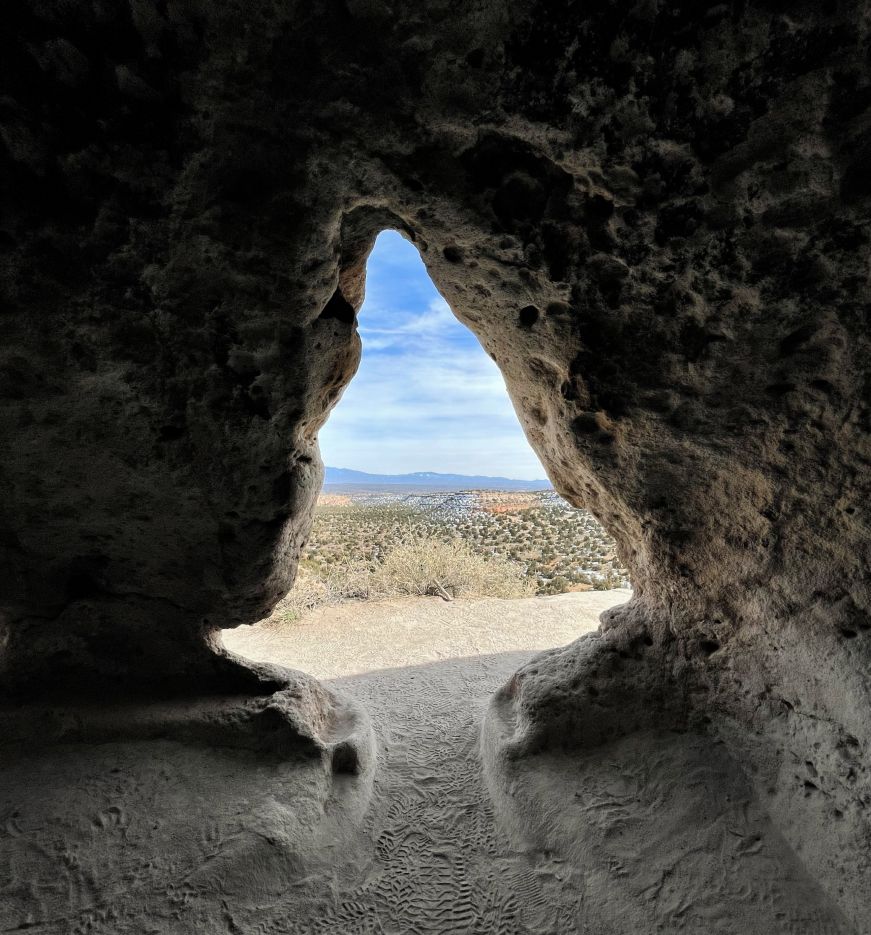 In addition to its cultural significance, Tsankawi has stunning views—from the top of the mesa, you can see miles and miles in all directions.  It was definitely my favorite hike of the trip.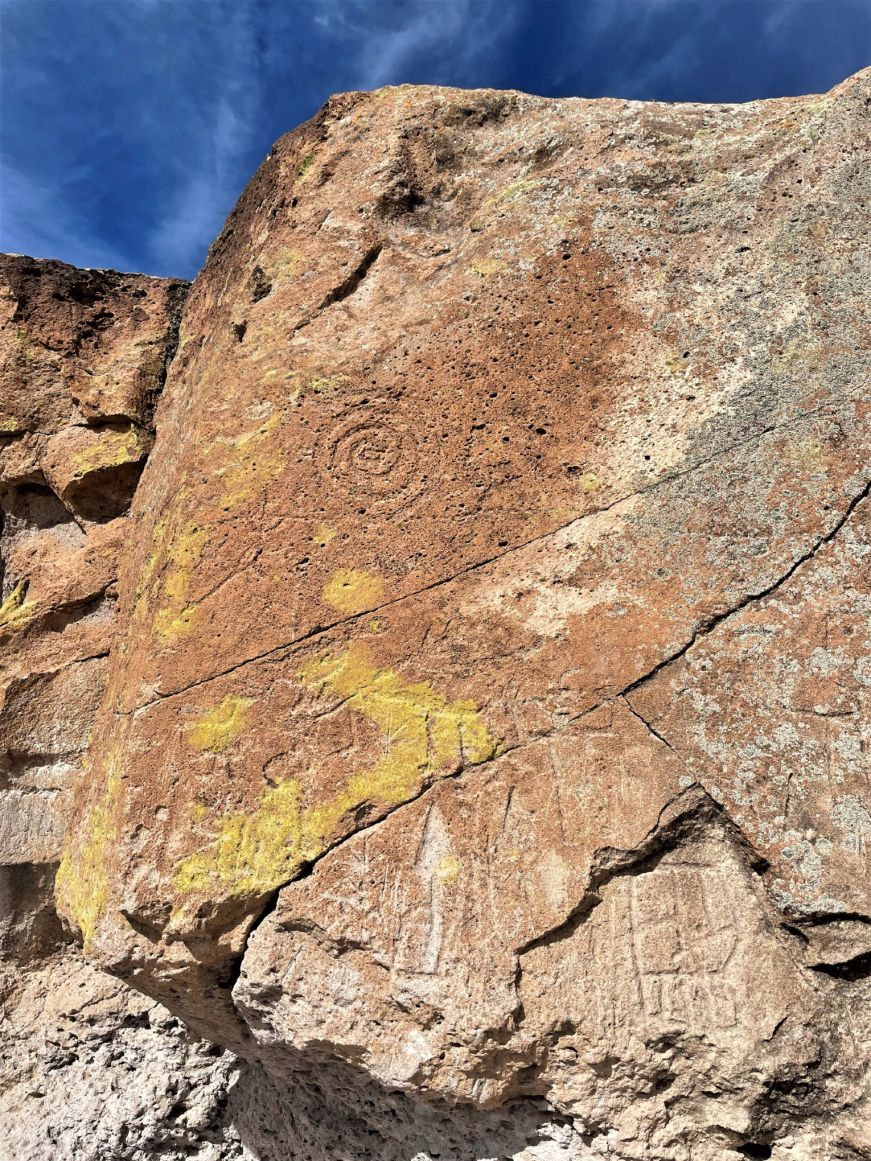 The main section of Bandelier National Monument protects canyon and mesa country, as well as Ancestral Pueblo dwellings and petroglyphs.  The most popular trail is the Main (Pueblo) Loop Trail, a 1.4 hike through archeological sites, including cavates, masonry walls, and reconstructed buildings.
Another popular hike is the Falls Trail, a 1.5 mile trail to the Upper Falls (3 miles round trip).  I really enjoyed this hike—in addition to the waterfall, there are views of tent rocks, the rugged canyon landscape, and layered volcanic deposits.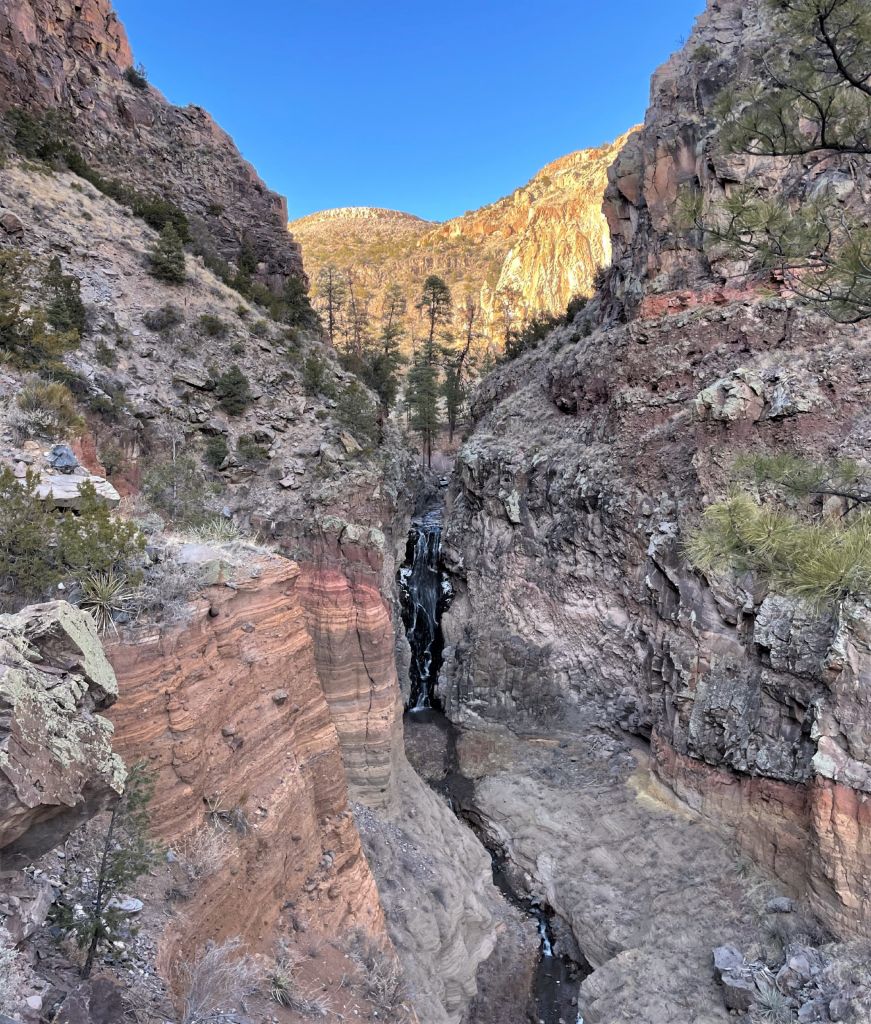 Valles Caldera National Preserve is another popular spot for hiking—the preserve is located in a 13-mile circular depression cased by a massive volcanic eruption 1.25 million years ago.  You'll find mountain meadows and streams, and might spot wildlife including elk, prairie dogs, and coyotes.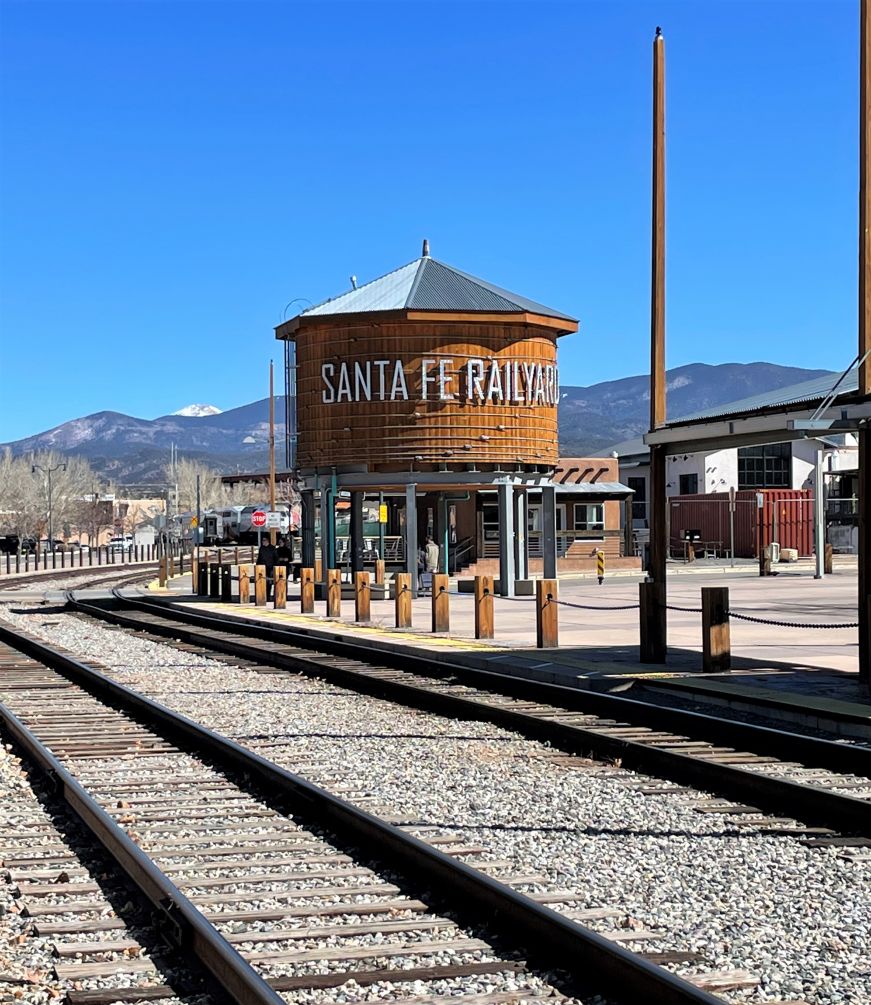 Day 3: Relax and rejuvenate
Get a leisurely start to your last day in Santa Fe by lingering over a latte.  The Guadalupe District is home to some great local coffee shops—I recommend the Lupe location of Iconik Coffee Roasters, which has courtyard seating and a full food menu, and CrashMurderBusiness Coffee, which specializes in unique drinks and has a fun shabby chic vibe.
Next, head to the Railyard District.  The district is exempt from the Pueblo Revival zoning regulations and as a result the architecture has a modern, industrial style, in a nod to the neighborhood's history as a railroad hub.  On Saturdays (plus Tuesdays May-November) there's a farmers market with vendors selling locally-grown produce, meats, cheeses, honey, and prepared foods. 
On Sundays, the farmers market pavilion hosts the Railyard Artisan Market, which features New Mexico artisans selling fine art, crafts, jewelry, health and beauty items, and home decor.  It's a perfect place to find unique, locally-made souvenirs—I bought a pair of earrings.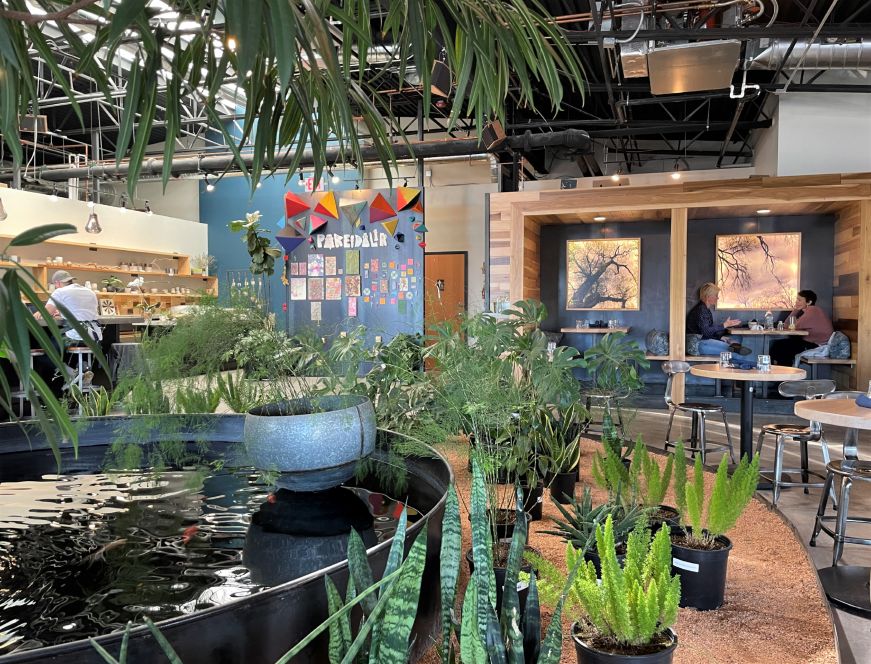 Check out Optunia Cafe for brunch or lunch in a serene setting—the interior has a pond and lots of greenery, and the deck offers views of the Railyard District and mountains.  I loved the avocado toast, which is made with housemade sourdough bread and a bright lemon aioli.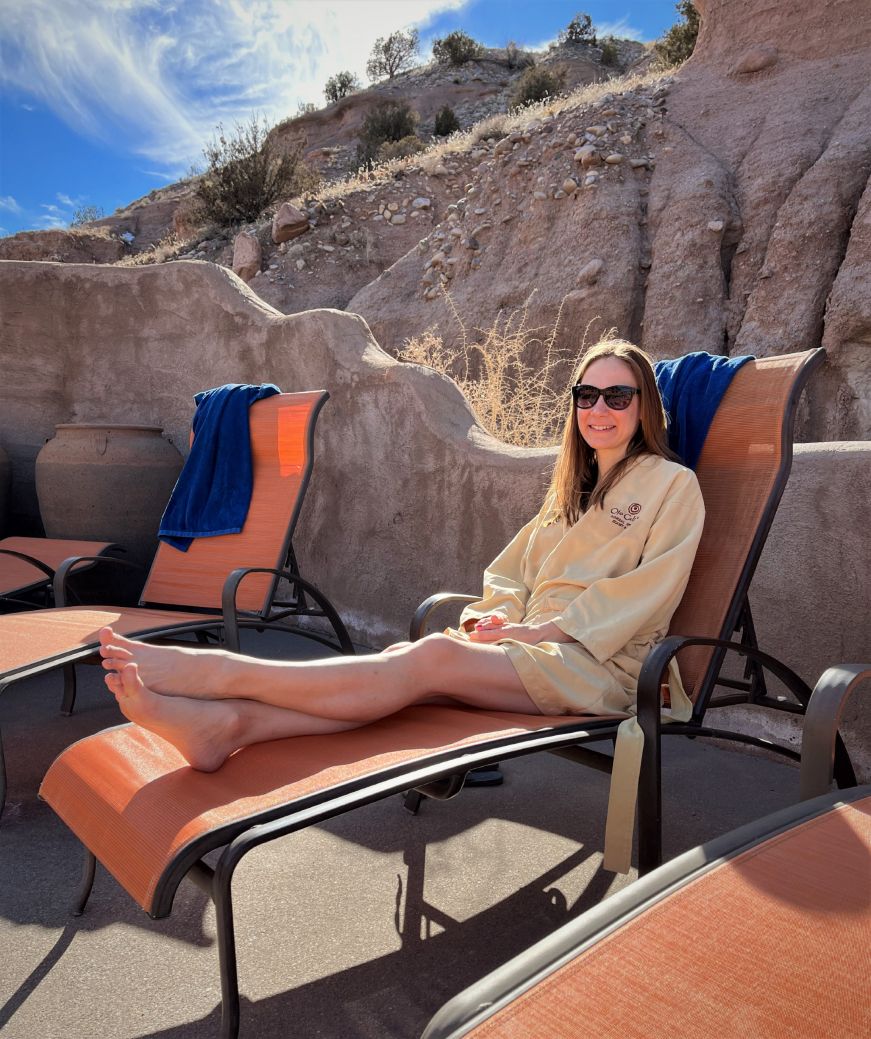 Spend the afternoon relaxing at Ojo Caliente, a spa resort an hour's drive north of Santa Fe.  It's one of the country's oldest health spas, with hot springs-fed soaking pools tucked into desert cliffs.  The day soaking rate includes a locker, towel, and access to the soaking pools and relaxation areas with lounge chairs and hammocks.  (I paid $18 extra for a robe rental since I didn't have space to pack my own—bring one if you can to save some money.)
The pools are enriched with different naturally occurring minerals—there are Iron, Soda, Lithia, and Arsenic Pools, plus a Mud Pool (you apply mud to yourself, lay in the sun to let it dry, and then soak it off).  The Cliffside Pools were my favorite, since the water temperature was hotter and they offered scenic views of the cliffs. 
Once you're back in Santa Fe, toast the conclusion of your getaway with a round of cocktails at Sante Fe Spirits Downtown Tasting Room.  It's located in a repurposed house and has an intimate atmosphere.  The menu includes classic cocktails and signature drinks that incorporate New Mexican flavors.  I enjoyed the whiskey-forward Norteño (single malt, red chile cordial, and chocolate bitters), as well as the Piñon Cafe, a dessert cocktail made with piñon liqueur, locally-roasted coffee, and whipped horchata creme.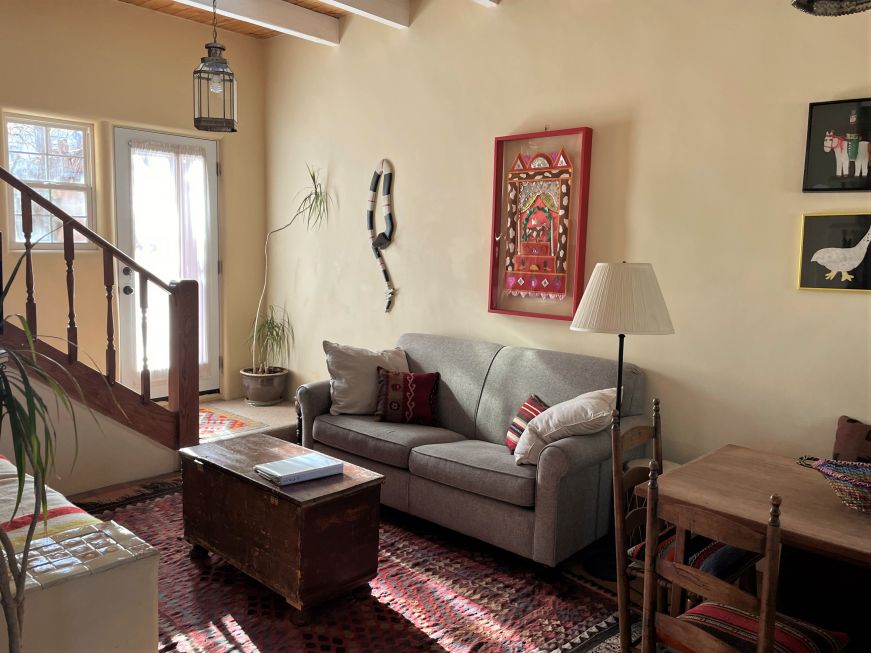 Where to stay:
Since Santa Fe's top sights, dining, and shopping are concentrated in the historic downtown and adjacent Guadalupe and Railyard Districts, I recommend staying in one of those neighborhoods.  We stayed in the Guadalupe District and were able to walk everywhere—we only used our rental car for our trips to Rancho de Chimayo, Bandelier National Monument, and Ojo Caliente.
I highly recommend our Airbnb, Casa Domingo—it's a Pueblo Revival-style house with a full kitchen, living room, and bedroom.  
Find additional information at Tourism Santa Fe.
Further reading: 7 delicious things I ate and drank in Santa Fe
If you enjoyed this post, pin it!