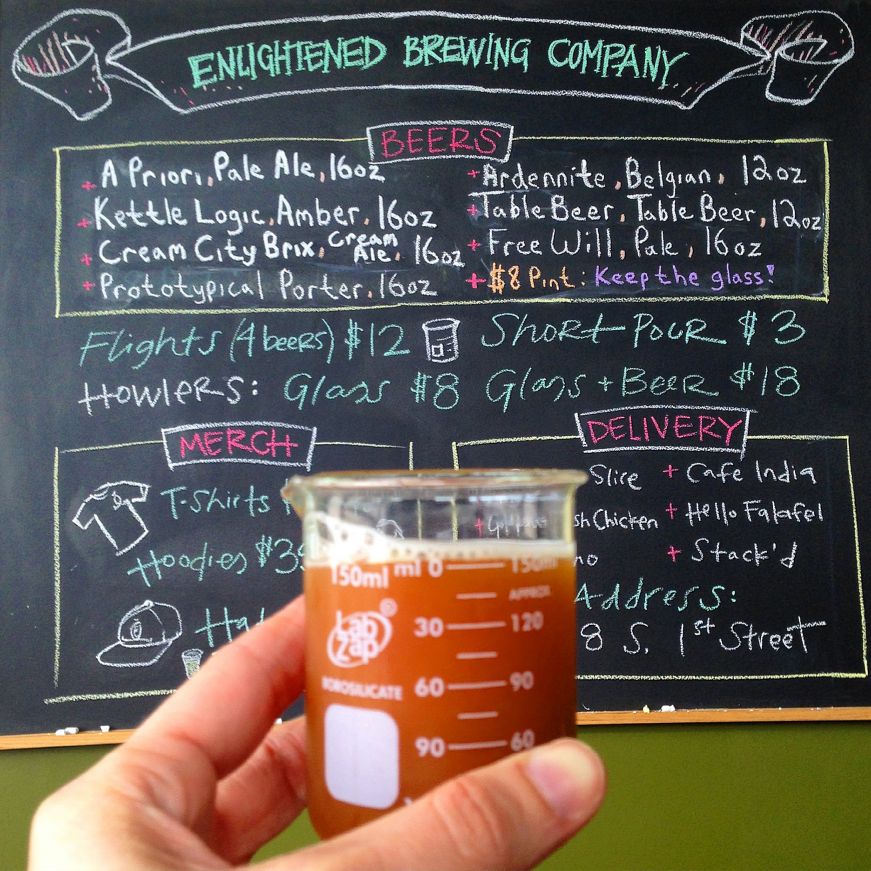 Thank you to Visit Milwaukee for hosting me on the Milwaukee Food & City Tours Craft Breweries & Cocktails Bus tour.  As always, all content and opinions are my own.
On my recent trip to Milwaukee for the Women in Travel Summit, Visit Milwaukee hosted me on the Milwaukee Food & City Tours Craft Breweries & Cocktails Bus tour.  Milwaukee is known as the home of brewing giants like Miller, but this tour focuses on small craft breweries and distilleries before they become famous.  The four-hour tour includes transportation and a flight of beers, pint, or cocktail at each stop, as well as the opportunity to meet with the brewers and distillers to learn the stories behind their products.
First stop: Dock18 Cocktail Lab
Located in the historic Lincoln Warehouse in the Bay View neighborhood, Dock18 Cocktail Lab is a collaboration between Twisted Path Distillery and Bittercube.  The small, dark cocktail lounge has a mad scientist vibe, and each tour group is treated to a different custom cocktail--in our case, a tropical mix of matcha-infused gin, dark rum, Mahalo blend bitters, hibiscus, and pineapple, lemon, and lime juices.  Our stop also featured a spirits tasting (vodka, light rum, dark rum, and gin) behind the scenes at Twisted Path Distillery and a sampling of bitters at Bittercube.
Second stop: Enlightened Brewing Company
Enlightened Brewing Company is also housed in the Lincoln Warehouse, and features a cheery bright-green taproom with lots of natural light.  Since the brewery's founder is a former philosopher, many of the beers are named for philosophical concepts, like A Priori Pale Ale and Te Ipsum American Pale Ale.  I enjoyed the Ardennite, a smooth Belgian ale.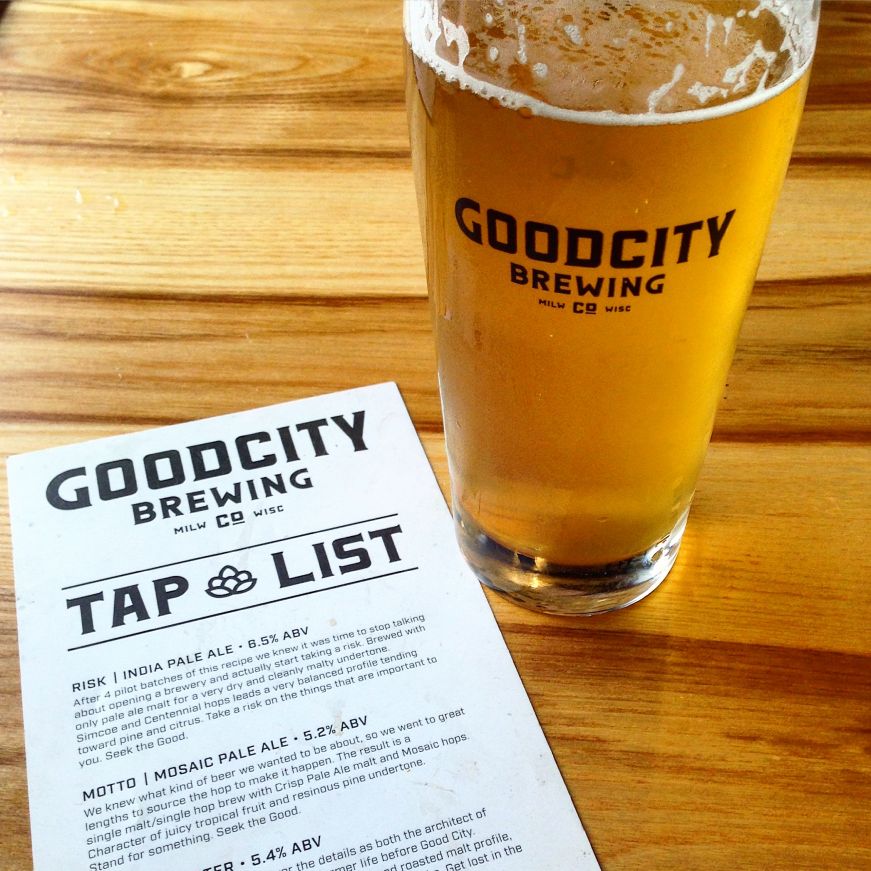 Third stop: Good City Brewing
At Good City Brewing, I opted for a pint of En Fleur, a light and citrusy seasonal session Saison.  The polished taproom in the Eastside neighborhood feels more like a restaurant, with an extensive food menu intentionally designed to pair with the beers.
Fourth stop: Third Space Brewing
Named after the social realm beyond work and home, the industrial-chic tap room at Third Space Brewing makes for a fun hangout.  I sampled two beers: the Madame Grisette, a refreshing, slightly citrusy Belgian Farmhouse Ale; and my favorite beer of the tour, the Java Blanca Coffee Cream Ale--it has an amazingly rich coffee flavor.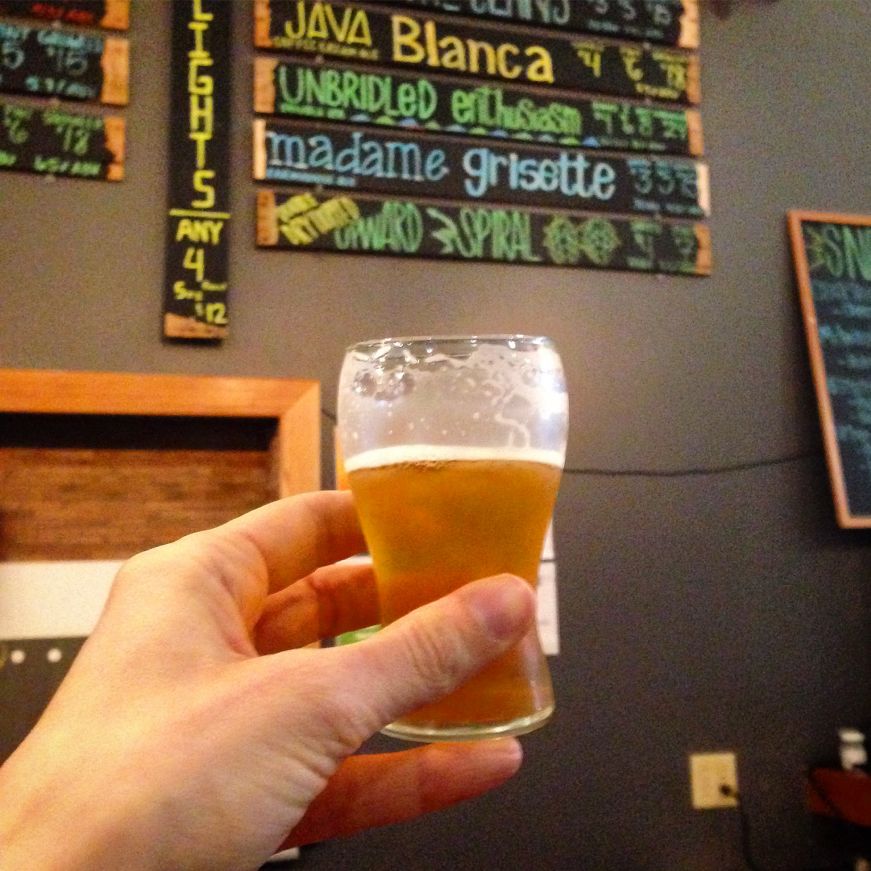 Fifth stop: Urban Harvest Brewing Company
Housed in a former performance theater in the Walker's Point neighborhood, Urban Harvest Brewing Company is the city's smallest brewery (they have a two-barrel system!).  My beer flight included the brewery's signature Black Puppy Pale Ale, Old Towne Amber, Cork Screw IPA (a "gateway IPA"), and my favorite, the Ach Ya Der Hey-Fe Weizen, a traditional German beer with a banana note at the start and a spicy finish.
Thank you to Visit Milwaukee and Milwaukee Food & City Tours for the beer and cocktails!  The Craft Breweries & Cocktails Bus tour costs $70 and can be booked online.
Further reading: Milwaukee Pizza Bus Tour with Milwaukee Food & City Tours
If you enjoyed this post, pin it!