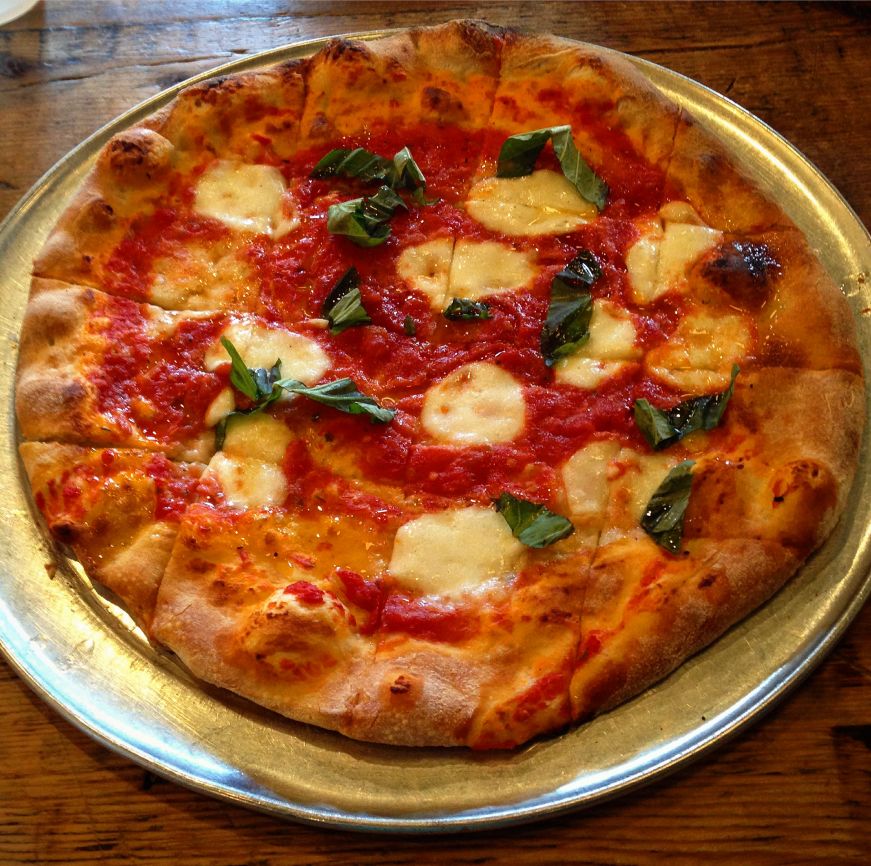 Thank you to Visit Milwaukee for hosting me on the Milwaukee Food & City Tours Pizza Bus tour.  As always, all content and opinions are my own.
On my recent trip to Milwaukee for the Women in Travel Summit, Visit Milwaukee hosted me on the Milwaukee Food & City Tours Pizza Bus tour.  If you're planning to take the Pizza Bus tour yourself, make it a meal: the three-hour tour includes transportation, generous samples of three different styles of pizza, and a scoop of gelato for dessert. 
In addition to tasty eats, our tour guide gave us a brief lesson about the history of pizza in Milwaukee.  Pizza was originally introduced by Italian immigrants, and Milwaukee pizza is commonly cut into squares (known as "tavern-style") so diners can easily hold their pizza in one hand and a beer in the other.  Our tour guide also shared various factoids about the history of pizza in general.  While we typically think of pizza as an Italian food, the Greeks, Turks, and Germans each had ancient variations.  Traditionally, pizza was considered a peasant food, and red sauce was only added after tomatoes were imported from the Americas.
First stop: Classic Slice
The tour started at Classic Slice, a funky counter-service pizzeria in the Bay View neighborhood.  Opened by a 5th-generation Bay View resident in 2007, the New York-style pizzeria serves pizza by the slice and as whole pies.  Many ingredients are made in-house or locally sourced and include offbeat options like cheese curds, tofu, meatballs, and pine nuts. There are plenty of vegetarian and vegan specialty pies, and a gluten-free crust option. 
Our group of 20 shared a massive 26" pizza, half pepperoni and half cheese.  Although my sample slice was too narrow to properly fold, it did have the slightly sweet sauce, satisfying amount of grease, and distinctive chewy-crisp crust of the pizza I enjoyed in New York City.
Second stop: Zaffiro's Pizza
The next stop was Zaffiro's Pizza, a Milwaukee institution founded in 1954.  It has a timeless, neighborhood bar atmosphere, with an old jukebox, red-and-white-checked plastic tablecloths, and gray-haired waitresses who call you "hon."
Zaffiro's is famous for its cracker-thin crust pizza, which is briefly baked without toppings, flipped, topped, and then returned to the oven to finish cooking.  We sampled a cheese pizza--since the crisp crust almost fractured under weight of cheese, I can't imagine how it would hold up to heftier toppings.  Structural integrity issues aside, the pizza has a irresistible potato chip quality, and it would be perfect to snack on with a beer.
Third stop: Pizzeria Piccola
Our final pizzeria was located in the nearby village of Wauwatosa: Pizzeria Piccola, which serves Neapolitan-style wood-fired pizzas.  The upstairs dining area has a warm, lived-in feel, with exposed brick and worn wooden tables; patio seating is available in warmer weather.  There are a few vegetarian specialty pizzas, and gluten-free crust is available. 
Pizzas are individually-sized, and topped with traditional Italian toppings.  I sampled the margherita pizza, and I loved the distinctive flavor of the wood-fired crust with high-quality mozzarella.
Fourth stop: Cold Spoons Gelato
Our tour ended with dessert: a generous scoop from Cold Spoons Gelato.  There are 24 rotating flavors of gelato and sorbetto offered daily, from classics like chocolate and amaretto to more unique options like cookie dough and trail mix.  I opted for the cookie dough gelato (which tasted uncannily like the real thing) and a refreshing berry stracciatella sorbetto, with drizzles of chocolate mixed into the sorbetto as it's scooped. 
Thank you to Visit Milwaukee and Milwaukee Food & City Tours for all the tasty pizza!  The Pizza Bus tour costs $60 and can be booked online.
Further reading: Milwaukee Craft Breweries & Cocktails Bus Tour with Milwaukee Food & City Tours
If you enjoyed this post, pin it!