As I've mentioned before, I briefly studied in Berlin during college.  Since then, I've been more diligent at keeping up with German cooking than maintaining my language skills--while spätzle is a weeknight dinner staple and there are usually Ritter Sport chocolate bars in the pantry, my verb conjugations are pretty rusty.  So when I decided to throw a dinner party last Sunday (November 9) to celebrate the 25th anniversary of the fall of the Berlin Wall, cooking up a bunch of German food was the main focus.  (If you want to learn more about the fall of wall, NPR did a great story about the man who actually opened the checkpoint.)
Mike was in charge of the main course: bratwurst from our local butcher shop, simmered in beer.  Meanwhile, I made a batch of braised red cabbage beforehand--it reheated marvelously in the microwave--and baked one of my all-time favorite breads, pretzel rolls.  I also wanted to serve a more substantial vegetarian side dish, so I adapted a recipe for vegan German potato salad to make mustard dill smashed potatoes.  I wish that I could tell you that the smashed potatoes were an intentional representation of the smashing of the Berlin Wall.  Actually, I went upstairs to fold some laundry, and by the time I returned, my potatoes has passed the al dente phase and were on their way to mush.  I mixed them up with the vinaigrette anyway, and ended up with a bright, herbal version of chunky mashed potatoes.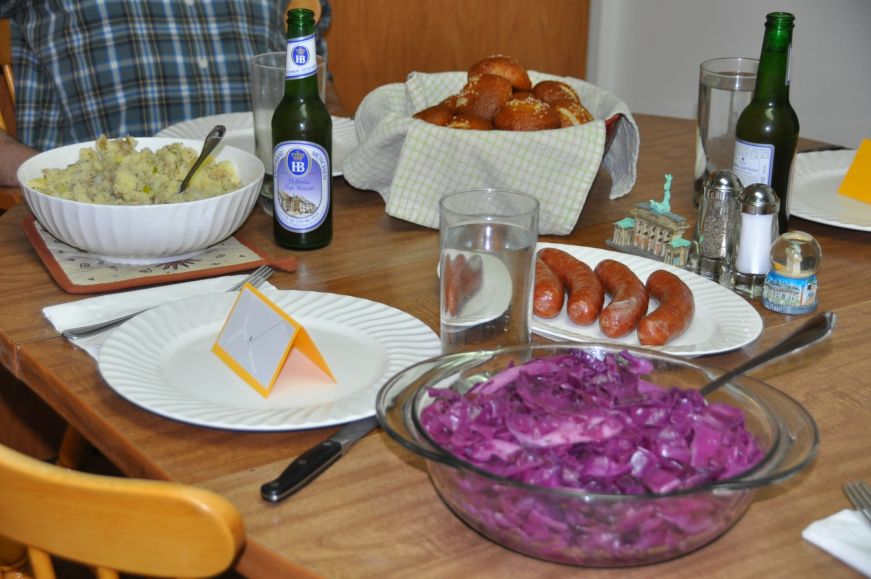 For dessert, I served some of my favorite German candies: the nut-free varieties of Ritter Sport minis and Haribo Happy Cola gummis.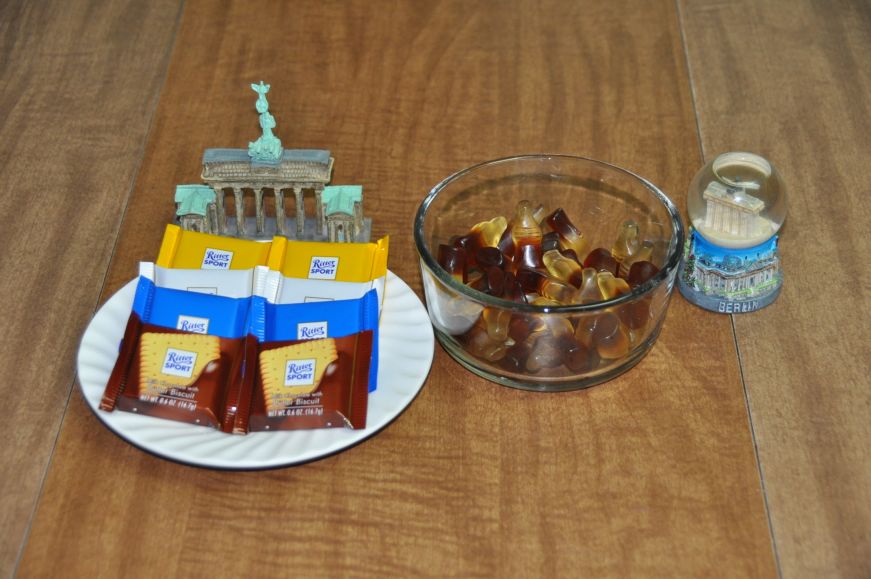 Mustard Dill Smashed Potatoes
Inspired by the Hello Natural Vegan German Potato Salad recipe by Lindsey Johnson
Ingredients:
2 pounds Yukon Gold potatoes, cut into 1/2 inch pieces
2 tablespoons apple cider vinegar
2 tablespoons olive oil
2 tablespoons whole-grain mustard
2 tablespoons chopped fresh dill
salt and pepper, to taste
3 green onions, chopped (about 2 tablespoons)
Place the potatoes in a large saucepan and bring to boil.  Simmer until very tender, about 15 minutes.  Drain.
Meanwhile, whisk the vinegar, olive oil, mustard, and dill together in a large bowl.  Season with salt and pepper to taste.  Mix in the prepared potatoes, using the spoon to break up any large chunks.  Mix in the green onions and season with additional salt and pepper to taste, if desired.
Can be made ahead of time and reheated before serving.