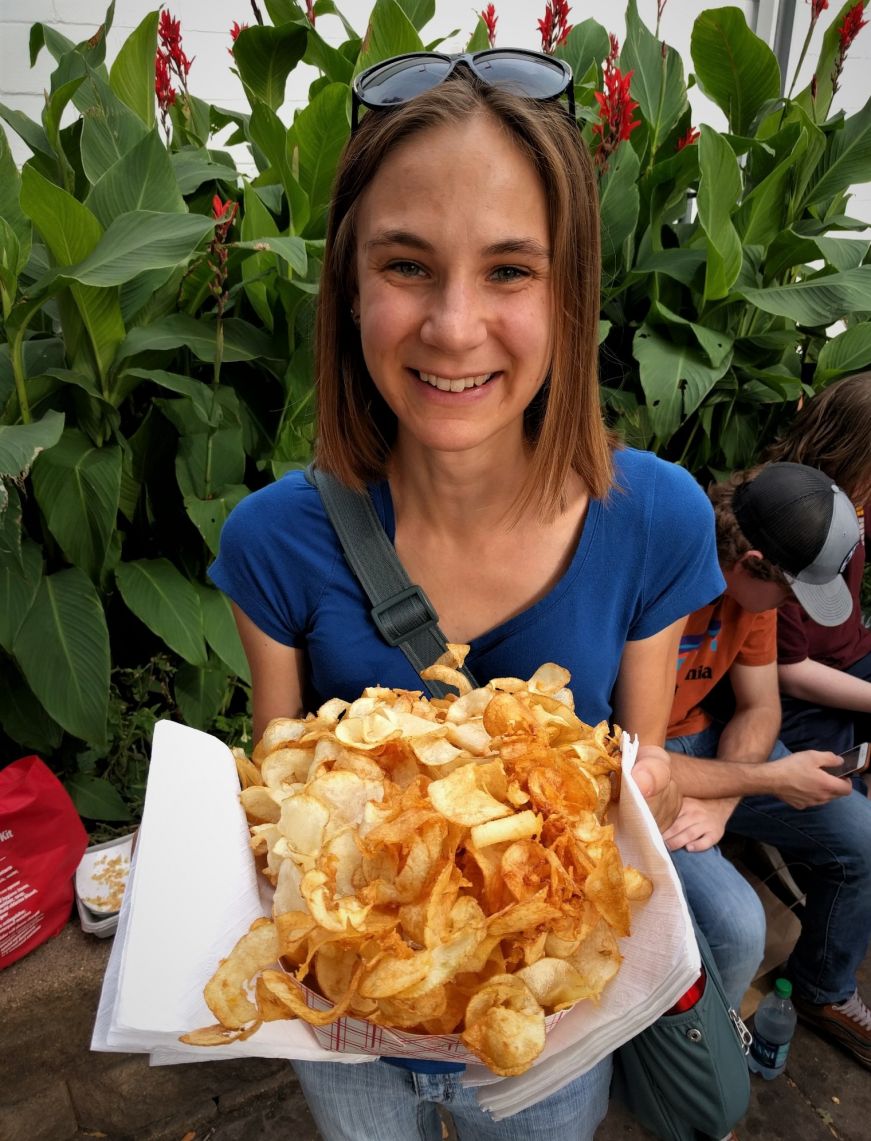 This blog post was originally published in August 2021 and was most recently updated on August 24, 2022.
I go to the Minnesota State Fair for many reasons: nostalgia, live entertainment, livestock, educational exhibits, display cases full of prizewinning knitwear. 
But mostly, it's about the food.  This year, I'll be covering the new State Fair foods for the Heavy Table, but when I visit the fair on my own time, I'll be sticking to my favorites.  I even like to eat my favorite foods in a particular order, timed to (mostly) not result in a stomach ache and to keep me going through twelve-plus hours on my feet.  
For me, the ideal fair foods are desserts and fried stuff.  There are 364 other days every year for fruits, vegetables, whole grains, and dairy products that have not been battered and deep-fried—at the fair, I want to revel in the glories of sugar and fat. 
I've found that most fairgoers have very strong opinions about the best fair food.  My sister Rachel swears that Tom Thumb mini donuts put the competition to shame, while Mike is obsessed with the Holy Land's fresh mint lemonade slushy.  This is my personal and highly subjective list of the best foods at the Minnesota State Fair, and yes, there is one and only one place where you should order cheese curds.
1. Chocolate malt, Dairy Goodness Bar
The Minnesota State Fair is the only place where I find it totally acceptable to start my day with a chocolate malt.  The soft serve at the Dairy Goodness Bar is extra-creamy with just the right touch of chocolate.  I've never been able to detect any malt powder, so I suspect the "malts" are really just soft serve in a cup.  However, I prefer them over the cones since you can eat them at a more leisurely pace on a hot day.
Dairy Building, south wall
2. Battered deep-fried cheese curds, Mouth Trap Cheese Curds
Deep-fried cheese curds are a staple at fairs and bars across the Midwest, but I've never tasted better ones than at the Mouth Trap.  First, they're battered rather than breaded, which gives the outer layer a crisp, airy quality that contrasts nicely with the chewy density of the melted cheese.  The cheese curds themselves are very fresh (they're delivered daily from the creamery), and you get your fried curds seconds after they emerge from the deep fryer. 
Don't be dissuaded by the long line—the ordering process is extremely efficient.  And splurge on the value bucket.
Food Building, center section
3. Smoked soft serve ice cream, Blue Moon Dine-In Theater
How do you smoke soft serve?  You don't—the ingredients are infused with smoke before they're frozen, for a soft serve with a complex, savory flavor.  I love the cold brew coffee flavor, which is made with cold-smoked Arabica beans and topped with chocolate espresso dust, a toasted marshmallow, and Oreos.  While it's definitely a dessert, the smoked soft serve doesn't have the sugar overload of so many fair treats, making it a refreshing mid-day palate cleanser.
Northeast corner of Carnes Avenue and Chambers Street
4. Spiral-cut chips, Sonny's Fair Food
These are almost worth ordering solely for the joy of watching a staffer spiral cut five potatoes with a power drill, fry them up, and serve the resulting mound of chips to you in a comically small cardboard tray.  However, these chips are also incredibly tasty—think of what a freshly-baked loaf of bread tastes like compared to the pre-sliced loaves at the supermarket, and then you have an inkling of what freshly-fried potato chips taste like compared to the pre-made variety.  There's a condiment bar with a variety of seasonings you can sprinkle on your chips, but I think they're best appreciated with a simple dusting of sea salt.
Food Building, northwest section
5. Deep-fried cookie dough on-a-stick, Sonny's Fair Food
I know, I know.  There are nearly 300 food vendors at the fair, and two of my picks are from the same spot?  But Sonny's deep-fried cookie dough on-a-stick is truly the pinnacle of the Minnesota State Fair food experience: three golf-ball sized chunks of chocolate chip cookie dough threaded onto a skewer, battered, deep-fried, and dusted with powdered sugar.  Finishing my day with this masterpiece guarantees that I will leave the fairgrounds feeling well and truly satiated for an entire year.
Food Building, northwest section
If you enjoyed this post, pin it!