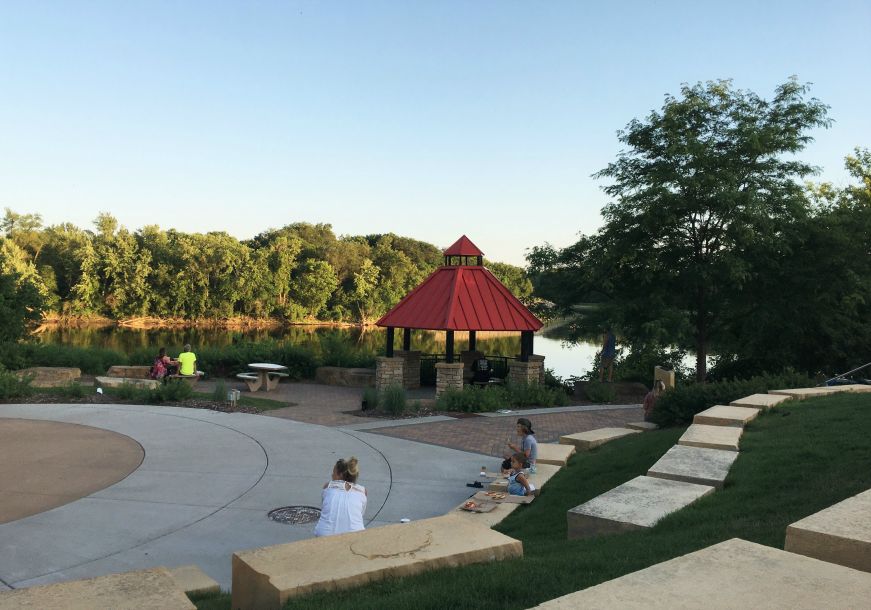 For years, we've headed to one of the Minneapolis lakes if we want to spend the evening by the water.  However, that involves a 30 minute drive from our home in the suburbs, so we recently investigated a closer option: Elk River, a small city that's northwest of Minneapolis and is situated at the confluence of the Elk and Mississippi Rivers.  In addition to the shorter drive, in the COVID era we appreciate the lack of crowds. 
My favorite thing about Elk River is Rivers Edge Common, a riverside park in the heart of downtown.  There's amphitheater-style seating with enough space between the stone benches to lay down a picnic blanket, as well as a few picnic tables and a gazebo close to the shore.  The park's layout makes it easy to to socially distance.  Best of all, the view of the Mississippi River is one of the best I've come across in the Twin Cites area, with a tranquil, natural feel. 
Mike and I have spent several evenings there hanging out and playing Yahtzee on our picnic blanket, and the park is also conveniently located if you want to picnic or get takeout from a downtown restaurant.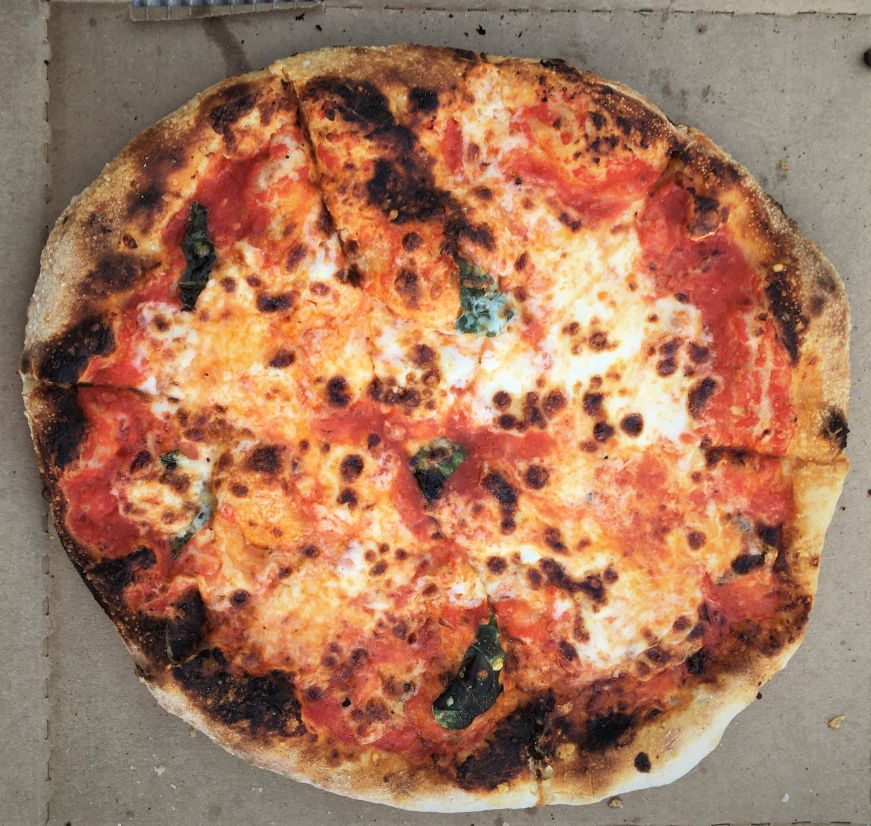 As far as takeout is concerned, we were quite impressed with Pompeii Pizzeria, which serves Neapolitan-style pizza, paninis, and salads just down the street from Rivers Edge Common.  The restaurant is quite popular, so if you can't get through on the phone to place an order, just show up and order in person.
There are a handful of vegetarian options plus seasonal pies featuring fresh produce, but I went with a classic margherita pizza.  All of the ingredients were top-notch—fresh mozzarella, Sicilian olive oil, Parmesan cheese, sea salt, tomato sauce, fresh basil—and the crust was delectably chewy.  Mike opted for the Cortina, which is topped with arugula, prosciutto, goat cheese, cracked red pepper, and garlic.  The prosciutto was layered on generously, and it paired well with the goat cheese and garlic. 
Both of our pizzas were an excellent value for the price—another advantage of spending the evening in the exurbs.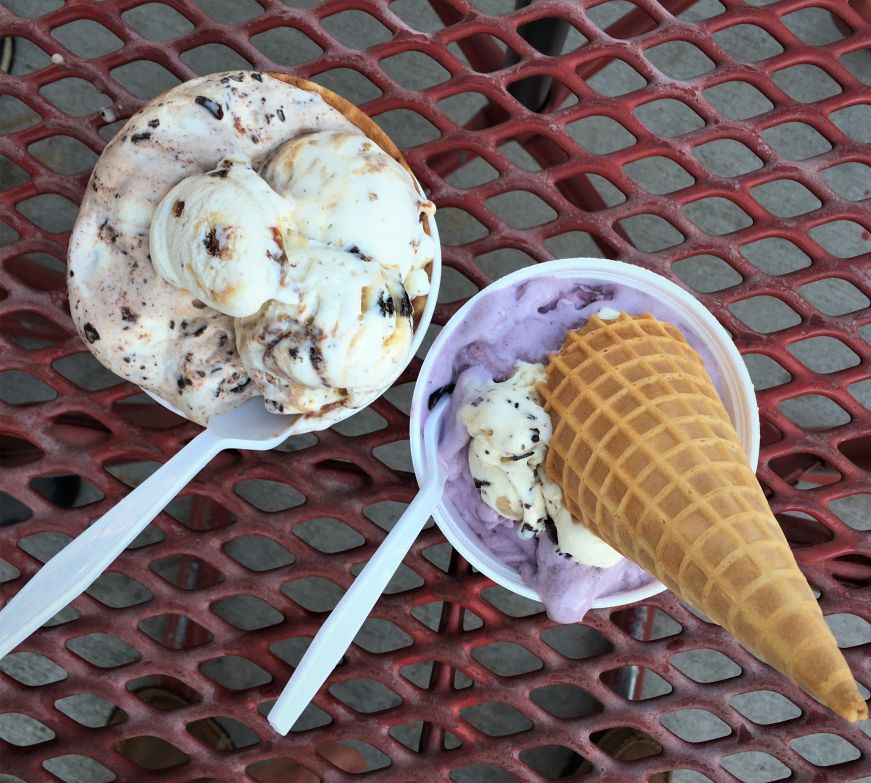 If you're up for dessert, Amore Ice Cream is within walking distance (0.7 miles) of Rivers Edge Commons.  They serve an extensive lineup of flavors from Chocolate Shoppe Ice Cream (a Wisconsin-based super-premium brand similar to Ben and Jerry's), in dishes, homemade waffle bowls or cones, homemade cookie bowls, and gluten-free cones.  You can also get a four scoop flight board.
Scoops are generous and prices are reasonable, and I was impressed with the COVID precautions Amore Ice Cream is taking.  Customers place their orders at a takeout window, and there are marks on the sidewalk to encourage proper social distancing while waiting in line.  Reservations are required for patio seating and are available by phone.
One final Elk River tip: I haven't tried them yet, but my sister recommends the seasonal beers from AEGIR Brewing Company.  Currently, they're offering growlers and crowlers for curbside pickup; order and pay online.
Further reading
If you enjoyed this post, pin it!