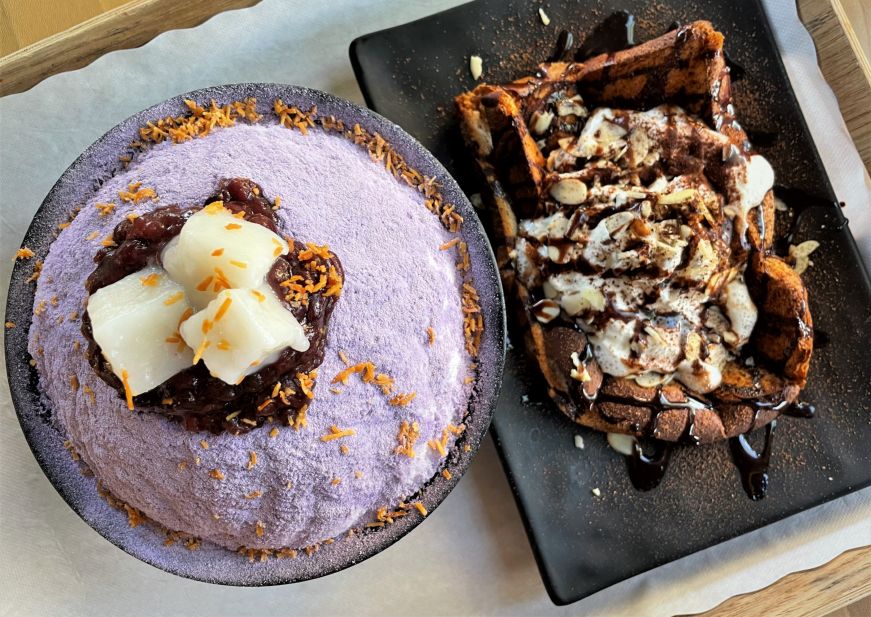 We timed our trip to Seattle exactly right: mid-July 2021, post-vaccine but before the delta variant's spread.  Crowds and indoor dining didn't concern us, and it was perfectly acceptable to wander around unmasked in Pike Place Market eating cherries.  Two months later, I'm already nostalgic about it. 
Here are the culinary highlights of my time in Seattle: the foods that made me happy, the drinks that hit the spot, and the experiences that make traveling one of my favorite things.
1. Glazed old fashioned, Top Pot Doughnuts
Top Pot Doughnuts is a regional chain that I discovered on a previous trip to Seattle—they have a wide selection of doughnuts and a fun vintage vibe.  I loved the glazed old fashioned, with an extra fluffy interior and nice exterior crunch.  The quantity of glaze was perfect, thoroughly covering the doughnut without overwhelming it with sweetness.
I also enjoyed the double chocolate cake doughnut and the sandcastle, a chocolate cake donut dusted with cinnamon.  Here's hoping Top Pot eventually expands to the Midwest so I can eat their donuts more often.
2. Potato and cheese piroshky, Piroshky Piroshky
A Pike Place Market standby since 1992, Piroshky Piroshky specializes in sweet and savory hand pies, with a unique shape for each flavor.  Don't be dissuaded by the line, which moves quickly thanks to the efficient staff.  The potato and cheese piroshky is pure carbohydrate comfort, with shredded potatoes and cheddar nestled into a soft crescent of bread.  It's simple and filling, and while you're eating it, you feel like everything will be okay.
I also enjoyed the chocolate hazelnut piroshky, which features pastry dough wrapped around a chocolate and hazelnut filling.
3. Rainier cherries, Pike Place Market
We happened to be in Seattle during cherry season, and I was treated to the ripest cherries that I've ever eaten.  I bought a bag every day and ate them while we wandered around the city.  The Rainier cherries were my favorite, bright pops of sweetness that matched their cheery yellow skin.
If you visit Pike Place Market, try to buy whatever fruit is in season from a local farmer—it will be a delight.
4. Savory pinwheel, Macrina Bakery
Macrina Bakery is a Seattle chain with a location near the Airbnb we rented, and their baked goods were so delicious that we went there for breakfast three days in a row.  My favorite item was the savory pinwheel, a flaky, buttery coil of pastry filled with caramelized onions and Parmesan and topped with sesame, poppy, and fennel seeds.  It had a luxurious, substantial quality, the perfect way to start a day of exploring a new city.  I actually ordered it twice—usually I like to try as many different things as possible, but the savory pinwheel was just that good.
I also appreciated the bagels, which are chewy with a slight sourdough tang, and less dense than traditional New York bagels.  The harvest loaf (a zucchini and walnut bread) was tasty too.
5. Whiskey barrel-aged cold brew, Starbucks Reserve
As I mentioned in my post about the Starbucks Reserve Roastery, I tried the Starbucks Reserve whiskey barrel-aged cold brew as part of the cold brew trio flight.  It stole the show—the whiskey notes shined, and the drink tasted like a well-balanced cocktail.  It was a truly unique beverage, and I would have happily sipped a full-sized glass.
6. Aglio e spinaci pizza, Bruciato
One of the highlights of our excursion to Bainbridge Island was lunch at Bruciato, which serves Neapolitan-style pizzas.  I ordered the aglio e spinaci, which was topped with spinach from a local farm, a slightly funky sheep's milk cheese, roasted garlic, onion, and freshly ground black pepper.  I loved how the bold flavors complemented each other, and I'm always partial to really good pizza crust.
7. Taro bingsoo, Milkie Milkie
One of my favorite things about traveling is trying new foods, so we visited Seattle's International District specifically to eat at Milkie Milkie.  They specialize in bingsoo (sometimes spelled as "bingsu"), a Korean shaved ice dessert with sweet toppings.  I ordered the taro version, which consists of shaved ice layered with taro powder, red bean paste, toasted coconut flakes, and cubes of homemade rice cake, with a cup of sweetened condensed milk on the side.  It combined several different flavors that I love, and the finely shaved ice melded well with the toppings—it was a bit like eating very flavorful snow.  I especially enjoyed the rice cake, which reminded me of the butter mochi I enjoyed in Hawaii.
The bingsoo are big enough to share as a dessert, although I ate it for dinner solo.  In addition to a variety of bingsoo, Milkie Milkie also serves mochi toast with gourmet toppings—we enjoyed the chocolate toast topped with cocoa powder, almonds, whipped cream, and chocolate sauce.
8. Naked fry bread, Off the Rez Cafe
Off the Rez Cafe is the on-site restaurant at the Burke Museum.  The Native-owned cafe serves Indian tacos inspired the founder's Blackfeet heritage, as well as salads, wild rice bowls, and breakfast items.  The naked fry bread is the simplest thing on the menu, but you can't beat a well-executed staple: handmade, fried to order, and topped with crunchy flakes of salt. 
There was an added layer of meaning thanks to the museum's exhibit about indigenous foods, which highlighted the resiliency of indigenous people who invented fry bread from the limited ingredients available, surviving and thriving despite the genocidal policies of the U.S. government.
9. Marionberry yogurt, Ellenos Yogurt
Yes, it's Greek yogurt, but Ellenos Yogurt is in a totally different class than the familiar big-brand plastic cups at the grocery store.  Their Pike Place Market stall looks more like a gelato counter, with tubs of yogurt topped with colorful fruit, granola, and chocolate.  The yogurt itself has a mellow, distinct tang and a very creamy texture.  I opted for the marionberry flavor, which features a lightly sweetened marionberry topping.  Marionberries are  one of my favorite berries (they're a member of the blackberry family), and they were a lovely pairing with the yogurt.
10. Bang Your Drum, Bathtub Gin & Co.
I think speakeasies like Bathtub Gin & Co. might be the thing I missed the most during the pandemic—the intimate thrill of finding the hidden entrance to a small, windowless room and drinking with strangers who are also in on the secret.  All of the drinks we tried were excellent, but the standout was the Bang Your Drum, a nuanced layering of Scottish whiskey, coconut liqueur, angostura bitters, and Irn-Bru (a beloved Scottish soda).  It was smoky, dark, and sophisticated, and as I savored each sip, I realized that I grew up to be a much cooler adult than I thought I'd be.
11. Falafel, Matt's in the Market
Our last meal in Seattle was at Matt's in the Market, a full-service farm-to-table restaurant that highlights fresh ingredients, often sourced from Pike Place market.  I opted for the falafel, which were served on a plate-sized piece of flat bread with garlic labne, beet puree, pickled fennel, greens, and baba ganoush.  All the components were excellent on their own, but they really shined together—I tried to sample a different combination with each bite, and each one was a delight.  I also appreciated generous portion of flatbread, which was pillowy soft with just enough chew.
Matt's in the Market also serves sandwiches and seafood entrees.  The clams and mussels with a coconut milk, lime, Thai basil, and chili broth were lovely. 
12. Palmier, Three Girls Bakery
Three Girls Bakery opened in 1912, making it the oldest continuously operating business in Pike Place Market, and it's still holding its own.  The stall sells a variety of breads, pastries, and cookies, plus breakfast sandwiches.  I purchased a few items, and I was surprised that the palmier was my favorite.  It's vegan but certainly doesn't taste that way, with delicate, crisp layers of pastry glazed with crunchy sugar.  It's a very satisfying dessert, without being rich or overly filling.
I also enjoyed the chocolate drop (a shortbread cookie with chocolate ganache) and the chocolate chip almond macaroon.
Further reading
If you enjoyed this post, pin it!