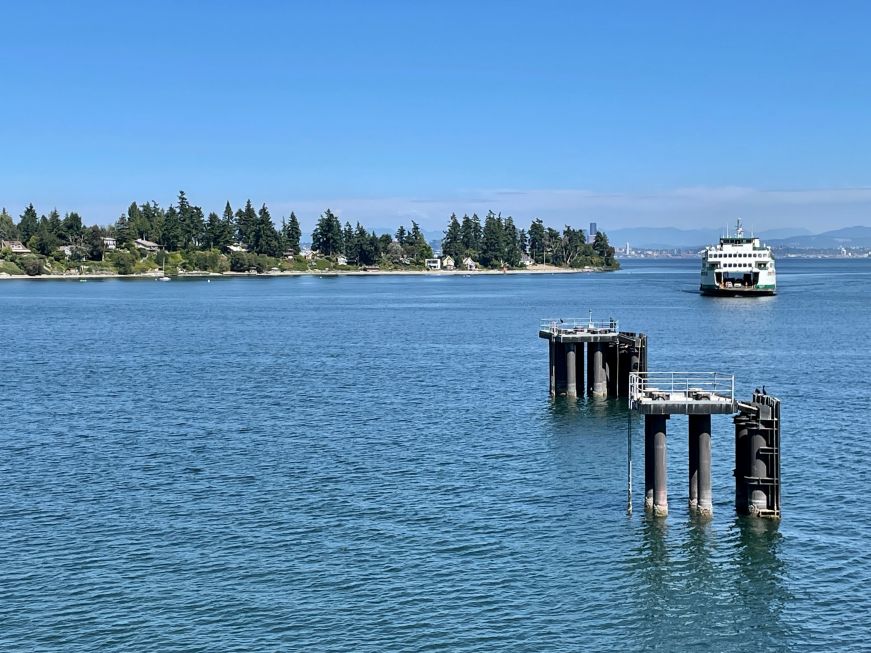 When tourists think of Seattle, the images that spring to mind are decidedly urban: the modernistic Space Needle, crowds at Pike Place Market, coffee shops and grunge.
However, if you're in the mood for a half-day or day trip out of the city, there's a picturesque, small-town destination only 35 minutes away—and you don't need a car to get there.
Bainbridge Island is a city and island located in Puget Sound, within the traditional, ancestral, and contemporary homeland of the Suquamish people.  Bainbridge Island is connected to the Port Madison Indian Reservation (which belongs to the Suquamish tribe) via the Agate Pass Bridge, and to downtown Seattle via ferry.
Despite its proximity to Seattle, Bainbridge Island has a low-key feel, with a small downtown neighborhood and plenty of green space.  It's a great place to relax and decompress, and our visit to Bainbridge Island was one of the best parts of our trip to Seattle.  Here are all the details you need to plan your own excursion to Bainbridge Island.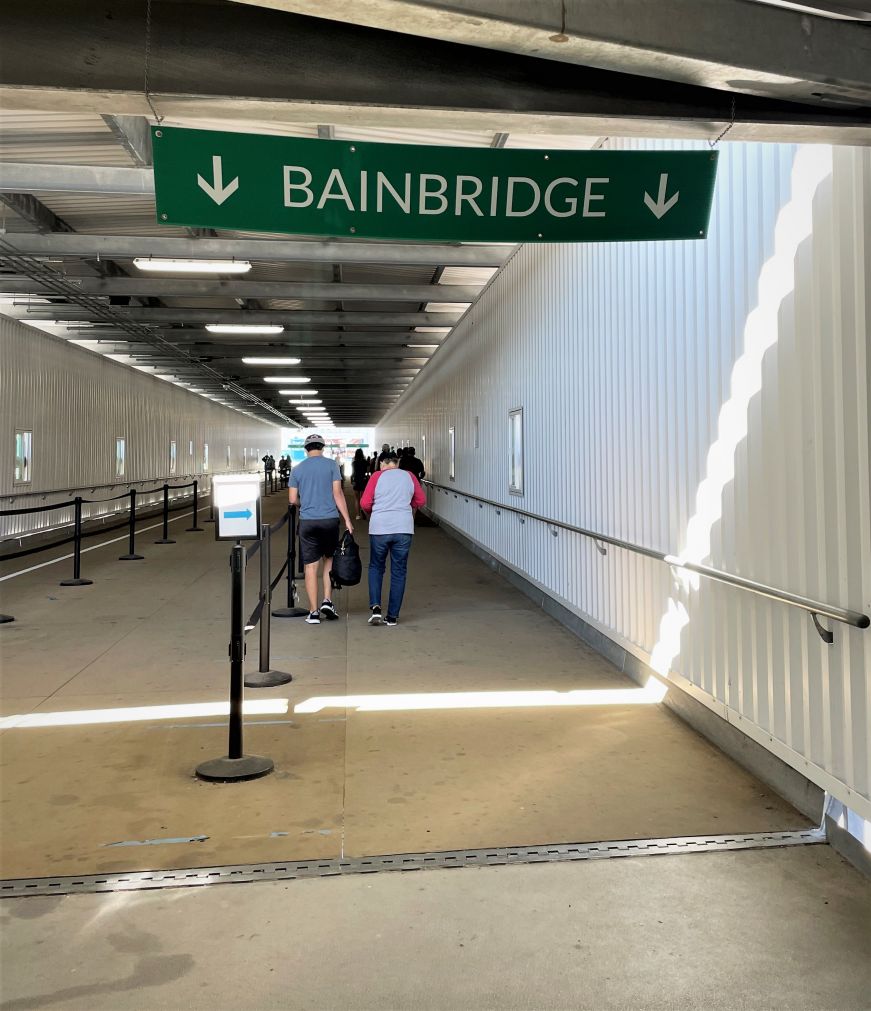 How to get to Bainbridge Island:
Washington State Ferries operates a ferry service between Seattle and Bainbridge Island.  The Seattle ferry terminal has a convenient downtown location, and is about 0.7 miles from Pike Place Market.  Ferries run approximately every hour, and the schedule is available here.  Plan to be aboard at least 5 minutes before sailing.
In 2021, the walk-on rate is $9.05 per adult passenger from Seattle to Bainbridge (the trip from Bainbridge to Seattle is free for walk-on passengers).  Discounted rates are available for children and senior citizens.  If you want to bring a bicycle, there's a $1 surcharge.  The ferries also accommodate cars, motorcycles, and other vehicles—for more information, you can look up ticket costs here. 
As of August 2021, face coverings are required in all indoor areas aboard ferries and in terminals.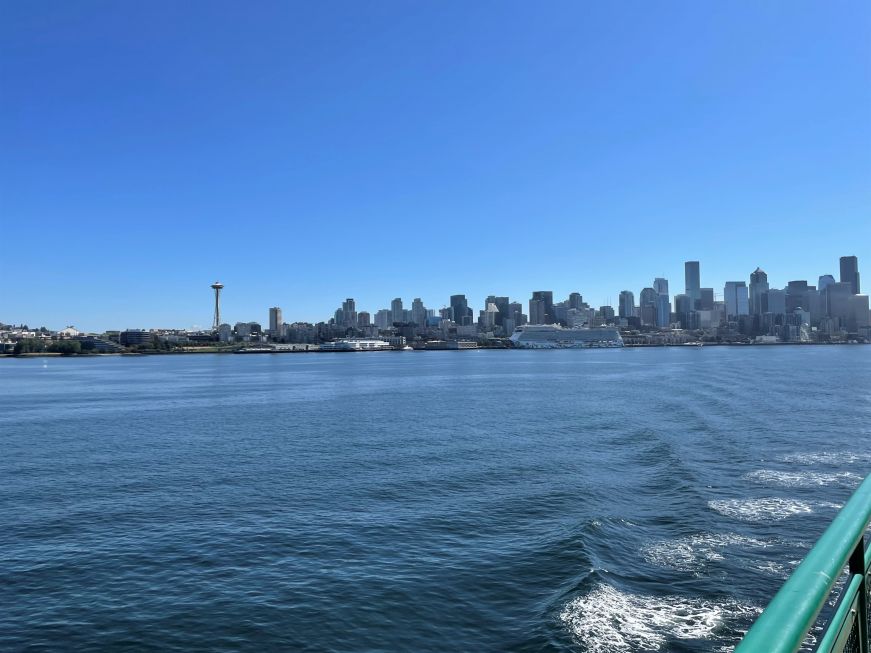 Walk-on passengers can choose from an enclosed indoor seating area and covered or uncovered outdoor seating, or you can stand along the railing for the best views.  If possible, pick a clear, sunny day for your trip to Bainbridge Island—the views from the ferry were one of the highlights of our excursion.
The ferry ride takes about 35 minutes each way, giving you plenty of opportunities to appreciate the city skyline, including the Space Needle and the Seattle Great Wheel.  You might also spot a cruise ship or two.  If visibility is good, you'll be able to see snow-capped Mount Rainier in the distance (if you're facing the front of the ferry, Mount Rainier will be on your left side on the ride to Bainbridge and your right side on the way back to Seattle).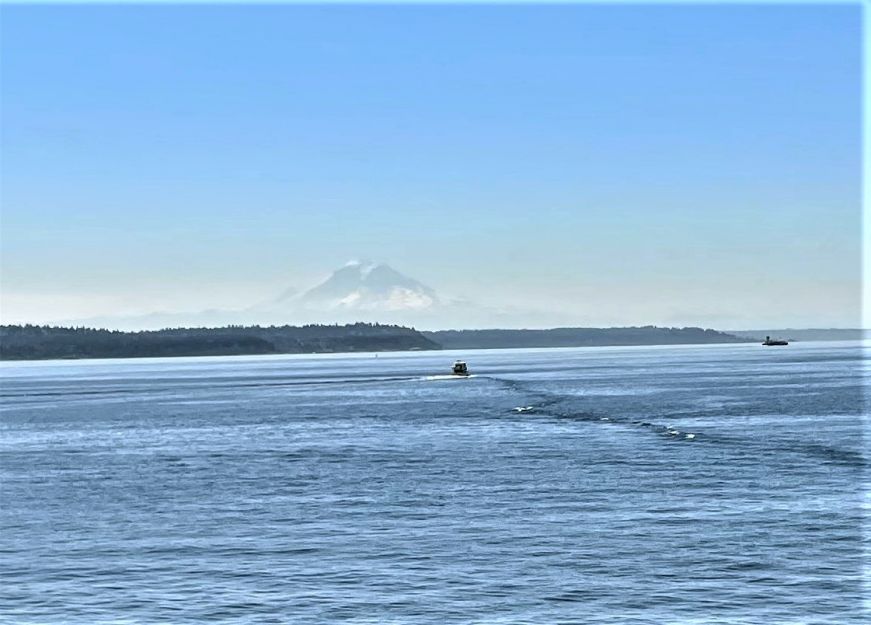 What to do and where to eat on Bainbridge Island:
Once you arrive on Bainbridge Island, it's about a 5-10 minute walk to the downtown neighborhood of Winslow, which features several blocks of shops, wine tasting rooms, and restaurants, as well as the Bainbridge Island Museum of Art and Bainbridge Island Historical Museum.  Most of the shops skew towards upscale home decor and gift items.  I enjoyed browsing Eagle Harbor Book Co., an independent bookstore with a nice selection of regional books (I bought a board book for my niece).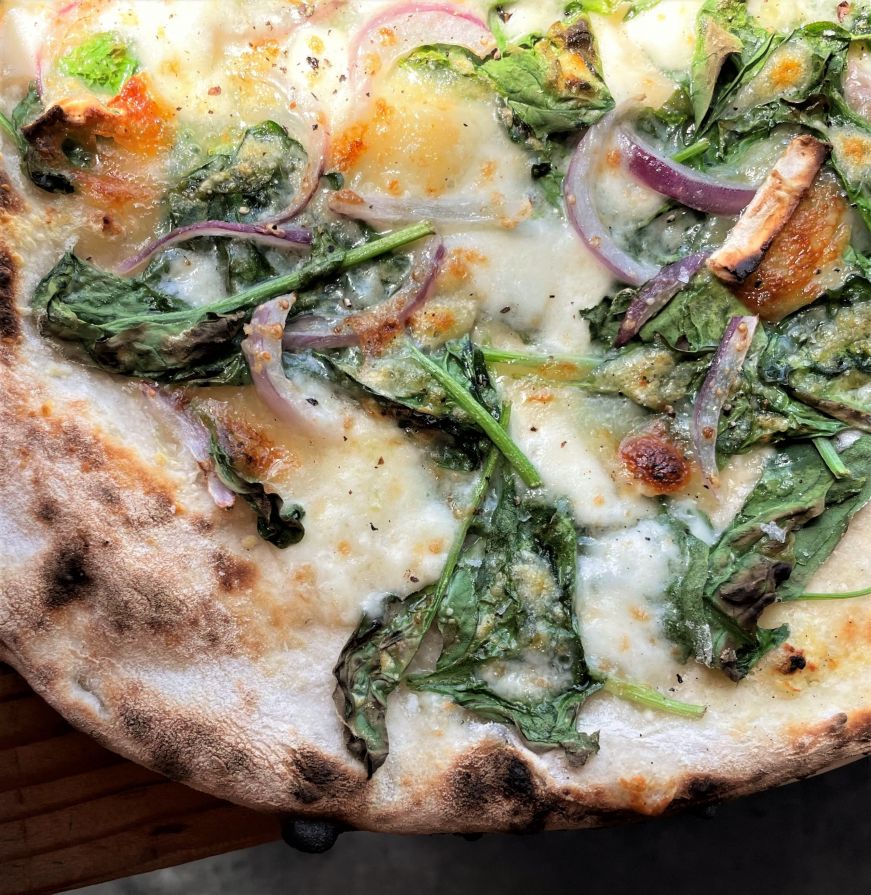 For lunch, we got pizza at Bruciato, which serves Neapolitan-style pizza made with locally-produced ingredients.  I loved the aglio e spinaci pizza, which was topped with fresh spinach, cana di oveja (a sheep's milk cheese), roasted garlic, red onion, and black pepper.  The menu also includes starters, salads, and desserts. 
We opted to get dessert at MORA Iced Creamery, a regional chain that originated on Bainbridge Island.  Their ice creams and sorbets are made with real fruit, liqueurs, and other high-quality ingredients.  The ice cream has a lower fat content than other premium ice creams—I appreciated that it was refreshing on a warm day, but I did miss the luxurious mouthfeel of a higher fat ice cream.  Try a scoop of Mora, the signature flavor that's loaded with fresh blackberries.
For more dining ideas, check out this business directory.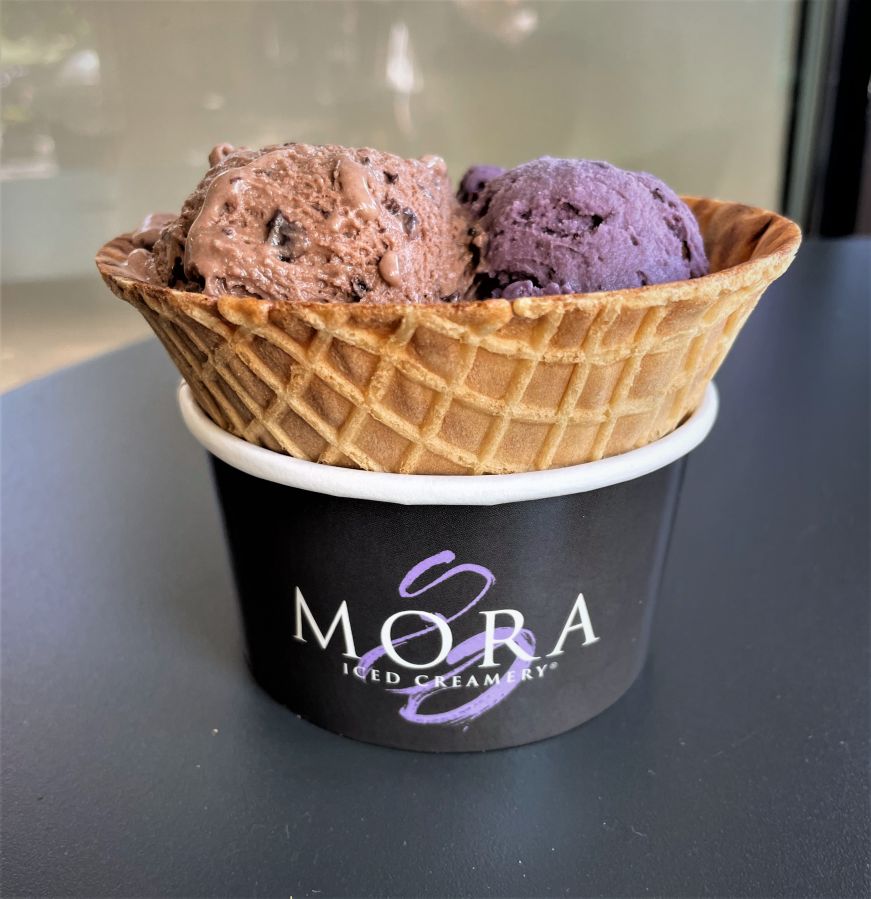 Bainbridge Island is home to several wineries, many of which offer wine tastings.  If you'd prefer to stay in Winslow, Eleven Winery, Amelia Wynn Winery, and Fletcher Bay Winery operate downtown tasting rooms.
Since I wanted to see a bit more of Bainbridge Island, we walked to Fletcher Bay Winery's Coppertop Winery location (about a 45-minute walk from downtown).  There's an indoor seating area and a leafy patio, and the menu includes wine tasting flights with four 1.5-ounce pours, wine by the glass, and snacks like cheese and charcuterie boards. 
Tasting some local wines was a fun activity, and we enjoyed the pleasant patio setting.  However, the walk to the Coppertop Winery isn't particularly scenic, so opt for the in-town tasting room if you have other sightseeing activities planned or you want to spend more time shopping.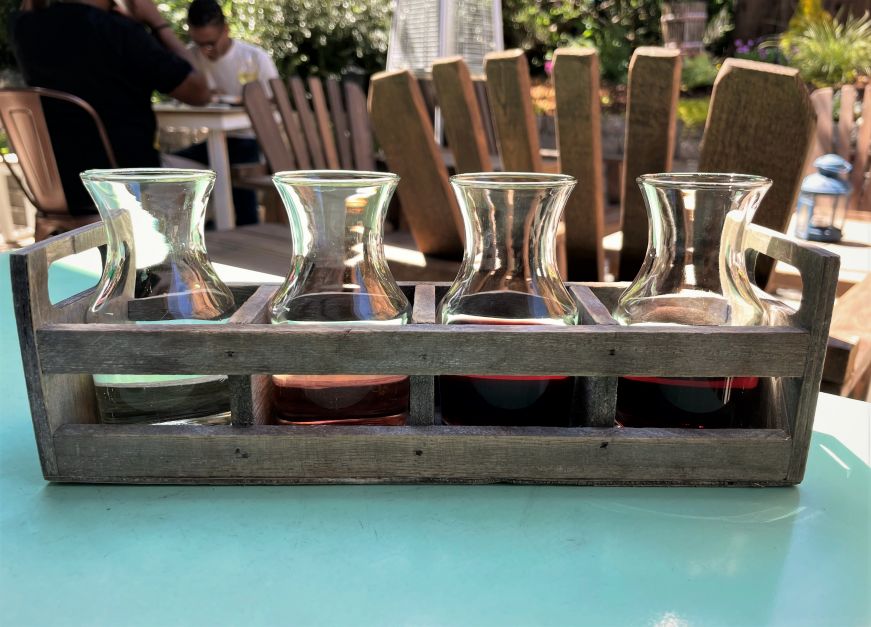 Other attractions walkable from the ferry include the Bainbridge Island Museum of Art and Bainbridge Island Historical Museum, as well as Hawley Cove Park.
If you take a car or bicycle, you can easily explore the entire island.  On Bainbridge Island, bike rentals are available June through September via Bike Barn Rentals, which is next to the ferry terminal (note that they're closed on Mondays, which happened to be the day we visited).  With a bike or car, you can explore the island's green spaces, including Bloedel Reserve, Gazzam Lake Nature Preserve, and Fort Ward Park.  Consider visiting the Bainbridge Island Japanese American Exclusion Memorial, which commemorates the forcible removal and incarceration of Bainbridge Island's Japanese-American community (two-thirds of whom were American citizens) during WWII.  You'll also have access to beaches, additional wineries, and more accommodation options.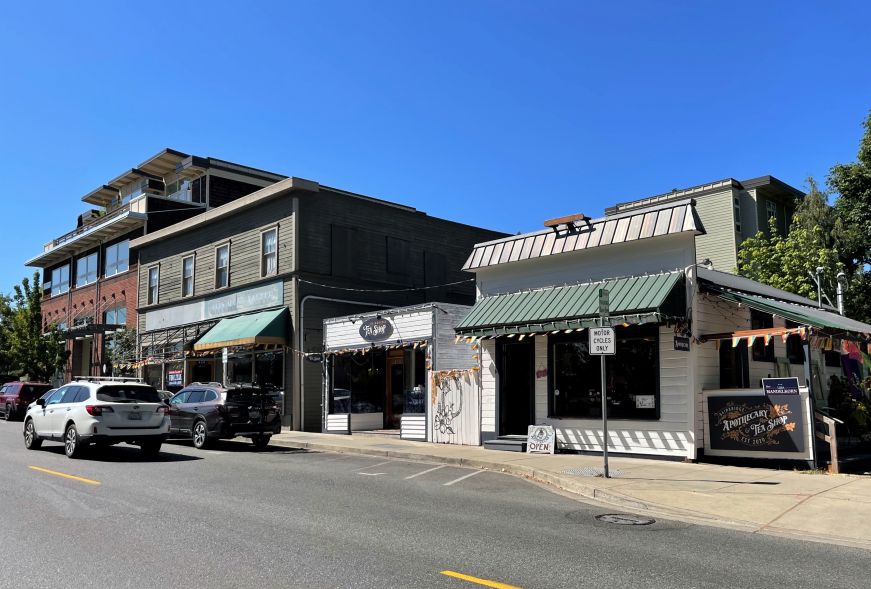 Once you've wrapped up your time on the island, it's time to catch the ferry back.  Since ferries run approximately every hour until 11:30 p.m., we weren't too concerned about keeping track of the time.  Obviously, if you have dinner reservations or another scheduled activity back in Seattle, you'll want to keep the ferry schedule in mind.  Like the ride there, the ride back takes about 35 minutes.  As I mentioned above, the Bainbridge to Seattle ferry is free to walk-on passengers and bicyclists (there is a charge for automobiles).
If you'd like to spend more time on Bainbridge Island, there's a wide range of accommodations available, from chain hotels to cottage rentals. 
We thoroughly enjoyed our excursion to Bainbridge Island—we stayed for about five hours, which was a good length of time for us.  If you'd like to spend more time shopping, I would recommend doing a wine tasting in town; if you'd prefer more of a nature-based experience, bring a bike or time your visit so that you can rent one from Bike Barn Rentals.
One final piece of advice: definitely try to visit Bainbridge Island on a sunny day.  Sitting outside and enjoying the view on the ferry was the highlight of our day (plus the pizza!)
Further reading
If you enjoyed this post, pin it!