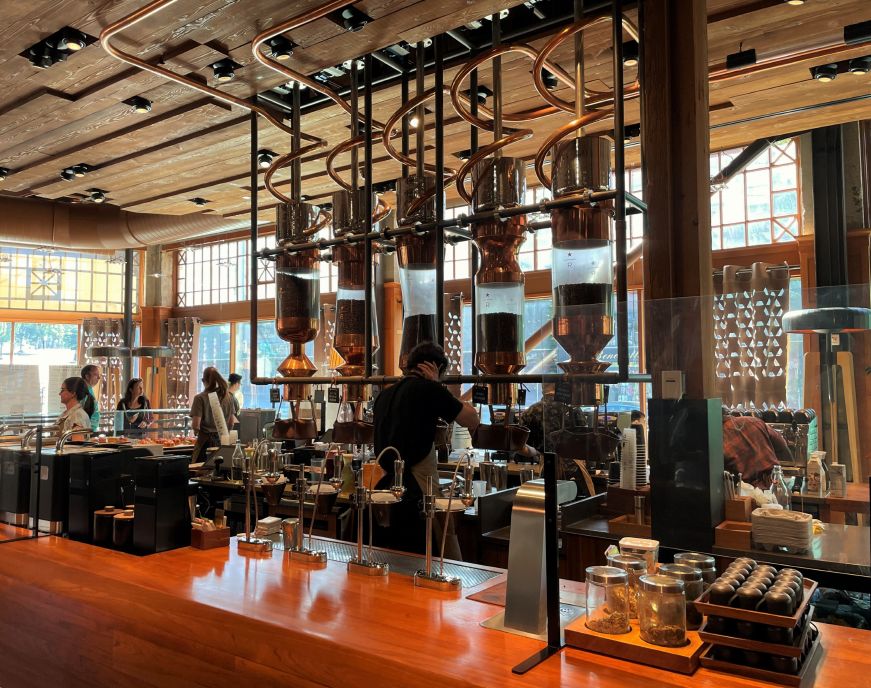 If you visit Seattle's Pike Place Market, you'll notice a long line of people on the sidewalk outside of 1912 Pike Place.  They're queued up for a chance to order a drink or buy a souvenir mug at the first Starbucks location, which opened in 1971.  Compared to Starbucks' other 20,000-plus locations worldwide, it is a unique spot: the store has retained its original floors, fixtures, and counters, and for fans, there's something special about being where it all began. 
However, I am not a Starbucks fan.  Their drink size names annoy me, and their espresso tastes burnt.  So many Starbucks drinks that look delicious online are a disappointment in reality (I'm looking at you, Iced Brown Sugar Oatmilk Shaken Espresso).  Plus, I live in Minnesota, the land of Caribou Coffee, and I want to support the home team.
So on our recent trip to Seattle, waiting for 45 minutes to get coffee I probably wouldn't like was not high on my to-do list.  Josh is a legitimate Starbucks fan, and even he wasn't interested in standing in line to get the same drink he could get a block away for a lot less hassle.  But we did want to do some sort of Starbucks-related tourism, and Seattle happens to be home to one of the world's six Starbucks Reserve Roastery locations.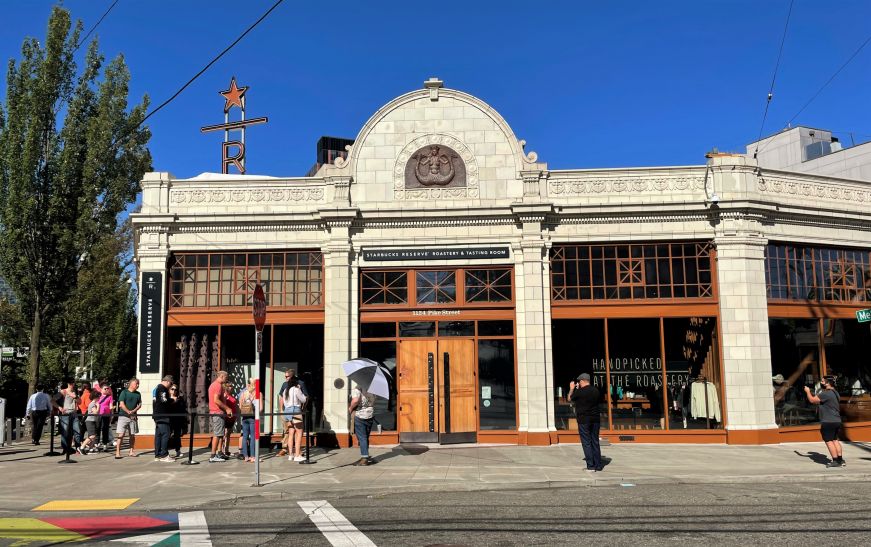 A Starbucks Reserve Roastery is basically an extra-fancy Starbucks that takes itself very, very seriously.  In addition to the location in Seattle (which opened in 2014), there are outposts in Shanghai, Milano, New York, Toyko, and Chicago.  The menu is quite different from a typical Starbucks, with single-origin coffees roasted on-site, alcoholic beverages, and freshly-made Italian food.
Seattle's Reserve Roastery is located in the Capital Hill neighborhood, which is northeast of downtown.  It's about 0.8 miles from the original Starbucks location and Pike Place Market, and the route is easily walkable—just head up Pike Street.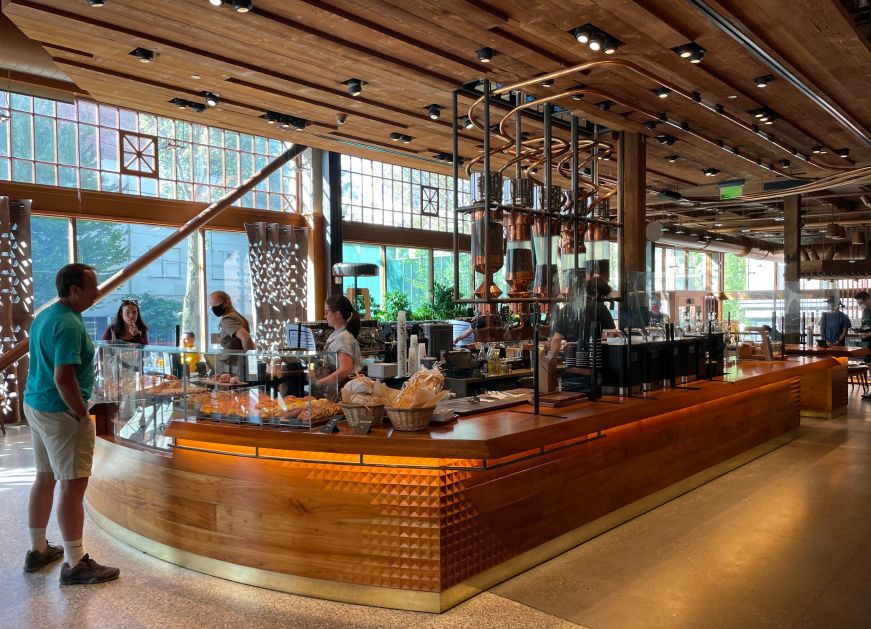 We arrived at the Reserve Roastery at approximately 8:30 a.m. on a Monday.  There wasn't a line to get into the building, and we easily found a table.  It did seem to get busier as the morning went on—when we left at 9:30 a.m., there was a line queued up outside (at about 20 people, it was still significantly shorter than the line at the original Starbucks).  I would recommend visiting early on a weekday if possible, since seating is limited and sitting down to savor your drink is part of the experience.
Of course, there's a merchandise area as soon as you walk in the door, with Reserve coffee beans, high-end coffee making accessories, and upscale gifts and apparel (including some truly bizarre blazers made from burlap coffee sacks).  There's a counter serving coffee and pre-prepared food straight ahead, with a made-to-order hot food counter and bar on your right.  A staffer was stationed at the door to direct traffic, and she recommended that we order our hot food first and then get our beverages while we waited for our meal.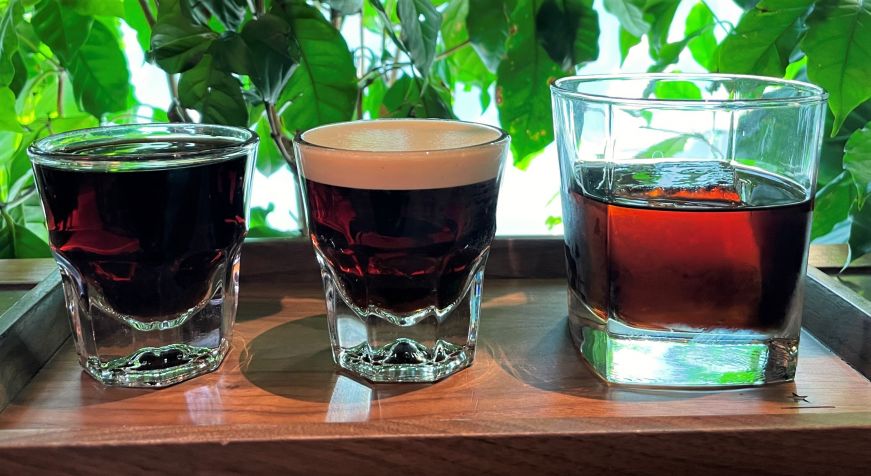 Since we had already eaten breakfast, we headed straight to the beverages.  The menu includes traditional espresso drinks, as well as signature creations like a nitro mole mocha and a cold brew malt with locally-made ice cream.  There are coffee, cold brew, and espresso flights, plus tea drinks and fruit-infused sparkling beverages.  You can also get cold sandwiches, pastries, and desserts (Josh reports that his prosciutto and fontina cornetto sandwich was "way better" than regular Starbucks fare).  Expect to pay a bit more than you would at a regular Starbucks—most drinks range from $6-$10, with flights costing $8-$17.  Pastries are about $5, and sandwiches and desserts are $8-$9.
I opted for the cold brew trio flight ($12), which consists of three small cups (about 4 ounces each) of regular, nitro, and whiskey barrel-aged cold brew.  Although I've enjoyed plenty of regular and nitro cold brew, I'd never sampled them side-by-side—it was interesting to taste the differences.  However, the showstopper was the whiskey barrel-aged cold brew, which was served in a rocks glass with a large ice cube.  The coffee beans are aged in whiskey barrels, and the resulting alcohol-free cold brew truly tastes like a refreshing breakfast cocktail.  It's one of the most delicious and unique coffee drinks I've ever tried (according to the menu I was tasting "notes of chocolate, stone fruit, and oak"), and I would happily order a full-sized glass.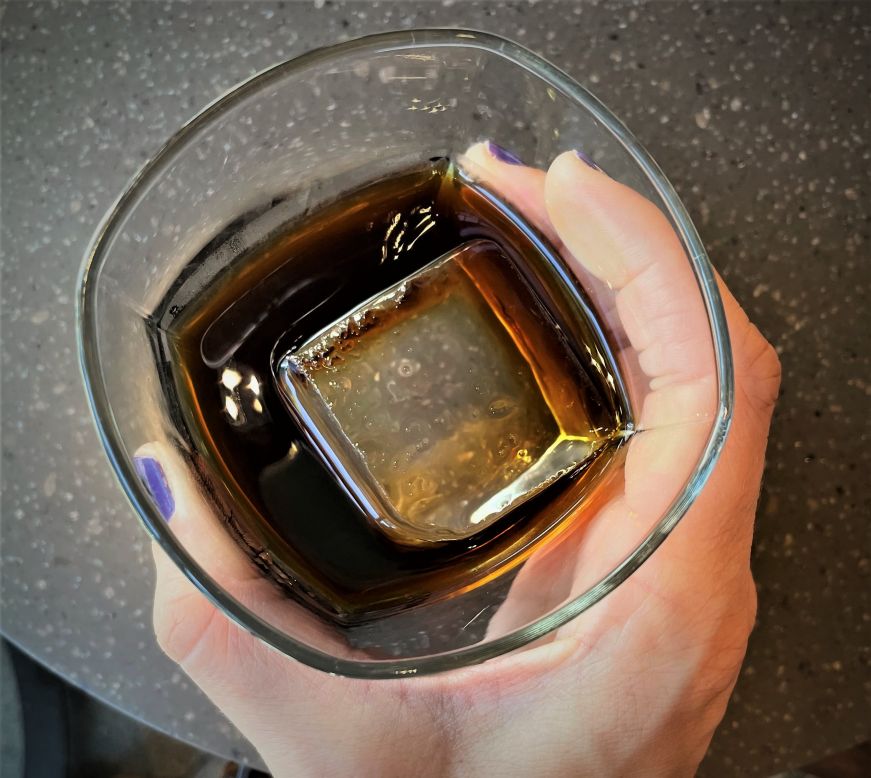 In addition to the unique menu items, the Reserve Roastery offers lots of small touches that make the experience feel special.  Beverages are served in ceramic or glass drinkware, and you get fancy little coffee trading cards with your order.  No expense was spared on interior design—the space has welcoming warm tones, with wood and copper accents.  There's a retro split-flap display with various coffee facts (it was neat to watch it change every few minutes) and sleek mid-century modern-style furniture.
Once we finished our beverages, we spent some time wandering around and appreciating the space.  The roastery is adjacent to the seating area, so you can watch employees roasting beans and packaging coffee.  Even the one-way bathroom mirror gives you a behind-the-scenes view of the packing line.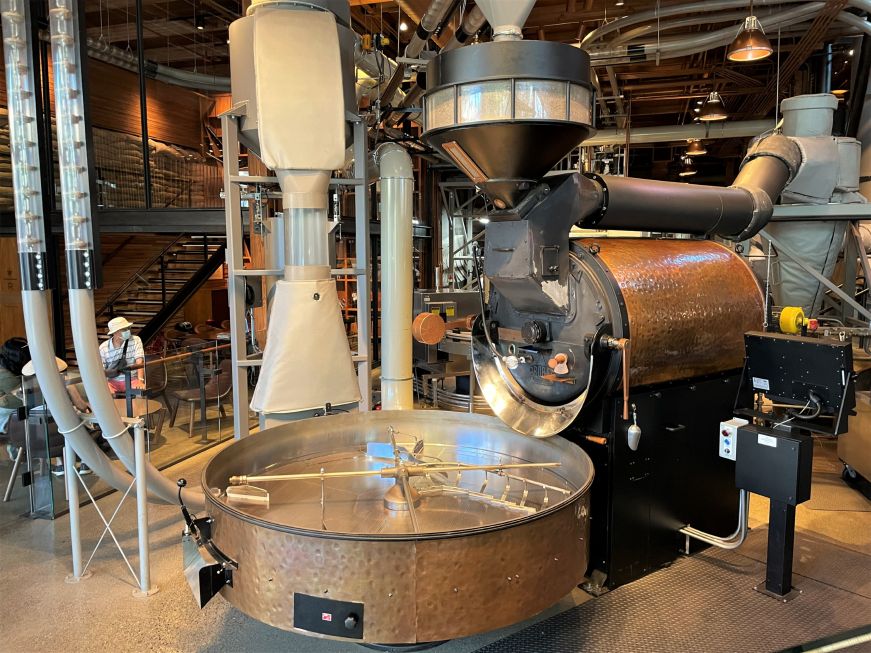 Did my experience at the Reserve Roastery turn me into a Starbucks fan?  Not quite (maybe if they start serving whisky barrel-aged cold brew at their regular locations).  However, it was an enjoyable and memorable experience, and we were impressed with the quality of our drinks and food.  It certainly beat standing in line at 1912 Pike Place.
Starbucks Reserve Roastery
1124 Pike Street
Seattle, WA 98101
206-624-0173
starbucksreserve.com
This isn't a sponsored post—we paid for our drinks and food out-of-pocket.
Further reading
If you enjoyed this post, pin it!