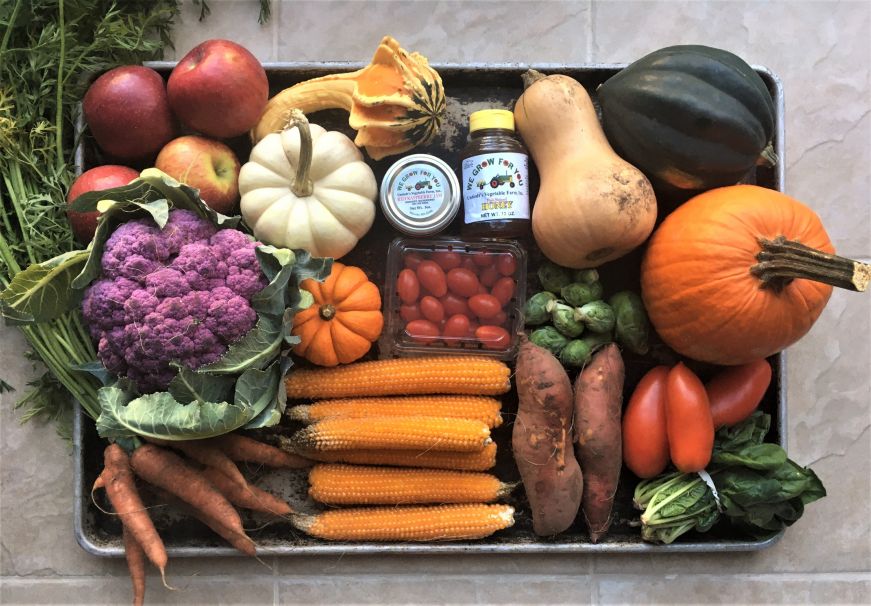 This post is sponsored by Untiedt's Vegetable Farm, Inc.  I've been an Untiedt's CSA member since their first CSA season in 2011, and I'm excited to be working with them to promote their CSA program.  You can learn more and read their frequently asked questions page on Untiedt's website.  As always, all content and opinions are my own.
Happy CSA Week!  There might still be snow on the ground, but I've already started planning for warmer weather by subscribing to a CSA from Untiedt's Vegetable Farm.  CSA stands for Community Supported Agriculture: you purchase a share from a local farmer, and in return you get a portion of the harvest every week for the duration of the growing season.
Does fresh produce every week sound appealing?  Familiar with the CSA concept and interested in learning more?  Here are five reasons to join a CSA this season.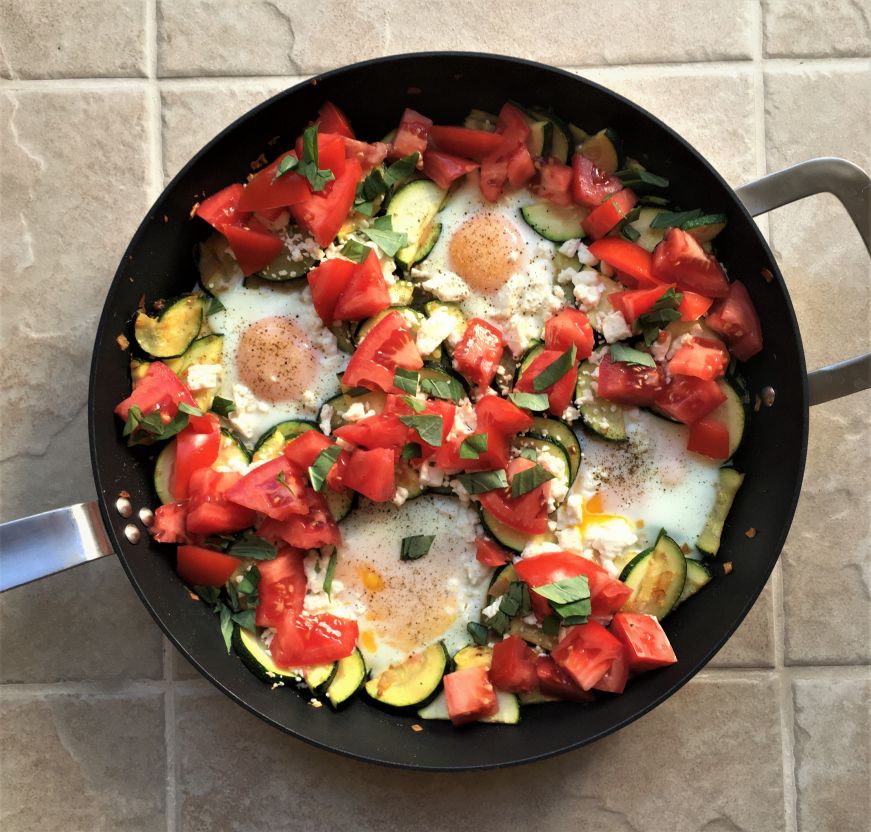 1. It's an easy way to eat more vegetables.
Subscribing to a CSA guarantees you'll have a steady supply of produce in your refrigerator—and actually having vegetables on hand is the first step to eating more of them.  I also appreciate the variety a CSA offers.  At the grocery store I tend to buy the same handful of produce items, and that leaves me less than inspired to chow down on yet another bowl of frozen peas or mixed greens.
In addition, the amount of produce included in my CSA box lends itself well to making vegetables the star of the dinner table (instead of a side dish) and over the years the amount of vegetables I've gotten in the habit of eating during CSA season has influenced my diet during the rest of the year.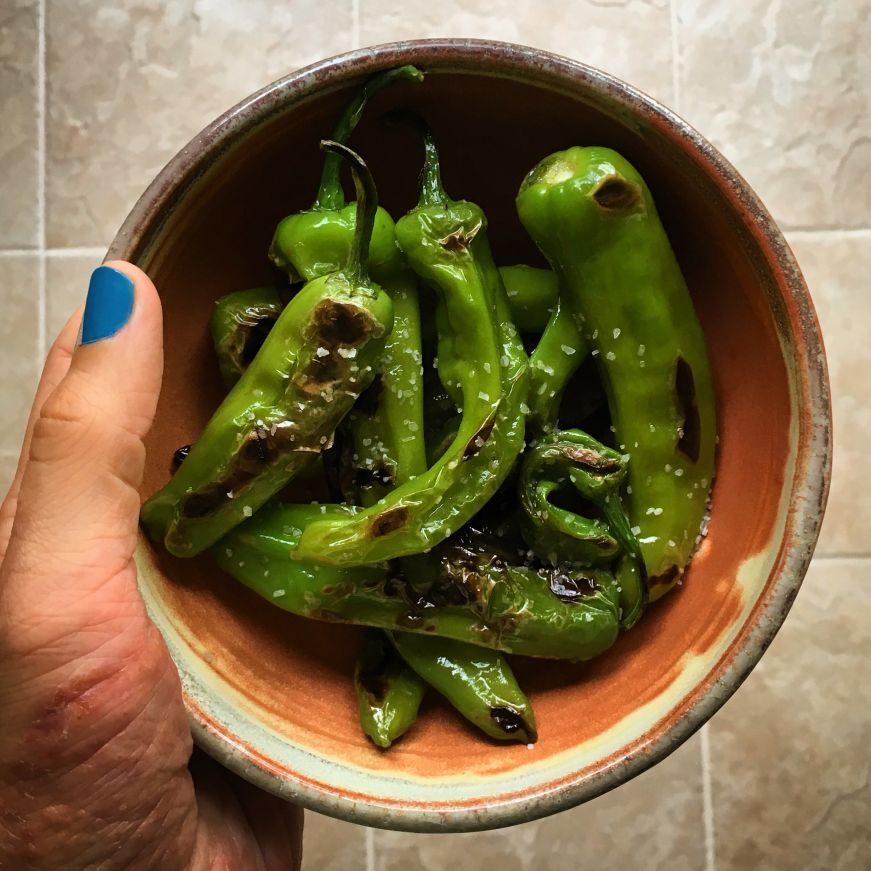 2. You'll discover new foods and recipes.
Feel like you're in a bit of a culinary rut?  A CSA is a great way to push yourself out of your comfort zone.  I've tried so many vegetables that I never would have thought to purchase, from garlic scapes and shishito peppers to jicama and eggplant.  I've also gotten to sample a wider variety of produce, like several different types of heirloom tomatoes and some brand-new apple varieties developed by the University of Minnesota.
In addition, my CSA has helped me discover new recipes and preparation techniques.  I admit that I'm not the world's biggest fan of green beans, but getting several bags of them in my CSA box over the course of the season has inspired me to seek out some recipes that I enjoy, like chili sesame green beans.  I've also started roasting or pan-searing carrots instead of always eating them raw.
3. It's a low-contact way to get produce.
Unfortunately, COVID-19 has made browsing farmers markets and shopping at the grocery store an anxiety-inducing (or even risky) experience for many.  Last year, I was very impressed with the steps Untiedt's took to ensure that CSA pickup at their outdoor garden centers was as safe as possible.  Masks are required, and foot traffic is one-way to ensure social distancing.  If you prefer, you can park in a designated spot and telephone the staff to have your CSA brought out to your car.
Since there are dozens of pickup options (including both public locations and private workplaces), the set up for your specific pickup may vary.  However, grabbing a pre-packaged box certainly requires less interaction than walking around a grocery store or farmer's market to select various items.
4. You'll enjoy farm-fresh fruits and vegetables.
Most of us know that a ripe, homegrown tomato is in an entirely different league than the pale pink imports from the grocery store, but until I subscribed to a CSA I had no idea how good fruits and vegetables could taste.  Extra-crisp cucumbers, the sweetest possible melons, flavorful tomatoes, juicy strawberries—the list goes on and on.  Many of the produce items at the grocery store has been bred for sturdiness rather than flavor, and they can't compare to the produce I've gotten in my CSA.  Even vegetables that I don't usually give a second thought, like onions and potatoes, taste better when they've been harvested just before you eat them.
The only downside is that it's hard to resign yourself to grocery store produce after months of eating the farm-fresh version!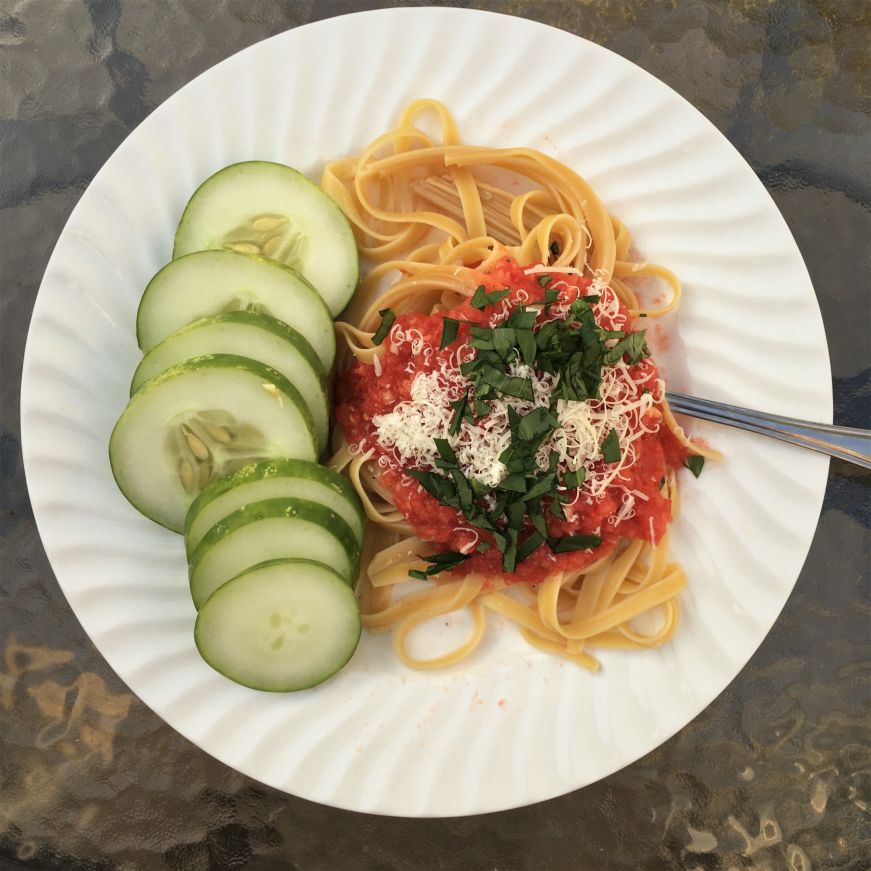 5. You'll be supporting a local business.
If you like supporting local businesses, it doesn't get more local than a CSA—your food is grown nearby, and your CSA farmer is a small business.  Over the past year, I've tried to be more mindful about supporting local businesses, and subscribing to a CSA is a way that I can direct a significant portion of my budget to shopping local. 
An added benefit of supporting a local business is that they often give back to the community.  For example, Untiedt's is a longtime supporter of food shelves throughout Minnesota, and they contributed over 150,000 pounds of fresh, locally grown produce to Wright County Community Action (WCCA) in 2020.
Additional details:
Untiedt's CSA program runs for 17 weeks, beginning in mid-June.  The fruits and vegetables in your box change with the seasons, but there's always a variety of items.  Untiedt's offers both family and mini shares.  Family shares include 7-10 different items and are sized for a household of 3-4 people who cook 4-5 nights per week.  Mini shares have less variety and quantity, and are sized for a household of two who cook 3-4 nights a week.
Of course, those are just suggestions, and your situation may vary.  A larger household with a garden might prefer a mini share, and a couple who cooks at home 5-6 nights per week might want a family share (that's us!)
Ready to join the CSA program from Untiedt's Vegetable Farm?  Family and mini shares are available on the Untiedt's website.  Payment plans are available.
Further reading:  
If you enjoyed this post, pin it!