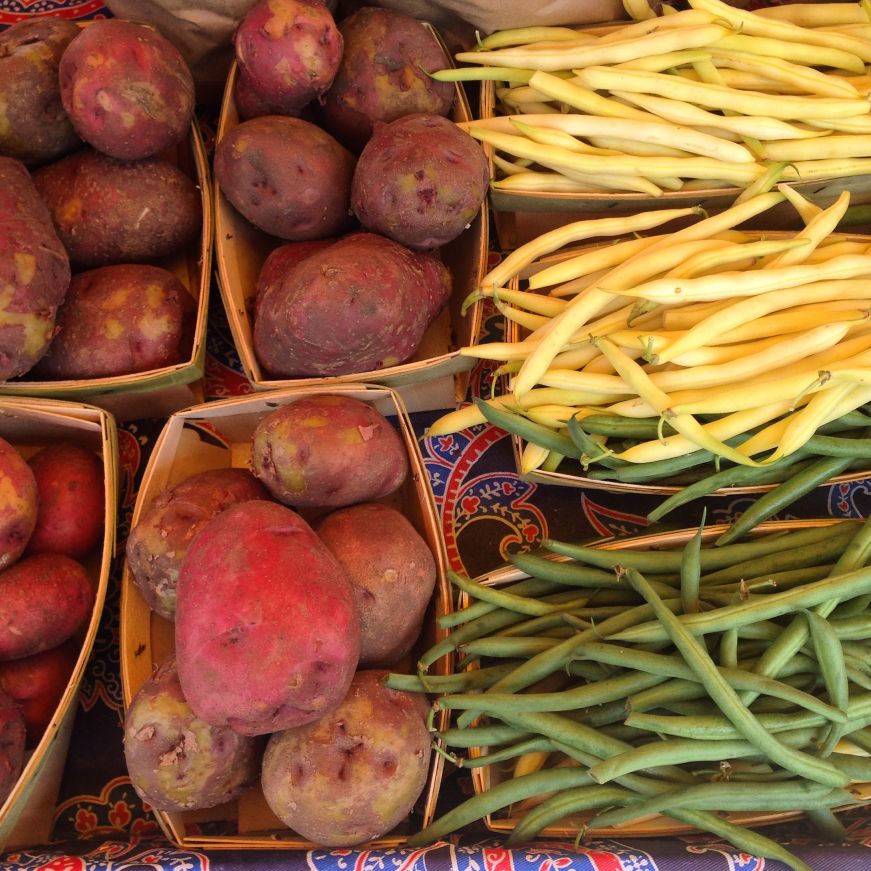 This post is sponsored by Untiedt's Vegetable Farm, Inc.  I've been an Untiedt's shareholder since their first CSA season in 2011, and I'm excited to be working with them to promote CSA subscription.  You can learn more, read their frequently asked questions page, and purchase a full or half CSA share on Untiedt's website.  As always, all content and opinions are my own.
You started 2018 with the best of intentions: this will be the year that you eat healthier, stick to a meal plan, and try new things.  But it's already February, and those goals have gotten buried under your never-ending to-do list.  Wondering how to get back on track?  Consider subscribing to a CSA share!
What is a CSA, exactly?  It stands for Community Supported Agriculture.  At the beginning of the growing season, you purchase a CSA share from a local farmer.  Throughout the growing season the farmer provides a portion of the harvest to CSA shareholders.  CSAs are a great way to support your local farmer by providing an influx of cash at the beginning of the growing season, when it's needed most.
Untiedt's Vegetable Farm's CSA program lasts 17 weeks, starting in mid-June.  They grow over 50 different fruits and vegetables and try to include at least 8 different items in each share.  Shares are delivered weekly to over 50 drop sites.  Untiedt's offers both full shares (feeds 4-6 people) and half shares (feeds 2-3 people).
How can subscribing to a CSA help you reach your goals?  Keep reading to learn more!
The goal: To eat healthier
How a CSA helps: The best way to establish a new habit is to make it easy—and what's easier than picking a box full of fresh produce each week?  While diet trends come and go, eating a variety of fruits and vegetables is consistently identified as a crucial part of a healthy diet by well-respected authorities like the American Heart Association and World Health Organization.
When I first subscribed to a CSA, my cooking became much more vegetable-focused out of necessity.  Since I needed to use up kale and zucchini, they became part of the main dish instead of something on the side.  Once I got in the habit of eating lots of vegetables, they became a regular part of my diet year-round.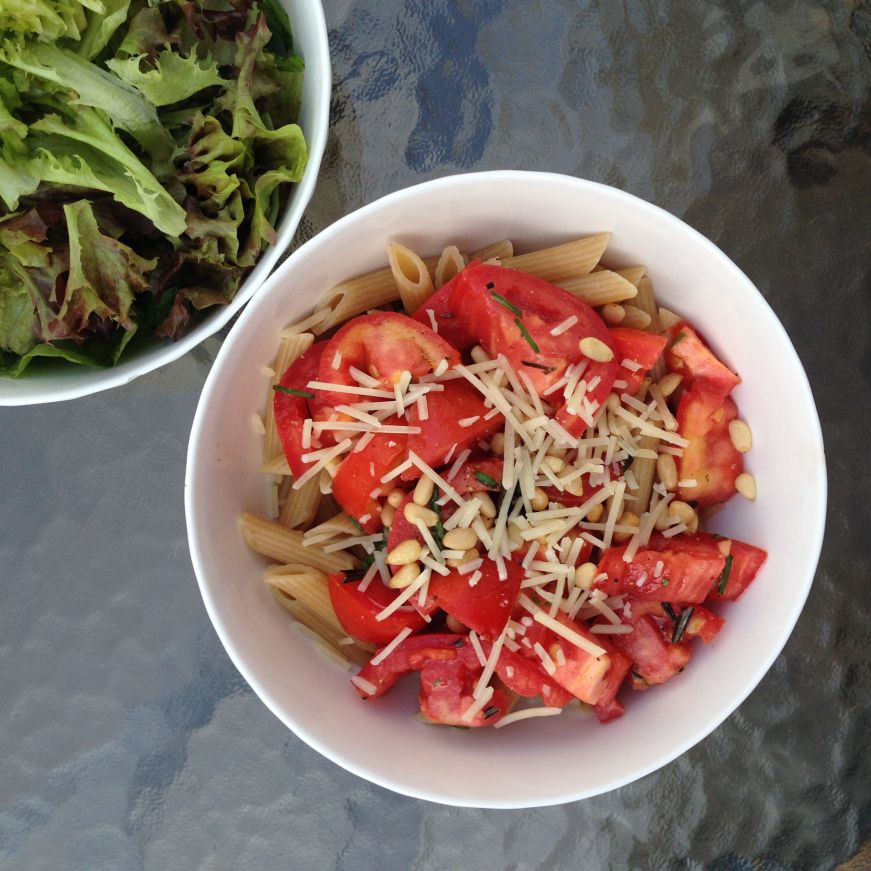 The goal: To stick to a meal plan
How a CSA helps: One of the best ways to save money on food is to make a weekly meal plan.  If you know what you're cooking for dinner each night, you're less likely to dine out or order pizza.  In addition, the food that you do buy is less likely to go to waste since you have a specific plan for when and how to cook it.  But it can be tricky to find the motivation to actually plan out your meals.
That's where a CSA can be helpful.  Since the easiest way to make sure that you eat up all of the produce from your CSA share is to plan your meals around what's in the box, it's a great motivation to get organized.  Once your meal plan is ready to go, make a list of the ingredients that you still need and hit the grocery store.
The goal: To try new things
How a CSA helps: At the grocery store and farmer's market, it's easy to get into a rut.  You know that you like lettuce, tomatoes, and apples, so you keep buying them every week.  A CSA gently nudges you out of your comfort zone.  Since the produce in your weekly share is determined by the season and what your farmer grows, you will likely end up with some new-to-you vegetables in your box.  Over the years, Untiedt's has included familiar favorites like corn, zucchini, tomatoes, and strawberries in my CSA box.  But my CSA box has also introduced me to Swiss chard, turnips, garlic scapes, and kohlrabi—vegetables I never would have purchased on my own.
In addition to sampling new produce, a CSA share is also an opportunity to try new recipes and cooking techniques.  When I didn't know what to do with an eggplant that appeared in our weekly share, a bit of Internet searching led me to a delicious recipe for roasted eggplant spread.  When I got tired of eating carrots raw, I tried roasting them and discovered my new favorite way to eat carrots.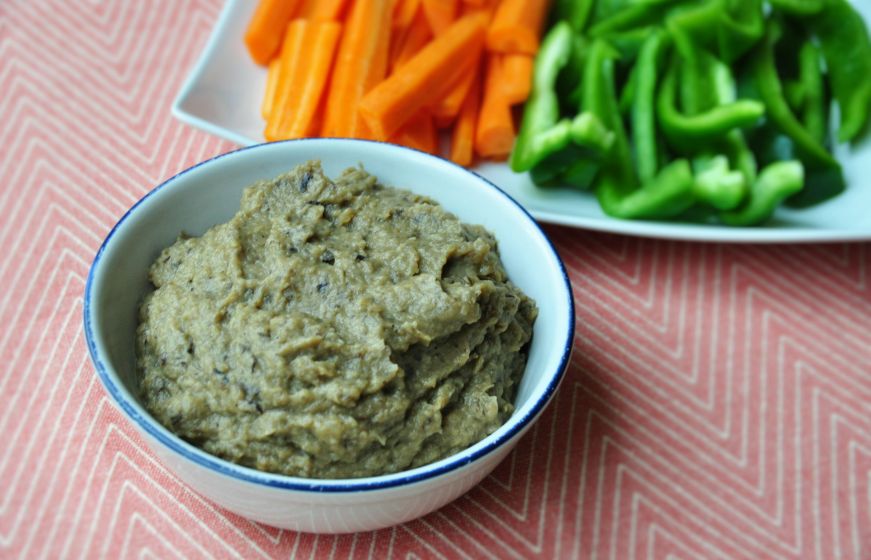 Ready to sign up for a 2018 CSA share?  Full and half shares are available on Untiedt's website (order by phone at 763-658-4672 if you'd like to set up a payment plan).  Sign up by February 23, 2018 to be entered to win prizes including CSA cookbooks, a vegetable spiralizer, and Sue Untiedt's delicious homemade raspberry jam.
Further reading:  
Thank you to Untiedt's for sponsoring this post. 
If you enjoyed this post, pin it!