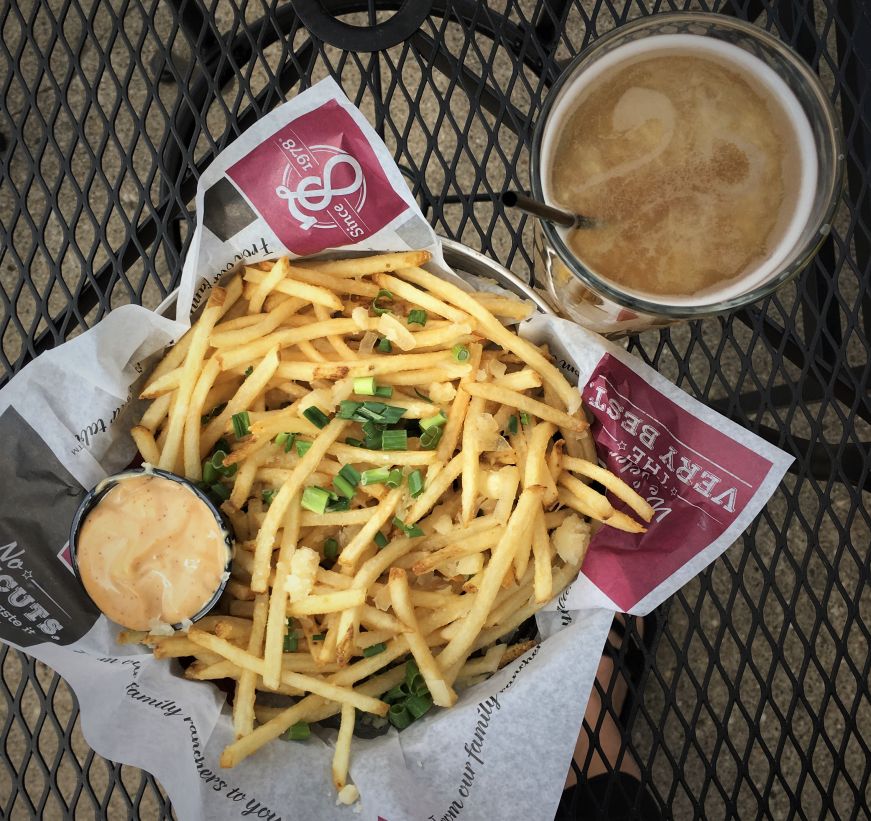 Thank you to the Bismarck-Mandan CVB for hosting my stay in Bismarck, North Dakota.  As always, all content and opinions are my own.
On my trip to North Dakota last summer, I learned that Bismarck is a great place to eat, with a vibrant local restaurant scene.  On my most recent trip, I wanted to spend my time in Bismarck checking out the local drinks scene, from craft beer in a former depot to cocktails at a hidden speakeasy to an Italian-inspired wine bar. 
Here's what I found on my crawl through the local drink scene in Bismarck.  Note that all of my stops are located in downtown Bismarck and are within easy walking distance of each other.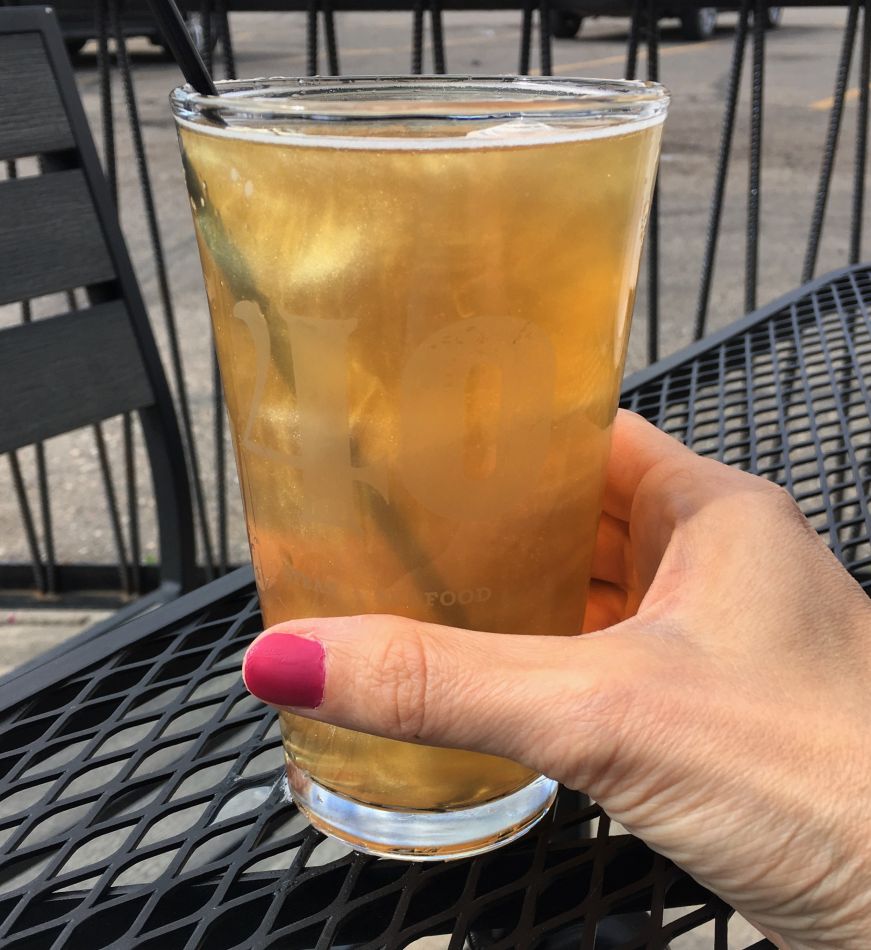 First stop: Edwinton Brewing Company
I started my drink crawl with happy hour at Edwinton Brewing Company, which is located in a historic train depot in the heart of downtown Bismarck.  In addition to the nearly 20 craft beers on tap, they have a full bar and serve an extensive lunch and dinner menu that includes appetizers, salads, sandwiches, burgers, and flatbreads.
Indoor seating is at communal tables, and there's also a spacious patio—it was the perfect place to settle in and soak up the late afternoon sun.  During happy hour, there are discounts on appetizers and pints, so I ordered the truffle fries and the Strawberry Blonde Ale.  The fries were my favorite kind: extra-thin and crispy, with enough truffle oil to add flavor but not overwhelm, plus a bit of melted Asiago cheese and some fresh green onions.
The beer was easy drinking and slightly fruity, perfect for summer.  I ordered it as a "glitter beer" which is free of charge—they add a tasteless powder to your drink to make it shimmer.  Definitely a gimmick, but it made for some fun Instagram photos.
403 E. Main Ave., Bismarck; 701-712-7700; edwinton.com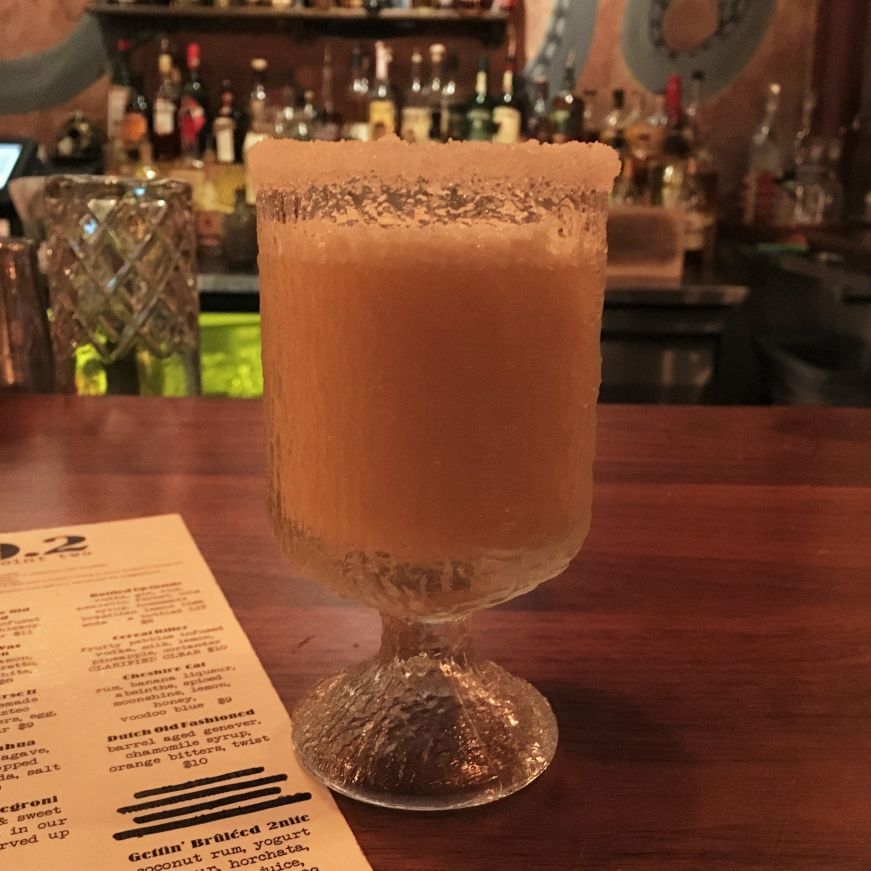 Second stop: 510.2 Speakeasy
The next stop on my Bismarck drink crawl involved a bit of a scavenger hunt: the 510.2 Speakeasy keeps a low profile like its name implies, with no website and a hidden entrance.  You enter through Humpback Sally's, a restaurant in the 510 Main Building.  From there, I'll keep it a secret—but a hidden door disguised as a bookcase is involved.
(If you need more hints, the bartender at Humpback Sally's is happy is oblige.)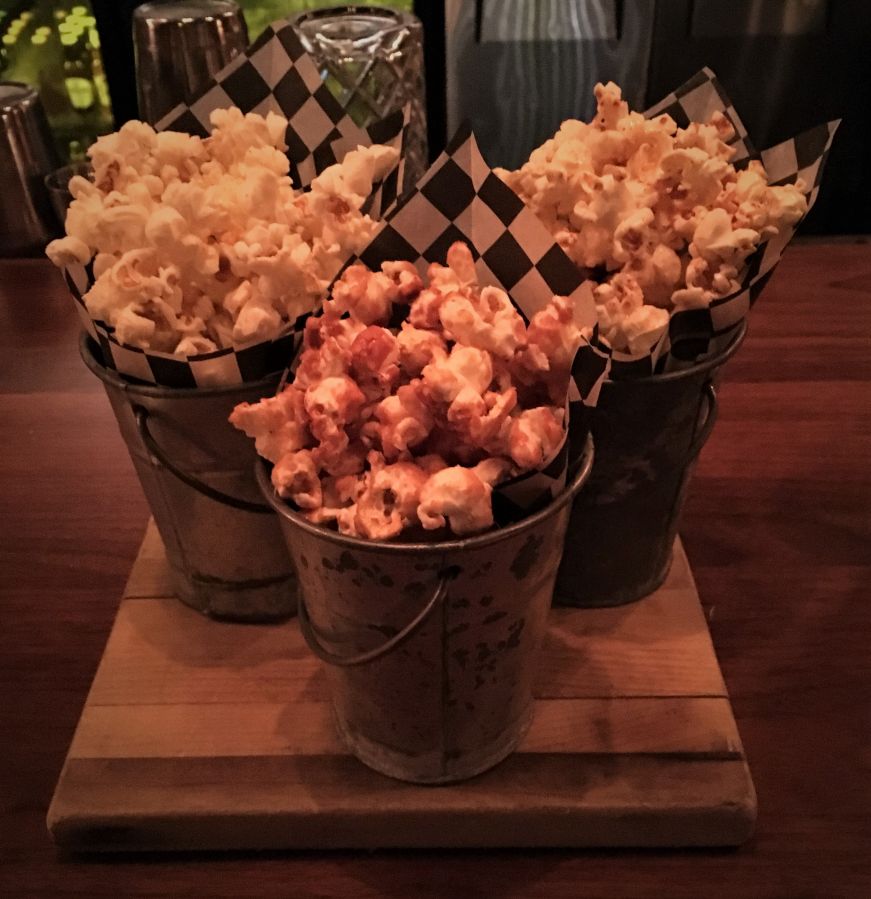 The long list of cocktails at 510.2 Speakeasy ranges from early 20th century classics to zany house creations.  For example, the Just a Buzz cocktail is served with a flower that you're supposed to chew before your first sip. (According to the guy down the bar, your lips will tingle for upwards of 10 minutes.)  They also serve wine by the glass, bottled beer, and shots of absinthe, mezcal, and specialty spirits.
I asked the bartender for a recommendation, and she suggested the Flip It and Reverse It, a tequila-based cocktail with housemade horchata, chocolate bitters, egg, and fennel sugar.  It was moderately sweet and went down almost too easily—they mix a strong drink at 510.2, so you may want to stop at one cocktail if you're visiting as part of a drinks crawl.
510.2 Speakeasy serves a small menu of bar snacks, including charcuterie and cheese plates, olives, roasted bone marrow, and a popcorn flight.  I thought the popcorn flight was a good sized portion for the price and I especially enjoyed the bacon caramel and curryosity popcorn flavors (the other, buffalo blue, was strangely lacking in flavor).
510 E. Main Ave., Bismarck; 701-425-0844; no website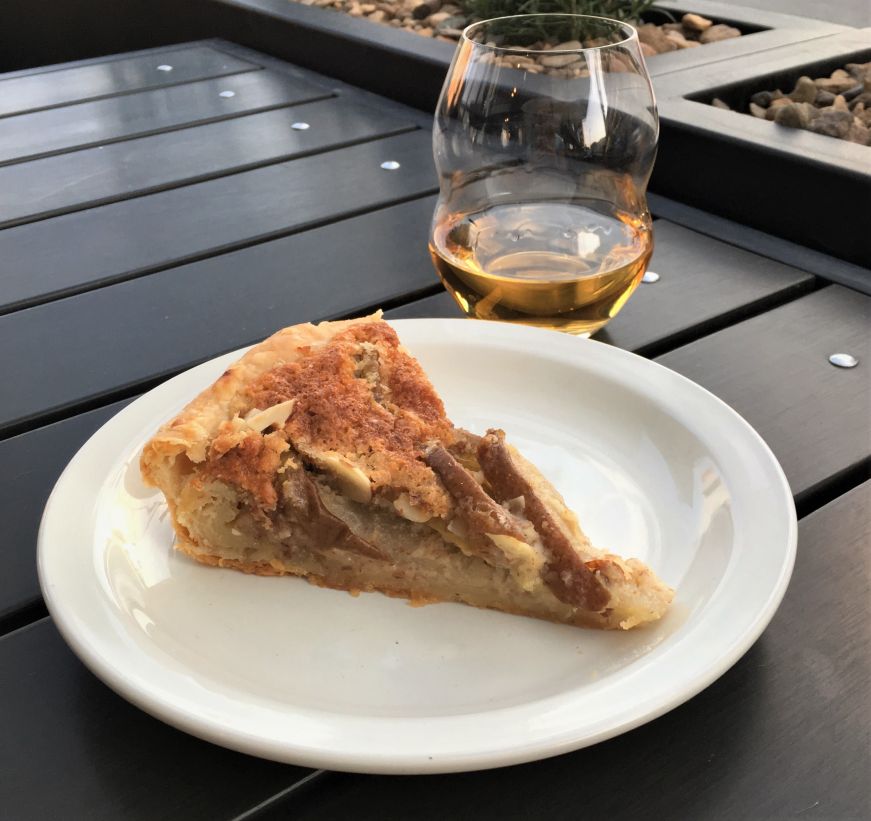 Third stop: Anima Cucina
The final stop on my Bismarck local drink crawl was Anima Cucina, an Italian restaurant and wine bar that serves meat and cheese boards, entrees, sandwiches, and housemade desserts.  The wine list focuses on Italian selections, but there are also some French, Spanish, and U.S. offerings.  If you're visiting Anima Cucina on a standalone visit instead of as part of drink crawl, the rotating list of staff-picked wine flights looks interesting.
After settling on a pear and ginger frangipane tart for dessert, I asked for a wine recommendation and was encouraged to try a white port with pear notes.  It was an inspired pairing—definitely ask for the staff for suggestions, since they really know their stuff.
I savored my pear tart and my port in the sun on Anima Cucina's streetside patio, trying to take tinier and tinier bites and sips to draw out the experience as long as possible.  Bismarck is at the very edge of the Central time zone, so 9:00 p.m. in mid-June feels more like late afternoon.  It was a lovely moment, and the perfect end to my crawl through Bismarck's local drink scene.
101 N. Fifth St., Bismarck; 701-751-1738; animacucina.com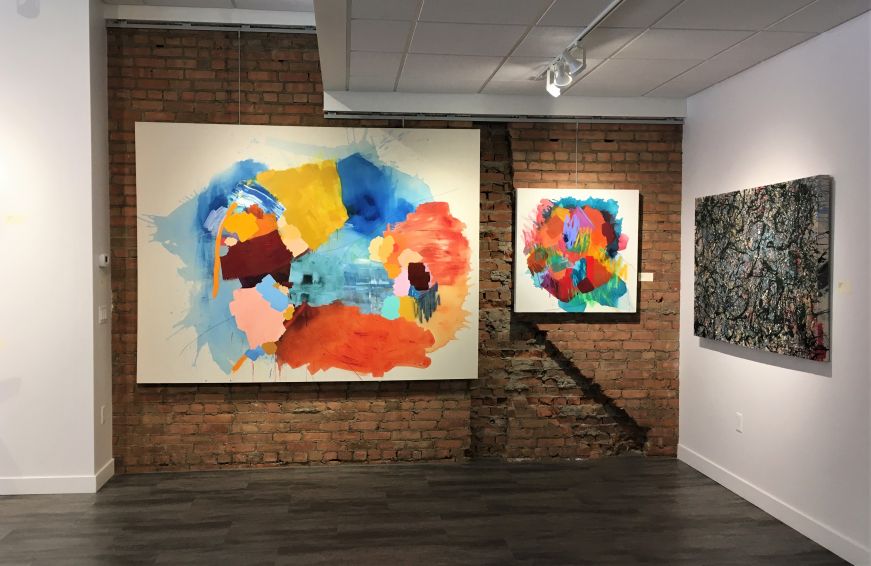 Detour: The Capital Gallery
If you'd like to take a break from your Bismarck local drink crawl, stop by The Capital Gallery to check out works by nationally-recognized artists in an intimate setting.  The works on display rotate (during my visit it was a selection of paintings and sculptures by David Lewellyn and Erica G. Thune). 
I'm often intimidated by art galleries—I don't have the budget for a $4,000 painting, and although I appreciate art I don't have a formal arts background.  However, I found the Capital Gallery to be a truly welcoming space, with staffers who were enthusiastic and skilled at making the abstract works feel accessible.  Chatting with them made my visit a much richer experience and one of the highlights of my stay in Bismarck.
The Capital Gallery is open 10:00 a.m. to 5:00 p.m. Monday through Saturday and is free of charge.  They also have a location in Medora, North Dakota with artists in residence called The Capital Gallery West.
109 N. Fourth St., Bismarck; 701-751-1698; thecapitalgallery.com
If you're planning your own Bismarck local drink crawl, please drink responsibly.  Ride sharing apps and taxis are available in Bismarck. 
Another option is to stay at the Everspring Inn & Suites, which is a 10-15 minute walk from downtown Bismarck.  My room was comfortable and had been recently refurbished, including art featuring North Dakota scenery and updated furniture.  As far as amenities, the Everspring Inn & Suites offers a free hot breakfast, outdoor pool, hot tub, and fitness center.
Thank you to the Bismarck-Mandan CVB for providing my hotel room in Bismarck.  I paid for all other expenses out-of-pocket.
Further reading:
If you enjoyed this post, pin it!