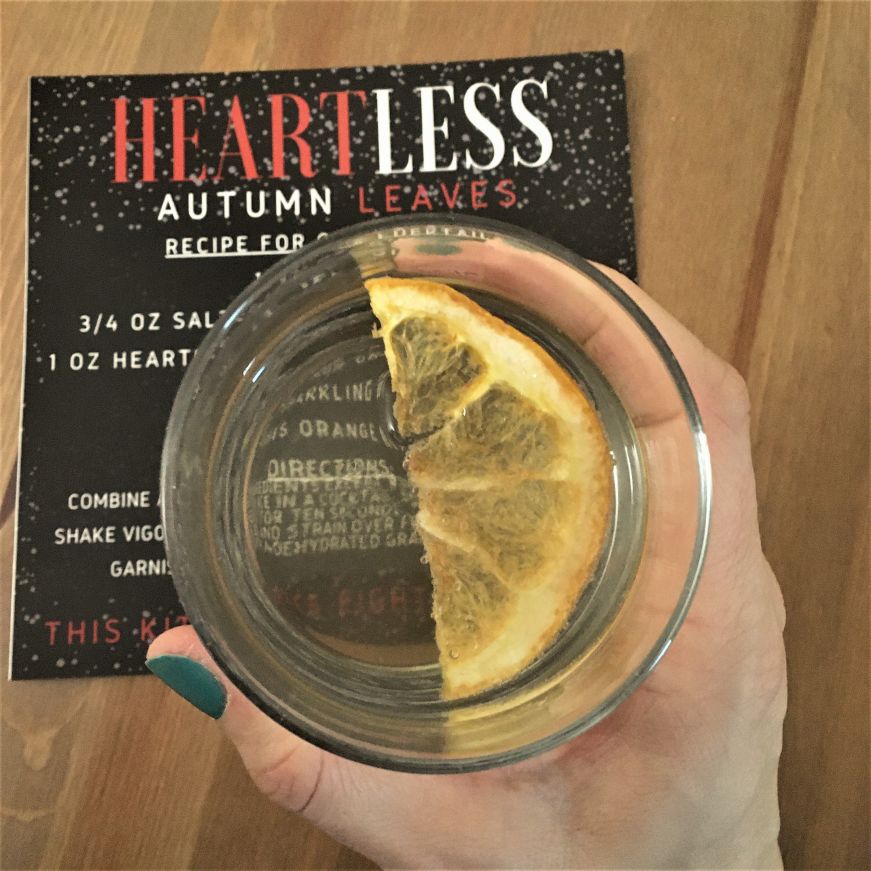 After a summer and fall spent sipping cocktails on Twin Cities restaurant patios, the weather has gotten colder, COVID-19 cases are surging, and restaurants and bars are closed to in-person service.  As I did last spring, I've been turning to cocktail kits and the grocery store to create some happy hour escapism at home—here are some of my latest finds.
Dozens of Twin Cities restaurants and distilleries are currently offering cocktail kits.  Check out the website and social media accounts of your favorite spots to see if they have anything available.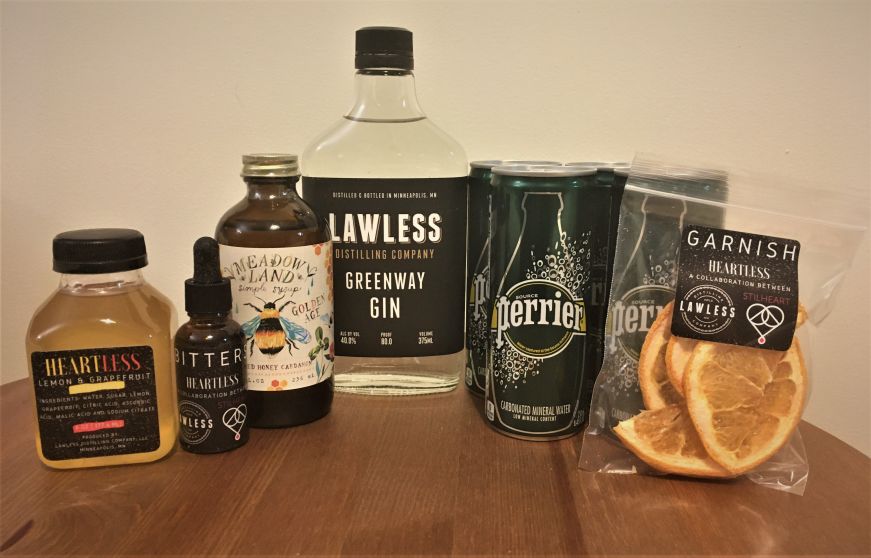 Cocktails: Heartless (a collaboration between Lawless Distilling and Stillheart Distillery)
Heartless is a line of cocktail kits sold by Lawless Distilling and Stillheart Distillery.  The recipes and non-alcoholic ingredients are the same, but the alcohol depends on which distillery you purchase from—place an order at Lawless for their spirits or with Stillheart if you prefer theirs.  The selection of seasonal cocktails is ever-changing; when I bought my cocktail kit in November there were fall-inspired drinks, and currently there are Christmas-themed kits.  
Each Heartless cocktail kit contains everything that you need to make six or eight cocktails: a 375-milliliter bottle of spirits; non-alcoholic ingredients like syrup, juice, and bitters; garnishes, and instructions.  Our Autumn Leaves cocktail kit included gin, honey cardamom syrup, lemon grapefruit citrate, sparkling water, and orange bitters.  It came to about $47 after tax and tip (including a $5 discount code), or approximately $6 per cocktail.
The cocktail kits I had tried previously (including one from Norseman Distillery) featured pre-mixed non-alcoholic ingredients; with the Heartless kit, you mix everything yourself at home.  Mike thought that led to a more nuanced, balanced flavor, although I couldn't really discern a difference.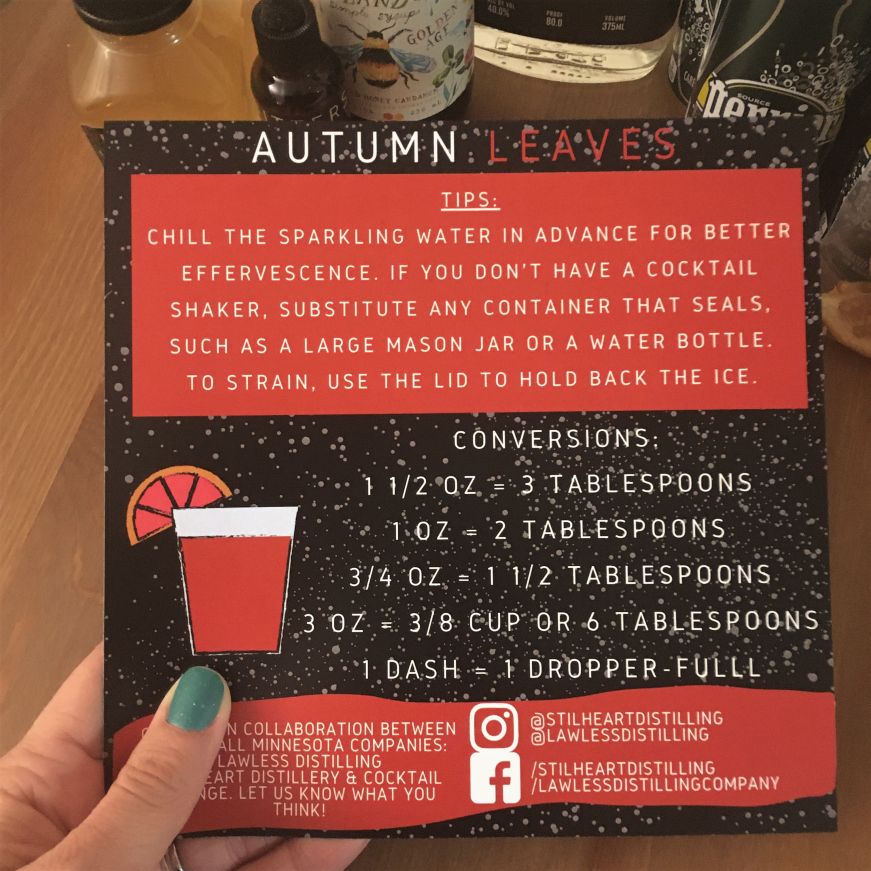 Although it might be a bit more work than popping open a can, the Heartless cocktail kit is definitely accessible to novice bartenders.  Very detailed instructions are included—I especially appreciated the tips and ounce/tablespoon conversions.  Our Autumn Leaves cocktails came together in a few minutes, and I enjoyed the combination of citrus, cardamom, and gin.  Although it was intended as a fall drink, I'm looking forward to enjoying it throughout the holiday season.
The only downside of the Heartless kits is that you end up with a lot of one type of cocktail.  That's great if you really like what you ordered, but could be an issue if you choose something that isn't to your liking.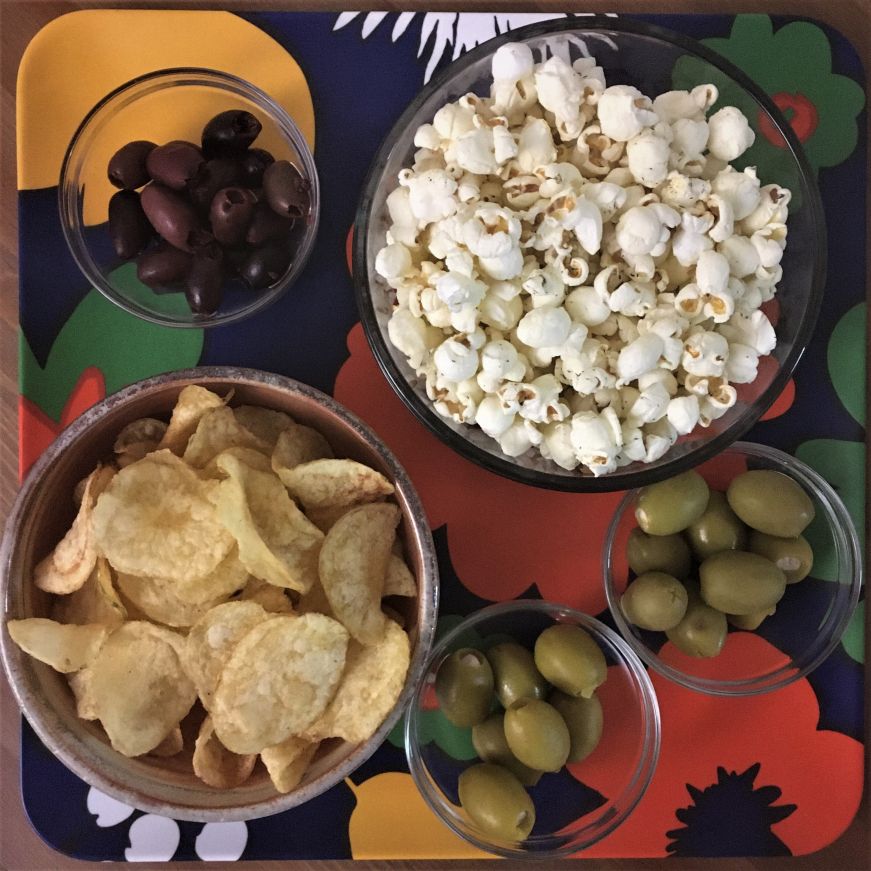 Snacks: Aldi
In the interest of keeping things simple, I picked up happy hour snacks at Aldi during our weekly shopping trip.  The vast majority of Aldi's products are their own house brands, and prices are typically cheaper than Target (the other grocery store I frequent).  However, the selection is limited—instead of an aisle full of potato chips there are a handful of options, and there are many items that Aldi simply doesn't carry at all.
I opted for Simply Nature Herbs & Spices popcorn, Clancy's Original Kettle chips, and Specially Selected garlic-stuffed, blue cheese-stuffed, and kalamata olives (one of the trivial things I really miss from the pre-COVID era is a self-serve olive bar).
Mike did a good job summing up my feelings about our Aldi snacks.  "Is there supposed to be anything special about these?" he asked in between bites.  "Or are these just potato chips?"
Everything we bought was exactly what it was supposed to be, but nothing more—the chips and popcorn were just as good as name brand-versions and considerably cheaper than similar products at Target ($1.89 versus $3.19 for the chips, $1.89 versus $3.79 for the popcorn, $2.09-$2.99 for the olives versus $2.59-$4.99).  However, nothing was mind-blowing or really worth seeking out again.  The blue cheese olives were the only possible exception, but I'd much rather get an assortment of olives than a whole jar of one type. 
Would I recommend buying happy hour snacks at Aldi?  Not really, unless it's the only option.  But a Heartless cocktail kit (especially if it's a spirit and flavor profile that you know you'll enjoy) is a sure bet.
Further reading: Home happy hour: Norseman Distillery & Trader Joe's
If you enjoyed this post, pin it!