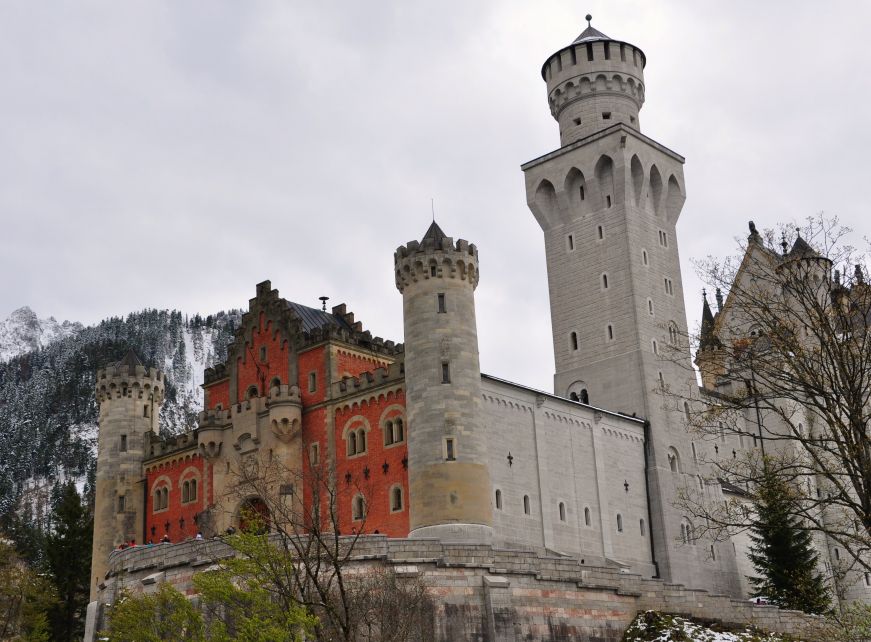 Southern Bavaria is the image of a stereotypical German postcard: snow-capped mountains, imposing castles, quaint painted buildings, shops selling dirndls and lederhosen.  The marquee attraction is Neuschwanstein castle, the dramatic stock photo darling and inspiration for the castle at Disneyland.  The region is also home to two other major castles--Hohenschwangau and Linderhof--as well as the Wieskirche (an elaborate Baroque church), the picturesque village of Oberammergau, and the Zugspitze, the highest point in Germany.
But despite all of the attractions and the gorgeous scenery, our time in southern Bavaria was the most challenging of our trip.  Extensive road construction prevented us from visiting the Wieskirche, Linderhof, and Oberammergau, while unseasonably frigid temperatures made our wait to see Neuschwanstein less than idyllic.  The Zugspitze was shrouded in clouds; understanding Bavarian accents was too much for my modest German skills.  Still, we sampled some delicious Bavarian cuisine, enjoyed a brisk walk around Füssen's Old Town, and admired the snow-dusted Alps from the warmth of our car.
We used Füssen as a base and spent an evening plus two full days in southern Bavaria.  This would have been enough time to see all the sights I've listed below if the weather and highway department had cooperated.  If you only have one day, focus on Füssen and the King's Castles (Neuschwanstein and Hohenschwangau).  With more time and better weather, there are summer luge runs and lots of opportunities for scenic hikes.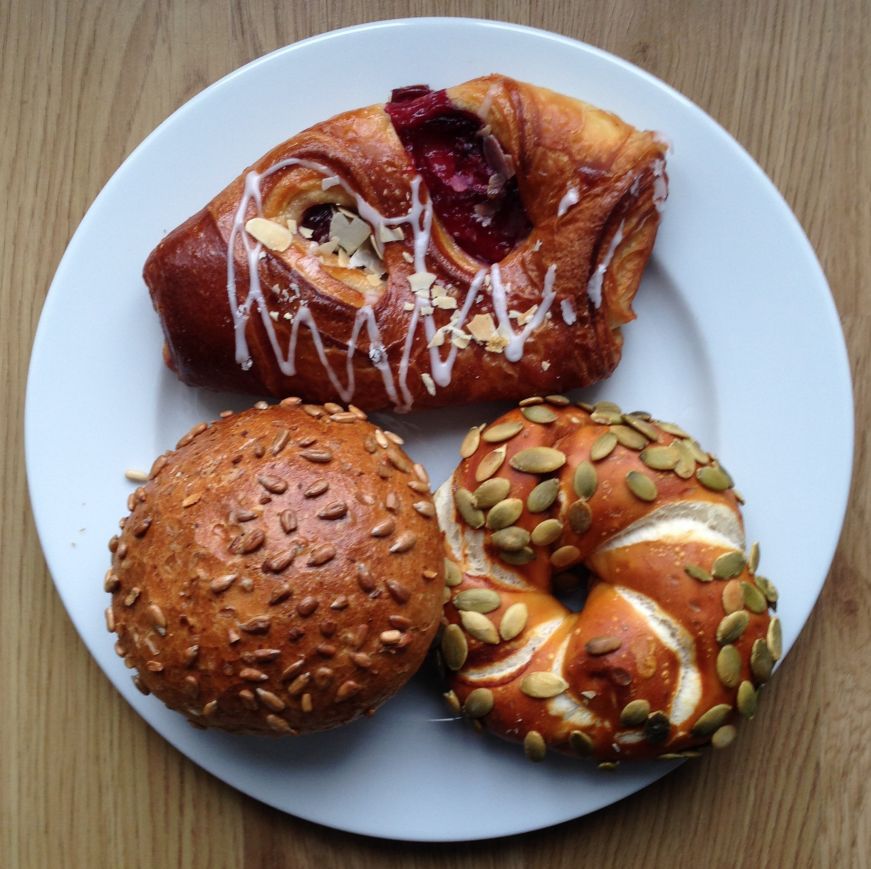 Where to eat
Füssen's Old Town has plenty of decent bakeries selling fresh rolls, pastries, loaves of bread, and sandwiches.  My favorite is Bäckerei Höfler (Schrannengasse 3) because they have a huge selection and every item is clearly labeled in German--a godsend when you're ordering in your second language.
Schenke & Wirtshaus (Ritterstrasse 6) is a restaurant in Füssen's Altstadthotel zum Hechten that feels like a cozy cellar.  The extensive menu of Bavarian specialties (available in English) offers several options for vegetarians, a few fish entrees, lots of pork, and even wild game.  I loved the Deftige Krautschupfnudeln (hearty cabbage noodles), gnocchi-style potato noodles pan-fried and served with fresh sauerkraut and a sprinkling of carrots, potatoes, and parsley.  Mike tried the Murnauer Schweinbraten (roast pork) served with gravy, sauerkraut, and a large potato dumpling (knödel).  While Mike enjoyed the pork, gravy, and sauerkraut, the potato dumpling had an odd spongy texture--it might be an acquired taste.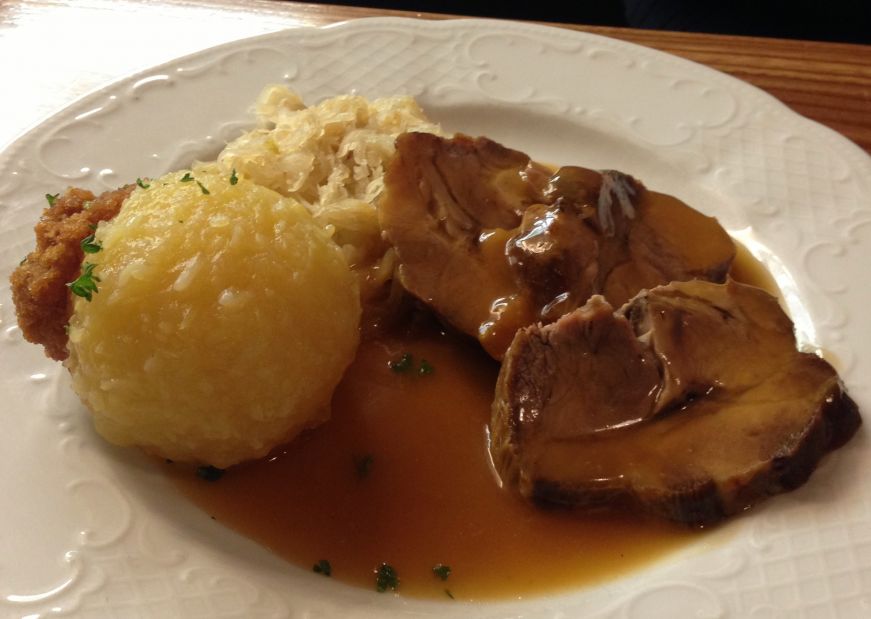 Right next door to Schenke & Wirtshaus is Restaurant Ritterstub'n (Ritterstrasse 4) with a multilingual menu (German, English, French, Italian, and Japanese) of classic German fare, salads, and plenty of gluten-free options.  Despite the front room's chic, modern decor, the restaurant is very kid-friendly, with high chairs, toys, and crayons.  The food is simple but well-executed--Mike had a satisfying turkey schnitzel served with gravy and spätzle, while I opted for a delicious plate of spätzle baked with a cheese sauce and topped with a snarl of roasted onions.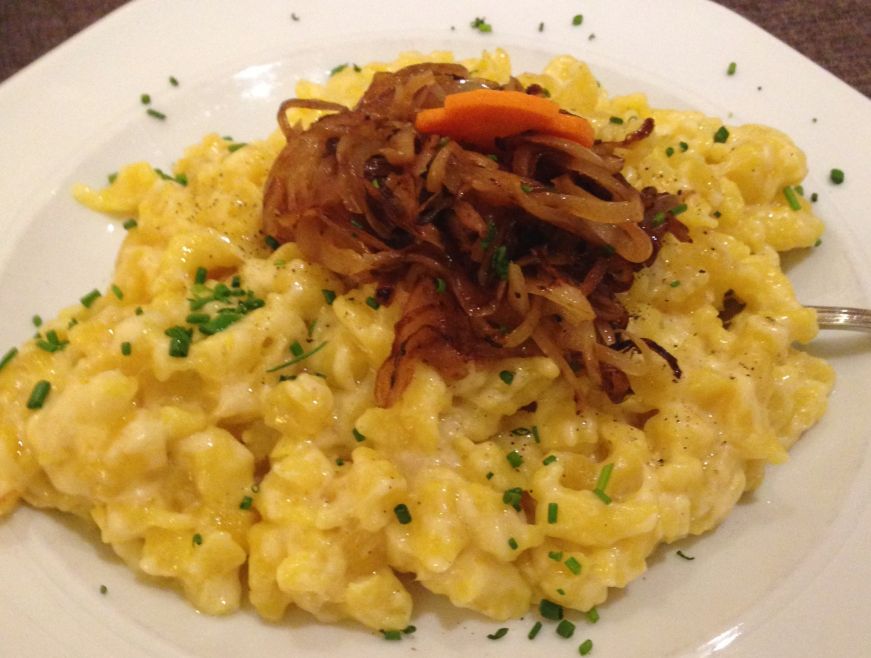 Things to see
Neuschwanstein and Hohenschwangau (the King's Castles) are the region's major tourist draw--1.4 million people visit Neuschwanstein each year.  Although it looks medieval, Neuschwanstein was actually built from 1869 to 1886--it was the passion project of Bavaria's "Mad" King Ludwig.  Nearby Hohenschwangau, rebuilt from ruins in 1830, was King Ludwig's childhood home.  The castles share the same parking lots and ticket center, and you can buy a combo ticket that covers both castles for a small discount.  Either get to the ticket counter first thing in the morning or reserve your tickets ahead of time; we arrived at 8:30 on an April morning (peak season is June-October), and tour bus hordes were already descending.
The only way to see the interior of either of the castles is via a guided tour, offered in English.  I recommend seeing both castles; while Neuschwanstein is more iconic (and weirder...there's a fake rock grotto inside, so that King Ludwig could pretend he was a character in a Wagner opera), the interior of Hohenschwangau is more interesting, with elaborate murals depicting legends and historical events.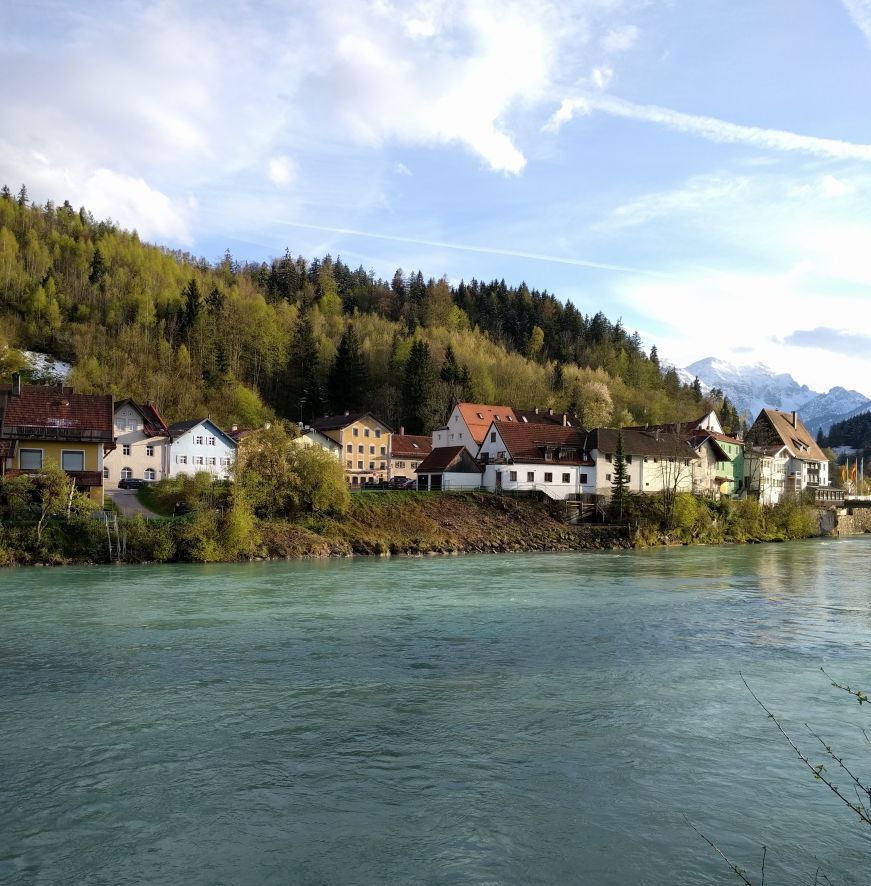 Thanks to its proximity to the King's Castles, Füssen is a perfect base for your stay in southern Bavaria.  But don't view it as just a convenient place to sleep--spend a couple hours strolling around Füssen's Old Town.  The pedestrian-only streets are lined with shops and restaurants that cater to locals as well as the tourist masses.  Stroll down to the bank of the turquoise-hued Lech River, peek into the ornate St. Magnus Basilica, wander through the serene Historic Cemetery of St. Sebastian, and check out the optical illusion paint job on the walls of the High Castle.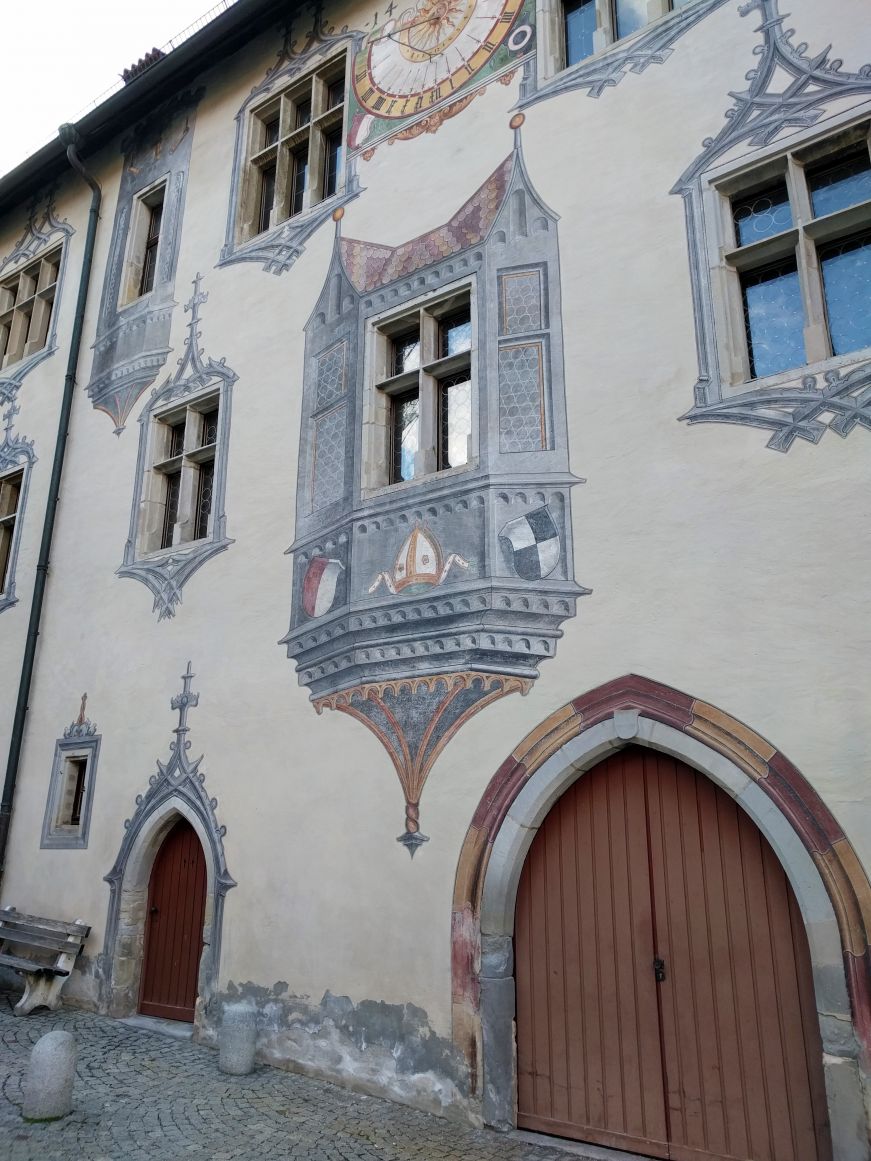 The Zugspitze straddles the border between Germany and Austria.  It's the highest point in Germany, and you can reach the top via cable cars from the German or Austrian side.  Since the Austrian cable car was closed for maintenance, we had to use the pricier and more distant (from Füssen) German approach.  Note that if you're staying in Füssen, the best way to get to either the German or Austrian approach is to drive through Austria.  To legally drive in Austria you need an International Driving Permit, which in the U.S. can be easily obtained from AAA.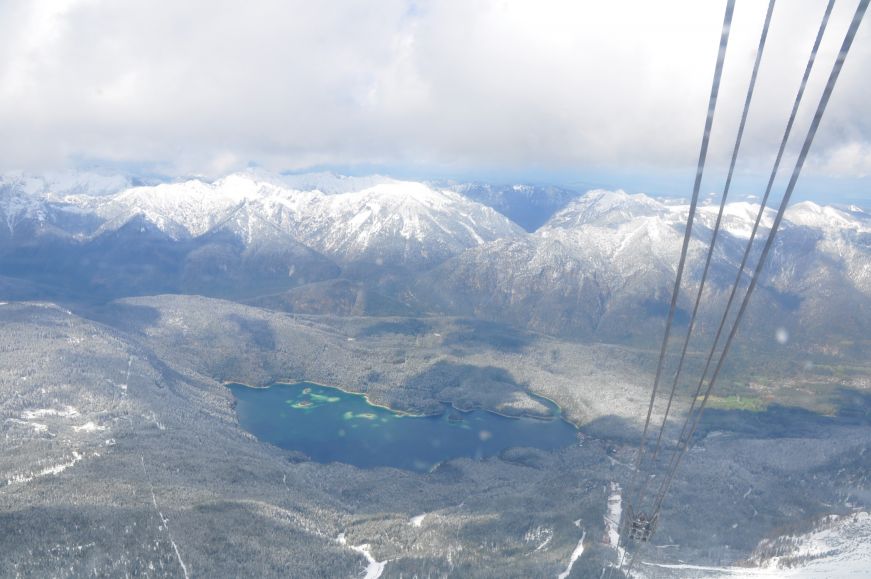 Our cable car up to the Zugspitze offered breathtaking views of the valley below, but once we got to the summit there was nothing to see but clouds.  We consoled ourselves with hot chocolate and apple strudel at Bavaria's highest restaurant and waited for the next cable car down the mountain.  Since the Zugspitze cable car isn't cheap (€43.50 per person round trip in the winter, €53 per person round trip starting May 1), I'd only recommend the ascent if the sky is completely clear.
Driving from Füssen to the Zugspitze will take you right by the Ehrenberg Castle Ensemble near the town of Reutte, Austria.  You can hike to the ruins for free, although there are fees to park, visit the museum, and walk across the suspension footbridge.  Unfortunately, we ended up skipping the ruins due to chilly temperatures.
Road construction prevented us from seeing the village of Oberammergau, the Wieskirche, Ettal Monastery, and Linderhof as planned.  Typically, you can visit them via a half-day sightseeing loop starting from Füssen.
Where to stay
We rented the Leda apartment at Mein Lieber Schwan in Füssen, a former residence that's been converted into holiday apartments.  The apartment was sized perfectly for two, with a well-equipped kitchen, living room, bedroom with a king-sized bed, and a terrace with a view of the mountains and Neuschwanstein in the distance.  The location is close to the center of town--everything we wanted to do in Füssen was within easy walking distance--but since it's on a quiet side street we didn't notice any traffic noise.  Parking is free, and although WiFi is available we found it to be unreliable.
Note that payment is by cash or PayPal only.  Breakfast isn't included, but there are plenty of bakeries (I recommend Bäckerei Höfler--see above) and a Netto supermarket within a five-minute walk.
More posts about my trip to Germany: