Whenever I mention to fellow Americans that Tampere was part of our Finnish itinerary, I get confused looks.  It might not be well-known in the U.S., but Tampere is the third-most populous municipality in Finland and the second-largest metro area in the country (after the Helsinki area).  It's also the top domestic travel destination for Finns—it's nestled between two lakes in the scenic Lakeland region.
Although it rained throughout our entire stay, our time in Tampere was one of the highlights of our trip to Finland.  I enjoyed wandering around the Tampere Market Hall, a beautiful Art Nouveau building and the largest indoor market in the Nordic.  It was fun to climb to the top of Pyynikki Observation Tower, enjoy the view, and then eat fresh doughnuts at the cafe on the first floor.  I appreciated our relaxing evening at Sauna Restaurant Kuuma, an upscale public sauna with an adjacent restaurant.  Most of all, I loved staying at Lillan Hotel.
Lillan Hotel is a boutique hotel in the Viinikka district, which is a quiet residential neighborhood.  It's less than a mile from downtown, but it feels like you're in a small town rather than a city with 226,000 people. 
Parking was easy—there's a small parking lot with space for a few vehicles, and free street parking is readily available.  The hotel does have an elevator, and although the wooden building dates to 1927 the interior has a modern, elegant style.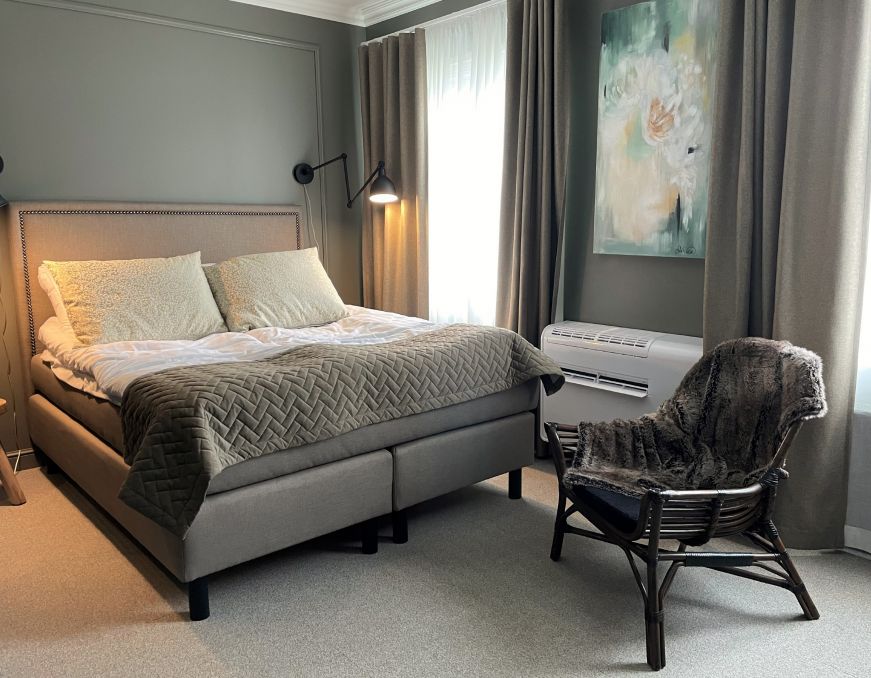 Lillan Hotel has 11 guest rooms, each with a unique layout and decor, ranging from a one-person comfort single to a deluxe double room with a soaking tub.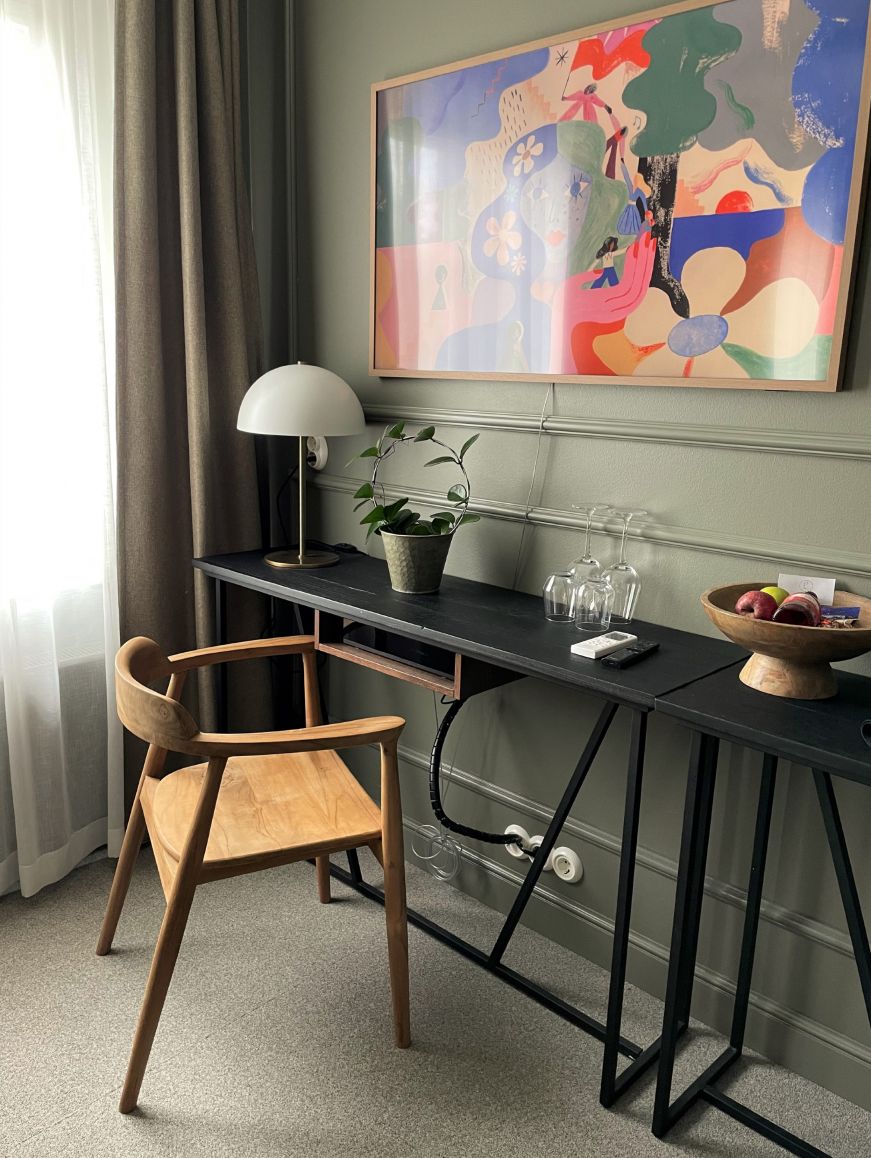 We opted for a deluxe double on the second floor with a shower and seating area.  The cool gray color palate was instantly soothing, the bed was exquisitely comfortable, and the television was cleverly disguised as an abstract painting.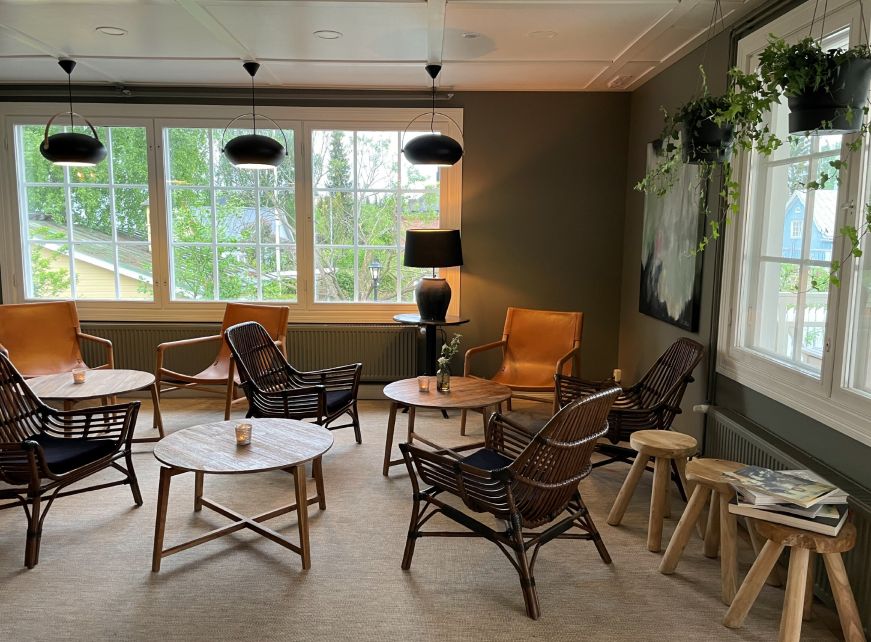 There's a lounge area on the first floor of the hotel, with a menu that includes salads, antipasti and cheese boards, and desserts.  Coffee and wine is also available.  Guests receive a complimentary glass of wine at check-in, which you can enjoy in the lounge or your room—we opted for the lounge, and paired our wine with a cheese board featuring local cheeses sourced from the Tampere Market Hall.
Outdoor seating is available in the garden, which unfortunately we weren't able to enjoy due to the rain. 
A buffet breakfast is included, and it was one of the best meals I ate in Finland.  Like the lounge menu, the focus is on fresh, local ingredients, with a variety of sweet and savory items, including croissants, bread, cheese, cold cuts, smoked salmon, quiche, muesli, yogurt and toppings, and fresh fruit.  You can get an espresso drink made to order, and there's also fresh orange juice and green smoothies.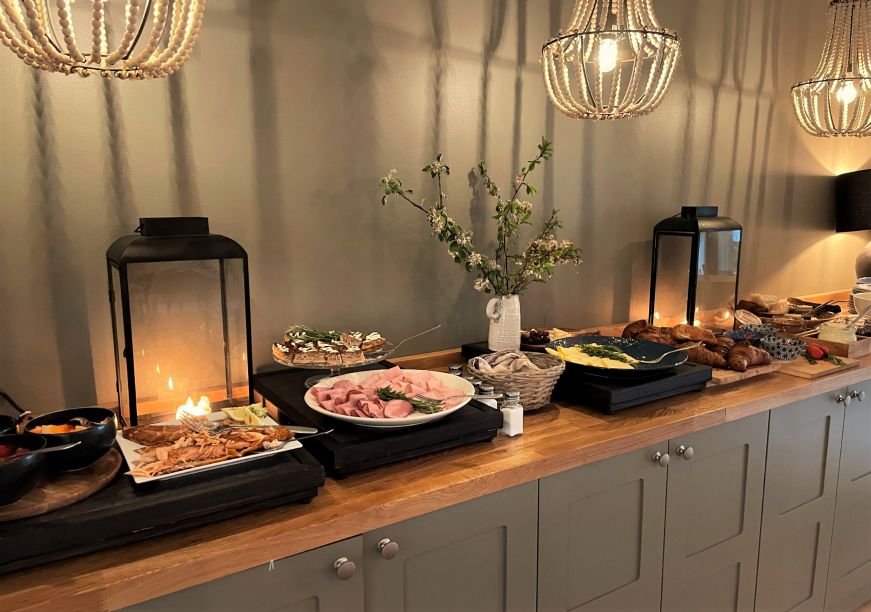 A peaceful, rejuvenating atmosphere, comfortable rooms, delicious food—our stay at the Hotel Lillan felt like a vacation within our vacation. 
Hotel Lillan
Kurjentaival 35
33100 Tampere, Finland
+358 40 353 0328
lillan.fi
Further reading
This isn't a sponsored post—we paid for our stay at Lillan Hotel out-of-pocket.
If you enjoyed this post, pin it!