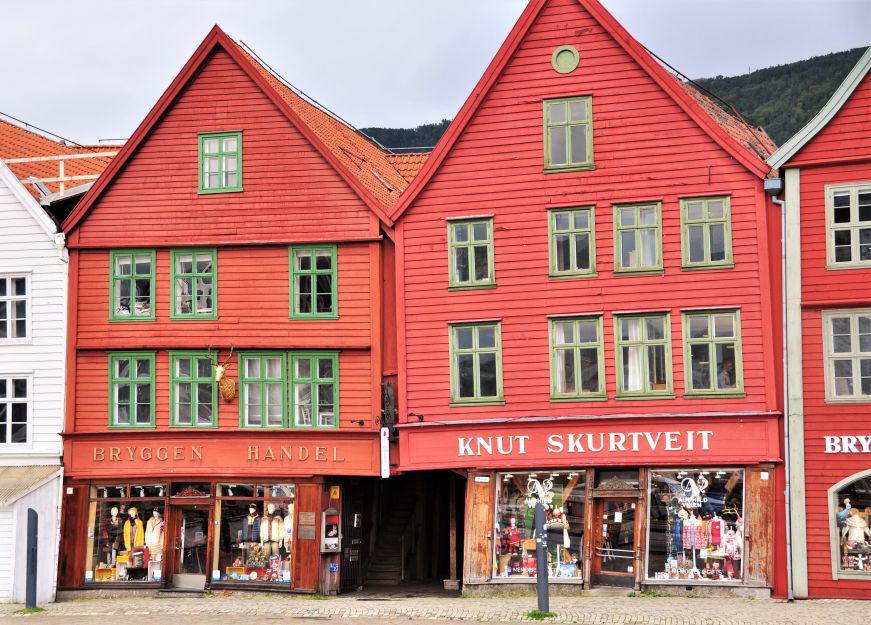 Bergen is Norway's second biggest city, with a population of about 278,000.  The historic Bryggen district, vibrant museum scene, and bustling shops and fish market make the city popular with tourists, and Bergen's proximity to the fjords also means that it features prominently on many Norwegian cruise itineraries.  Since the main sights in Bergen are clustered around the harbor, it's an easy port to navigate on foot.
Getting off the ship: Bergen has two cruise ship ports, Skolten and Jekteviken/Dokken.  From Skolten, it's an easy 0.5 kilometer/0.3 mile walk to the city center.  If your ship docks at Jekteviken/Dokken, you'll take a brief (and free) shuttle bus ride out of the industrial port area to a bus stop by the port entrance.  From there, it's a well-signed 10 minute walk to the fish market and harbor.
What to do:
If you're a photographer, get to Bryggen first thing in the morning.  The brightly-colored harborside row of wooden buildings from the 1700s is probably the most photographed sight in Norway.  To snap your own iconic photo before the tourist hordes descend, you'll need to show up early—we arrived at about 8:30 a.m. and with patience I got a few good shots.  Bryggen also features some very lovely courtyards (pictured further down in this post) that are neat to photograph sans crowds.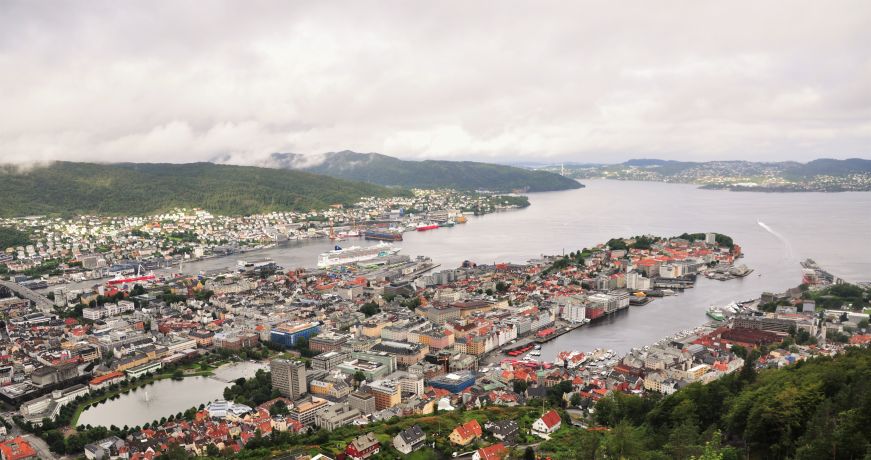 Once you've taken your Bryggen photos, ride to the top of Mt. Fløyen on the Fløibanen Funicular for a panoramic view of the city and its surrounding mountains.  Definitely make a beeline for the funicular first thing in the morning, because the line was already daunting by the time we returned to the bottom at 10:00 a.m.  If there's a long line, I'd skip it—while the view is neat, there are so many better things to do with limited time in Bergen than wait in line.
The highlight of our day in Bergen was the guided Bryggen walking tour, which is offered in English, German, and Norwegian.  The 1 1/2 hour tour includes the Bryggens Museum, the Assembly Rooms, a brief walk through Bryggen, and the Hanseatic Museum.  Admission to each of the museums is included and if you'd like more time at any of them you can visit them before or after the tour.  I definitely needed more time at the Bryggens Museum and Mike returned to the Hanseatic Museum.
Our tour was excellent: our guide truly made Bergen's history come to life, from the plague in the 1200s that killed 50-70% of Norway's population to the armaments ship explosion during WWII that landed an anchor on the top of a mountain.  Since the Assembly Rooms (common areas used by Hanseatic merchants) and the Hanseatic Museum (a merchant's house) have limited information in English, we got much more out of our visits with a guide.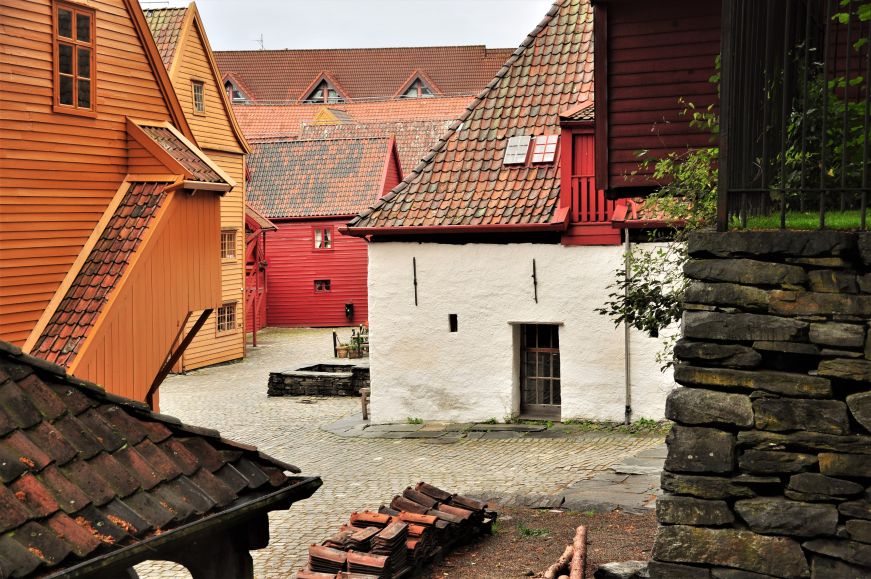 As I mentioned above, the Bryggens Museum is included in the guided Bryggen walking tour, but I recommend spending an extra hour there before or after your tour.  The museum is build around a medieval archeological site and includes displays of artifacts that explain what life was like for locals in the 1100s, as well as temporary exhibits about various archeological topics.  The museum was very accessible to English speakers, with translations of the exhibit text available.
Also mentioned above, the Hanseatic Museum is included in the guided Bryggen walking tour.  Housed in a former merchant's house, the museum is furnished as it would have been in the early 1700s.  Since there isn't much information available in English, I appreciated having a tour guide to provide context and felt that the time we spent there on the tour was ample.  Mike revisited the museum after our tour, and he enjoyed poking around on his own.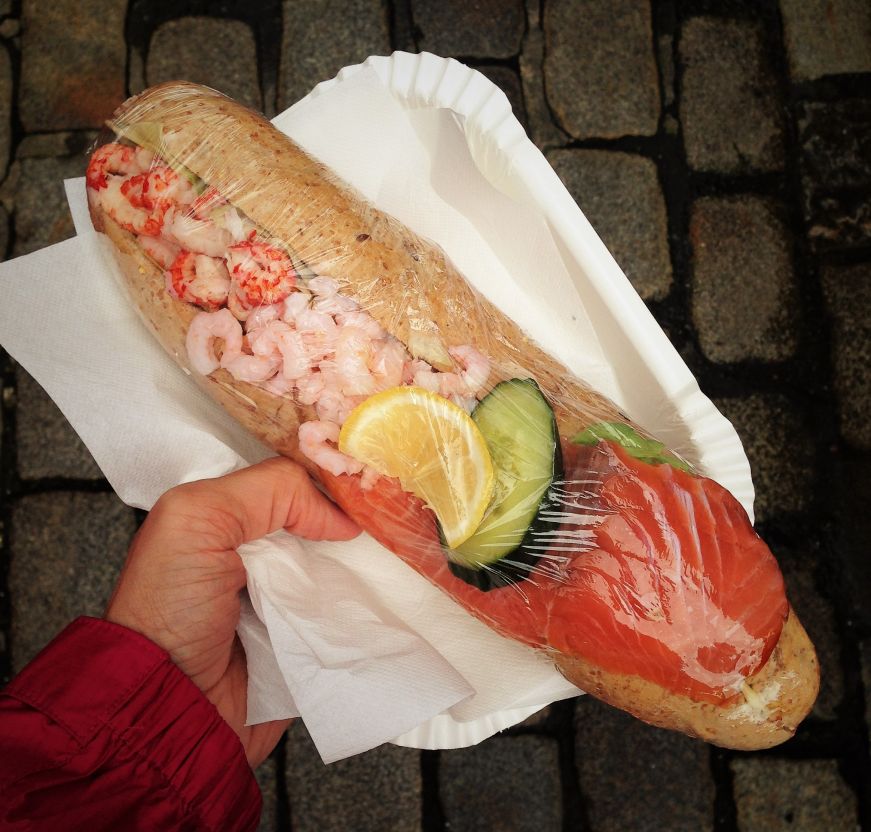 Bergen's fish market caters more to tourists than locals looking to purchase the day's catch, but it's still a great place to stop for lunch.  We spent about 20 minutes wandering around and ogling the seafood: giant crabs in tanks, piles of shrimp, bright pink sides of salmon.  Then we focused on the prepared food options—there's a row of stalls serving everything from grilled salmon and paella to sushi and fish soup, and each stall has its own covered seating area.  Expect to pay premium prices (my seafood sandwich was $15), but I thought the quality of the food and experience were worth it.
Since Mike isn't much of a seafood fan he opted for a whale steak, served with potato salad, a tossed salad, and a couple pieces of bread ($23).  The whale had a gamey taste that reminded me of a saltier, fattier version of venison.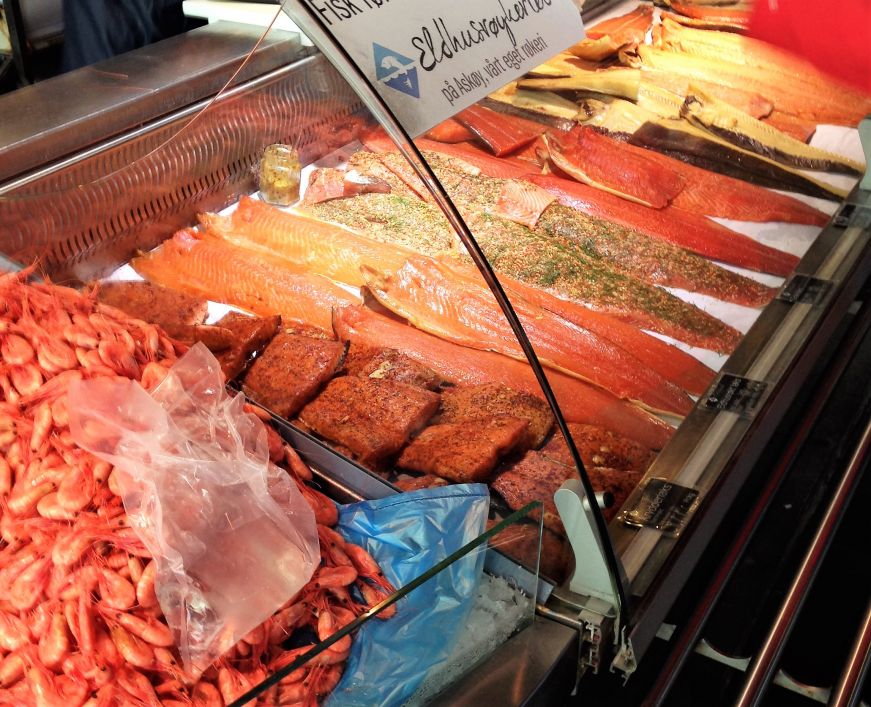 More budget-friendly eats can be found at Baker Brun (no English website), a bakery chain with a convenient location in Bryggen (number 47, right on the harbor).  The fabulous skillingsbolle (cinnamon buns) are big enough to split, and since the bakery does such a brisk business your bun will still be warm from the oven.
If you're looking for souvenirs, the harborside shops in Bryggen offer a wide range of products, from kitschy troll figurines to high-end housewares. 
Other Bergen sights within walking distance of the city center include King Håkon's Hall and the Rosenkrantz Tower at the Bergenhus Fortress; the Kode Art Museums of Bergen, which feature a range of international and Norwegian art; and the Leprosy Museum (leprosy is now known as Hansen's disease, after the Norwegian physician who discovered the bacteria that caused the disease in Bergen in 1873). 
The takeaway: Bergen is deservedly one of Norway's most visited cities, with fascinating museums, the charming and well-preserved Bryggen historic district, and a lively fish market.  Be sure to get an early start to explore Bryggen before the crowds and skip the long lines at Fløibanen Funicular.  A guided tour will provide valuable historic context, but since public English-language tours are readily available there's no need to rely on cruise ship excursions.
More posts about my Norwegian cruise:
If you enjoyed this post, pin it!