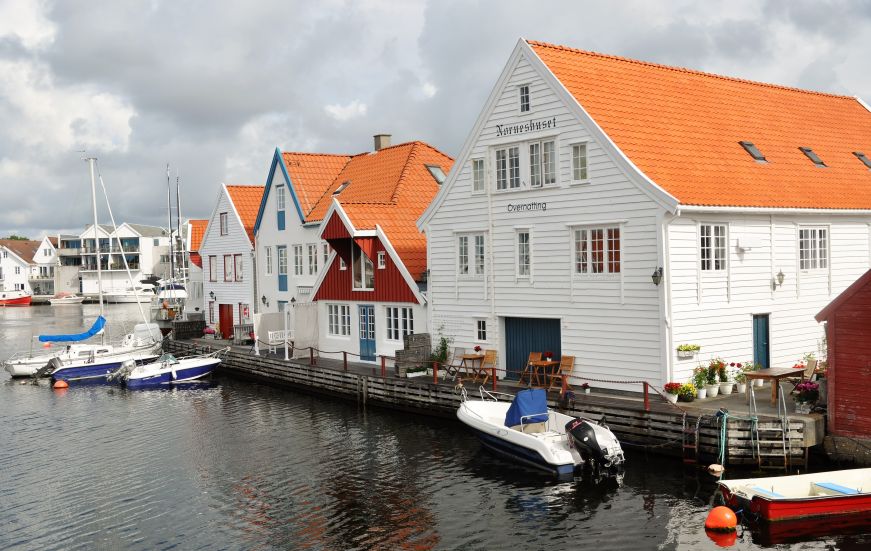 Haugesund is a city of 37,000 on Norway's southwestern coast.  It was founded in 1855, when the herring industry was king; today, the city is a major shipping center and shopping destination.  At first glance, Haugesund didn't seem to offer enough to keep us entertained for the day--there's no historic city center or major sights.  In fact, the port excursions offered by Norwegian Cruise Lines focused on getting out of town: to a Viking farm, the Langfoss Waterfall, or a quaint fishing village.
One of the excursions, the trip to the fishing village of Skudeneshavn, did pique my interest.  However, I wasn't interested in the hefty price tag, and since Skudeneshavn is an hour and a half drive from Haugesund, I realized that after transit time and loading and unloading the tour bus, a half-day cruise ship excursion would offer little actual sightseeing.
This is a perfect example of how it pays to do your homework: with some Internet research, I discovered a budget-friendly public transit option for getting to Skudeneshavn. I confirmed details with the helpful staff at the tourist information (TI) center on the cruise pier when we arrived in port, and we were on our way.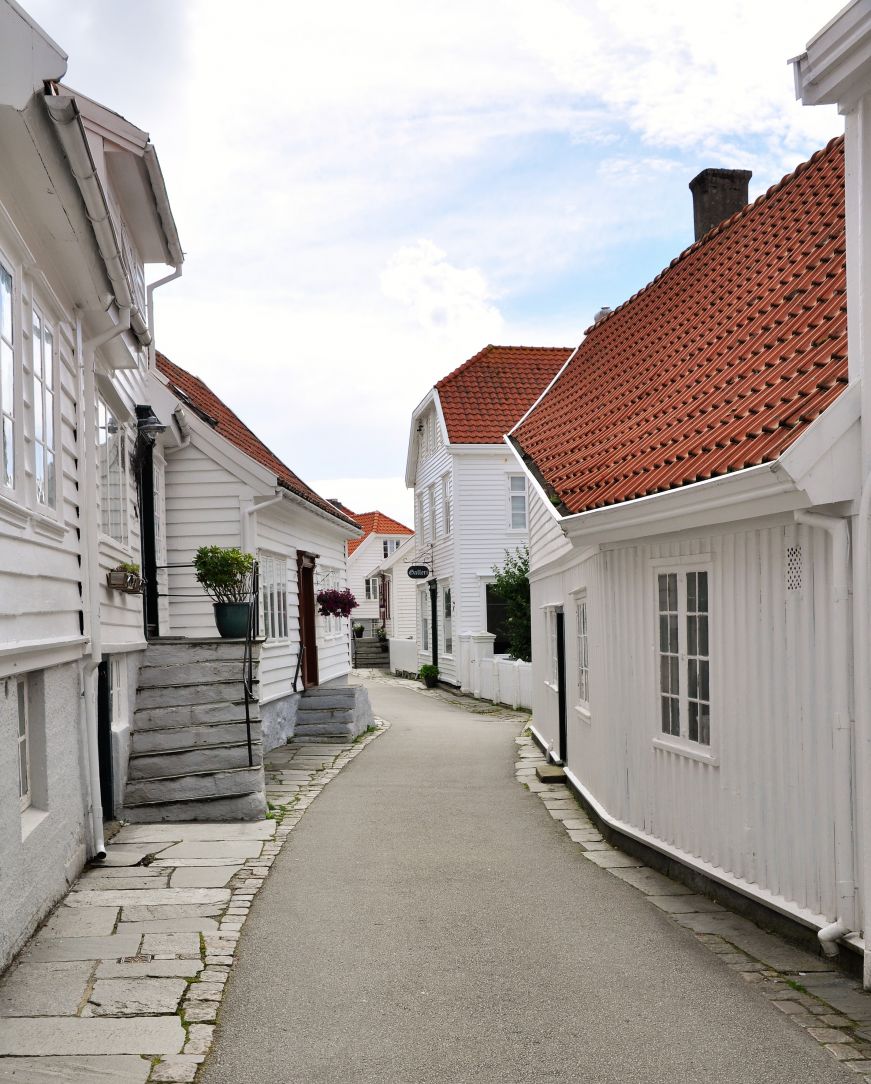 Getting off the ship: Haugesund's city center is an easy 0.8 kilometer/0.5 mile walk from the cruise ship pier.  There was also a free shuttle bus running on the day we visited.
Getting to Skudeneshavn: Catch the #210 Kolumbus at the stop on Sørhauggata and Torggata, across from the church.  Buy your ticket from the driver (35 kroner); exact change isn't required, but small bills are appreciated.  It's about a 1½ hour drive to Skudeneshavn, and there's a convenient bus stop by the town center.  More information and timetables are available here, and as mentioned above we found the TI staff very helpful in explaining where to catch the bus and how to pay our fare.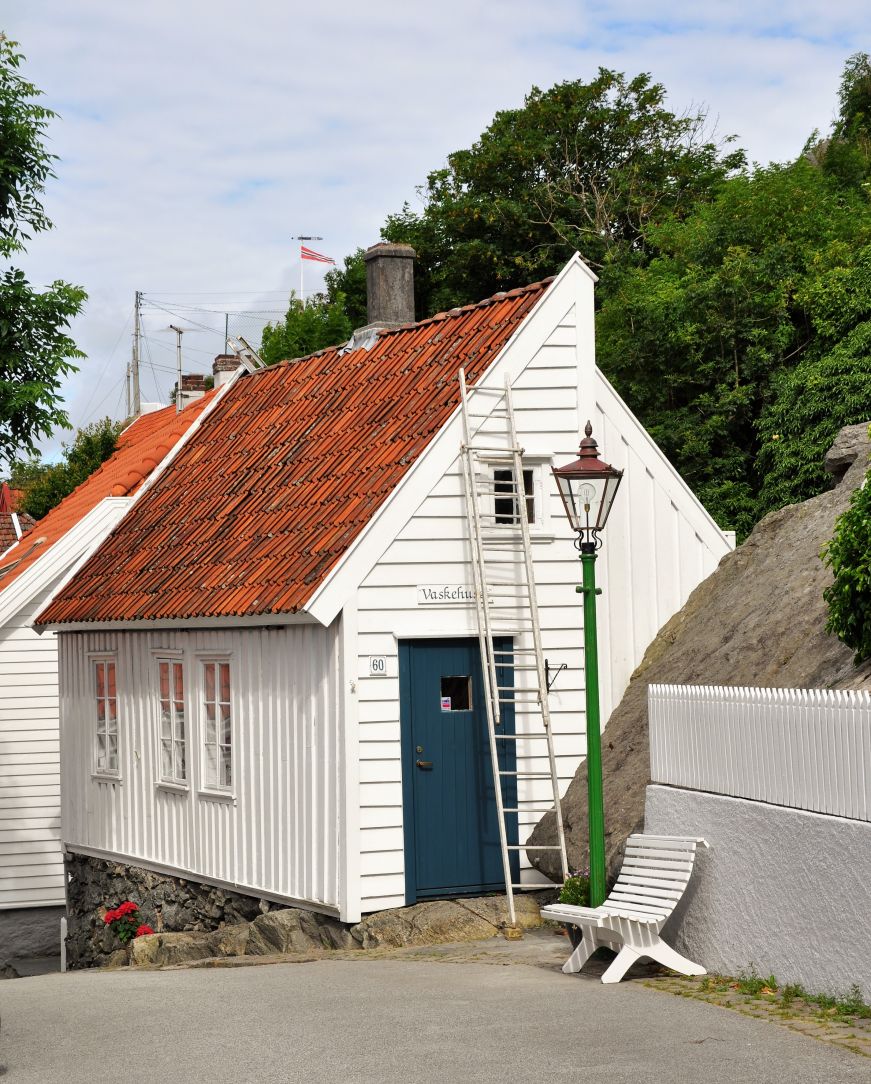 What to do in Skudeneshavn:
Visit the TI for a map of the town that includes a self-guided walking tour.   Sights include notable historic houses, a wooded park where I half expected a troll to pop out from behind a boulder, and a viewpoint overlooking the town and harbor.  The tour took us a leisurely 1½ hours to complete, with plenty of photo stops.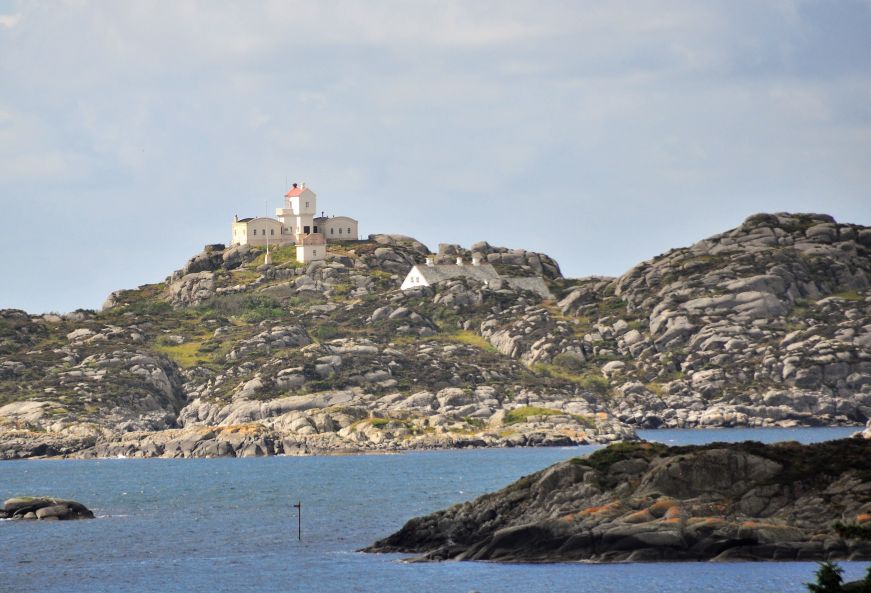 Stop for a light lunch or coffee break at Tåkelurfabrikken (Søragadå 53, no English website), a cafe housed in a former fog horn factory.  The cafe caters to locals, with long communal tables of grandmas chattering in Norwegian, vintage knitted mittens dangling from worn ceiling beams, and a counter with platters of open faced sandwiches, waffles, lefse, and cake.  I loved the homey atmosphere and the tasty almond whipped cream cake.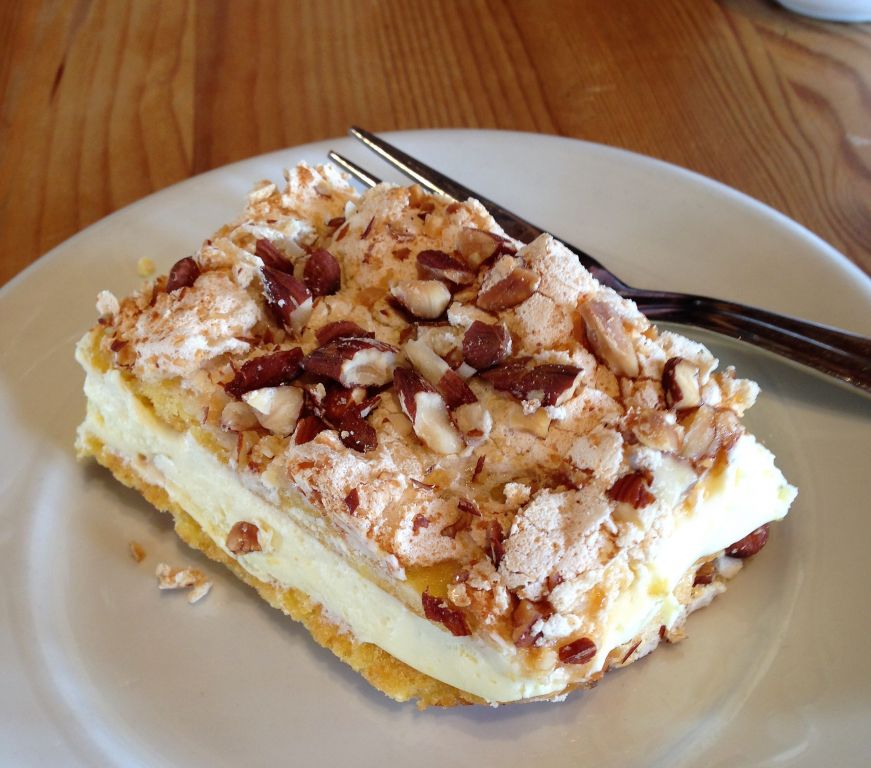 Getting back to Haugesund: Catch the #210 Kolumbus at the stop across the street from where you got off.  Back in Haugesund, there are several bus stops near the city center where you can disembark.
Other things to do with a port stop in Haugesund:
Haraldsgata, Haugesund's main pedestrian street, has lots of great shopping, with stores that cater more to locals than the tourist trade (I found a lovely yarn shop).  The Smedasundet Inner Quay offers upscale restaurants along a waterfront promenade.  The TI has a helpful map of the city that includes a historical self-guided walking tour (they also have an excellent English website).
Another day trip option is Avaldsnes, an open-air museum with replica buildings representing a Viking settlement from 900 AD.  Like Skudeneshavn, you don't need to rely on cruise ship excursions--you can get to the museum via bus routes from Haugesund or the Viking Bus that runs on certain cruise days.  Check with the TI for up-to-date information on transportation options.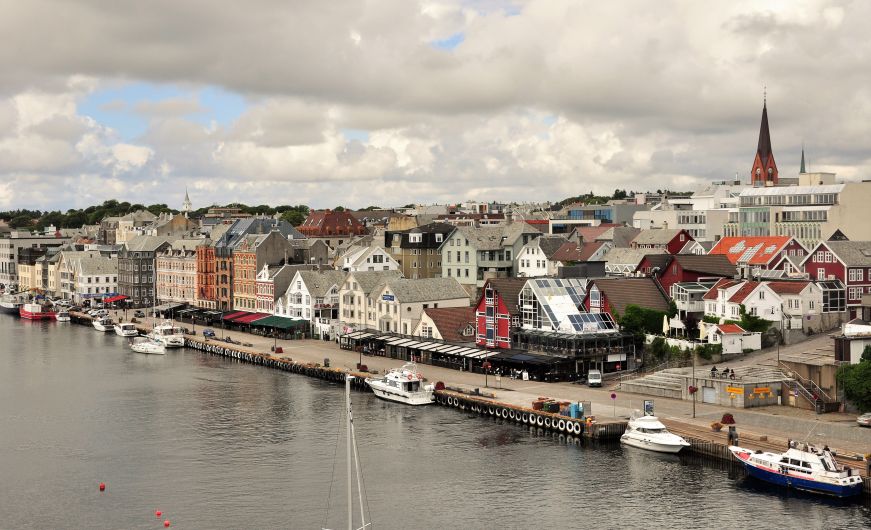 The takeaway:  While I was initially underwhelmed by the idea of a port stop in Haugesund, I loved exploring Skudeneshavn and lunch at Tåkelurfabrikken.  These unexpected discoveries are one of the best things about striking off on your own versus participating in organized excursions.
In addition to being a richer experience, our self-organized trip to Skudeneshavn was significantly cheaper than a cruise ship excursion: we paid 140 kroner for bus fares and spent 155 kroner on lunch, for a total of 295 kroner or about $38.  The pricing information is no longer posted online, but I believe that the organized cruise ship excursion (which didn't include lunch) was $149 per person for a total of $298.
More posts about my Norwegian cruise:
If you enjoyed this post, pin it!