You might not recognize the name, but you've probably seen the photos: Porvoo is one of the most photographed spots in Finland.  Porvoo is a small town about 30 miles northeast of Helsinki, and the riverside Old Town is beloved for its colorful wooden buildings, narrow cobblestone streets, and romantic, low-key vibe.
How much time should you spend in Porvoo?
We spend about five hours in Porvoo, which was enough time to leisurely explore the Old Town, eat lunch, browse some boutiques, linger over coffee in a cafe, and walk along the river.  We didn't feel rushed—Old Porvoo is quite small, only a few blocks square.  You could get a sense of Porvoo in less time, but I recommend a more relaxed pace to truly enjoy the atmosphere.
A half-day was enough time in Porvoo for us, but if you want to spend additional time in Porvoo, you could check out some of the museums, art galleries, and surrounding parks, or book a stay at a bed and breakfast.
How do you get to Porvoo?
It's easy to get to Porvoo by bus from Helsinki.  The ride takes 50 minutes, and there are several departures daily from Helsinki Bus Station, which is located in the basement of the Kampii Shopping Center (the shopping center is also a stop on the Helsinki metro system, so it's convenient to access from any part of Helsinki).  You can buy bus tickets in advance online for approximately $10 per person. 
The Porvoo bus station is located in a central shopping area that is about three blocks from the Old Town, approximately a 5-minute walk.
If you have a car, Porvoo is about a 45-minute drive from Helsinki.  During the summer, you can also travel from Helsinki to Porvoo via the historic steamship m/s J.L. Runeberg (we wanted to do this, but unfortunately the sailing times didn't work with our schedule).
What should you do in Porvoo?
The best way to spend your time in Porvoo is simple: walk around!  Porvoo is the second oldest town in Finland, and the colorful wooden houses date back to the 18th and 19th centuries.  If you arrive early in the day, you'll have the cobblestone streets, alleys, and squares mostly to yourself, and it feels like you've stepped into another era.
Porvoo is located on the banks of the Porvoonjoki, and there are paths along both sides of the river.  From the Old Town we enjoyed strolling south, which gives you a taste of the more modern portions of Porvoo, as well as your choice of several outdoor cafes along the river.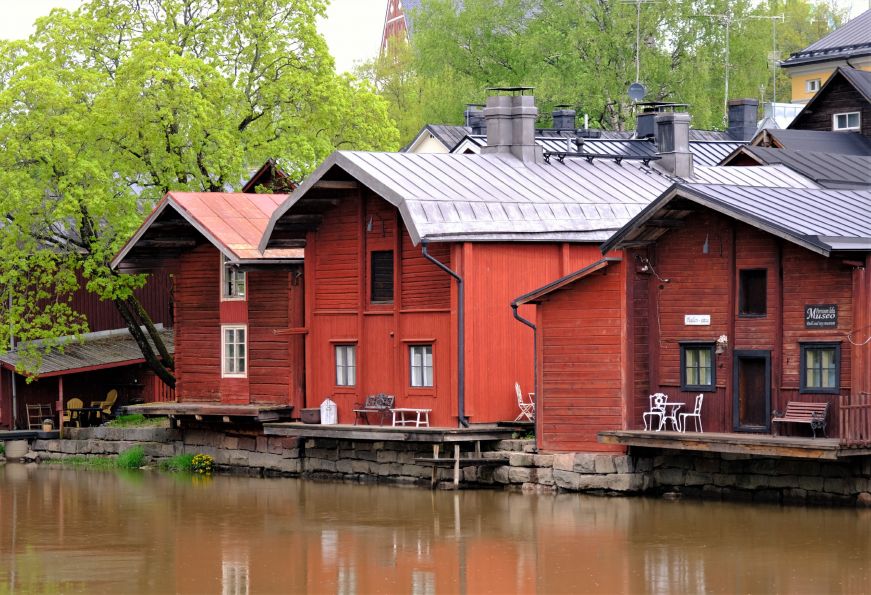 Porvoo is highly photogenic—allegedly, the red wooden buildings along the river are the most photographed buildings in Finland (they were built in the 1760s as warehouses, and are now home to restaurants, shops, and accommodations).  We spent quite a bit of time taking photos of buildings throughout the Old Town, and the narrow alleyways are a neat backdrop for portrait photos.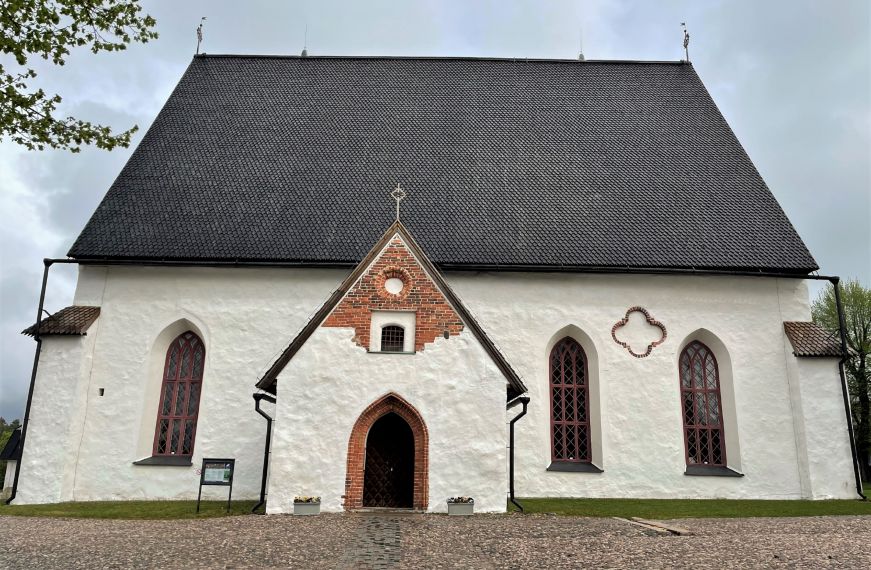 Another iconic Porvoo structure is the Porvoo Cathedral, which dates back to the 15th century.  It's frequently open to the public, although hours vary based on the season and religious services.  Other attractions in Old Porvoo include J.L. Runeberg's home, a historic house museum that honors Finland's national poet; the Porvoo Museum, which is located in Finland's oldest town hall and features artwork and historic exhibits; and the Porvoo Doll and Toy Museum. 
A full listing of Porvoo's attractions is available here.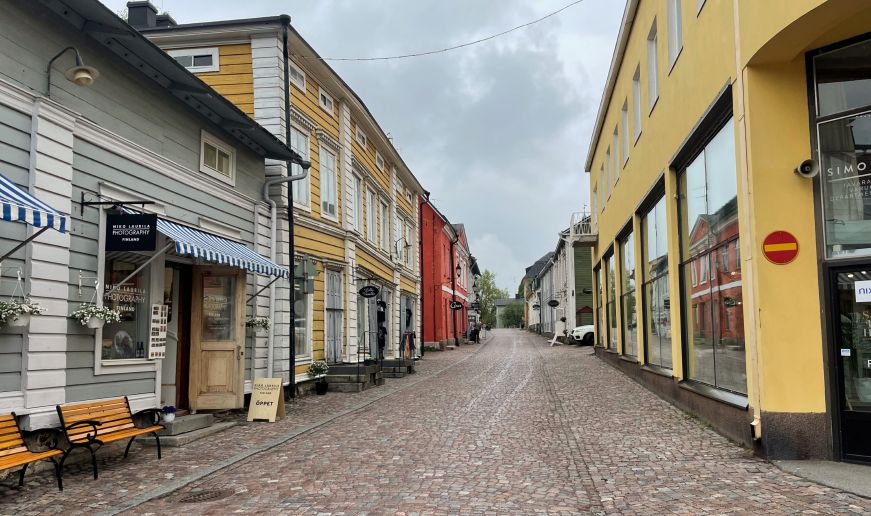 Shopping is a popular activity since Old Porvoo is very tourist-centric, with dozens of boutiques.  Although a handful sell mass-produced souvenirs, the majority feature Finnish-made artisan products, including clothing, jewelry, home decor, toys, kitchenware, and more.  One of my favorite shops was Design Deli, where I found some unique postcards.
Porvoo is also home to Brunberg, which is Finland's oldest chocolate factory, founded in 1871.  They operate a factory store in the Old Town, where you can find both bargain-priced bulk items and chocolates with attractive souvenir packaging.
More information about shopping in Porvoo is available here.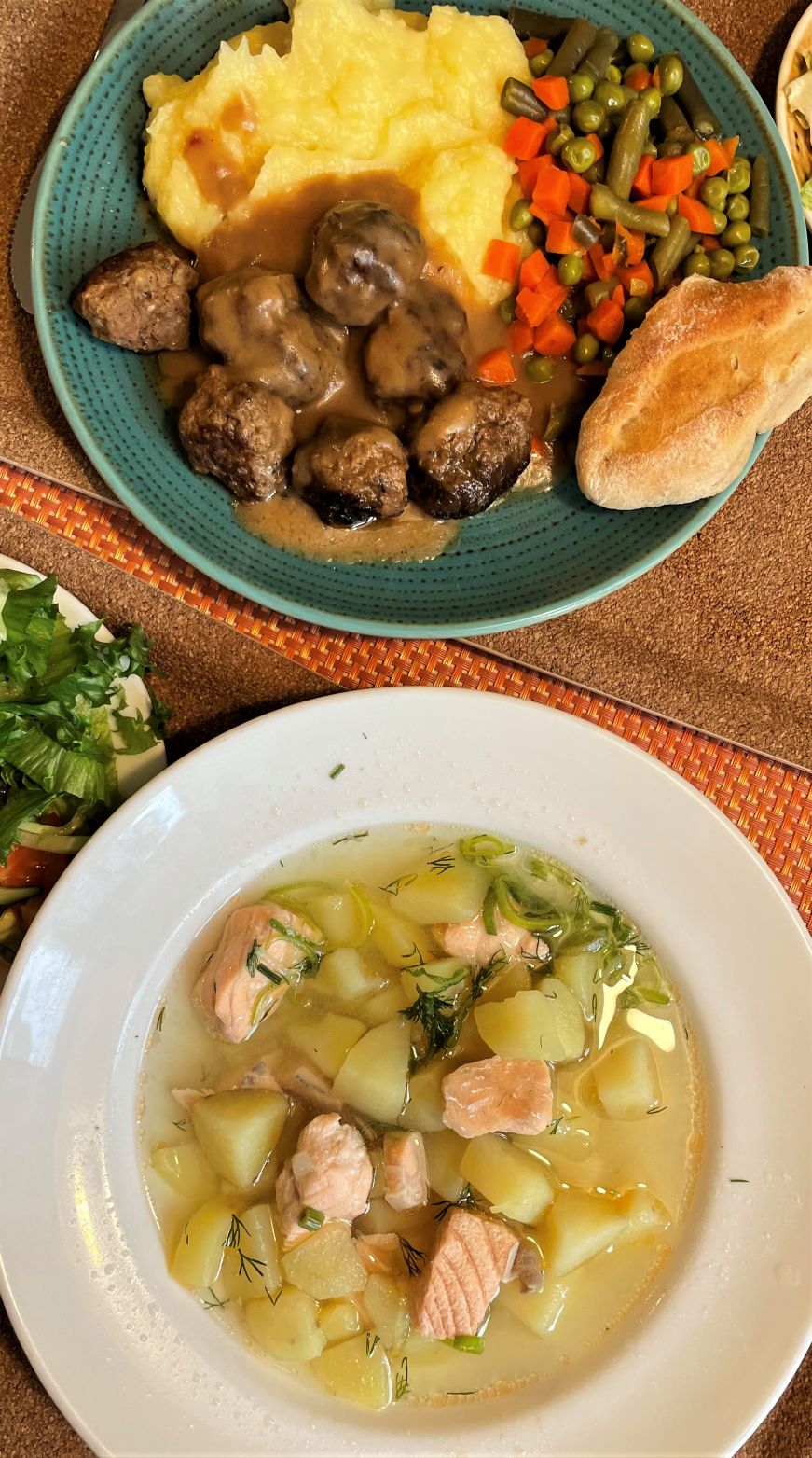 Dining in Porvoo
Old Porvoo has plenty of dining options, ranging from upscale restaurants serving Japanese or French cuisine to casual cafes offering Nordic-style pastries.  We enjoyed a tasty and budget-friendly lunch at Hanna Maria, a cafeteria-style restaurant that specializes in traditional Nordic comfort foods like salmon soup and meatballs.  For less than $25, we got two entrees that each included salad, bread, a glass of non-alcoholic beer, and a cup of coffee or tea.
If we had additional time in Porvoo, we would have checked out Ani's Cafe, which serves delicious-looking vegetarian fare such as soups and salads.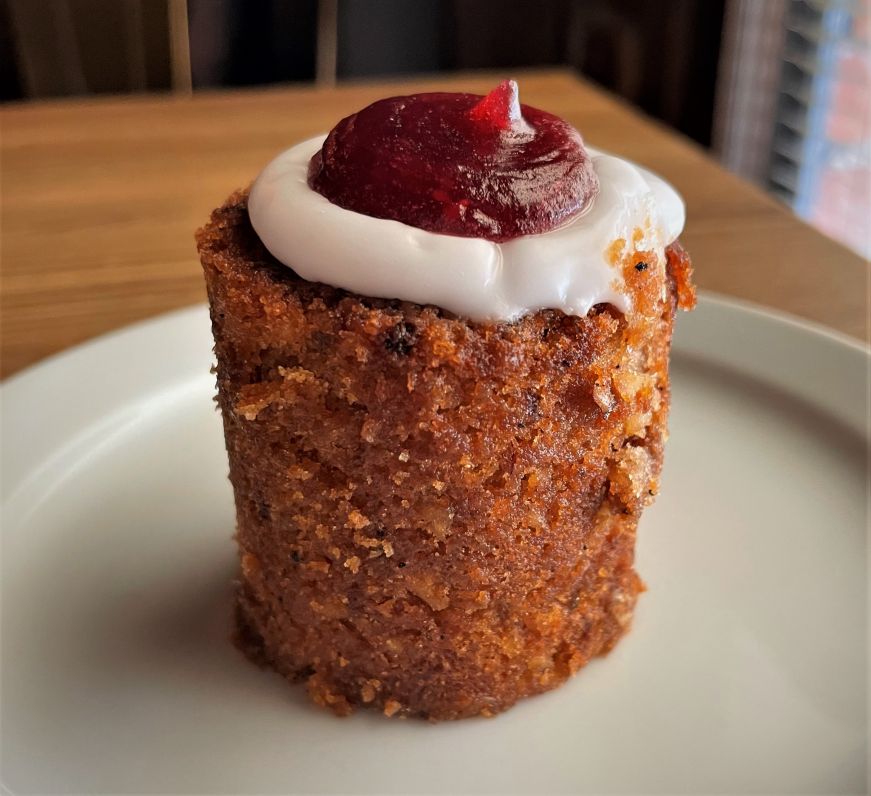 As I mentioned in my post about Helsinki, coffee and pastries are a big part of Finnish food culture, and accordingly, Porvoo has several excellent coffee shops.  We loved Porvoon Paahtimo, a combination coffee shop, roastery, and bar housed in a former warehouse.  Pastries are sourced from local bakeries, and the iconic Runeberg cake is available daily. (The recipe was developed by Fredrika Runeberg, and her poet husband J.L. Runeberg allegedly enjoyed it for breakfast with a glass of alcoholic punch.)  In addition to the large upstairs seating area, there's outdoor seating on a barge permanently moored alongside the restaurant.
Other Porvoo cafes that looked cozy include Cafe Fanny, which has patio seating in a historic square, and Tea and Coffeeroom Helmi, which is located in a historic home.
You can find a full listing of Porvoo's restaurants and cafes here.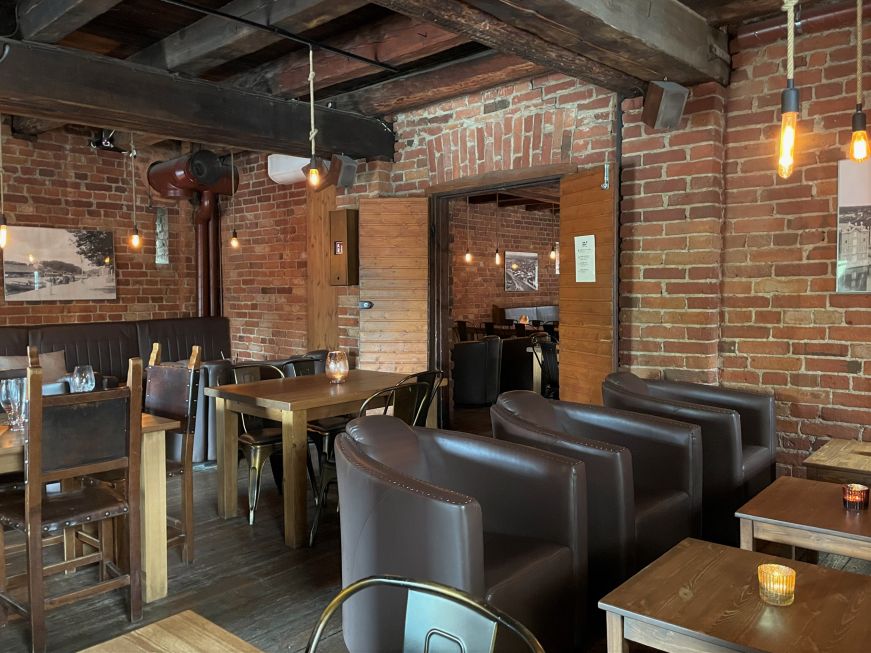 If you'd like to dine outdoors, head south from Old Porvoo—there are several cafes along the river.
The takeaway:
Porvoo is a perfect day trip from Helsinki—it's easily accessible via mass transit, and the Old Town offers a relaxing, picturesque setting for sightseeing, shopping, and dining.  Strolling the cobblestone streets and savoring a Runeberg cake are some of my favorite memories from my time in Finland.
Find additional information at Visit Porvoo.
Further reading:
If you enjoyed this post, pin it!