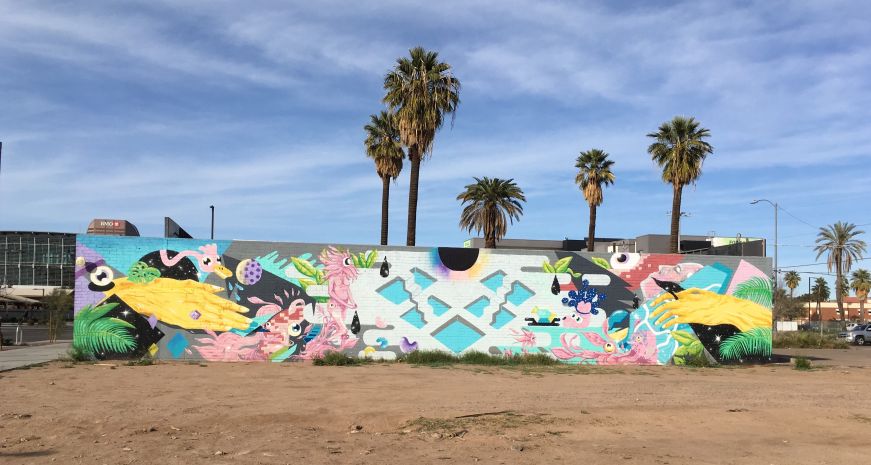 Phoenix, Arizona has never been on my must-see list.  I've always associated it with retirement and blazing hot temperatures, which probably says more about my Minnesota roots than Phoenix itself.  But as I've mentioned before, I struggle with seasonal affective disorder, and the trip Mike and I took to Disney World a couple of years ago in early February really helped me get through the rest of the winter.
If you're looking for a warm weather destination you can fly to cheaply from Minneapolis, Phoenix fits the bill.  Spirit Airlines and Sun Country offer cheap and frequent flights.  The pricing is similar, so we went with Spirit because we like the flight times better.  For the first part of our getaway, we drove straight from the airport to spend three nights in Sedona.  Part two was a couple of laid-back days in Phoenix, which ended up being exactly the right amount of time for us.  Read on to learn what we saw, where we stayed, and most importantly, what we ate.  
Monday
12:30 pm—We arrive at Papago Park after a two-hour drive from Sedona.  We eat our picnic lunch in the car because I'm a wimp and 55 degrees seems a bit too chilly for me to fully enjoy my bagel.  Our plan was to hike the Double Butte Loop, but it's pretty anticlimactic after the Sedona scenery.  Other than the buttes, the landscape is very flat, with views of the surrounding roads and golf course.  It seems more like a city walk than a hike, and we cut our route short by taking a shortcut back to the parking lot.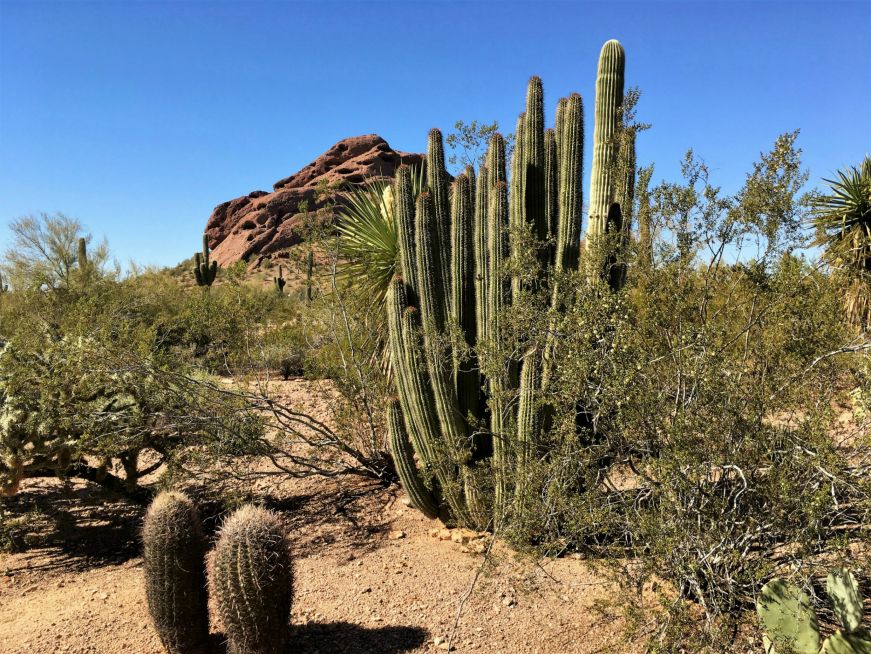 1:30 pm—In addition to hiking trails and a picnic area, Papago Park is home to the Phoenix Zoo and our next stop, the Desert Botanical Garden.  We spend a few hours wandering the garden's five loop trails, each of which has a different theme.  I particularly enjoyed the Sonoran Desert Nature Loop Trail, which features saguaro cactus and views of the surrounding mountains; and the Plants & People of the Sonoran Desert Loop trail, which discusses how different cultures have used desert plants over the centuries.
Since each of the trails has a different focus, they kept us engaged throughout our visit, and the interpretive signs struck a good balance by providing context without overloading us with information.  There was also a volunteer on hand in the Sonoran Nature Loop to give us a brief educational and interactive lecture on the saguaro cactus.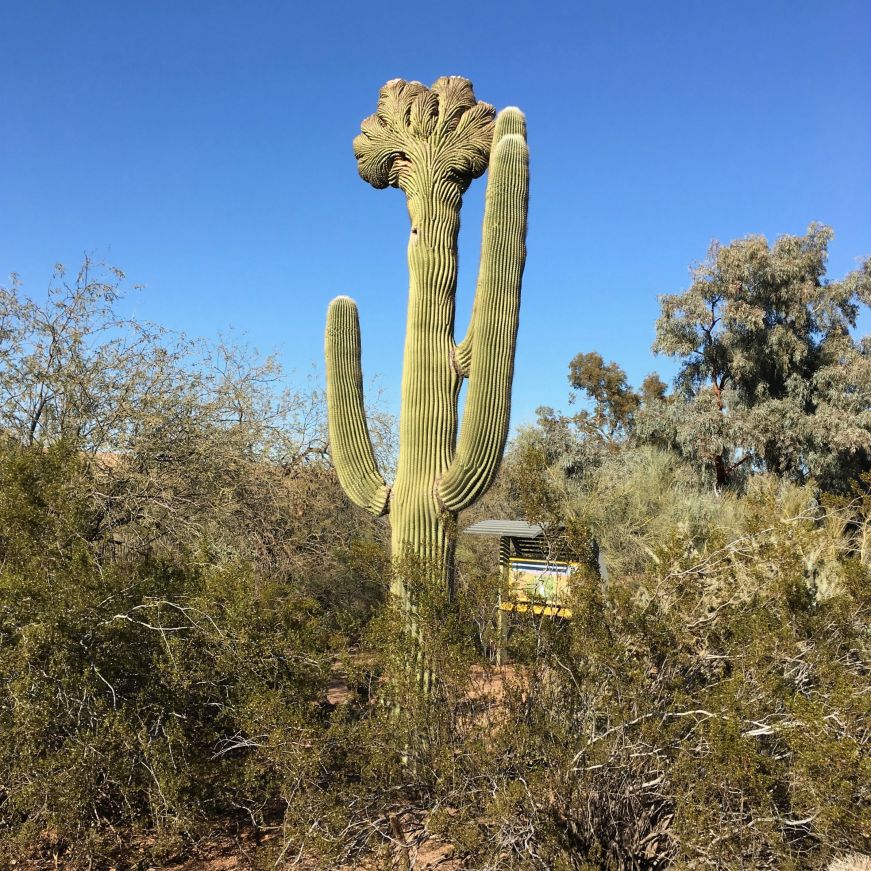 I recommend stopping at the Patio Cafe, strategically positioned at the halfway mark—while the concessions are a bit overpriced, the seating area has a nice view of a cactus-covered hillside.  We enjoyed a couple of paletas (Mexican ice pops) from Paletas Betty, a local purveyor.  I loved the spicy chocolate, and Mike got the piña con chile, fresh pineapple with handmade chile powder.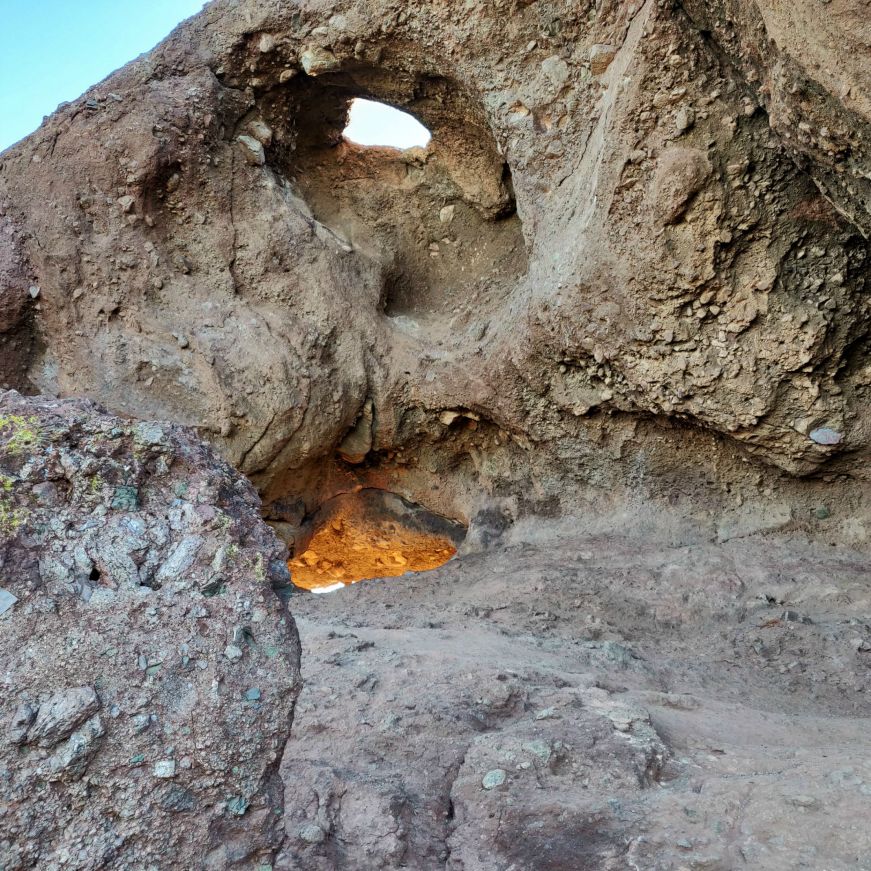 4:30 pm—Our final activity in Papago Park is the short hike up to Hole-in-the-Rock, which is exactly what it sounds like: a butte with a wind-eroded hole that frames the Phoenix skyline.  There weren't too many other people, and sitting up on the rock was a peaceful experience in the golden light of the late afternoon.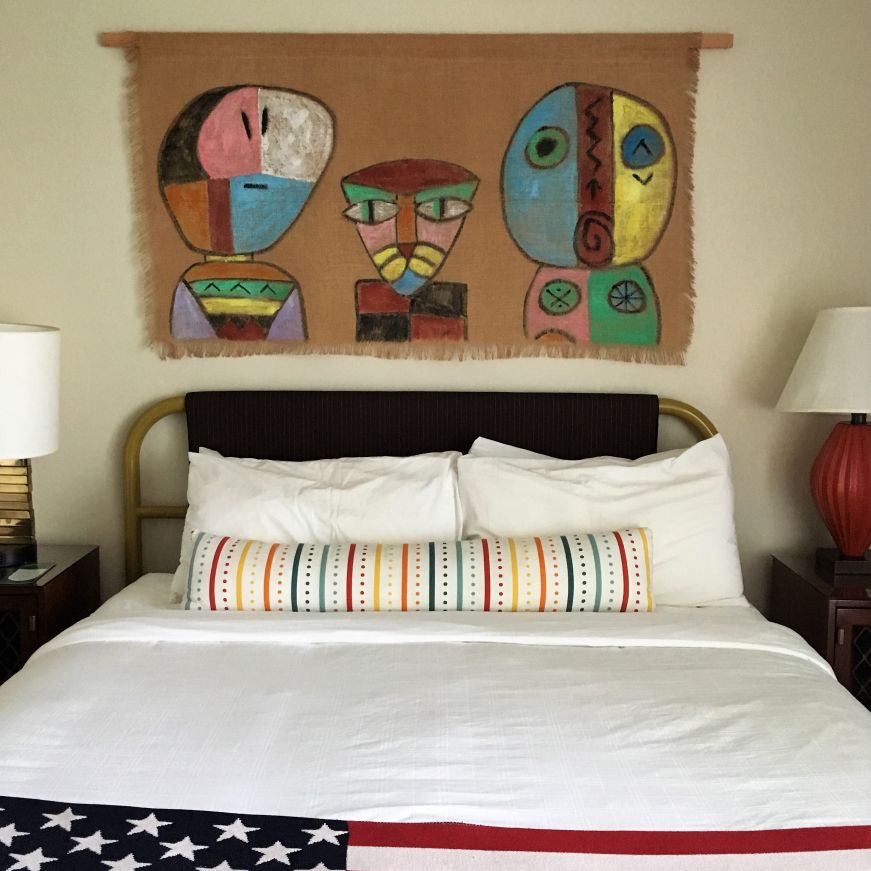 5:30 pm—We check in to our hotel, The Graduate Tempe.  Since one of the main reasons that I picked this particular hotel was that it has an outdoor pool and a bar, we're pretty disappointed to learn that the pool is closed for construction.  However, I do like the hotel's retro decor; Mike is unimpressed by the lack of bathroom counter space and thinks the mid-century modern decor looks like "a bunch of old stuff."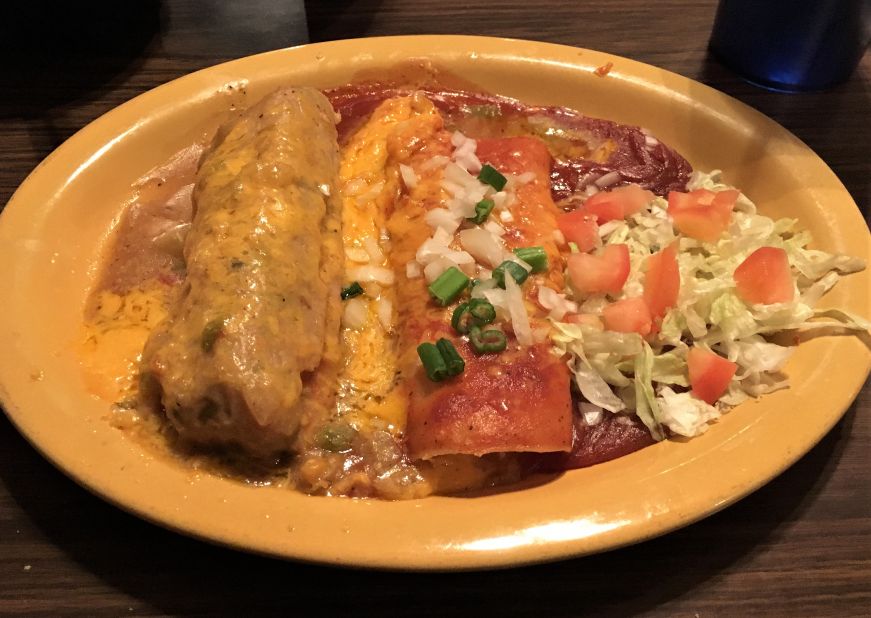 6:15 pm—We don't want to drive very far and I'm craving tamales, so we opt for dinner at Rosita's Fine Mexican Food, which is located in a nearby strip mall.  The chips and salsa are free and plentiful, the giant golden margaritas are $3 on Mondays, and the cheddar-laden Tex-Mex cuisine hits the spot.
I order a green corn tamale and a cheese enchilada—the tamale is generously-sized and well-flavored with chiles.  Mike goes with a red chile beef tamale, a cup of pozole rich with shredded pork, and two margaritas, which are respectably stiff and a bargain at $3.  For dessert, I can't resist the deep fried ice cream with Oreo cookie crumbs.  Is it the best Mexican food in the Phoenix metro? Probably not.  Does it hit the spot? Absolutely.
8:00 pm—We learn that parking at The Graduate Tempe costs $7 per day.  This leaves us disinclined to give them any more money in the form of purchasing drinks at the hotel bar, and we go to bed early.
Tuesday
9:45 am—After sleeping in and eating breakfast in our hotel room (a protein bar from home and an apple from the grocery store for me, an underwhelming breakfast wrap from the hotel's grab-and-go case for Mike) we drive to the Heard Museum.  While it's considered a Native American art museum and certainly exhibits impressive historic and contemporary works, the exhibits also provide extensive cultural context.  In particular, the "HOME: Native People in the Southwest" portion of the museum combines art with oral histories, a Navajo hogan, Pueblo oven, and information about the tribes' languages, land, and ways of life.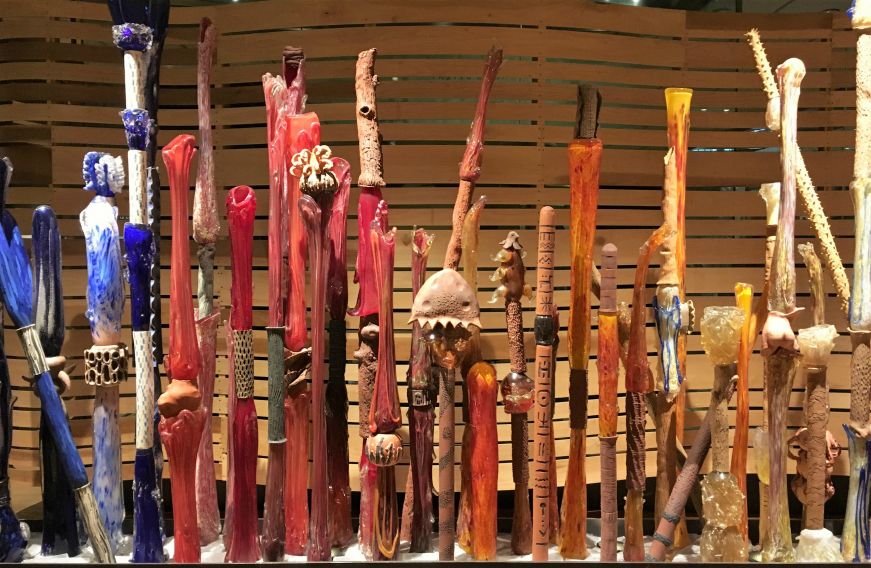 Since I didn't know much about the 22 tribes in the American Southwest, I appreciated the opportunity to learn more.  I also loved a temporary exhibit featuring jewelry by Verma Nequatewa, a Hopi artist who combines traditional and modern techniques and materials.
12:00 pm—We take a break in the courtyard before joining a guided tour.  Tours are included with admission, and focus on either the HOME exhibit or "Highlights of the Heard."  Although we just explored the HOME exhibit, we appreciate the additional information that the guide provides, especially about the cross-cultural exchanges between tribes and European culture.  Our guide also explains how market demands influence what kinds of work Native artists produce—from the mid-1800s through today.
1:00 pm—A short drive from the Heard Museum, Roosevelt Row is a trendy arts district in downtown Phoenix.  We spend a few hours wandering around, admiring the murals and soaking up the warm, sunny weather.  We stop at MADE art boutique to browse through the ceramics, jewelry, decor, and cards—there are some great locally made souvenirs, and we pick out out an Arizona ornament to add to our Christmas tree. 
Mike is in need of lunch (I ate back at the Heard Museum), so he gets a Mediterranean roasted chicken pita at Pita Jungle.  It's an Arizona chain with lots of vegetarian and vegan options, and the Roosevelt Row location has a quiet, sunny patio behind the restaurant.
We end our afternoon on Roosevelt Row at Fair Trade Cafe.  In addition to espresso drinks, there's ice cream and a good selection of housemade pastries—I go with a brownie, which is satisfyingly fudgey.  Mike opts for a cherry Italian soda.  I catch up on my journal at a well-worn wooden table by the window.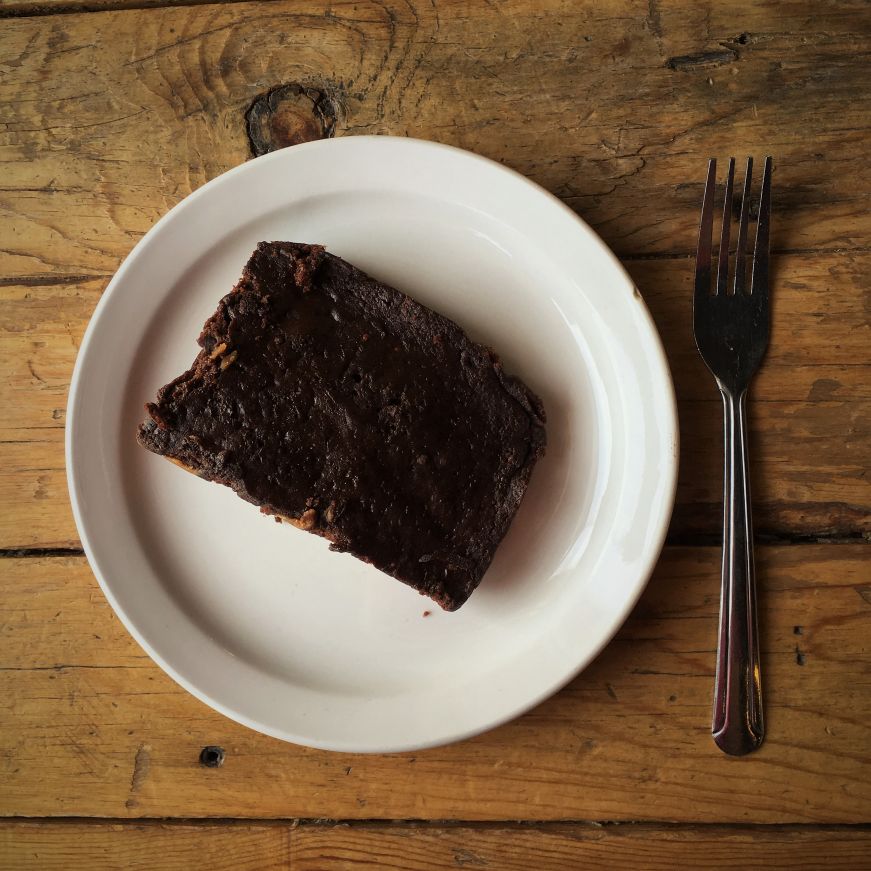 3:45 pm—We drive back to The Graduate with the top of our convertible down and the wind in our hair—this is exactly what we came to Arizona.  Once we get back to our hotel, I head out on a run through downtown Tempe and along the Salt River.  I wear a long pair of shorts and a short sleeve short, and while I think about how I'm getting overheated and really should have worn a shorter pair of shorts, a local runs by in pants and long sleeves.  It is 70 degrees and sunny.
Meanwhile, Mike works out at ASU, since guests of The Graduate Tempe have gym privileges at the university and the weight room setup there is much better there than at the hotel's modest fitness center.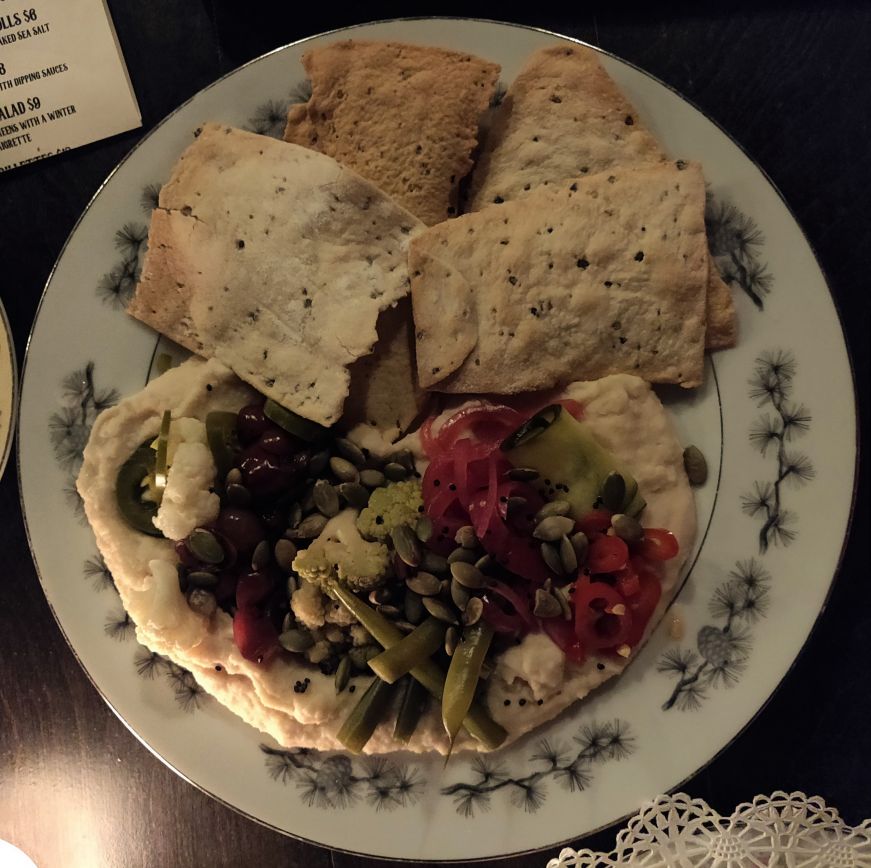 6:30 pm—I needed a break from restaurant research (it's my day job) and did zero planning for dining before our trip.  However, I did want to have one special meal, and turned to Phoenix Eater and the Phoenix New Times for some ideas (if possible, source your restaurant recommendations from local media—they tend to be more up-to-date and insightful that what you'll find in travel coverage).  Cotton & Copper popped up on several best-of lists, and it looked like it had the vibe and cuisine I was looking for.
Although it's located in a strip mall in south Tempe, the restaurant has a very urban feel, with a vintage bar and bearded bartender shaking craft cocktails, dim lighting, and small plates served on mismatched china.  It has a very similar vibe to Lark in Janesville, Wisconsin and Butterhorn in Bismarck, North Dakota, and feels like an urban-trained chef has decided to move home and serve cuisine that can hold its own in New York City on Main Street.
Mike orders the charbroiled beef burger, which was quite straightforward—cheddar with a touch of tomato jam and carrot salsa.  The thick beef patty was the focus, as it should have been.  It was a solid burger, the kind that you don't mind paying $14 for.
I go with a couple starters: the O'odham tepary bean spread and the corn dumplings.  I was expecting raw carrots and celery with the bean spread, since the menu indicated that it came with vegetables.  But in a plot twist, the bean spread was actually garnished with pickled vegetables, and I appreciated the extra layer of flavor the brine added to the spread.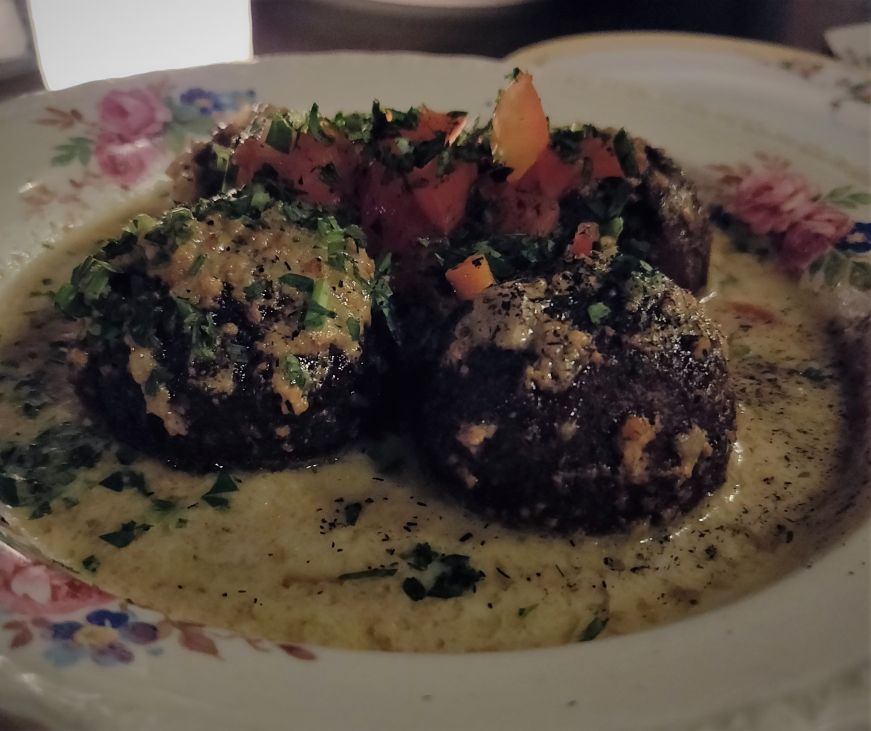 However, my favorite dish of the night is the corn dumplings.  They were like scoops of the best cornbread I could imagine, with a thick Parmesan cream sauce that embraced its richness without becoming overbearing.  The garnish of tomatoes and herbs added a needed burst of freshness.
I also enjoyed taste profiles and balance of the Agua Caliente and Cordes Ranch cocktails—the bar program is on par with the excellent quality of the food.
9:00 pm—We stop at a grocery store for breakfast food for Mike, Mexican candy for me, and cheap wine so that we don't have to buy drinks at the hotel bar.
11:00 pm—After our in-room partying, we fall asleep.
Wednesday
9:15 am—Another hotel room breakfast.  We pack up our suitcase, check out of the hotel, and drive to Tempe Beach Park to take a short walk along the Salt River.
10:00 am—Coffee break at Romancing the Bean, a serviceable coffee shop in a corporate office tower near Tempe Beach Park.  I highly recommend the chocolate chip macaroons, which are the size of my hand and a steal at $1.65.
11:00 am—We drive to the airport with the top of our convertible down, enjoying our last bit of Arizona weather before flying home to snowy Minnesota.
The takeaway: Was it nice to get away from snowy Minnesota and feel the sun on my bare arms?  Absolutely.  We also enjoyed the Desert Botanical Garden and the Heard Museum, and our meal at Cotton & Copper was a delight.  However, there wasn't enough in Phoenix to make us want to linger or plan a return visit—although we might pass through again on the way to Sedona.
If you enjoyed this post, pin it!