Because I write my annual best foods post as the year unfolds, this one started on a pretty typical note, with an ice cream date, an event at Como Zoo, and a pastry I ate on vacation.  Then COVID happened, and along came takeout, contact-free pastry pickups, and patio meals with face masks and hand sanitizer.
2020 was a difficult and uncertain year, and I am incredibly fortunate that it also included some really good food.
Full disclosure: my meal at Sidebar at Surdyk's was comped as a media preview.
1. Crisp 'n Cream cone, Treats
I've been eyeing the whimsical soft serve creations at Treats since they opened, and a pre-Valentine's Day date was the perfect special occasion to splurge.  I ordered the Crisp 'n Cream, vanilla soft serve blended with bits of Oreo-O's, Cookie Crisp, Rice Krispie Treats, and Snickers; dusted with Oreo crumbs; and garnished with pieces of Cookie Crisp.  The red velvet cone added only a hint of flavor but it was worth the surcharge for the striking presentation.  I really enjoyed the texture of the cereal-studded soft serve, and all the seemingly random ingredients came together flavor-wise in a way that other fancy cones haven't (MN Nice Cream, I'm looking at you). 
Spending $10 on a soft serve cone isn't going to be regular occurrence, but it was a fun way to celebrate.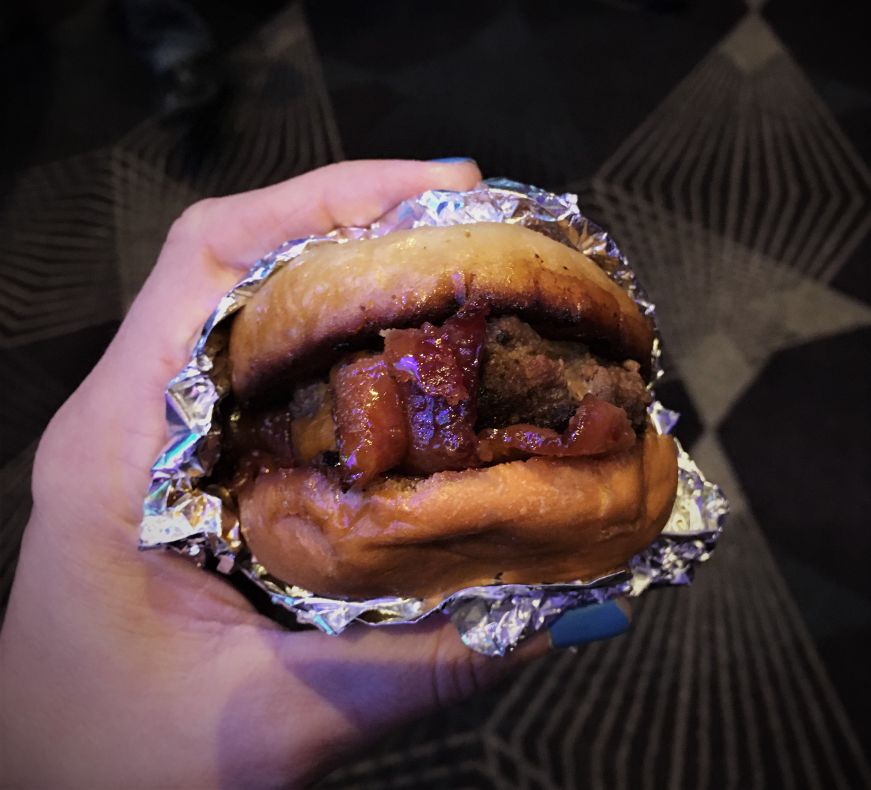 2. 60/40 slider, Red Cow
On paper, there is no reason why I should love this burger as much I did.  Red Cow's 60/40 burger is made with a mixture of ground beef and ground bacon, topped off with aged cheddar, beer mustard, and more bacon.  I am one of the few people who really doesn't like bacon, and I'm generally ambivalent about burgers.  But this one sits in a class apart, with a patty that literally melts in your mouth and an enticing sweet and salty combination of sharp candied bacon and sharp cheddar.  Even the bun is delectable, with a soft, lofty texture.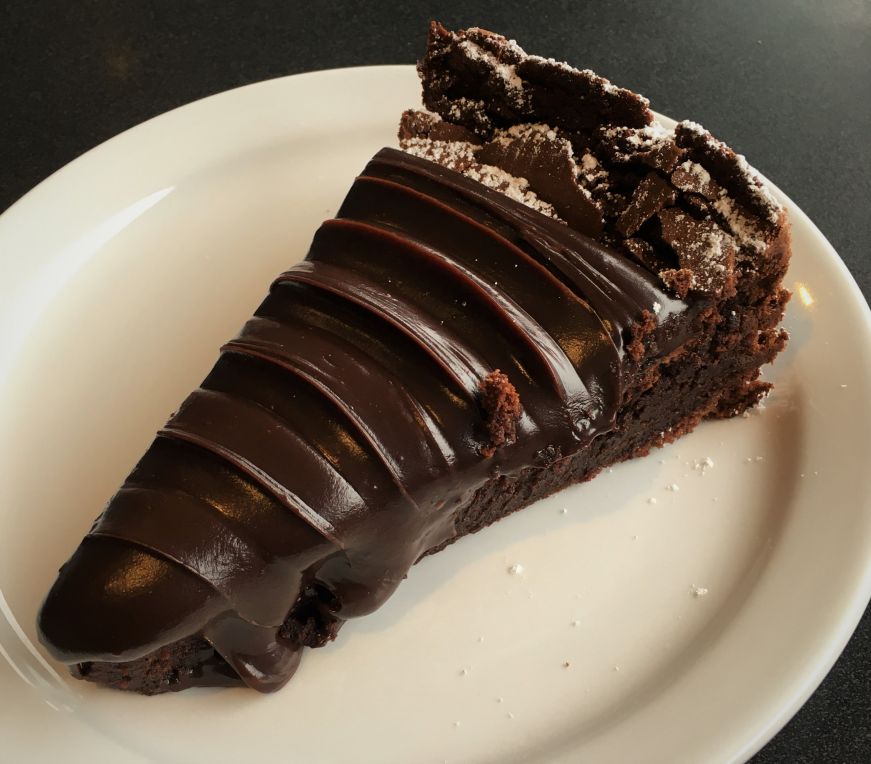 3. Gluten free fudge cake, Cafe Latte
There is a certain kind of satisfied joy when you bit into something and it is exactly what you want it to be.  I ordered a slice of Cafe Latte's gluten free fudge cake when I wanted something unapologetically dense and chocolaty.  It's more akin to an underbaked brownie that a traditional cake, with gooey center and a crackling edge.  The thick layer of frosting struck the right balance between rich and bittersweet.  Theoretically you could split the generously-sized wedge, but I wanted it all to myself.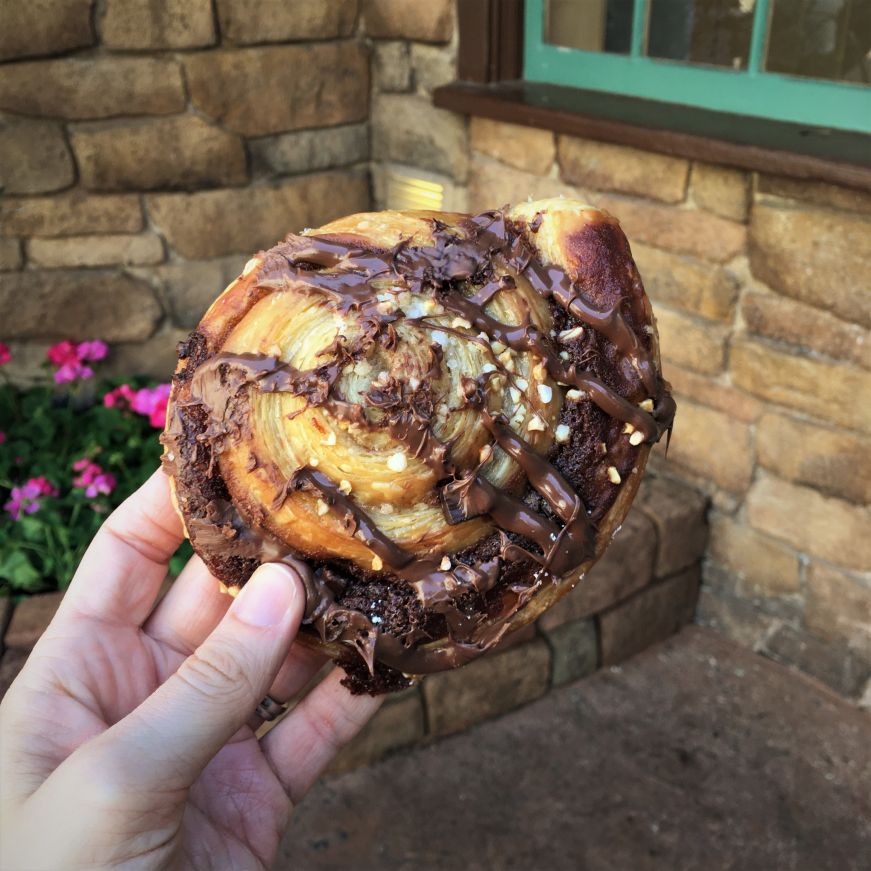 4. Croissant Nutella, Les Halles Boulangerie-Patisserie
One of my favorite places to eat at Disney World is Les Halles Boulangerie-Patisserie, a cafe and bakery at the France Pavilion in Epcot's World Showcase.  My go-to is a plain croissant, but on impulse I bought a Nutella croissant too.  Beautifully flaky, crackling thin layers of pastry were rolled up cinnamon roll-style, with a generous drizzle of Nutella and a sprinkling of chopped hazelnuts.  Mike found us a cozy table along a faux Parisian street, and we savored every bite.
We visited Disney World in early March, just before it closed down due to the pandemic and everything else did, too.  Eating that Nutella croissant with Mike in the Florida sun was the memory I returned to again and again to reassure myself that things would get better someday.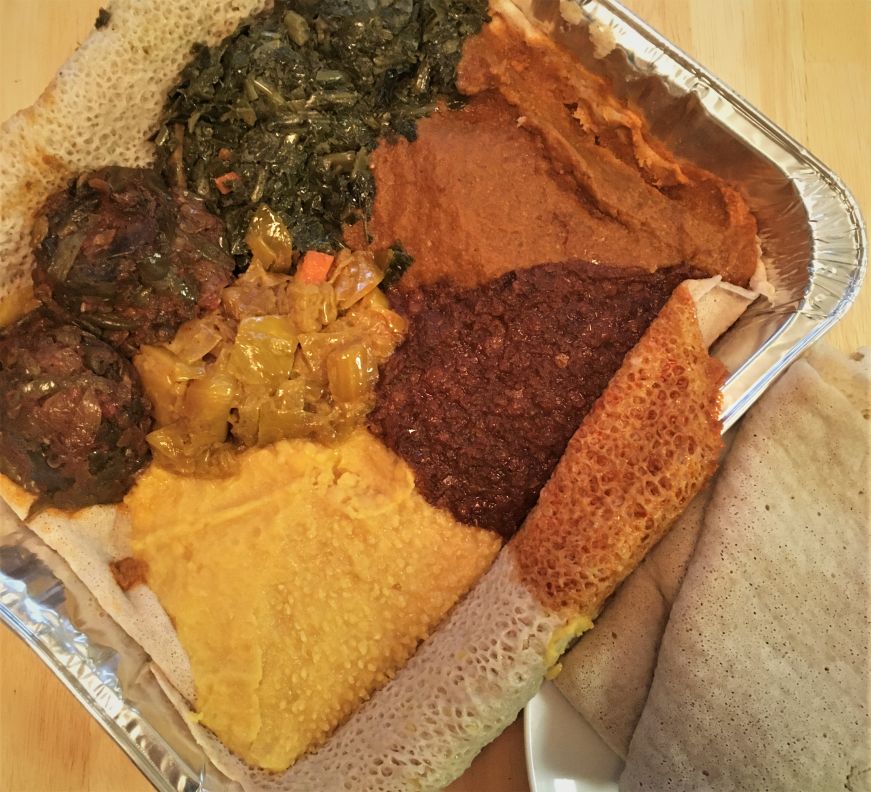 5. Shiro, Bole Ethiopian Restaurant
Thanks to the pandemic, I ate more takeout this year than I ever have in my life, and some of the best was from Bole Ethiopian Restaurant.  All of the dishes included in our Super Veggie Sampler were tasty, but the shiro (a ground chickpea sauce) stood out for the richness of layered flavors.  The injera soaked up every salty, spicy, and smoky note, and it was such a comforting dish at such a difficult time.
Unfortunately, Bole burned down in the unrest following the police killing of George Floyd.  The owners have raised money to rebuild, and hopefully they will be able to reopen in 2021.
6. Caramel Oreo cookie, T-Rex Cookie Kitchen
Sometimes, nothing hits the spot like a very large dessert, and T-Rex Cookie Kitchen is there for those moments.  Their half-pound cookies have the ideal edge-to-interior ratio, with a soft, almost underbaked center.  The caramel Oreo flavor is my favorite, with ribbons of caramel, chunks of Oreos, and a rich caramelization from the brown sugar in dough.  It's such an unexpectedly delicious combination.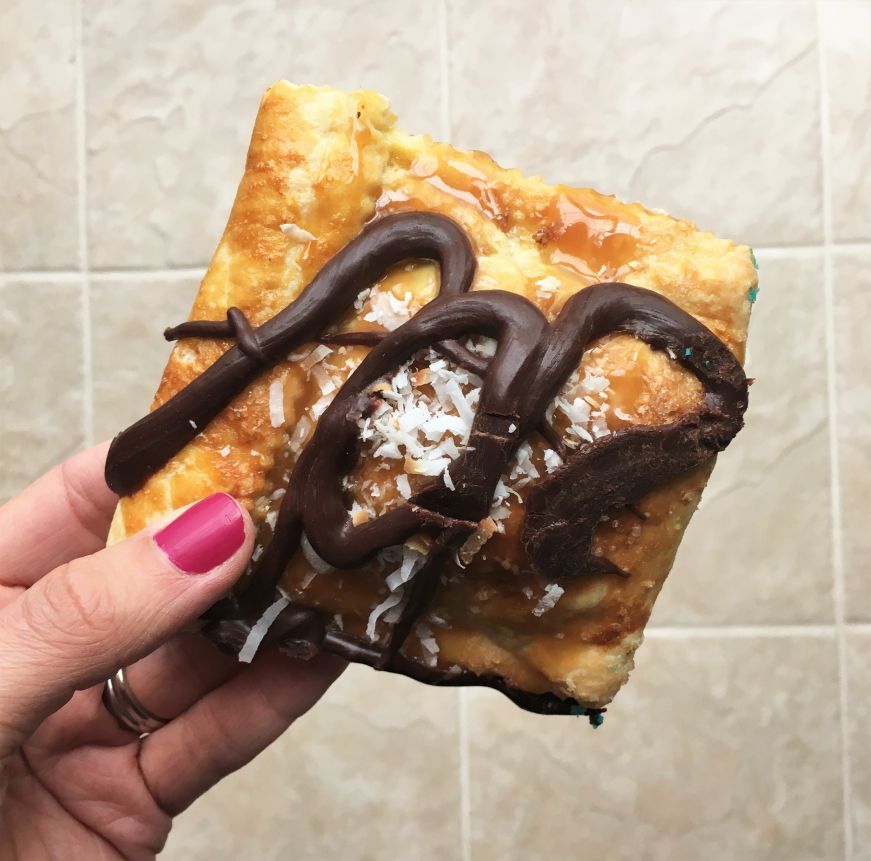 7. Chocolate caramel coconut pop tart, Fruit and Grain
Calling Fruit and Grain's pastry creations "pop tarts" feels like a disservice—they're made with flaky layers of puff pastry and homemade fillings.  I loved the thick, rich layer of chocolate ganache in the chocolate caramel coconut pop tart, and the touch of caramel and coconut on top evoked a Samoa Girl Scout cookie.  But honestly, the edge portions without filling were really good too, thanks to that amazing pastry.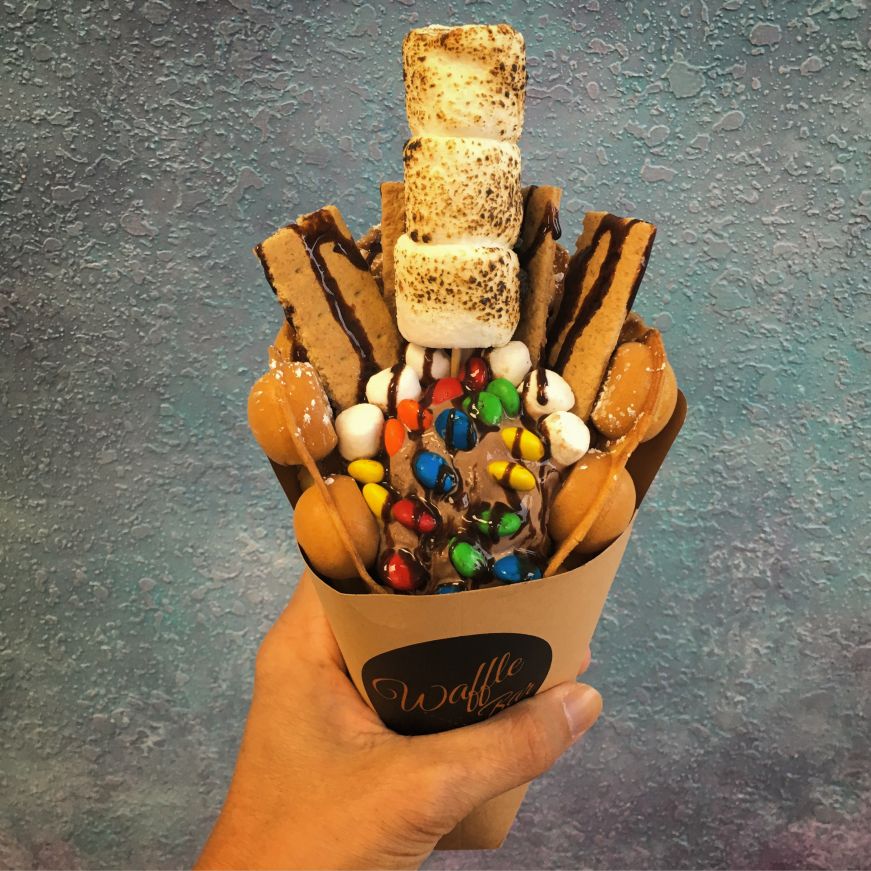 8. S'mores More waffle, Waffle Bar
Like my fancy ice cream cone from Treats, the ice cream-filled waffles at Waffle Bar taste as delightful as they look.  Their Hong Kong-style bubble waffles have a light, puffy texture that makes them a perfect foil for creamy Sebastian Joe's ice cream, and the toppings are over-the-top in just the right way.  I thought my S'mores More waffle was actually better than an actual s'more—in addition to a skewer of toasted marshmallows, it was garnished with graham crackers, M&Ms, more marshmallows, and a generous drizzle of chocolate syrup. 
After a few months of pandemic takeout, I appreciated being able to walk into a restaurant and get something that was a treat for the eyes as well as the taste buds—it sounds silly, but taking a dozen pictures of my waffle made made me feel like things would be okay.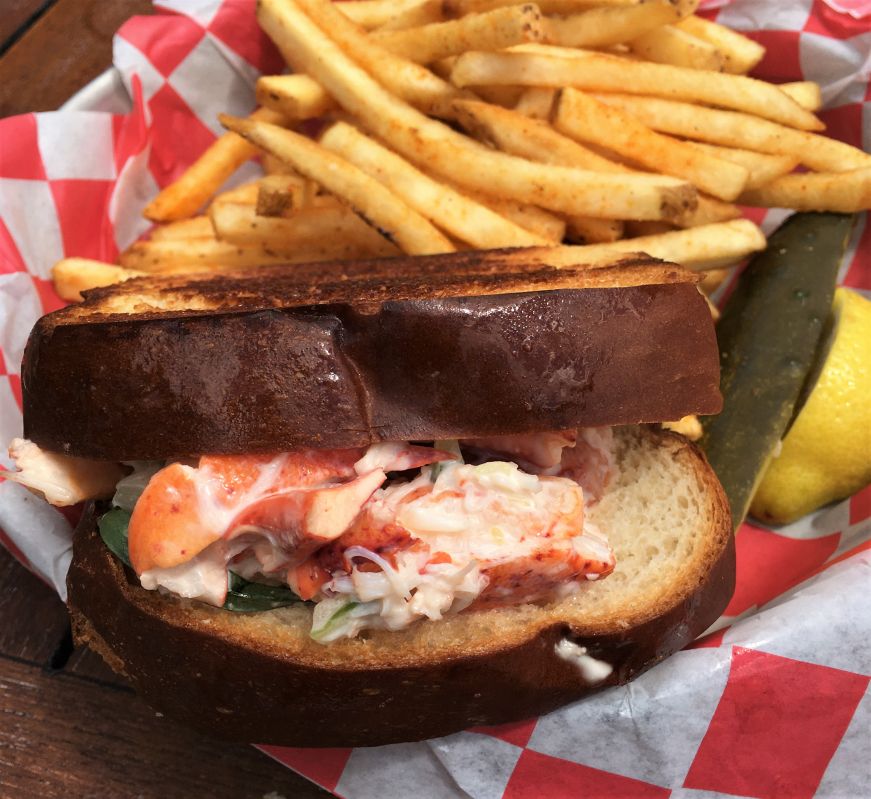 9. Lobster roll with Cajun fries, Smack Shack
My first pandemic dine-in restaurant meal was a lobster roll and fries on the patio at Smack Shack.  What stood out to me most was the texture—the crispness of the fries, the crunch of the griddled bread.  I appreciated the restrained hand with the mayonnaise, which let the lobster shine through.  My final bite was perfection, with a giant chunk of sweet, fresh lobster meat.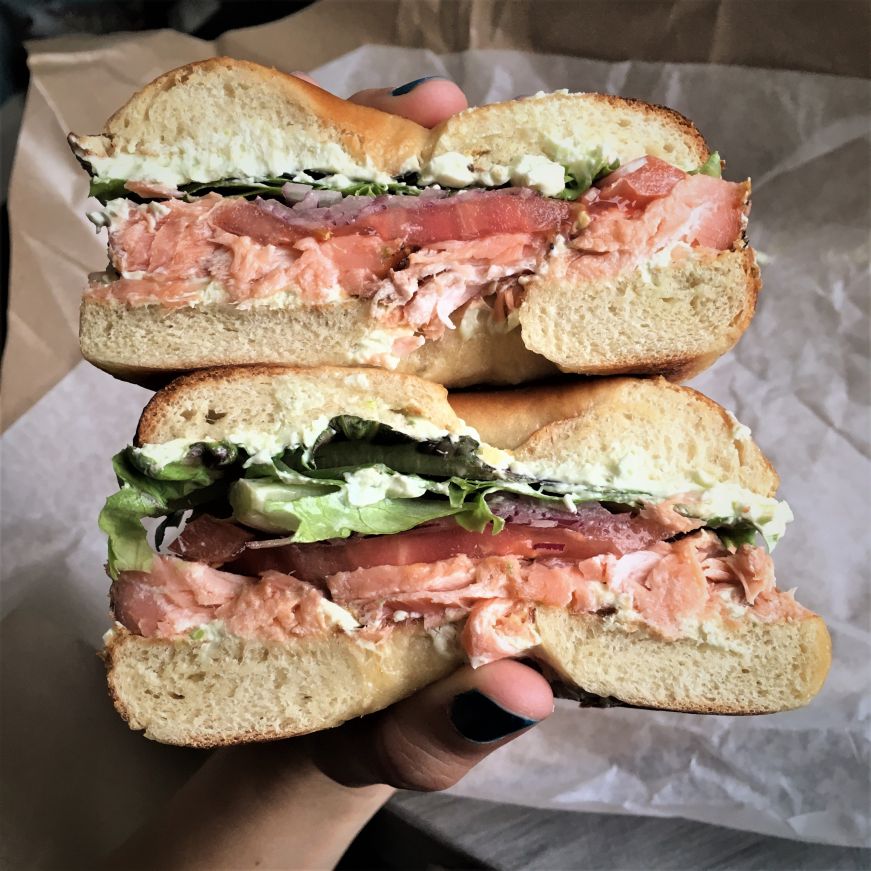 10. The Great Summer Caper (without capers), Northern Waters Smokehaus
I love smoked salmon, so I'll probably enjoy any sandwich that includes it—but the Great Summer Caper from Northern Waters Smokehaus went above and beyond.  A fresh, chewy bagel from Lake Superior Bakehouse was piled with thick slabs of smoked salmon flavored with pepper and coriander, and the generous smear of scallion cream cheese, paper-thin onion slices, and fresh tomatoes added a brightness that really made the salmon pop.  It was a total mess by the end since the sandwich was stuffed too full to eat neatly, but scooping up extra bits of salmon with my fingers only added to the joy.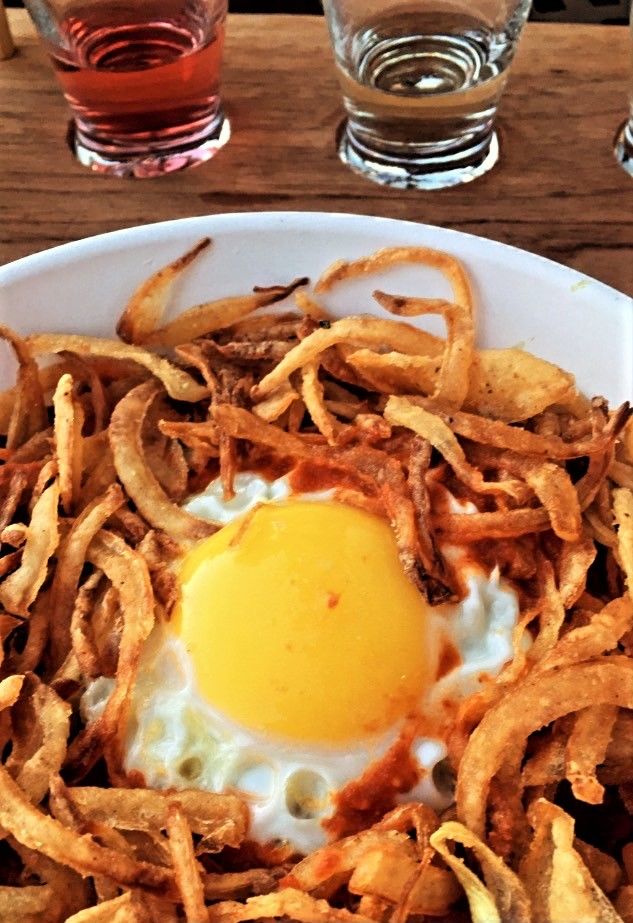 11. Over Easy Egg & Jalapeno Spinach Bowl (with a sunny side up egg), Brasa Premium Rotisserie
The rice bowls at Brasa Premium Rotisserie aren't something I would typically order, since I often prepare similar meals at home.  However, I'm so glad that I gave the egg and spinach bowl a try—the flavors of the rice and beans were kicked up several notches from my homemade versions, the generous portion of creamed jalapeno spinach really added to the dish, and the crispy onions provided a crucial punch of texture.  Add a sunny side up egg, and you have the ultimate comfort food.
(Typically it comes with an over easy egg, but you can specify a different preparation if you prefer.)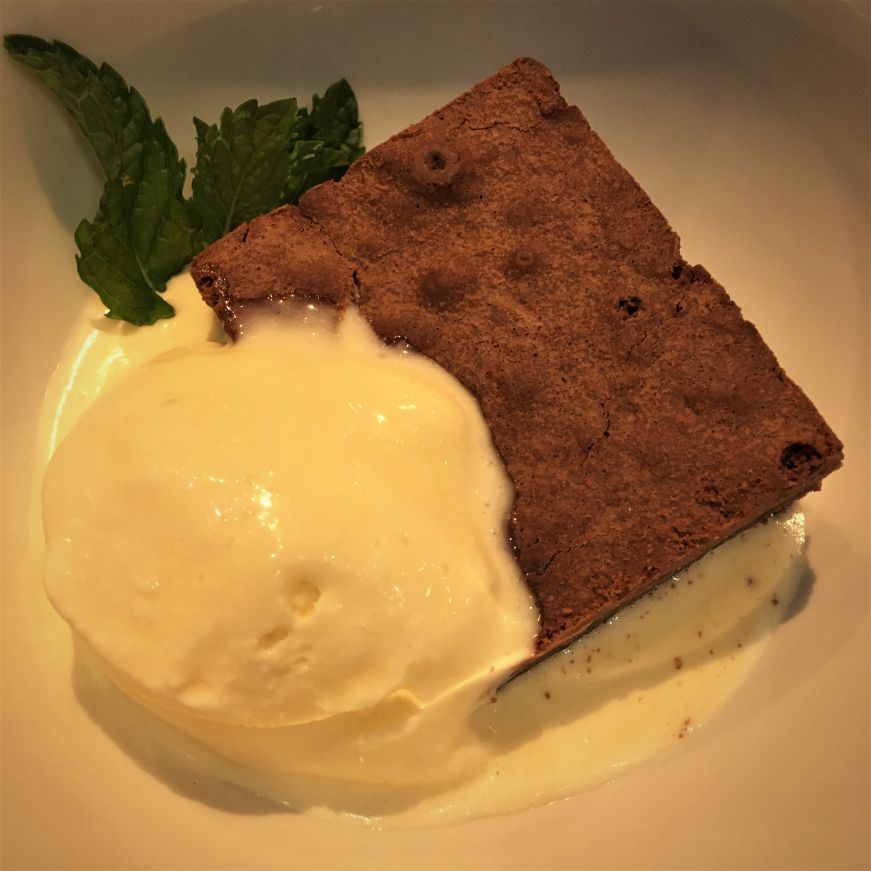 12. Cognac Brownie, Sidebar at Surdyk's
I think it's impossible for me to get through a year without a really fabulous brownie.  In 2020, it was the cognac-laced brownie from Sidebar at Surdyk's.  It was more like a dense slab of fudge than a pastry, the bittersweet chocolate contrasting with the sweet creaminess of the melting ice cream.  I rarely split desserts, but I did share this with Mike and it was still eminently satisfying.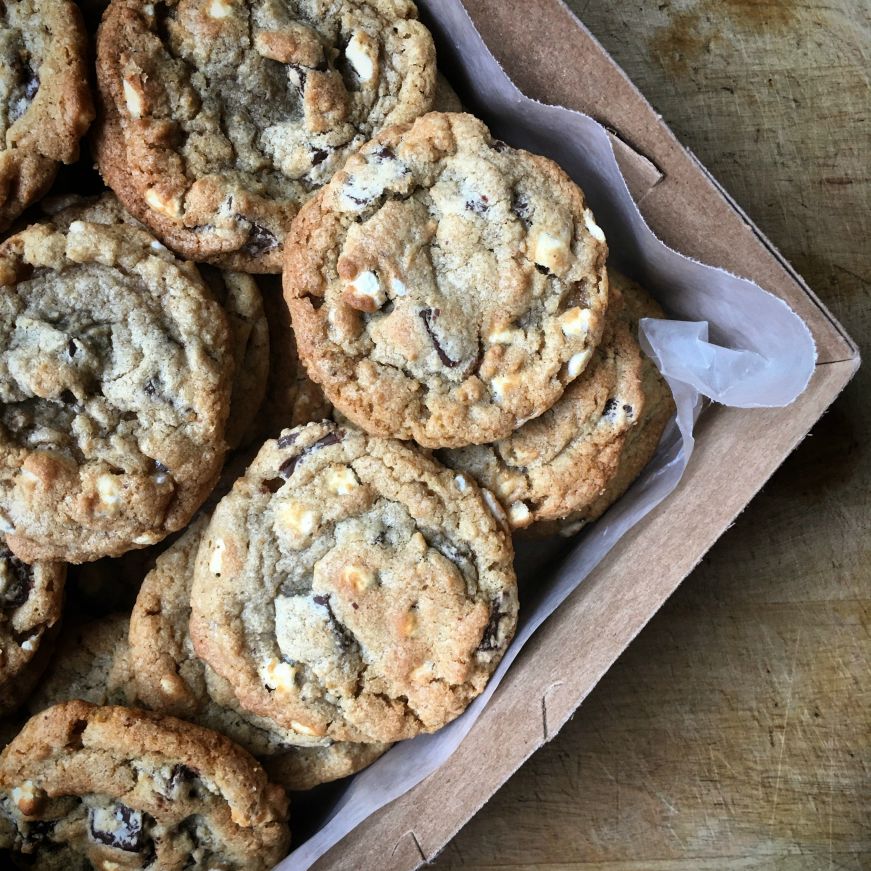 Not long after that cognac brownie, the temperatures got cooler and COVID cases started surging.  My furlough as a food freelancer for City Pages (a local alt weekly), became permanent when they shuttered in October. 
When that happened, I lost a huge part of my professional identity as well as the joy and solace that I used to find in food.  The things that sustained me earlier in the pandemic—getting takeout, posting pictures of my meals on Instagram, writing about restaurants on my blog, keeping up with local dining news—have become painful reminders of a career path that I'm afraid is gone for good.
It's possible that 2021 will bring new opportunities to cover the local food scene.  It's also possible that it won't.  In the meantime, I'm giving myself space to grieve, and I'm focusing on the food-related things I do still enjoy: baking for my Tangled Up In Food Bakes customers.  Discovering new foods at United Noodles.  Making lefse with Mike on Christmas Day. 
As always, the things I love the most about food are never really just about the food.
Further reading: