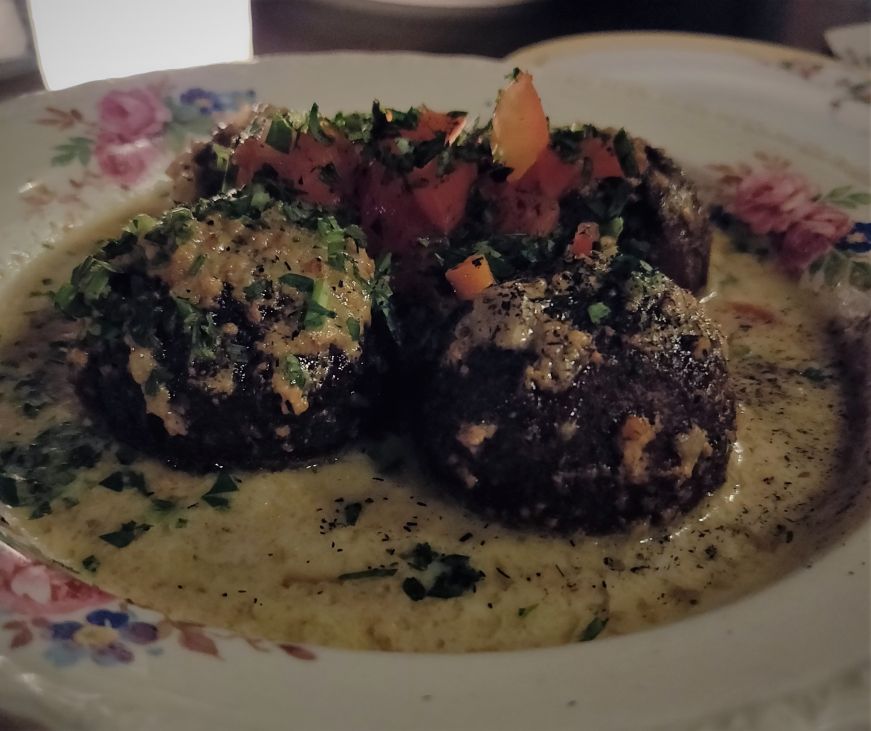 2018 was the first year I published a list of the best foods I ate.  I started the list at the beginning of December, so my memory was a bit hazy on some of the details, and I had to rely on Instagram photos, blog posts, and articles.  This year, I kept a running "best foods" post in my drafts all year long.  As I added to the post—a dessert here, an appetizer there—I realized that I wasn't only making a list of foods.  I was making a list of memories.
There was the bittersweet chocolate chip cookie that reflected our moods when we traveled to Boulder for Mike's grandma's memorial service.  The fancy chocolate pudding I sampled on the same day that I held my newborn niece for the first time.  The pommes frites I shared with Mike when my hair and makeup were styled from a photo shoot, and I felt invincible.  The strawberry dessert I enjoyed when Josh and I did the tasting menu at Tongue in Cheek, and the smoked beets I had at W.A. Frost when I ordered the tasting menu with Mike.  The corn dumplings in Arizona and the avocados in Hawaii and the pear tart in North Dakota.  The giant ice cream sundaes that Mike and I devoured when we were heartbroken.  The olives I ate to celebrate.
In 2019, the best things I ate were never, ever just about the food.
Full disclosure: some of these meals were comped as part of a press event or hosted trip.  I've noted where that's the case. 
1. Corn dumplings at Cotton & Copper
Mike and I treated ourselves to dinner at Cotton & Copper during our stay in Tempe, Arizona.  They offer craft cocktails and a seasonal menu featuring local ingredients, and while everything we ordered was well-executed, the corn dumplings were the standout.  Texturally, they were akin to a scoop of perfectly moist cornbread, with a crisp crust, and they were served with a very rich, slightly smoky cream sauce and heirloom tomatoes.   I'm typically not a fan of small plates—I need more than a few bites to feel satisfied—but the balance of textures and flavors in this dish made it fulfilling.
2. Baked brie & fig compote at 7 Vines Vineyard
I visited 7 Vines Vineyard in Dellwood, Minnesota as part of a media event for a behind-the-scenes tour and food and wine sampling.  Initially I was going to skip the baked brie, since it's a cheese that I just don't care for.  However, the phyllo dough wrapped around the cheese was too tantalizing to pass up, so I tried a piece that was mostly pastry.   I was surprised by how much I enjoyed the cheese—it seemed milder than other brie cheeses I've tasted.   Maybe the fig compote pairing was the key.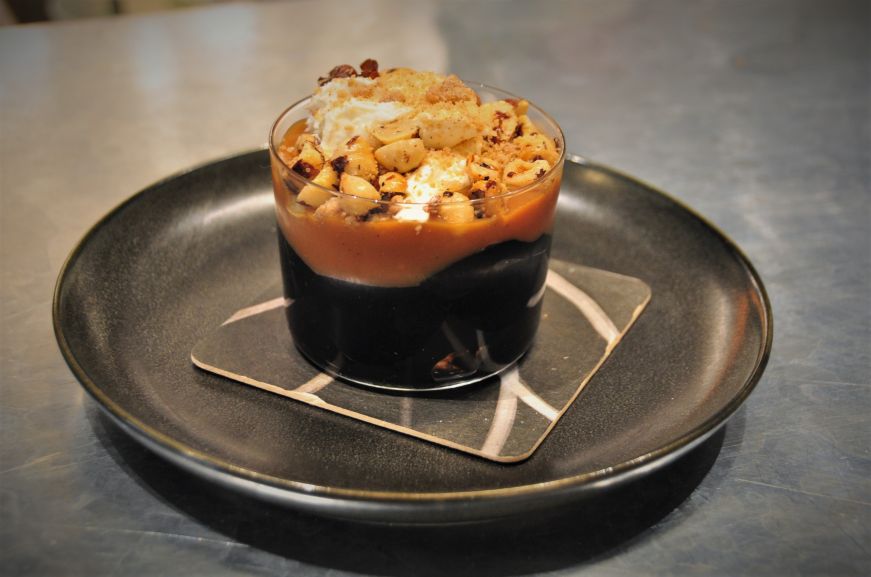 3. Black cocoa budino at Giulia
I got a sneak peak at Giulia, an upscale Italian restaurant in downtown Minneapolis, for a City Pages article.  The highlight of all of the delightful food I sampled that day was the black cocoa budino.  It was bittersweet and complicated, and it was made by Steve Brown, a James Beard-award winning chef who's been a major influence in the Twin Cities dining scene.  From a professional standpoint, it was very cool to eat something that I watched someone I admire prepare in front of my eyes. 
4. Chocolate croissant from Black Walnut Bakery
A PR rep I had a meeting with at Spyhouse Coffee Roasters treated me to a chocolate croissant from Black Walnut Bakery, which supplies the baked goods to all of the Twin Cities chain's locations.  I have very strong feelings about chocolate croissants, and previously the only one that's lived up to my expectations was the version from Boulder's Piece, Love & Chocolate.  While Black Walnut's take isn't quite at that level, it's very, very good, with ethereal layers of buttery pastry and a slightly oozy chocolate center.
5. Pommes frites at Meritage
As I mentioned in my post about excellent fries in the Twin Cities, the pommes frites at St. Paul's Meritage are my favorite.  This year they were also part of one of the best nights out I've ever had.  I was all dolled up from a Grinkie Girls photo shoot, and eating fries and sipping a fruity cocktail at the restaurant's elegant bar felt like being in the movie version of my life.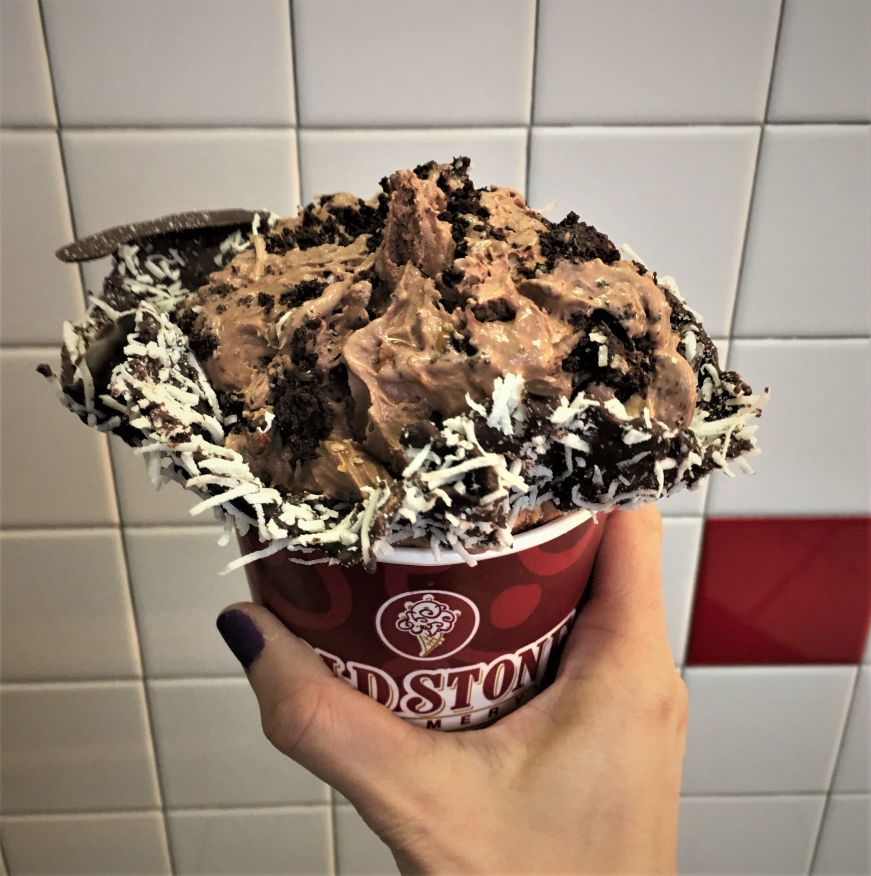 6. Germanchökolätekäke in a coconut waffle bowl at Cold Stone Creamery
Yes, Cold Stone Creamery is a national chain.  Yes, they serve ice cream in huge portions that inspires much pearl clutching from the food police.  Yes, a "Germanchökolätekäke" sundae is a cringe-worthy name if you have any knowledge of the German language.  But sometimes, when you're going through a rough patch, eating a "sensible" portion of dessert isn't going to give you the soothing escape that you need.  Sometimes eating vast quantities of sugar and fat is comforting, and fun, and it will make you feel better.
And if it involves chocolate ice cream, a chopped up brownie, pecans, caramel, and coconut, it will be downright delicious, too.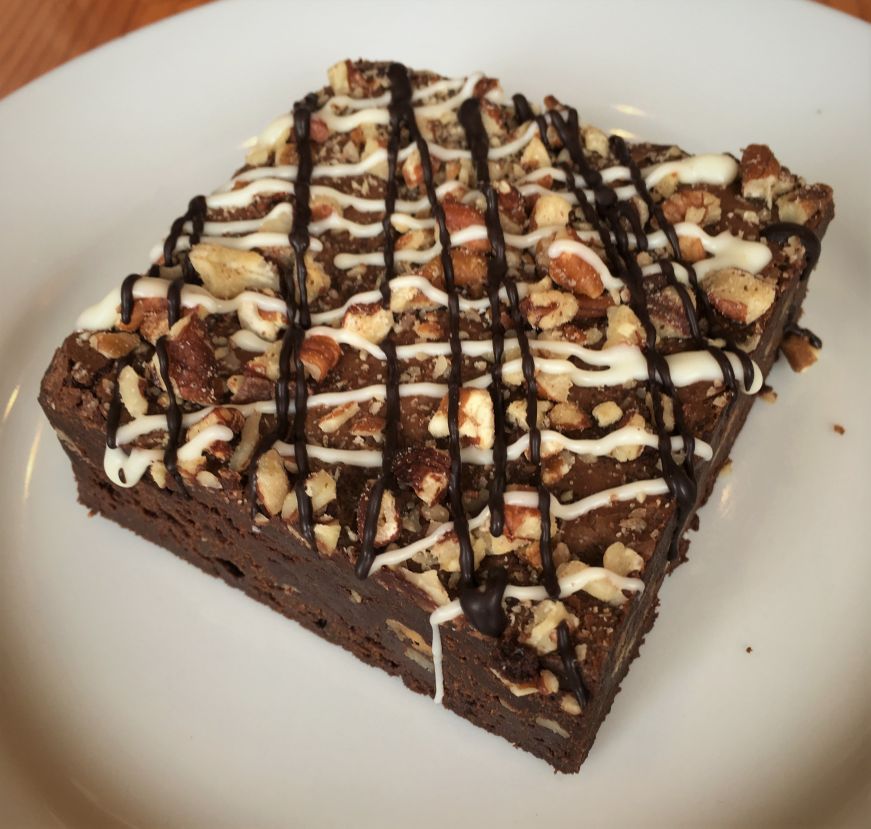 7. Caramel pecan brownie at The Buttered Tin
I had a powerful craving for chocolate after an event in downtown St. Paul, so I rolled in to The Buttered Tin twenty minutes before closing for one of the best brownies of my life.  It was smooth and chocolatey, more like a flourless chocolate torte than a traditional brownie, with plenty of pecans and caramel to add an extra level of dessert bliss.  Sure, it's big enough to feed two (or three), but I wanted it all for myself—and for a mere $3, it was truly a bargain.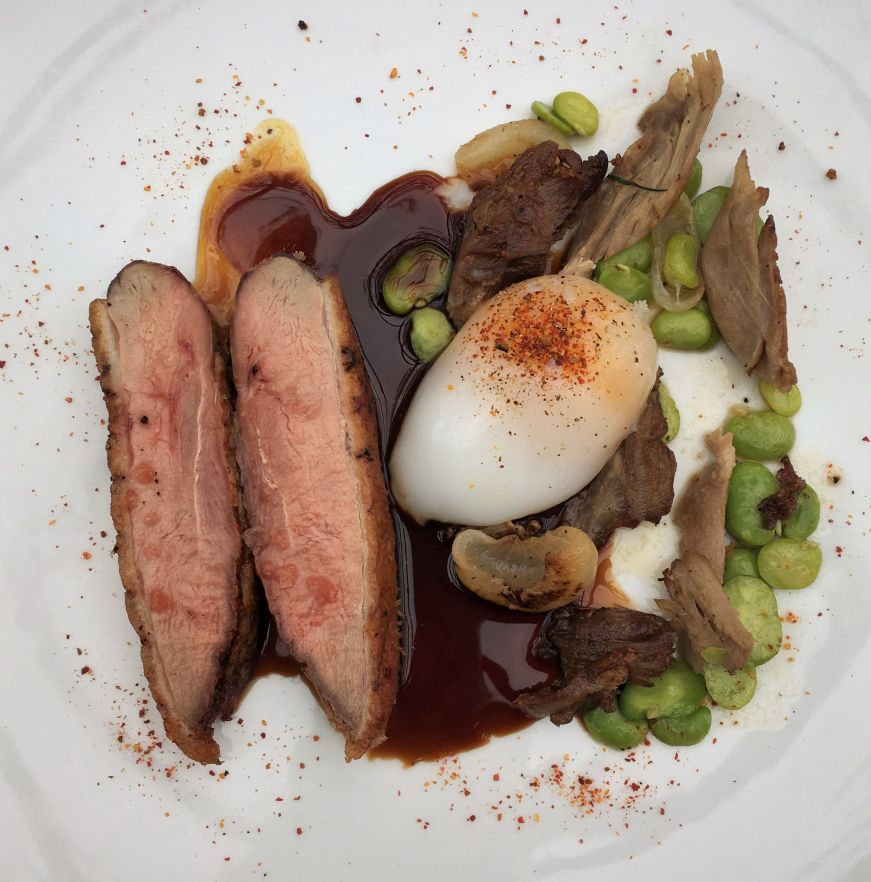 8. Wild Acres duck breast at Bardo
Bardo is a fine dining restaurant in Northeast Minneapolis where the food is edible art.  It looks lovely on the plate, and then you take a bite and are treated to a symphony of flavors.  At a media event, I got to sample the duck breast entree: juicy slices of duck breast paired with slivers of duck confit, a poached duck egg, and a vibrant sauce.  Duck isn't typically something that I order, but I found myself going back for a second and then a third bite—it was a truly sensual dish.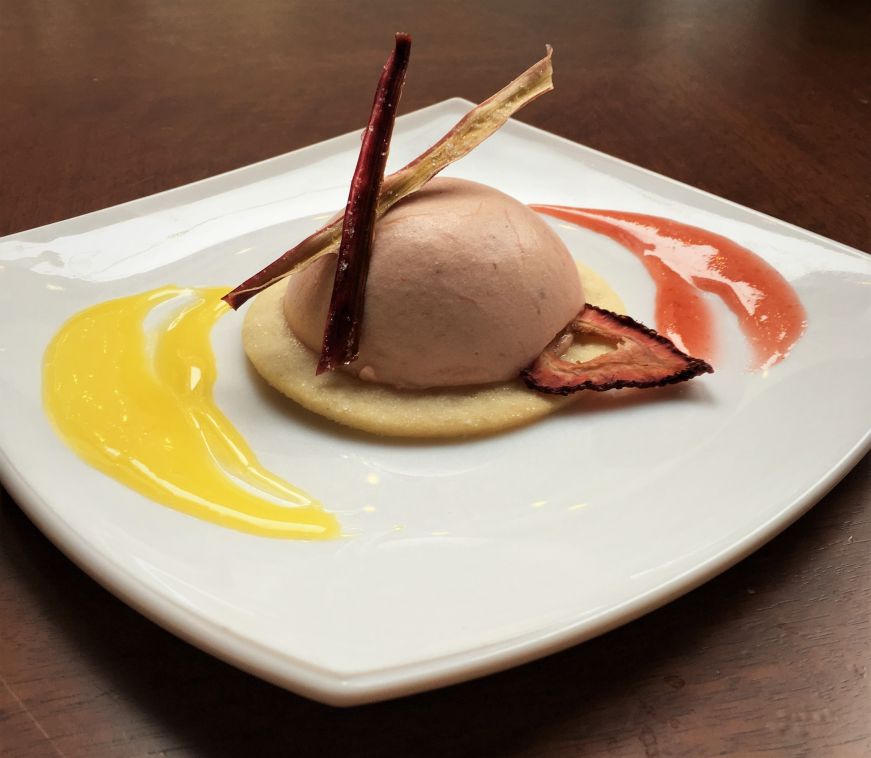 9. Rhubarb dessert at Fhima's Minneapolis
Another restaurant that I visited during a media event, Fhima's Minneapolis is a downtown Minneapolis restaurant that specializes in French and Moroccan cuisine.  Their dessert menu changes seasonally, and last spring it included a dome of rhubarb mousse served on a very thin, crisp shortbread crust.  Rhubarb is usually used in heartier baked goods, but this was tangy and light, with the freshness of a spring day.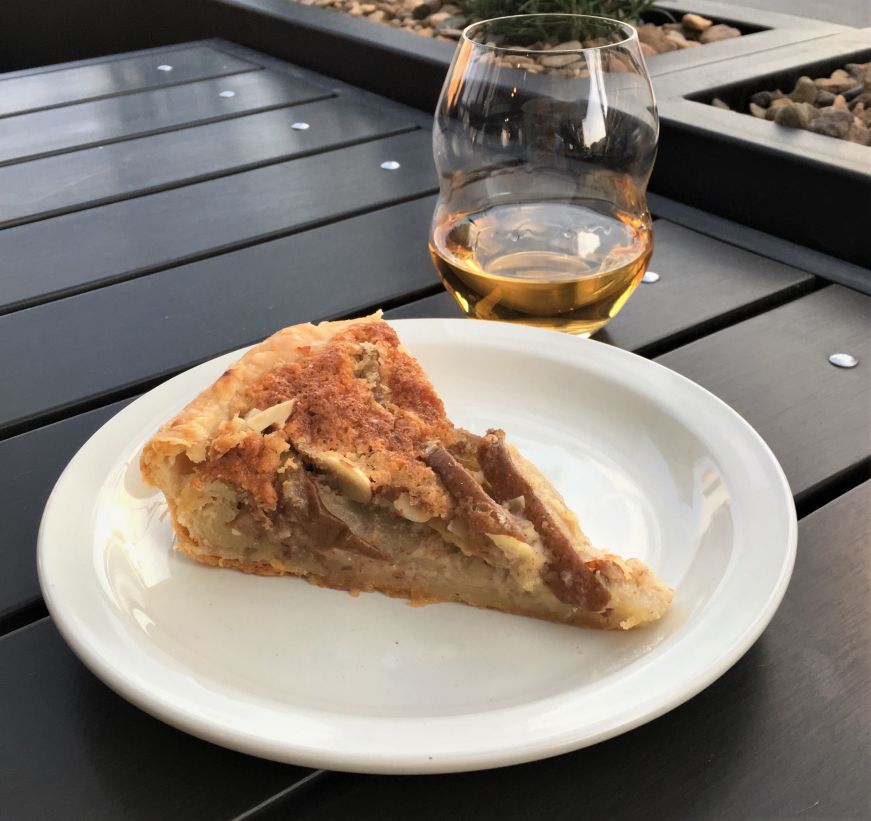 10. Pear ginger frangipane tart at Anima Cucina
During my hosted stay in Bismarck, North Dakota, I treated myself to dessert at Anima Cucina, an Italian wine bar.  The filling of my pear ginger frangipane tart had such a satisfying texture and unique flavor.  Then there was the crust: a very thick fold of puff pastry edge that was nirvana for someone who will happily eat plain pie crust straight from the oven.  The port that my server recommended was the ideal pairing, and I felt so self-assured and confident as I savored my dessert on the sidewalk patio.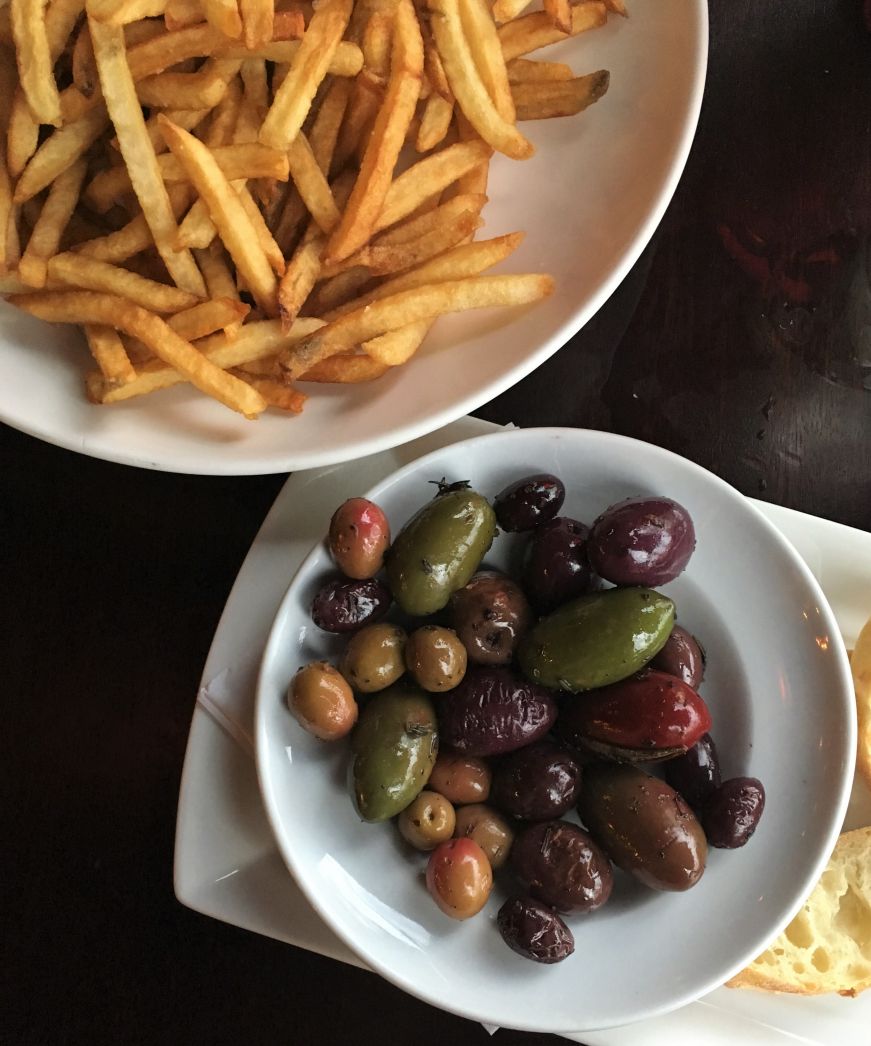 11. Olives at Barbette
I've wanted to check out happy hour at Barbette for awhile—it's a French restaurant in Uptown Minneapolis known for its fries.  While the pommes frites are excellent (and made my roundup of favorite fries), the dish of assorted olives stole the show.  They're served warmed, and each variety has its own rich and unique flavor.  Added bonus?  A few fresh slices of baguette on the side.
12. Olive sourdough from Rose Street Patisserie
When I visited Rose Street Patisserie's St. Paul cafe for a press preview, they sent me home with a loaf of olive sourdough.  It had been baked a few hours before and was studded with salty, savory olives that were perfect with the bread's chewy, baguette-like texture.  I ate almost the entire loaf over a 24-hour period, and I have no regrets.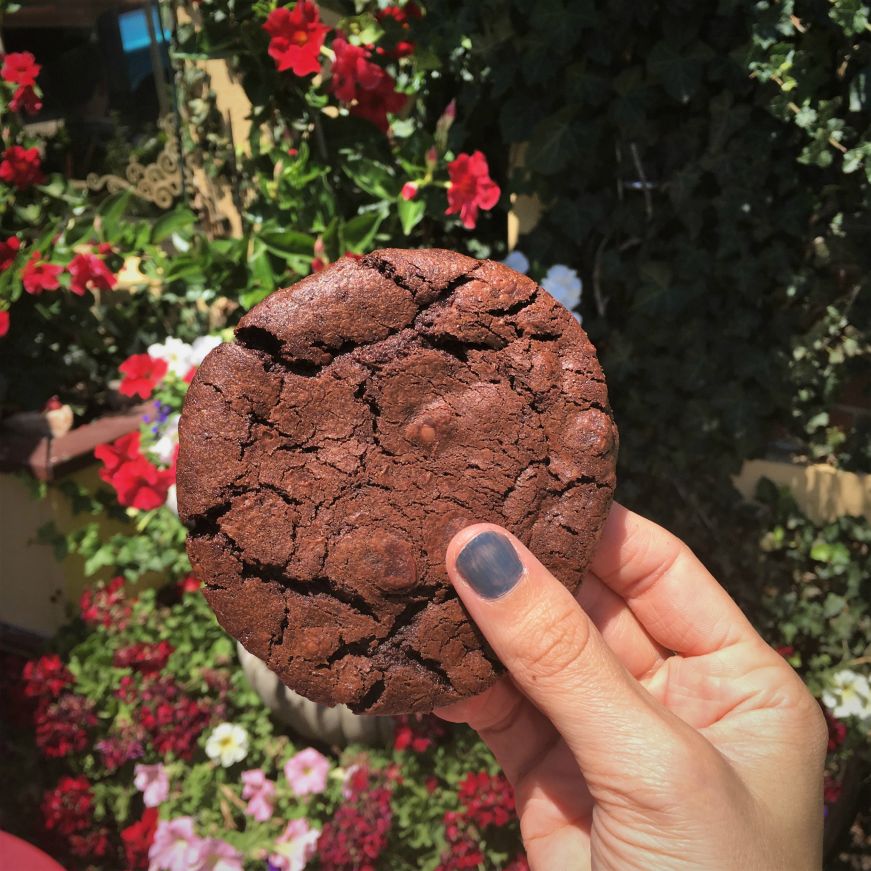 13. Triple chocolate cookie at Piece, Love & Chocolate
Mike and I have made many trips to Boulder, Colorado to visit family, and we always schedule a stop (or two) at Piece, Love & Chocolate.  My go-to is the chocolate croissant, but on this trip I tried the triple chocolate cookie.  It's made with a dark, high quality cocoa, and texture was perfect: crackling on outside, with an interior so soft that it tasted like it was fresh from the oven.  As I ate it at a sidewalk table surrounded by flowers, the bittersweet chips melted slightly, and it was a chocolate lover's dream come true.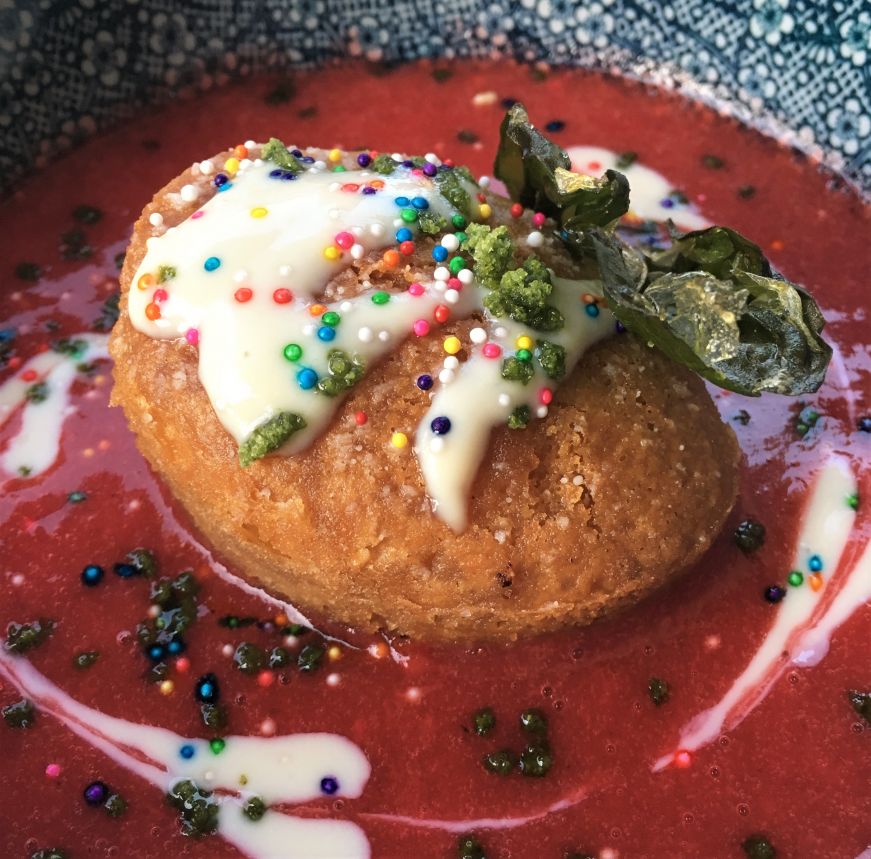 14. Sympathy for the Strawberry at Tongue in Cheek
As you may have gathered from the previous entries on this list, I prefer my desserts to be very rich and chocolaty.  When I did the Herbivore tasting menu at Tongue in Cheek in St. Paul, I was initially disappointed by the description of my dessert: a strawberry gazpacho with a fried vanilla cake, swirl of vegan yogurt, and basil garnish.  But then I took a bite, and was treated to a soup was so intensely flavored that it tasted like eating strawberries in a you-pick field on a warm summer day.  The cake was excellent as well, like a well-made donut fresh from the deep fryer.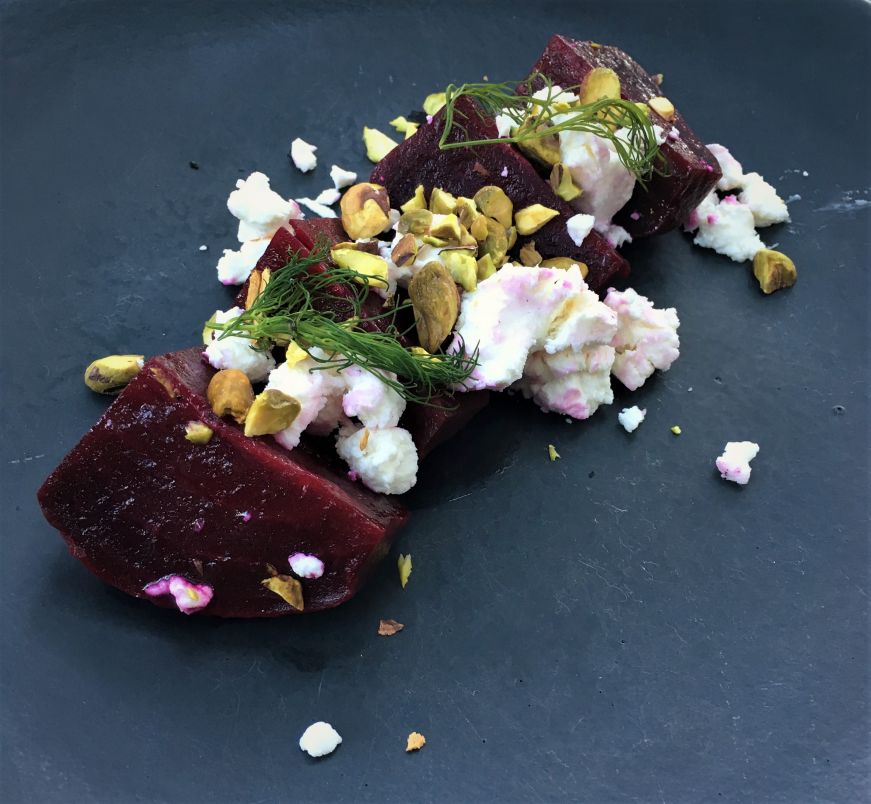 15. Smoked beets at W.A. Frost and Company
For the past four years, Mike and I have celebrated our anniversary by doing the tasting menu at St. Paul's W.A. Frost and Company.  He orders the standard version, I get the vegetarian option, and then we spend three hours on the patio savoring our food and each other's company.  This year, the standout was a dish of smoked beets and goat cheese.  The intense smokiness of the beets was tempered with a vanilla vinaigrette (it was interesting to enjoy an ingredient that's usually reserved for desserts in a savory dish) and the goat cheese had a fresh and rich creaminess I hadn't experienced before.
16. Mole ice cream at Borough
At a press preview, I got to try several items on the new menu at Borough in Minneapolis' North Loop, and my favorite was the mole ice cream.  It was similar to the classic fried ice cream dessert at your neighborhood Mexican restaurant, but each component had been kicked up a few notches.  The mole ice cream was a delicate balance of savory and sweet; there was a butternut cream sauce with a rich caramelized flavor; and the tiny bits of cinnamon toast crunch were made from scratch.  Usually I'm not a fan of splitting desserts, because it leaves me feeling unsatiated .  But in this case I felt like I had enough, not because it was a huge portion but because each bite was so complex and satisfying.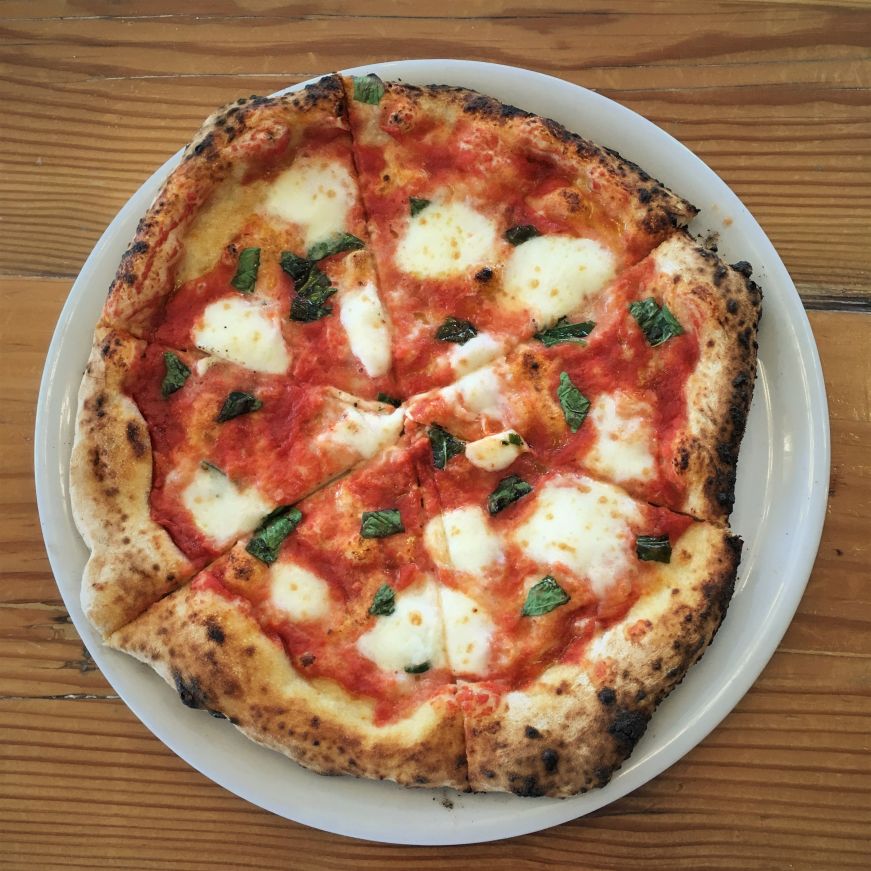 17. Margherita pizza at 1889 Pizza Napoletana
I wrote a whole blog post about making my own margherita pizza at 1889 Pizza Napoletana during my hosted stay in Kansas City, Kansas.  Maybe there's an element of pride in my own work, but it really was an amazing pizza.  The crust was the perfect balance of chewy and crispy, with extra flavor from a five-day rising period in the refrigerator.  The mozzarella was very fresh, and I got to add as much as I wanted.  Did I need to eat the whole thing?  No, but I'm so glad I did.
18. Butter mochi from Hilo Farmers Market
One of the highlights of our stay in Hilo, Hawaii was the Hilo Farmers Market, especially the big market days that feature prepared foods in addition to tropical produce.  I love the unique squishy texture of mochi, a Japanese  cake made with rice flour.  The homemade version I bought from a vendor had been baked in a sheet cake pan and was sold in six-inch strips, and it was delightfully buttery and extra bouncy.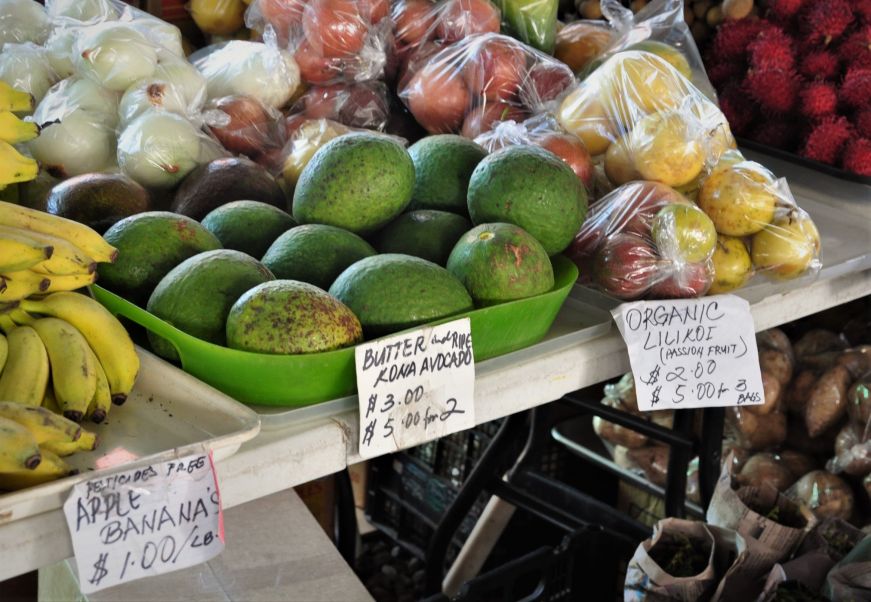 19. Fresh avocados in Hawaii
Despite my millennial status, I've never really gotten the whole avocado phenomenon.  Sure, guacamole is great, but I'm not going to pay extra to add avocado to my sandwich.  But then I tried a locally grown avocado in Hawaii, and it was a revelation—the texture was so smooth and satisfying.  It was like the difference between freshly-picked and grocery store strawberries, and I ate a fresh avocado for breakfast almost every day for the rest of my vacation.
20. Shave ice at Kula Shave Ice
Another culinary highlight from my time in Hilo, Hawaii was the shave ice at Kula Shave Ice, which is made with real fruit syrup and homemade toppings.  My favorite combination was my build-your-own creation with strawberry and lilikoi syrup, macadamia nut ice cream, and pieces of mochi.  The fresh fruit and nutty ice cream were perfect complements, and the mochi was almost as good as the piece I enjoyed at the farmers market earlier in my trip.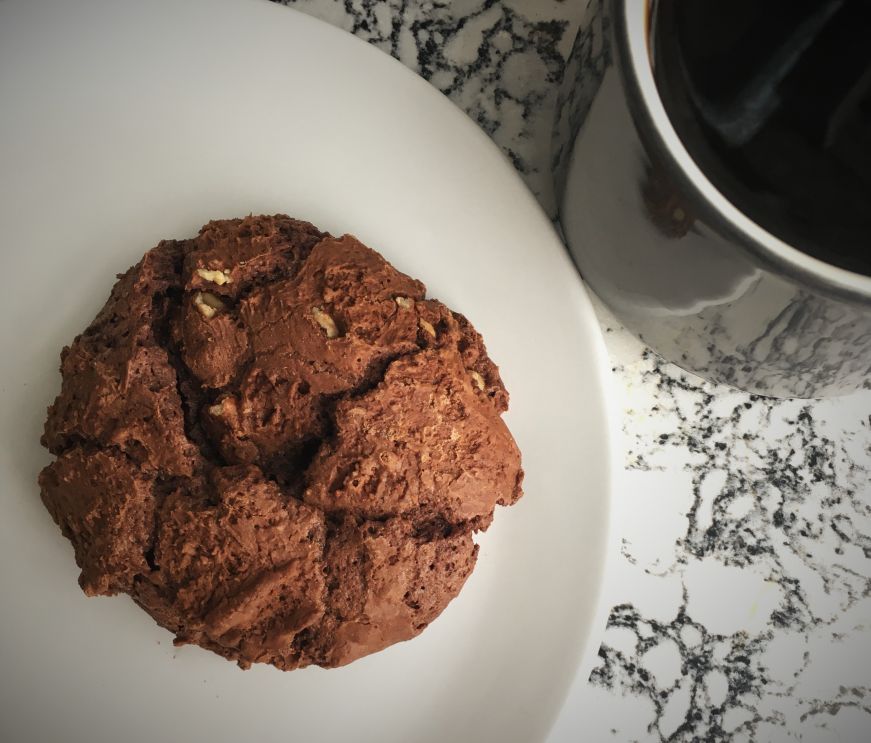 21. Flourless fudge pecan cookie at Parallel
On a very snowy Sunday morning, Mike and I made the drive to Parallel in Minneapolis' Warehouse District for our weekly coffee date.  The flourless fudge pecan cookie I ordered was perfection, with a delicately crisp exterior that yielded to a gooey center that was like a slightly underbaked brownie.  The toasted pecans added a nutty warmth that accentuated the bittersweet chocolate. 
22. Eggnog old-fashioned donut from Mojo Monkey Donuts
As a member of the media, I got an invite to Visit Saint Paul's annual Taste of Saint Paul holiday party.  There were dozens of delicious samples, and my favorite bite of the evening was an eggnog old-fashioned donut from Mojo Monkey Donuts.  It was delectably moist, and the eggnog flavor was a concentrated dose of holiday cheer.  I don't particularly like eggnog, and while donuts are good, they're not my go-to pastry—but this donut managed to be so much more than the sum of its parts.
While I'm thankful that I ate so well in 2019, I'm even more grateful for the people I got to eat with.  Thank you for your love and support, and for your patience while I took "just one more" picture of my food. 
Further reading:
Want to see more photos of what I'm eating?  Follow me on Instagram @_tangledupinfood.