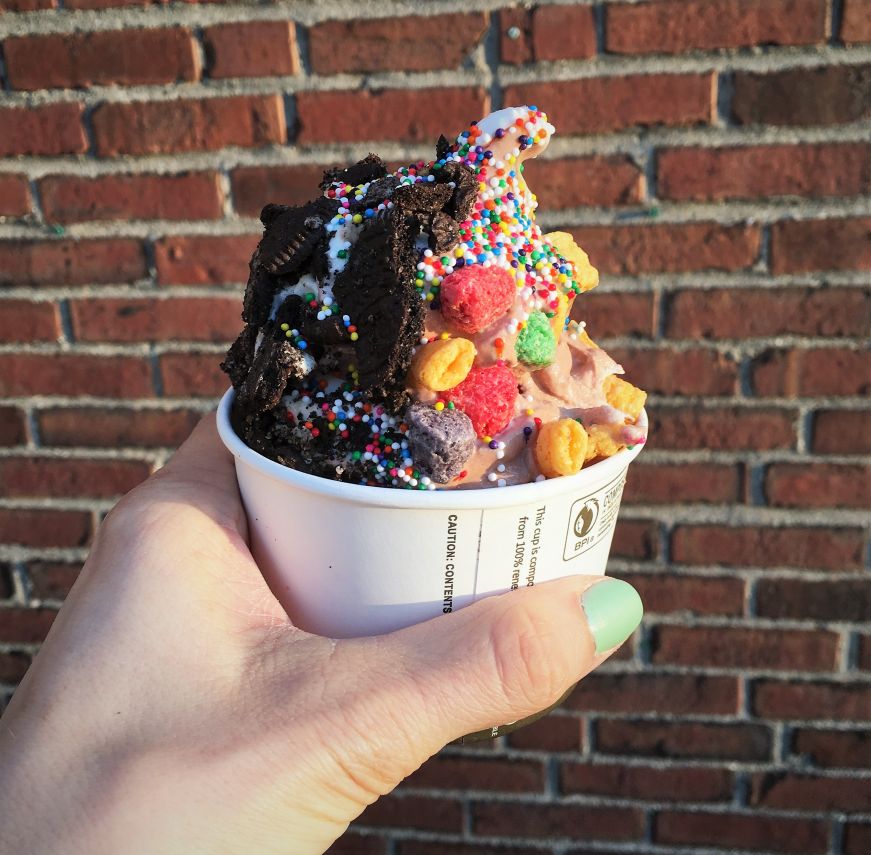 I love local ice cream shops.  I try to seek them out whenever I travel—Ample Hills Creamery in Brooklyn, Chaeban Ice Cream in Winnipeg, The Pearl Ice Cream Parlor in La Crosse, Lappert's Ice Cream in Hawaii.  At home, I tend to stick with a handful of favorites.  After all, ice cream season in Minnesota is short, and if I'm treating myself, I want to make sure it will be a cone that I love.
However, this is the year of exploring my own backyard (whether that's a day trip to Red Wing or a local distillery tour).  In the interest of research, it was time to broaden my Twin Cities ice cream horizons.  I checked out three new-to-me ice cream shops: St. Paul's Cold Front and La La Homemade Ice Cream and Minnesota Nice Cream in Minneapolis.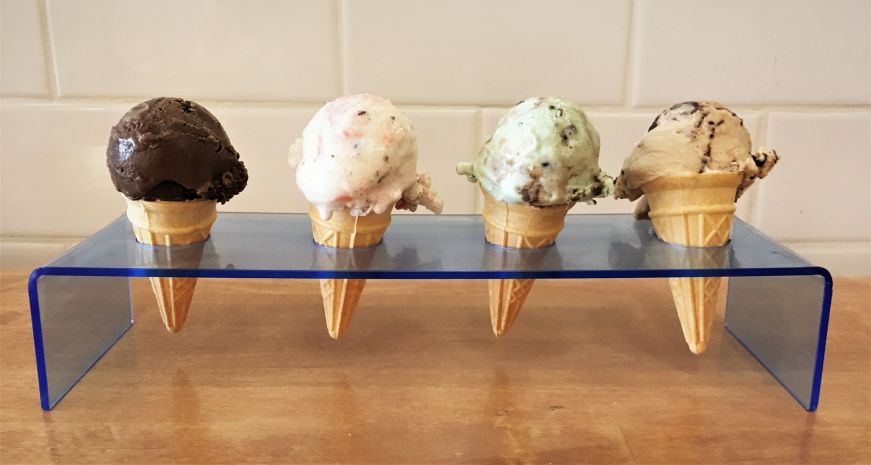 The spot: Cold Front
The scoop: Open since 2015 and located in St. Paul's Hamline neighborhood, Cold Front is an updated version of a classic soda fountain.  The rotating selection of super-premium ice cream is sourced from Madison's Chocolate Shoppe Ice Cream; during our July 2018 visit, flavors ranged from the brilliantly (and artificially) hued Superman to the adult-friendly Exhausted Parent (bourbon-spiked espresso ice cream with bittersweet chocolate chunks).  Handcrafted sodas are offered in unique flavors like pomegranate ginger, orange beetroot, and strawberry balsamic, plus standard cola, cherry, grape, orange, and lime, and there's a handful of soda drinks and floats.  The menu also features espresso drinks, organic teas, and baked goods.
Ice cream can be ordered by the cone or cup, or as a sundae, milkshake, or malt.  The shop also offers an adorable "Snowball Flight" of four mini cones.
The verdict: I couldn't resist the cuteness factor of the mini cones, so I opted for a flight of Zanzibar Chocolate (made with three kinds of cocoa), Kitty Kitty Bang Bang (cheesecake ice cream with a sweet raspberry, Oreo, and chocolate chunks), Mint Avalanche (mint ice cream loaded with Andes mints, Grasshopper cookies, and chocolate fudge), and This $&@! Just Got Serious (salted caramel ice cream sea salt fudge and cashews).  I appreciated the portion size—it was nice to try several different flavors without having to order a large amount of ice cream.  However, it was definitely tricky to simultaneously keep four cones from dripping, and the cones themselves were disappointingly bland.
While I enjoyed my flight flavor selections, some of the other ice cream flavors were disappointingly one-note.  Mike's Exhausted Parent cone mostly just tasted like bourbon and was a bit much after a few bites.  I had high hopes for my sample taste of Yippee Skippee (peanut butter ice cream with salted caramel ripples, brownies, and chocolate-covered pretzels), but the caramel and chocolate add-ins were overwhelmed by the nuttiness of the ice cream.
Cold Front has a friendly neighborhood vibe, complete with a community bulletin board full of hand-lettered signs advertising babysitting services.  It's a decent option if you're in the neighborhood on a hot day—or if you can't resist the siren call of the mini cone flight—but the ice cream isn't particularly notable.  It's tasty, but more akin to something you'd purchase at the grocery store than the housemade flavors at my favorite Twin Cities ice cream shops.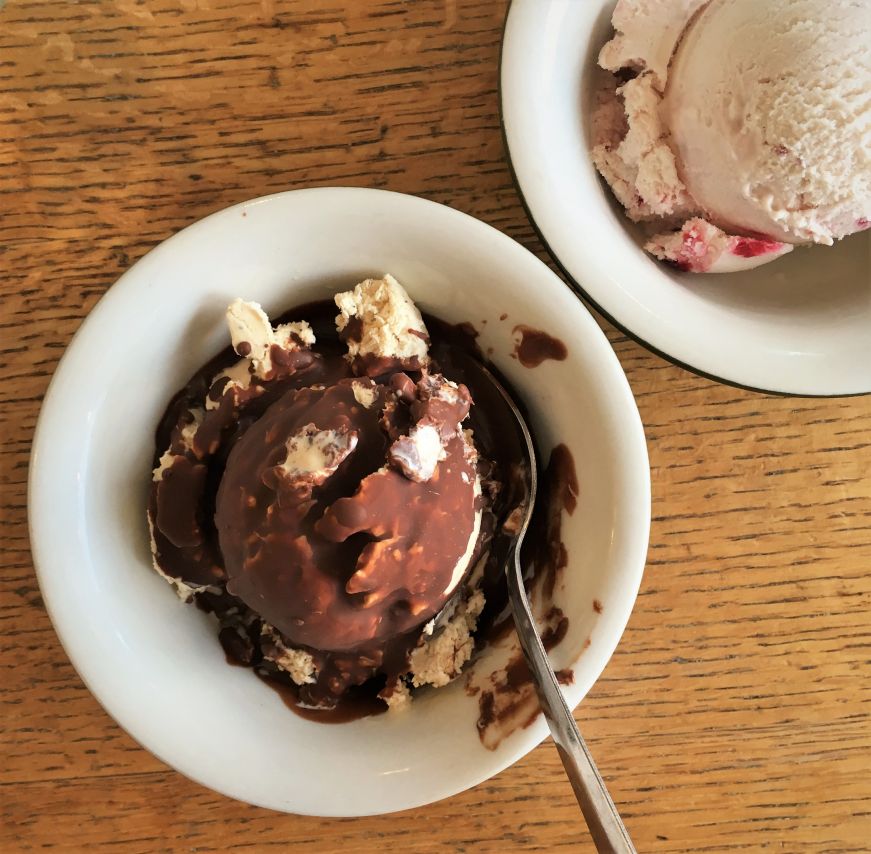 The spot: La La Homemade Ice Cream
The scoop: La La Homemade Ice Cream has been serving up premium ice cream made with high quality and often locally-sourced ingredients since 1993.  Located in an Uptown Minneapolis storefront, the ice cream shop has an old-fashioned ice cream parlor feel, with vintage mirrors behind the counter, bistro tables, and a soda fountain with over a dozen flavors of housemade sodas.  Ice cream flavors rotate seasonally—the menu during our June 2018 visit included fruit forward-flavors like rhubarb, fresh strawberry, and lemon berry; unique options sweet basil vanilla, peanut butter cup, and marzipan chip; and classic chocolate, vanilla, and mint chip.  Sixteen flavors are available at a time, which includes vegan and dairy-free options.
Ice cream can be ordered by the cone or cup, and there are also sundaes, floats, and tasting platters of mini scoops with sauces and toppings.  In addition, the shop serves housemade cookies, brownies, pie, cake, and espresso drinks, with a few gluten-free options for the baked goods.
The verdict: I ordered a single scoop of raspberry honey, and Mike ordered a scoop of cappuccino with chocolate shell.  The raspberry honey was loaded with fresh raspberries and was especially refreshing on a hot day; the cappuccino had an intense coffee flavor and paired particularly well with the chocolate shell (not sure if it's made in-house, but the shell had a much richer cocoa flavor than versions I've tasted elsewhere).  I also enjoyed a sample of the rhubarb ice cream, which captured the flavor of fresh rhubarb and didn't overwhelm it with sweetness.  On the other hand, I found my sample of Charlotte's Web (vanilla ice cream with toasted coconut and chocolate chip) to be strangely lacking in flavor, and Mike was likewise unimpressed with the vanilla.
We appreciated that ice cream is served in ceramic bowls with metal spoons—it made our ice cream feel like more of a treat, and encouraged us to sit down and savor it.  The reusable dishes are also better for the environment, and I noticed that the shop also uses wooden spoons instead of plastic for samples and places reusable glass bottles of water and tumblers on the tables.
Although it doesn't quite make my list of all-time favorite Twin Cities ice cream shops, my raspberry honey ice cream was delicious and I liked that it was served in a ceramic bowl with silverware.  La La Homemade Ice Cream has a timeless feel that I really enjoyed, between the shop's atmosphere and the nice balance of seasonal, creative, and classic flavors.  I'd recommend stopping by for a scoop.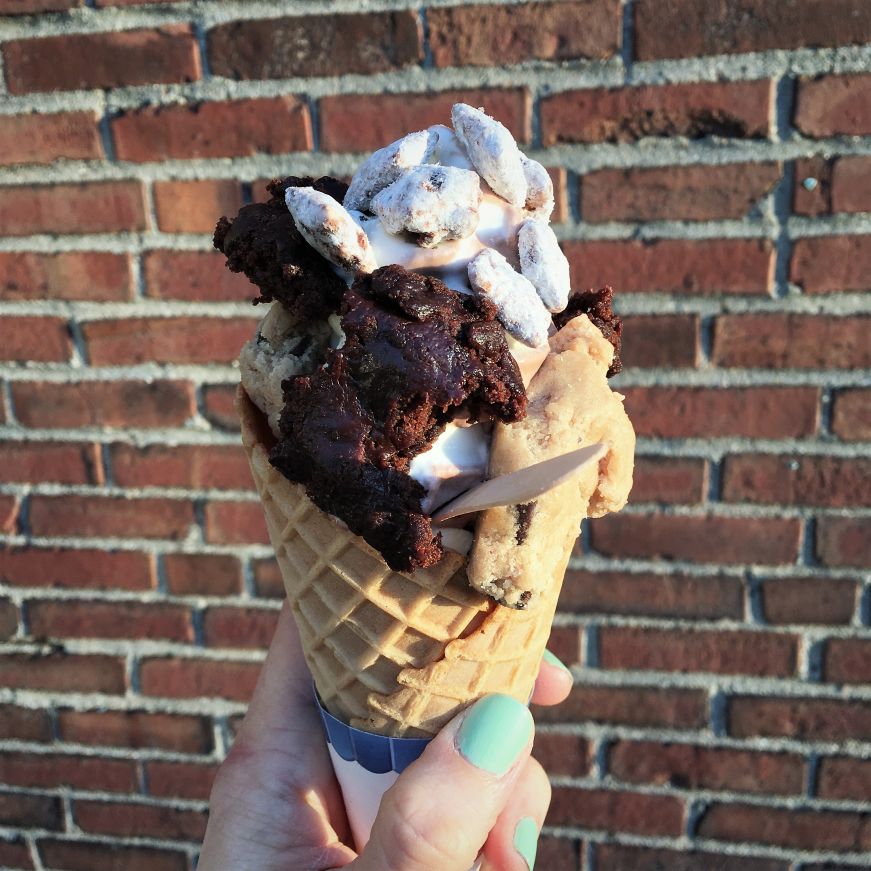 The spot: Minnesota Nice Cream
The scoop: A newcomer to the Twin Cities ice cream scene, Minnesota Nice Cream launched as a food truck in March 2016 and expanded to a brick-and-mortar location in Northeast Minneapolis in March 2018.  They offer three flavors of soft serve (vanilla, chocolate, and twist) plus a vegan option (strawberry during my April 2018 visit).  Ice cream can be ordered by the waffle cone or dish.  What makes Minnesota Nice Cream unique is that you get to customize your ice cream with your choice of three toppings, which range from the classic (fudge, caramel, sprinkles, nuts, strawberries, bananas) to decadent (cookie dough, brownies, Oreo, puppy chow) to wacky (bacon, popcorn, gummy worms, edible glitter).  You can also opt for one of the signature combos.
The cafe also serves coffee.  Indoor seating is limited, so we took our cones to the picnic tables outside the nearby Able Seedhouse + Brewery taproom.
The verdict: I opted for a twist soft serve waffle cone with cookie dough, brownies, and puppy chow, and Chad ordered twist soft serve in a dish with Oreo, Cap'n Crunch, and sprinkles.  The soft serve was excellent—very creamy, with a particularly pronounced chocolate flavor—and the toppings paired well with the ice cream.  I was especially impressed with the flavor of the cookie dough, and Chad liked the Cap'n Crunch (it seems weird, but the texture did actually work with soft serve).
Here's the problem: topping-encrusted soft serve is designed for Instagram-worthy photos, not ease of enjoyment.  I had to gobble down my cone before the brownies and cookie dough fell off, and the trail of toppings littering the ground outside the shop indicate that my experience wasn't an outlier.  The labor-intensive nature of poking gummy worms and balancing strawberries on top of every cone also means that your cute ice cream comes with a relatively hefty price tag.  After tax and tip, it set me back almost $8.
It was worth checking out Minnesota Nice Cream to see what all the fuss was about (and let's be honest, I wanted to get some photos for Instagram) but I'm not planning to drop another $8 on gussied-up soft serve anytime soon.
Further reading: Best Ice Cream in the Twin Cities
This post isn't sponsored—I paid for all my ice cream out-of-pocket.
If you enjoyed this post, pin it!