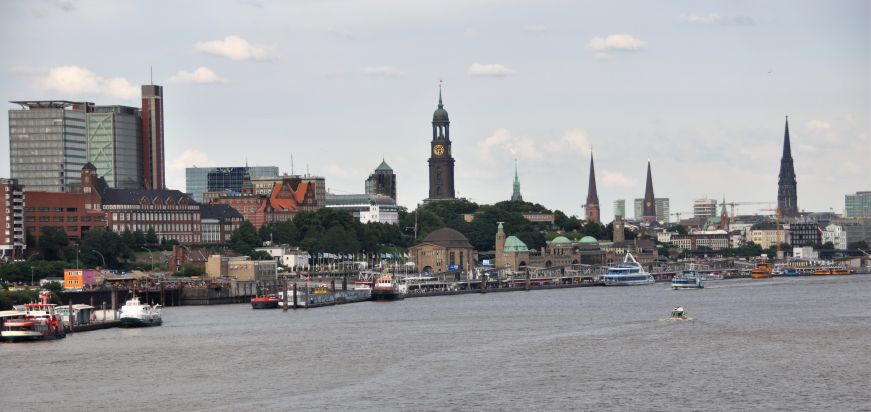 Hamburg is Germany's third-most visited city, hosting nearly seven million overnight visitors per year.  However, relatively few of these tourists are from the United States.  Maybe it's because Hamburg lacks the storybook charm of Bavaria, or maybe it just doesn't have the name recognition of Berlin.  Whatever the reason, I was also guilty of overlooking the city—but when I finally visited on my fourth trip to Germany, I wished that I had discovered Hamburg sooner.
We only had 48 hours in Hamburg, a quick visit before we embarked on our Norwegian cruise.  That gave us enough time to experience the city's main attractions and explore the harbor, Speicherstadt warehouse district, city center, Schulterblatt neighborhood, and Reeperbahn.  Wondering how to make the most of your own trip to Hamburg?  Check out our itinerary below.
Friday
1:30 pm—We arrived at the Hamburg Airport in the early afternoon and grabbed lunch at Marché Restaurant, a cafeteria-style restaurant with a decent salad bar, freshly baked bread, and various hot entrees like sausages, pizza, and potatoes.  It was easy 30-minute train ride on the S1 to get to the city's main train station.  From there, we took the U3 subway line to St. Pauli and wandered around a confusing six-way intersection until we finally figured out the correct direction to walk to find our hotel.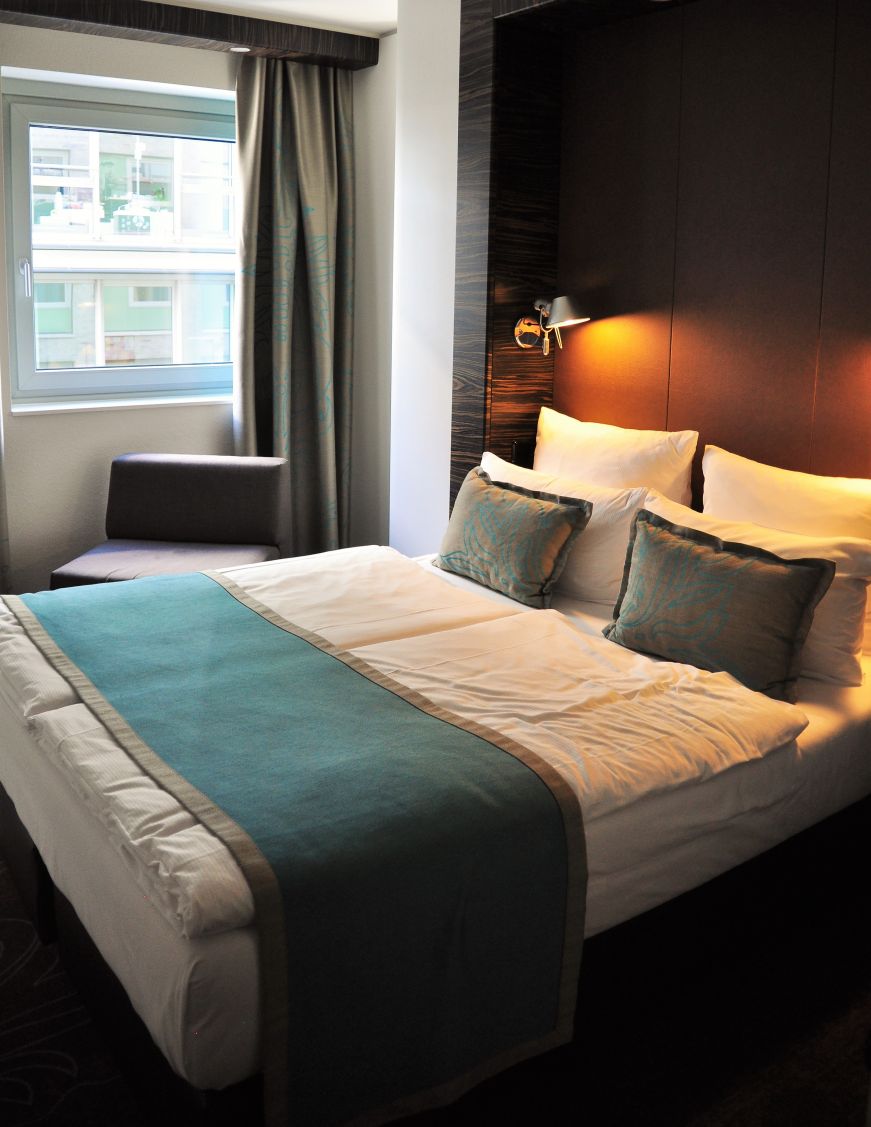 3:30 pm—We eventually located our hotel, the very sleek and modern Motel One Hamburg am Michel.  The location is excellent, about a half mile from the harbor, and there's a chic gin bar in the lobby. 
Our room was fairly budget-friendly for Hamburg (about $105 per night), and while small, contained a small writing desk with a stool as well as an armchair.  Storage was limited to narrow built-in shelves on one side of the bed and a clothes bar with a few hangers—our American-sized suitcases were definitely a tight fit.  The free WiFi was reliable and I appreciated the room's USB charger ports (no need for European plug adapters to charge my phone!)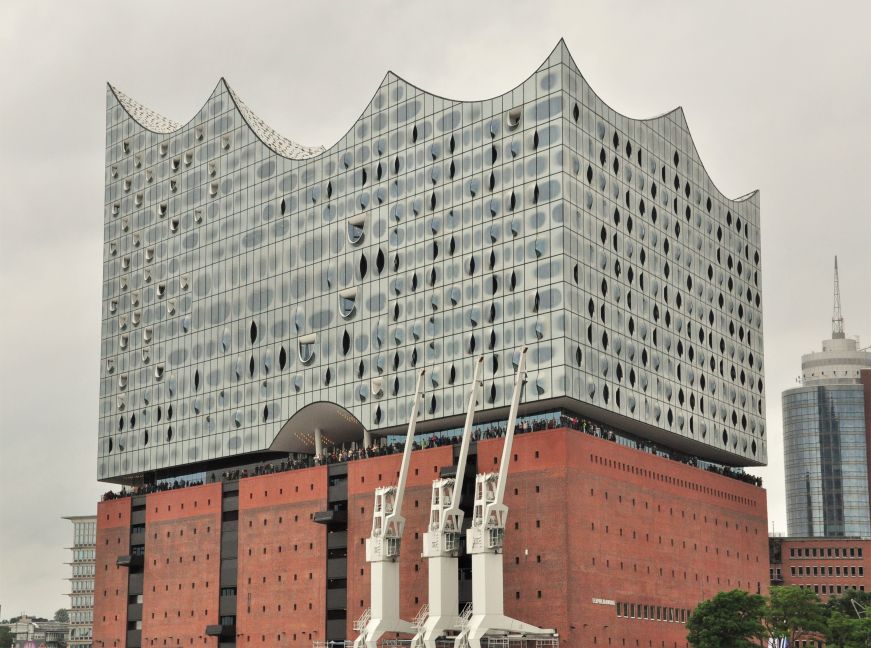 4:30 pm—After settling into our room, we headed out to explore Hamburg's revitalized harbor.  The headliner attraction is the Elbphilharmonie Concert Hall, which was completed in 2016, several years behind schedule and a whopping €700 million over budget (about $870 million).  We didn't go inside (advance tickets are required—you can get the details from the Elbphilharmonie's website) but we were struck by the building's large scale (360 feet tall and 360 feet long) and innovative design, which is supposed to evoke a steamer ship.
Hamburg's harbor has a very touristy, slightly tacky feel—think cheap souvenir kiosks, living statues hustling for change, and harbor tours where the beer is flowing.  The crowds are almost exclusively German; there were very few fellow Americans and the occasional Brit.  Bachelorette parties wander through the streets all day long, small groups of women in matching t-shirts and sensible shoes towing small carts loaded with beer and wine (this frugality seemed very German).
I enjoyed wandering through the Speicherstadt—a district of historic brick warehouses converted into offices and condos, crisscrossed by canals and pedestrian bridges laden with love locks.  The other highlight of Hamburg's harbor is the St. Pauli Elbtunnel, a quarter-mile long tunnel 40 feet beneath the Elbe River.  Completed in 1911, it was originally used by shipyard workers to commute to jobs on the other side of the river.  Today, it's used by cars, bicycles, and pedestrians, although it's very narrow, with a single traffic lane in the center and sidewalks on either side.  There's a nice view of the harbor from the other side of the river.
6:30 pm—We crossed back under the Elbe for dinner at Blockbräu (website in German only), a huge beer hall housed in the pier terminal building.  Beer is brewed on-site, and English menus are available.  The first floor has traditional beer hall seating, with long tables and an accordion player.  The second floor is more sedate, with smaller tables, and there are also outdoor rooftop tables on the terrace with harbor views.  Note that smoking is allowed on the terrace, so sit inside if that's a concern.
Menu options include salads; sausages; fish, beef and pork entrees; soups; and some vegetarian options.  The fare is lighter than the food served in Bavarian beer halls: think potato-leek soup and herring in lieu of cheese spätzle and pork knuckle.  I ordered a tossed salad with a housemade vinaigrette and the bread basket, which featured a tangy, grainy rye and soft pretzels baked in-house and still warm from the oven.  Mike tried the wurstsalat (sausage salad): sliced cold cuts and onion tossed in dressing and served with pickles and a pretzel.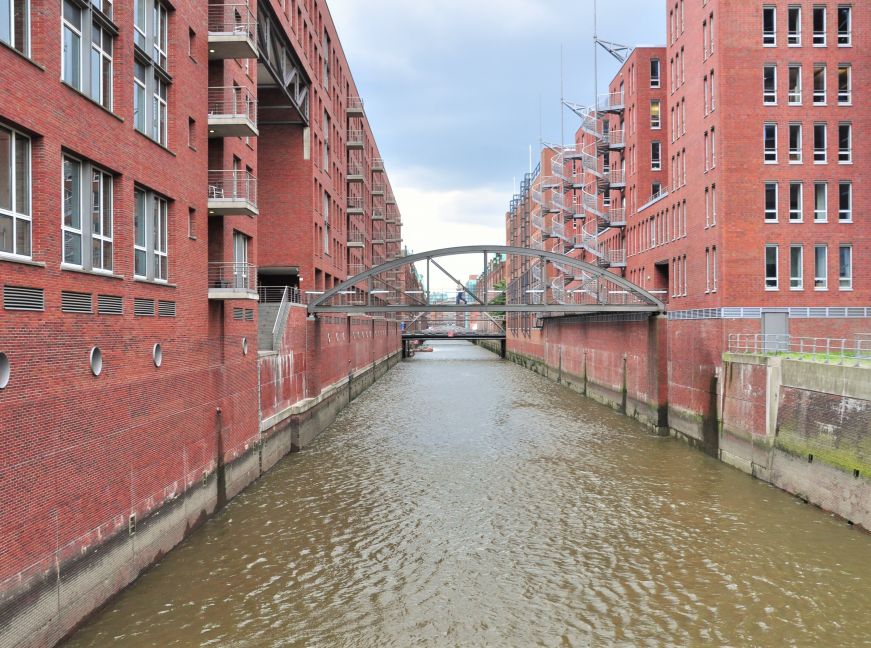 Saturday
7:30 am—To save some money, we skipped the breakfast buffet at our hotel and stopped by a Schanzenbäckerei (website in German only) location near the harbor.  A local counter-service chain with ample seating areas and real china, Schanzenbäckerei offers specialty coffee and tea drinks—Mike enjoyed an excellent spiced chai—and an assortment of fresh pastries, rolls, bread, and sandwiches.  Mike picked out a nußschenke (similar to a cinnamon roll, but with nuts) and I tried a kirschplunder (cherry pastry).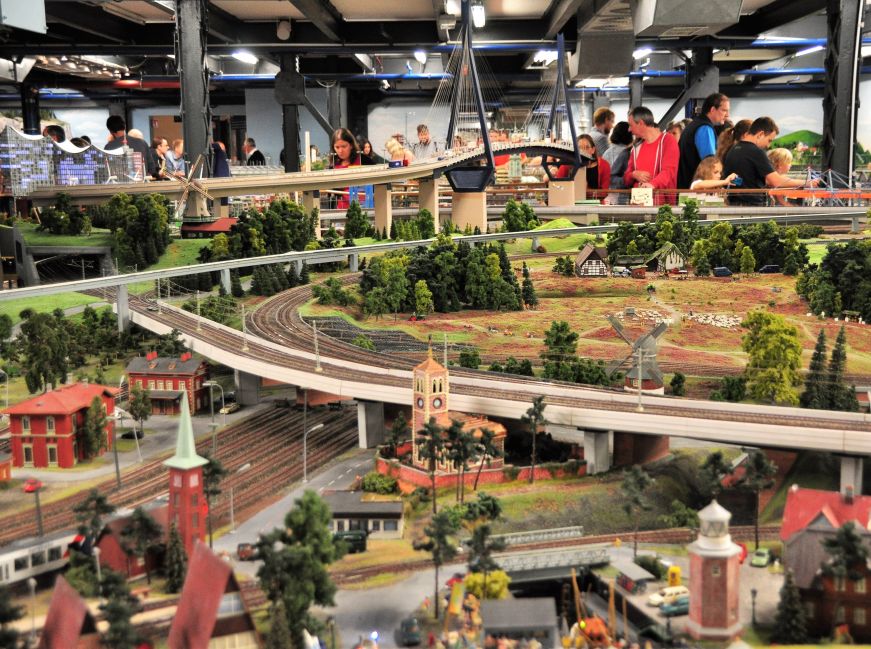 8:30 am—One of Hamburg's most popular tourist attractions is Miniatur Wunderland, which bills itself as the world's largest model railway.  The layout covers over 16,000 square feet and consists of almost 10 miles of track, over 1,000 trains, and about 385,000 tiny figures.  It's divided into themed geographical sections, including the United States, Scandinavia, Hamburg, Austria, Switzerland, and Italy.  It was interesting to see the representation of the United States from a German perspective: apparently my country boils down to Christmas lights, the Wild West, Mt. Rushmore, Las Vegas, and Miami.  "Night" falls every 15 minutes, which gives you a chance to see the layout illuminated by 500,000 LED lights.
The level of detail is incredible: there was a carnival with spinning rides, porta-potties at the concert scene, a welder fixing a bridge, lovers reuniting at train station, topless sun bathers, and a Pixar short showing on a drive-in movie screen.  You could visit dozens of times and still not take it all in.  We ended up spending about two and half hours at Miniatur Wunderland, which was a good length—by the end I was definitely feeling a sensory overload.  
Since Miniatur Wunderland is so popular, purchase or reserve advance tickets online to skip the line, which can be an hour long during peak visiting hours.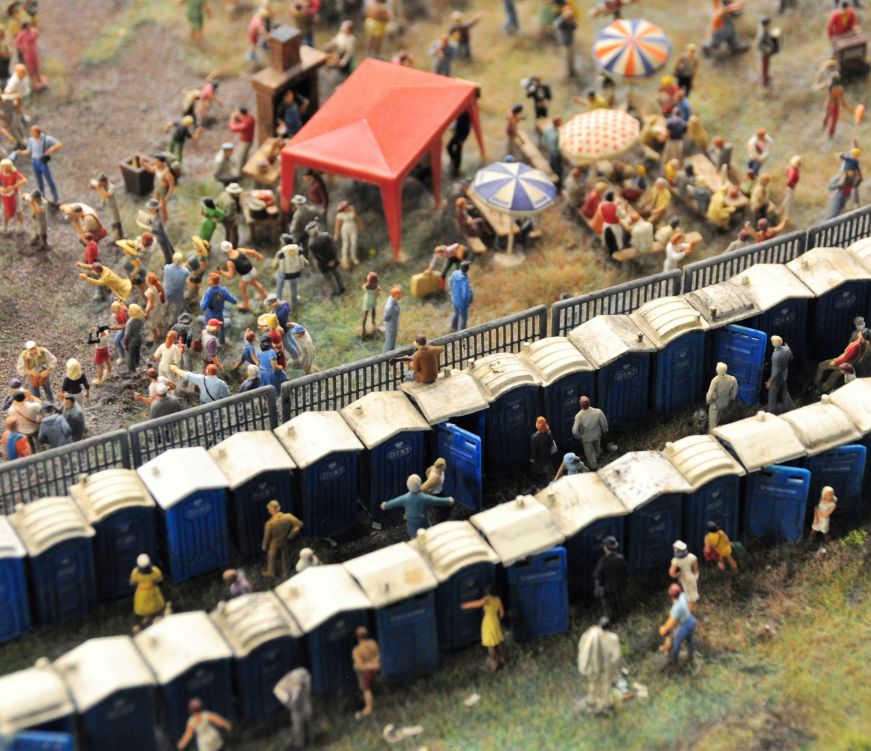 12:00 pm—Several companies offer boat tours of the Hamburg harbor, which is an industrial working port with massive container ships, cranes, and dry docks.  However, there's only one option for English-speakers: from April through October, the Rainer Abicht harbor tour at noon is bilingual, with rapid-fire German narration followed by an English translation.  There's both indoor and outdoor seating, with food and beverages available to order.  Mike found the close-up views of the container ships fascinating.  I found the rocking ship and endless recitation of harbor statistics slumber-inducing.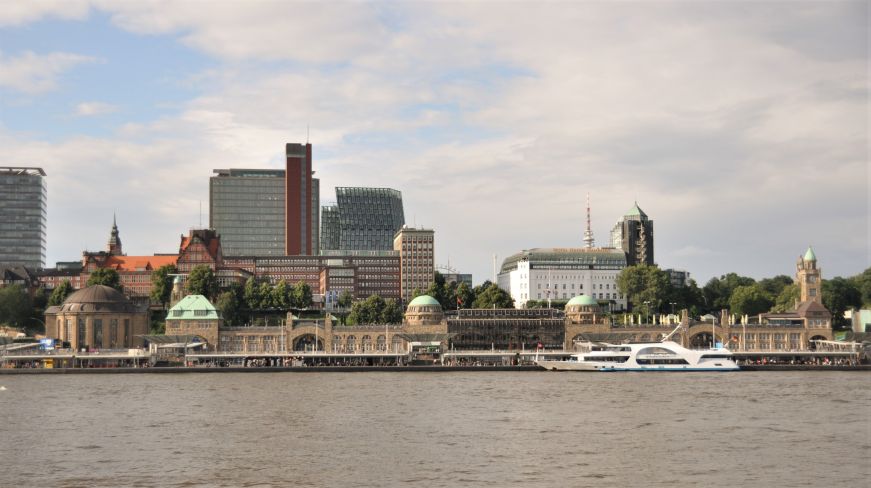 1:00 pm—After our harbor tour, we explored Hamburg's city center.  It's quite modern, with the Rathaus (city hall) dating to 1897.  It's free to enter the Rathaus entrance hall and inner courtyard. 
Since St. Nikolaikirche was undergoing restoration and wrapped in scaffolding, we skipped the church tower and museum and just explored the free memorials outside.  The church itself was destroyed during the devastating WWII firebombing.  Codenamed Operation Gomorrah, Allied bombers concentrated the attack on a relatively small area, which created a tornado of flames that reached temperatures of 1,500 degrees Fahrenheit.  In three hours, approximately 35,000 people (mostly civilians) were killed and eight square miles of Hamburg were leveled.
On a much lighter note, our next stop was ogling fancy chocolates at the Chocoversum chocolate museum gift shop (the museum looked somewhat interesting, but was a bit pricey and offered limited English tours).  We paused for a photo stop at the Chilehaus, a flatiron-style building dating to the 1920s designed to resemble a ship. 
By this point, it had started to rain, so we headed over to the Europa Passage mall to stock up on Rittersport chocolate and Haribo gummy bears at the REWE supermarket in the basement. 
Since I had a craving for some German ice cream, we stopped for dessert at Arakaden Cafe (website in German only), an elegant konditorei in the Alsterarken (a koditorei is a table-service restaurant that serves desserts, coffee, and often alcoholic beverages; the point is to linger and savor your treat).  I had a slice of himbeer-stracciatella-eistorte (raspberry and chocolate chip ice cream cake, with a walnut crust and whipped cream topping).  Mike ordered an amazing sundae with scoops of walnut, stracciatella, and vanilla ice cream, topped with meringue, whipped cream, and a shot of amaretto.  As an ice cream connoisseur, I have to say that Germany is one of my all-time favorite places to indulge.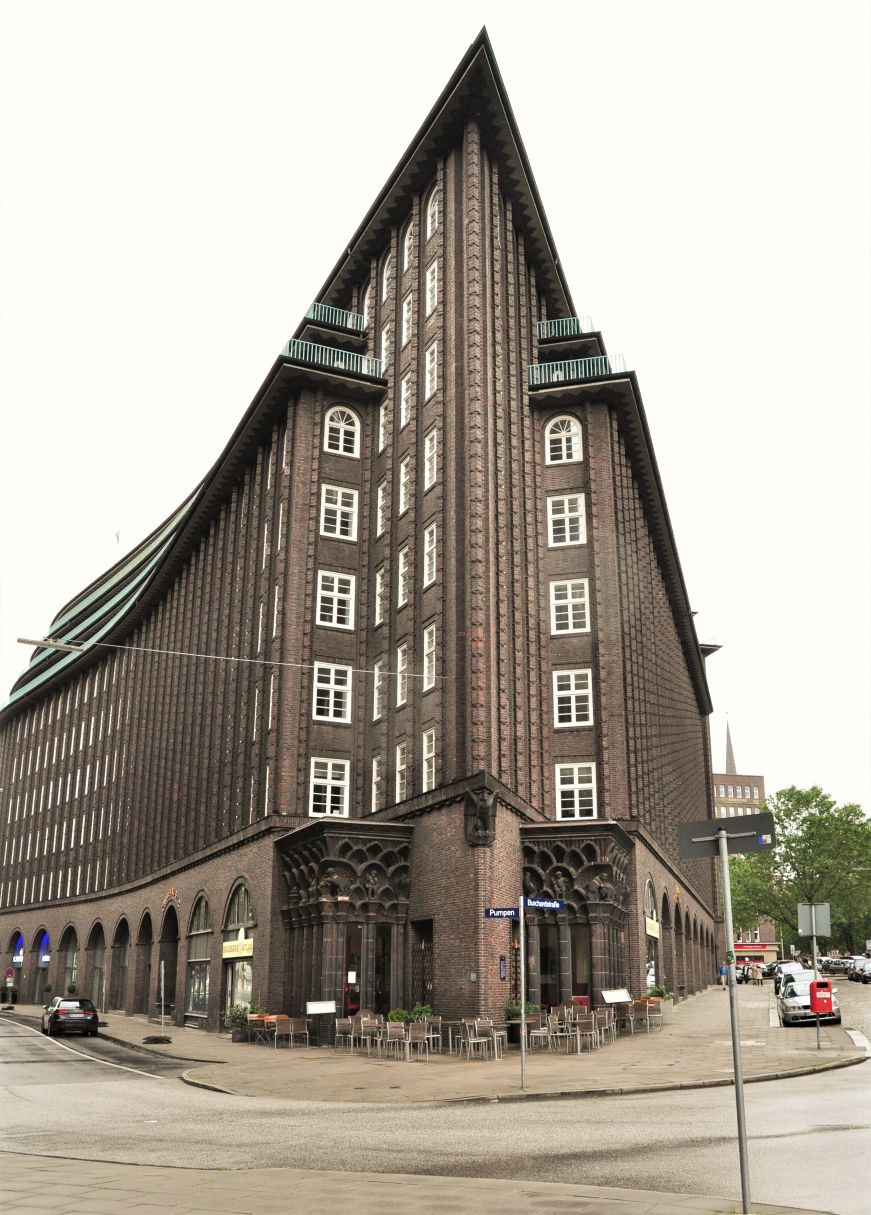 5:00 pm—For dinner, we walked over to the Schulterblatt neighborhood, which has an artsy, alternative vibe and dozens of restaurants with outdoor seating.  After perusing the options—sushi, crepes, pizza, burgers, Greek, Turkish, Italian,  pan-Asian, bakeries, and more—we settled on Bairro Alto (website in German only), a Portuguese restaurant with a vegetarian tapas platter for two special.  I loved the chips with aoili that we snacked on before our meal, as well as the bright cilantro sauce served alongside boiled potatoes and a goat cheese dessert with honey and fresh figs.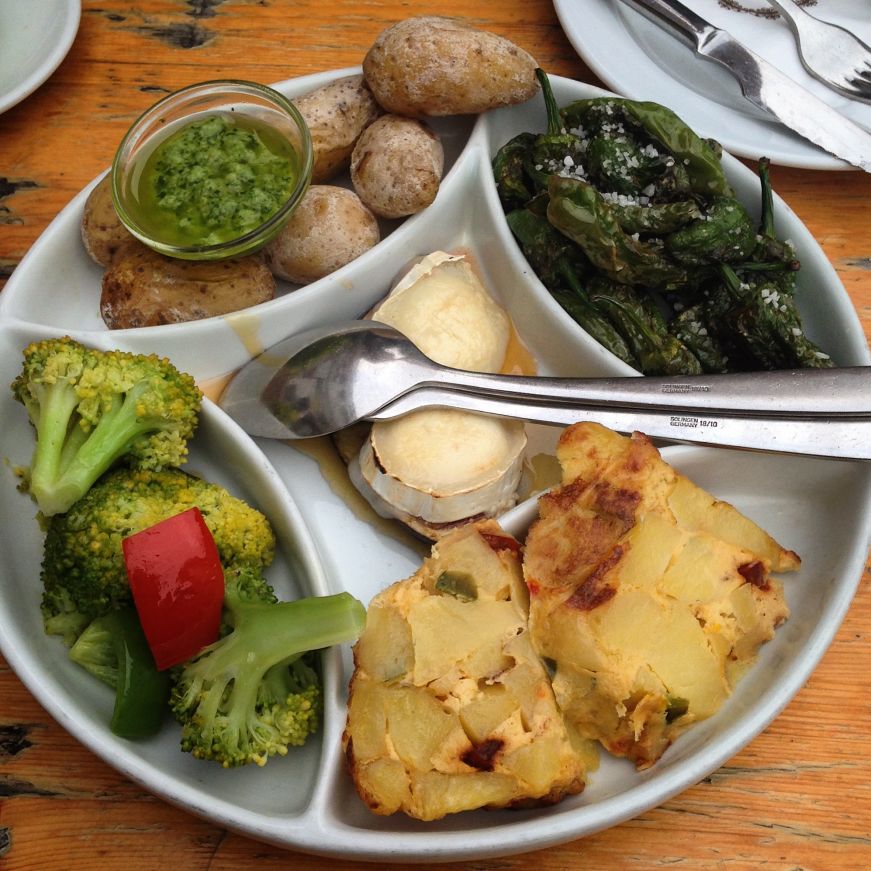 9:00 pm—After stopping back at our hotel for a couple hours to rest, we ventured out to Hamburg's infamous red-light district, the Reeperbahn.  It has a similar feel to the Las Vegas Strip or New Orleans' Bourbon Street, although in Germany  prostitution is legal and the legal drinking age is 16 years old (18 years old for spirits).
The Reeperbahn is exactly what you would expect: bright lights, sex shops, lots of intoxicated tourists, fast food joints, nightclubs, loud music, strip clubs, and brothels.  Street solicitation seemed to be limited to a particular two-block stretch around Herbertstrasse.  Herbertstrasse itself is closed off with Nazi-era barricades; according to my Rick Steves guidebook, the lane is lined with women enticing customers through glass windows.  Since female tourists aren't particularly welcome (and I wasn't interested anyway) we didn't check it out for ourselves.
The Reeperbahn skews more towards being rundown than being titillating.  Honestly, I found the to-go vodka shots hawked from streetside windows to be more shocking than legalized prostitution.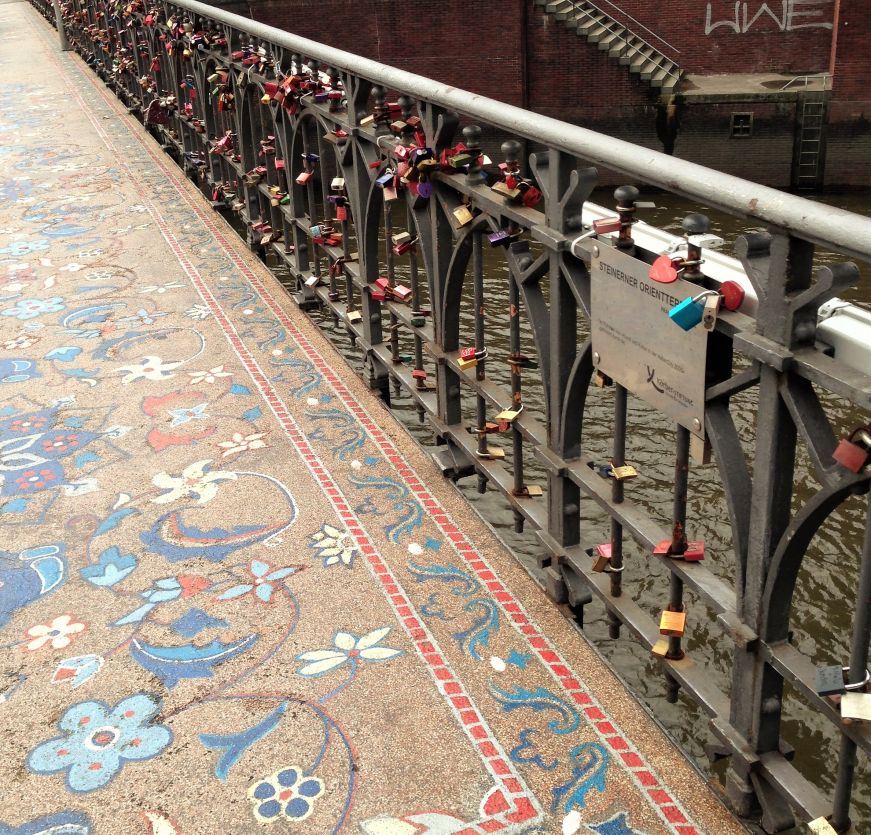 Sunday
6:30 am—If you're in Hamburg on a Sunday morning, it's worth waking up early for the Fischmarkt.  Held from 5:00 until about 9:30am, it's an only-in-Hamburg mashup of the Minnesota State Fair, Seattle's Pike Place Market, and a rock concert.  We arrived to find booths crammed with leather wallets and t-shirts; a fruit seller waving a banana around, hamming it up for an appreciative crowd; and people hauling home leafy potted plants.  The smell of fresh fish, fried dough, and beer wafted through the early morning air.  Some bleary-eyed revelers were clearly still out from the night before, but mostly the crowd was made up of people who wanted to start their day in Hamburg with a liter of beer, a fried fish sandwich, and a bargain-priced fruit basket.
As the name would suggest, the outdoor market stalls offer plenty of fish, both fresh and as the ubiquitous fried fish sandwiches.  But there's also freshly baked bread, dried pasta, cheese, sausages, produce, and freshly-squeezed juice.  The main action is in the market hall, which featured disco balls, a rock band, beer kiosks, and crowds of Germans drinking and dancing the morning away.  We skipped the beer and settled for breakfast—a Belgian-style waffle with powdered sugar for Mike, whole-grain rolls and raspberries for me.
Keep in mind that the crowds are dense, and it's difficult to move through the corridor of vendors.  While I loved Fischmarkt's vibrancy and uniqueness, if you're claustrophobic or have mobility issues it might not be your thing.
10:00 am—Since the Hamburg Museum was just across the street from our hotel, we spent our last few hours in Hamburg there.  The focus of the museum is a chronological exhibit about the city's history, spanning the Middle Ages through the 20th century.  Highlights included the dozens of ship models, from sail-powered merchant vessels to a modern container ships, and dioramas that trace the development of the city and port.  It was also interesting to learn about the 1842 fire that destroyed a third of the city, Hamburg's role as an emigration hub (statistically, my German ancestors almost certainly passed through on their way to the United States), and Hamburg's Jewish population.
If possible, I recommend visiting the museum earlier in your stay, since it will give you a better appreciation of the city, especially the port area.
12:00 pm—We speed-walked back the hotel, grabbed our bags, and checked out of minutes before check-out time.  Next up?  Making our way via the U-Bahn and ferry to the cruise terminal for our Norwegian cruise.
Was it worthwhile to spend a couple days in Hamburg before our cruise?  Absolutely!  I appreciated visiting a city that is a popular destination for German tourists but rarely makes it on to Americans' travel itineraries.  Spending a Sunday morning at the Fishmarkt was one of the most unique cultural experiences I've had in Germany.  Minatur Wunderland was delightful, and I enjoyed walking through the Elbtunnel and perusing the global cuisine of the Schulterblatt neighborhood's sidewalk cafes.
If you enjoyed this post, pin it!