Thank you to Travel Manitoba and Tourism Winnipeg for hosting my stay in Winnipeg
Whether I'm at home in the Twin Cities or on vacation in New York City, ice cream is one of my favorite local foods.  I love ice cream because there is so much room for creativity and the opportunity to incorporate local tastes, cultures, and ingredients.  On a recent visit to Winnipeg, I was struck by the city's vibrant culinary scene, and Chaeban Ice Cream was one of the highlights. 
Chaeban Ice Cream was founded in 2016 by husband-and-wife couple Joseph Chaeban and Zainab Ali.  Their ice cream is made from scratch, and they even source milk from a local dairy and pasteurize it in-house.  Ingredients are grown locally when possible, and there are no artificial colors or flavors.  Some of the flavors are inspired by Chaeban and Ali's Arabic roots, like Abir Al Sham, which includes pistachios, cashews, rose water, orange blossom water, and vanilla.
Ice cream can be ordered in single or double scoops or as a flight of four flavors, and there are also a handful of creative sundae options (I was definitely tempted by the Charlie's Chocolate Factory).  All of the flavors have a clever anthropomorphized names, like Salty Carl (salted caramel) and Plain Jane (vanilla, of course).  After much sampling, I settled on a flight with Prairie Barry, Almond-o Salazar, Abir Al Sham, and Mojito Mint Patty.
What struck me first about my ice cream was the color—since there aren't any artificial ingredients, each flavor has an almost Zen-like pastel hue.  In contrast, the tastes are refreshing bold.  It seemed like the ice cream wasn't quite as sweet as I'm used to, and that let the vibrancy of the ingredients shine through.  Prairie Barry had a slightly tart, intense strawberry flavor, while the Mojito Mint Patty had an almost savory quality from the minced fresh herbs.  Almond-o Salazar was the sweetest—an almond butter and white chocolate ice cream flecked with toasted almonds candied in white chocolate—but it was still more nut-forward than I expected.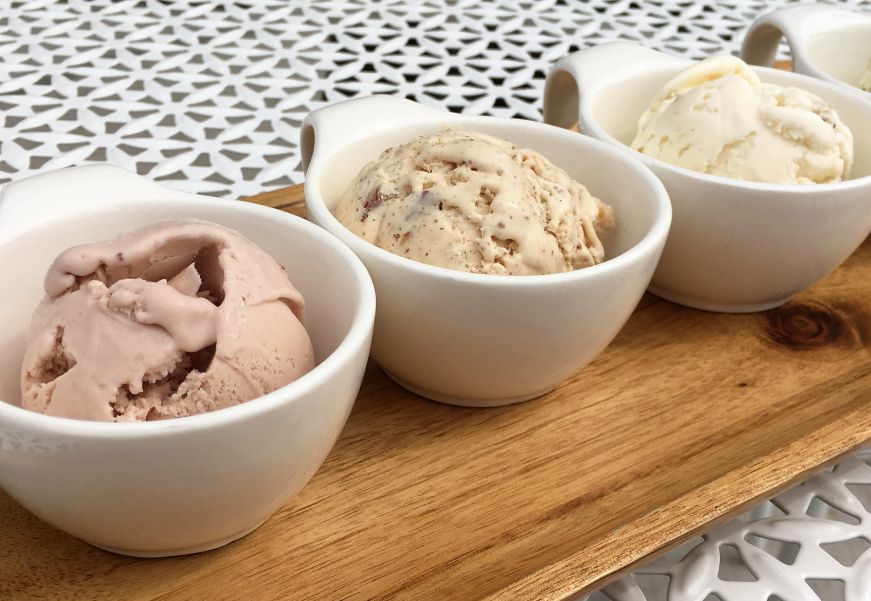 Hands down, my favorite flavor was Abir Al Sham.  I loved the complex layers of flavor, and the rosewater and almond notes reminded me a bit of one of my favorite Christmas recipes.  I would definitely recommend giving it a try, especially since you can always taste a sample before you order.      
There are plenty of delicious reasons to visit Winnipeg—Chaeban Ice Cream is definitely one of them.
The details:
Chaeban Ice Cream
390 Osborne St.
Winnipeg, MB R3L 1Z9
(204) 475-6226
chaebanicecream.com
Further reading: Why Winnipeg is worth a return visit
While Travel Manitoba and Tourism Winnipeg hosted my stay in Winnipeg, I visited Chaeban Ice Cream on my own and paid for my ice cream out-of-pocket.
If you enjoyed this post, pin it!