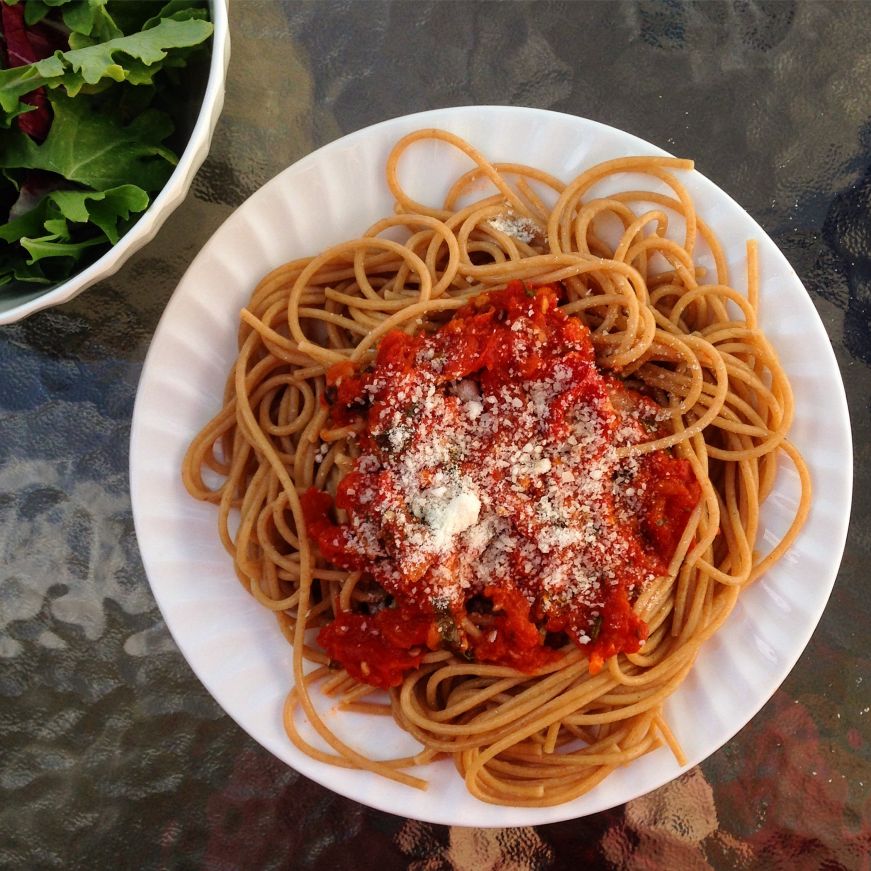 It's that time of year again.  The days are getting shorter, the nights are getting cooler, and pumpkin spice has returned with a vengeance.  As always, I packed as much as possible into the glorious three months of my favorite season.  Here's my annual summer recap:  
Locally grown
We're still loving our little charcoal grill.  I made several batches of grilled portobello mushrooms, asparagus, and a tasty cabbage with a cilantro-lime dressing.  Mike stuck with meat: brats piled high with sauerkraut, beef shish kebobs with zucchini and onions from our CSA, and steak.  Of course, we both worked on perfecting our toasted marshmallow technique for dessert.
We picked 46 pounds of strawberries, enough to eat as many fresh strawberries as we wanted (and I wanted to eat a lot) and freeze seven half-gallon bags for this winter.
Most of our CSA produce went into favorite recipes from previous years: beet risotto, pasta with fresh sauce, linguine with asparagus and pine nuts, pasta with tomatoes and fresh herbs, and zucchini with baked eggs.  I did branch out with my first-ever rhubarb crisp, a half recipe baked in Pyrex storage dish.
We spent a Sunday afternoon cooking down a half bushel of tomatoes into 14 cups of tomato sauce--our freezer is well-stocked for pasta nights ahead.
In the kitchen
My baking win of the summer was a ridiculously rich s'mores brownie pie, with a crust made from Malt-O-Meal French Toasters cereal.
A slightly healthier treat was a batch of strawberry muffins, based on the blueberry muffins recipe from my handy Betty Crocker Cookbook.  I halved the recipe, but used a whole egg and butter flavored coconut oil, and I substituted about 1/2 cup thinly sliced strawberries for the blueberries.  I used a tip from the Kitchn to prevent the strawberries from sinking to the bottom: fill the muffin cups halfway with batter, add a few strawberry slices, pour in the remaining batter, and top with a few more strawberry slices.  The resulting muffins were incredibly fluffy and had a lovely strawberry flavor.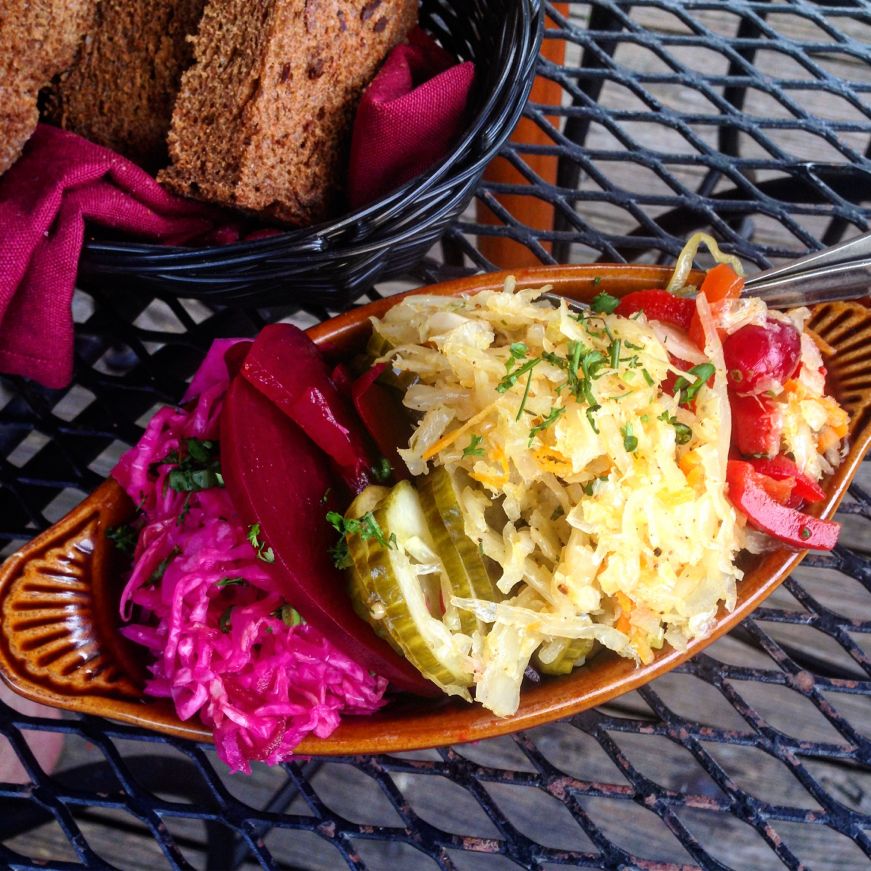 On the town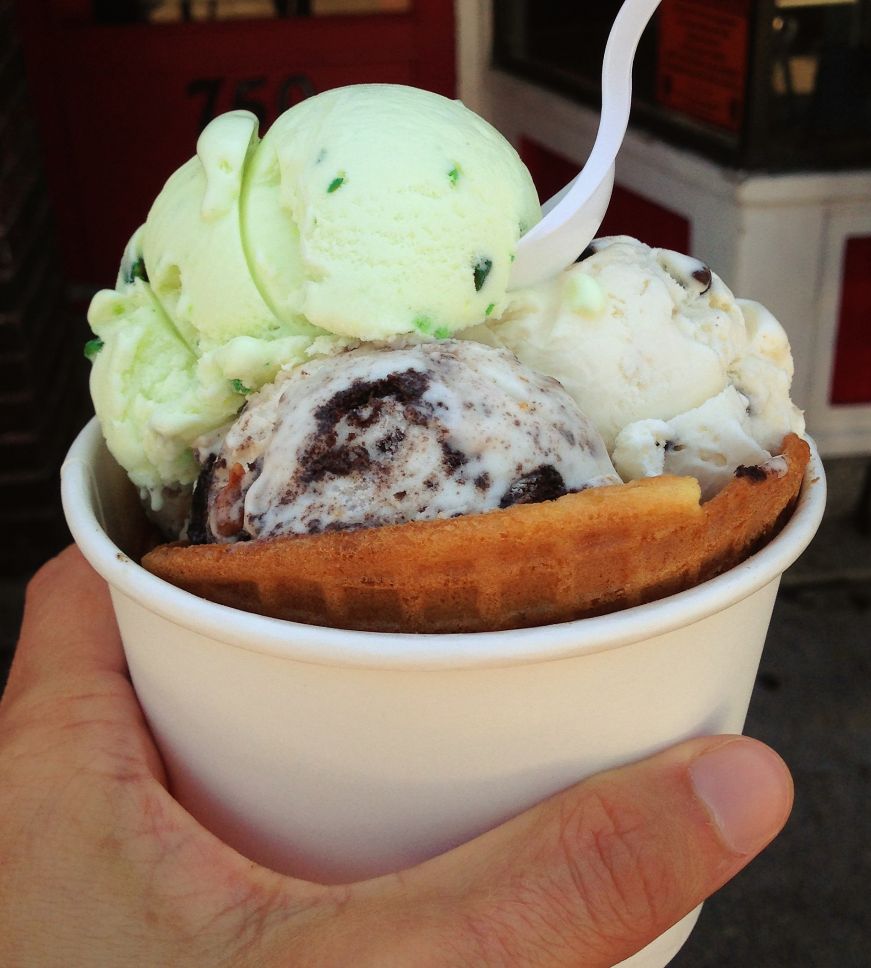 Celebrations
I've known my friends Heather, Michelle, Karen, and RaeAnn since elementary school, and this year we celebrated our 30th birthdays with a girls' weekend in central Minnesota.  There was lots of laughter, baby ogling (Michelle is a brand-new mom!), red velvet cake, and a birthday dinner of sushi and tempura green tea ice cream at Fuji Sushi & Steak House.
Mike and I stuck around home for the Fourth of July, with a picnic and post-lunch nap in Minnehaha Park.  We eventually made it home for grilled zucchini, onion, and mushroom shish kebobs (plus steak on Mike's skewers), watermelon, and toasted marshmallows.
I celebrated my 30th birthday in style with the five-scoop sampler at Grand Ole Creamery.  After much taste testing, I settled on one scoop each of Black Hills Gold, cookie dough, Mac Daddy, pistachio, and s'mores.
As always, we had a exquisite dinner on the patio at W.A. Frost to celebrate our anniversary (9 years together, 7 years married).  The six-course tasting menu--vegetarian for me, the standard meat version for Mike--was one of the culinary highlights of the year.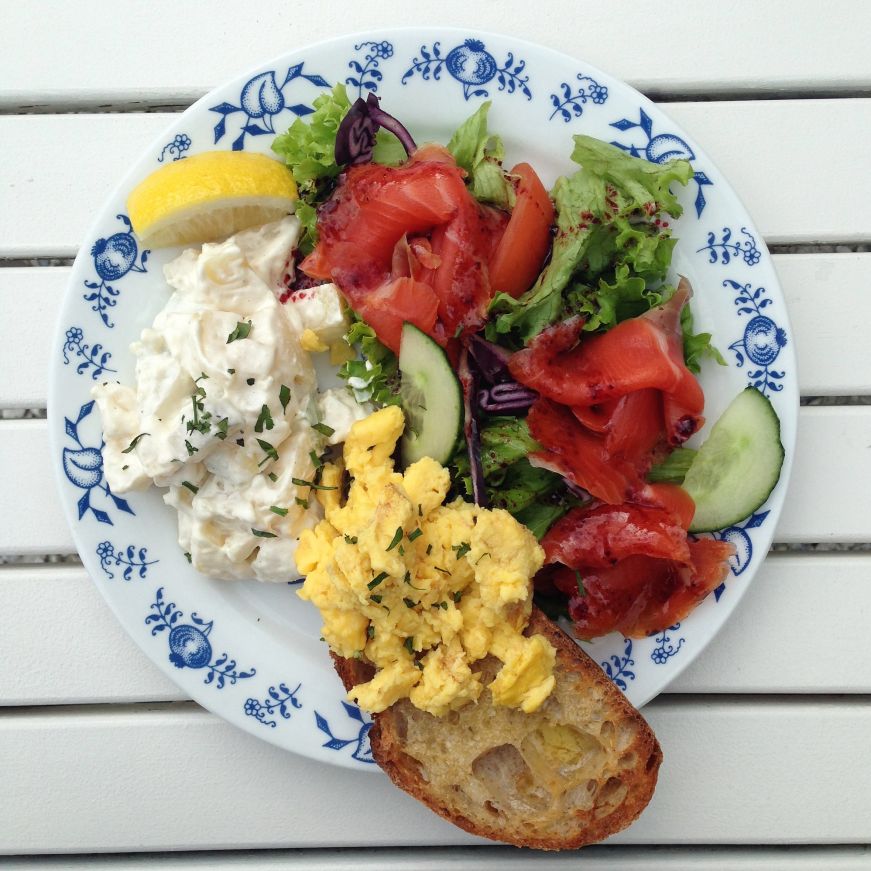 On the road
On Memorial Day, we headed up to Interstate State Park for hiking and a picnic by the St. Croix River.
We marked my milestone birthday with miniature vacation to Stillwater for a stay at our favorite B&B, Cover Park Manor.  We spent the evening indulging in a cheese flight at Wedge & Wheel [now closed], truffle fries and a chevre flatbread at The Green Room, and a beer flight at the Lift Bridge Brewery tap room.  The next day, we enjoyed a fabulous breakfast complete with mini cheesecakes and lunch at Quickfire Pizza.
This summer included the trip of a lifetime: a 10-day Norwegian fjord cruise, bookended by two days in Hamburg and four days in London.  The only word to describe the experience of cruising through the fjords is transcendent.  And then there was the smoked salmon, my beloved German pretzels, The Mousetrap, and afternoon tea...I'm at my best when I'm on the road, and this trip came at a juncture when I most needed it.
I finished the summer with a sponsored trip to Roseville, Minnesota for the Minnesota State Fair.
Usually when I finish these recaps I'm feeling kind of wistful--after all, summer is over and there's a long winter ahead.  But this year, what stands out to me most is how grateful I am for the life Mike and I have built together, with homemade tomato sauce and Friday date night and travels near and far.  I don't know what the year ahead will bring or what next summer's recap will look like.  None of us ever do; that not knowing is best and the worst thing about life.  In the meantime, there will be a few more dinners on our patio and laughter and love.  That's something.
Actually, that's everything.
Want more?  Read my summer highlights posts for 2013, 2014, 2015, and 2016.