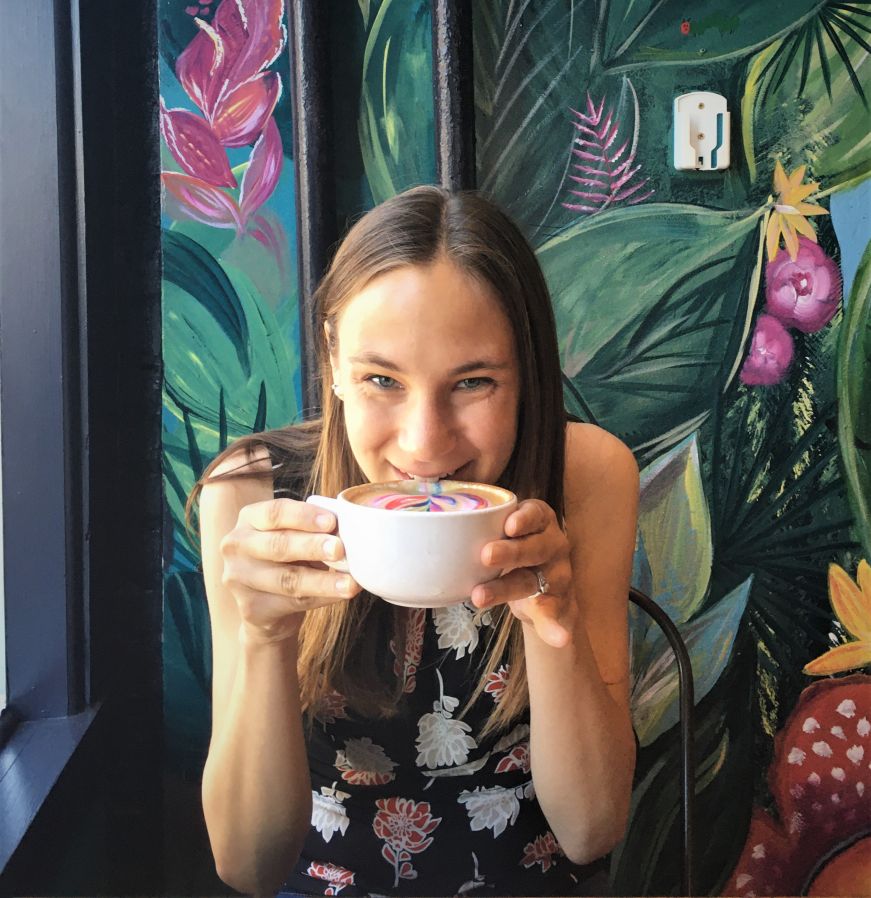 Last March, I was not in a very good place.  Due to the stress of the pandemic and the loss of my freelance writing work, I felt overwhelmed with hopelessness.  Part of how I coped was making a list of small, tangible things to look forward to when the world started to open back up: buying a new shoe rack at IKEA.  Classes at my boxing gym.  Booking a stay at a bed and breakfast in Stillwater with Mike.   And these three food-related things I wanted to do. 
Having those goals helped propel me forward through a very bleak time, and as Minnesota has reopened, I've been able to start checking them off.  The bed and breakfast reservation was first, followed by the shoe rack and my boxing classes, and then my food-related goals—here's an update on those.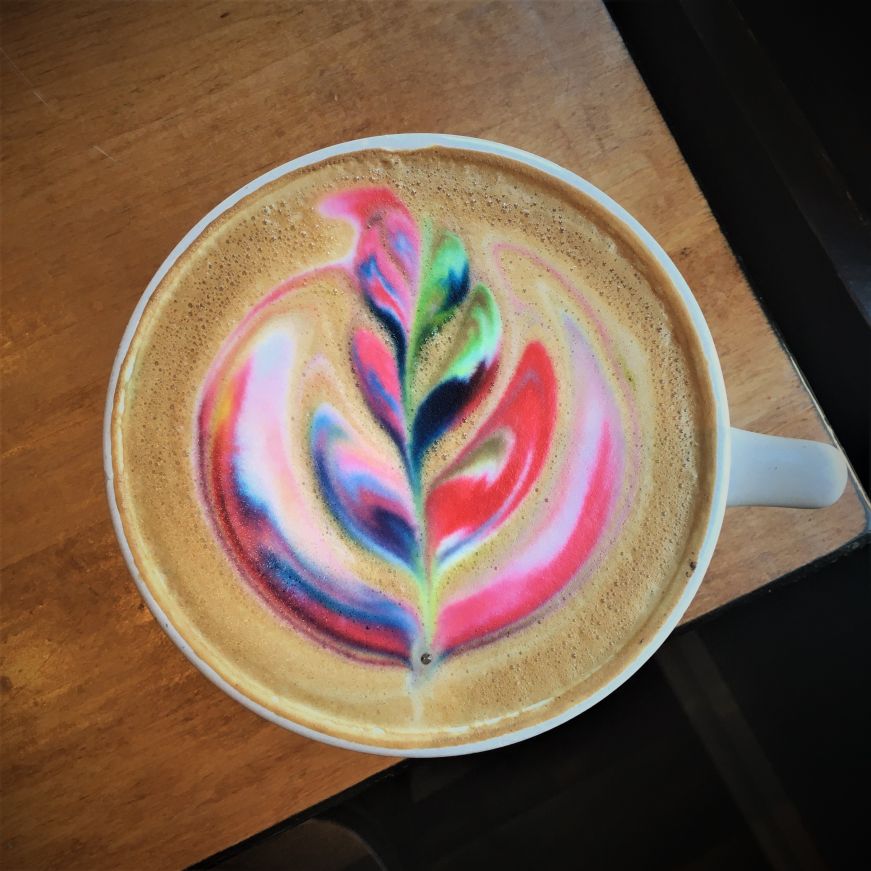 Goal #1: Have a Sunday coffee date at Cafe Astoria.
After three months of takeout coffee dates, Mike and I went to Cafe Astoria in June when it opened for dine-in service.  For years, I've been wistfully eyeing their technicolor and gold-leaf lattes, and I finally got to enjoy one for myself.  I opted for the rainbow latte, made with espresso, peppermint, chocolate, and rainbow color.  It sounds like a peppermint mocha, but it was far more subtle and not as sweet—more coffee-forward than chocolate or peppermint flavored.  And yes, I spent at least five minutes photographing my latte from every angle.
Obviously, the experience was somewhat different from our pre-COVID coffee dates.  The staff wore masks, as did Mike and I while ordering, waiting for our beverages, and walking to our table.  There was a plexiglass divider to protect the employee working the cash register.  Tables had been removed so that the remaining ones could be spaced spread 6 feet apart. 
If you're hesitant to dine inside, Cafe Astoria also has an outdoor patio and continues to offer takeout.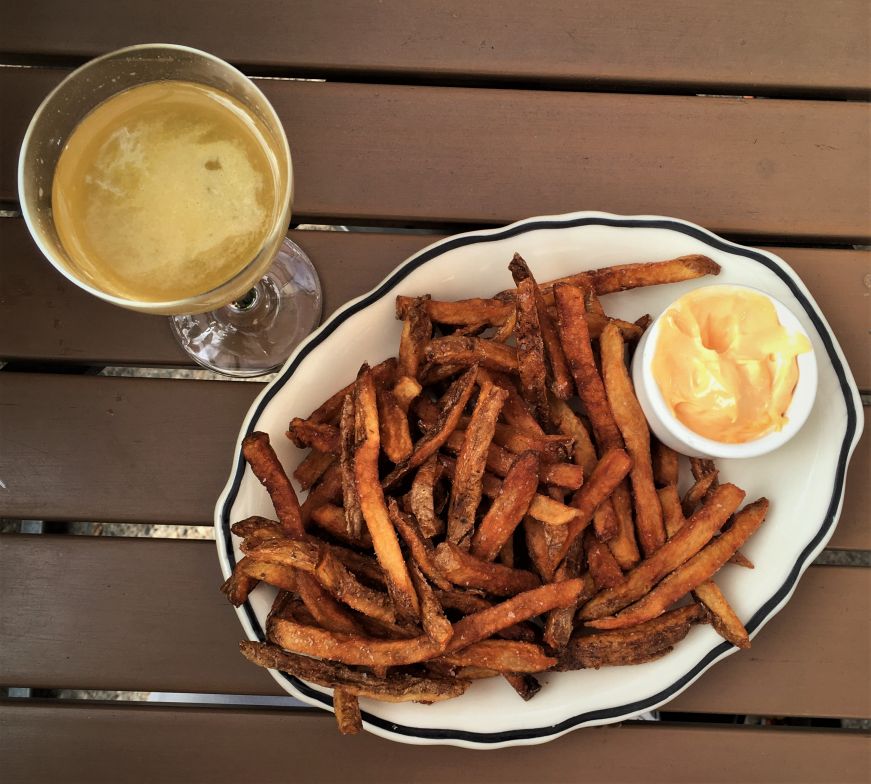 Goal #2: Get a cocktail and fries at Nightingale.
Fries are one of my favorite things to order, and cocktails are my alcoholic beverage of choice—and neither is conducive to takeout.  Since Nightingale has been on my "happy hours to check out" list for years, I wanted to go there with Josh when they opened for dine-in service.  We spent a lovely August evening drinking cocktails with names like "God Save the Queen", crafted with bee pollen and Italian liqueurs I had Google—Josh orders drinks based on the creativity of the name, while I go for esoteric ingredients, so we were each in our element.   The fries were perfect, hot and salty and almost caramelized, with a side of tangy malt vinegar aioli.
Like at Cafe Astoria, the experience was different from a pre-COVID outing.  We wore masks whenever we weren't at our table and when we were interacting with our server.  The menus were single-use sheets of paper, tables were spaced six feet apart, and I made a reservation a few days in advance to guarantee a spot on the patio.
If you don't want to dine in, Nightingale continues to offer takeout, as well as a Sunday supper take-and-bake meal for two.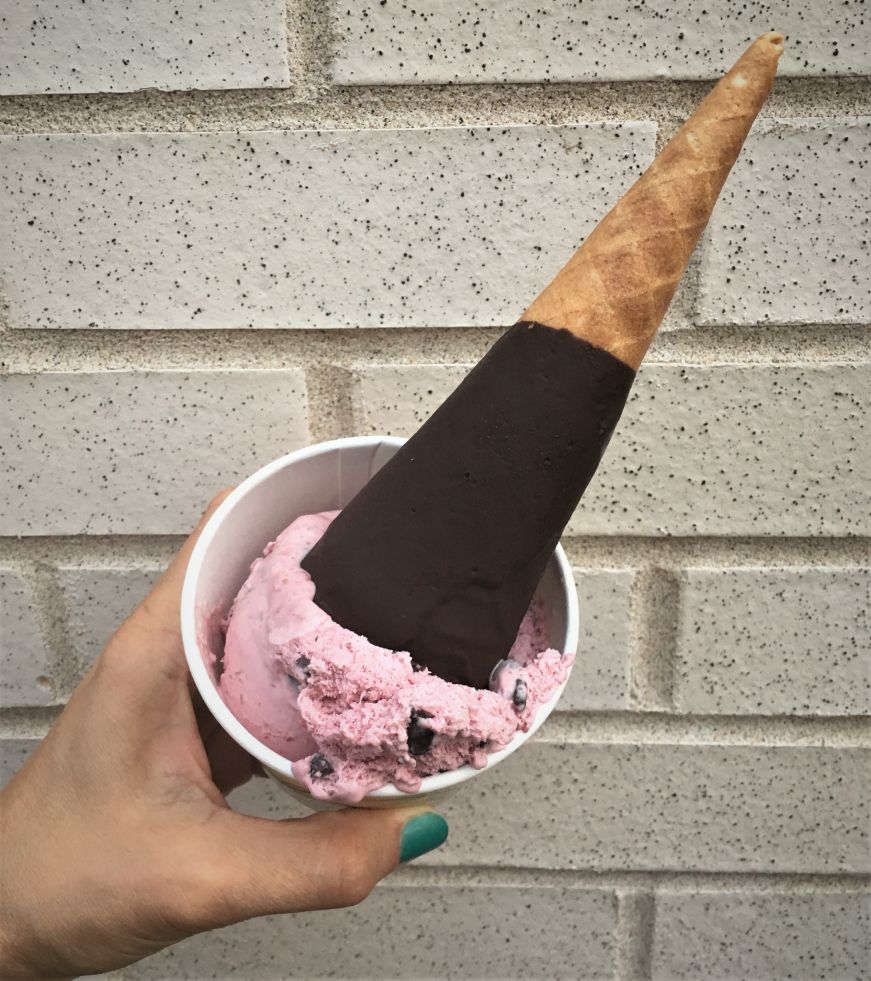 Goals #3: Order an ice cream cake from Sebastian Joe's.
Hosting a ice cream cake party—even a small outdoor one—isn't something that I feel comfortable doing yet, so this goal is on hold for now.  However, Mike and I did swing by Sebastian Joe's Linden Hills location to enjoy some ice cream on their patio.  I ordered a scoop of raspberry chocolate chip, just like I did the summer that I moved to the Twin Cities.  As it did then, the first delicious bite gave me the reassuring sense that the world is filled with possibilities.
It's nice to know that some things don't change.