For the past few years, Mike and I have taken a short vacation in February or March to someplace warm.  We've been to Disney World a couple of times, and we did a trip to Arizona with time in Sedona and Phoenix.
Obviously, far-flung travel was off the table this year.  So instead of flying south, we drove north for a mid-week getaway to Bluefin Bay, a resort on Minnesota's North Shore of Lake Superior.  Bluefin Bay is in Tofte, a small community that's a 1.5 hour drive north from Duluth and a 3.75 hour drive north from Minneapolis (or in the other direction, a 1.25 hour drive south from the Canadian border).  The resort offers a wide range of accommodations, from hotel-style guestrooms and suites to lakeside condos and townhomes. 
Since the COVID situation is ever-changing, check Bluefin Bay's website for the most up-to-date information about policies and procedures.  During our stay at the end of January, check out time was 11:00 a.m. and check in time was 5:00 p.m. to allow for additional cleaning (however, our room was ready to go when we arrived at 3:45 p.m.)  Housekeeping services aren't provided for stays less than six days, but our unit was amply stocked with towels and toiletries—if you need additional supplies, you can contact guest services to have them delivered.
The resort's two restaurants are currently open for takeout and limited indoor seating.  Pools, hot tubs, and the fitness center are open at a limited capacity, and advance reservations are required for organized indoor and outdoor activities.  Masks are required in all public indoor areas.
Mike and I are not exactly rugged outdoor types, and since we wanted to limit our time in indoor public spaces, we opted for a one bedroom condo.  Although condos are rented from Bluefin Bay, they're privately owned, so the floor plans and decor will vary.  I recommend making a reservation by phone if you have specific requests—for instance, we wanted a unit with a double whirlpool tub.
In addition to a small bedroom, our unit featured a living area with a wood-burning fireplace, sleeper sofa, dining table, and a full kitchen.  The kitchen was well-stocked with cooking utensils and dishes and included a dishwasher.  Newspaper and firestarters are provided, and the small woodpile outside the door is restocked daily.
Our fireplace was the highlight our stay—it was so cozy to sit next to the fire with snacks and cocktails in the evenings, and we spent the days reading, playing an escape room game, and doing a puzzle by the fire.  We also enjoyed the views of Lake Superior right outside our window, especially in the mornings when sub-zero air formed wisps of fog over the open water. 
Although we limited our time in the guest services building due to COVID, we appreciated having access to the hot cocoa and coffee bar.  You can check out board games and DVDs, and there's a small gift shop.
Guest services is also home to the activities desk—a very helpful staffer suggested some nearby hiking options and answered our questions about snowshoeing.
If you'd like to partake in outdoor activities, Bluefin Bay has a huge selection of gear available for guests to use free of charge, including ice skates (there's a small but well-maintained rink at the resort), cross country skiing boots and equipment, snowshoes, hockey sticks, and broom ball equipment.
There are outdoor fires nightly, and you can pick up s'mores kits and sticks at guest services.  We did brave the single-digit temperatures on our first night, but on the second evening we just roasted marshmallows in our fireplace.  Due to the chilly weather, we skipped the heated outdoor hot tub, but it looks like it has lovely lake views.
Bluefin Bay also offers guided ski tours, snowshoeing, and winter hikes, as well as yoga classes.  Activities are complimentary but advance online registration is required, and space is limited to accommodate social distancing.
Finally, the resort provides free on-site EV charging—I know this amenity isn't relevant to most, but it enabled us to use our electric car for the trip.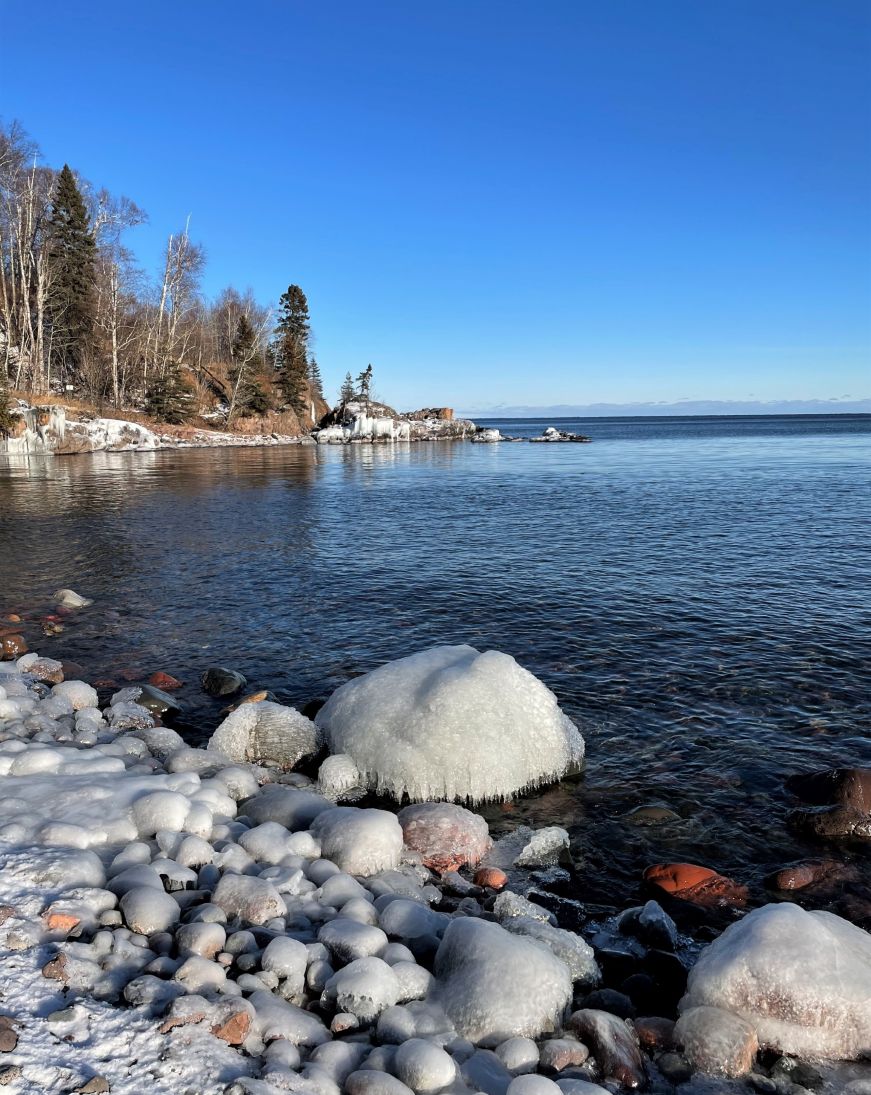 We had intended to go snowshoeing, but we were thwarted by the lack of snow.  Instead, we took advantage of the nearby hiking opportunities—the hiking guide we got from the activities desk included over a dozen hikes within a 30 minute drive from the resort, with a variety of distances and difficulty levels.  We picked one of the closest: the 1.5-mile trail along the river gorge at Temperance River State Park.  The views of the frozen waterfalls and frost-covered rock formations were stunning, and we also spent time walking along the shore of Lake Superior at the river's mouth.
Other nearby hiking spots include Cascade State Park, Tettegouche State Park, and several sections of the Superior Hiking Trail.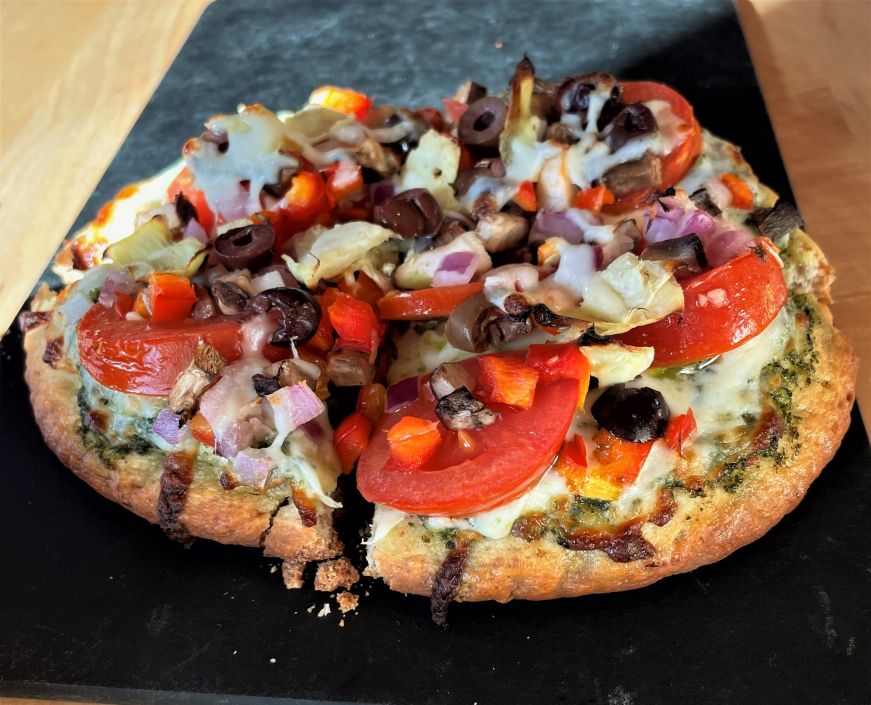 Back at the resort, we checked out both of Bluefin Bay's restaurants: Coho Cafe & Bakery serves breakfast and lunch and Bluefin Grille is open for dinner.  Reservations are required at Bluefin Grille, and the tables are spaced quite far apart (during our meal, we were about 20 feet from another couple, the only other guests in the restaurant).  Seating at the cafe is on a first-come, first-served basis, so we opted for takeout at breakfast when there were other customers and dined in for lunch when we were the only guests in the cafe.
The winter menu at Coho Cafe & Bakery includes a handful of entrees and baked goods at breakfast time, and soups, salads, sandwiches, and pizza for lunch.  Breakfast portions are generous—I enjoyed the Superior Scramble, which included four pieces of thick multi-grain toast, at least four eggs scrambled with peppers, onions, and mushrooms, and a few pieces of fruit.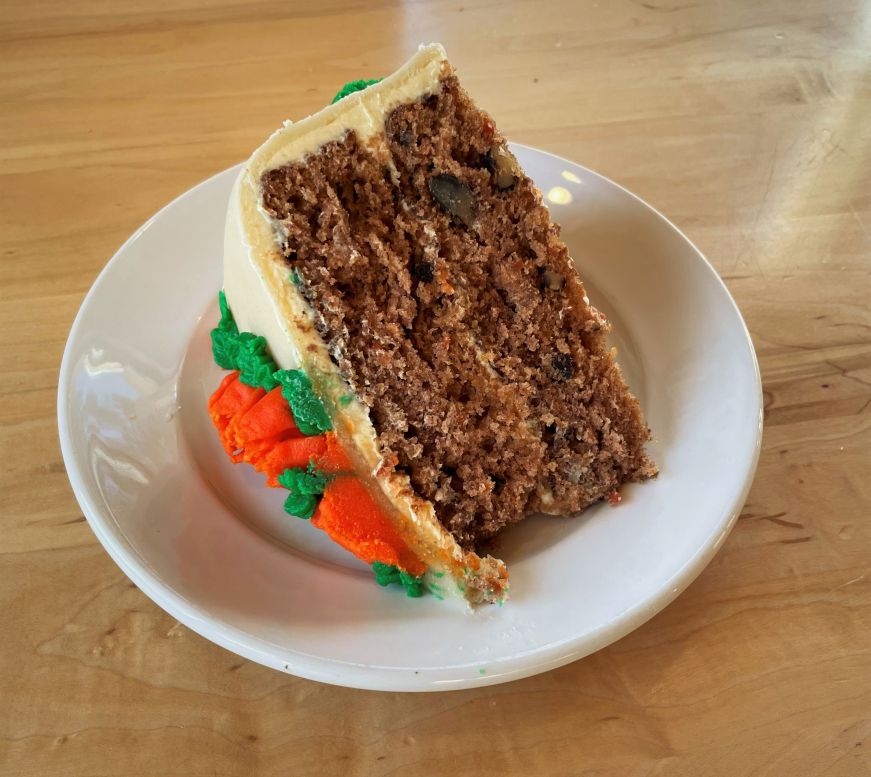 At lunch, there are plenty of vegetarian options—I ordered a tasty grilled veggie sandwich loaded with zucchini, squash, peppers, mushrooms, hummus, and mozzarella, with a heap of greens and garlic vinaigrette.  Mike's 7-inch primavera pizza was a good size for lunch and was topped with pesto, artichoke hearts, olives, and vegetables.
However, my favorite item from the Coho Cafe & Bakery was dessert: a thick wedge of carrot cake studded with more walnuts than raisins and topped with a copious amount of frosting.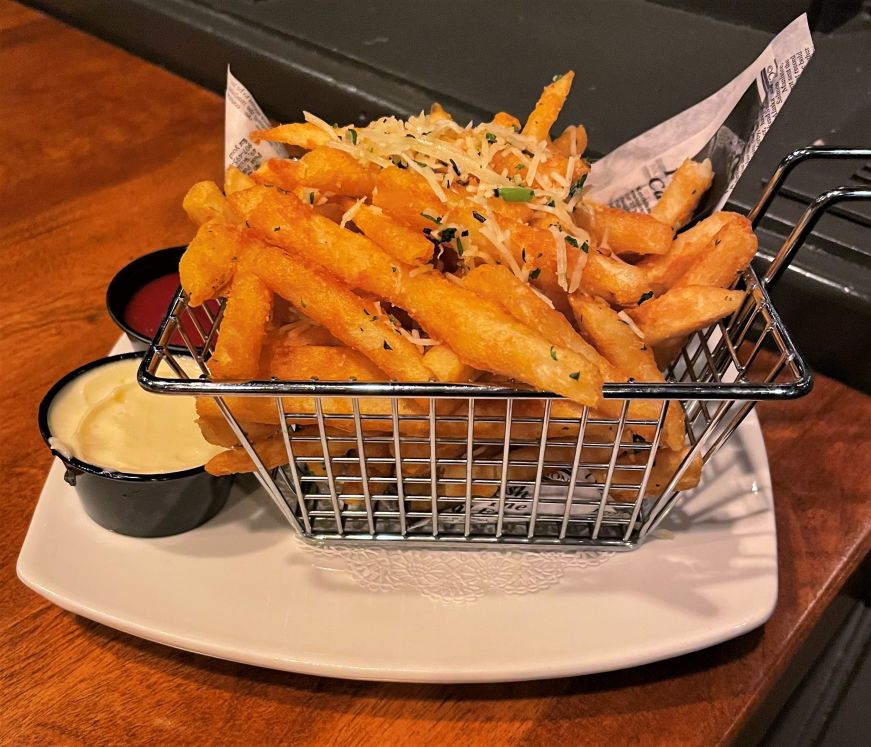 At the Bluefin Grille, we were treated to a moonlit view of Lake Superior and a menu featuring modern American cuisine.  You can get elevated bar food like cheese curds with housemade mustard sauce and a half-pound Kobe burger, or opt for an entree like steak with potatoes and seasonal vegetables.  There are several vegetarian and gluten-free options, as well as a full bar menu.
Since it was our first dinner out in months, we went with our standbys: Mike got a perfectly-prepared flat iron steak, and I got a basket of fancy French fries (plus a bowl of duck and wild rice chowder).  It was a lovely special occasion splurge, and if you don't feel comfortable dining in, Bluefin Grille offers takeout and delivery to resort guests.
Did I miss heading to a warmer climate this year?  Absolutely.  But our stay at Bluefin Bay was a relaxing, cozy way appreciate winter along Lake Superior's North Shore—single-digit temperatures and all.
Bluefin Bay
7192 West Highway 61
Tofte, MN 55615
1-800-258-3346
218-663-7296
bluefinbay.com
This isn't a sponsored post—we paid for our lodging and meals out-of-pocket.
Further reading:
If you enjoyed this post, pin it!