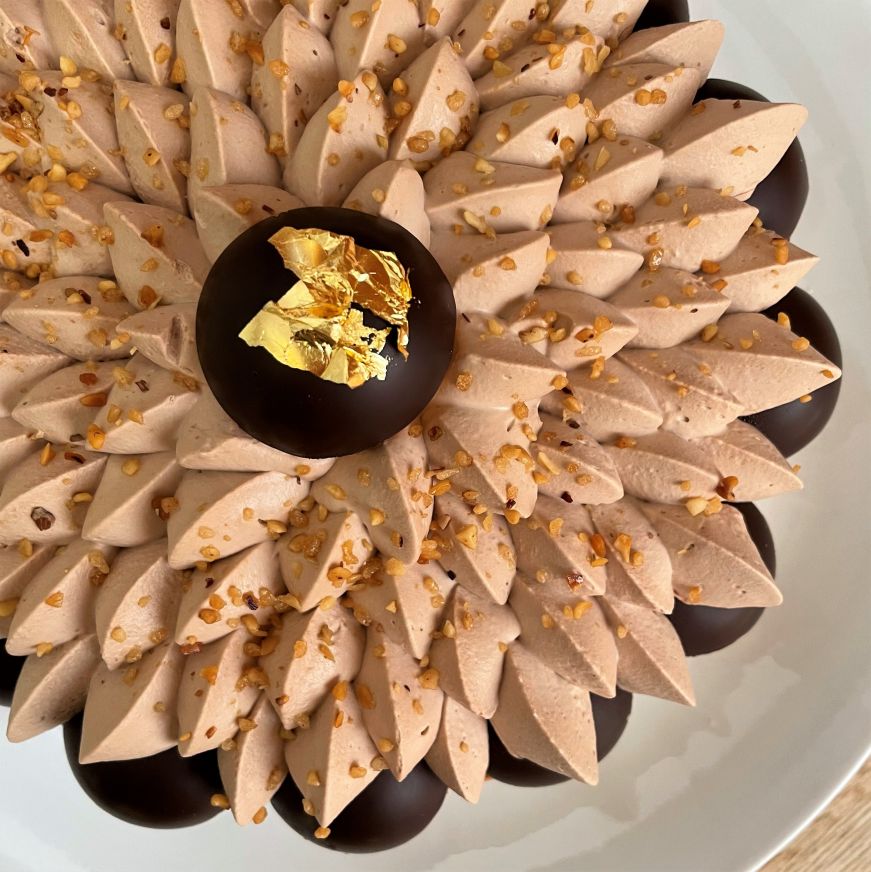 After 2020 and 2021, this year's round up of the best things I ate in 2022 feels remarkably similar to my pre-pandemic existence.  There are international meals from trips to Finland, Ireland, and Quebec City, plus items I got to sample at press events and while covering the Twin Cities food scene.  There were still challenges behind the scenes (the pandemic had a destablilizing effect on my mental health that I wrote about in this post), but for the most part, it feels like I'm back.  And that's a really good feeling.
Full disclosure: some of these meals were comped as part of a media preview or covered as a work expense for a writing assignment.  I've noted where that's the case. 
1. Chocolate Saint Honore, Marc Heu Patisserie
The year started off with a flourish when we splurged on the chocolate saint honore from St. Paul's Marc Heu Patisserie to celebrate a relationship milestone.  It's a showstopper of a dessert, with a base of flaky pastry, a layer of dark chocolate, a border of chocolate-filled cream puffs, and a gorgeous, carefully piped chocolate mousse filling.  The extravagent, meticulously prepared elements made it unlike anything I'd previously experienced, and eating it felt truly special.
2. Venison tartare, Owamni
I've been eating venison for as long as I could chew (there's a preschool-era worksheet that lists my favorite food as "venison steak").  However, I've never appreciated it as much as via the venison tartare at Owamni, an Indigenous restaurant in Minneapolis that exclusively uses decolonized ingredients.  The gamy notes of the meat paired beautifully with the aioli, and the tiny cubes of carrots and leeks added a nice textural note.  It was also the most beautiful presentation of raw meat possible, with an almost sculptural quality.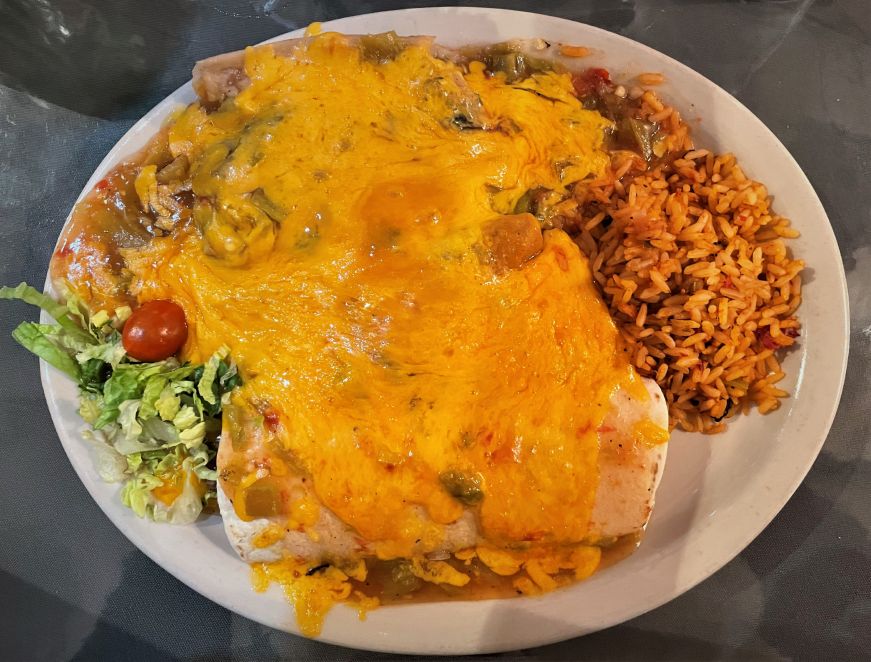 3. Combinacion Vegetariano, Rancho de Chimayo
Rancho de Chimayo is worth the drive from Santa Fe: it's one of the restaurants responsible for bringing New Mexican cuisine to international prominence, and they've been serving traditional specialties since 1965.  I wanted to try as many things as possible, so I ordered the vegetarian platter, which included a bean burrito, cheese enchilada, zucchini and green chile tamale, and rice, topped with cheese and chile.  All of the components were delicious, but I especially enjoyed the rich flavors of the tamale.  The sopapillas (fried flatbread) with honey on the side were an unexpected and delightful touch.
4. Avocado toast, Opuntia Cafe
Santa Fe's Opuntia Cafe is almost a parody of a hipster restaurant, with potted plants everywhere, mid-century modern furniture, and a dedicated "toast" section of the menu.  I almost didn't order the avocado toast on principle, but I'm so glad I did.  It was more salad than sandwich—a piece of housemade sourdough multigrain bread spread with a lemon aioli and topped with heap of well-dressed arugula, thinly sliced radishes, chunks of avocado, and shreds of Parmesan cheese.  The flavors were bright and vivid, and the freshness hit the spot in the middle of winter.
5. Fries, Bub's Aussie Gourmet Pies
When I started writing for the Heavy Table, one of my first assignments was a review of Bub's Aussie Gourmet Pies in Lake Elmo, an eastern Twin Cities suburb.  The savory pies were good, but the fries stole the show.  They were hand cut, freshly fried in duck fat, and finished with a hefty dose of Australian sea salt.  These are what I want the fries to be: thicker cut but not too thick, with crinkly pieces of potato skin and a luxurious mouthfeel.  My side order was much larger than I anticipated, so I packed half of them up to take home.  By the time I got to my car I had decided these fries were too good to be leftovers, so I ended up eating the rest of them as I drove home on 94W.
6. Brown butter soft serve, Bogart's Doughnut Co.
Minneapolis' Bogart's Doughnut Co. is best known for their pastries, but their brown butter soft serve is the quintessential summer treat.  It's incredibly thick and creamy, and the browned butter notes really shine—it's like the cookie part of a chocolate chip cookie, in ice cream form.
7. Lemon old fashioned, Mojo Monkey Donuts
An old fashioned from St. Paul's Mojo Monkey Donut makes my best eats every year.  This year I fell for the lemon version: the brightness and tartness of the citrus and sour cream take make what is usually a sugar bomb unexpectedly flavorful.  The exterior is almost crunchy, and I think this is the ideal donut for people who love bread crust.  I ate this during Sunday coffee date with myself at Spyhouse (Mike was out of town) and there was something glorious about sitting in a hip space in Uptown, sipping espresso and eating an amazing donut.
8. Spruce shoot, creamed pine nuts, local lemon leaf, and wood ants, Grön
In Helsinki we splurged on the 13-course tasting menu at Grön, the first (and to date only) Michelin-starred restaurant I've dined at.  The entire meal was an exquisite experience, but I was especially taken with one of dessert courses, a white chocolate shell filled with a spruce sorbet and topped with tiny spruce shoots, ants, and a miniature pine cone.  My first bite was uncanny—it transported me 25 years back in time, to the woods behind my parents' house where my sister and I would use sharp sticks to poke balsam fir trees and watch the pitch bubble out.  I hadn't thought about it for decades, but the piercing spruce flavor brought it into focus.  That's what I love the most about food: its power to evoke memories and emotions.
9. Dark orange and forest berry chocolates, Tallipihan Suklaat
In Tampere, Finland, we picked up some chocolates at Tallipihan Suklaat, a candy shop in the city's Market Hall.  I got a miniature milk chocolate cupcake with a forest berry filling and a dark chocolate with an orange filling.  Both were truly lovely.  The chocolate was so smooth that it was like a caress across my tongue, and the fillings were vibrant burst of fruit—the depth of flavor was amazing.
10. Rhubarb blueberry galette, Alma
As someone whose favorite part of any pie is the crust, the rhubarb blueberry galette at Minneapolis' Alma was a dream come true.  The thick, flaky layers of pastry were like a sturdier version of a croissant, and the rhubarb blueberry filling had a sunny freshness that tasted like long summer days.
11. Sakoo, Khâluna
The most unique thing I ate this year was the sakoo at Khâluna, a Laotian restaurant in Minneapolis.  They're kind of like a savory mochi—the squishy dumplings are made from the tapioca pearls that are usually used in bubble tea, with a shiitake and crimini mushroom, peanut, and pistachio filling.  It was a fascinating combination of textures, from the bounciness of the exterior to the soft cooked mushrooms to the crunch of the nuts.  Flavor-wise, they had almost meaty flavor with a warm spice profile. 
12. Dark chocolate dipped cone, Chocolaterie de lIle d'Orléans
During a food tour of Quebec's lIle d'Orléans we stopped at Chocolaterie de lIle d'Orléans, a chocolate shop that also served ice cream.  The dipped cones were next level, with an extra thick shell that was closer to the thickness of a chocolate bar than a typical ice cream coating.  The dark chocolate itself was of a high quality, and it paired perfectly with the creamy soft serve.  As an added bonus, the shell was thick enough to keep the ice cream from melting on a hot day. 
13. Ice cream sandwich, Centro
One of the perks of being a food journalist is that I occasionally get to preview restaurants before they open to the public, like Centro's second location on Minneapolis' Eat Street. The ice cream sandwich I sampled isn't currently on the menu—hopefully they bring it back at some point because it's something special: corn-based masa cookies studded with sprinkles, sandwiching a gently spiced cinnamon ice cream.  It was a supremely satisfying dessert, sturdy enough to easily eat solo before the ice cream started to melt.  The blend of cinnamon, corn, and cream was fascinating, and more flavor-forward than sweetness-focused.
14. Polse med lompe, Northland Larder
One of the spots I checked out on my reporting trip to Duluth for the Heavy Table was Northland Larder, a food truck that specializes in heritage beef and pork products.  The pølse med lompe is a Norwegian-style hotdog, garnished with potato salad, fresh radishes, crispy fried onions, ketchup, and stone ground mustard, and served on a piece of lefse.  It's a really enjoyable dish: the sausage has a pleasing snap, the lefse has a wholesome flavor from the touch of rye flour, and the garnishes seem like a weird combination but really work.  I think it was the sausage's snap that made me feel like I was three years old again, looking at the eye-level piles of ground hamburger and steaks at my uncle's butcher shop while I gnawed on a cold hot dog he would give me straight from the case.
15. Sticky toffee pudding, Ginger Bistro
One of the highlights of our brief stay in Belfast was our dinner at Ginger Bistro, which ended with a sticky toffee pudding that warmed my soul.  It was moist and crumbly, with a luxurious toffee sauce and a diminutive scoop of vanilla ice cream.  I usually gravitate towards chocolate desserts, but this was rich enough to satisfy that portion of my palate.
16. Chocolate truffle cookie, homemade from a recipe in The Cookie Bible by Rose Levy Beranbaum
One of the most rewarding projects I worked on this year was a review of Rose Levy Beranbaum's The Cookie Bible for the Heavy Table.  I got to interview Rose, who is one of the most delightful people I've ever spoken to, and I baked a few recipes from the cookbook, including the chocolate truffle cookies.  They're made with a chocolate dough that is studded with tiny bits of dark chocolate, with a ganache center.  Making them was a three day process, but they're truly the best dessert I've ever baked: a pure, focused expression of chocolate.
As the final days of 2022 draw to a close, I'm grateful for the wide-ranging travels, meaningful writing assignments, and delicious food that made up the past year.  I'm looking forward to 2023—fingers crossed, it will be another good one.
Further reading: