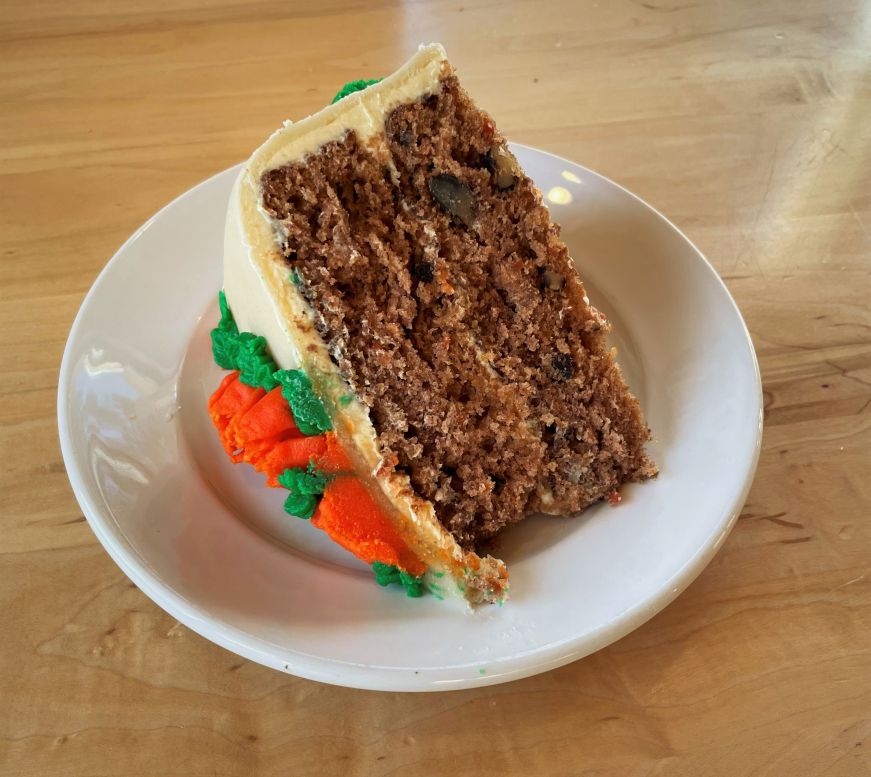 When I scroll through the list of the best things I ate in 2021, what strikes me the most are the ups and downs behind each meal.  The anxious pre-vaccination months at the beginning of the year, when I constantly second-guessed my decision to dine out at all.  A giddy springtime when we celebrated being vaccinated with coffee dates and cocktails and fancy dinners.  A trip to Seattle that felt like a triumphant return to normalcy.  And then the delta surge struck and a familiar sense of dread settled in.  A friend got a breakthrough COVID infection days after we shared one of the meals on this list, and I spent an anxious week waiting to see if I'd develop symptoms or test positive.  As the year winds down with the omicron surge, psychologically it feels like it's 2020 all over again.
There's a metaphor that some mental health professionals use to describe recovery from a mental illness: instead of being a straight line, it's a spiral.  You might find yourself in the same place where you started, relapsing into harmful behaviors and toxic thought patterns.  But you're not really in the same place—you've come a long way from the beginning.  You've survived and learned and grown.
So yes, late 2021 eerily resembles early 2021, face masks, chronic insomnia, and all.  I wish it didn't.  Still, there was so much joy—often in edible form—in between.
1. Carrot cake, Coho Cafe & Bakery
Carrot cake is rarely my dessert of choice (I dislike raisins) but the thick layer of frosting on the slice of carrot cake in the pastry case at Coho Cafe & Bakery drew me in.  It addition to that fabulous cream cheese frosting and cute piped frosting carrots, it featured a layer of almond-extract spiked fondant, far more walnuts than raisins, and a delectably moist texture.  Eating my way through the entire slice on a very cold day with sunshine streaming through the windows was one of the highlights of our January getaway to Bluefin Bay.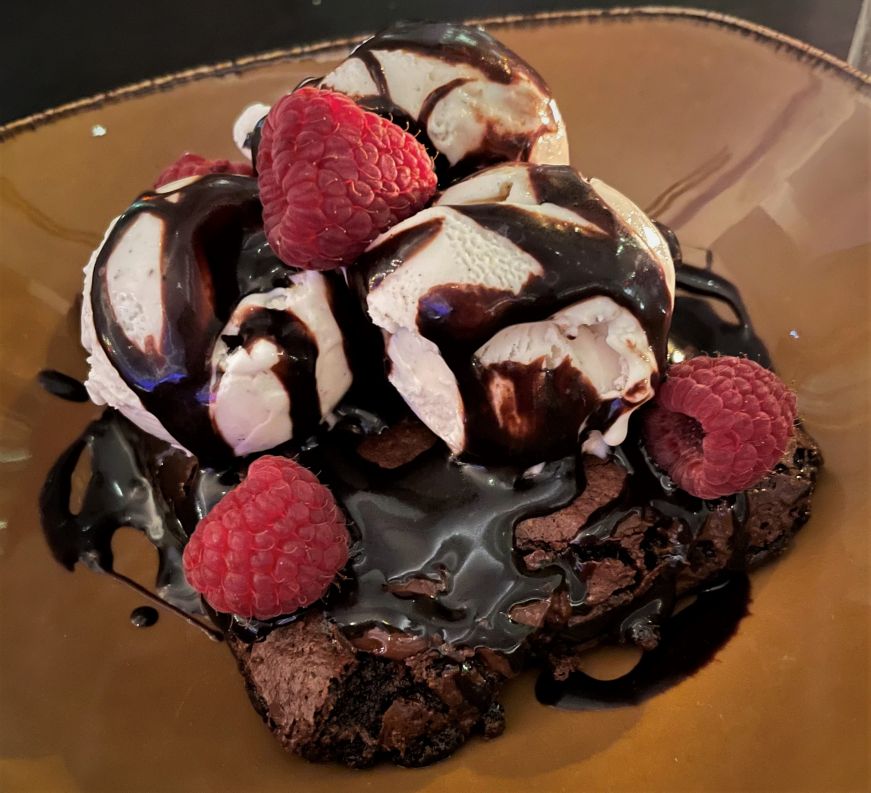 2. Warm brownie sundae, Whiskey & Soda
If there's a brownie sundae on the dessert menu (or really, anything extra-chocolaty) I will be ordering it, and our meal at Whiskey & Soda was no exception.  The brownie was almost underbaked, a warm, gooey mass of bittersweet chocolate with a generous drizzle of hot fudge sauce, fresh raspberries, and a few scoops of vanilla gelato.  Yes, it was over the top, and yes, it was perfect.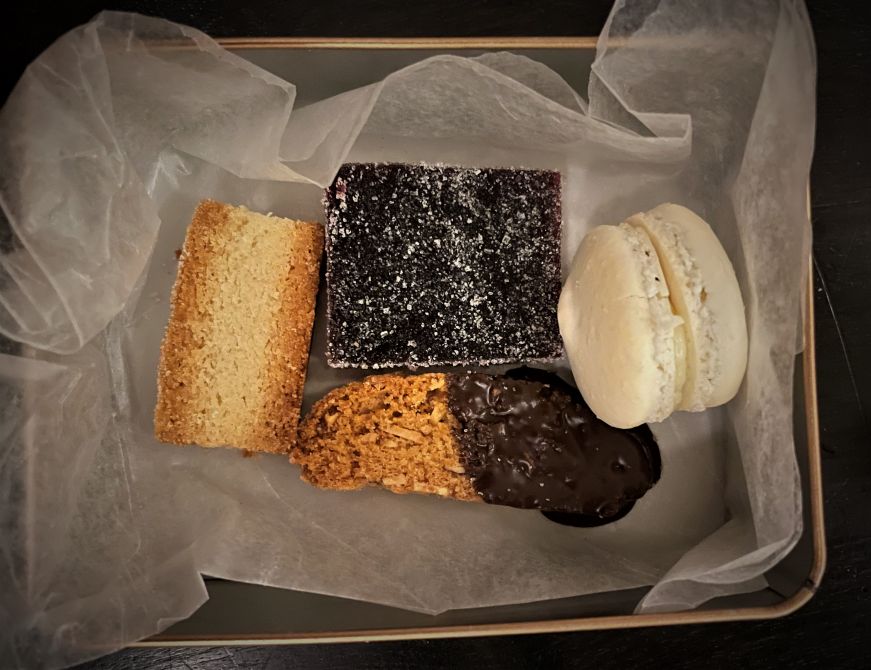 3. Fruit jelly, Spoon and Stable
The first time I ever dined at Spoon and Stable (one of Minneapolis' most highly-regarded fine dining establishments) was in February 2021, and it was simultaneously very surreal and very normal.  It was an anniversary dinner, and everything was excellent—that's kind of the point.  But what has stuck with me the most about that meal was the tiny tin of treats that that our server brought out with the check: a tiny chocolate-dipped biscotti, a miniature macron, a diminutive cookie, and my favorite, a fruit jelly with concentrated bright berry flavors and a smattering of salt.  It was interesting and unexpected, and maybe what made it so good was that I knew a very special evening was drawing to a close.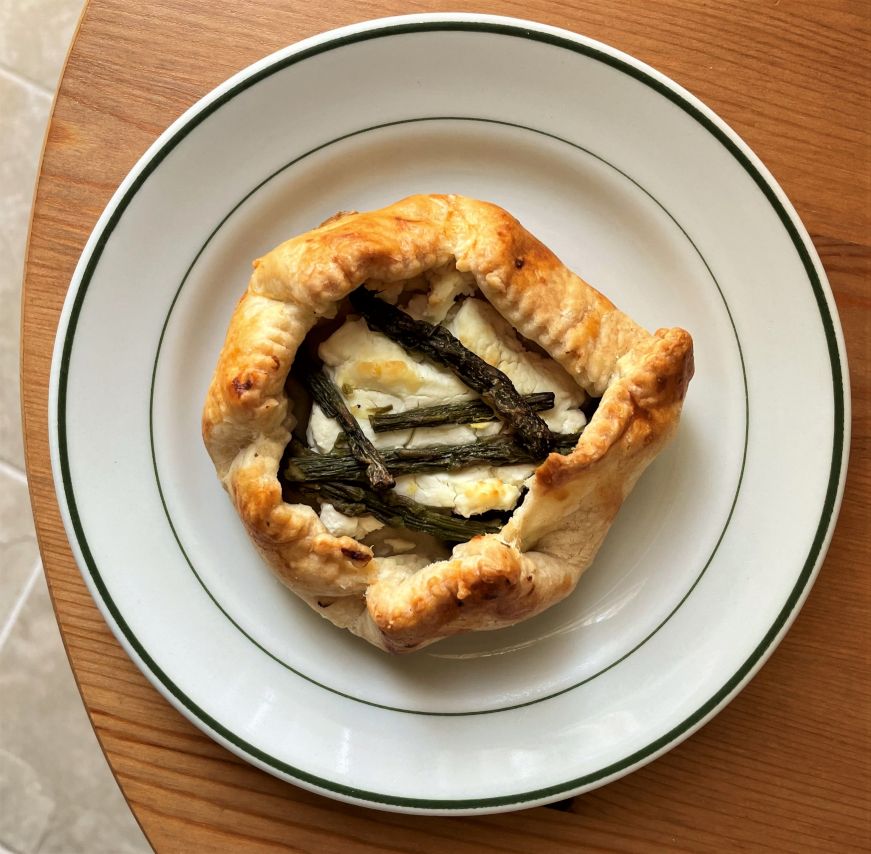 4. Asparagus chèvre galette, Fruit and Grain Bakery
If you can't tell from the first three items on this list, I gravitate towards sweets, but I took a chance on a savory asparagus and chèvre galette from Fruit and Grain Bakery.  I'm so glad I did.  The crust managed to be both flaky and substantial, and the goat cheese filling spiked with lemon had a brightness that tasted like spring.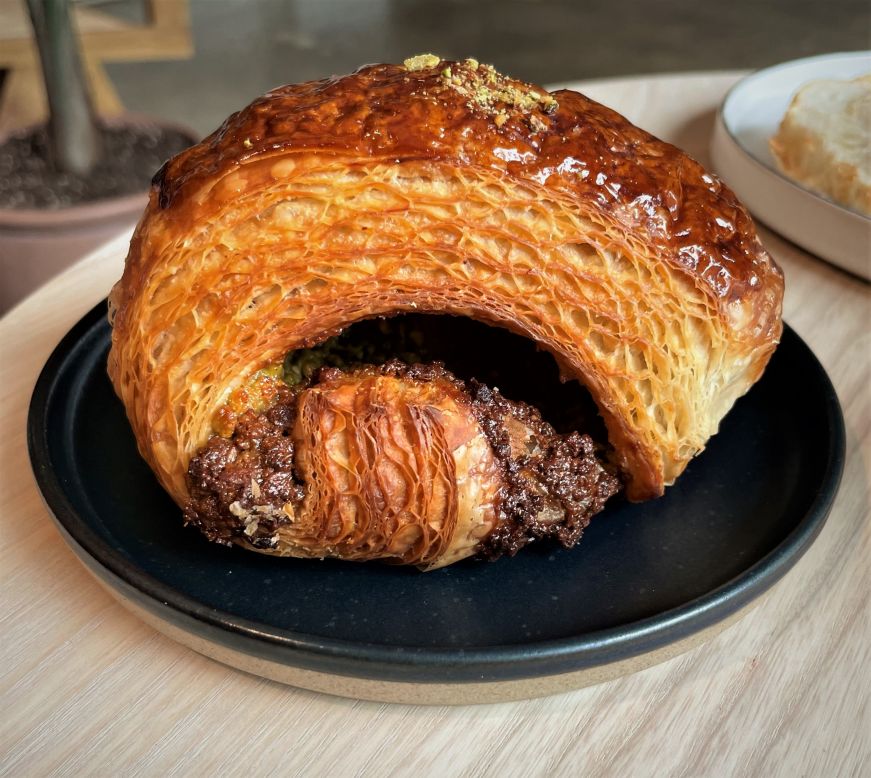 5. Pistachio croissant, Café Cerés
The trouble with croissants is that they often look far better than they taste, but the pistachio croissant at Café Cerés lived up to its beautiful appearance.  It was extra flaky—even for a croissant—with a slightly crisp shiny exterior and lofty interior layers.  The pistachio filling had a balance of sweet and salty notes, and the crunch of nuts made for an intriguing contrast to the airiness of the pastry.
6. Cappelletti stuffed with Bent River filling served with shiitake mushrooms and broth, Tenant
One of the highlights of the spring tasting menu at Tenant was a cheese-stuffed pasta served in a mushroom broth.  The Camembert-style cheese had an unapologetic funkiness, its creaminess contrasting with the gratifying chew of the thick folds of fresh pasta.  Then there was a rush of intense umami from the shiitake mushrooms and a final flourish of salty broth.  I ate my way through the dish delicately, tiny bite by tiny bite, because each piece of pasta seemed so precious.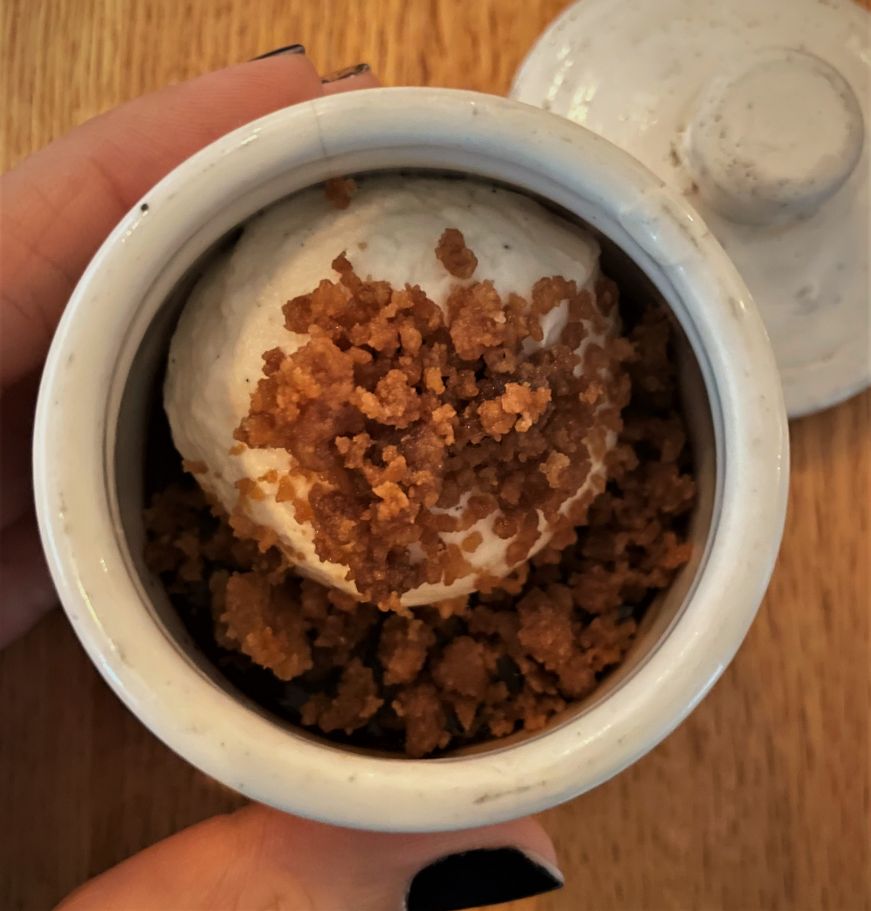 7. Chocolate espresso custard with whipped cream and streusel, Tenant
Josh: "You look like you're about to cry."
Me: "It's just so good."
The other highlight of our meal at Tenant was the dessert course, a small ceramic dish of chocolate espresso custard eaten with a miniature spoon.  The custard was very thick, more coffee forward than chocolate, with bits of crunchy streusel and a light whipped cream topping that accentuated the custard's luxurious texture.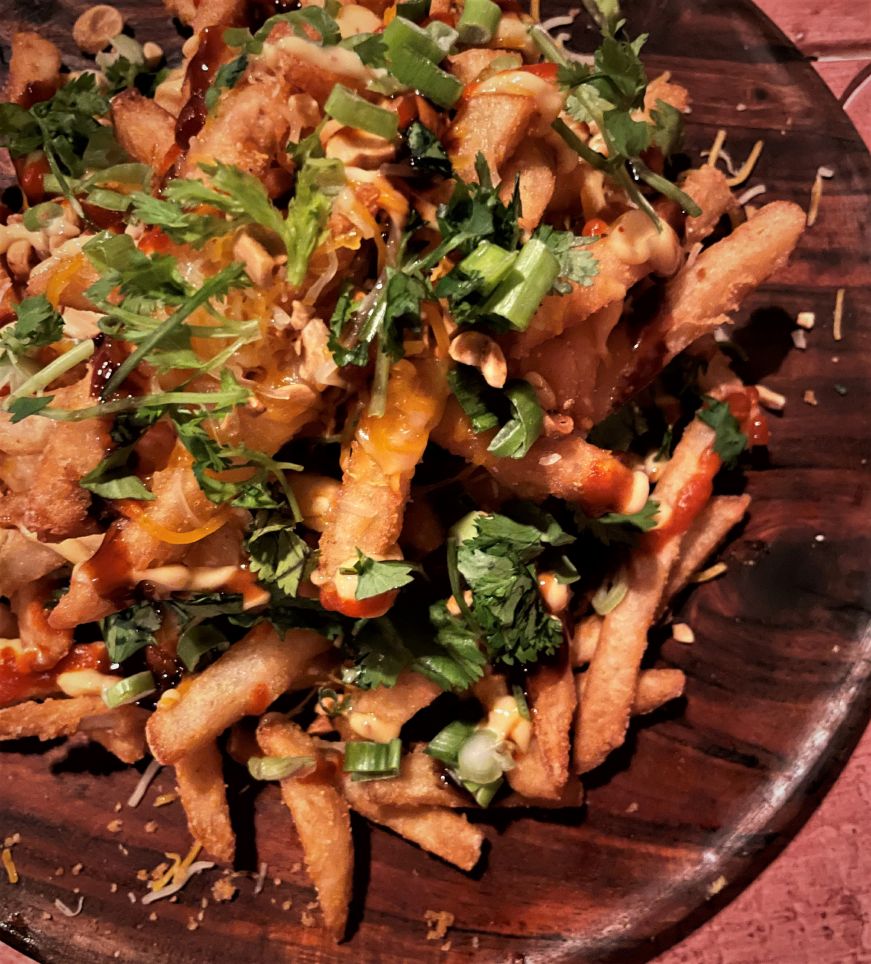 8. Gangster fries, Nucky's Speakeasy
On paper, the gangster fries at Nucky's Speakeasy seem like a weird mashup: French fries topped with hoisin and sriracha sauces, fresh cilantro, green onions, chopped peanuts, and melted shreds of Parmesan.  But the fries were excellent, with a light, crisp outer layer, and the combination of flavors and textures worked—even the Parmesan, which added just the right amount of salt and umami.  One of my favorite memories from the heady post-vaccine and pre-delta months of 2021 is how good it felt to go out without a tinge of anxiety and enjoy a giant plate of fries with a cocktail.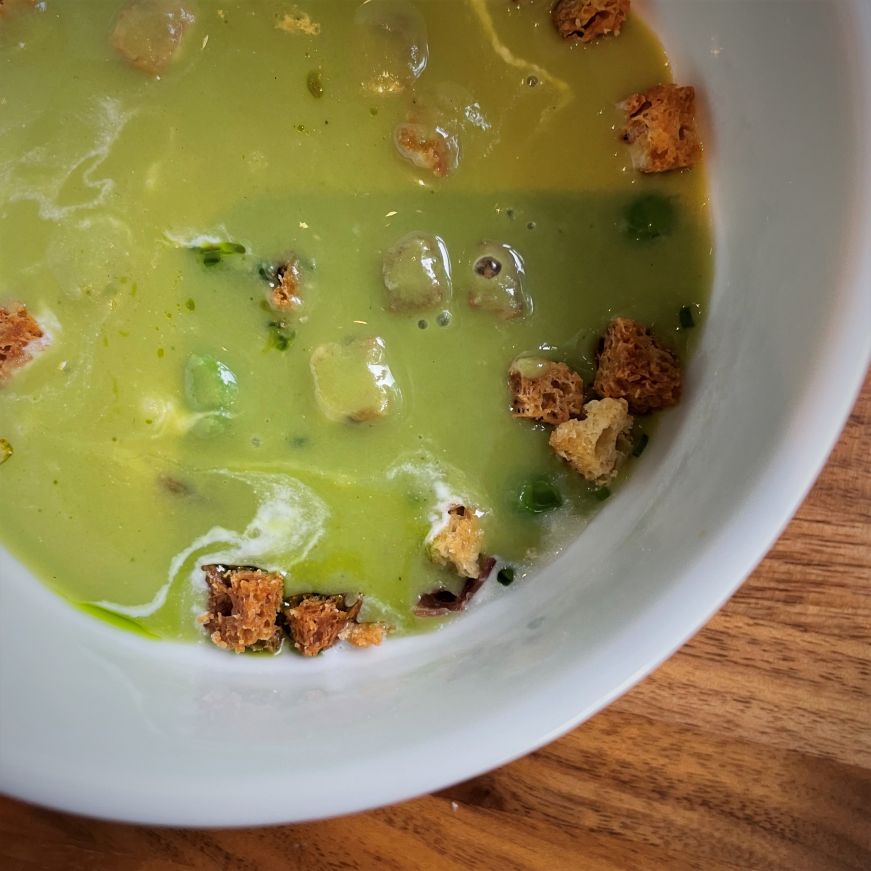 9. Chilled sweet pea soup, Alma
Our server at Alma told us the chilled pea soup was made with four different types of peas, and maybe that's why it had such a sensual mouthfeel.  Or maybe the theatrical presentation influenced my palate: bits of prosciutto and tiny brioche croutons were arranged in a small bowl, and then the cold, brilliant green soup was poured tableside from a ceramic carafe.  Whatever the reason, the soup tasted like the feeling of walking through dew-covered grass on a summer morning, when the air is fresh and damp and the day is filled with possibility.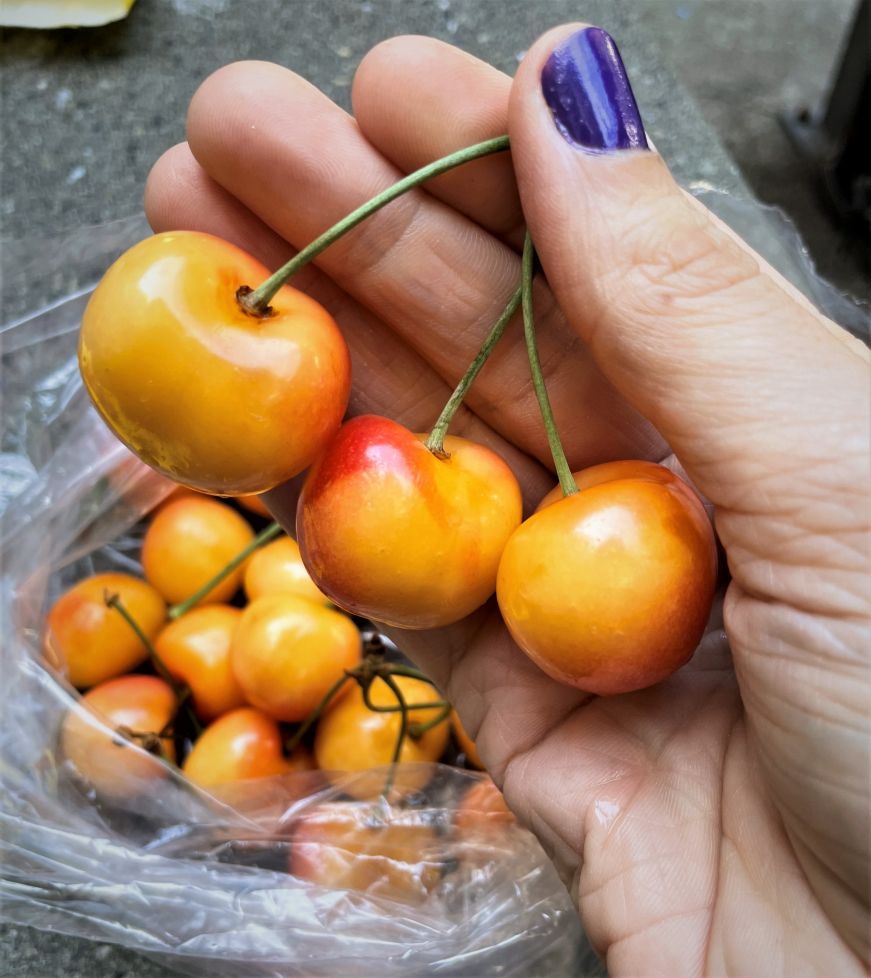 10. Rainier cherries, Pike Place Market
Our July trip to Seattle coincided with cherry season, and the Rainier cherries I purchased at Pike Place Market were the best cherries I've ever eaten: perfectly ripened, bright pops of sweetness and sunshine.  I bought a bag every day and ate cherries as we wandered around the city.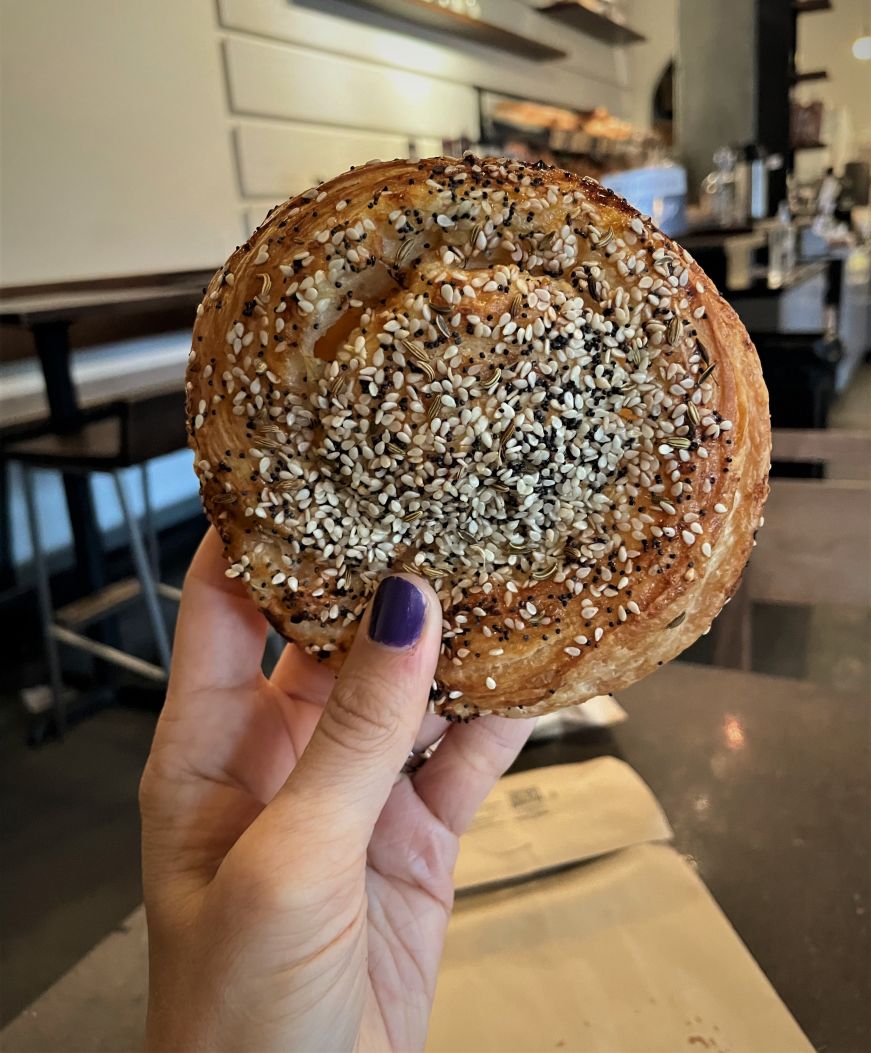 11. Savory pinwheel, Macrina Bakery
When I'm on vacation, I like to try as many new foods as possible, but the savory pinwheel at Seattle's Macrina Bakery was so good that I ordered it twice.  The flaky, buttery coil of pastry was topped with caraway, sesame, and poppy seeds, with a substantial quality perfect for fueling a day of sightseeing.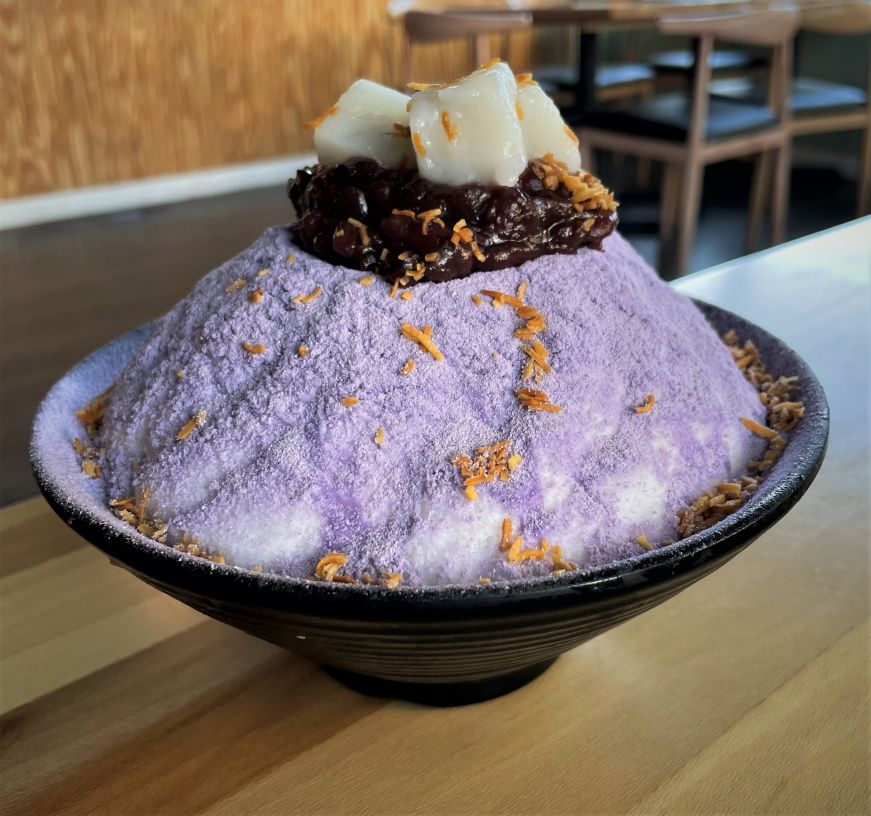 12. Taro bingsoo, Milkie Milkie
Another Seattle favorite, the taro bingsoo at Milkie Milkie paired some of my favorite adulthood flavors with the childhood joy of eating fresh snow.  Finely shaved ice was layered with taro powder, red bean paste, toasted coconut flakes, and cubes of homemade rice cake, and served with a cup of sweetened condensed milk.  The delicate texture of the ice melded with the toppings for a refreshing, composed dessert.  The rice cake was especially tasty, and it reminded me of butter mochi I enjoyed in Hawaii.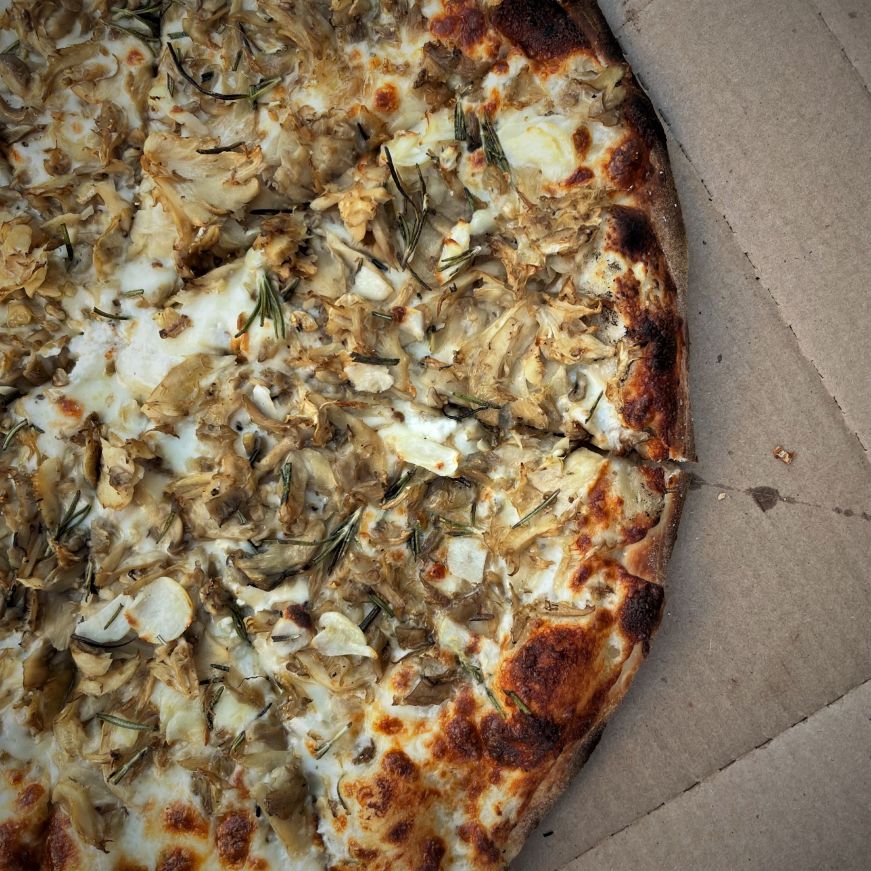 13. Number 7, Black Sheep Pizza
Usually I don't think of mushrooms as "meaty," but the oyster mushrooms atop the Number 7 at Black Sheep Pizza had a delectable quality I usually associate with beef.  In addition to being loaded with oyster mushrooms, the pizza included copious amounts of fresh rosemary and garlic and slightly smoky mozzarella, on a really good crust.  Although it was a bit pricey, I'm glad we ordered the 16-inch so that I could enjoy leftover pizza over the next two days.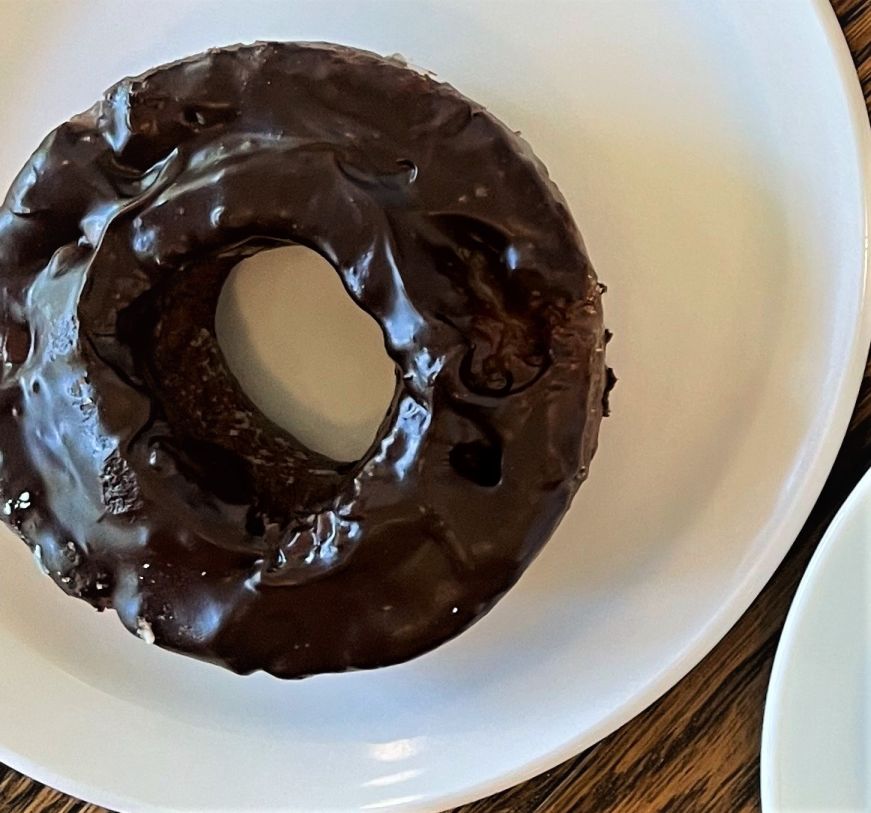 14. Chocolate glazed chocolate old fashioned donut, Mojo Monkey Donuts
Mojo Monkey Donuts is one of my favorite donut shops in the Twin Cities (their eggnog old fashioned made the best things I ate in 2019 list), but I don't get over there very often because they're in located in St. Paul and have somewhat limited hours.  Luckily, I discovered their donuts stocked in the pastry case at Spyhouse in St. Paul.  The chocolate glazed chocolate old fashioned had a satisfying tang from a hint of sour cream, which also made for a moist, tender crumb.  The glaze was extra-chocolaty without being too sweet, and the donut itself was richly flavored with chocolate.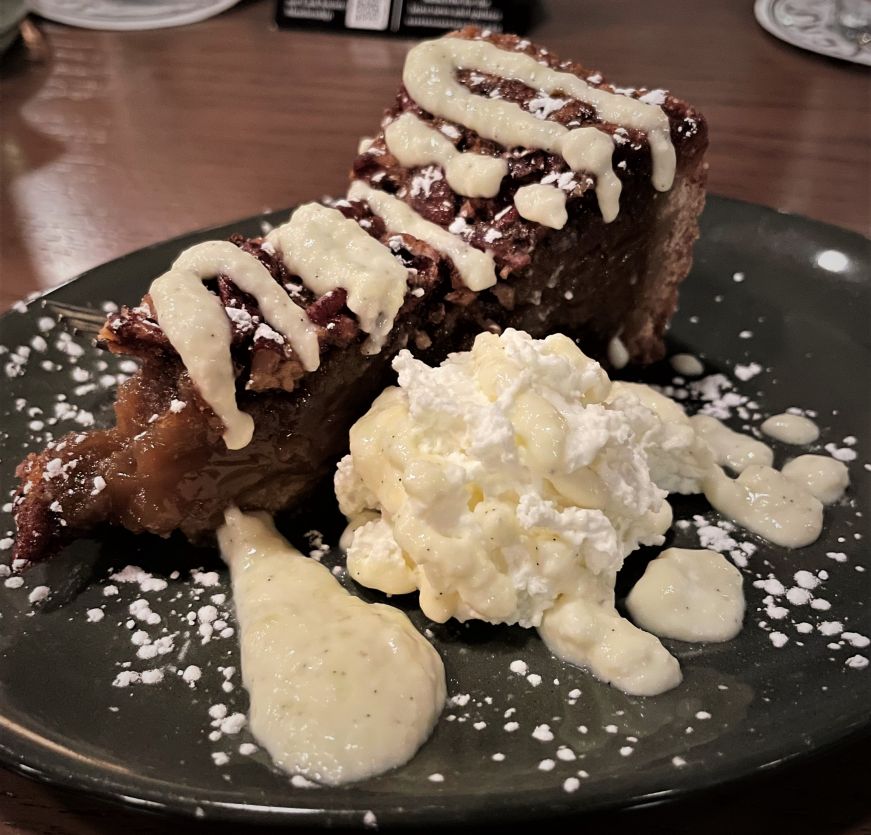 15. Pecan pie, O'Shaughnessy Distilling Co. Whiskey Lounge
I love pecan pie, although some iterations can be too saccharine even for my well-honed sweet tooth.  The pecan pie on the menu at O'Shaughnessy Distilling Co. Whiskey Lounge is one of the best versions I've tasted, with an almost fluffy texture and an unexpected depth from the whiskey-infused pecans.  I wouldn't typically pay $11 for a single piece of pie, but this slice was worth it.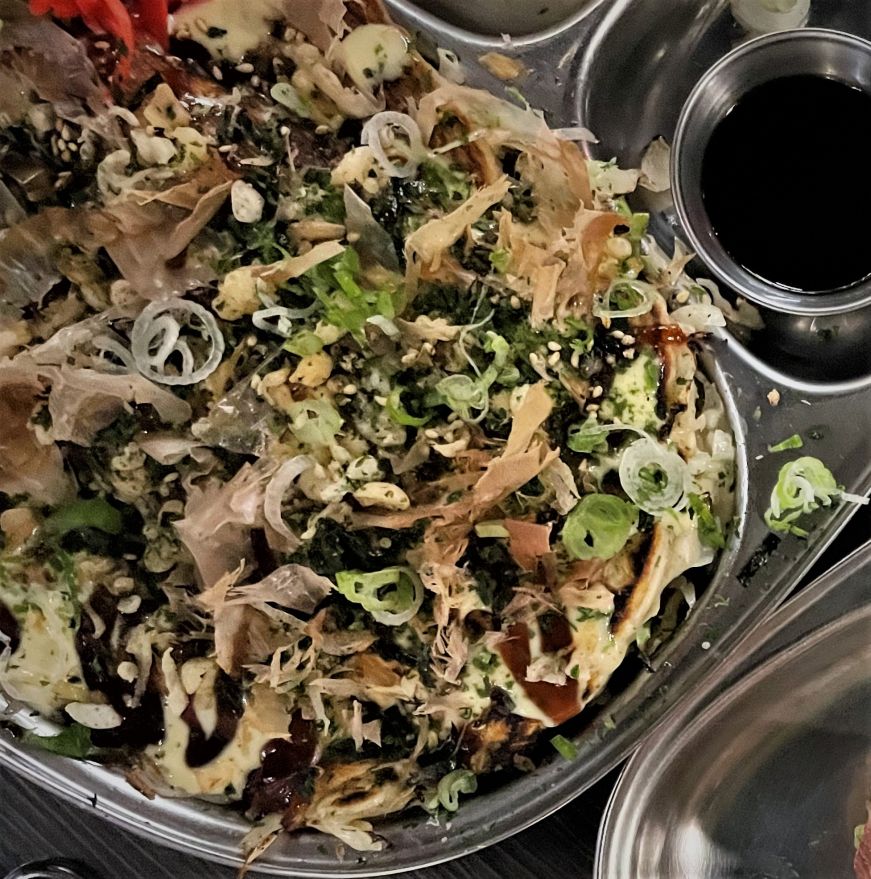 16. Hiroshima Okonomiyaki, PinKU Japanese Street Food
For years I've wanted to try okonomiyaki (a Japanese savory pancake with a variety of toppings), and I finally got my chance at PinKU Japanese Street Food.  They served a Hiroshima-style version topped with cabbage, bonito, tempura flakes, sliced pork belly, and a fried egg, served atop noodles and drizzled with topped with sauce and Japanese mayo.  It was a jumble of textures and flavors, but it all worked: the chewy pancake, the crisp cabbage, bouncy noodles, sweet sauce, and small bits of crispy, salty pork belly.
(PinKU permanently closed at the end of 2021, so I'm especially glad I made it there to try this dish.)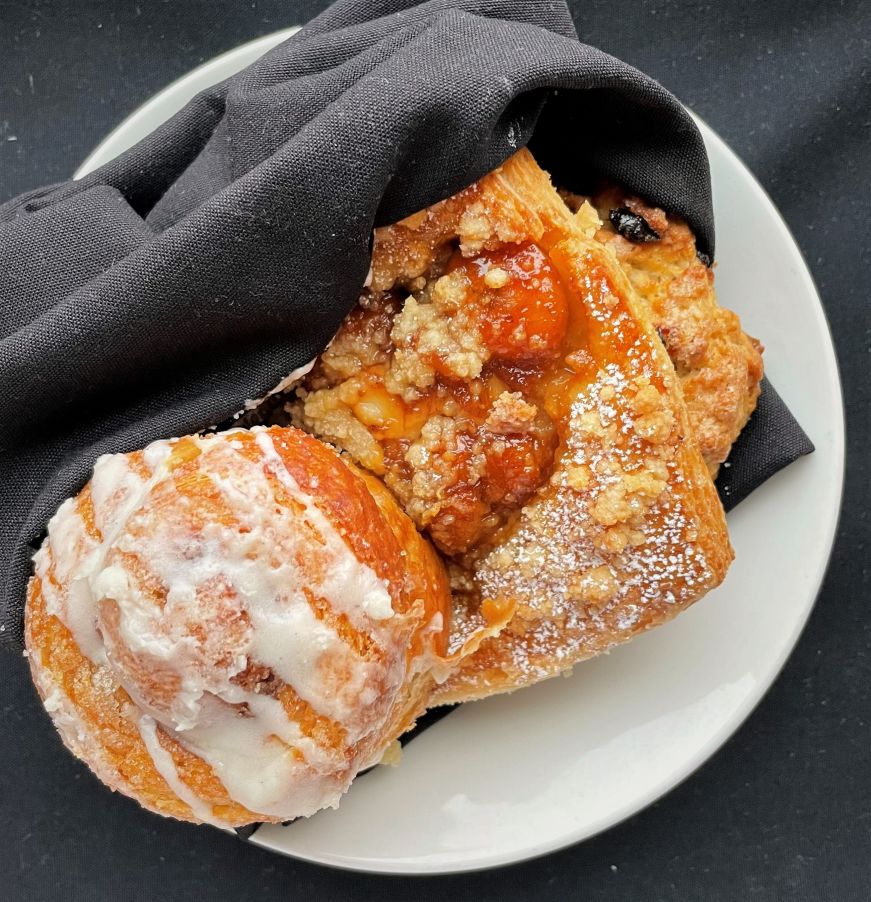 17. Pastries, Alma
One of the best parts of our staycation at Alma Hotel was having fresh pastries and espresso drinks with latte art delivered to our door.  The lemon-currant scone was the freshest scone I've ever eaten, with a meltingly tender crumb.  There was a delicate danish filled with glistening bananas with a rich, custard-like texture.  The intensely spiced cinnamon roll was a swirl of laminated dough with the perfect amount of icing, sweet but not overwhelmingly so.  It was truly memorable breakfast to wrap up a memorable hotel stay.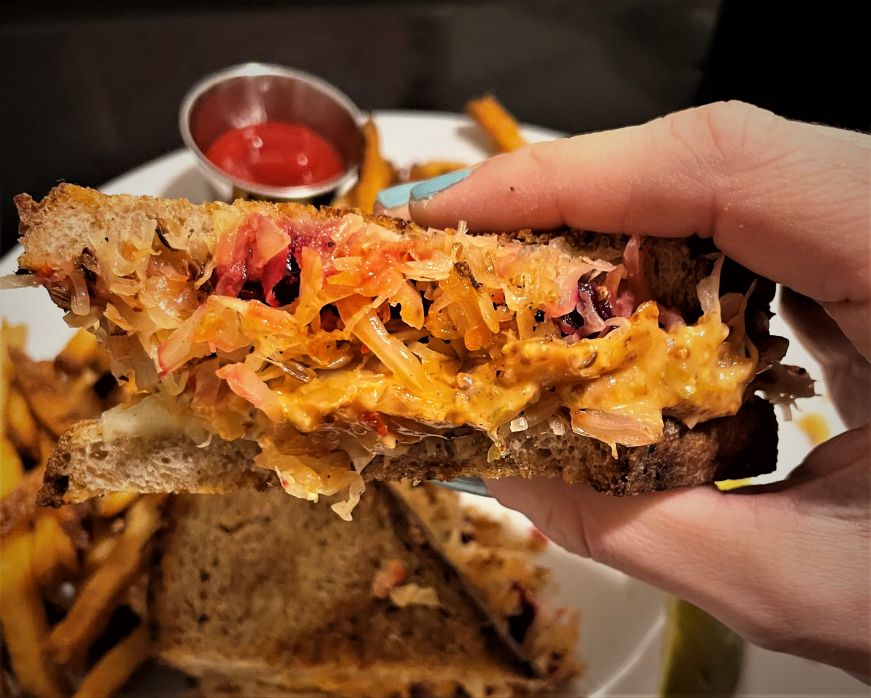 18. Beet reuben, Ole Store Restaurant
I ordered the beet reuben at Ole Store Restaurant almost by default—it was one of the two vegetarian options on the menu, and it came with fries.  I was treated to a platonic ideal of a sandwich: perfectly toasted bread piled with earthy slices of beets, a sweet dressing, tangy sauerkraut, and melted Swiss cheese.  It was comfort food with pizzazz, the sauerkraut and beets providing a counterbalance to the richness of the melted cheese.
And comfort food with fries?  That was the perfect way to close out this roller coaster of a year.
Further reading: