Home Happy Hour is a occasional series featuring cocktail kits from local craft distilleries and grocery store snacks.  These posts aren't sponsored—I pay for all items mentioned out-of-pocket.
When Mike and I started planning our winter getaway to Bluefin Bay, I knew that it would have to include a cocktail kit.  Since our route from our home in the Twin Cities metro to the North Shore took us through Duluth, we placed a curbside pickup order with Vikre Distillery.
Vikre offers a lineup of of nearly two dozen cocktail kits, ranging from straightforward classics to unique seasonal creations.  I've been on an aquavit kick lately, so I opted for Emily's Norwegian Gløgg.  Inspired by Scandinavian mulled wine, it includes a bottle of Ovrevann aquavit, gløgg mix, and a fresh orange.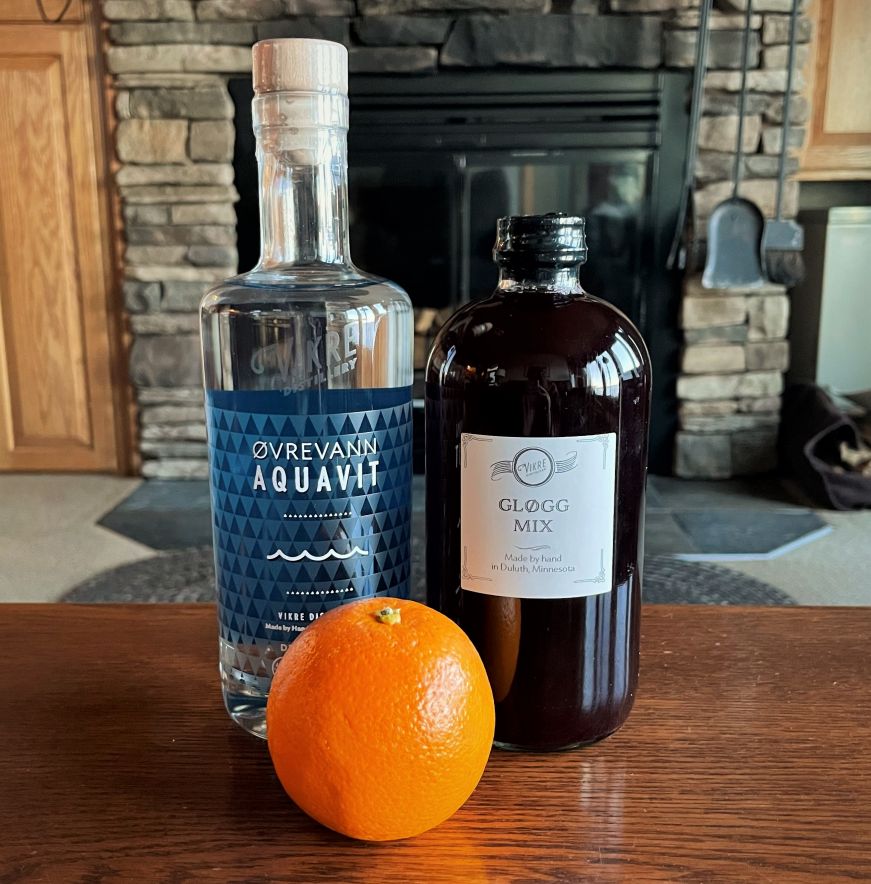 Assembling the cocktails was simple: I combined an orange slice and aquavit in a mug, and then topped it off with gløgg mix that I warmed up on the stove in a saucepan.  Flavor-wise, it starts off by evoking a mulled wine, with notes of black currant, citrus, and warming spices (I mostly tasted cinnamon, Mike picked up anise).  Then the caraway from the aquavit hits your palate, and the flavor deepens and expands.
On a chilly winter evening, a cocktail served warm was especially welcome, and sipping our mugs of aquavit gløgg by the fireplace is one of my favorite memories from our getaway.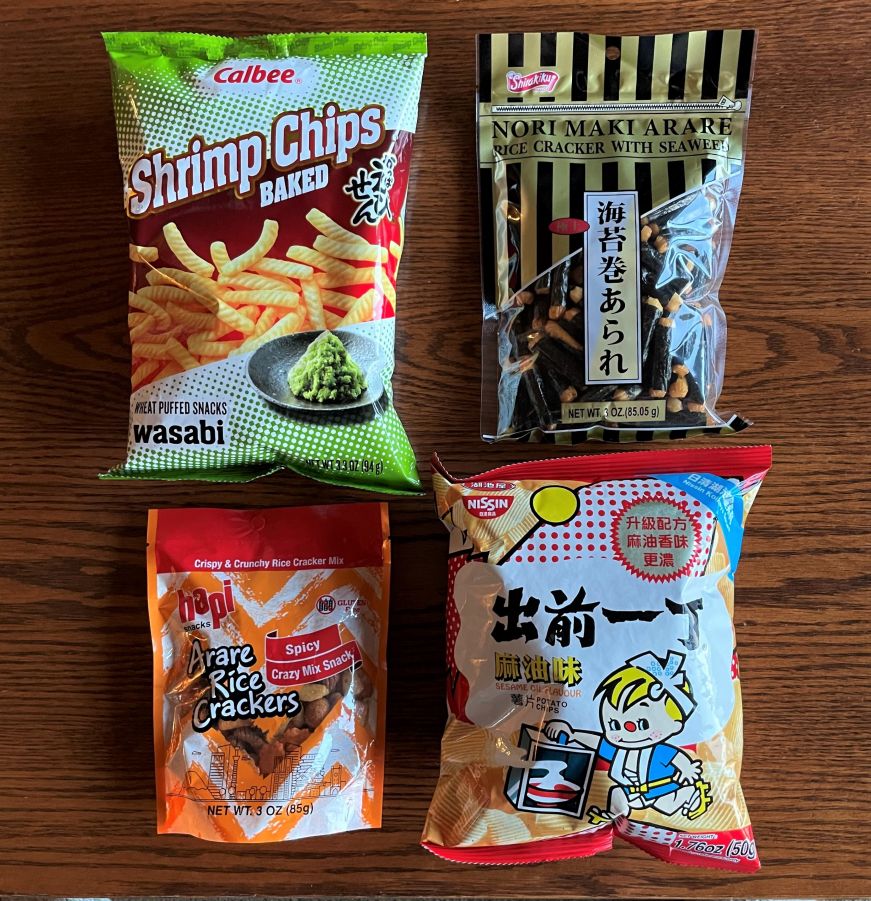 As I've mentioned previously on the blog, United Noodles is an Asian market store with locations in Minneapolis and Woodbury, and they stock a wide range of imported snacks.  On a recent visit, I stocked up on some new-to-me snacks: Calbee Wasabi Shrimp Chips, Shirakiku Rice Crackers with Seaweed, Nissin Sesame Oil Flavor Potato Chips, and Hapi Arare Rice Crackers Spicy Crazy Mix Snack.
The Nissin Sesame Oil Flavor Potato Chips were my favorite of the bunch.  The sesame flavor was subtle and they had a light, almost puffy texture.  The closest comparison I can think of is the TGI Friday's Potato Skins you can buy at gas stations, but the Nissin chips have a more nuanced flavor and loftier bite.  The only disappointment is that the bag is mostly filled with air—I wanted more chips!
I love shrimp-flavored snacks, so unsurprisingly the Calbee Wasabi Shrimp Chips were a close second favorite.  The heat level was pronounced but not overwhelming, and the shrimp and wasabi notes blended well together.  The texture is puffy but substantial enough to be satisfying, and the bag contained three cereal bowl-sized portions.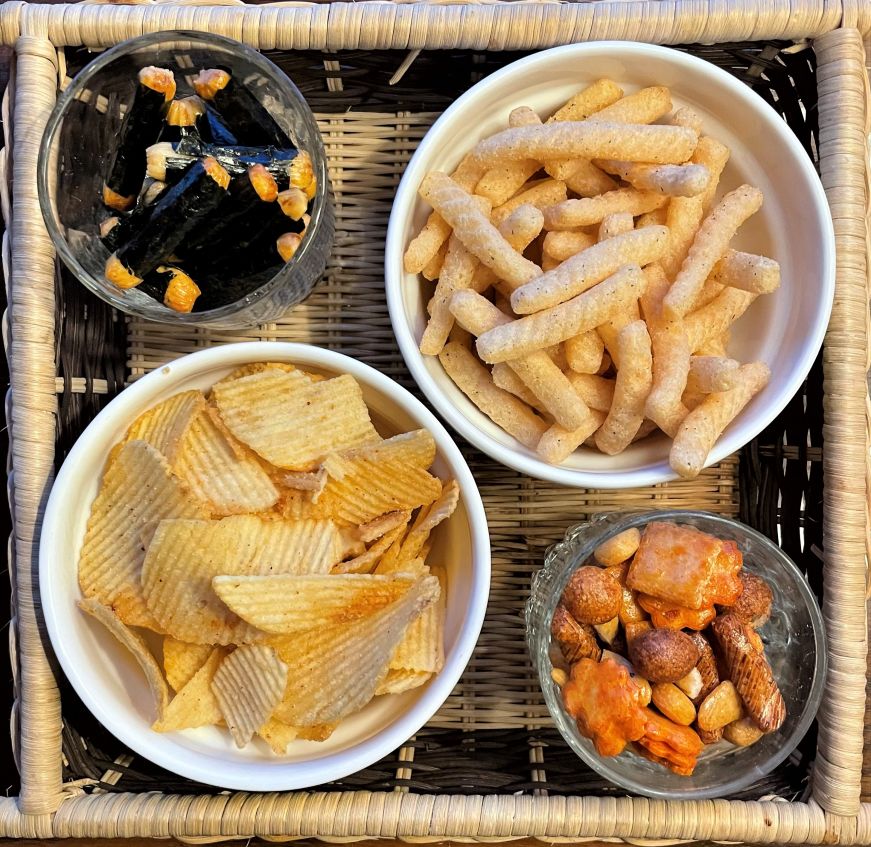 The Hapi Arare Rice Crackers Spicy Crazy Mix Snack had a good variety of crackers, and it was quite spicy.  However, it was indistinguishable from similar spicy rice cracker mixes I've tried over the years—it's fine, but I wouldn't go out my way to buy it again.
The only disappointment of the evening was the Shirakiku Rice Crackers with Seaweed.  This is more a personal taste thing than a shortcoming of the product—after a few crackers I got bored.  They taste like a sushi roll filled with nothing but rice.  I wanted some heat, a hint of umami, anything to break up the monotony.  I do think they would be good as a component in a snack mix, and if I had had more crazy mix snack I would've added them in. 
While Vikre Distillery's cocktail kits and United Noodles' snacks draw from very different culinary traditions, they have one thing in common: they're both perfect for a delicious winter evening in.
Further reading
If you enjoyed this post, pin it!