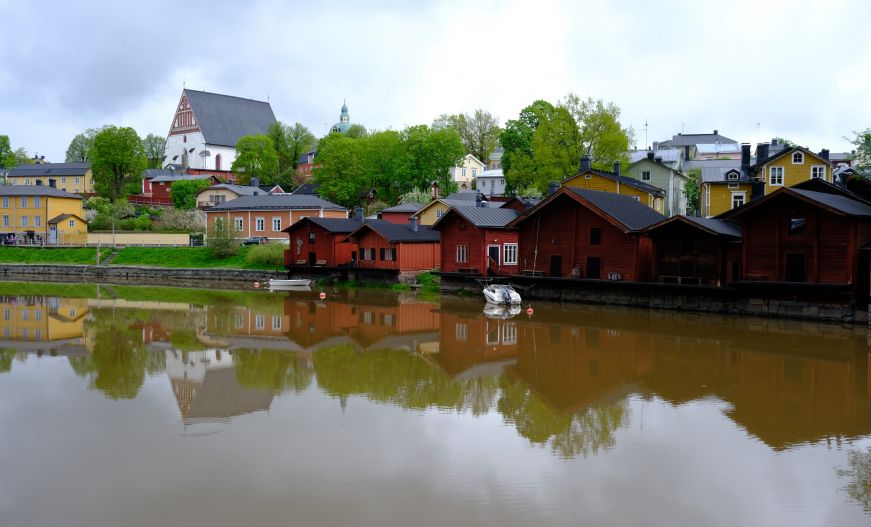 Pristine lakes, pine forests, rocky coastlines, fanciful architecture, modern design, saunas, salty licorice, cardamom-laced pastries—there are so many things that make Finland one of my very favorite places that I've visited.
Finland was my first international trip post-pandemic, and that was intentional.  I've long been proud of my Finnish heritage and I loved the day I spent in Helsinki on our 2014 Baltic cruise.  But being stuck at home inspired me to explore further.  I took an intro to Finnish language class via Zoom, studied some basic Finnish vocabulary with Duolingo, and watched Deadwind and Bordertown on Netflix.  Something about the landscape, the people, and the culture felt familiar and also aspirational, and making Finland the first country I traveled to after a very difficult time in my life felt right. 
Mike and I spent nine nights in Finland, with four nights in Helsinki, two nights in Turku, one night in Tampere, and two nights in Vääksy.  This gave us enough time to explore three of Finland's four regions: greater Helsinki, the coast and archipelago (Turku), and Lakeland (Tampere and Vääksy).  Finland's other region is Lapland, in the far north (for us, it didn't make sense to visit in the summer off-season since it would have required a lot of extra travel time).  Most American tourists stick to Helsinki, which is understandable—it's a very cool city and it's convenient to tack onto a European itinerary—but I encourage you to spend time outside the capital city, even if it's just a side trip to Porvoo. 
This post isn't meant to be a comprehensive travel guide—for that, I recommend Visit Finland, the country's official tourism website, as well as Visit Turku, Visit Tampere, and Visit Lahti (which covers much of Lakeland) if you're visiting those cities or regions.  These are tips based on my own experiences that I didn't see in other sources, and that I wish I had known before my trip.  Finland might not be a top tourist destination for Americans, but it should be! 
Out and about
1. Towns and cities often have two different names—one in Finnish and another in Swedish.
Finland was part of the Swedish empire from the 1300s through 1809, and to this day, the country has a Swedish-speaking minority (about 5% of Finns speak Swedish as a first language).  Finnish and Swedish are both official languages, and you'll often see both languages on signage, restaurant menus, and product packaging.  Swedish is especially prominent in the southeastern portion of the country, where the Swedish-speaking population is concentrated.
Many towns and cities have different names in Finnish and Swedish.  For example, Helsinki is known as Helsingfors to Swedish-speakers, and you'll see both names on highway signs.  The dual naming system gets especially complicated along Finland's Small Archipelago Trail, where some towns are commonly referred to by their Finnish names and others are primarily known by their Swedish names.  It's good to at least be aware of both Finnish and Swedish place names to minimize confusion.
2. Make sure to separate your garbage.
My first hint that Finland did things a quite a bit differently than the U.S. when it comes to waste disposal was when our Helsinki Airbnb host spent about 10 minutes explaining how to correctly sort our garbage, including a tour of the array of bins in the building's basement for each type of recycling, organic material, packaging, and other items.  If you're staying at an Airbnb or private rental, your host will likely leave you instructions about how to sort your waste, and in public places, bins are usually labeled with pictures so you can figure out what goes where.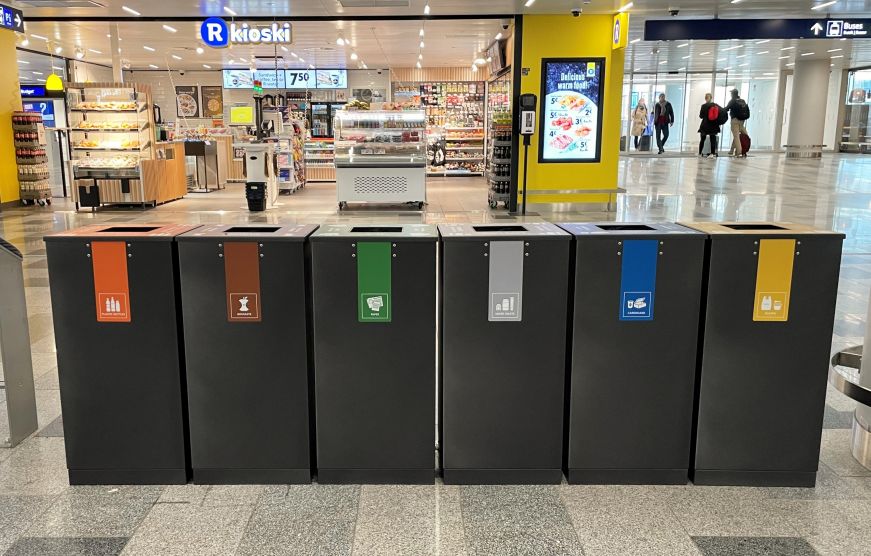 Transportation
3. You need to hail buses.
Buses don't automatically stop for passengers waiting at a bus stop—you need to get the driver's attention with an outstretched arm, in the way you would hail a cab.  Just make sure you've double checked the route number and that you're hailing the correct bus!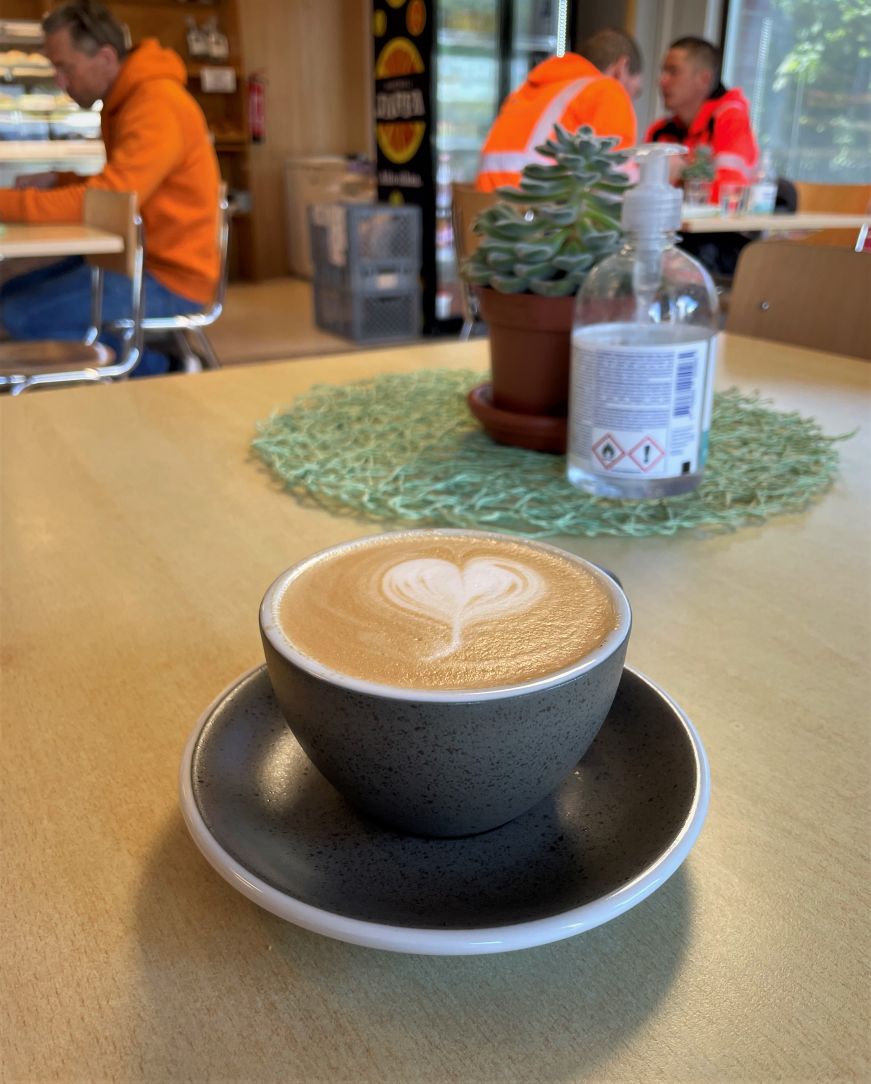 Dining
4. Finns take coffee very seriously.
Finland is one top coffee consuming countries in the world, with the average Finn drinking 3-5 cups per day.  Most of that is filter coffee that people prepare for themselves at home or work, but there is also a robust coffee shop and cafe scene.  You can get a high-quality, hand-crafted espresso drink almost anywhere, from a small town diner to a snack kiosk at a marina.  We drank a great deal of coffee throughout our time in Finland, and it was consistently excellent.
Other than a couple of Starbucks locations in Helsinki, you won't see any American coffee brands.  Roberts Coffee is a popular Finland-based chain and Espresso House has locations throughout the Nordic countries and Germany—we enjoyed them both, as well as the myriad local independent coffee shops we visited.
5. Smoking is permitted at outdoor restaurants.
I live in a U.S. state with a smoking ban that includes outdoor public spaces like restaurant patios, so I take non-smoking areas for granted.  In Finland, smoking in outdoor spaces (other than at public beaches and playgrounds) is permitted.  If you're sensitive to cigarette smoke, it might be worthwhile to sit indoors instead of outside at restaurants.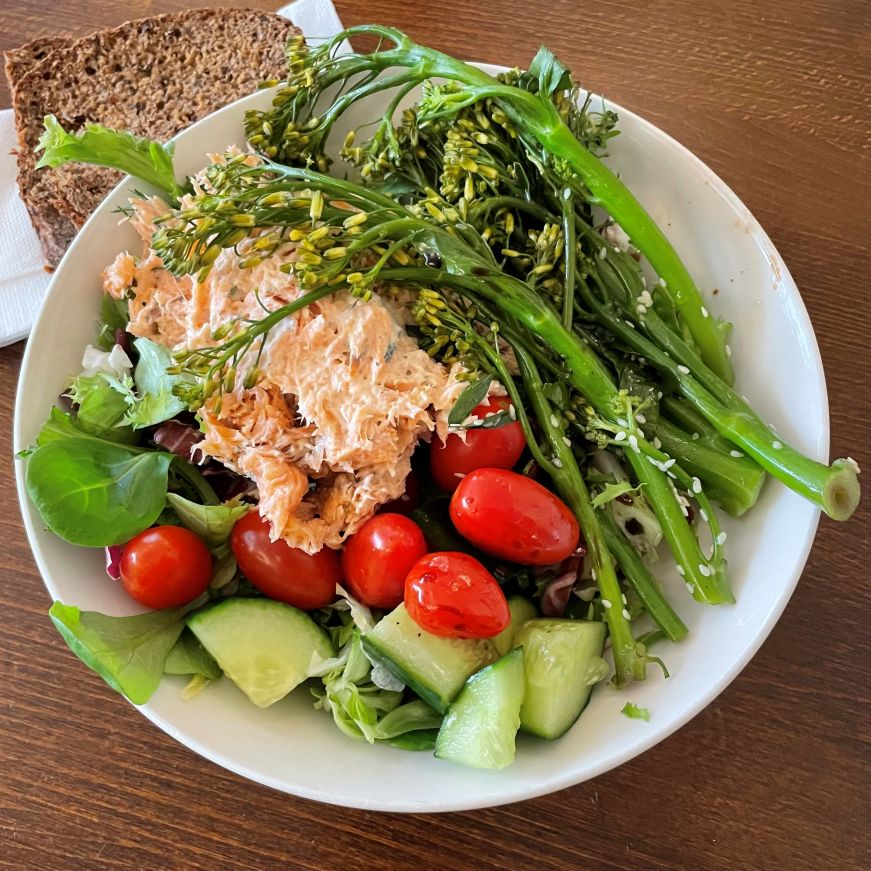 Shopping
6. Credit cards are widely accepted.
Credit cards are the default payment method in Finland, at restaurants, shops (even for very small purchases at local businesses), and parking meters.  During our stay, we never had to use cash—in fact, when I tried to pay for a postcard with some euros I had left over from a previous trip, the salesperson seemed genuinely confused and then told me that it had been so long since someone had paid in cash that she needed a moment to figure out how to process the transaction. 
I wouldn't bother withdrawing or converting any significant amount of money for your trip (maybe €20 or so as a backup) since you probably won't need it.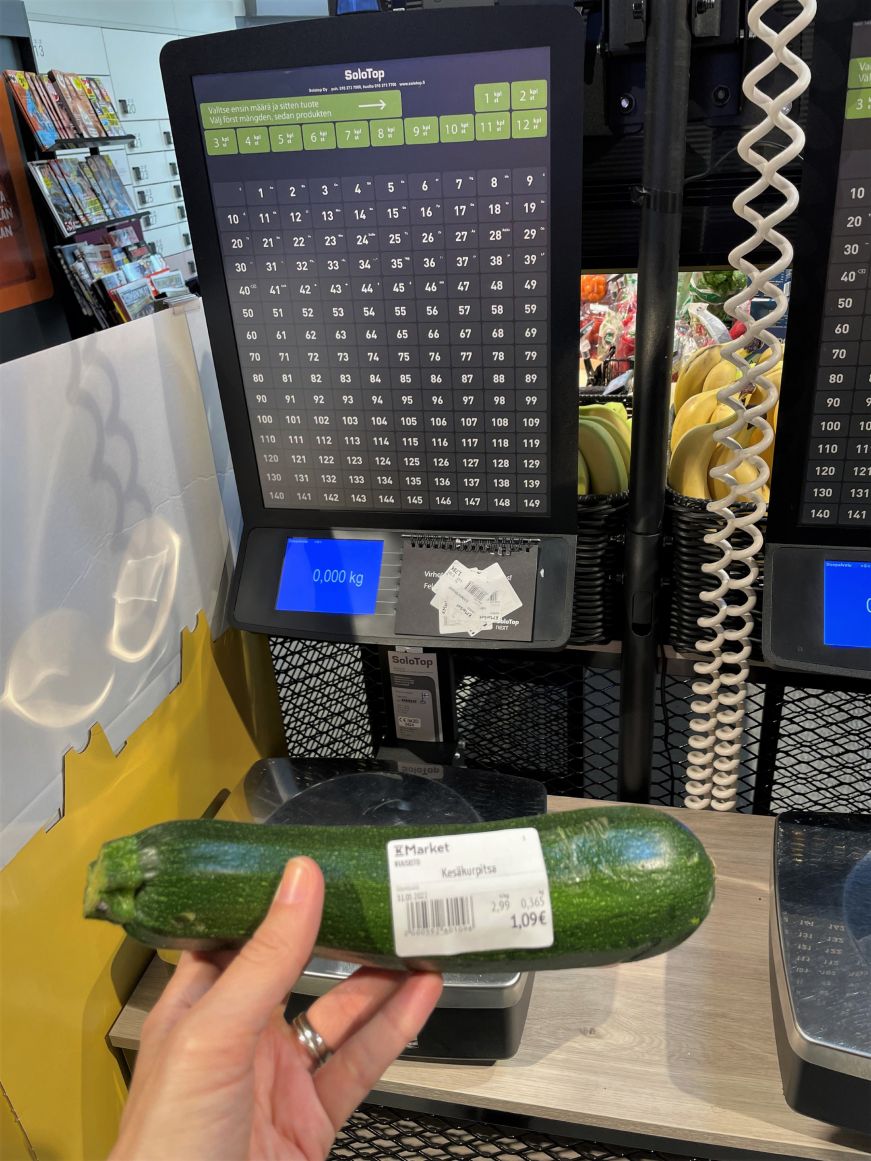 7. You need to weigh and label your own produce.
Have you ever purchased something from the bulk bins at a co-op, and had to weigh your bag of almonds and then print a label?  In Finland, that's how the produce section at grocery stores works.  Instead of having the cashier weigh your bananas at the checkout (as is typical in the U.S.), you weigh your own produce and key in the correct produce code (it will be on the sign for your produce item or you can look it up on the touchscreen if you read Finnish or Swedish).  A handy label with a bar code prints out for you to stick to your item, and then the cashier can scan it at the checkout.
8. Redeem your plastic bottle deposits at a grocery store.
Similar to other European countries I've visited, Finland charges a deposit on plastic bottles.  You can redeem it by putting your empty bottles into a machine at a grocery store (they may exist in other locations, too, I just happened to spot them in grocery stores).  You'll get a receipt that you can present to the cashier to get money off your grocery purchase.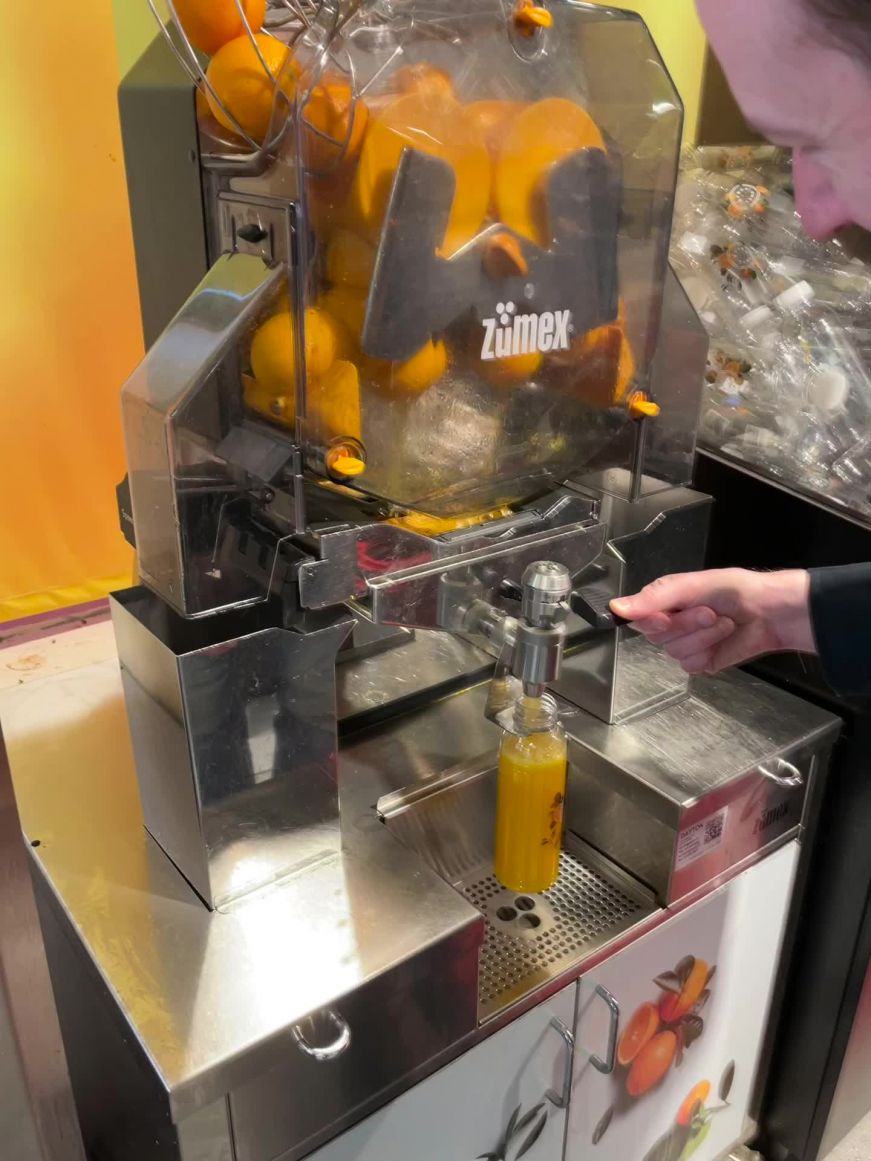 9. Keep your eyes peeled for fresh-squeezed orange juice dispensers.
Mike fell in love with the orange juice dispensers that we found in convenience and grocery stores throughout Finland.  They aren't a Finnish invention (the models we saw were made by Zumex, a Spanish company), but they did seem fairly prevalent.  Each machine features a basket of oranges at the top, and after you place an empty bottle into position and press a lever, the oranges are squeezed, one by one, into the bottle.  It's the freshest orange juice I've ever tasted, and it was quite reasonably priced compared to what you might spend at a juice bar or co-op in the United States.
At home
10. Put your dishes in the cabinet above the sink to dry.
Finnish apartments and houses tend to be quite small, so there are lots of design tricks to save space.  My favorite is the dish drying cabinet, which is a standard feature in Finnish kitchens.  Instead of putting your freshly-washed dishes in a rack to dry (which takes up valuable counter space), you put them in a drying cabinet above the sink.  The drying cabinet has wire shelves that allow the water to drip into the sink below, and the dishes are out of sight and out of the way.
11. Showers don't have an curb.
Showers in Finland are typically curbless, which means that there aren't any raised edges or boundaries between the shower and the bathroom floor (often there isn't a door either).  On the plus side, this makes the shower more accessible; on the downside, water gets all over the floor.  There will usually be a squeegee in the bathroom to push the water into the drain after your shower.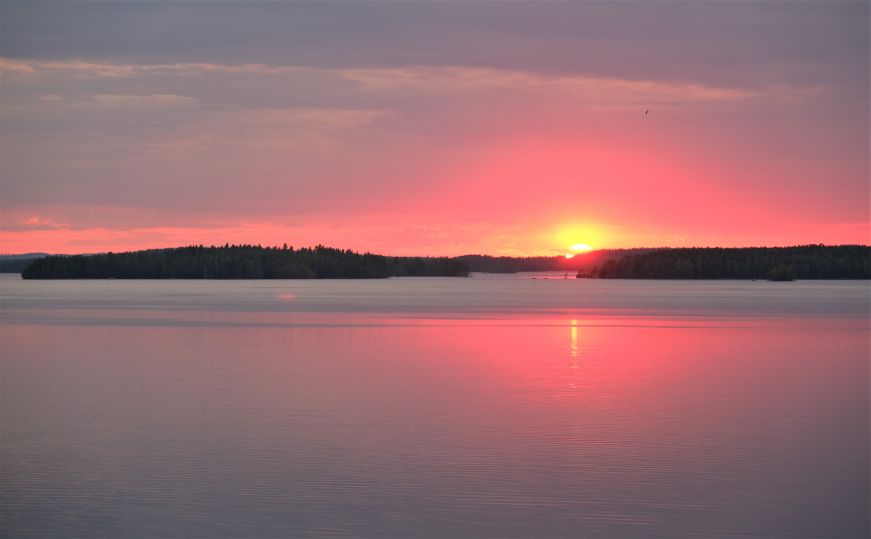 12. Bring an eye mask.
Because it's so far north, Finland's days are very long in the late spring, summer, and early fall—during our late May/early June trip, the sun rose around 4:00 a.m. and set around 10:30 p.m.  Not all of our accommodations had blackout shades or curtains, and Mike definitely would have slept better with an eye mask.  
Further reading:
If you enjoyed this post, pin it!