When it comes to international travel destinations, Rome looms large: the iconic arches of the Colosseum, the ornate statues of the Trevi Fountain, and the massive dome of St. Peter's Basilica.  Rome is the second-most visited city in Europe (after Paris) hosting 7-10 million tourists each year—and in May 2023, that included me and Mike.  Since our Mediterranean cruise departed from the nearby port of Civitavecchia, we kicked off our vacation with two nights in the Eternal City. 
This isn't meant to be a comprehensive guide; instead, it's a travelogue of the ups and downs of a couple of days of seeing the sights, battling the crowds, and eating as much Italian food as possible.  When I was planning our time in Rome, I relied heavily on the Rick Steves Mediterranean Cruise Port guidebook and the Neverending Voyage blog (the posts about the Testaccio Market and eating in Italy were particularly useful).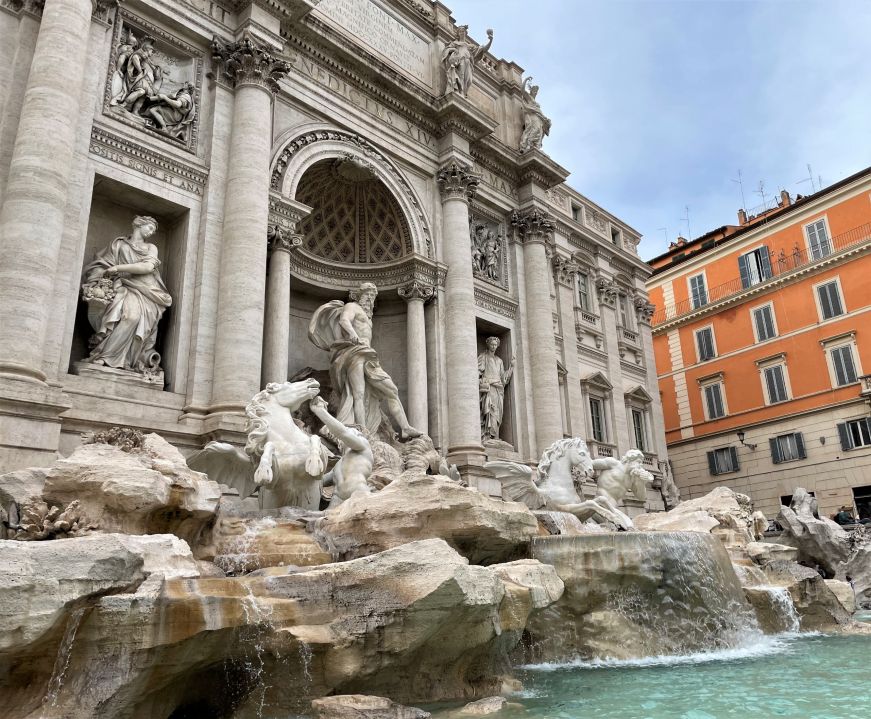 Thursday
9:30am Mike and I arrive at the Leonardo da Vinci International Airport after approximately 18 hours of travel.  My chronic insomnia is especially bad before trips, and I can't sleep on planes, so I have gotten about four hours of sleep in the past two days.  We claim our bag and then miss our 10:38 train from the airport to Rome's main train station because—true story—we are too tired to realize that we need to press the "up" button to summon the elevator to get to the platform.  We do manage to catch the next train at 11:08 and walk a mile to our guesthouse in the rain, Mike pulling our suitcase across cobblestones and me asking about every two minutes in a plaintive whine if we're there yet.  By our standards, this is actually a relatively successful transfer from the airport to our accommodations.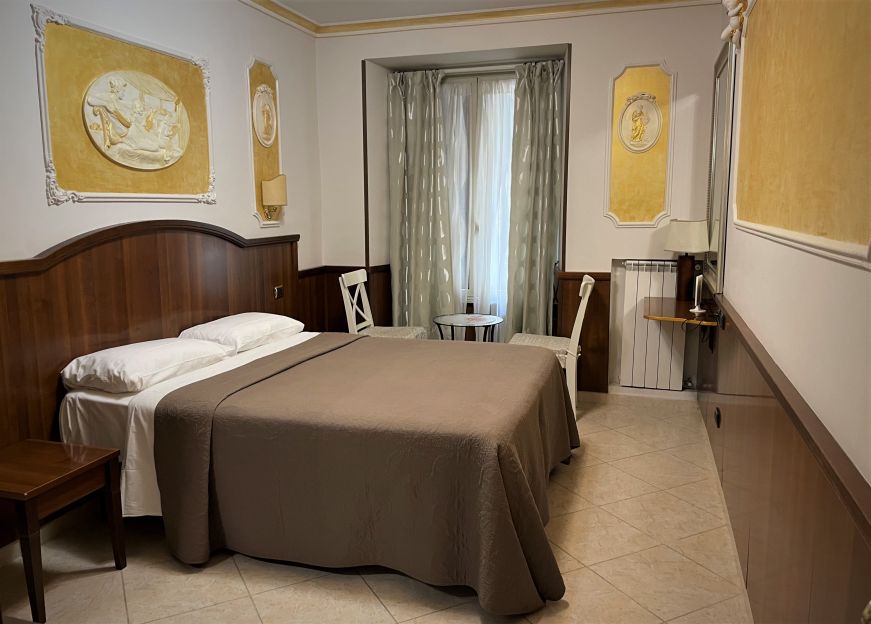 12:30am We check into our guesthouse, the Nakissa Inn.  The location is amazing— it's in the Monti neighborhood, which has plenty of restaurants and picturesque buildings, and it's only a 5-minute walk from the Colosseum and Roman Forum.   As far as mid-range European accommodations go, the Nakissa Inn is fabulous at catering to American preferences, with air conditioning, excellent WiFi, a queen-sized bed, and a shower with robust water pressure.  The room is well-maintained and meticulously clean, and while the gold cupid décor is a little over the top, it sets a fun tone for our stay.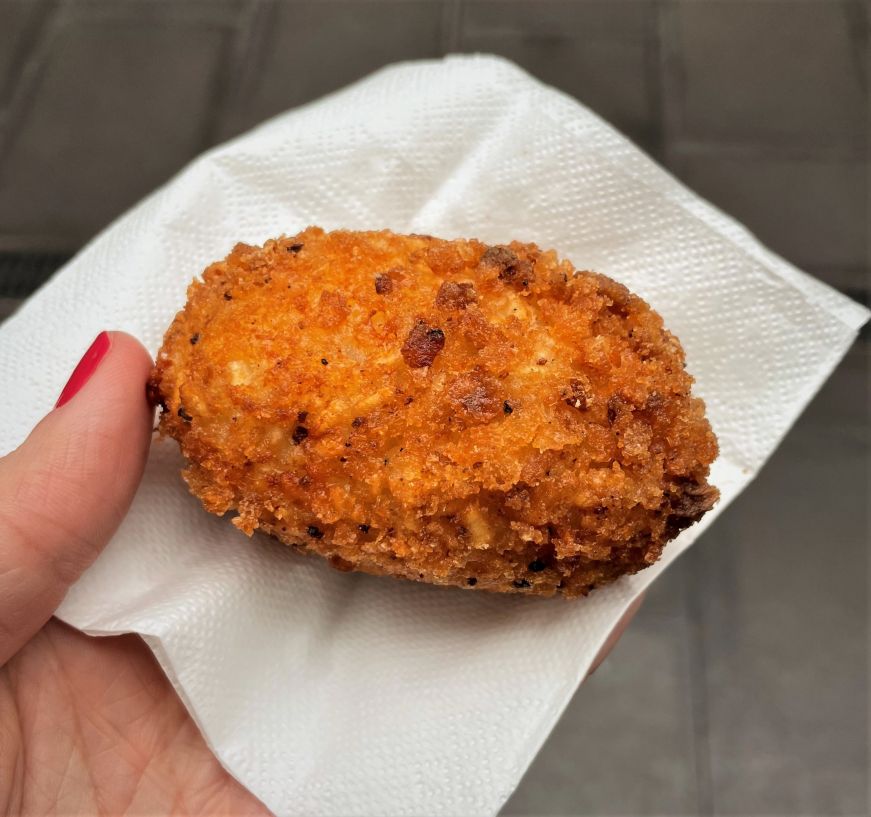 1:30pm I am obsessed with visiting local food halls and markets, so even though Mike is very tired he humors me and we walk the 35 minutes to Mercato  di Testaccio, an indoor market with dozens of stalls selling produce, pasta, meats, and prepared foods (luckily it has stopped raining).  The market closes at 3:00pm, so many of the vendors are shutting down for the day, but I'm able to hit two of the stalls I had my eye on.  At Food Box (Box 66), we get fried-to-order suppli, a Roman specialty made with rice and other fillings.  Mike gets the classic version with tomato, sausage, mozzarella, and basil, and I opt for the cacio e pepe, which is made with pecorino Romano cheese and pepper.  They're delicious—deep fried but also packed with flavor, filling without being heavy.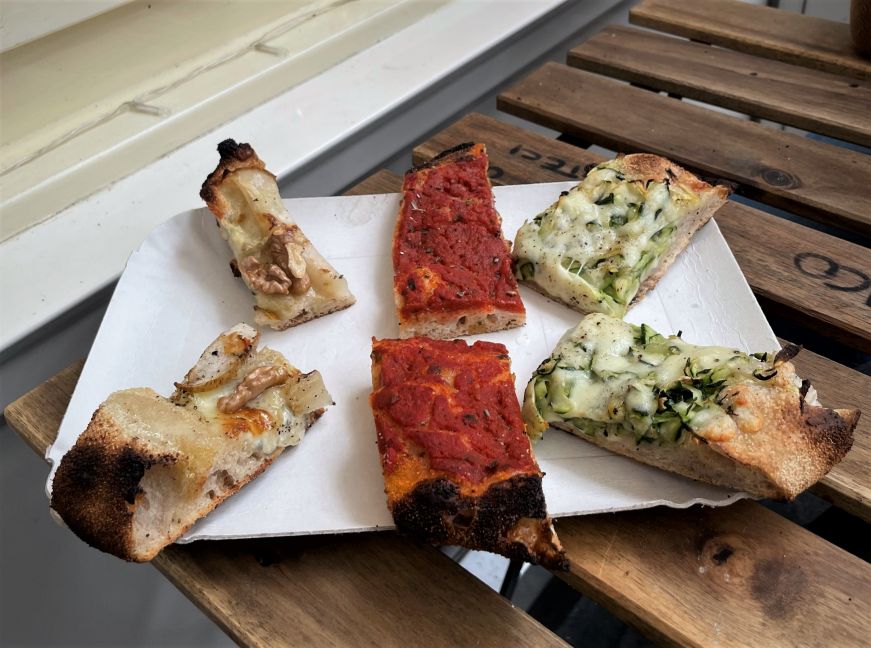 Next up is pizza from Casa Manco (Box 22), which serves pizza by the slice—you specify how large of piece you want, so you can get several little slices to try a variety of flavors.  There are lots of vegetarian options, and I try three of them: marinara, zucchini with fior de latte, and pear with walnut.  The crust is bread-like and light, similar to focaccia, and the fresh, bold flavors of each high-quality ingredient shone through—I especially love the pear and walnut. 
The walk back to our guesthouse is an interesting juxtaposition of the different faces of Rome: we go from a residential neighborhood with leafy, quiet streets and shops catering to locals, to the Colosseum, which is a teeming mass of tour groups following sign-hoisting guides, hawkers selling hop-on-hop-off bus tickets, and selfie-takers.  The crowds at Rome's top tourist sites—the Colosseum, Pantheon, St. Peter's Basilica, and Trevi Fountain—bear a startling resemblance of the mass of humanity at the Minnesota State Fair.
4:30pm After finally showering and brushing my teeth for the first time in far too long, we walk 20 minutes to the Pantheon.  The Pantheon is one of the best-preserved buildings from the Roman era, dating back to about 125 AD.  It was originally a Roman temple and became a Christian church in 609.  The interior ornamentation is beautiful, but I was most awed by the 142-high dome; to this day, it remains the largest unreinforced concrete dome in the world.  I'm from a region of the U.S. where a 150-year old structure is noteworthy, and the idea that something could be engineered and cared for well enough to last nearly 2,000 years is mind-boggling.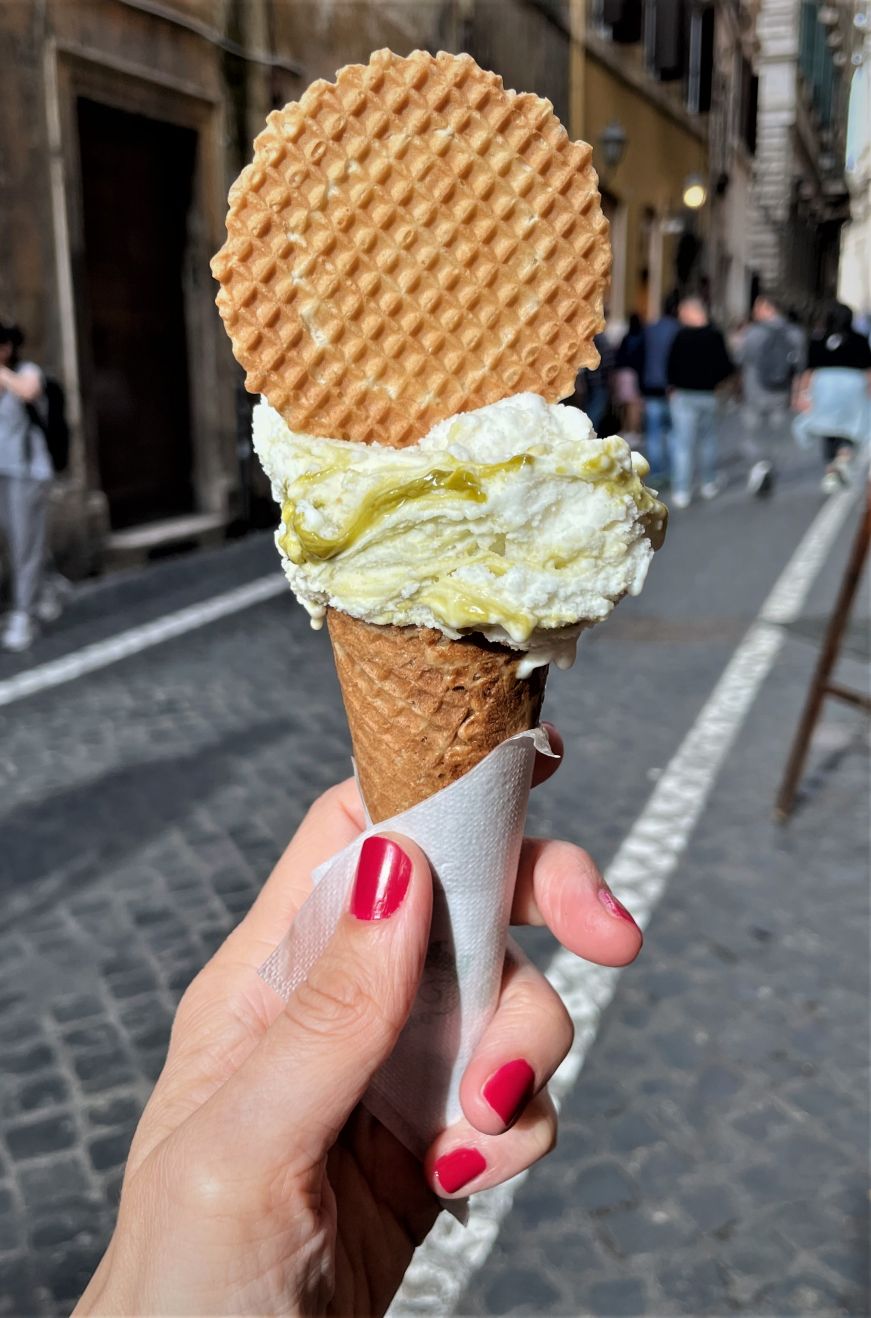 5:30pm On the walk to the Pantheon, Mike spotted a promising gelato spot, Mastro Cono, so we hit it up on the way back.  It's top-notch, artisanal stuff: my pistachio ricotta is an amazing combination, and Mike's scoop of licorice is bold and satisfying.
6:00pm It wasn't on our itinerary, but since we're so close to the Trevi Fountain we decide to check it out and throw in some coins (supposedly, it ensures good luck and that you'll return to Rome).  The mob scene is even more intense than the Colosseum: hawkers aggressively selling fresh roses and noisemakers, beautifully dressed women posing for selfies, couples getting professional photos taken, and hundreds of people trying to get close enough to the fountain to throw in their coins.  We marvel at the spectacle for awhile and then wiggle our way into a spot off to the side, which still has some good photo potential and gives us enough real estate to toss in our 2 cent euro coins.
6:30pm On the walk the Trevi Fountain, Mike noticed a lovely little side street with sidewalk cafes, so we backtrack and ask about a table for two at Spaghetteria L'Archetto.  The waiter proceeds to set up a table for us, remarkably close to the center of the narrow street.  Cars inch by us throughout our meal, about 10 inches from Mike's back.  This would absolutely be illegal in the United States.
Because we're feeling festive—we're in Italy! Eating in a picturesque street! The weather is beautiful!—Mike gets a glass of red wine and I get an Aperol spritz .  Our food is excellent, plates of fresh pasta tossed with basil pesto for me and a creamy mushroom sauce for Mike, plus a cracker-thin pizza appetizer topped with rosemary and sea salt.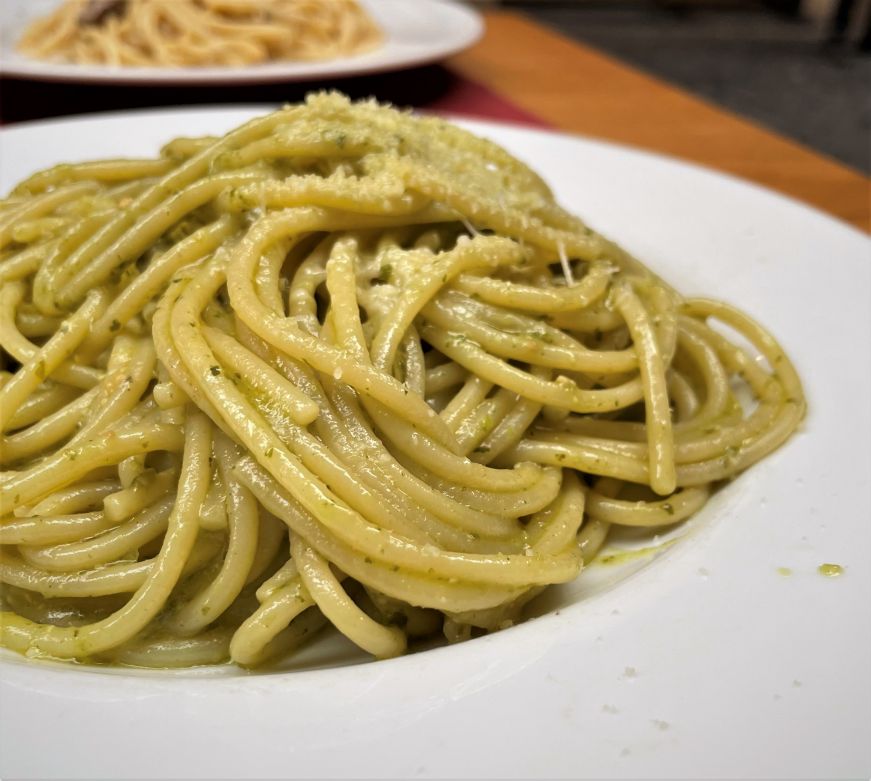 9:00pm We make our way back to the Nakissa Inn, and I fall asleep on my yoga mat while doing a Yoga With Adriene bedtime yoga video to help with the jet lag.  It worked.
Friday
8:00am Have I ever slept this well in a hotel bed? For that matter, have I ever slept this well, period?  We get cappuccino and chocolate croissants for breakfast at Er Baretto, a wonderful Italian café straight out of central casting, situated along a lovely little street of elegant facades.  It's patronized by sharply-dressed Italian businessmen and tourists alike, and it's no mystery why: the cappuccino is quite possibly the best I've ever sipped, with milk foamed to a luxurious texture that I didn't think lactose could achieve.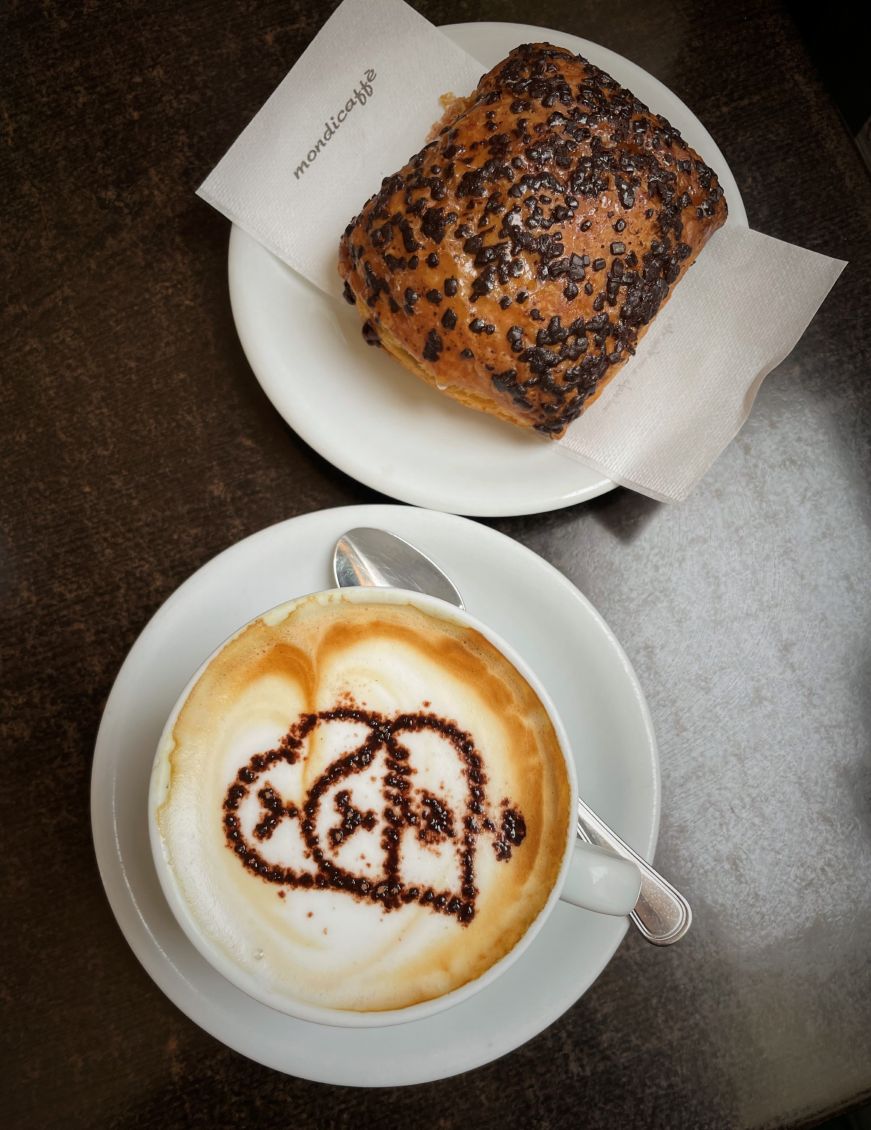 After breakfast we walk 45 minutes to Vatican City, which is a sovereign country entirely surrounded by the city of Rome.  The 0.19-square-mile nation is home to fewer than 500 residents and is the smallest country in the world by area and population.  Vatican City is an absolute monarchy ruled by the Pope, and it's home to St. Peter's Basilica (the world's largest church by interior volume), the Sistine Chapel, and the Vatican Museums. 
This is probably the only time in my life that I will walk from one sovereign nation to another, and then back again, in the course of a few hours.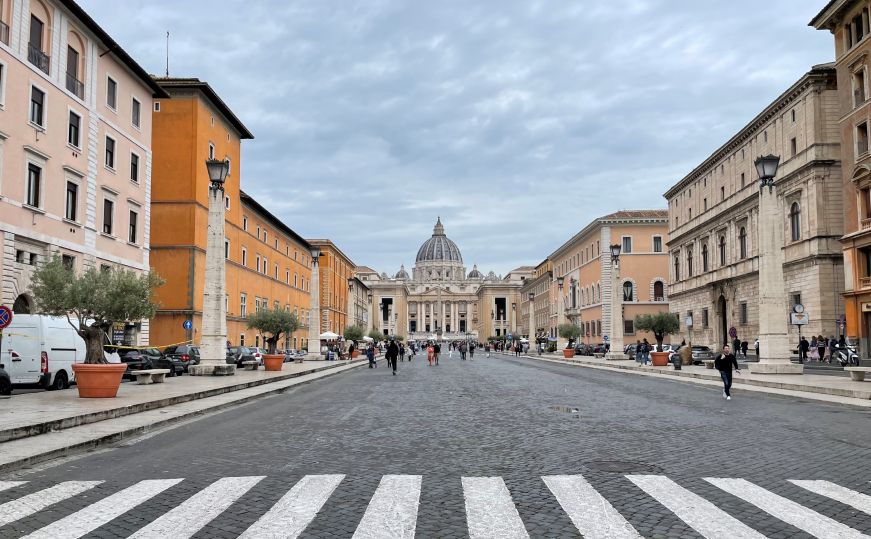 9:30am We arrive at St. Peter's Basilica and are greeted by—you guessed it—a horde of tourists.  We join the line for security screening just as it starts drizzling.  After security, there's another line to buy tickets for admission to the dome, and then yet another line for the elevator to the roof of the basilica, where you start your dome ascent.  Maybe it's the crowds, maybe it's the fact that the vast majority of people seem to be visiting for secular reasons, but despite being one of the holiest sites in Catholicism, St. Peter's doesn't provide me with much of a spiritual experience.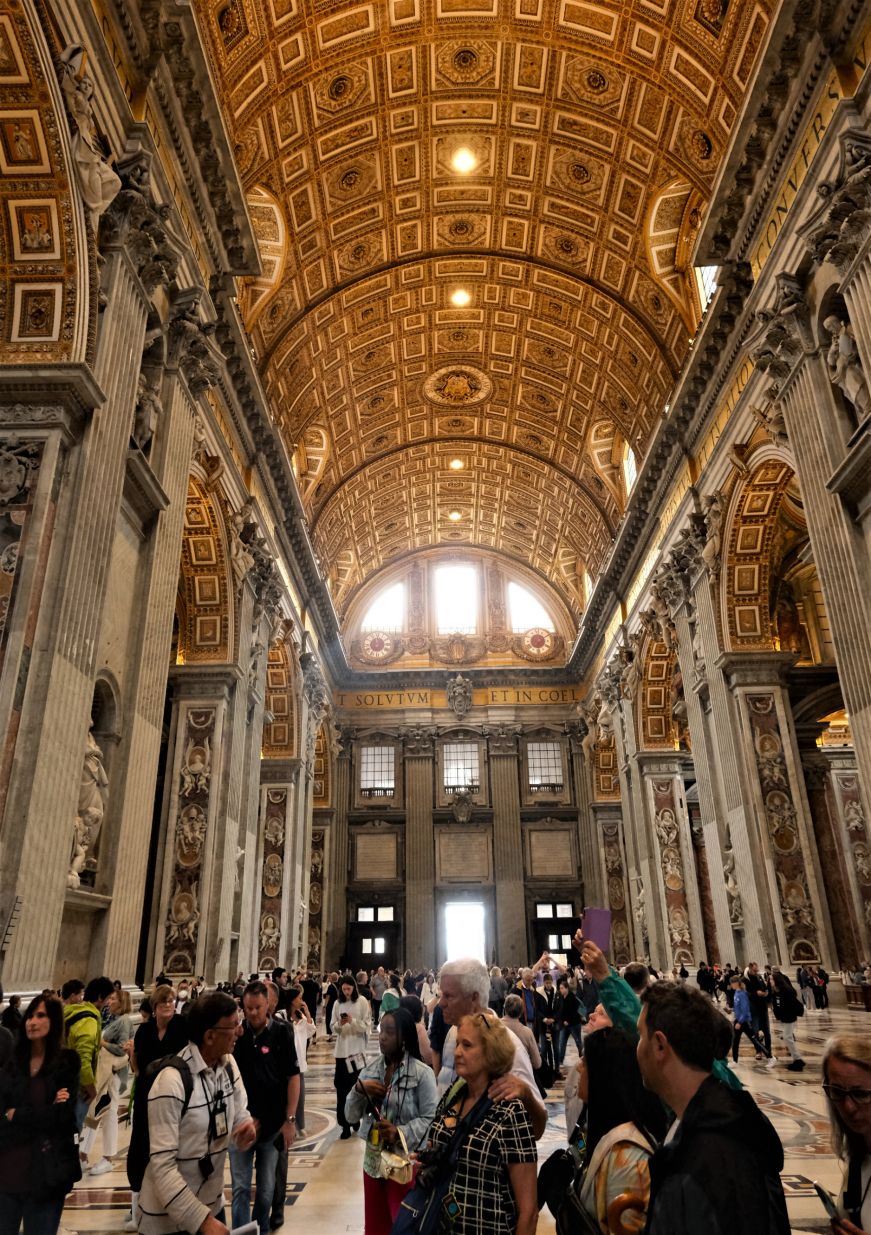 10:30am After an hour of standing in line and a crowded elevator ride to the roof, it's time to start climbing the dome.  With a height of 448 feet from the floor of basilica to the top of the external cross, St. Peter's dome is the tallest in the world, and you can climb 320 steps to the top for an amazing view of Vatican City and Rome.  All the signs stress the importance of not attempting the climb if you have heart conditions or mobility issues, but what they don't mention is how tight the quarters are: twisting stairways with a rope dangling down the center in lieu of a handrail, slanting ceilings, and narrow passageways.  As a 5'7" person with a slender build it's slightly claustrophobic; if you're a larger person it would be an uncomfortable or impossible endeavor.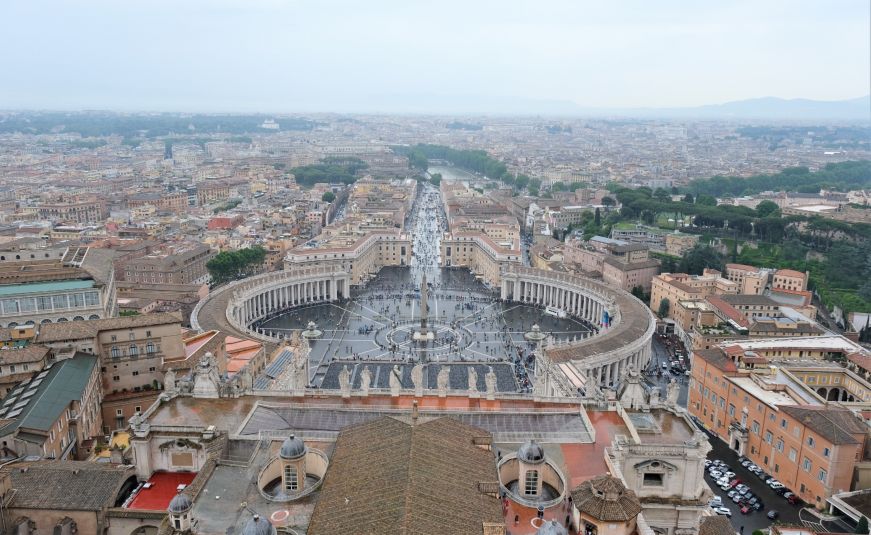 11:00am The view at the top is worth the line, the hundreds of steps, and the claustrophobia.  I feel like I'm on top of the world, with the pastel buildings stretching out like a diorama and tiny people bustling on the streets below. 
11:30am After climbing back down, I mail a postcard to my parents at the Vatican Post Office.  Despite its miniature size, Vatican City functions in most aspects like an independent country, including issuing their own official postage featuring the Pope.  Utilizing the postal system of the world's smallest country fills me with glee, and I make Mike take my photo as I drop my postcard in the mailbox.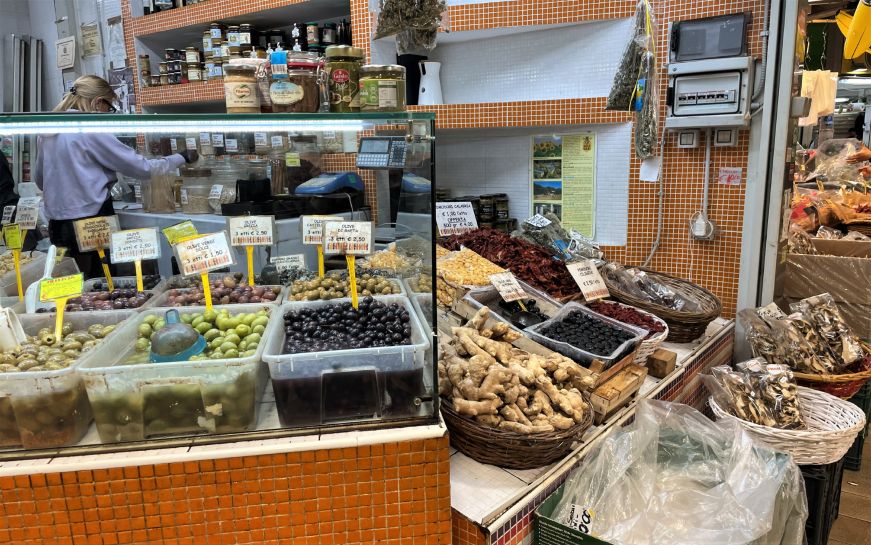 11:45am We leave Vatican City to explore Mercato Triofale, a labyrinth of an indoor market with stalls carrying every food item and household good imaginable.  Most of the stalls specialize in a very specific thing: cleaning supplies, yarn, sewing notions, cured meats, cheese, spices, olive oil, cookies, dried fruit, nuts, honey, vegetables, and fish (sometimes still alive—we watch a fishmonger behead a wriggling eel).  Locals deftly navigate their way through the maze, purchasing an item or two from several different vendors.  It's the complete opposite of my one-stop shopping at Super Target back at home.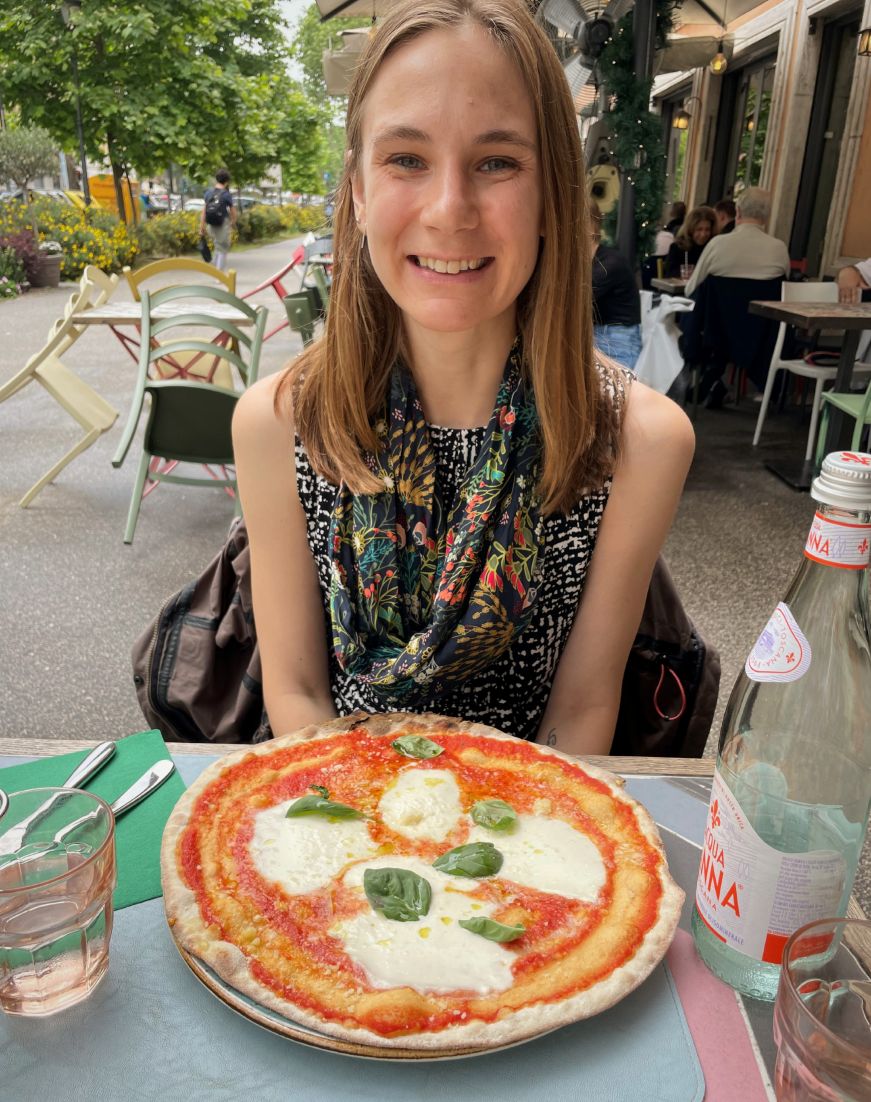 12:00pm Across the street from the market, we spot Fiorentina 1942, an appealing restaurant with street side seating.  The sun has made an appearance, and our lunch is peak "vacation in Italy": a margherita pizza for me, a massive calzone for Mike stuffed with delicious mozzarella and prosciutto, and delightful people-watching.  We watch a man stroll by with a daschund who is elegantly attired in a tailored pink wool coat, and she delicately hops into his leather bag with her head popping out of one end and her wagging tail out the other.  Even the dogs in Italy are chic.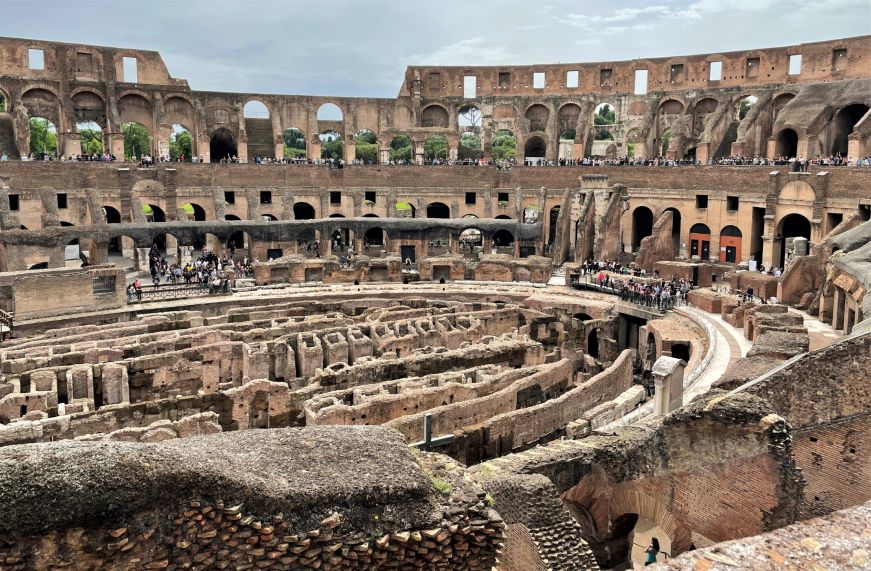 3:00pm We navigate the metro system to the Colosseum, where we have a reserved admission ticket.  Completed in 80 AD, the Colosseum remains the largest standing amphitheater in the world.  Seeing the inside of the arena is interesting—we listen to the Rick Steves Colosseum audio tour to get some additional context, plus there are displays and models with English signage.  But as neat as it is to see ancient elevator shafts and 2,000-year-old graffiti, I feel conflicted about building's gruesome history.  It was designed to showcase the slaughter of humans and animals for entertainment, violent spectacles intended to distract the masses from the inequality and corruption of Ancient Rome.
Today, the masses are tourists (including me and Mike), snapping photos of a place where tens of thousands of people and animals died in incredibly awful, cruel ways.  It feels disturbing and exploitative.  I wish that the Colosseum featured some sort of substantive memorial to the people who lost their lives here, inviting visitors to reflect on what the cruelty that motivated the spectacle says about humanity.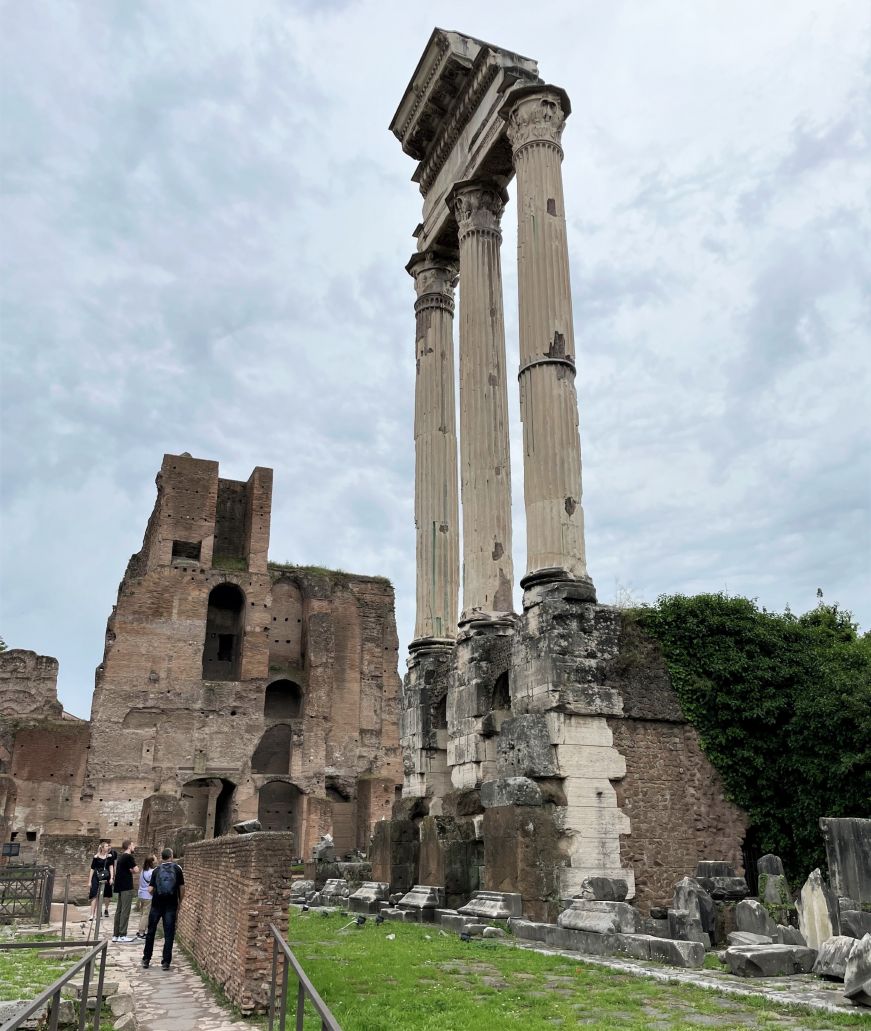 4:30pm Our Colosseum ticket includes admission to the Roman Forum, so we visit it almost as an afterthought—but it's the unexpected highlight of our time in Rome.  It was the center of the city in ancient times, with a marketplace surrounded by government and religious buildings.  Today, it's a sprawling assemblage of ruins that you can meander through at your own pace, and even though it's a popular tourist spot it feels more relaxed than the other sites we've visited.  Our Rick Steves guidebook has a fascinating self-guided tour that adds texture to the ruins and brings the space to life (an audio version is available here).  The columns stretching several stories into the sky are awe-inspiring even in a much-diminished form, and learning about Rome's complex, urban society makes it feel more modern than ancient.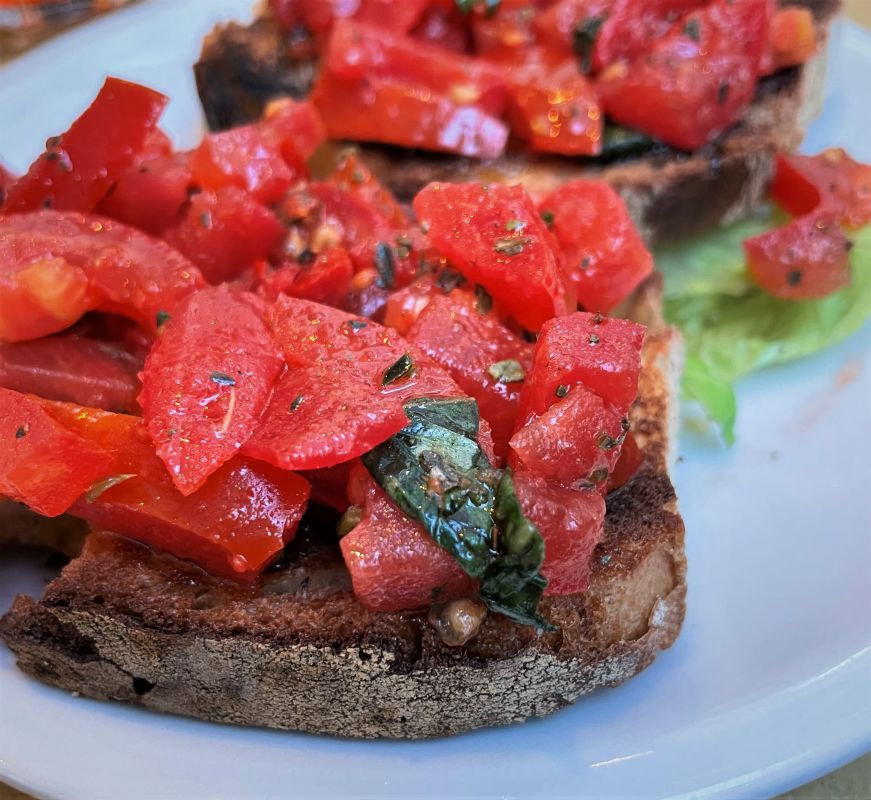 7:00pm Being a food writer can make vacation dining pretty overwhelming—there's a lot of self-imposed pressure to have a great culinary experience at every meal and snack, especially when you're in a renowned food destination like Italy.  The tourist-centric restaurant near our hotel that we pick for dinner is definitely not the best spot we could've dined, but I'm trying let go of my need to maximize every food experience and just let it be what it is—in this case, a serviceable bruschetta and caprese salad, plus an Aperol spritz. 
Dessert, however, is absolutely fantastic: gelato from Flor, a chain that started in Rome in 2011 and has since gone international.  They're still making an excellent product—the pomegranate and cherry crunch flavors I order are so flavorful that it's like the moment in the Wizard of Oz when Dorothy steps into Technicolor Munchkinland.  My gelato is melting too quickly to get a photo, so the experience will just have to live in my memory.
9:00pm We notice that the Roman Forum is beautifully illuminated, so we stroll over to get a closer look.  The site is closed, but we can admire the dramatically-lit columns, arches, and crumbling foundations from the perimeter.  Hardly anyone else is here, and it feels evocative in the same way that staring at the night sky does—like you and your problems are infinitesimally small in a way that's deeply reassuring.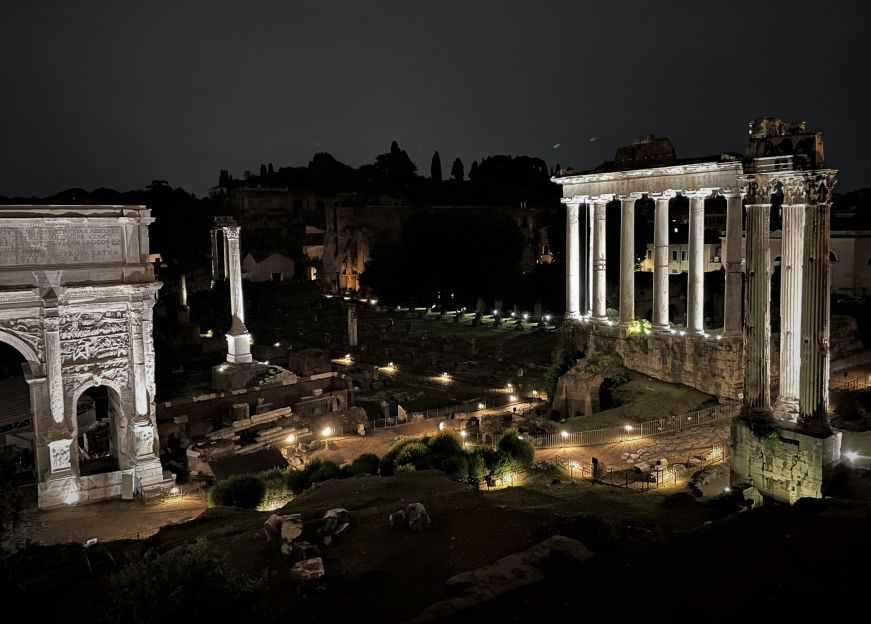 Saturday
9:00am We loved yesterday's breakfast at Er Baretto so much that we return for round two.  We have to sit indoors due to the rain, but it's just as charming inside.
10:00am We have to kill some time before heading to the train station so we leave our bags at our guesthouse and make a final foray to Colosseum.  The wonder hasn't worn off—I suppose it must eventually, but maybe not, in the way that looking at Lake Superior on a summer morning will always be beautiful to me.
11:00am We walk to the train station, get to the departures area with plenty of time to spare, and then are unable to get our tickets to scan to access the train platform.  We can see our train on the other side of the gate, but we can't get through, no matter how many times we scan our tickets.  We frantically stride back and forth, trying gate after gate, trying to decode the Italian signage, as the time to our departure ticks down.  With five minutes to go, we ask a stern-looking employee standing by a sign reading "Not customer assistance" for help—we have nothing to lose at this point—and he nonchalantly waves us through a service entrance to the platform without even looking at our tickets. 
11:57am We settle into our seats and the train departs Rome for Civitavecchia.  You could spend a lifetime exploring Rome, and fingers crossed, we'll return to Italy some day (we did throw our coins in the Trevi Fountain!)  But for now, we've had the most satisfying 48 hours in Rome we can imagine.
This isn't a sponsored post, and it doesn't contain affiliate links—we paid for all of our expenses out-of-pocket. 
Further reading: