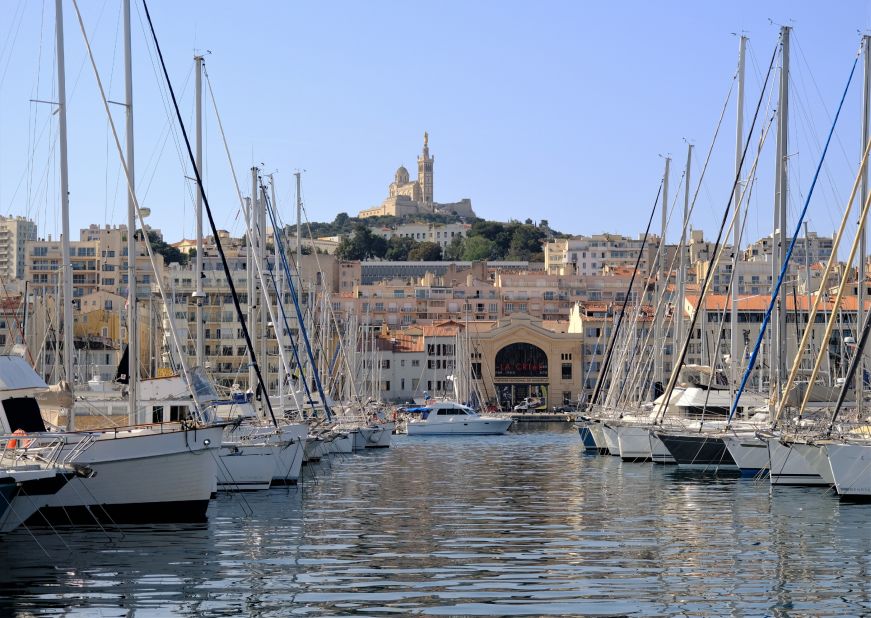 Marseille is the second-largest city in France, and thanks to its extensive port facilities (among the largest in Europe), most Americans associate the city with industry rather than tourism.  But Marseille is a popular port stop on Mediterranean cruise itineraries, and its historic churches, picturesque Panier District, and vibrant Old Port (Vieux Port) make it a pleasant place to spend the day.
Getting situated: Marseille is located on the south coast of France, in the Provence region.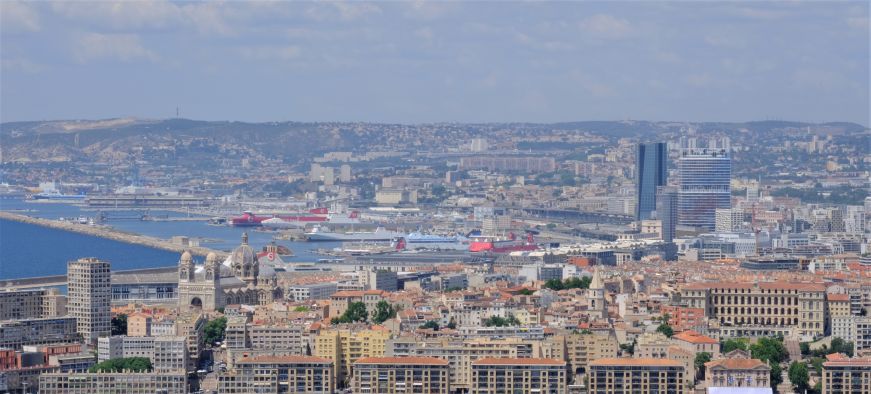 Getting off the ship: Since the cruise port is in an industrial area approximately 3.5 miles/5.6 kilometers from the Old Port, where most of the tourist infrastructure is centered, you'll need to take a taxi or free public shuttle.  Some cruise lines, including Norwegian Cruise Line, offer their own shuttle bus service.
Information about the public shuttle can be found here.
Since the public shuttle drop off is at a shopping center rather than the Old Port, we opted to save some time and hassle by taking the Norwegian Cruise Line shuttle bus ($15 per person round trip).  I recommend taking a cruise line shuttle if possible, since it's more convenient than the public shuttle and more cost-effective than a taxi.
Important information: There's a free public restroom near the Tourist Office by the Old Port—it's a small silver and black freestanding structure that cleans itself in between uses.
Things to do:
We started our time in Marseille with the Rick Steves self-guided Marseille City Walk, which is available in the Rick Steves Mediterranean Cruise Port guidebook.  The directions were a bit tricky to navigate at the beginning, and the map didn't seem to match the route, but it was still a good way to see the city's major sights and some interesting neighborhoods, especially since I don't think we would have come across many of the points of interest on our own.  We started at the Old Port and were there early enough to see the fisherman selling their catches to passersby.  There's also a neat mirrored modern sculpture, the Port Vieux Pavilion, that's kind of like Chicago's Bean.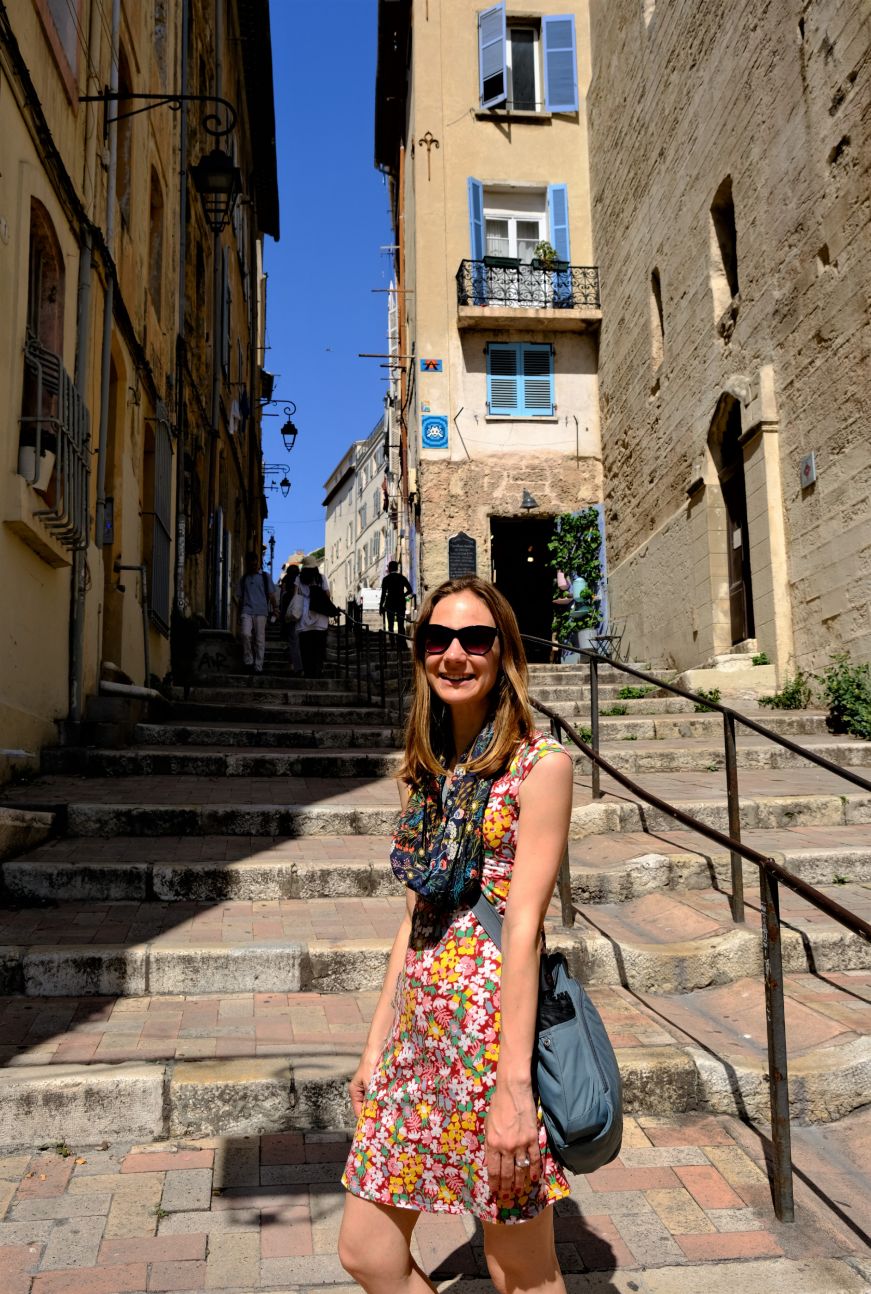 The highlight of our walking tour was the Panier District, the oldest part of Marseille.  With narrow streets, historic buildings, and lots of flowers in window boxes and on balconies, it's very picturesque—and to American tourists like us, who were raised on media depictions of idyllic Parisian neighborhoods, it felt quintessentially French.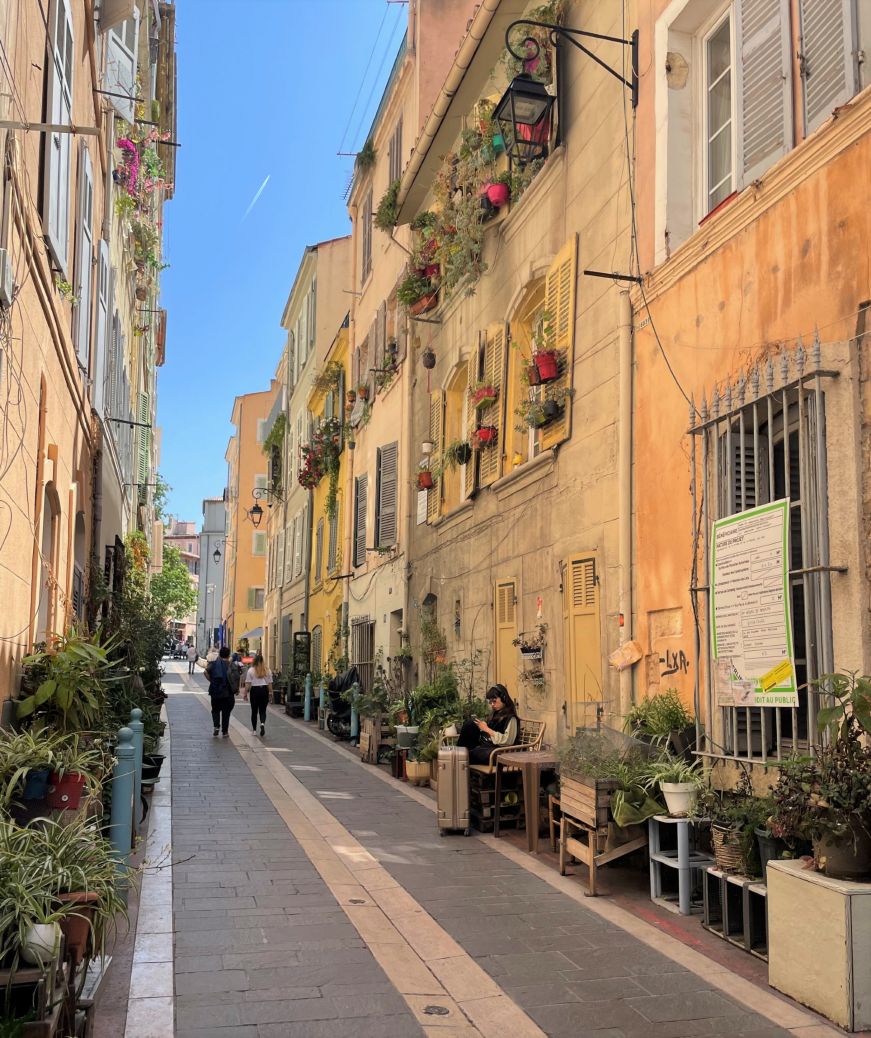 Today, the Panier District is an artists' quarter, and there are dozens of small galleries and shops selling artwork and artisan handicrafts including jewelry, textiles, ceramics, and clothing.  You'll also find stores that specialize in locally-made soaps—for centuries, Marseille has been famous for its high-quality soaps, which are vegetable oil-based and known for being gentle and producing a nice lather.  I bought a few perfumed bars made by Maison du Savon de Marseille, and the soap does live up to its reputation.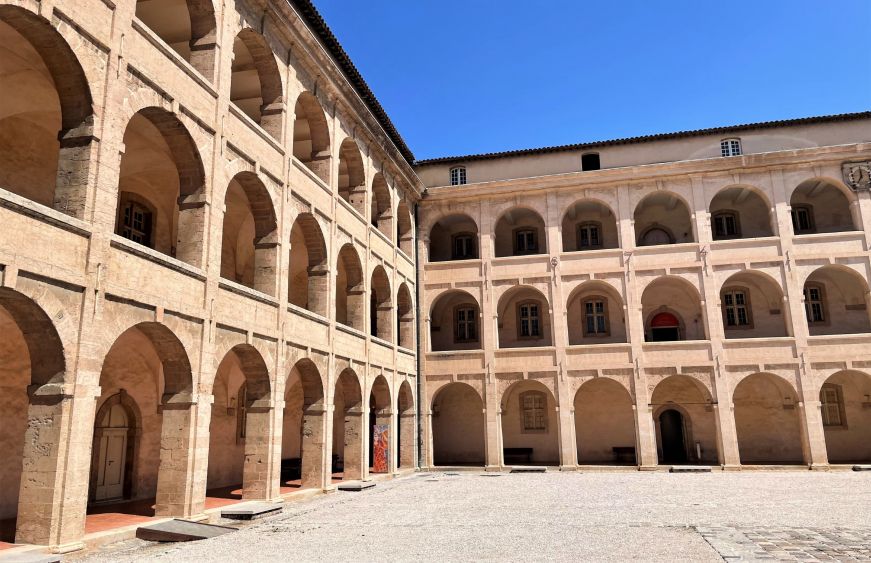 The Panier District is also home to La Vieille Charite Museum, a former poor house that has been converted into an antiquities museum.  The building is beautiful, and you can walk around the courtyard (and use the restrooms) for free.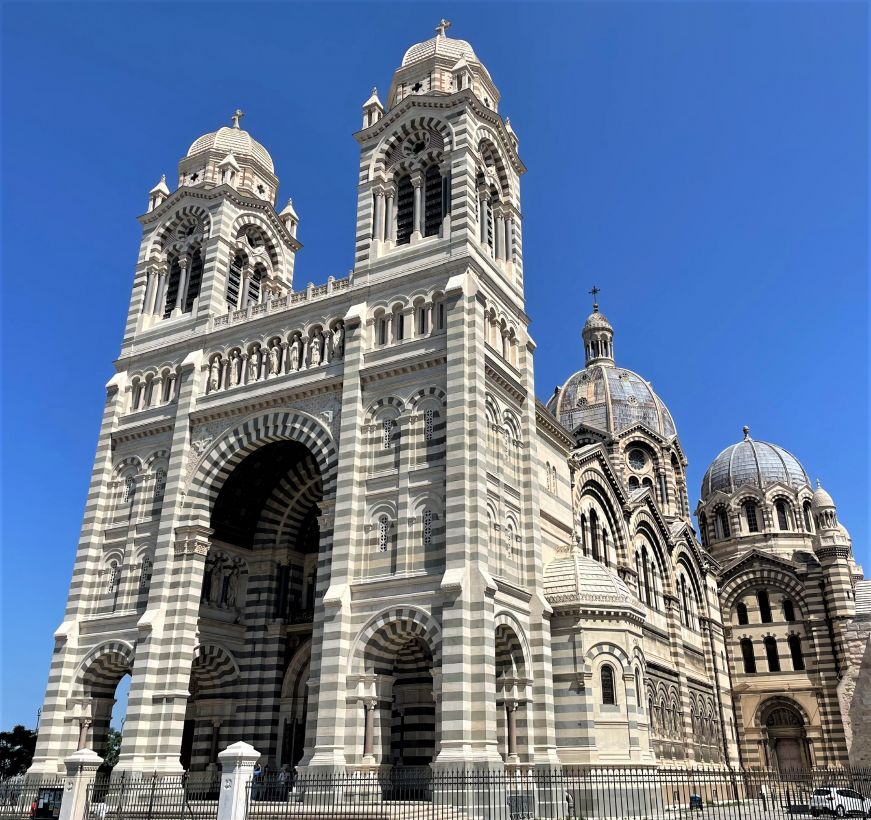 Our self-guided walking tour ended at the Cathedrale de la Nouvelle Major.  The striking white-and-black striped church is relatively modern—it was completed in 1893 and is one of largest churches built in France since the Middle Ages.  The interior is decorated with elaborate mosaics on the floors and and walls, and admission is free of charge.
Maison Geney, located between the Panier District and the Old Port, is a convenient spot for lunch.  The menu changes weekly and features sandwiches, salads, focaccia, and wraps, many of which are vegetarian.  There's also a nice selection of pastries.  I loved my vegetarian focaccia topped with tomato sauce, mozzarella, olives, and arugula, plus a pistachio-strawberry clafoutis for dessert.  Mike got a tasty pulled pork sandwich on a roll that put American brioche buns to shame.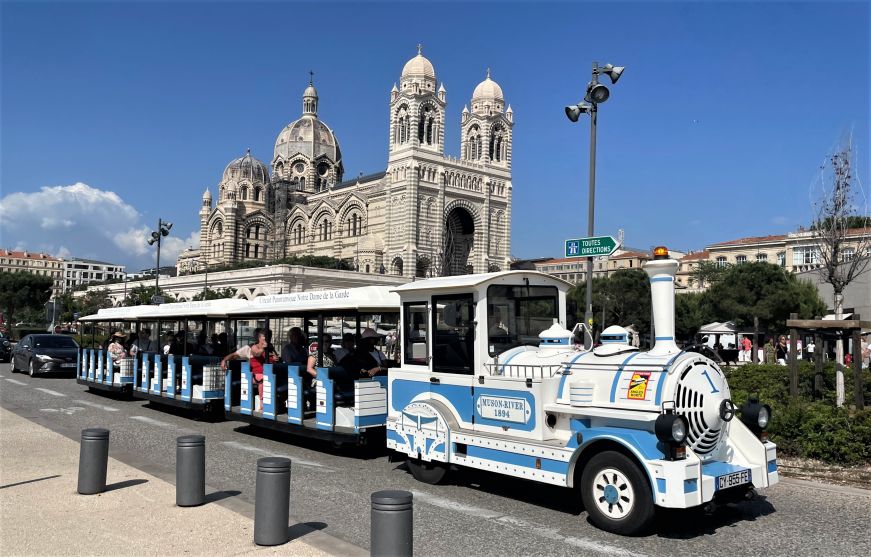 Le Petit Train is an unapologetically touristy way to see the city—it's a cute little tram that departs from the Old Port and drives along the streets of Marseille.  There are three different sightseeing routes.   Circuit 1, which is the route we took, is an easy way to get to Notre Dame de la Garde, the imposing basilica perched on a hill overlooking the Old Port (more on that below).  The drive to the basilica is quite scenic and follows the coastline.  Once you reach the basilica, everyone needs to disembark, and when you're finished you can catch another train that will take you back to the Old Port, via a more direct and less scenic drive.  Trains depart every 20 minutes, and if you only spend the mandatory 20 minutes at the basilica the whole circuit takes about 1.25 hours.  However, I recommend spending at least an hour at the basilica—the panoramic views of the city are incredible, and the church interior is quite interesting.
Circuit 1 operates year round.  Circuit 2, which takes you to the Le Panier neighborhood, operates from April 1 through December 31 and takes about 45 minutes.  Circuit 3 is a 30-minute route to the island of Frioul and operates from July 1 through August 28.
Keep in mind that the trains don't operate from about noon to 1:40 p.m. so that the staff can take a lunch break.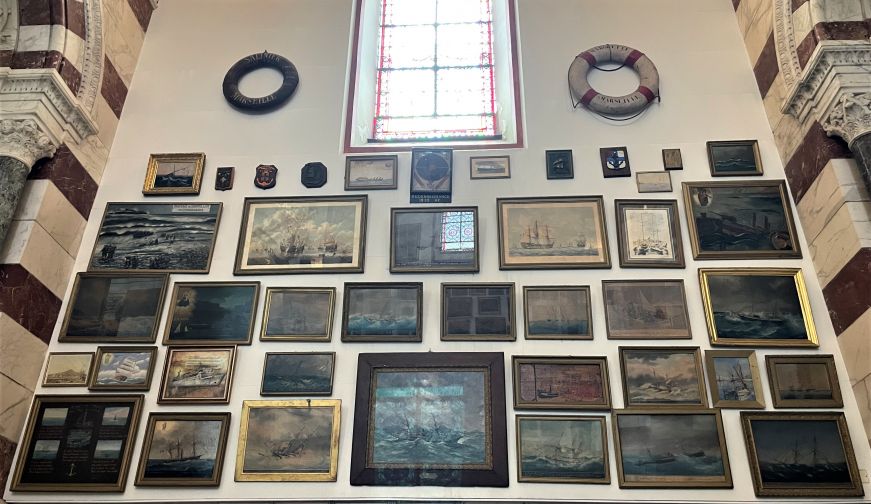 The Basilica of Norte Dame de la Garde is built on the highest point in Marseille and overlooks the Old Port.  Construction started in 1853 and finished in 1897, and the Neo-Byzantine style with elaborate gold mosaics reminded me of an Eastern Orthodox church.  Admission to the basilica is free of charge, although there is a small fee to use the restrooms.  It's okay to wear shorts and sleeveless tops, but bathing suits and similarly skimpy clothing are prohibited. 
The most unusual feature of Notre Dame de la Garde is the collection of ex voto offerings, some of which are hundreds of years old.  When local sailors survived a shipwreck, they often commissioned a painting or model of their ship and left it at the basilica as an offering of gratitude to the Virgin Mary.  There are also paintings of people who survived a grave illness and left a painting of themselves on their sickbeds as an offering.  (Some of the older ex voto offerings were originally left at other churches and have been transferred to Notre Dame de la Garde for safekeeping.)  I spotted ex voto models dangling from the ceiling that included three-masted sailing ships, WWII-era destroyers, and modern helicopters.
For more information about things to do in Marseille, I recommend the Rick Steves Mediterranean Cruise Port guidebook and the official Marseille Tourist Office website.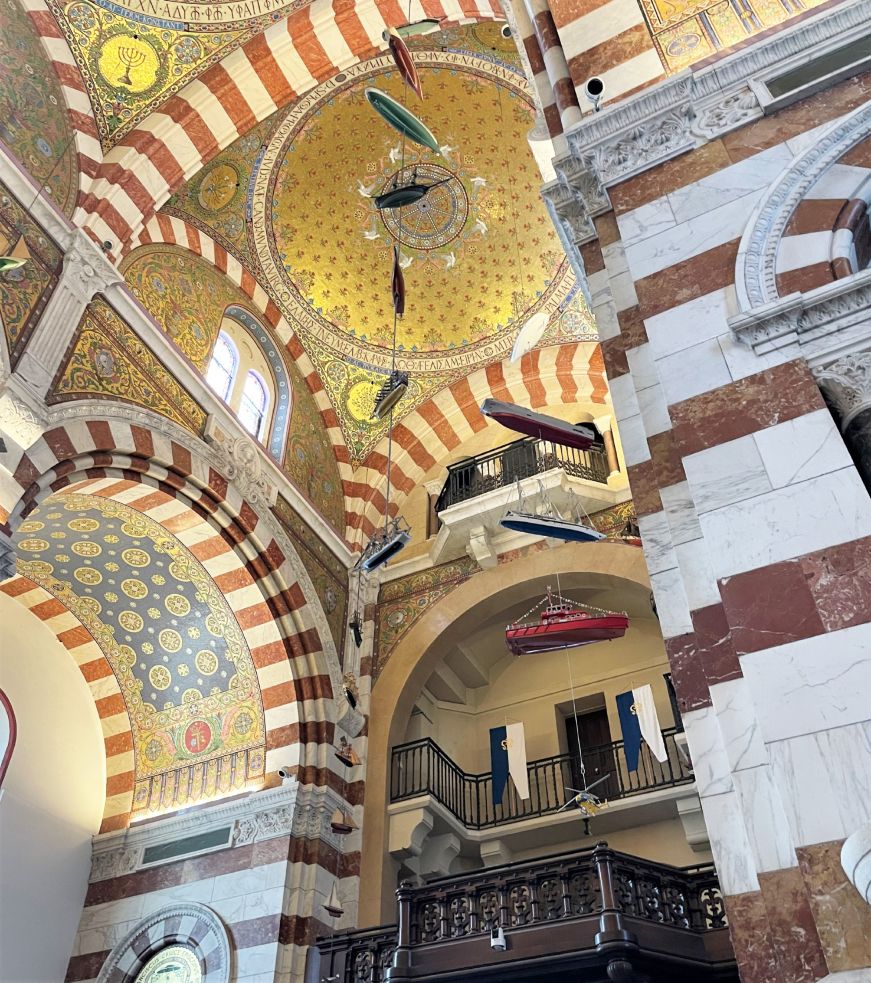 The takeway: With its huge industrial port and sprawling, modern feel, Marseille might not be the first French destination that springs to mind for American tourists.  However, France's second largest city is an interesting port stop and a fun taste of French culture.
Further reading:
If you enjoyed this post, pin it!