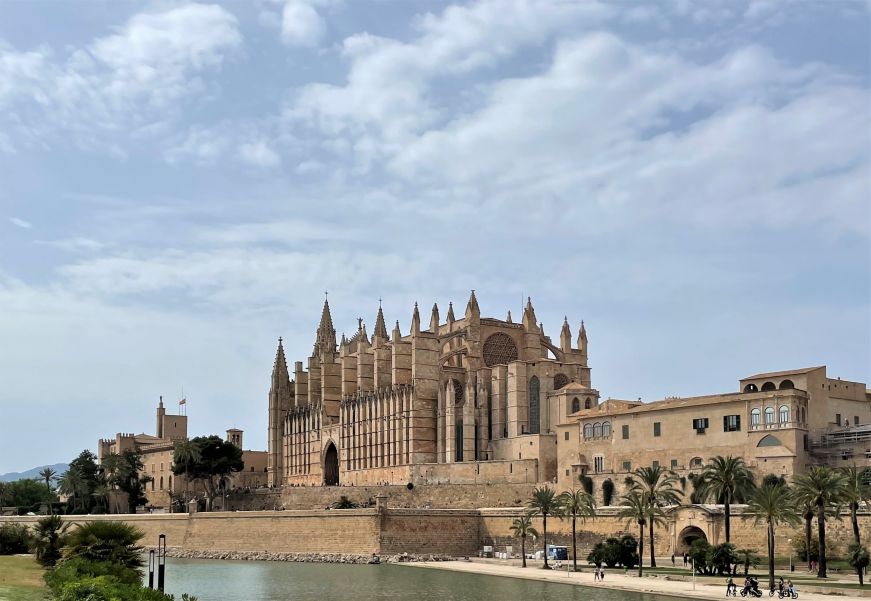 Like our port stop in Ibiza, I didn't know much about Palma before preparing for our Mediterranean cruise—I associated Mallorca with beach resorts and wasn't sure how we'd spend our 12-hour port stop there.  However, I discovered that Palma is home to interesting cultural sites dating back to the 11th century, plus some tasty tapas.
Getting situated: Palma is located on the island of Mallorca, which is one of the Balearic Islands off the southeast coast of Spain.  The archipelago (which also includes the islands of Ibiza, Menorca, and Formentera) is a Spanish province, with Palma as the capital.  The official languages are Catalan and Spanish. 
In English, Mallorca is sometimes spelled as "Majorca."  I've used the Spanish spelling of "Mallorca" throughout this post. 
Getting off the ship: Palma's historic center, which is home to the Cathedral of Santa Maria of Palma of Mallorca (usually referred to as La Seu) and the Royal Palace of La Almudaina, is about 2.3 miles/3.7 kilometers from the cruise ship terminal.  It's a pedestrian-friendly and flat walk on a promenade that runs along the marina, and it's your chance to see more yachts in one place than you ever thought imaginable.
If you don't want to walk, EMT Palma provides bus service between the cruise terminal and the historic city center. Taxis are also available.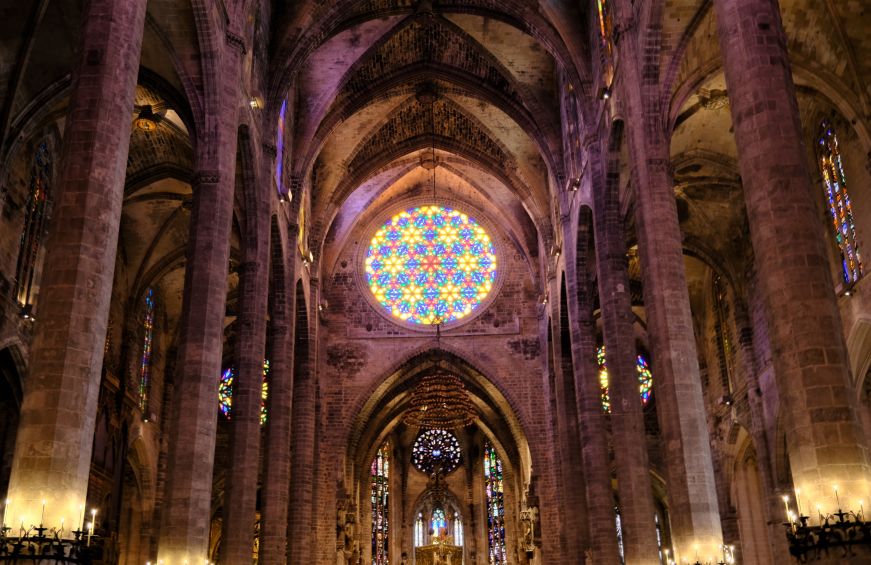 Things to do:
It's impossible to miss Palma's cathedral, La Seu—the ornate Mediterranean Gothic structure towers over the historic city center and is visible from the cruise port.  Construction began in the 13th century and was completed in the 1630s, but the interior chapels have been periodically renovated and reflect later architectural styles, from elaborate Baroque wood carvings to an abstract modern chapel meant to evoke the ocean.  The cathedral's most striking feature is an enormous stained glass window (one of the largest in the world) that was designed by Catalan architect Antoni Gaudí in the early 20th century.
There are a variety of ticket options available, from a basic admission to the cathedral and adjacent art museum (which we opted for) to more expensive tickets that include a guided tour or admission to the cathedral's terraces.  Note that covered shoulders and knees are required, so skip the shorts and sleeveless tops or bring a cover up.
Finally, La Seu is beautifully illuminated at night; if you're still in port, be sure admire it from your cruise ship.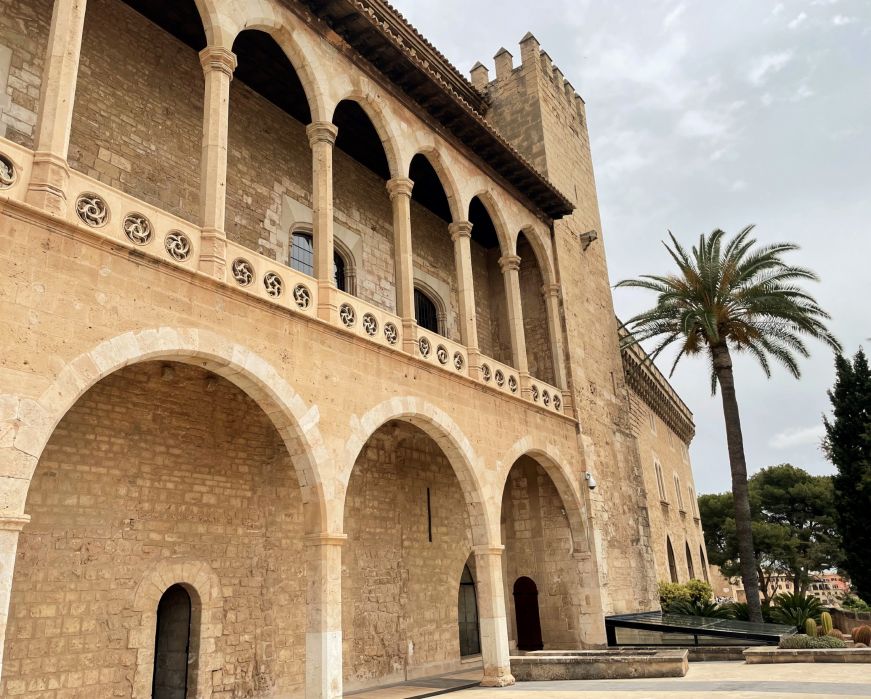 The Royal Palace of La Almudaina is across the street from La Seu.  It dates back to the 13th century and serves as an official royal residence when the Spanish king and queen are in Mallorca.  Visitors can walk through the palace via a one-way route through ceremonial rooms with furnishings roughly arranged in chronological order.  Signage is sparse (you can pay extra for a printed or audio guide) but we found the palace worth visiting for the views from the terrace and the elegantly appointed courtyard.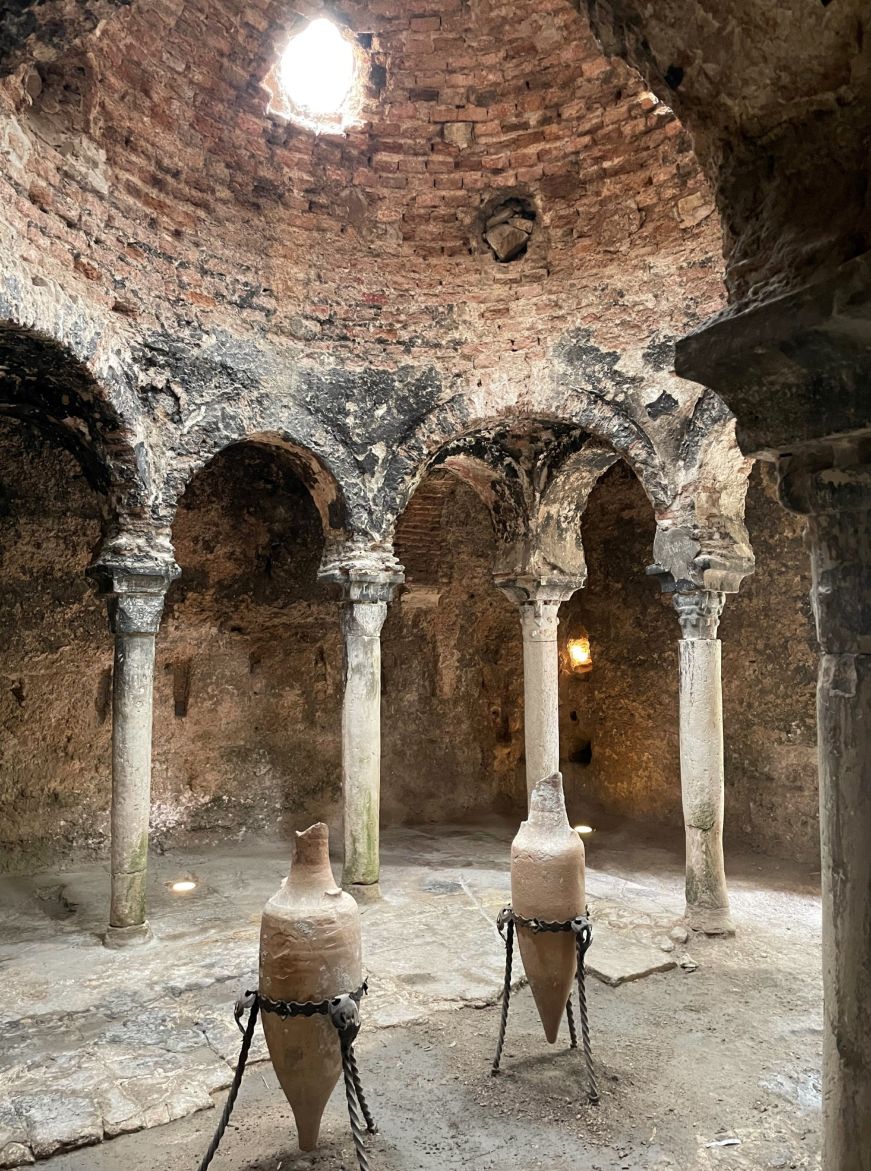 The Arab Baths (Banys Àrabs) are my favorite sort of antiquity-oriented tourist trap. There's a cheesy audio visual, there's creatively translated signage, and the 11th-century baths themselves take about five minutes to see—all that's left is the steam bath (a round room surrounded by columns) and an adjacent space that may have been used as a changing room.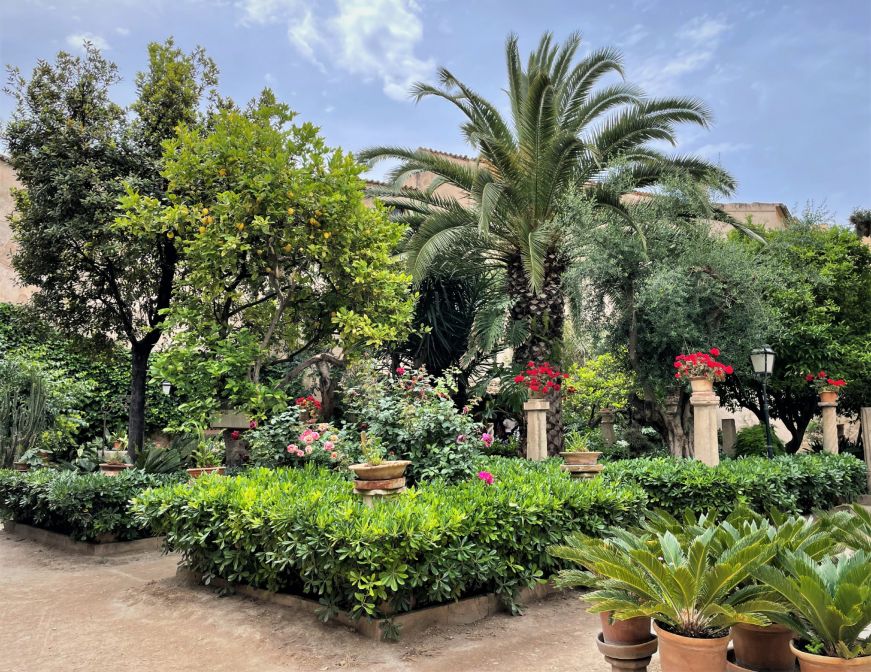 That said, I think Palma's Arab Baths are worth visiting.  They're genuinely interesting, as one of the few remnants of Palma's Islamic period (the Balearic Islands were under Arab rule from 902-1229).  The lush courtyard is beautifully landscaped, and it's a relatively quiet spot where you can escape the tourist crowds and relax in the shade for a bit.  Plus, there are clean, well-maintained bathrooms.
Admission to the Arab Baths was is cash only and was €3 per adult when we visited in May 2023.  The baths are located about 500 meters from La Seu at Carrer de Can Serra, No. 7—various signs mounted on buildings will point you in the right direction.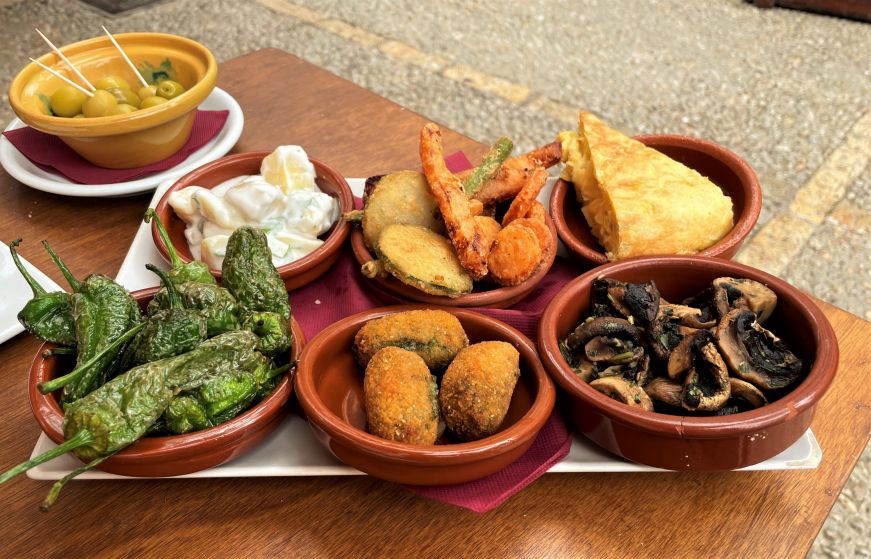 After a morning of sightseeing, I wanted to have a tapas lunch and sip vinto de verano somewhere picturesque.  (Vinto de verano is a popular Spanish drink made by mixing red wine with lemon soda.)  Bar Sa Ribelleta 1988 fit the bill.  It's a tapas bar located at Carrer de la Boteria, No. 1, about 500 meters from La Seu.  Yes, it's touristy, but they have outdoor seating in a pretty square and the vegetarian tapas platter we ordered was quite good.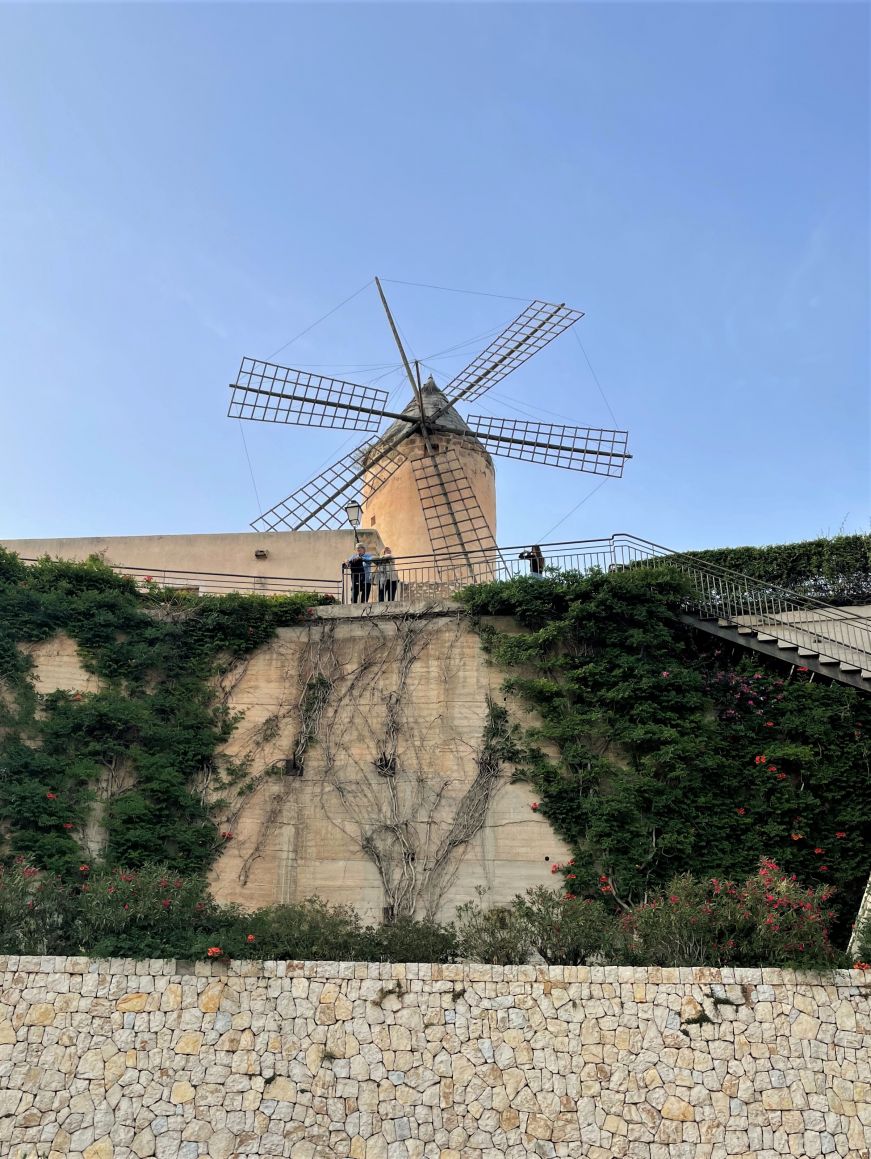 We also found tasty eats in the Santa Catalina neighborhood, which is about halfway between the historic city center and the cruise port—look for the windmill.  The neighborhood is home to the Santa Catalina Market, which I would have loved to visit if our schedule had permitted, and dozens of restaurants serving a wide range of cuisines, including Spanish, Italian, Japanese, Mexican, French, Thai, Lebanese, and Peruvian fare.  There are some pedestrian-only streets lined with trees and outdoor restaurant seating, making the neighborhood an especially pleasant place to get a meal or drink.  We were there around 6:00pm, much too early for dinner (in Spain dinner is eaten quite late, around 9:00pm-11:00pm) but we enjoyed some focaccia, broken eggs, and sangria at the tourist-friendly Restaurante Brutal.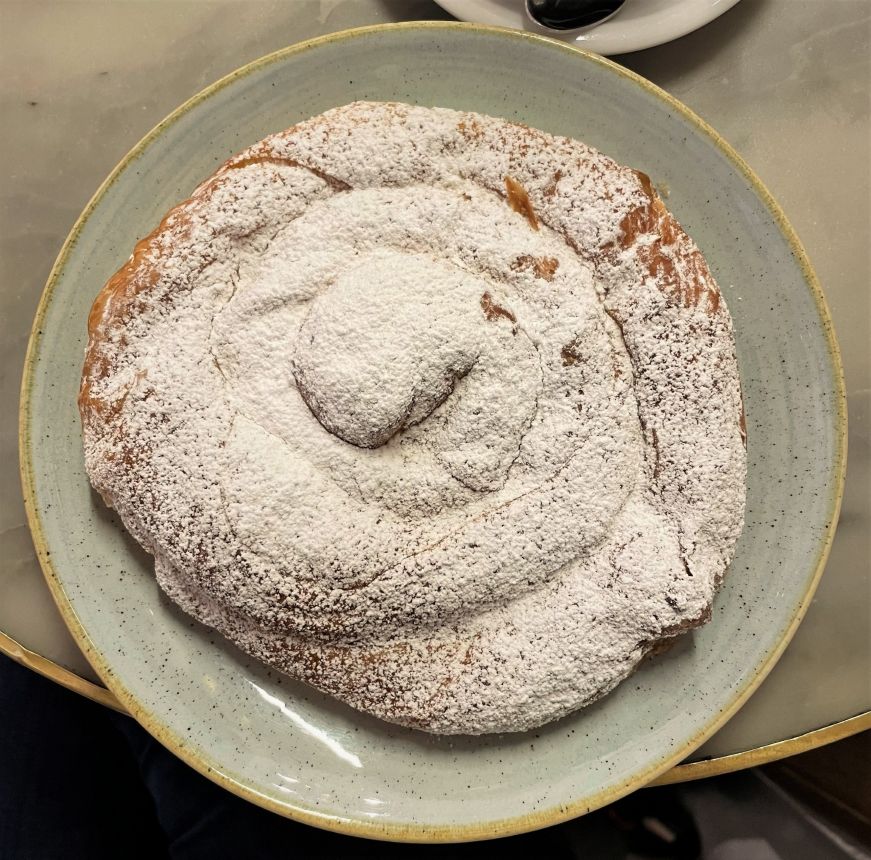 Another tasty local food is the ensaïmada, a Mallorcan specialty—it's a spiral of sweetened puff pastry made with lard and typically dusted with powdered sugar.  Traditionally, they're eaten for breakfast, but they also make a delicious snack.  Although I didn't get around to trying one until later in our cruise, the pastries are available at many Palma cafes and at the cruise terminal.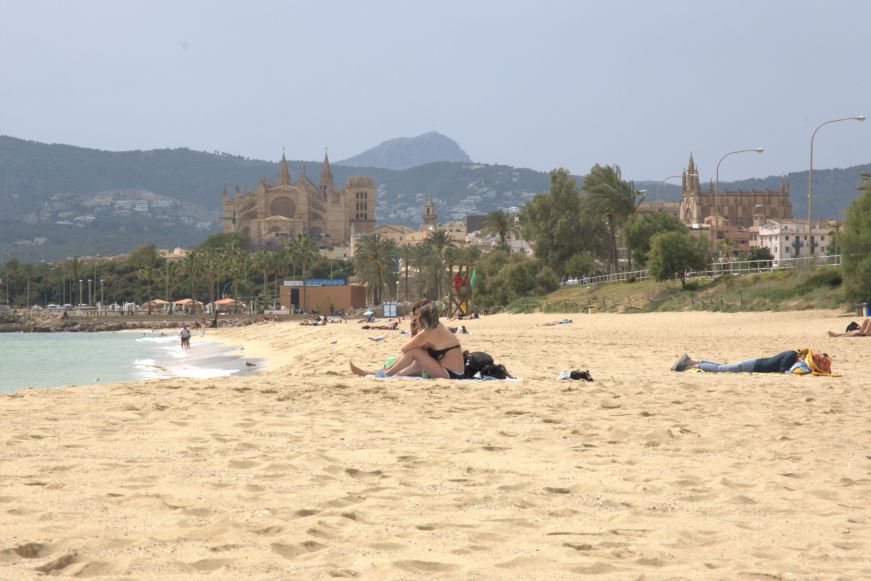 If you're in the mood to hit the beach, Playa Can Pere Antoni (Palma's public beach) is about a 1 mile/1.6 kilometer walk from La Seu.  There's a great view of the cathedral from the beach, and it was fun to wade in the Mediterranean and search for shells.  Basic toilet facilities and outdoor showers are available.  However, there aren't any changing rooms, so it's not very practical to go swimming during a cruise port stop unless you're planning to head straight back to the ship afterwards to change out of your wet swimsuit.
Find additional information about things to do in Palma, including self-guided walking tours, restaurants, and shopping, at the Visit Palma website and the Balearic Islands Tourism website.
The takeaway: Palma wasn't one of our favorite port stops—for us, there weren't any headliner sights or experiences.  However, Palma has some interesting attractions as well as an excellent dining scene, so it was a nice opportunity to have a low-key day of sightseeing and eating.
Since you can easily explore Palma's historic city center and the Santa Catalina neighborhood on your own, there's no need to pay for an organized shore excursion.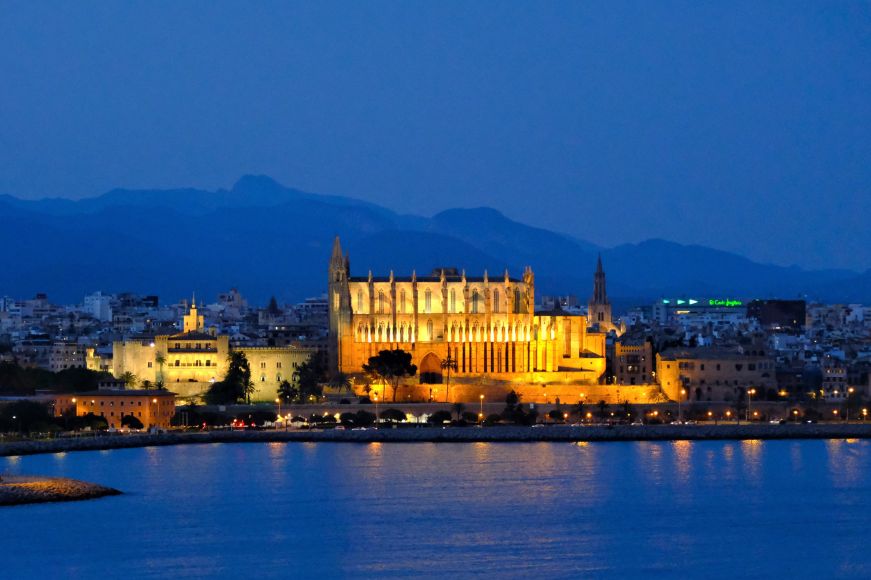 Further reading:
If you enjoyed this post, pin it!