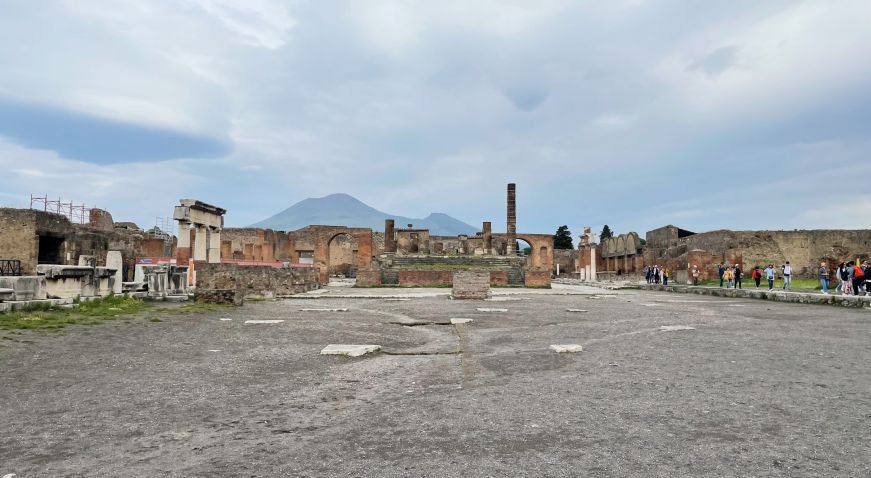 Neapolitan pizza and Pompeii: as soon as I saw Naples on our Mediterranean cruise itinerary, I knew how I wanted to spend my day in port.  But Naples still managed to surprise me, from its gritty, vibrant street scenes to the unexpected ways that ancient Pompeii resembles a modern city.
Getting situated: Naples is located on the western coast of Italy, south of Rome.  It's the third-largest city in Italy and is the capital of the Campania region.
Getting off the ship: The Naples cruise ship port is unusual—it's actually located in the heart of the city.  From the cruise terminal, it's approximately a 0.5 mile/0.75 kilometer walk to the Municipio metro stop.  From there, you can easily connect to the Napoli Centrale station, where you can catch a train to Pompeii, or to the Museo stop if you'd like to visit the Naples National Archaeological museum.  You can also walk to Naples' historic city center, which is approximately 1 mile/1.5 kilometers from the cruise terminal.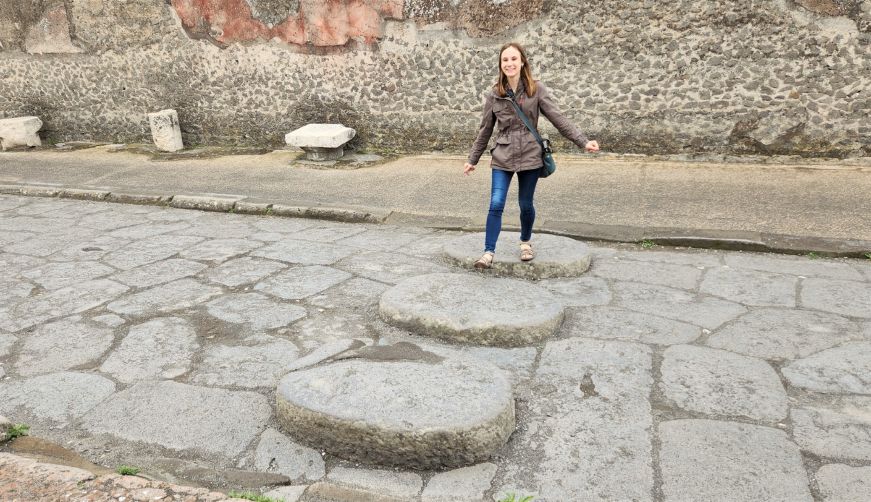 What to do:
Many people (including us) use their port stop in Naples to visit the Archaeological Park of Pompeii, which is a 35-minute train ride from the Napoli Centrale station.  Pompeii is truly one of the most amazing places I've ever visited.  In 79 AD, an eruption from Mount Vesuvius buried the city under 13-20 feet of volcanic ash and pumice, preserving the buildings, streets, graffiti, and objects of the city of 11,000 people.  Scientific excavations began in the 1700s and have continued to present day, revealing a 163-acre snapshot of Roman life.
If you'd like to visit Pompeii, I recommend getting off the ship as soon as possible so that you can be at the archaeological site when the gates open at 9:00am.  Pompeii is extremely congested with tour groups from late morning on, which significantly detracts from the experience.   
To get to Pompeii, take the Circumvesuviana train from the Napoli Centrale station to the Pompeii Scavi/Villa dei Misteri station.  The train runs every half hour from 6:00am to 10:00pm.  It's a no-frills commuter train, and since it can be fairly crowded you may need to stand.  Many guidebooks warn about pickpockets on the Circumvesuviana.  We didn't have any issues, but it's always a good idea to keep your wallet, phone, and other valuables in a secure place (Mike has a travel pocket similar to this one, I wear a Speakeasy travel scarf) and to be mindful of your surroundings.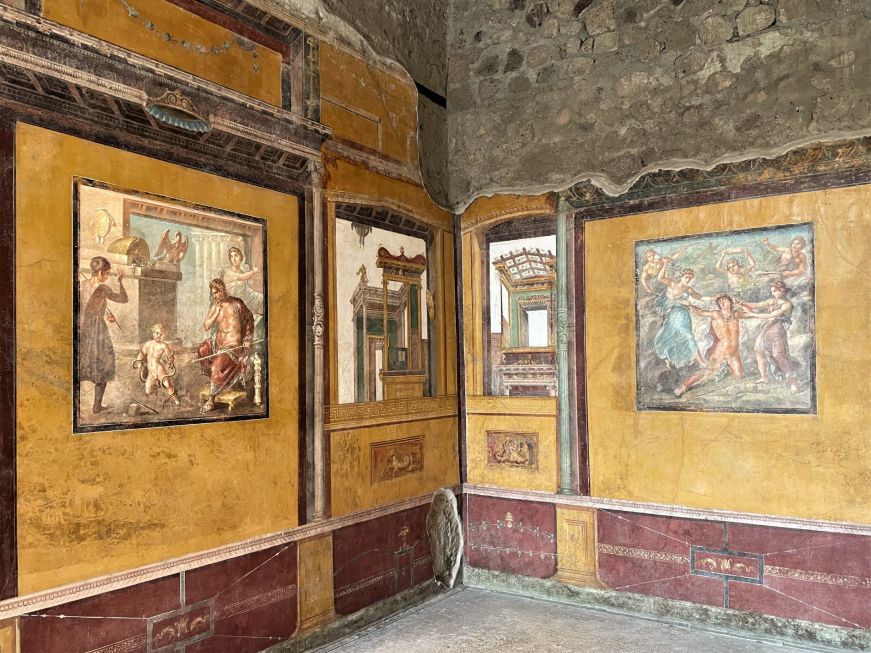 Even though I'd read, listed to podcasts, and watched television shows about Pompeii beforehand, I wasn't prepared for how vast the site is (there are thousands of buildings) and how many details have been preserved, from colorful murals to an ancient to-go spot with stone chafing dishes to keep the food warm.  Life in Pompeii was more modern than I expected, with crosswalks and pedestrian-only streets.  The first century felt strangely close at hand—you even can see the chariot grooves carved into the cobblestone streets.
Interpretive signage is limited, so I highly recommend the Rick Steves self-guided Pompeii walking tour.  We used the printed version in the Rick Steves Mediterranean Cruise Port guidebook, but there's also a free audio version.  It adds valuable context so that you can better understand and appreciate what you're seeing.  It also draws your attention to fascinating details that I would've overlooked, like a station by the marketplace with standardized measurements so that you could gauge whether or not a vendor had cheated you.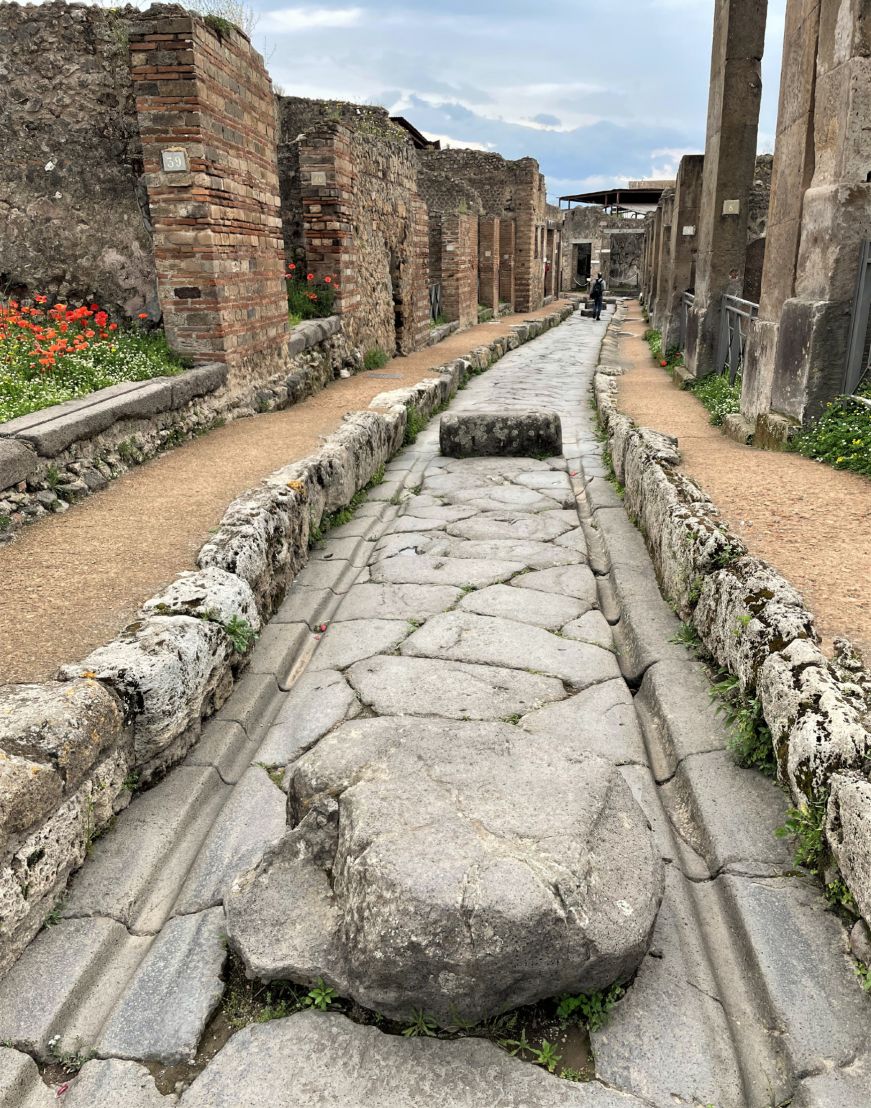 I recommend allocating two to three hours to see Pompeii.  We entered the site shortly after the gates opened at 9:00am and stayed until about 11:30am, when the crowds had descended and I was started to feel sightseeing fatigue.  However, there were portions of the site that we didn't see, including the amphitheater and the Antiquarium, a museum that which houses artifacts discovered at Pompeii.  If you want to spend your entire Naples port stop at Pompeii, you could definitely do so.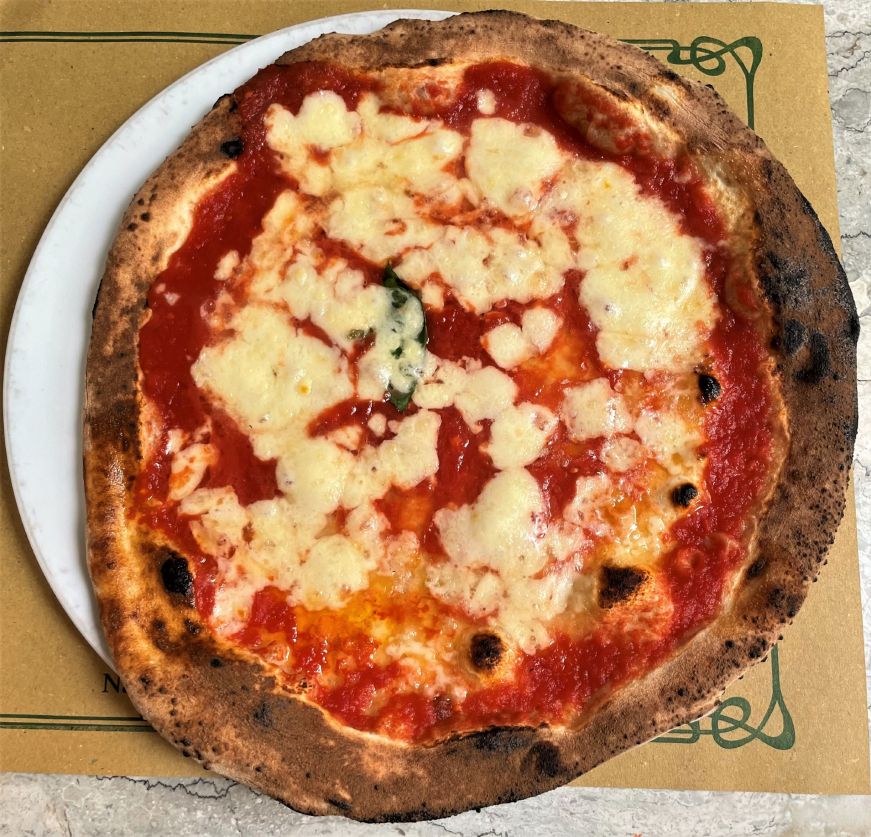 In addition to being burned out on first century Rome, I wanted to head back to Naples so that I could eat Neapolitan pizza in its city of origin.  Originally, I had my sights set on L'Antica Pizzeria da Michele.  Founded in 1870, it's featured in all the guidebooks, it's the pizzeria Julia Roberts eats at in Eat Pray Love, and they supposedly serve the best pizza in the world.
The downside: the line was over a block long and very slow moving.  After standing in line for 20 minutes and moving about three feet, I decided that I didn't want to spend the rest of my time in port in line, only to finally get a pizza that I would have to eat sitting on a curb next to an overflowing garbage can (seating inside the pizzeria is limited and so is prime curb space).  Instead, we went to the nearby Pizzeria Trianon located at Via Pietro Colletta, 44.  It was founded in 1923 and has a great Art Deco dining room upstairs, where you can watch a skilled team turn out pizza after pizza.  There are lovely views of the street that make you feel like you're in a movie (maybe even Eat Pray Love).  And the pizza?  It was amazing, with a perfect chewy crust and expertly applied, high-quality toppings.
Would eating pizza at L'Antica Pizzeria da Michele have been a life-changing experience?  Maybe.  But there's also something to be said for eating very good pizza in a nice setting and then getting on with the rest of your day.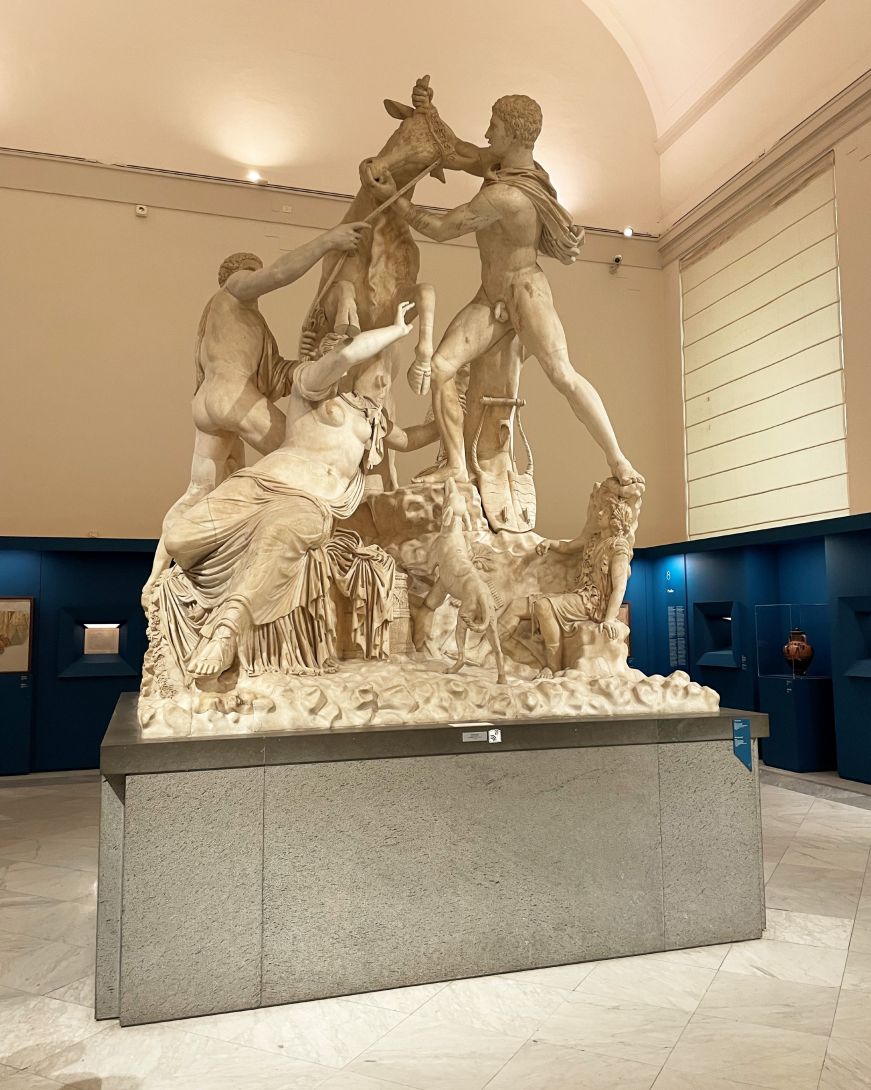 After pizza, we had a few more hours in port, so we opted to visit the Naples National Archeological Museum.  It's a vast museum—you could easily spend a day there—so if you have limited time I recommend picking out a particular area or two to focus on.  I wanted to see the Farnese collection of larger-than-life Roman sculptures and the mosaic and fresco collections, which include decorations removed from Pompeii for preservation reasons.  After seeing the buildings at Pompeii, we enjoyed admiring the art that adorned them.  We also loved the scale model of Pompeii, which is an exact 1:100 replica and serves as a great visual of how expansive the site is.
This probably reflects poorly on my maturity level, but I thought many of the artifacts in the Secret Room collection were hilarious.
One of the highlights of my time in Naples was simply walking from Pizzeria Trianon to the National Archeological Museum.  Naples is a place that is unabashedly itself, kind of gritty and very much alive.  There's laundry hanging from crumbling balconies, street hawkers selling fake designer bags and cigarettes, and Vespas weaving through the streets.  When we visited in May 2023, the Naples football team had just won a title, so there were garlands and flags stretched across nearly every street and alley.  It was such a neat place to experience, even if only for an afternoon.
More information about things to do in Naples is available at the Italian Ministry of Tourism website.
The takeaway: Naples was my favorite port stop of our cruise, thanks to how interesting I found Pompeii and the unique character of Naples itself.  If possible, try to experience both.
Naples is easy to navigate on your own, and Pompeii is much better if you beat the crowds—I highly recommend exploring on your own instead of relying on cruise ship excursions.
Further reading:
If you enjoyed this post, pin it!