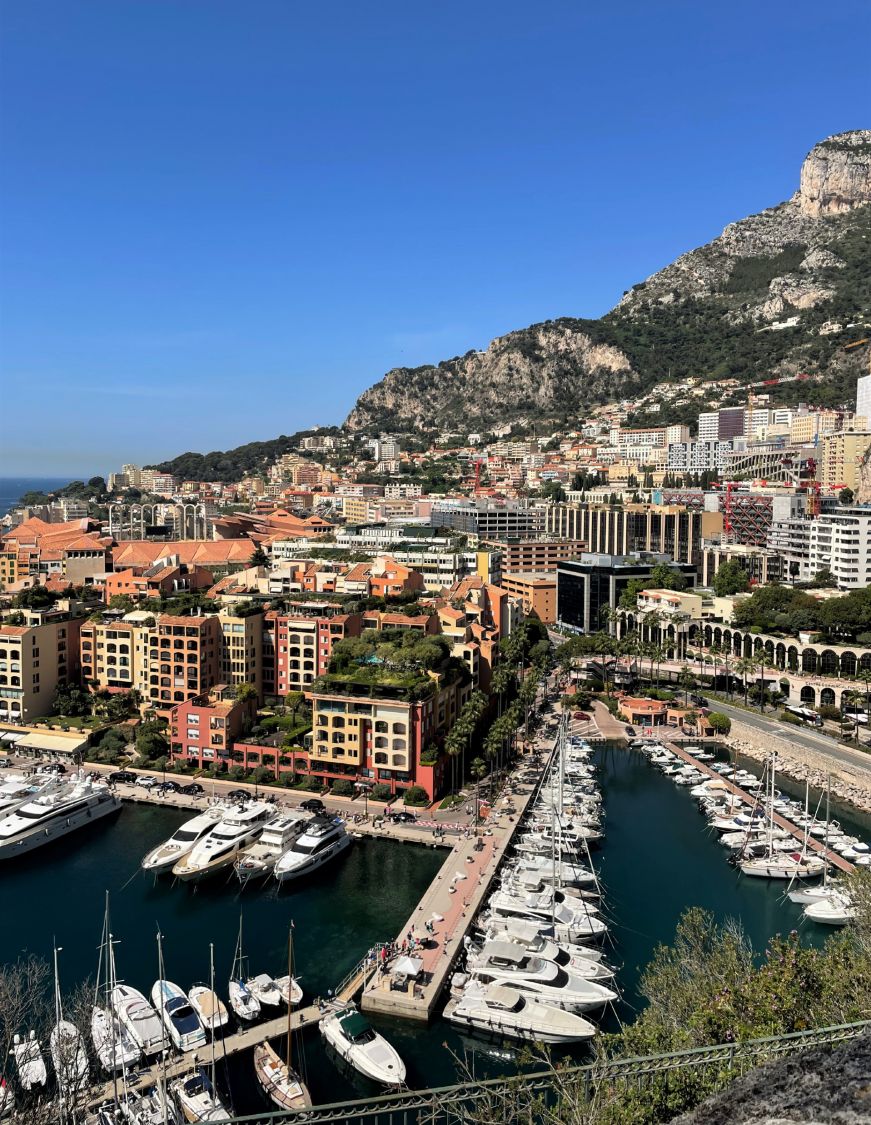 I've had a soft spot for microstates ever since learning about the world's tiniest countries in eighth grade geography class.  One of the highlights of my time in Rome was walking to Vatican City, the smallest country in the world.  When I learned that it was possible to visit the Principality of Monaco during a cruise port stop in Cannes, I knew I had to make a trip to the world's second smallest country.
Getting situated: Cannes is located on the French Riviera, which is the Mediterranean coastline on the southeast portion of France.  The city of 72,000 is a luxury vacation destination for the rich and famous and hosts an annual film festival.
Monaco is surrounded by the French Riviera to the north, east, and west, with a southern coast on the Mediterranean.  Monaco is northeast of Cannes and only 10 miles from the Italian border.  With an area of 0.78 square miles and about 39,000 residents, Monaco is the world's most densely populated country.  The train ride from Cannes to Monaco is approximately 90 minutes.
Monaco's official language is French.
How to get from the Cannes cruise ship port to Monaco:
1) Tender, as early as possible
Cruise ships moor offshore at Cannes and tender (transfer using a smaller vessel) passengers to the cruise terminal.  Reserve the earliest tender time possible—transit time alone to and from Monaco is 1.5 hours each way, and you'll also need to budget in time to wait for the train, sightsee in Monaco, and tender back your cruise ship.
2) Walk to the Cannes train station
The Cannes train station is about 1 mile/1.5 kilometers from the cruise terminal.  It's a flat walk along city streets and took us about 15 minutes.
3) Purchase a train ticket
Use one of the self-service kiosks, which give you a variety of language options including English.  Select "Monaco-Monte-Carlo" as your destination, and purchase a round-trip ticket to save time on the return journey.  You don't need to select a specific train for your return.
4) Get aboard and ride to Monaco
Since it's a regional train, there aren't assigned seats.  The ride takes about 90 minutes and offers some great views of the French Riviera, as well as Nice's elegant historic train station.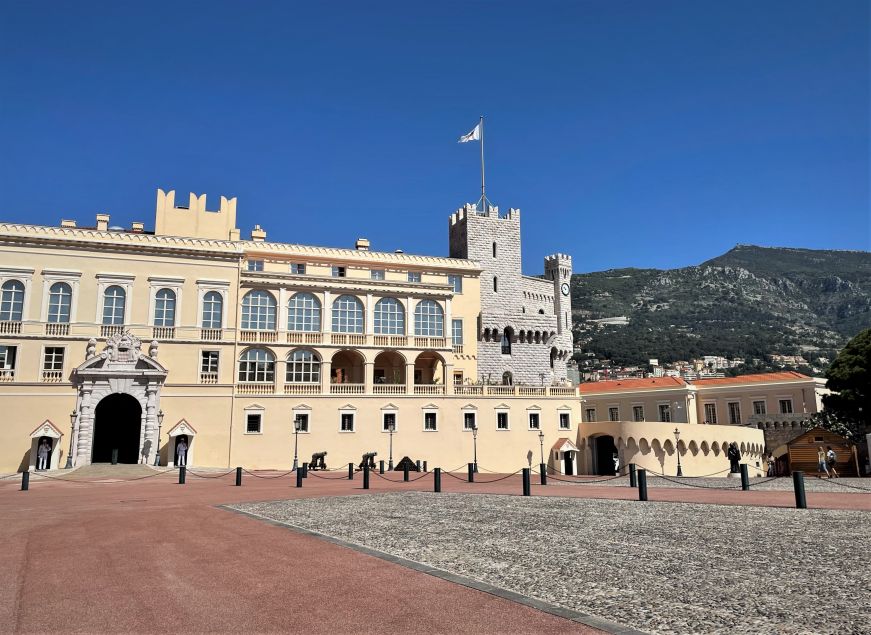 Things to do in Monaco:
When you arrive in Monaco, swing by the tourist information storefront in the train station for a free map that includes plenty of useful sightseeing information and facts about the country.  It's also a neat souvenir. 
We happened to be in Monaco during the Grand Prix, which is typically held the last weekend in May.  The automobile race is considered one of the most demanding circuits in Formula One, with a course laid out on the steep streets of Monaco.
Although our experience Monaco was atypical (the area around the train station was quite crowded, many streets and sights were closed, some scenic viewpoints were reserved for race attendees, and we could hear the cars zooming around), the course doesn't go through Monaco's Old Town.  We were able to do most of the sightseeing we had planned, without any crowds since everyone was either watching the race or staying far away from the hubbub.
The Old Town is approximately 0.75 miles/1.2 kilometers by foot from the train station, and you do need to walk up a steep hill.
The Prince's Palace of Monaco allows visitors to walk through the State Apartments, which feature recently restored frescoes.  There's also a daily changing of the guard ceremony that takes place on the Palace Square at 11:55 a.m.
We were planning to skip the Palace interior (we got our royal palace fill during our port stop in Palma), and it was closed during the Grand Prix anyway.  The Palace is open seasonally to visitors from April through mid-October.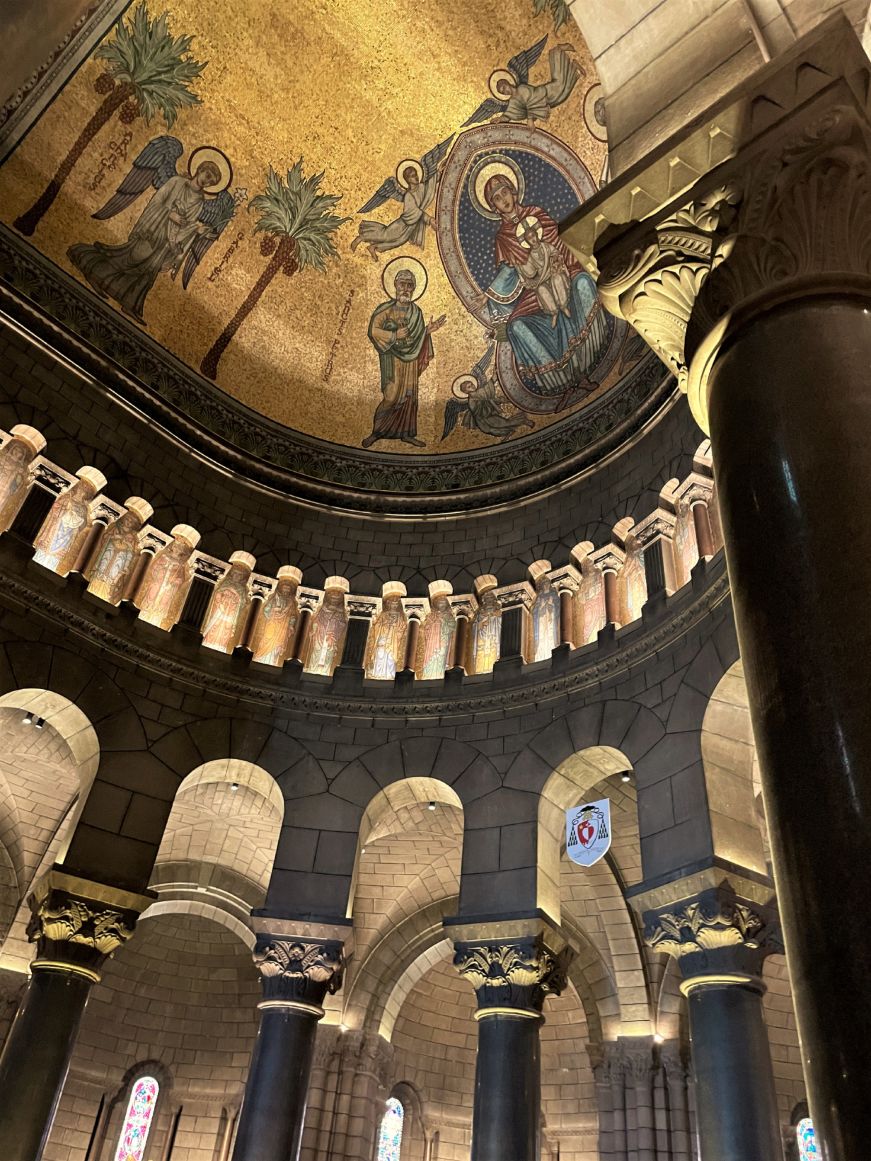 The Monaco Cathedral is where American movie star Grace Kelly famously married Prince Rainier III in 1956, and today, it is where they are interred beside each other.  Although the building itself was constructed in 1875, much of religious art dates from earlier eras, and the Roman-Byzantine style interior has beautiful gold mosaics that are also reminiscent of an earlier time period.
Admission to the Cathedral is free of charge, and visitors are asked to dress respectfully, with shoulders and knees covered.  I found it quite touching to see Princess Grace's tomb decorated with fresh flowers.  (She died following a car crash in 1982.)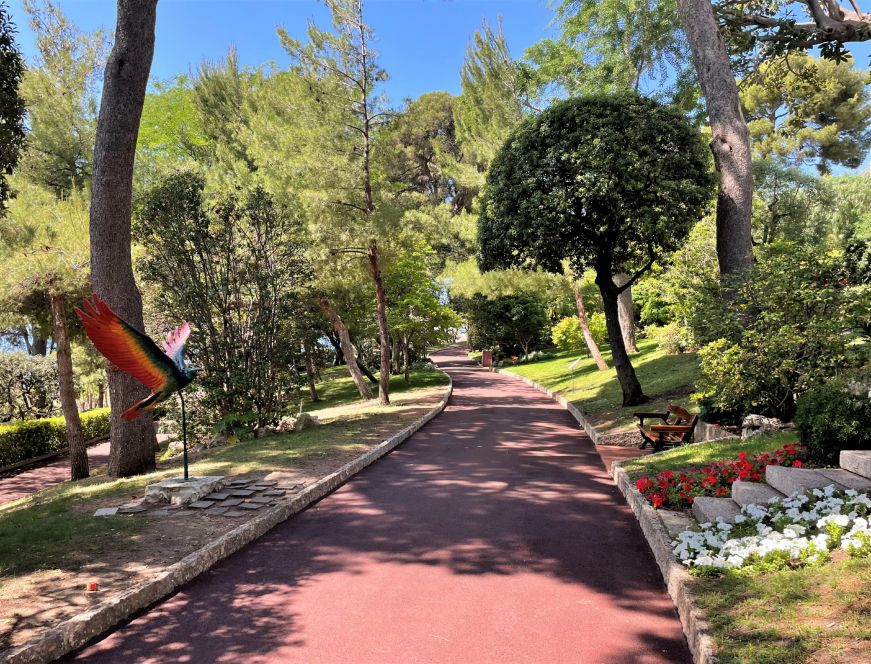 Built into a cliff, the St. Martin Gardens are a beautifully landscaped collection mostly of Mediterranean trees, with some additional species from around the world.  There are also some nice sculptures and scenic overlooks with excellent views of the ocean and both of Monaco's ports, the historic Port Hercule and the modern Port of Fontvieille (I took the port photographs in this post from the St. Martin Gardens).  We probably lucked out with fewer visitors than usual due to the Grand Prix, and strolling along the garden paths to take in the views was the highlight of our time in Monaco.
The St. Martin Gardens are a public park (Monaco's first, opened in 1816) and admission is free of charge.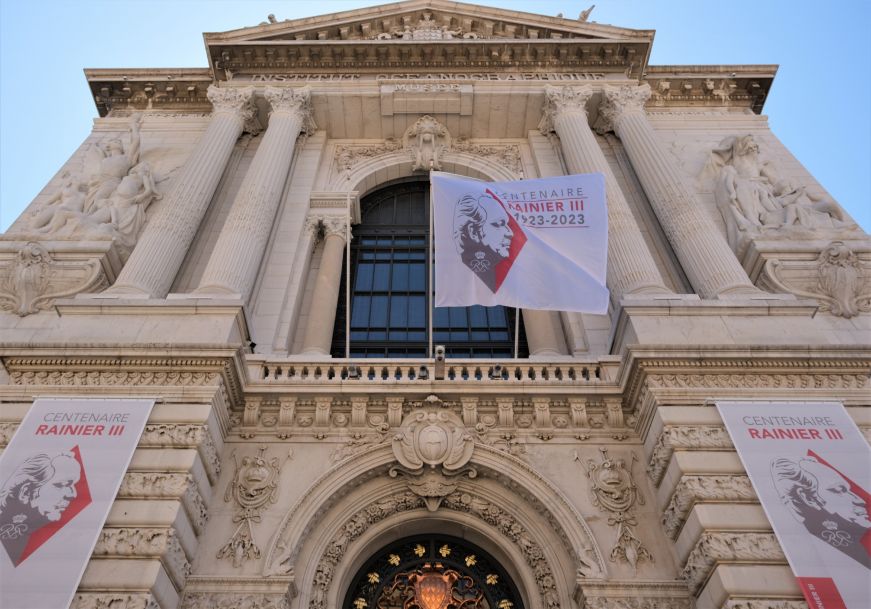 The Oceanographic Museum of Monaco features aquariums, an open-air sea turtle habitat, and educational exhibits.  It was closed during Grand Prix weekend, so we didn't get a chance to visit—it does seem geared more towards kids and families, so we didn't feel too bad about missing out.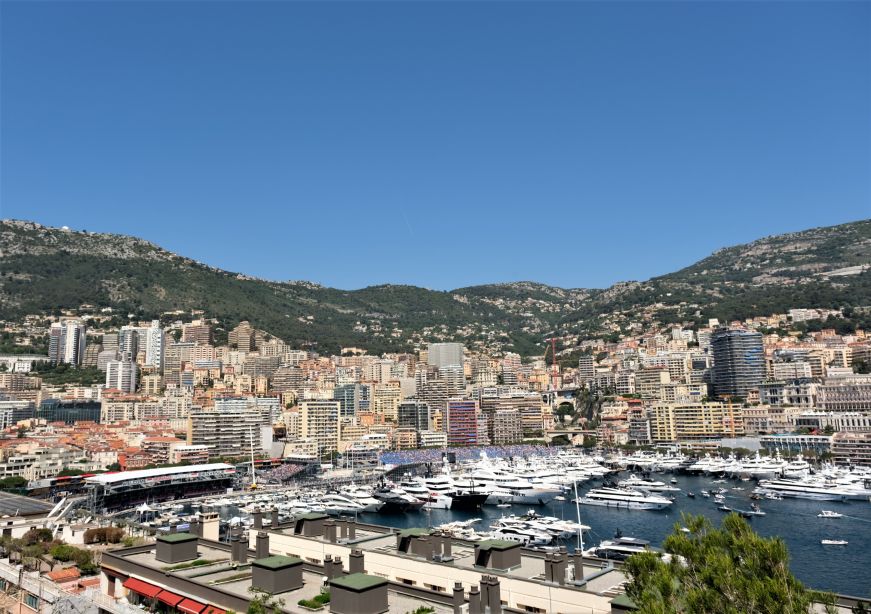 The Monaco Tours miniature train drives along the streets, providing a 30-minute tour of the entire Principality of Monaco—if this hadn't been closed due to the Grand Prix, I would have made Mike ride it with me (he did humor me in Marseille with a ride aboard the similarly kitschy Le Petit Train).  The Monaco Tours miniature train departs from a kiosk across the street from the Oceanographic Museum.
Open since 1865, the luxurious Casino de Monte-Carlo was Monaco's primary source of income for over a century.  It has a much more upscale atmosphere than U.S. casinos, with an admission charge (18€ when we visited in May 2023) and a "smart attire" dress code.  An audio tour is available from 10:00 a.m. to 1:00 p.m. if you'd like to see the historic interior spaces but aren't interested in gambling.
Historically, the Exotic Garden, with its stunning views and collection of succulents from the Americas, Africa, and Middle East, was one of Monaco's most popular tourist attractions.  However, the garden closed for renovations in 2020 and is currently scheduled to reopen in 2024.
The glitzy casino and ports full of yachts make it easy to overlook the fact that Monaco is the world's most densely populated country, with tightly spaced high rises built into every inch of the country's steep terrain.  If you're able to climb steep inclines and stairs, wandering around the country's residential neighborhoods is a unique experience.  There's a mishmash of architectural styles, from stately Art Nouveau buildings to modern structures that look like they're from a sci-fi movie. 
For more information about things to do, including shopping and dining, check out the Visit Monaco website.  We had a serviceable lunch at a touristy restaurant with a nice outdoor patio in the Old Town—there are several similar restaurants around the Monaco Cathedral.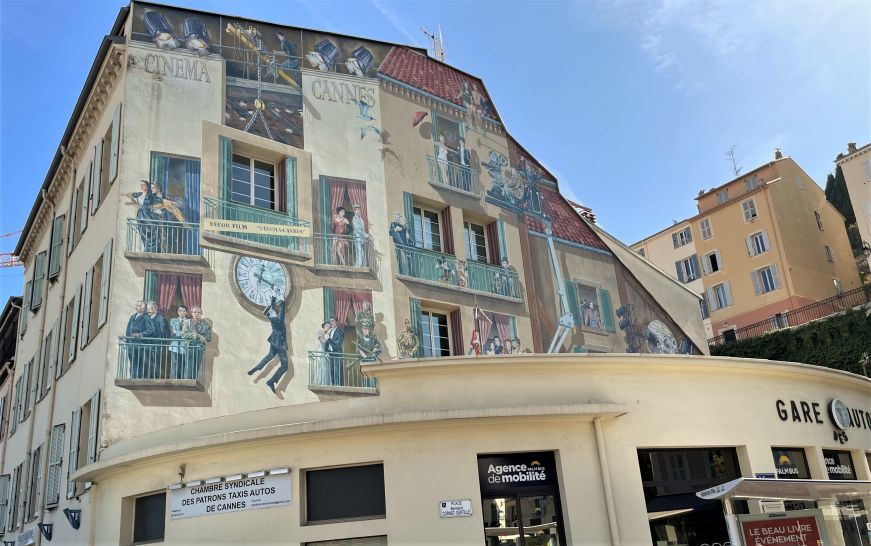 How to get back to your ship:
Be sure you allot enough time to return to Cannes—the train ride is approximately 90 minutes, and then you need to walk the 1 mile/1.5 kilometers to the cruise terminal and tender back to your ship.  Know what time the last tender departs and don't cut it too close.
If you have extra time in Cannes, the bustling shopping street of Rue d'Antibes runs between the train station and cruise terminal.  There are literally hundreds of shops, from local boutiques to national brands, plus cafes and restaurants.
The takeaway: I'm so glad I got to see the world's second-smallest country!  Monaco's compact charm makes it a worthwhile day trip during a port stop in Cannes, and the frequent, user-friendly train service means that you can get to Monaco on your own without a cruise ship excursion.
Further reading:
If you enjoyed this post, pin it!