When I saw Ibiza on our Norwegian Cruise Line Mediterranean itinerary, it seemed like an odd choice for a cruise port stop—isn't Ibiza mostly known as a party destination?  Even worse, we were only there for an afternoon, landing at noon and departing at 7:00pm.  What were we going to do, walk around and look at a bunch of closed clubs for a few hours?
Once I started researching, I learned that there's much more to Ibiza than nightlife.  Portions of the city are protected as a UNESCO World Heritage site, including the fortified Upper Town (Dalt Vila), which has an intact 16th-century defensive wall.  There's a vibrant food scene, luxury shopping, and in the summer, beautiful flowering trees.
Getting situated: Ibiza the city is located on Ibiza the island, which is one of the Balearic Islands off the southeast coast of Spain.  The archipelago (which also includes the islands of Mallorca, Menorca, and Formentera) is a Spanish province, and the official languages are Catalan and Spanish. 
Although it's called "Ibiza" in English and Spanish, the city's official name is the Catalan "Eivissa".  In this post, I've opted to use the English name of Ibiza.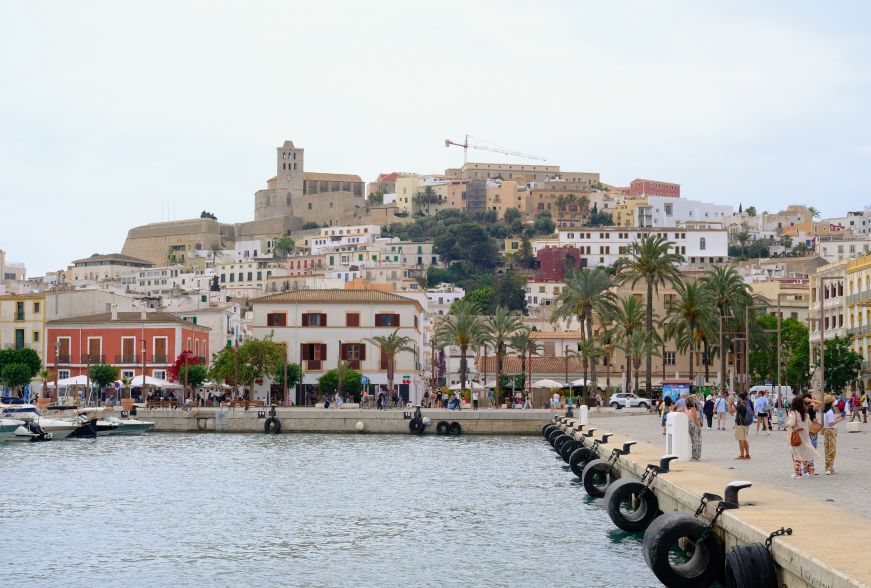 Getting off the ship: Ibiza's cruise ship port is about 1.9 miles/3 kilometers from the city center.  If you have limited time or you don't want to walk, you can take a taxi or a shuttle bus operated by a local company.  Some cruise lines, including Norwegian Cruise Line, offer their own shuttle bus service.  There are also independently-operated water taxis.
We took the local shuttle bus into town, which cost €6 per person round trip.  It was a poor experience—instead of departing as scheduled, our bus driver waited at the port for the bus to reach capacity, so we were stuck sitting at the port for about 40 minutes.  According the the schedule, shuttle buses departed from the city center back to the port on the hour and half hour, but the 5:00pm and 5:30pm shuttles never showed up. 
We ended up taking the last Norwegian Cruise Line shuttle of the day ($15 per person round trip; they only charged us for the return journey) so we that didn't miss our ship.  We did see a local shuttle bus approaching the bus stop as we drove away, so we would have made it back to our ship on time, but at that point it wasn't worth the risk of waiting around.
Bottom line: if you have limited time in Ibiza and/or don't want to walk to the city center, I recommend taking a cruise line shuttle if possible.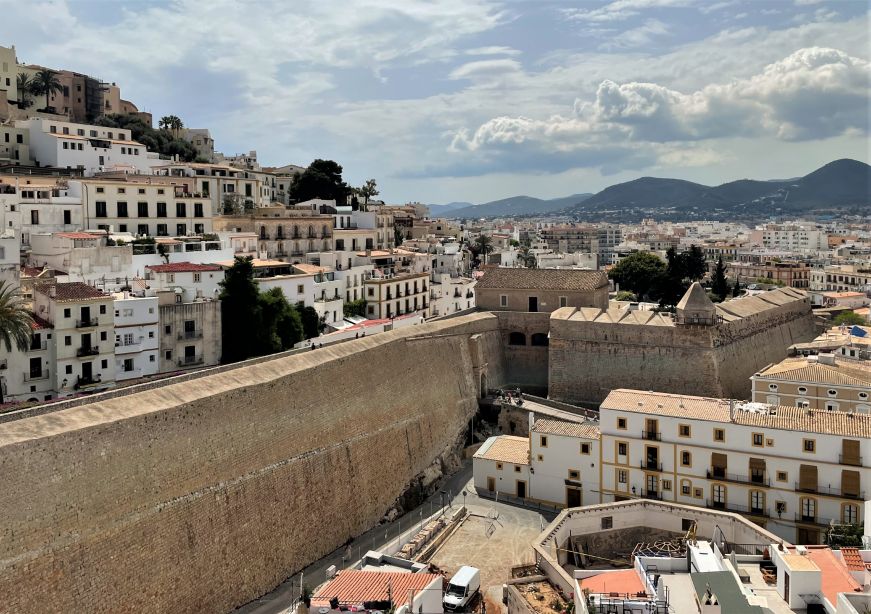 Things to do:
Dalt Vila is impossible to miss: it's perched on a hillside overlooking the sea and modern Ibiza, topped with a cathedral and surrounded with an imposing Renaissance-era wall.  Once you've made your way inside, you'll find narrow cobblestone streets and white buildings built into the hillside.  There are museums, restaurants, galleries, shops, and hotels within the walls, but there are also plenty of residences, and to me Dalt Vila felt more like a neighborhood and less like a tourist attraction.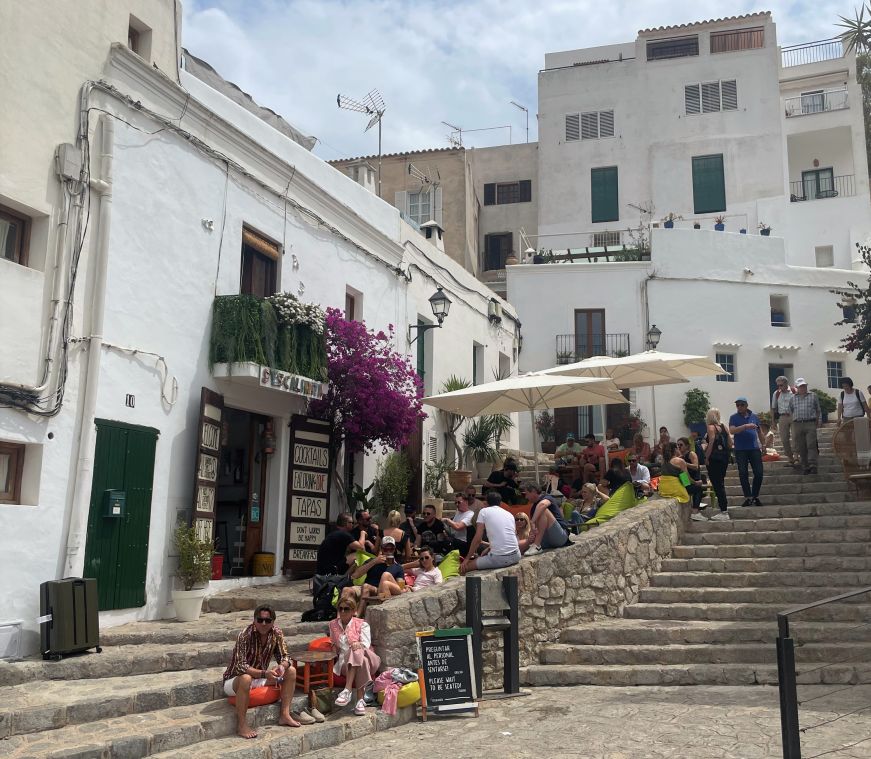 The most picturesque spot to eat in Dalt Vila might be S'Escalinata, a tapas bar just past the Portal Nou entrance.  You sit on beanbag chairs arranged on the stone steps, and the brief menu includes sandwiches, salads, and charcuterie boards, as well as wine, beer, and cocktails.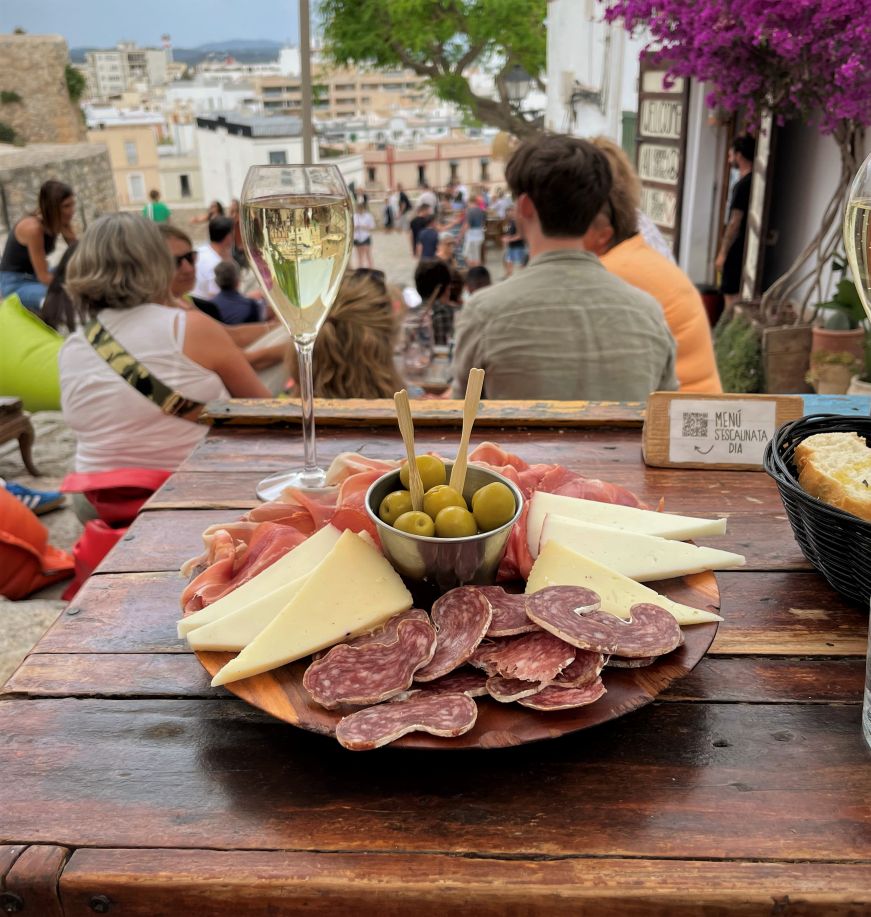 The proprietors of S'Escalinata could easily get by on the view alone—as you sip your wine you can gaze out across the wall to the modern city and harbor below.  However, the food is also a delight, made with high-quality ingredients, including the best jamón serrano (mountain ham) I've ever tasted.  If you're feeling festive, order a glass of cava, a Spanish sparkling white wine made in the same style as champagne.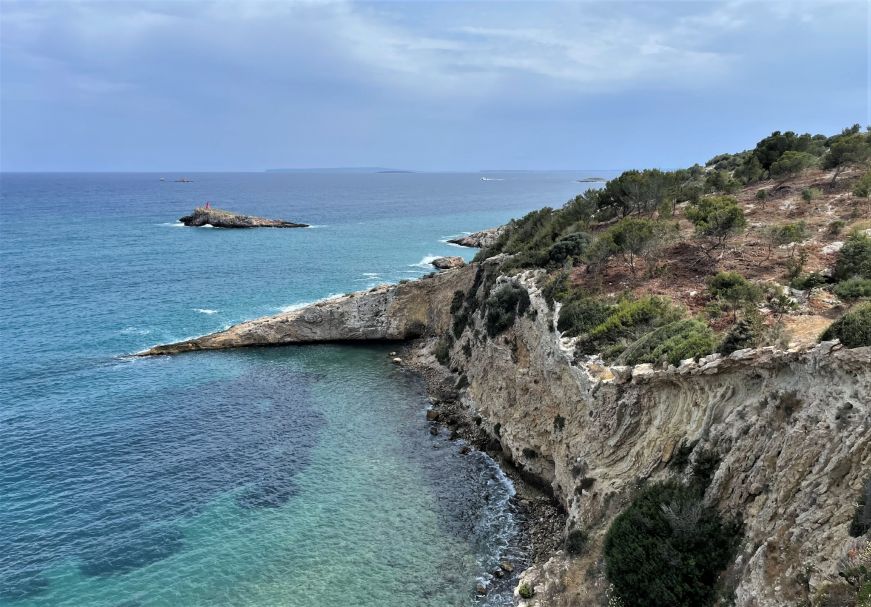 During your time in Dalt Vila, make sure to take one of the staircases to the top of the fortifications—it's worth the climb for the views of the ocean, and there's a walkway along the top of the wall.  Antique cannons are still in position, and you can get a neat vantage point on the narrow streets below.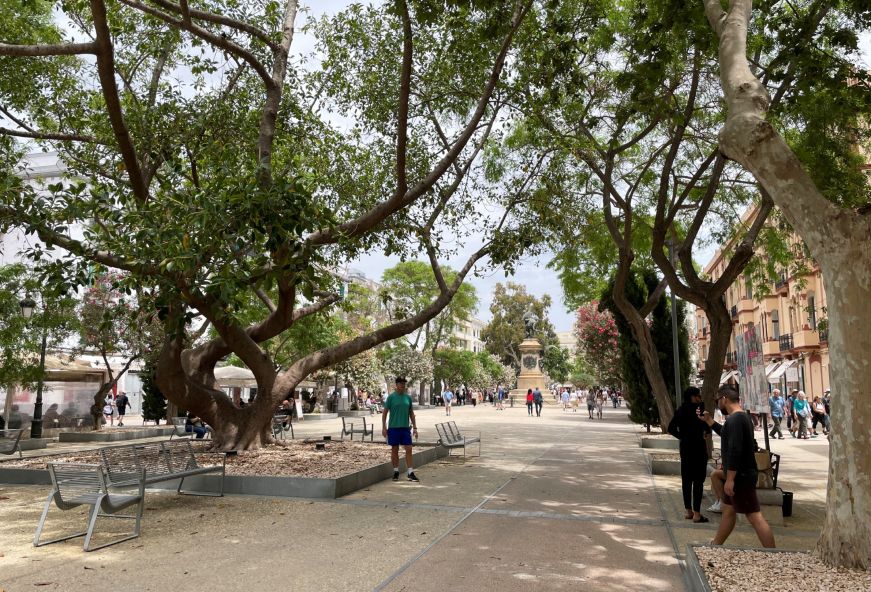 Once you've finished exploring Dalt Vila, Passeig de Vara de Rey is a pleasant pedestrian avenue in the city center, lined with upscale shops, restaurants, and bars.  There are large trees along the edges and although there are plenty of tourists, it has a relaxed feel.  If you're in the mood for dessert, stop by Gelato Ibiza for housemade artisan gelato—you can get a scoop to go or order a fancy sundae and settle into a patio seat.  We split the Copa Sicilia sundae made with pistachios, scoops of pistachio and chocolate gelato, and chocolate sauce, and Mike also enjoyed an Irish coffee.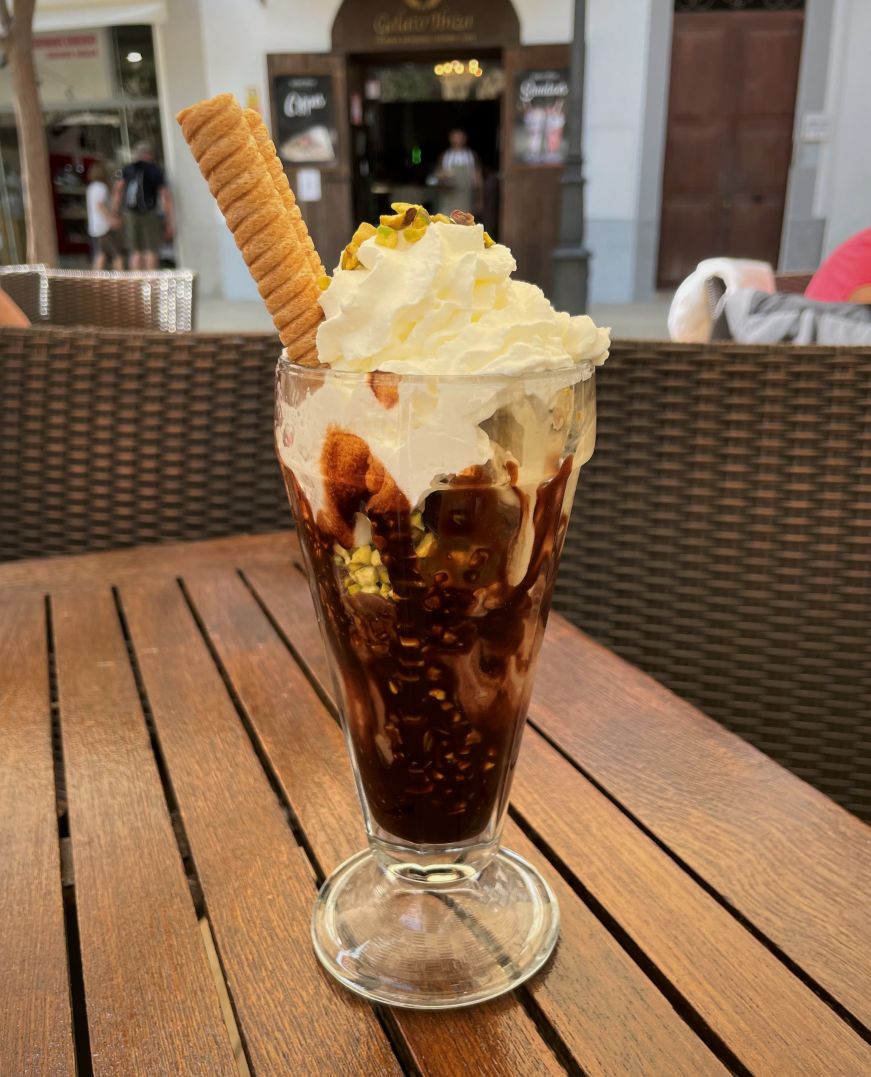 Find additional information about things to do in Ibiza, including museums, cultural sites, restaurants, shopping, and tours, at the Eivissa Tourism website.
The takeaway: Ibiza has a reputation as a nightlife destination, but it also offers historic sights and breathtaking views—it's wonderful place to enjoy a leisurely afternoon.  Unexpectedly, it was one of my favorite port stops of our cruise.  Since you can easily explore Dalt Vila and the city center on your own, there's no need to pay for an organized shore excursion.
Further reading:
If you enjoyed this post, pin it!