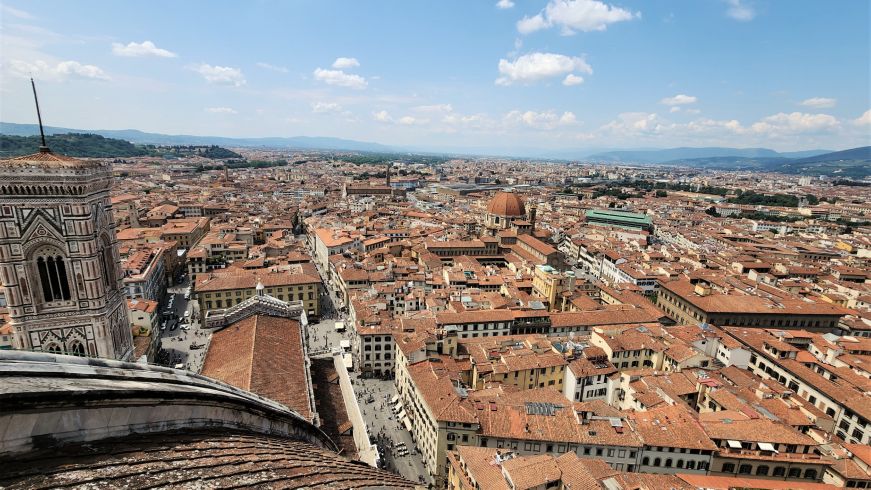 When you visit Florence, Italy, you're in the birthplace of the Renaissance: in the 14th century, local scholars revived an interest in ancient Greek and Roman culture, and throughout the 15th century, the wealthy Medici family funded innovative architectural and artistic endeavors inspired by those ancient cultures.  Painters and sculptors created works with new levels of realism, and architects engineered buildings of an unprecedented scale—many of which you can still see today.
Thanks to its Renaissance history, modern Florence is one of the most visited cities in Italy, attracting about 10 million tourists per year.  Although Florence is landlocked, it's become a popular organized shore excursion for cruisers docked at the port of Livorno, Italy.  You can also get to Florence on your own, which Mike and I did during our Mediterranean cruise.
Getting situated: Livorno is a port city on the west coast of Tuscany, a region in central Italy.  The city is known for its massive, modern seaport and has a population of about 160,000 people.
Florence is the capital of Tuscany and is famous for its Renaissance-era art and architecture.  The city of about 361,000 people is east of Livorno, and the train ride from Livorno to Florence is approximately 90 minutes.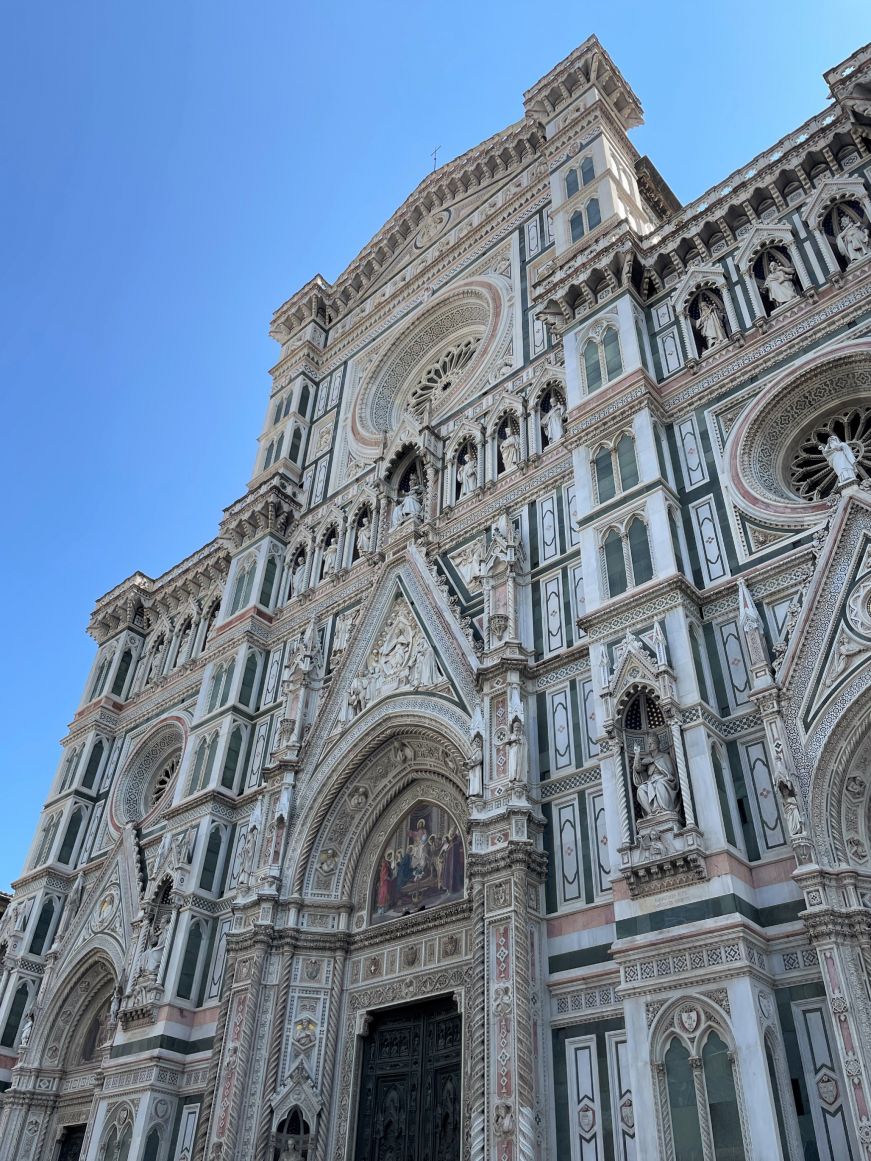 How to get from the cruise port of Livorno to Florence:
1) Take a cab from the cruise port to the Livorno Centrale train station
A bunch of cabs will be queued up near where you disembark from your ship.  Most of them are minivans that can accommodate larger groups, so if you're a solo traveler or a couple, ask your fellow cruisers if they're also going to the train station and want to split the cab fare.  When we visited in May 2023, the cab fare from the cruise port to the train station was a flat rate of €30.  The drive takes about 15 minutes.
2) Purchase a train ticket
Use one of the self-service kiosks, which give you a variety of language options including English.  Select "Livorno Centrale" as your origin and "Firenze Santa Maria Novella" as your destination.  We weren't sure how much time we would spend in Florence, so we opted for a one-way ticket.  If you do know which return train you'd like to take, you can purchase a round-trip ticket.
Some of the routes to Florence are direct, and others require a transfer.  We took a direct route to Florence since it was most convenient, but on the way back we transferred in Pisa so that we didn't have to wait for the next direct train.  Transferring was user-friendly and we found the stations relatively easy to navigate.
3) Get aboard and ride to Florence
Most likely, you will be riding a regional train without assigned seats.  The ride to Florence takes about 90 minutes.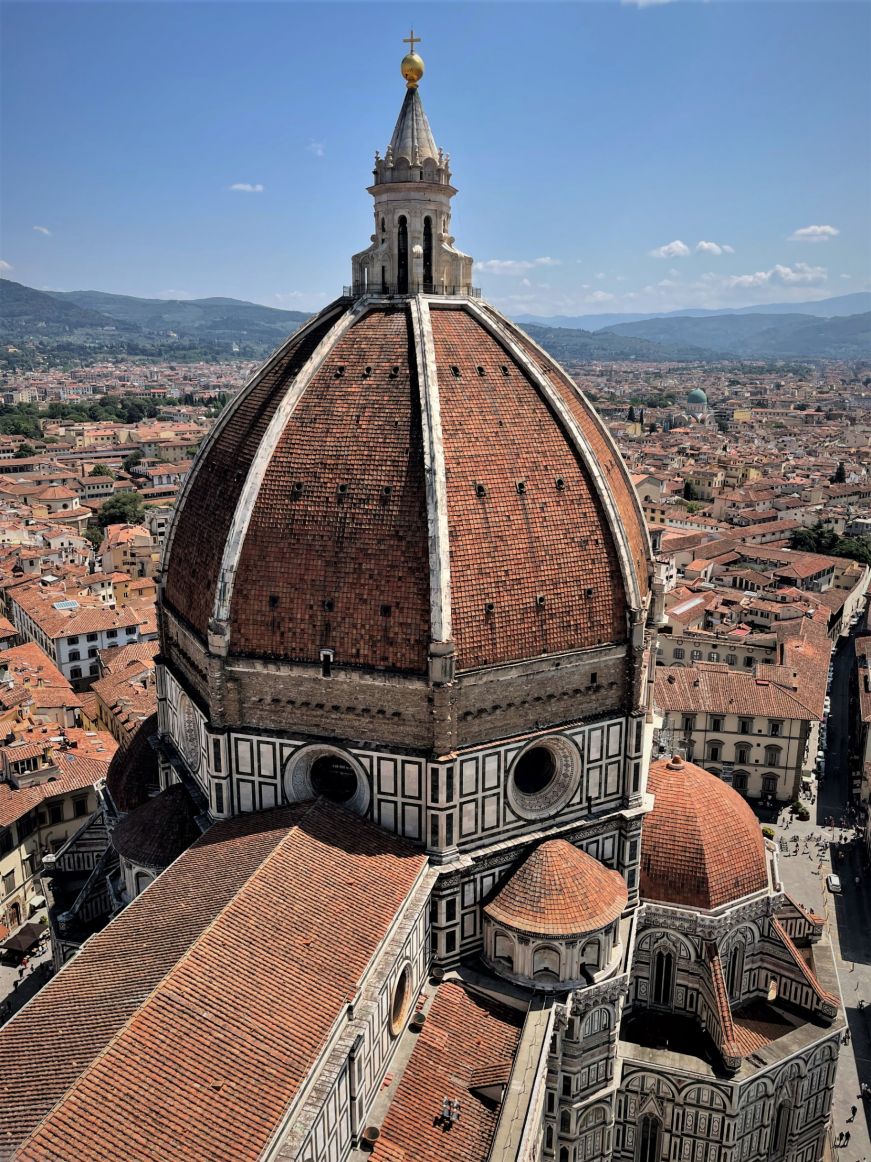 Things to do in Florence on a cruise port stop:
Once you've arrived in Florence, the Piazza del Duomo, home to Florence's iconic cathedral and other sites, is a 10-15 walk from the train station.  Many guidebooks warn about pickpockets in the enclosed walkways around the train station and crowded areas like the Piazza del Duomo.  We didn't have any issues, but it's always a good idea to keep your wallet, phone, and other valuables in a secure place (Mike has a travel pocket similar to this one, I wear a Speakeasy travel scarf) and to be mindful of your surroundings.
As mentioned above, the Piazza del Duomo includes the cathedral, dome, baptistery, Giotto's Bell Tower, Opera del Duomo Museum, and the Basilica of Santa Reparata.  There are various ticket options depending on which of the sites you want to visit, and purchasing tickets in advance is a must if you want to climb the dome.  I really wanted to climb the dome, so we opted for the Brunelleschi Pass, which includes access to all of the sites and a reserved time slot to visit the dome.
We read Brunelleschi's Dome by Ross King before our visit, which gave us a deep appreciation for the engineering, ingenuity, and effort behind the dome and the other sites, as well as background about Renaissance-era Florence.  If you're at all interested in history or engineering, I highly recommend reading it before you visit Florence.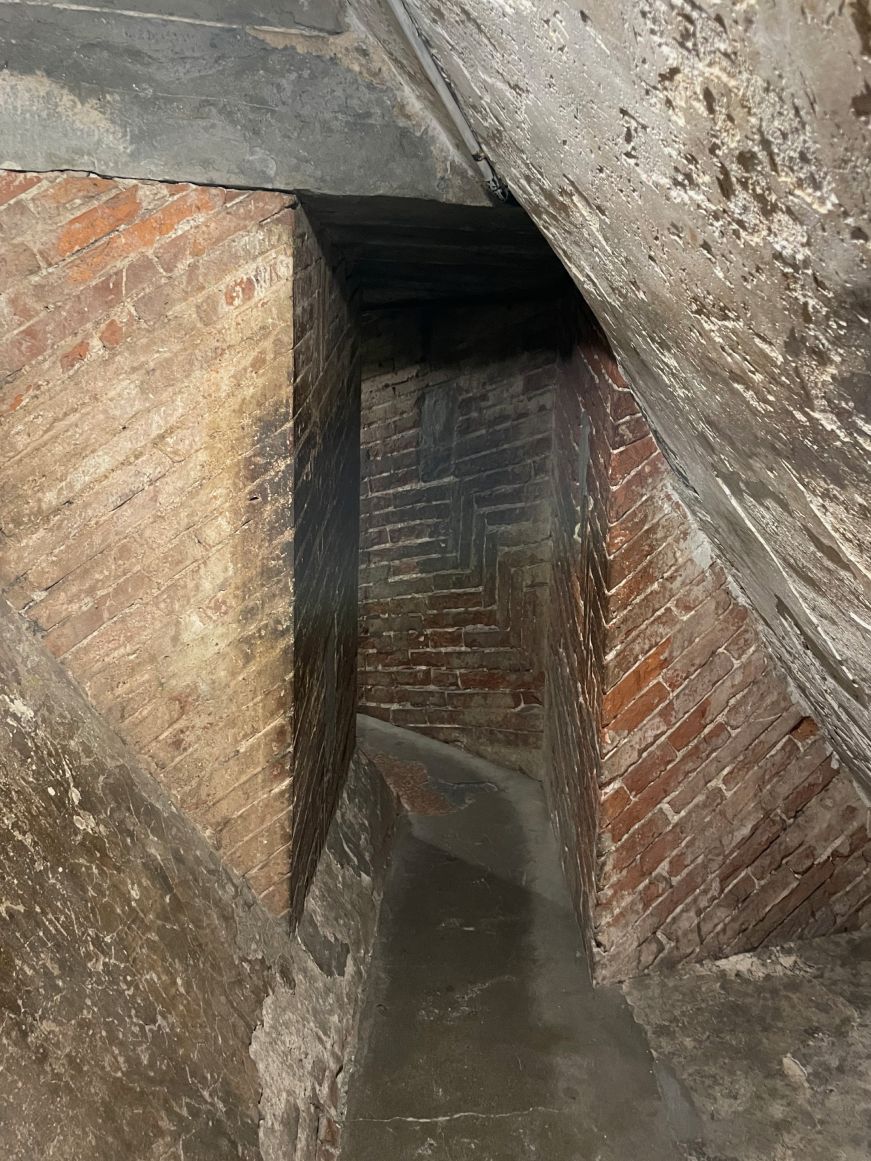 The Florence Cathedral, or the Cathedral of Santa Maria del Fiore, is topped with the largest masonry dome ever constructed.  It was engineered by Filippo Brunelleschi and was built between 1420-1436.  The view of Florence from the top of the dome is incredible, as is the top-down view of cathedral interior you get halfway through your climb. 
That said, climbing the dome is not accessible to everyone.  You will need to climb 463 steps in cramped, stuffy quarters, and the climb is strongly not recommended for people with cardiovascular or respiratory diseases, vertigo, or claustrophobia, as well as pregnant people.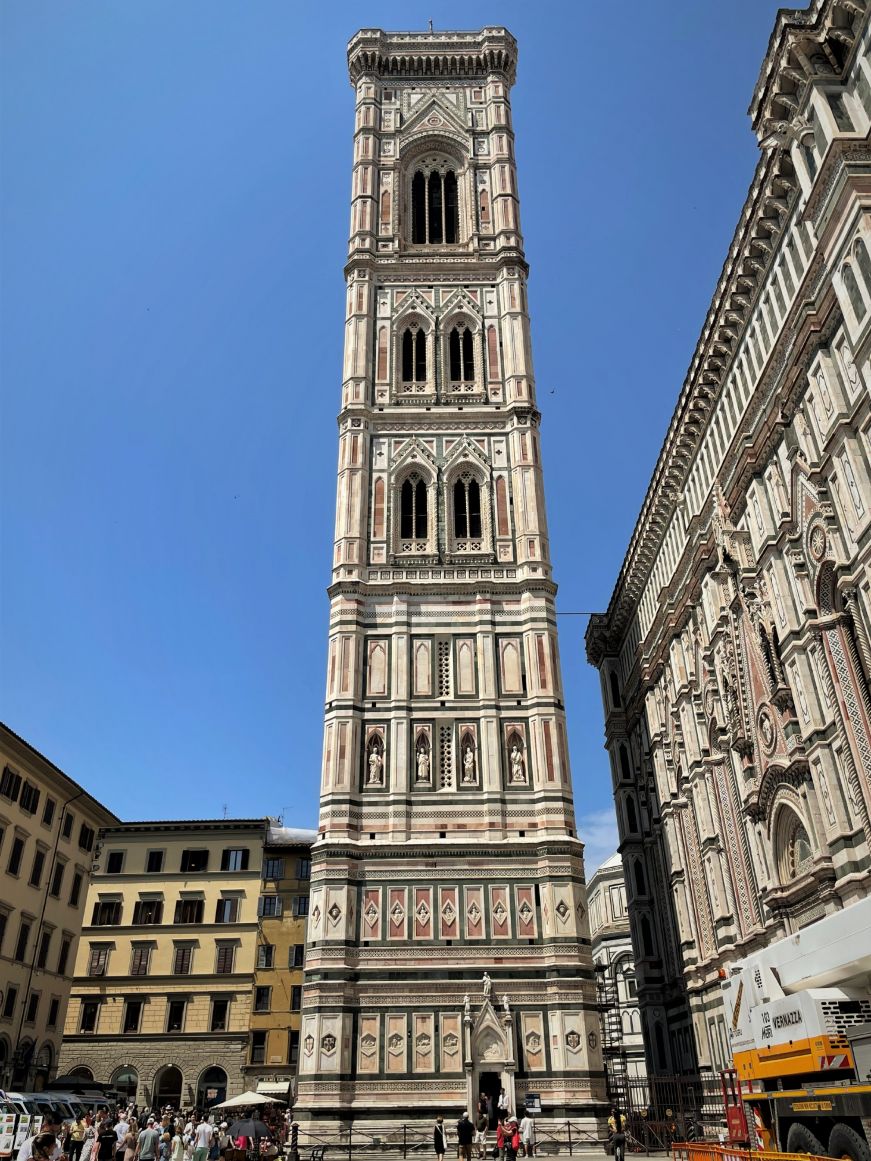 The dome was actually our second climb of the day—we started by climbing the 414 steps to the top of Giotto's Bell Tower, which was completed in 1359.  If you're up for doing two climbs, I think the bell tower is worth it, since you get to see the dome up close, plus views of the city from three levels with windows.  It's an active bell tower, and our descent coincided with the bells chiming at noon, which was very loud and very thrilling.
Like the dome, the climb involves a series of steep, tight stairways, so the climb is strongly not recommended for people with cardiovascular or respiratory diseases, vertigo, or claustrophobia, as well as pregnant people.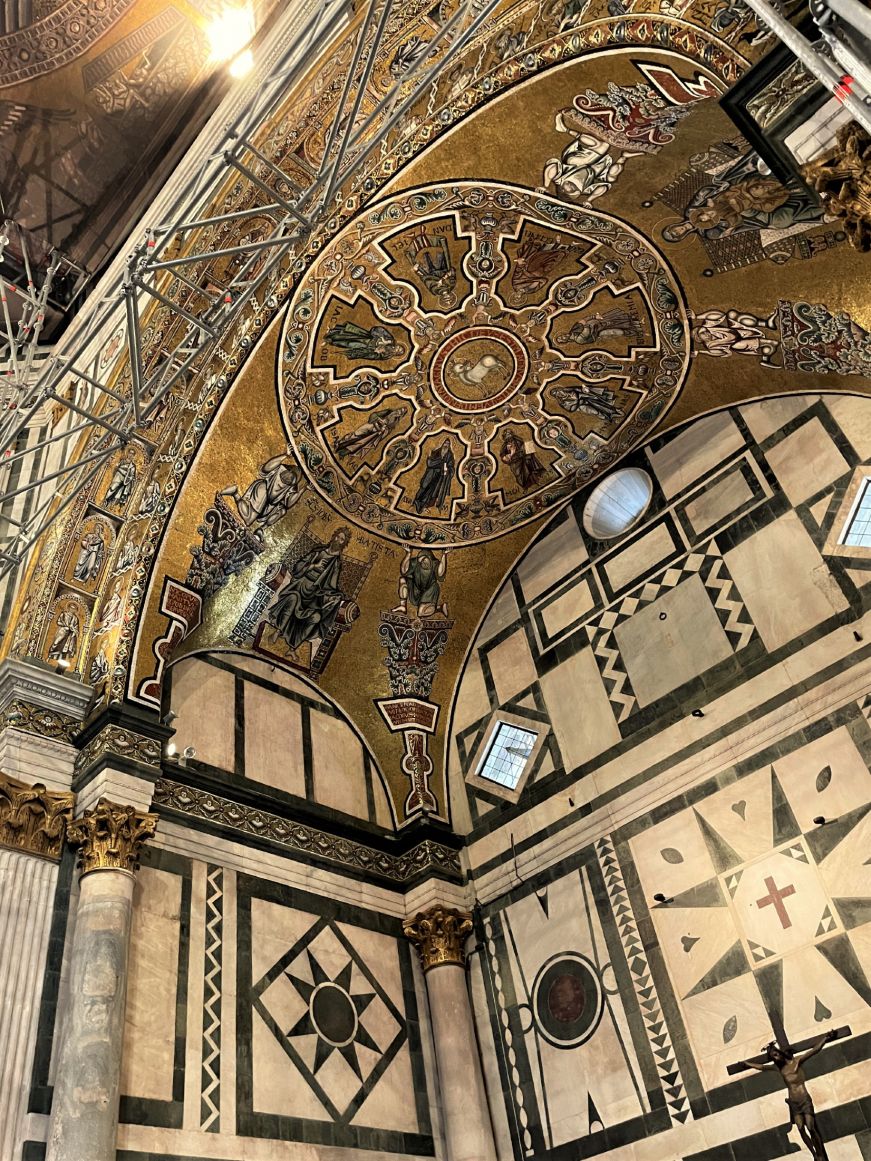 Since we had some time to kill after before our dome time slot, we visited the Baptistery of St. John—it's a separate building that was consecrated in 1059, with parts of the structure likely dating back to the 4th century.  (In that era, unbaptized people weren't allowed to enter churches, so baptisms had to be conducted in a different structure.)
The baptistery is known for its elaborate Byzantine mosaics, most of which were undergoing restoration work during our visit.  I'd allow about 15 minutes for your visit.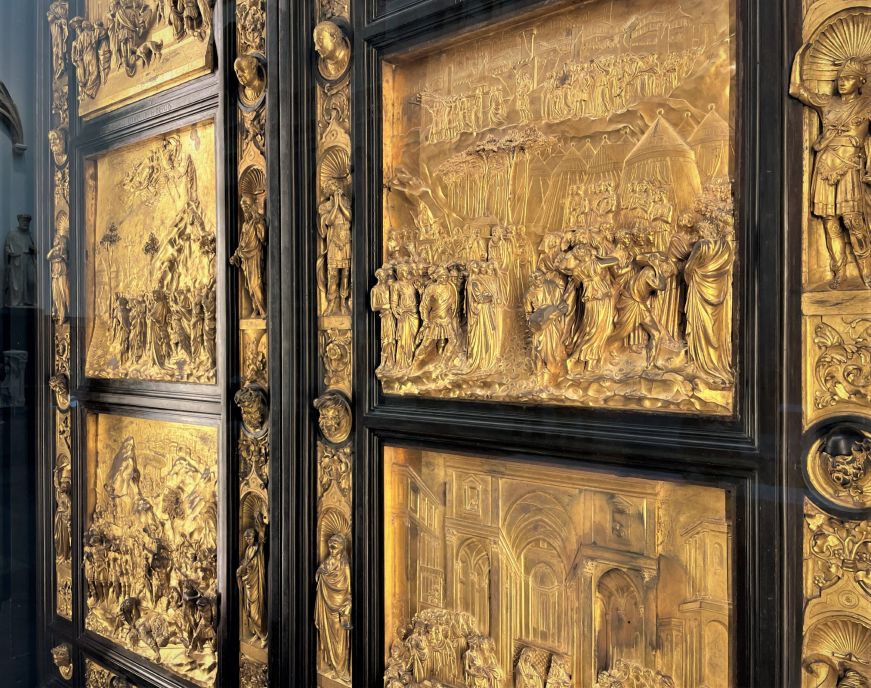 The Opera del Duomo Museum is an impressive collection of medieval and Renaissance artworks that originally decorated the cathedral, baptistery, and Giotto's Bell Tower, including the bronze baptistery doors by Ghiberti and sculptures by Michelangelo and Donatello.  You can also see some of the models that Brunelleschi created when he was engineering the dome, and there are exhibits about how the dome was constructed.  The museum was renovated in 2015 and the exhibits are very engaging and accessible—there are even replicas of some of the statues so that people with visual impairments can touch them.  Be sure to visit the rooftop terrace for an up-close view of the dome.
Our Brunelleschi pass also included admission to the Basilica of Santa Reparata, an archeological site underneath the cathedral dating back to the 5th century.  We had seen enough religious sites by this point and skipped it.  If you'd like to see Filippo Brunelleschi's tomb, it's visible in the entrance area of the basilica's bookshop.
Admission to the Cathedral of Santa Maria del Fiore is free of charge, but since it's closed to visitors on Sunday we didn't get a chance to visit (however, as mentioned above, we did see the ceiling murals and interior during our dome climb).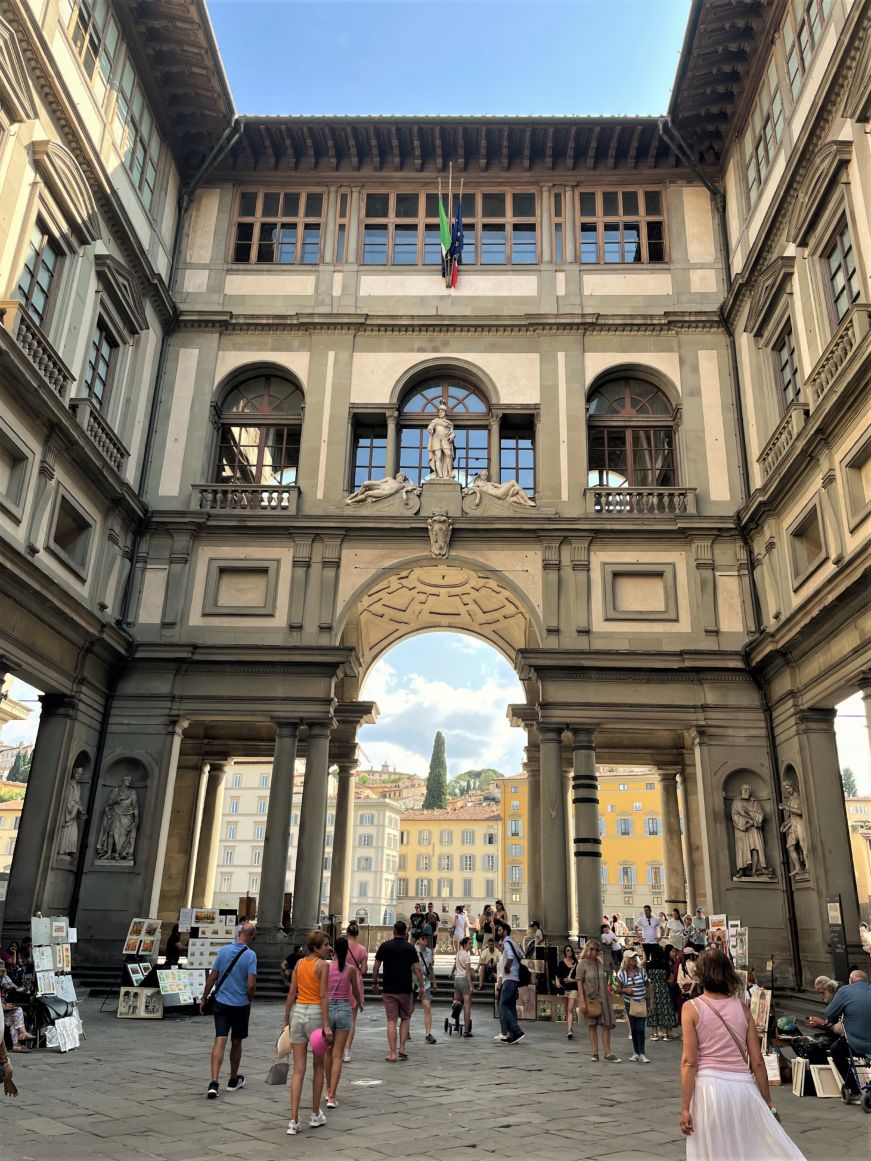 The Uffizi Galleries are another Florence headliner sight—the world-renowned art museum features ancient sculptures and paintings from the Middle Ages through the modern period, with an especially rich collection of Renaissance paintings, including works by Botticelli, Leonardo da Vinci, Michelangelo, and Caravaggio.  Since we had limited time in Florence, we skipped the Uffizi Galleries and opted to focus on the Piazza del Duomo sites so that our day didn't feel too rushed. 
If you'd like to visit the Uffizi Galleries, reserve tickets in advance to skip the line.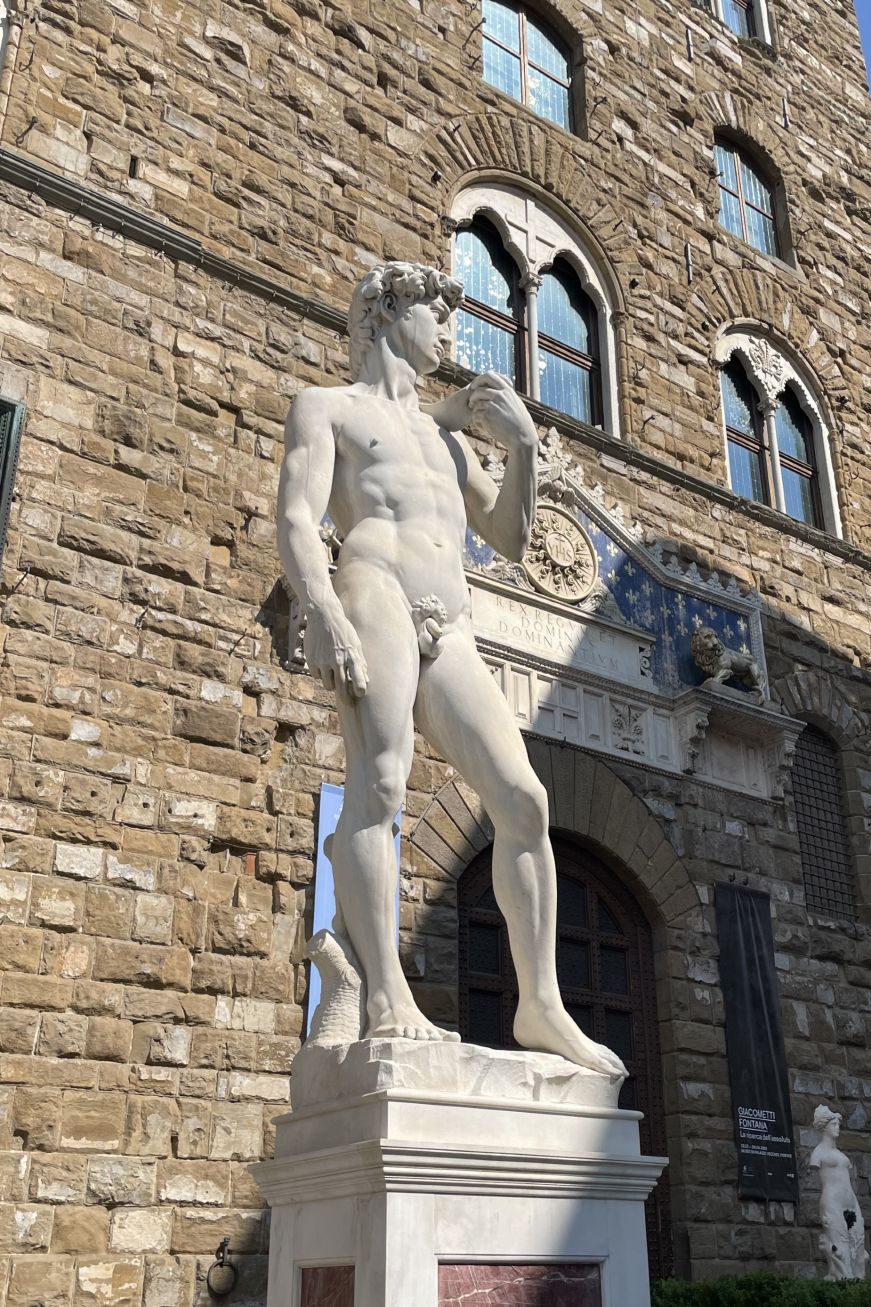 Florence is home to one of the world's most famous works of art: Michelangelo's David.  The statue was commissioned for the cathedral's roof, but was instead placed in a public square when it was completed in 1504.  It eventually was moved to the Galleria dell'Accademia for preservation reasons in 1873.  In addition to David, the museum is home to paintings, sculptures, and musical instruments, including a Stradivarius viola and violoncello.  Reserve your ticket in advance to skip the line.
Similar to to Uffizi Galleries, since we had limited time in Florence we skipped the Galleria dell'Accademia.  We did visit the replica David in the sculpture's original position, in front of the Palazzo della Signoria.
I highly recommend Rick Steves Florence Renaissance walk for a concise self-guided tour of many of Florence's top sights, including the Piazza del Duomo, Uffizi Gallery, and Ponte Vecchio, a picturesque covered bridge.  The tour has some fun historical tidbits and also takes you through bustling pedestrian streets filled with shops, restaurants, and cafes.  We used the written version in the Rick Steves Mediterranean Cruise Port guidebook, but there's also a free audio version.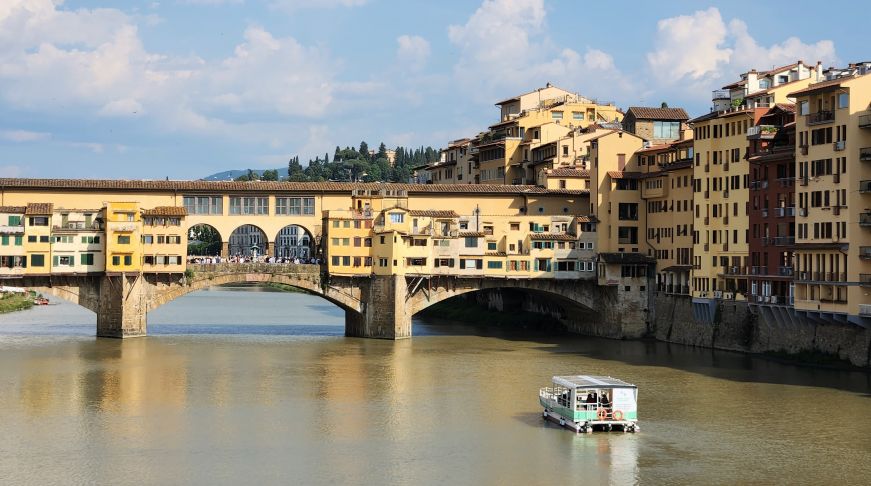 Florence is a wonderful destination for shopping: you'll find luxury designer boutiques, open air leather markets, and shops carrying jewelry, stationary, perfumes, ceramics, and other artisan items made by local producers, often using techniques that haven't changed for centuries. 
Our Rick Steves Renaissance walk took us past a leather market and the jewelry shops on the Ponte Vecchio, and there are also some interesting shops on either side of the Ponte Vecchio.  We bought a hand-painted fridge magnet to add to our collection, a glass Christmas ornament, and a lovely journal covered with handmade marbled paper.
Although most of our time in Florence was devoted to sightseeing, I also wanted to slow down and savor our time in Italy with an aperitivo.  Since Italians eat dinner quite late (typically between 8:00pm to 10:00pm), there is a custom of enjoying a pre-dinner aperitivo, or a low-proof bitter cocktail served with complimentary snacks.  The quality of the snacks is proportional to the cost of your drink, ranging from small bowls of potato chips and olives at a low-key sidewalk cafe to an elaborate buffet of cheeses, cured meats, and bruschetta at fancier spots.
We opted for a very ritzy experience at Il Magnifico Cafe, located at Via del Parione, 8 on the ground floor of the Il Tornabuoni Hotel.  I got a lovely Aperol spritz-inspired cocktail gussied up with craft liqueurs and rosemary syrup, Mike enjoyed a fabulous local wine, and we were presented with a spread of chips, olives, crackers, nuts, and miniature gourmet sandwiches.  It was such a wonderful way to wrap up our day in Florence.
More information about things to do in Florence is available at the official Florence tourism website.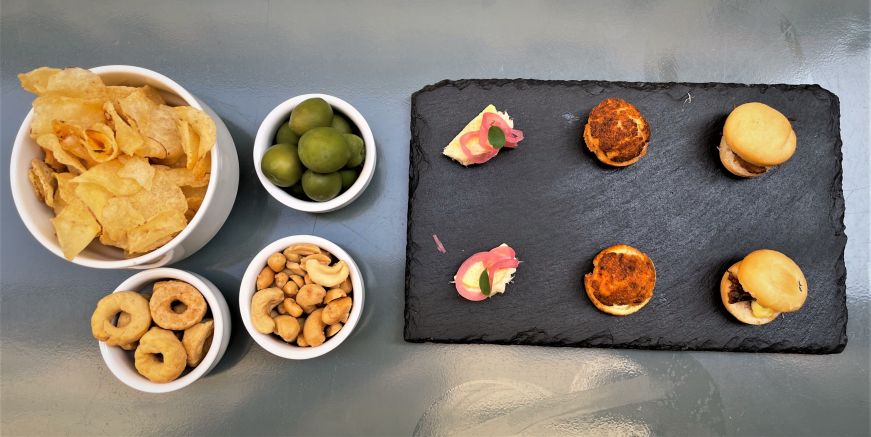 How to get back to your ship:
Be sure to allot enough time to return to Livorno.  You'll have a 90 minute train ride, and then you'll need to catch a cab from the train station for the 15 minute drive back to port.  Our ship spent the night in Livorno, so this wasn't an issue for us, although we did want to get back a reasonable time.
If you need to purchase a one-way ticket, there are self-serve ticket kiosks with an English-language option in the Firenze Santa Maria Novella station.  Back in Livorno, we hailed a cab waiting at the train station and split the cab fare with another group of cruisers who took the same train we did—if people seem to be waiting for a cab, it's worth asking them if they're going to the cruise port too.  When we visited in May 2023, the cab fare from the train station to the cruise port station was a flat rate of €30.
The takeaway: It required some planning, but I'm so glad we saw Florence on our own instead of doing a cruise ship excursion.  We were able to go in-depth at the Piazza del Duomo sites, explore the streets at our own pace, check out some neat shops, and savor our fancy aperitivo experience.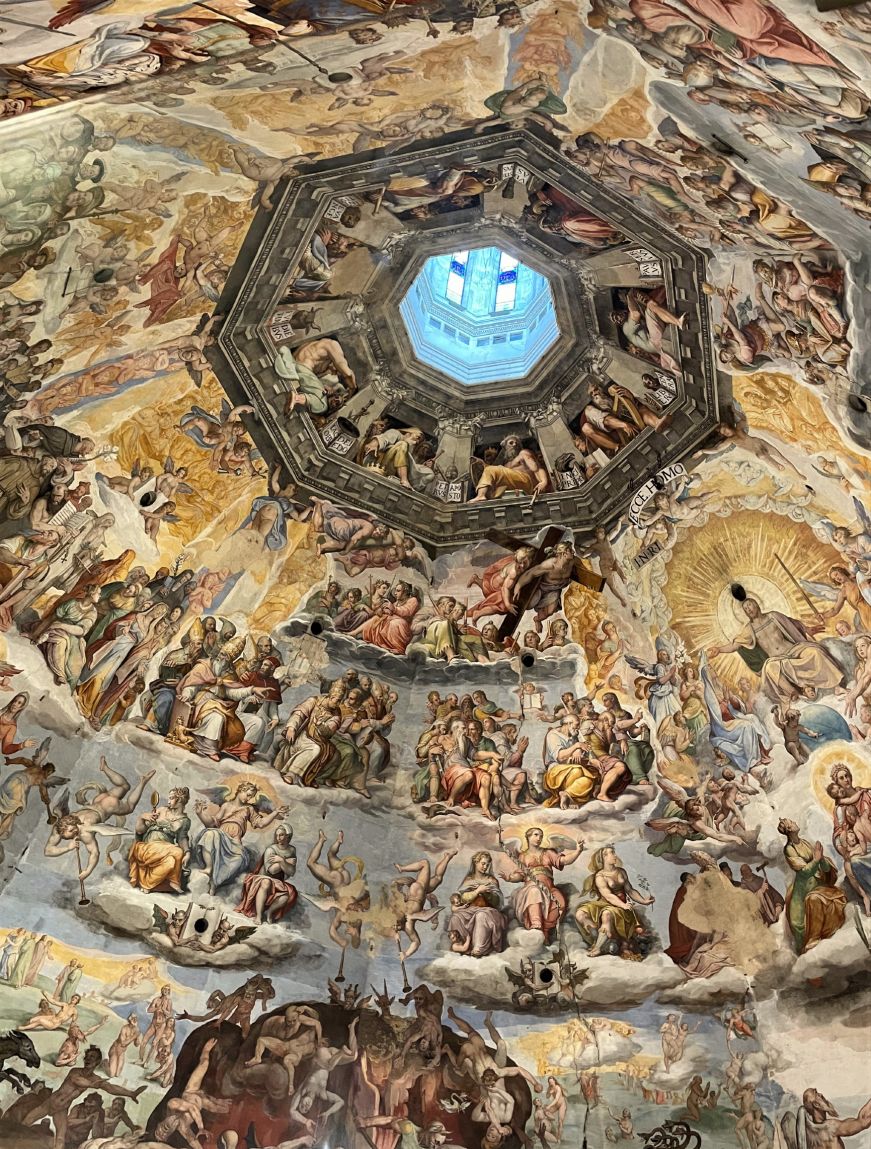 Further reading:
If you enjoyed this post, pin it!