This post is sponsored by Untiedt's Vegetable Farm, Inc.  I've been an Untiedt's CSA member since their first CSA season in 2011, and I'm excited to be working with them to promote their CSA program.  You can learn more and read their frequently asked questions page on Untiedt's website.  As always, all content and opinions are my own.
Do you feel overwhelmed by your weekly CSA share?  Do you wish you cooked dinner more often, but after a long day you don't have the energy to go grocery shopping or track down a recipe?  Are you stuck in a rut, cooking the same things week after week?
Meal planning is a great way to make the most of your CSA share and cook more interesting meals, more often.  A meal plan doesn't need to be elaborate (mine is a handwritten piece of paper attached to my fridge), and meal planning can help you make fewer trips to the grocery store and reduce food waste.  Ready to get started?  Here are my top tips for meal planning with my CSA.
1. Review the weekly CSA sneak peek before going to the grocery store.
One of my favorite things about Untiedt's CSA program is the sneak peek at each week's share—every Saturday morning, they send an email listing which produce will likely be included in Tuesday's box (make sure the emails are going to your inbox and not your spam folder!)  Knowing which vegetables I'll be getting gives me a chance to tailor my shopping list to specific recipes and ingredients.  For example, if you usually stir fry bok choy, make sure that you have oil and soy sauce on hand.  If there's a pasta dish you love that features the tomatoes and zucchini in this week's share, add the other ingredients to your grocery list.
When you're making your meal plan, focus first on the vegetables that need to be eaten when they're freshest, like heirloom tomatoes and sweet corn; later in the week, you can eat sturdier vegetables like kale, carrots, potatoes, beets, and cabbage. 
Typically, I make my meal plan based on the CSA sneak peek, and then I create a shopping list from my meal plan.  That way I can minimize trips to the grocery store and ensure that I eat up everything in my box.
2. Consider your weekly schedule.
Will you be working late on Wednesday, or going out to eat on Saturday?  Make sure to account for meals outside of the house in your meal plan, and also consider how much time you'll have for cooking.  Set yourself up for success by planning simpler meals on the evenings when you're strapped for time—my go-to fast and easy to eat up tomatoes is to make tomato and egg toast.  BLTs are a good bet too, and this kale breakfast bowl is another quick recipe. 
There's nothing wrong with sticking to simple preparations and familiar recipes on hectic days and trying out new, more elaborate dishes when you have some downtime.
3. Know your cooking style.
Do you like to follow a recipe, or is your cooking more improvisational?  When you're making your meal plan, take your cooking style into consideration.  If you prefer recipes, list them on your meal plan (if you want to track down some new ones for this week's produce, do it now).  If you'd rather wing it, your meal plan can list which vegetable you're cooking on each day, and make sure your pantry and fridge are well-stocked with staples like oil, seasonings, cheese, your proteins of choice, and carbohydrates like pasta and rice.
When I'm making my meal plan, I typically utilize a combination of specific recipes like gnocchi with zucchini and feta and chili sesame green beans, plus some more general meal templates for stir fries and veggies with dip.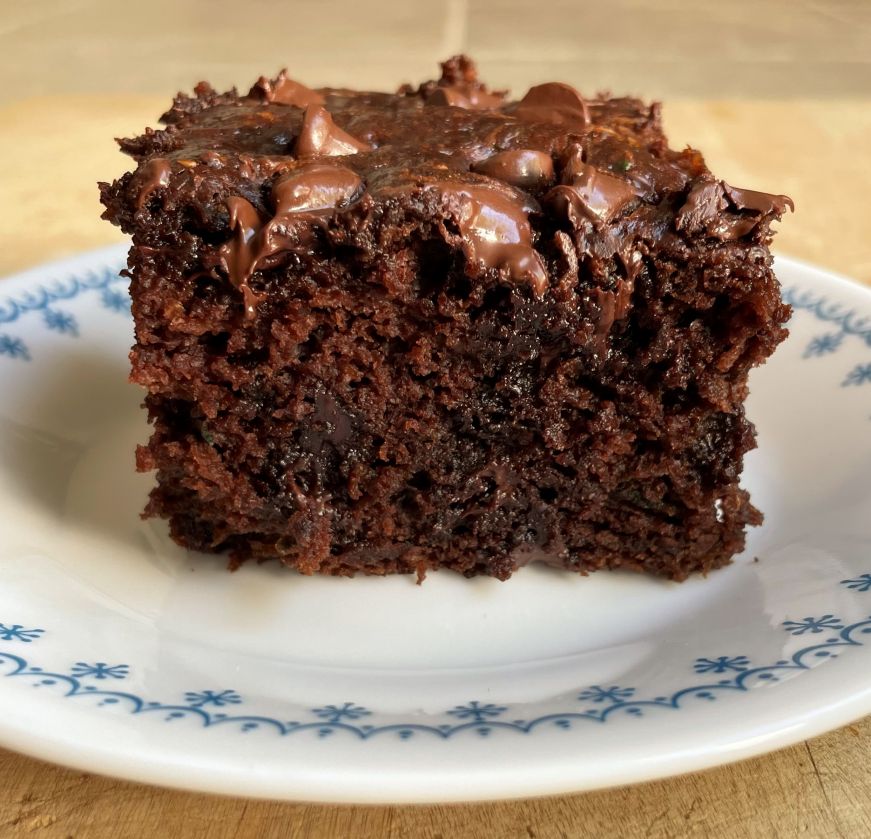 4. Think beyond dinner.
Don't limit your meal plan to dinner—you can eat CSA produce all day long.  Use zucchini and onions to make a quiche for breakfast, pair kohlrabi fries with a sandwich for lunch, and perk up your afternoon with a kale smoothie.  CSA vegetables, especially zucchini, can also be used to make desserts like this double chocolate zucchini cake.  Including breakfast, lunch, snacks, and desserts on your meal plan makes it easier to eat up your CSA produce, and it's also a good way to double check that you have all of the ingredients you need. 
5. Be flexible.
No matter how much you plan ahead, sometimes your meal plan doesn't work out—maybe you didn't get the cauliflower you were expecting due to a harvesting issue at the farm, or you met up with a friend for dinner instead of cooking at home.  Don't stress out about it!  Often you can just make the meal another day, or repurpose the ingredients in a different way.  Meal planning should be a helpful tool, not a stressful commitment.
Further reading:
If you enjoyed this post, pin it!