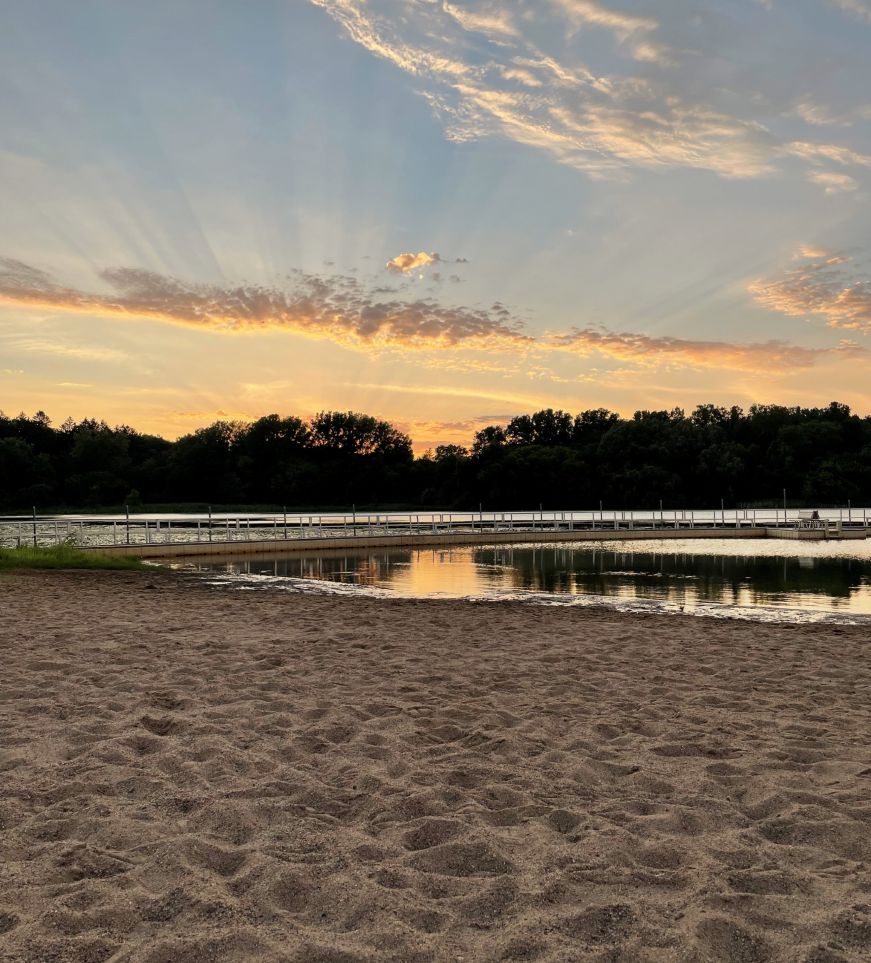 After a rough two and half years of the COVID pandemic, this summer felt gratifying normal.  It started with a trip to Finland (my first international trip since 2018, and my first major vacation with Mike since early 2020), and it ended with a Labor Day weekend visit to the Minnesota State Fair, which has long been one of my favorite summertime traditions.  In between were three glorious months—here's what I've been up to.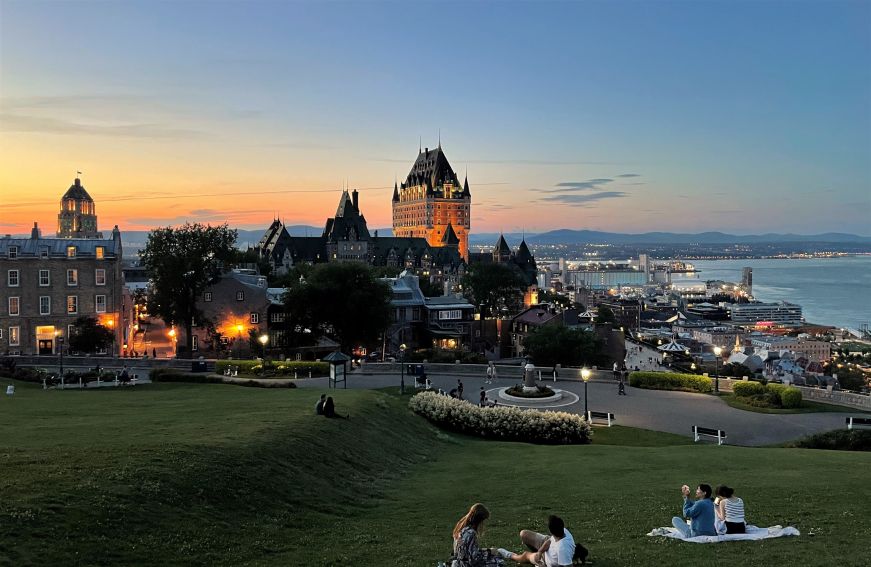 Destinations visited:
Turku, Tampere, and Vääksy, Finland
Wisconsin Rapids, Stevens Point, and Marshfield, Wisconsin
Quebec City, Canada
Duluth, Minnesota
After two summers with little to no travel, this summer was a perfect balance of time at home and time on the road, with both personal vacations and work trips.  My 10-day trip to Finland with Mike in late May/early June included Memorial Day, so my summer officially began with stays in Turku, Tampere, and Vääksy.  Josh and I spent four delightful days in Quebec City in late July/early August, eating croissants, wandering around picturesque cobblestone streets, and ziplining across a waterfall. 
As far as work travel, in June, I took an agritourism-themed press trip to Central Wisconsin, and in August, I visited Duluth on assignment for the Heavy Table (an online magazine that covers the Upper Midwest's food and drink scene).
Closer to home, Mike and I enjoyed a fun day trip to Red Wing, Minnesota, and Minneapolis' Rand Tower Hotel hosted me for a press visit.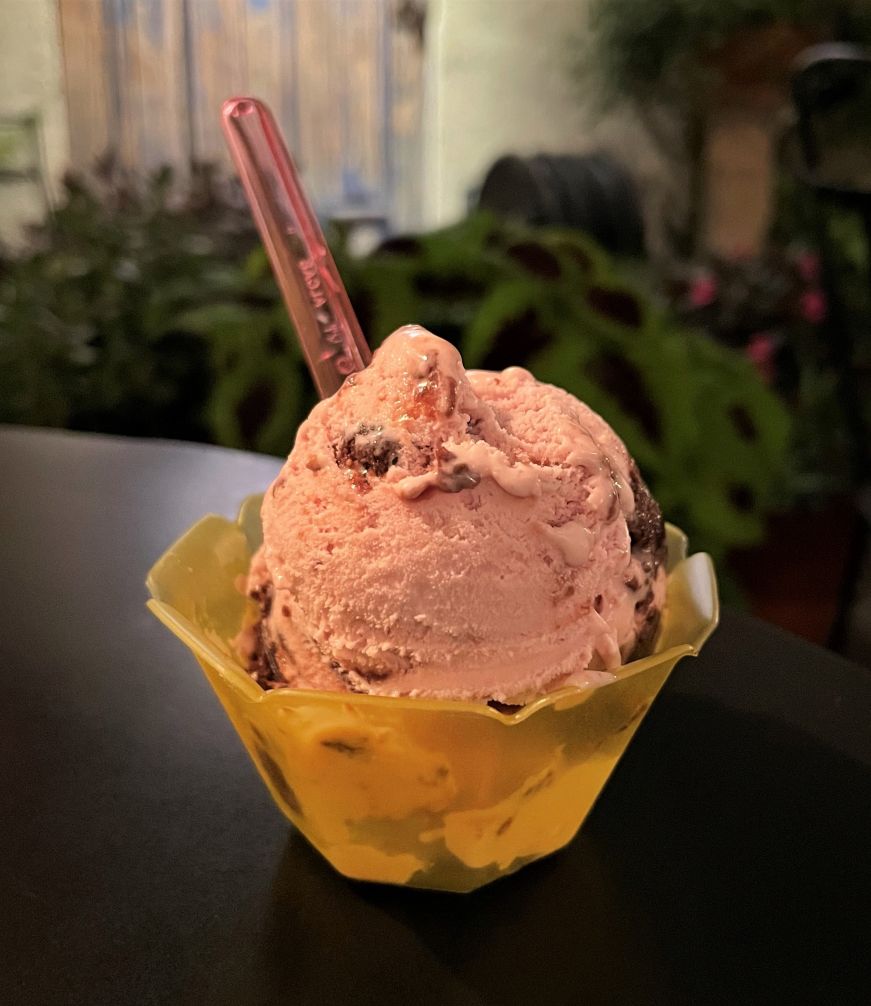 Favorite new-to-me spots in the Twin Cities: The best thing about living in the Twin Cities metro is that there is always something new to discover, even after 13 years.  An article I wrote about local ice cream spots inspired me to finally check out Sonny's Cafe in Minneapolis—the Italian-inspired cafe serves excellent housemade gelato and sorbet, and there's lovely patio in the adjacent alley, complete with a fountain, romantic lighting, and greenery.  Stopping at Sonny's for a scoop has become my and Mike's favorite ending to a summer date night.
Some other favorite new spots include Pryes Brewing, which has a great riverside patio and robust lineup of non-alcoholic options (I try to limit my alcohol consumption since it aggravates my chronic insomnia) and Edwards Dessert Kitchen, an upscale dessert-only restaurant (I spent $16 on a cherry budino, and I have no regrets—it was truly amazing).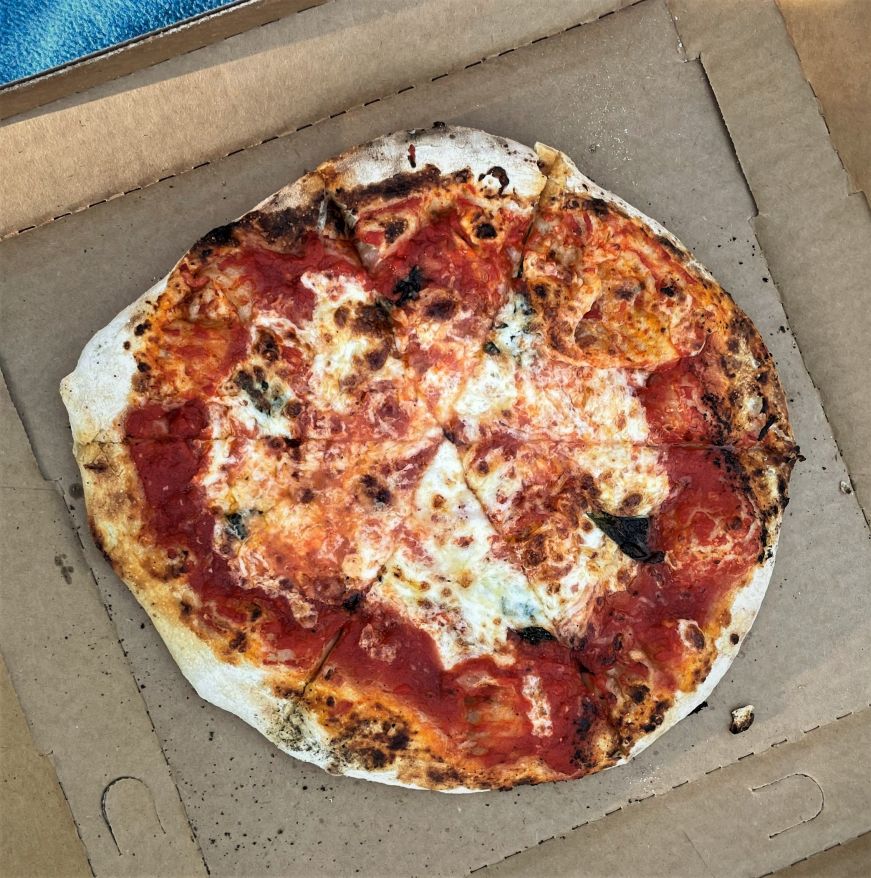 Favorite Twin Cities spots I revisited: I also enjoyed revisiting some old favorites.  Mike and I started going to Elk River's Pompeii Pizzeria during the height of the pandemic, because you can get pizzas to go and picnic in the nearby park overlooking the Mississippi River, and it's become our summertime tradition.  Sebastian Joe's will always have a special place in my heart—I tend to order my favorite flavors but I did branch out with a delicious scoop of cherry truffle ice cream.  Fulton remains a go-to for their chill patio in the North Loop, barrel-aged stouts, and non-alcoholic hop water.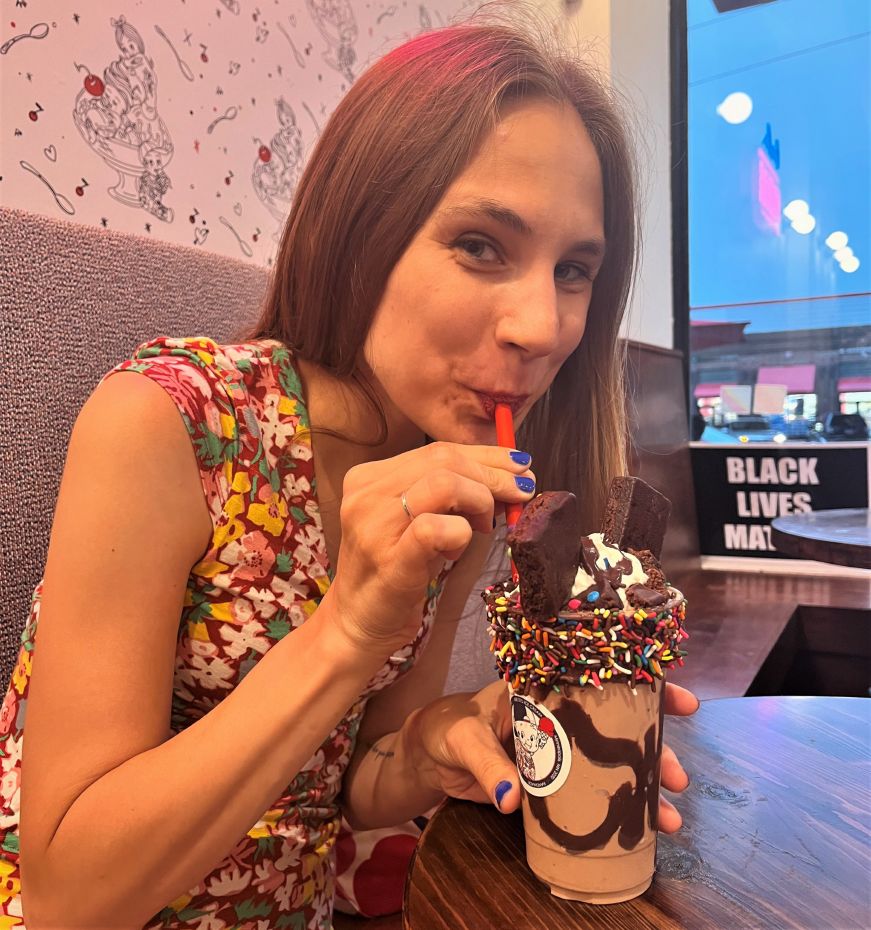 How I spent my birthday: I love having a summer birthday, and I usually spend a couple of days celebrating.  This year, Josh treated me to a birthday eve dinner on the patio at Nightingale and an extravagant cosmic brownie shake at Bebe Zito.  On my birthday, Mike and I took the day off work and enjoyed smoothie bowls for lunch at Nautical Bowls, a round of mini golf at Lilli Putt, and ice cream cones at Dream Creamery.  We spent the rest of the day by Lake Nokomis, reading in our two-person hammock, enjoying a cheese board picnic, and getting another round of cones at Grand Ole Creamery.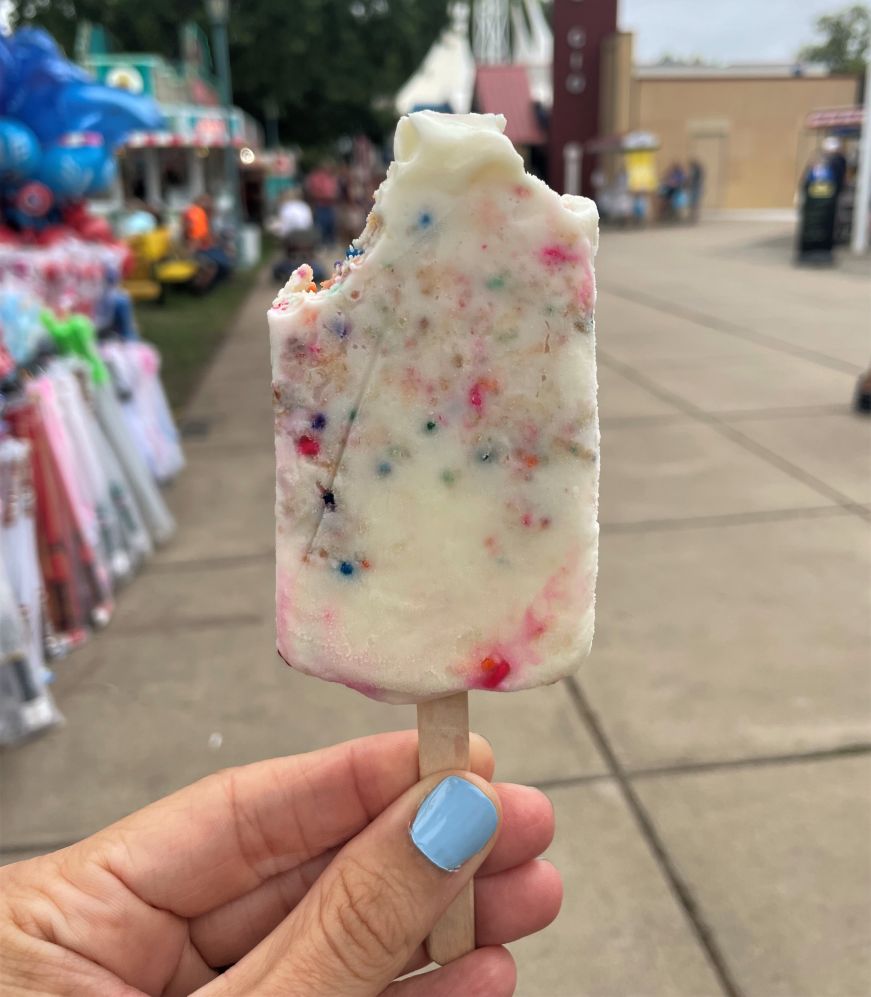 Proudest moment: Covering the official new foods at the Minnesota State Fair on opening day!  It's been a longtime professional goal and it was especially gratifying to be able to write about the State Fair for the Heavy Table, an outlet that I really respect and that inspired me when I was first starting out as a food writer.
Over four hours, I sampled 29 different new and classic foods and beverages, and I wrote two articles for the Heavy Table's State Fair coverage, one about desserts and one about vegan options.  It was definitely the most fun I've ever had at work.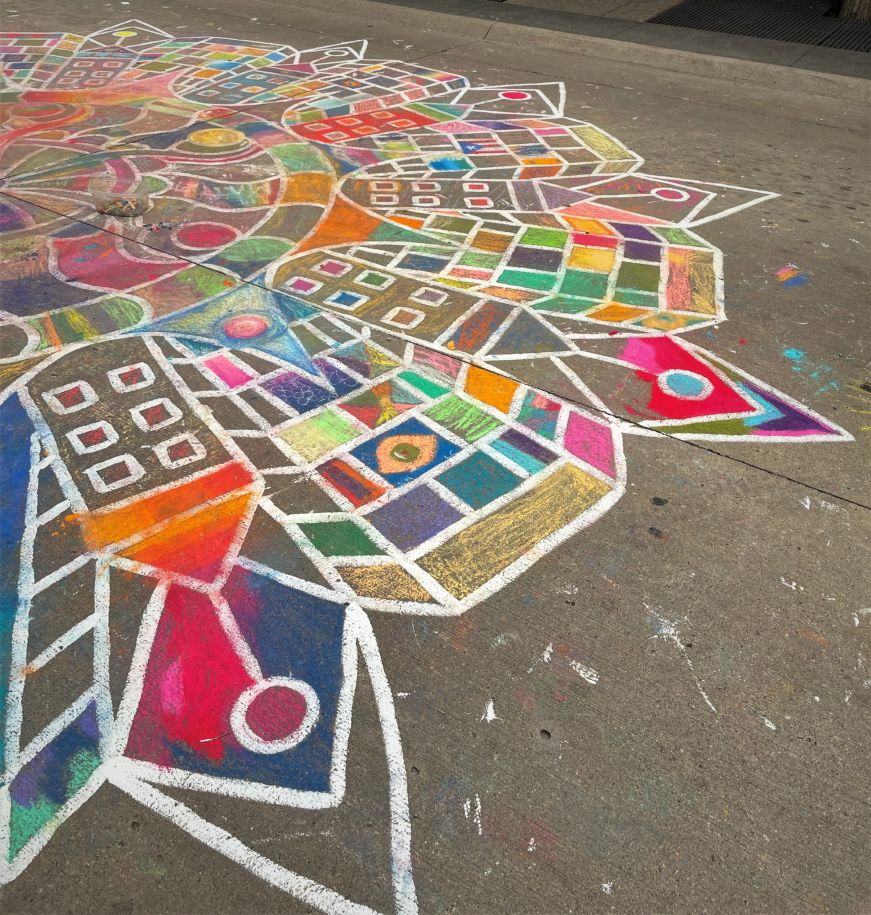 Biggest challenge: The stress of the COVID-19 pandemic and underemployment took a significant toll on my mental health, and I'm still working my way back from that.  As a person who lives with chronic mental illnesses, my brain simply isn't wired to cope with the mental load of constant risk assessment, and thanks to the omicron variant, it remains difficult to carve out the structure and stability that I need to function.  Objectively, I know that I'm doing better, but recovery is an excruciatingly slow and often cyclical process.
Song of the summer: "Training Montage" by the Mountain Goats—I'm training for my first 10-mile race since 2019, and I listen to this song during my cool down after every run.  It's action movie-style anthem that winks at all of the cliches of the genre while genuinely being an inspiring, fist-pumping song.  Plus, it's fun to scream along, "I'm doing this for revenge!" as I walk through suburbia.
As always, the end of summer is bittersweet for me—I'm so thankful for all the joyful moments, from major life milestones to my daily walk in the park, and I'm sad to see my favorite season come to end.  But my COVID-induced dread is finally starting to abate, and I'm looking forward to my race and a much-delayed second honeymoon in Ireland later in September.  In the meantime, I'll be outside as much as possible, with a scoop of ice cream and the people I love by my side.
More summer highlights posts: 2013, 2014, 2015, 2016, 2017, 2018, 2019, 2020, and 2021.