This is my ninth annual summer roundup post, and a couple of months ago, I thought it would be easy to write—a straightforward essay about my triumphant return to normalcy, including a trip to Ireland and some upbeat news about how great I felt after a year-plus of pandemic stress.  And that was, in fact, the narrative for June and much of July.  But then the delta variant surged, we postponed our "tenth anniversary" trip to Ireland for the second summer, attending the Minnesota State Fair became a fraught decision, and my insomnia returned with a vengeance.
Despite all of that, when Mike and I were discussing the past few months, he said, "I have nothing to complain about.  It's been a really good summer."  And in the midst of a pandemic and climate change and the general state of the world, a really good summer is something very special indeed.
Instead of an essay, this year's roundup ended up being a series of ten photos to encapsulate the really good summer of 2021.
Boxes like this rekindled my love for my CSA.  I've subscribed to a CSA since 2011, and while I always appreciate the fresh produce, the past few years have felt like a bit of a slog.  Meal planning became more frustrating, and I was bored with lots of the things I was cooking.  This year, I switched to a meal template approach instead of using specific recipes, and I've enjoyed the process so much more—cooking and eating dinner has become fun again.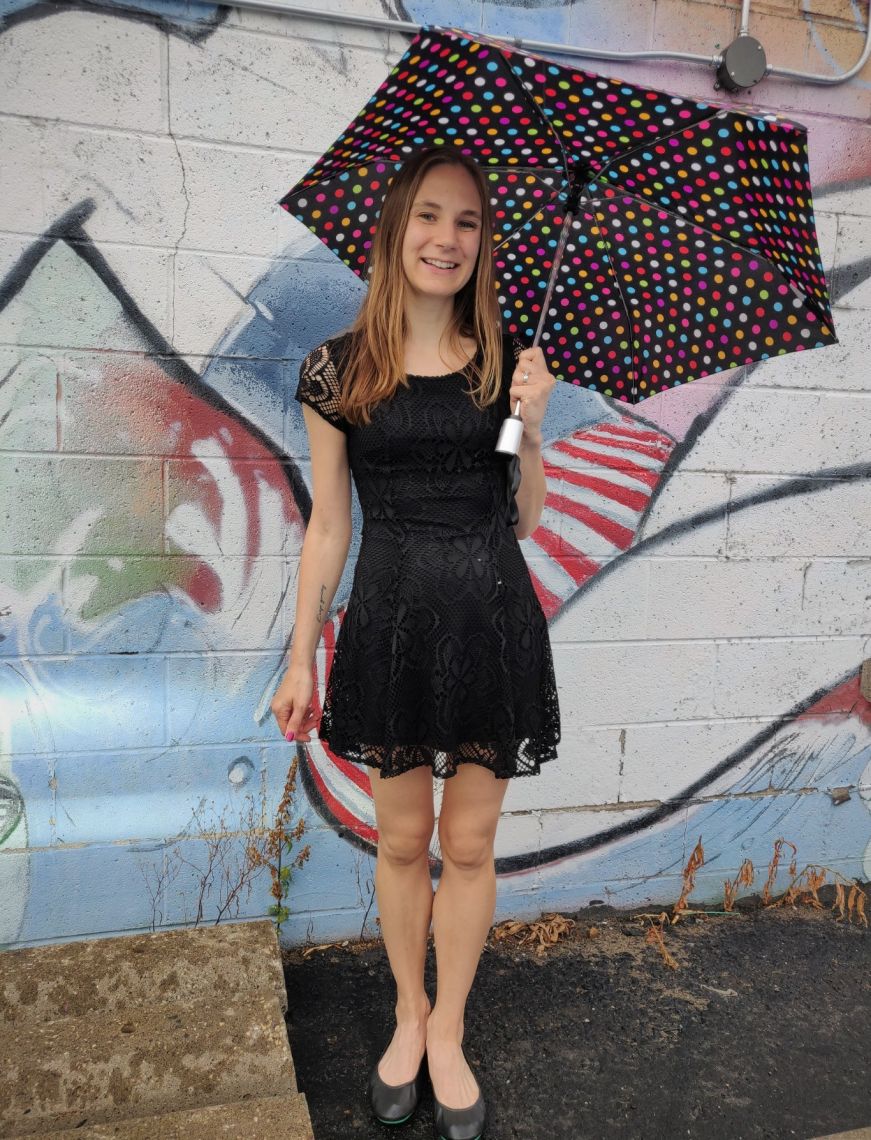 I had a really good birthday.  I love having a July birthday since summer is my favorite season, and this year Mike and I took the day off and went out for coffee and donuts at FRGMT Coffee, hiked in Minnehaha Regional Park, ate lunch at Sea Salt Eatery, savored pizza and cocktails at the Back Bar at Young Joni, and got ice cream at Bebe Zito. 
Because I enjoy celebrating too much to confine myself to one day, I also had a very special pre-birthday dinner with Josh at Restaurant Alma, and he also treated me to post-birthday festivities that included dinner at Moscow on the Hill and ice cream at Grand Ole Creamery.
My mid-July trip to Seattle was perfectly timed.  Josh and I hit the sweet spot between the giddy high of being fully vaccinated and the rise of the delta variant and breakthrough COVID-19 infections, so we were able to fully enjoy our trip without the constant anxiety of evaluating COVID-19 risk.  We enjoyed fresh seafood and produce, ate lots of pastries, spent hours wandering around Pike Place Market, and checked out the Starbucks Reserve Roastery and Bainbridge Island.
Mike and I had an extremely on-brand appearance on the local news (i.e. we looked like nerds).  We were working on our laptops in a nearby park when a local news reporter approached us and asked for our thoughts about a planned park redevelopment—the b-roll footage really captures our quirky little suburban lifestyle.
I got to see one of my favorite bands in concert.  Mike introduced me to NEEDTOBREATHE early in our relationship, and we've been listening to them ever since.  (Although they're sometimes labeled a "Christian rock band," they don't characterize themselves as such, and most of their music isn't religious.)  I listen to their Hard Love album on repeat whenever I'm struggling with a writing project, and "Banks" describes my marriage better than any song I've ever heard.
Since their music has meant a lot to us over the years, it was very special to see their live acoustic show with Mike.   Plus, NEEDTOBREATHE lead singer Bear Rinehart had a great rapport with crowd, and the band sounded even better in person than they do on their albums.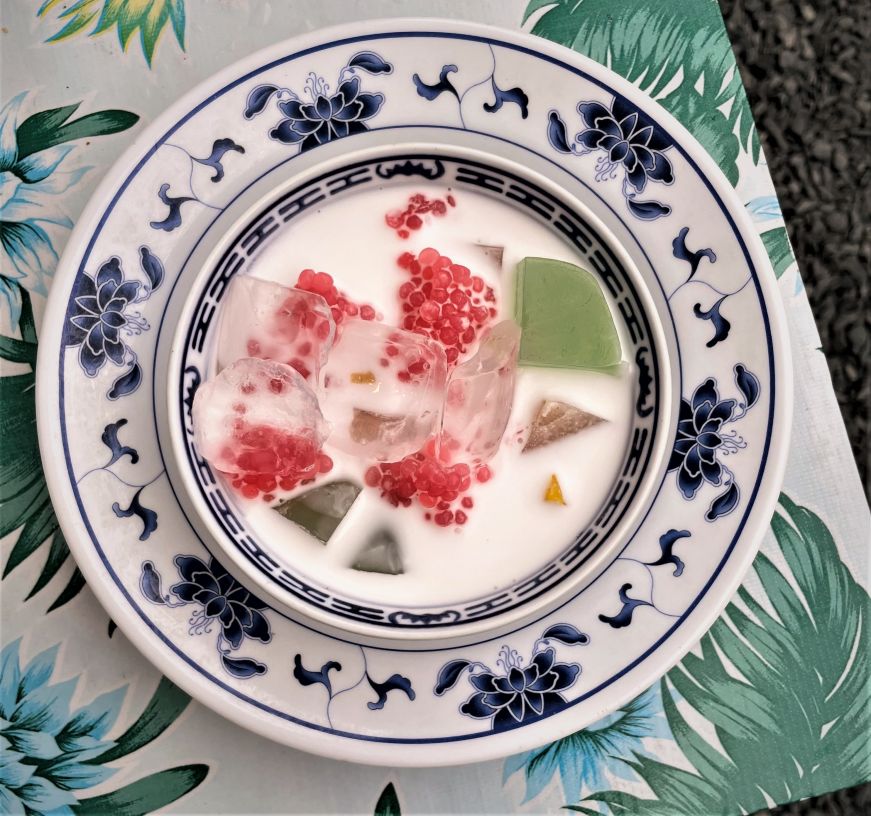 It was a good summer for patio dining.  I had some truly lovely patio meals at Meritage and Hai Hai (their cold dessert soup is pictured above), and we enjoyed a fabulous mushroom pizza at a picnic table at the North Loop Black Sheep Pizza.  Add in all the birthday festivities mentioned above, dinner at Bangrak Market in Seattle, and dozens of meals on my patio at home, and my favorite eating this summer took place outdoors.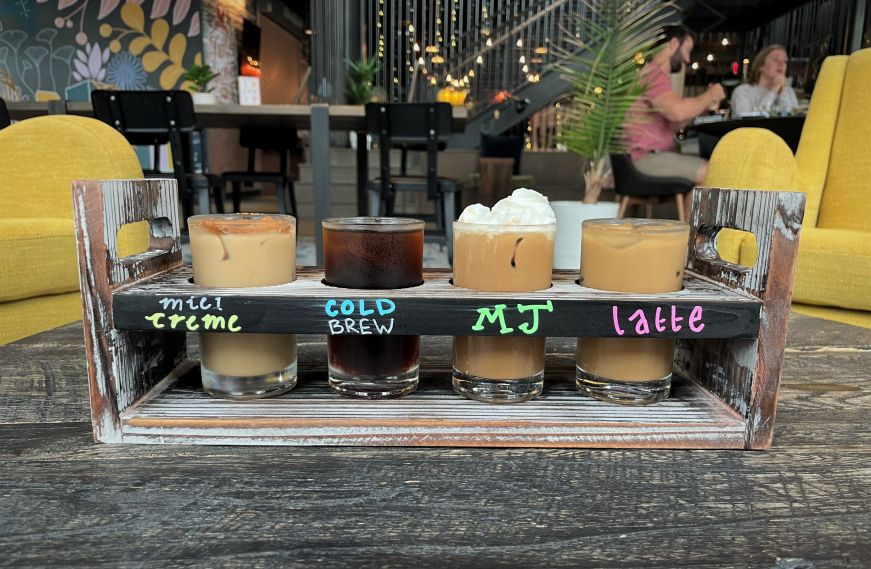 We tried some new coffee shops.  For over a year, Mike and I stayed close to our home in the suburbs for our weekly coffee dates—it was easier for take-out, and for in-person dates it just felt safer to stick to spots we knew well.  This summer, it was nice to venture a bit further afield again and try some new-to-us spot in Minneapolis, including Misfit Coffee Co., Carma Coffee, Last Drop Cafe, Dogwood Coffee Co., FRGMT Coffee, Wesley Andrews, and Five Watt Coffee.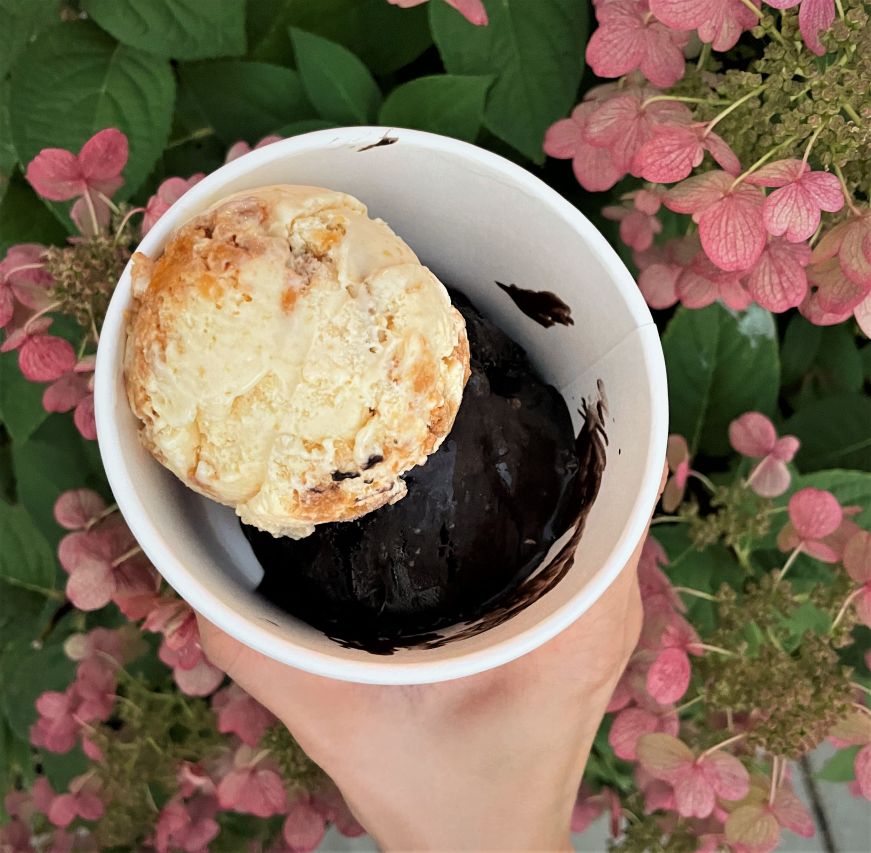 I ate a lot of ice cream, with multiple trips to Sebastian Joe's and Grand Ole Creamery.  I also enjoyed scoops from Bebe Zito and Milkjam Creamery, plus gelato at Fat Lorenzo's and a build-your-own ice cream sandwich at Nellie's Ice Cream.  Hopefully next summer will mark the return of samples at scoop shops.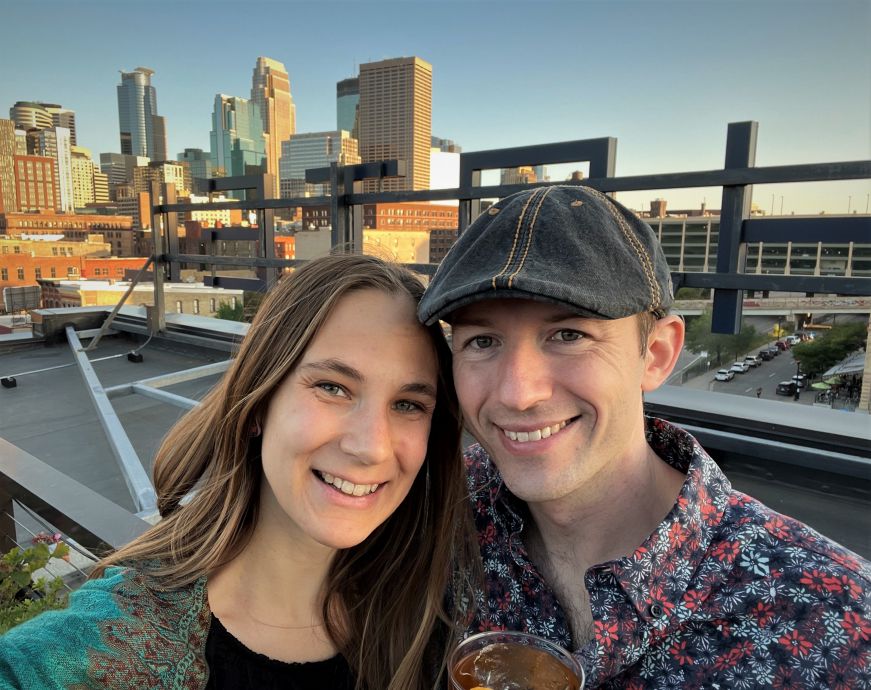 Mike and I had some amazing Friday date nights.  We reserve Fridays for quality time with each other, and it was wonderful to experience a broader range of activities again—including getting drinks at a 1920s-themed speakeasy, a couple's massage, mini golf, pedal boating, and an outdoor concert at Keg and Case.  We devoted one memorable Friday to exploring downtown St. Paul, and another to hanging out in Minneapolis' North Loop neighborhood.  
I went to the State Fair.  Like so many things about the past year and half, COVID made it very different experience—we skipped the State Fair Express bus, avoided indoor attractions, and wore masks nearly the entire day (we took them off for the above socially-distanced selfie on the SkyGlider, an outdoor chairlift-style ride).  But it was still a delightful day, with all my favorite fair foods, live entertainment, and quality time with Mike—plus it was our 11th wedding anniversary, which made our visit extra-special.
More summer highlights posts: 2013, 2014, 2015, 2016, 2017, 2018, 2019, and 2020.