This post is sponsored by Untiedt's Vegetable Farm, Inc.  I've been an Untiedt's CSA member since their first CSA season in 2011, and I'm excited to be working with them to promote their CSA program.  You can learn more and read their frequently asked questions page on Untiedt's website.  As always, all content and opinions are my own.
Getting a CSA box filled with fresh, locally grown produce each week is one of the highlights of my summer—but it can also be a little overwhelming, especially when I have a long to-do list.  Meal planning is key for making the most of my CSA share, but sometimes life happens.  Maybe we've just gotten back from vacation and haven't gone to the grocery store yet, or maybe it's been a busy work day and I don't have time to prepare the more ambitious dinner I originally planned. 
That's when having a stocked pantry, refrigerator, and freezer comes in handy.  These 10 pantry staples help me eat through my CSA share, whatever vegetables are in my weekly box.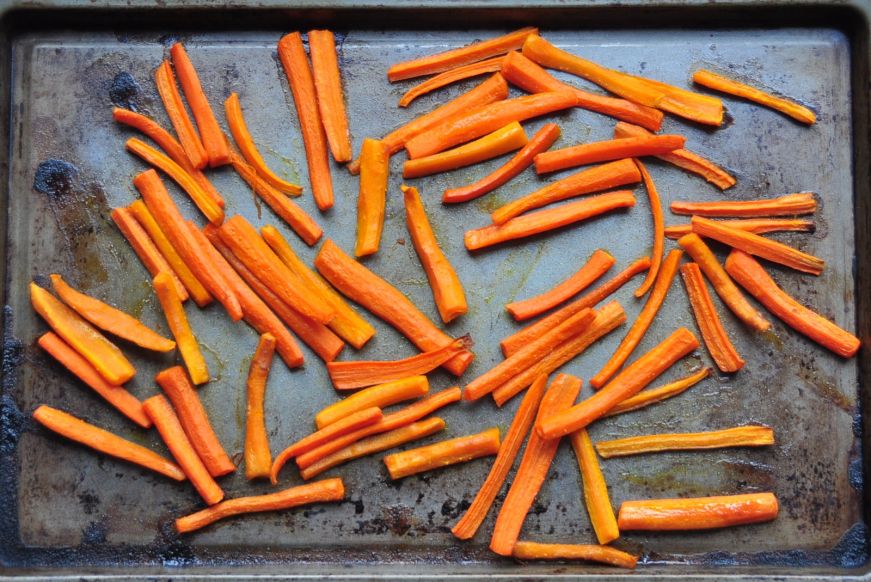 1. Cooking oils
Nearly any vegetable can be sauteed or roasted—and it will be a lot tastier if you use your favorite cooking oil.  I use extra virgin olive for sauteing and roasting and sesame oil for stir fries because they have a delicious, pronounced flavor, but I've also had tasty results with coconut oil and sunflower oil.   Some of my favorite easy recipes that use oil to add flavor are spicy maple roasted carrots, roasted buttercup squash with garam masala, and Mexican-spiced roasted potatoes.
2. Vinegar
Vinegar is an underrated ingredient that I find myself reaching for throughout the CSA season, whether it's to make a homemade salad dressing or a batch of pickled turnips.  White distilled vinegar is a good all-around option, but I also like the extra boost of flavor from apple cider vinegar or rice wine vinegar.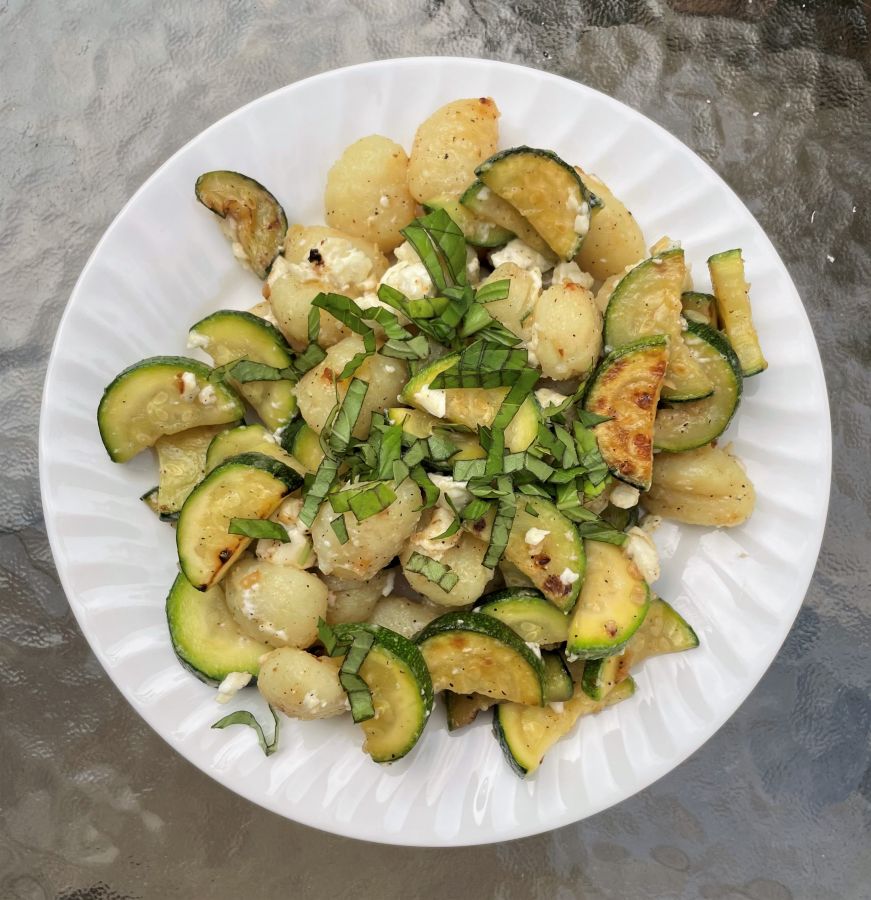 3. Pasta
"Saute some vegetables and serve them over pasta" is one of my favorite easy CSA dinners, especially if there's fresh basil involved.  My go-to pasta styles are rotini and linguine, but there's a whole aisle to choose from, including whole wheat and gluten-free options.  Couscous, which is actually a tiny form of pasta, is another one of my staples—it's especially good with roasted cauliflower.  Some of my favorite pasta recipes are gnocchi with zucchini and feta and pasta with fresh sauce, but feel free to improvise with whatever pasta and produce you have on hand. 
4. Rice
"Stir fry some vegetables and serve them over rice" is another one of my favorite easy CSA dinners.  I love the sticky texture of jasmine rice, but stock up on whatever you prefer, whether that's basmati rice, brown rice,  microwavable packets of pre-cooked rice, or flavored options like cilantro-lime rice.  I also like making rice-based burrito bowls with homemade roasted tomatillo salsa or fresh salsa made from CSA produce.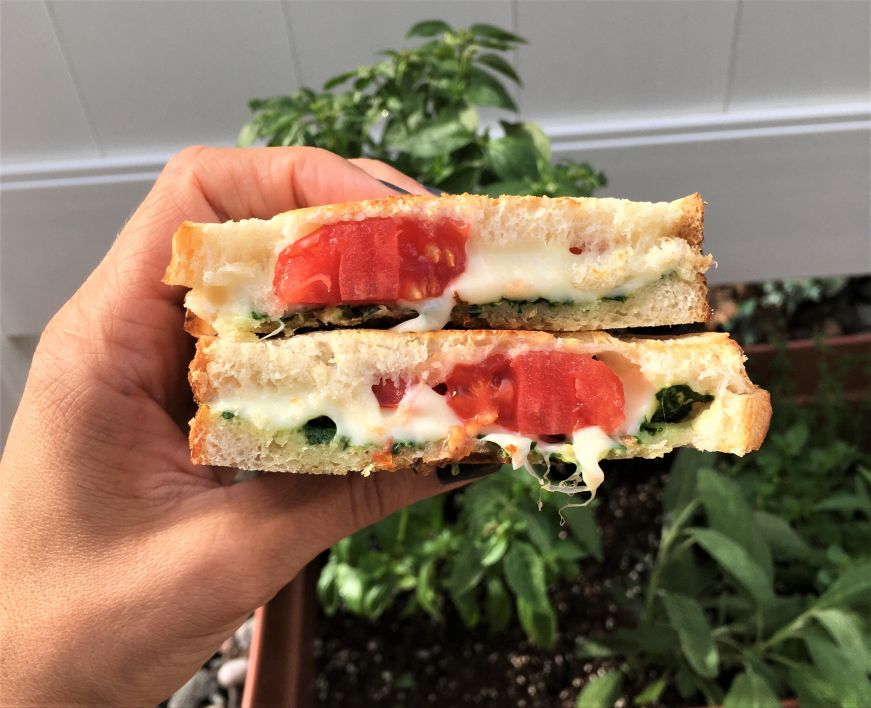 5. Bread
BLT sandwiches are a summertime staple, but don't stop there.  I've made toast topped with fresh tomatoes and a fried egg, cucumber tea sandwiches, and grilled vegetable sandwiches.  Another fun option is to add tomato slices and basil pesto to a grilled cheese.
6. Beans
I'm a big fan of the the convenience of canned beans. I keep chickpeas on hand to bulk out pasta dishes (like this linguine with zucchini and chickpeas) and black beans to add to burrito bowls.  Chickpeas, black beans, and cannellini beans are also great on salads.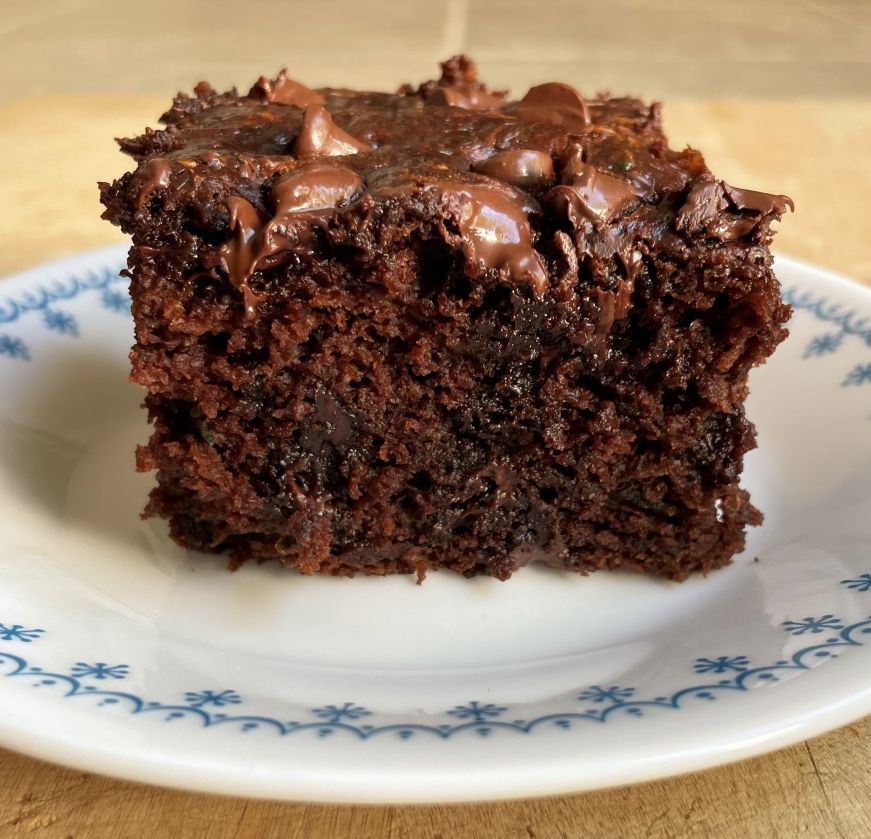 7. Flour
From carrot cake to zucchini muffins, baked goods are a tasty way to use up CSA produce.  My favorite baking recipes with vegetables are my mom's chocolate zucchini bread and this double chocolate zucchini cake (you can never go wrong with chocolate).
8. Salad dressing
Don't feel like cooking?  Slice up some carrots, radishes, peppers, or kohlrabi and dip them in pre-made salad dressing for a simple snack or side dish.  I live in the Midwest, also known as the Land of Ranch Dressing, but I like blue cheese dressing and lately have gotten into poppy seed dressing.  Of course, you can also make your dressings from scratch and keep them on hand.
9. Eggs
One of my strategies for getting through my CSA box is to eat produce all day long, starting with breakfast.  Dice up onions, peppers, and tomatoes to add to omelets or scrambles.  Some of my favorite egg-based recipes using CSA produce are zucchini with baked eggs and this spinach and feta egg bake.
10. Frozen proteins
Add some protein to a vegetable side dish, like roasted sweet potatoes or baked squash, and you have a meal.  Chicken breasts, hamburgers, and salmon fillets are all easy-to-prepare options.  Since I eat a primarily vegetarian diet, veggie burgers are my protein of choice.  This summer, one of my favorite dinners has been corn on the cob with a sriracha-topped chickenless patty—it's so easy and so good.
Further reading:
If you enjoyed this post, pin it!